Cinnamon Baked Pears drizzled in maple syrup smell heavenly coming out of the oven.
Baked pears are a warm addition to breakfast when combined with your favorite yogurt and granola. Roasted pears also make a great dessert! We love a simple yet versatile dish.
This recipe uses just 5 ingredients:
Pears
Maple Syrup
Coconut oil or butter
Cinnamon
Nutmeg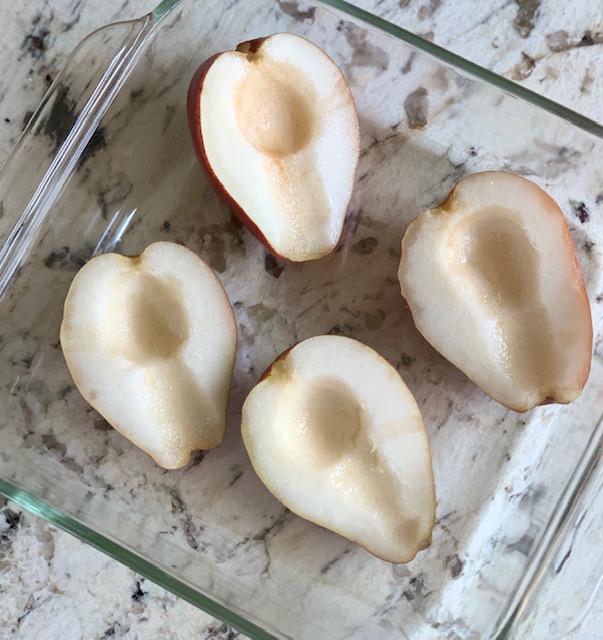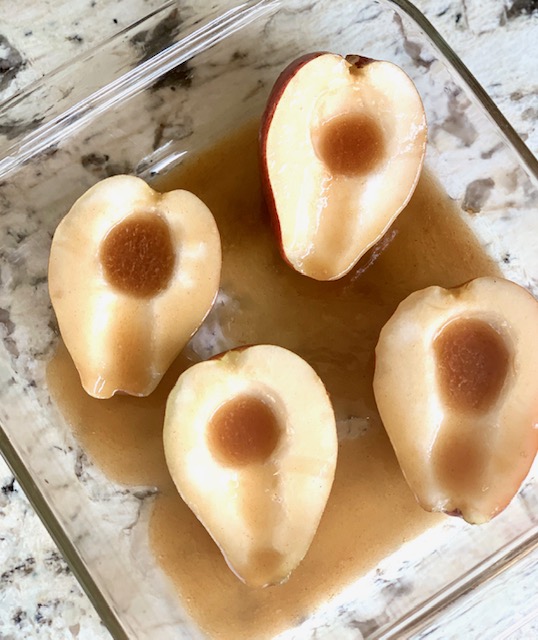 Choose your baking spices:
I love to add cinnamon and nutmeg to baked pears, and occasionally a splash of Vanilla Extract, but there are so many great spice options. A squeeze of lemon over the top can help cut the sweetness if desired.
Try any combination of these spices:
Best Pears for Baking:
Bosc and Anjou (red or green) varieties are the best baking choices because they hold their shape and texture during baking. In a pinch, Bartletts and other varieties work fine, too. Avoid using Comice pears for cooking because the tender, juicy flesh tends to fall apart when baked whole or used in pies. Do not peel your pears because the flesh will soften when baked.
How long should I bake pears?
Baking time for pears will vary based on ripeness. If your pears are very ripe baking can be as short as 40 minutes. Less ripe can take up to 1 hour, 15 minutes. It's easy to test to see if the pears are done. Just poke with a sharp knife or toothpick to see if the flesh gives easily.
The end result will be a beautifully soft pear, infused with maple syrup and cinnamon. When done baking a wonderful syrup will be at the bottom of the baking dish so be sure to pour that on top of your pears when you serve them!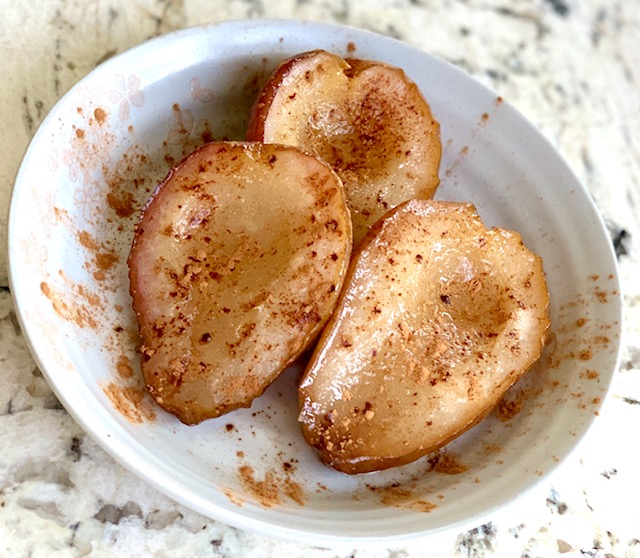 Best ways to serve Cinnamon Baked Pears
Serving baked pears can be as simple as spooning them into a dish with some of the delicious maple syrup drizzled on top.
I love to add plain Greek yogurt and some granola to the bowl for a breakfast treat, or an afternoon snack.
These pears make an amazing dinner dessert. Imagine a 10-minute easy prep and then just baking your dessert while everyone eats dinner.
Add some vanilla bean ice cream and a drizzle of Easy Salted Caramel Sauce for a complete hassle-free dessert. And, of course, your house will smell like heaven on earth!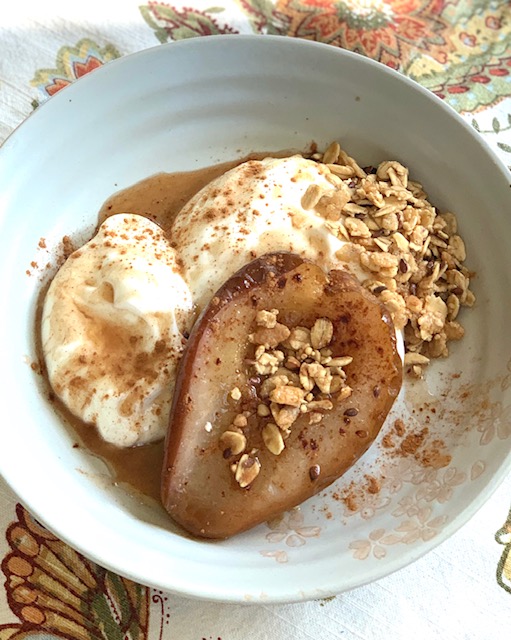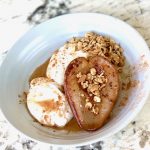 Print Recipe
Cinnamon Baked Pears
Cinnamon Baked Pears drizzled in maple syrup are a warm addition to breakfast when combined with yogurt and granola. Baked pears also make a great easy dessert!
Ingredients
4

Pears, ripe,

Bosc or Anjou

2

Tbsp

maple syrup

2

tsp

butter, or coconut oil

1

tsp

cinnamon

½

tsp

nutmeg
Instructions
Halve the pears and scoop out the seeds and core.

Place skin side down in a heatproof baking dish.

Melt butter and whisk with maple syrup, cinnamon, and nutmeg.

Drizzle maple syrup sauce over the pears.

Cover tightly with aluminum foil and bake for about 40 minutes for more ripe pears, or up to 75 minutes for less ripe pears.

The syrup should be caramelized and the pears are soft but not mushy.

Allow to cool for about 5 minutes and then spoon into serving dishes.