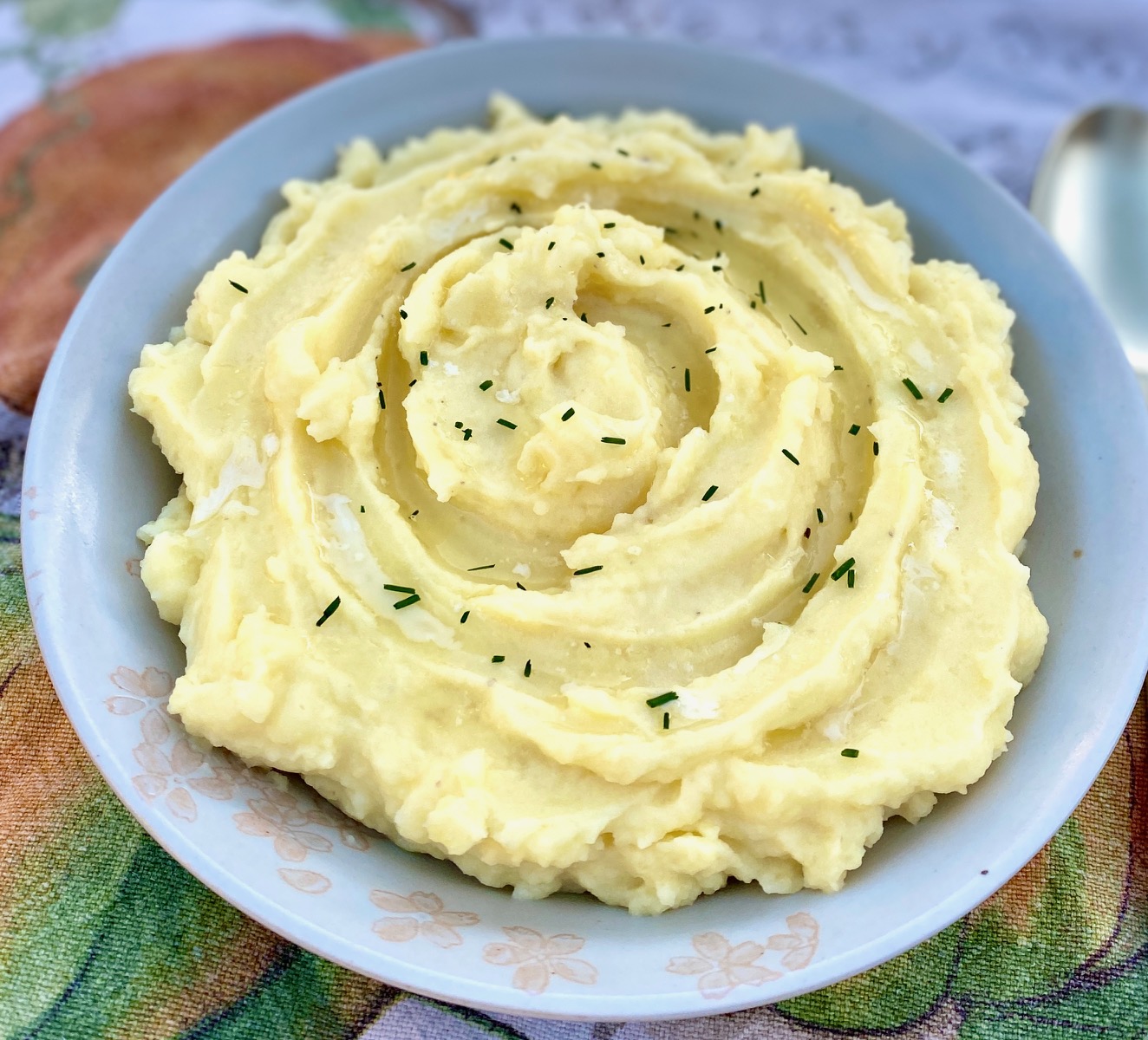 Creamy, roasted garlic mashed potatoes are the ultimate comfort food and always a welcome sidekick
There are lots of ways to make mashed potatoes but our favorite is this simple version with cream, a bit of butter, and lots of caramelized roasted garlic
Jump to Recipe
This post may contain affiliate links. Please see our affiliate disclosure for more details.
Roasting garlic makes it sweeter, and takes away the bite, which makes all of the difference in this fantastic side dish.
Mashed potatoes are a favorite in our house, and while they are quite simple to make, there are a few tips and tricks to help you make them perfect!
We'll give you easy step-by-step instructions for preparing the potatoes and roasting the garlic. These potatoes are so creamy and make a perfect pairing with our Oven Roasted Turkey Breast and our juicy Tomahawk Steak.
Ingredients for Garlic Mashed Potatoes
Roasted Garlic – Roast the whole bulb (you'll need 4-8 cloves) and save the extra for other uses. We've got some great suggestions toward the end of this post
Potatoes – a semi-waxy type such as Yukon Golds
Salt
Heavy Cream – or half and half
Butter – we like unsalted butter because it allows you to add as much or as little salt as you like
White Pepper – you can use black pepper instead
Chives or Parsley – optional garnish for a pop of color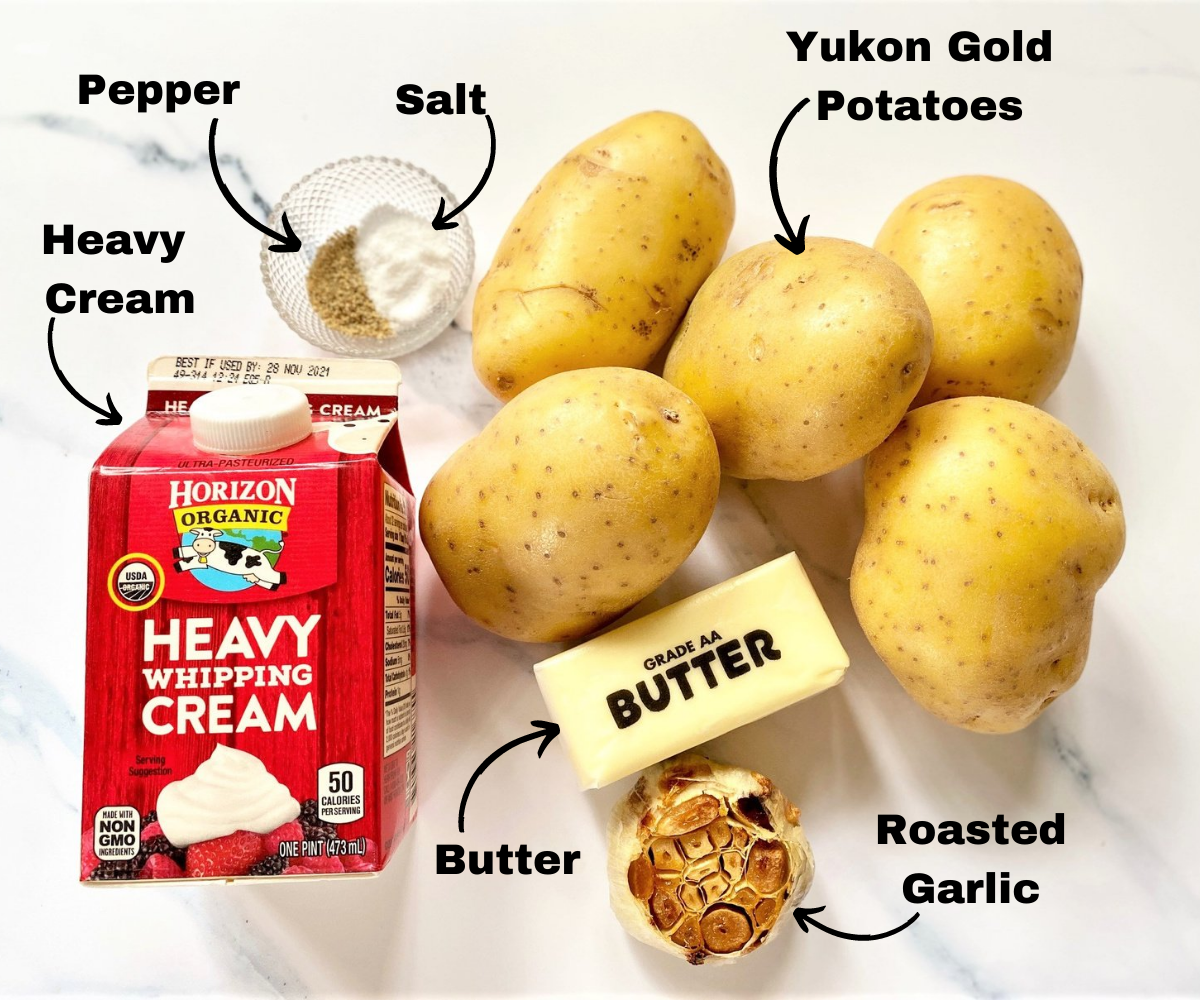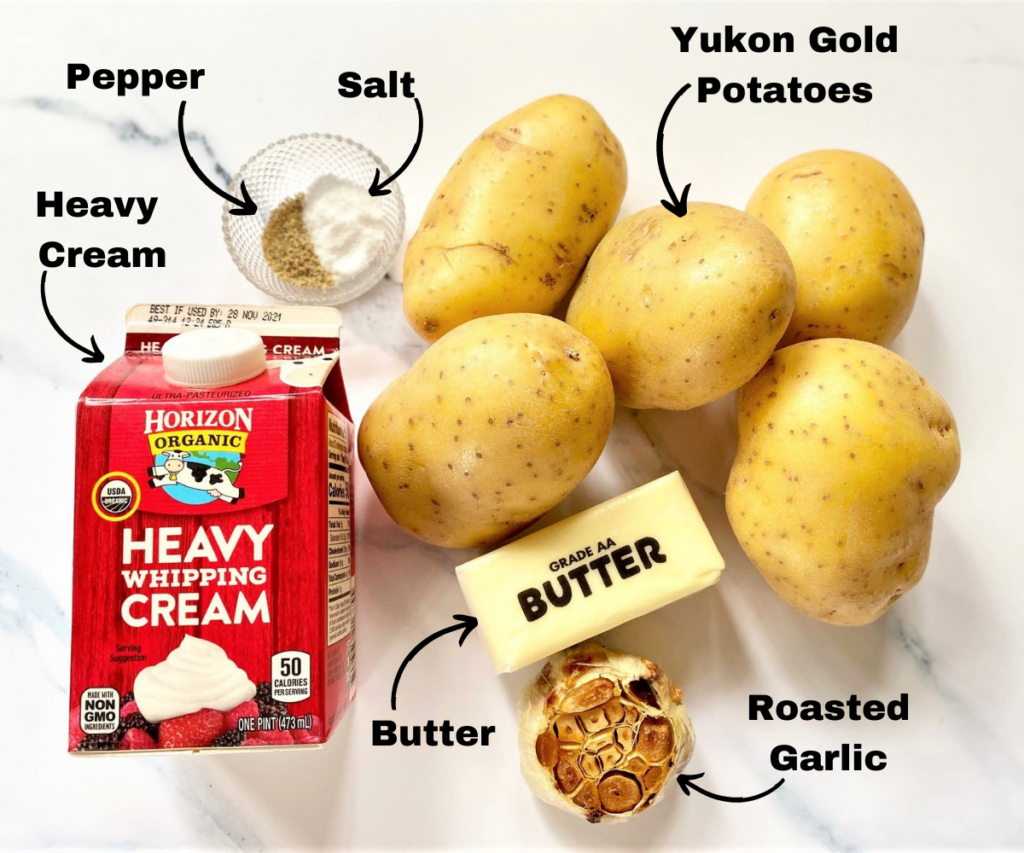 How to Roast Garlic:
Roasting garlic is easy and brings out a sweet, nutty, caramelized flavor that you won't find in raw garlic. Once roasted and soft it spreads like butter, and the flavor is out of this world! You can roast your garlic bulb up to 5 days ahead of time if needed.
Preheat the oven to 350˚F
Remove some of the loose papery skin from the garlic bulb
Trim off the top 1/4th of the bulb to expose the tops of the individual cloves
Place the bulb, cut side up, in the center of a piece of aluminum foil
Drizzle with olive oil making sure to coat the exposed bulb tops
Loosely wrap the bulb in the foil and place in the preheated oven
Bake for about an hour, or until garlic is soft and caramelized
Remove from oven and let cool slightly before using
We use 6-8 cloves in our potatoes because we love garlic!
How to make the best Roasted Garlic Mashed Potatoes
Making the perfect mashed potatoes is easy with our step-by-step directions:
Roast the garlic and set aside. When ready to use squeeze out 4-8 garlic bulbs (depending on how garlicky you want your potatoes)
Peel potatoes and cut into quarters
Add potatoes, salt, and 4-8 roasted garlic cloves to a large saucepan, cover with cold water until fully submerged and bring to a boil
Reduce heat to a simmer, cover, and cook until fork tender – about 20-minutes but check at the 15-minute mark
Drain potatoes and garlic, return to the pan and heat over low heat for a few minutes until potatoes are dry. Don't skip this step because this ensures the finished product is creamy instead of watery
Add in the room temperature cream and butter and continue to warm on low for about 2 minutes
Mash everything in the pot, with a heavy duty potato masher, until lump-free and creamy
Add white pepper and more salt to taste
If needed add more cream or butter. Remember, nobody likes dry mashed potatoes!
Serve piping hot sprinkled with chopped chives or parsley for garnish, if desired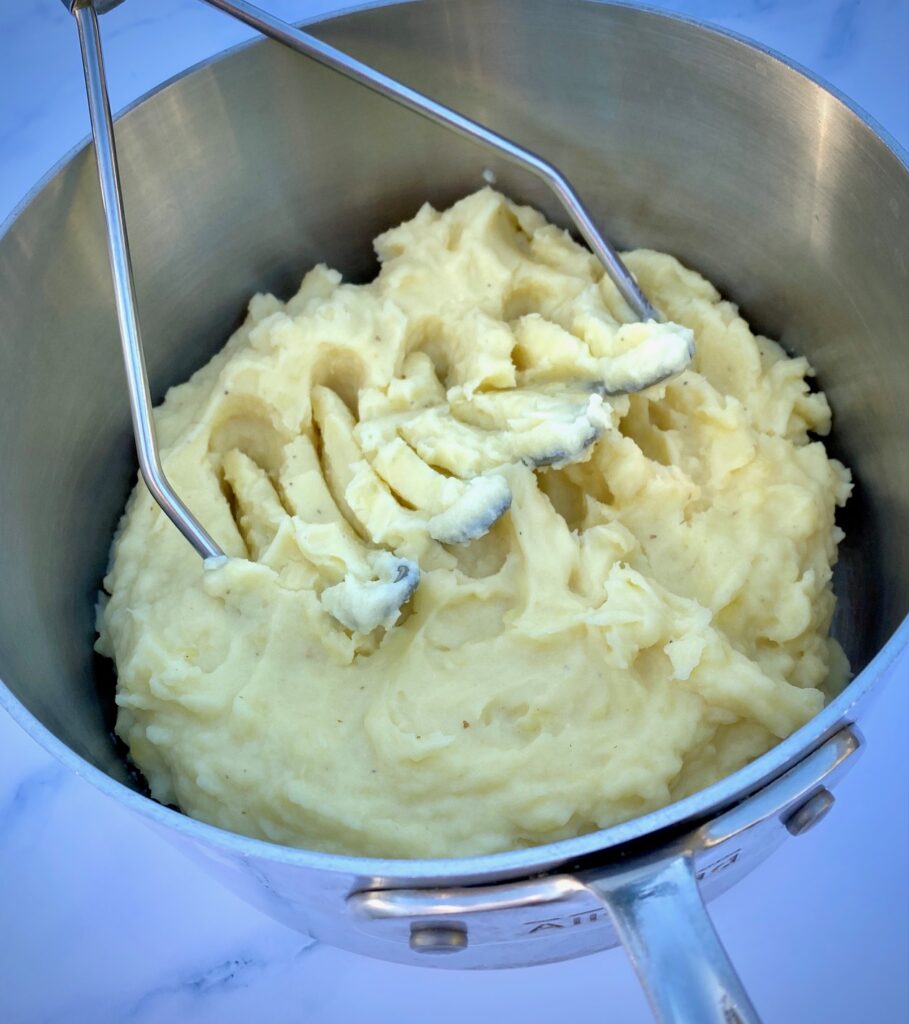 Tips and Frequently Asked Questions:
The best recipes often start with a few simple ingredients and homemade Garlic Mashed Potatoes are no exception. They are fairly easy to make but there are a few important things to remember to make them perfect. Below are some of our best tips.
1. What are the best potatoes for mashed potatoes?
YUKON GOLD potatoes are our first choice because they have a creamy, rich texture and a buttery flavor that works perfectly for mashing potatoes. Their medium starch content makes them very versatile, and they hold their shape when boiling. If you want to add some texture to your mashed you could leave the skin on some, or all, of the potatoes, because the skin is very thin.
If you cannot find Yukon Golds try white potatoes or russets
2. How to prevent gluey, gummy, starchy or sticky mashed potatoes:
Use large chunks of potatoes – We cut ours in quarters. If you cut them smaller the water gets inside the potatoes making them watery and less flavorful
Start the potatoes in cold water – If you start with warm or hot water the outside of the potato starts to cook before the inside, which results in starchy potatoes
Don't over mix the potatoes – Overly vigorous mixing releases too much starch, which results in gluey, sticky mashed potatoes. For this reason we don't recommend mixing them with a hand mixer or blender. Use a good sturdy potato masher for the very best results!
Use room temperature or warm cream and butter – adding cold ingredients to warm potatoes will immediately cool them down and the result is a less creamy mash. If the ingredients are warm the potatoes will absorb the flavor better too.
3. Why are my mashed potatoes bland?
Add salt! Don't forget to add salt to the cooking water. It sounds really basic but it makes a huge difference in the end results
Adding flavoring – We add garlic to our potatoes while they are cooking to infuse them with bigger flavor, but you could also add herbs such as rosemary or thyme
Taste as you are mashing – Potatoes need salt (and pepper) so it's important to taste test as you go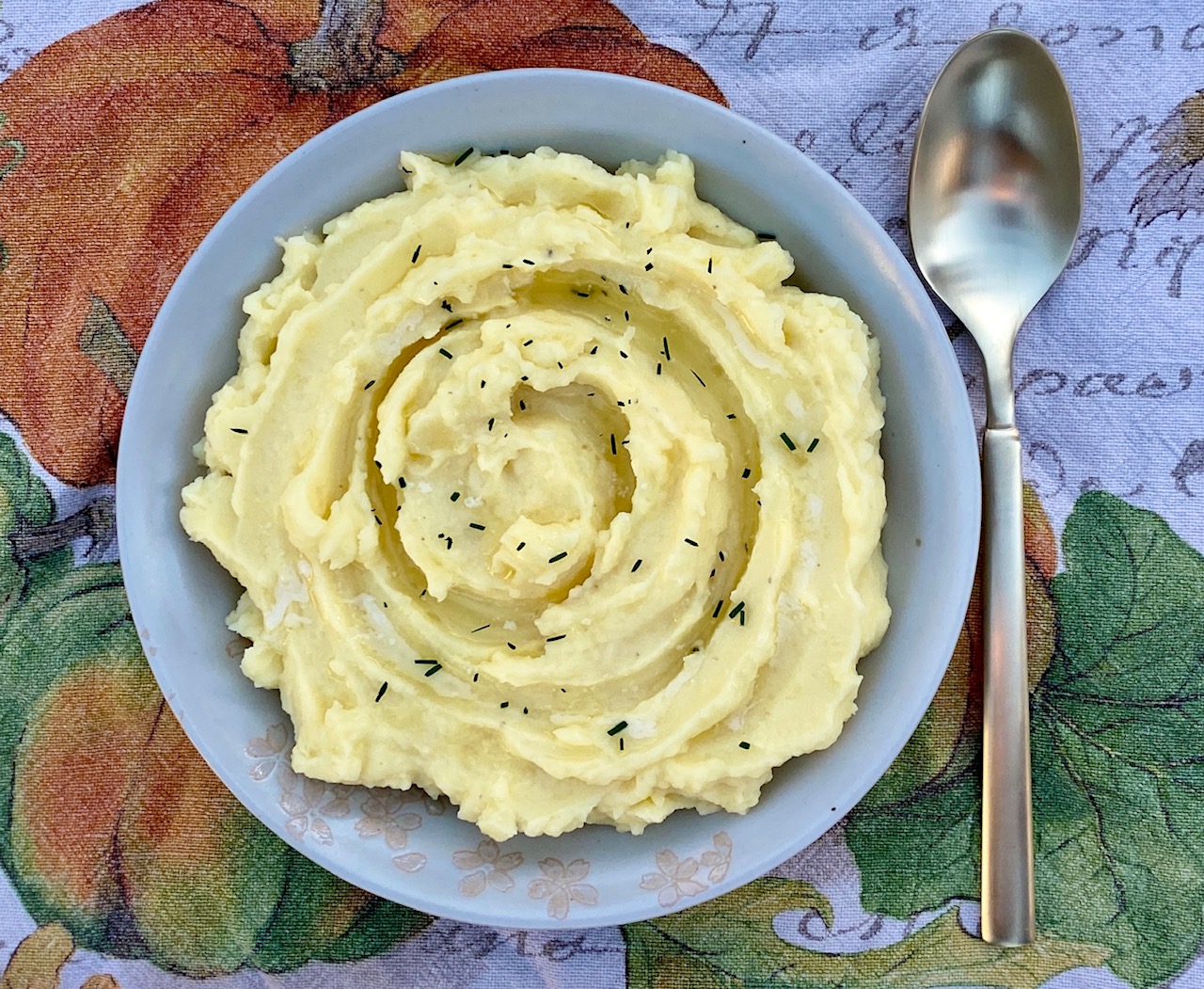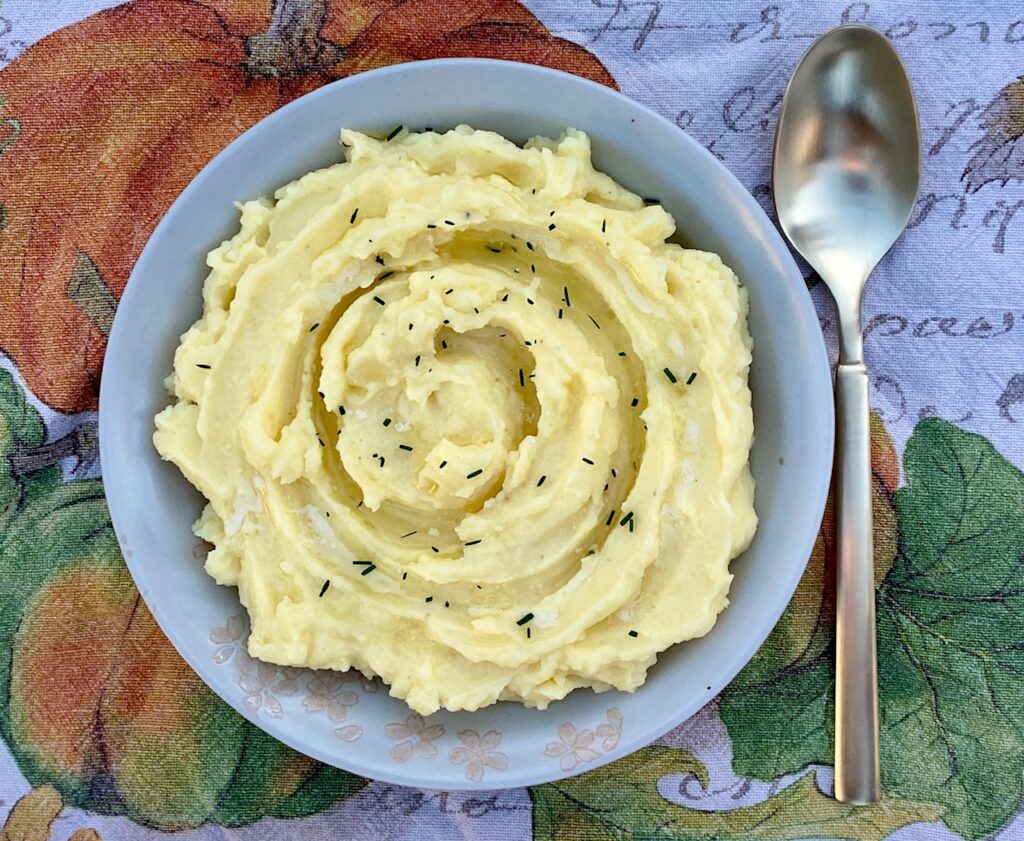 What to do with Roasted Garlic
Sweet caramelized garlic makes everything better! Here are some ideas for using the rest of your head of roasted garlic:
Mash and spread onto sliced baguette. It goes great with soft cheeses and savory jams
Blend into homemade mayo
Mix into any types of dips and spreads
Spread onto grilled hamburgers or steaks
Blend into your favorite salad dressing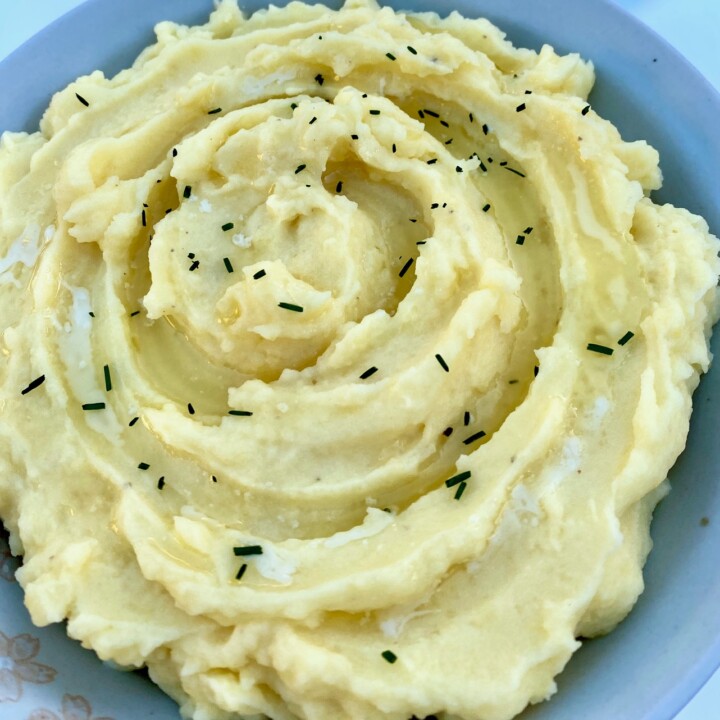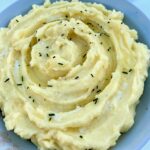 Print Recipe
Roasted Garlic Mashed Potatoes
Creamy, roasted garlic mashed potatoes are the ultimate comfort food. So easy to make and always welcome at any meal.
Ingredients
Roasted Garlic:
1

head

garlic

1

Tablespoon

olive oil
Potatoes:
2

pounds

potatoes

(waxy type, such as yukon golds, white or yellow)

2

teaspoon

salt, divided

⅓

cup

cream

(or half & half), more to taste

1

Tablespoon

butter

½

teaspoon

white pepper,

freshly ground

Chives or Italian Parsley

to taste, chopped, for garnish
Instructions
How to Roast a Bulb of Garlic:
Cut off the top part of a garlic bulb to expose the top of the cloves. Remove some of the papery skin and discard.

Place garlic bulb in the center of a piece of aluminum foil

Drizzle the bulb in olive oil to coat. Wrap tightly in the foil and roast in the oven for about 60 minutes or until cloves are roasted, caramelized and soft.

Unwrap, let cool, and squeeze the cloves out to use them. (Refrigerate any unused cloves for another use)
Preparing Potatoes:
Peel the potatoes and cut into quarters

Add potatoes to a large pan and cover with water until fully submerged. Add 1 teaspoon of salt and 6-8 cloves of the roasted garlic (more or less to taste)

Bring water to a vigorous boil, reduce to a simmer and cover the pan. Cook until potatoes are fork tender, about 15-20 minutes

Drain the potatoes and garlic into a colander. Return to the pan and heat on lowest setting to dry the potatoes for about 3-4 minutes. Keep an eye on potatoes to make sure they don't get scorched.

Add cream and 1 Tablespoon of butter. Heat cream, butter, and potatoes over low heat for 1-2 minutes.

Mash potato mixture with a heavy-duty potato masher until smooth, and lump-free

Stir in white pepper, and more salt, if desired, to taste.
Notes
Notes:
Room temperature cream and butter work best when mixing in to potatoes, so pull them out of refrigerator, while potatoes are boiling, for best results
Leftover roasted garlic can be stored in the refrigerator for up to 5 days, lightly wrapped in foil
Nutrition
Calories:
207
kcal
|
Carbohydrates:
28
g
|
Protein:
4
g
|
Fat:
9
g
|
Saturated Fat:
5
g
|
Polyunsaturated Fat:
1
g
|
Monounsaturated Fat:
4
g
|
Trans Fat:
1
g
|
Cholesterol:
23
mg
|
Sodium:
790
mg
|
Potassium:
666
mg
|
Fiber:
3
g
|
Sugar:
1
g
|
Vitamin A:
256
IU
|
Vitamin C:
31
mg
|
Calcium:
37
mg
|
Iron:
1
mg