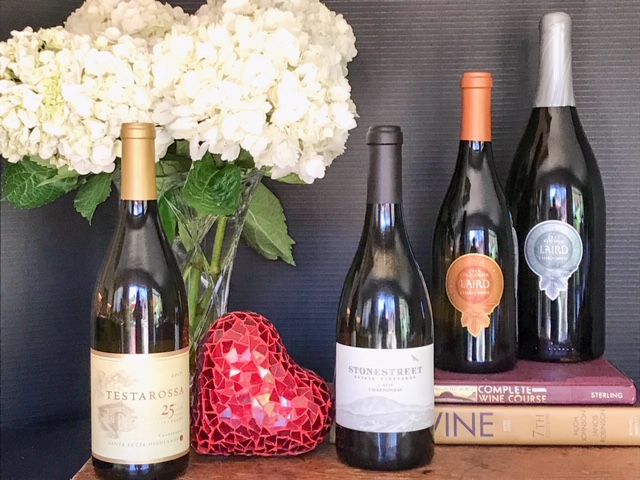 We love the big oaky, buttery Chardonnay
Let's discuss and enjoy what we love in a California Chardonnay. To find the rich attributes of a big, oaky, buttery Chardonnay, you need to look no further than all the regions of California. They supply an amazingly wide variety.
Warm climate and Cool climate Chardonnay's
Warm climate Chardonnay's are rich and full-bodied with toasted oak flavors, and notes of butter, vanilla, even some caramel. "They can be referred to as creme brulee in a glass!" This is what we love and have grown to expect from a warm climate California Chardonnay.
Cool climate Chardonnay's take on traits of soft fruit, with a light to medium body and aromas of toasted nuts and tropical fruit. California Chardonnay's are a great accompaniment to any afternoon gatherings as well as any evening dinner party.
Some California history
The California wine country is rich in history, dating back to the 1700s and the California Missions. It has 5 major wine growing regions called American Viticultural Areas or AVA's. In this post will focus on the North Coast AVA, which includes Napa, Sonoma, Mendocino and Lake Counties. Along with the Central Coast AVA covering the Santa Cruz Mountains, Monterey, San Luis Obispo, and Santa Barbara.
When it's time to pour a glass of California Chardonnay, here are a few of our noteworthy favorites:
Sonoma and Napa Valley
Laird Family Estate located just off Highway 29 at the Oak Knoll exit in Napa Valley. Laird has a wide variety of complex fine wines. Today we are concentrated on their Red Hen and Cold Creek Chardonnays. https://lairdfamilyestate.com

Cold Creek Chardonnay has aromatic notes of tropical fruit, vanilla and lemon zest. On the palate you find the creamy allure of freshly baked apple pie, sitting next to a bowl of buttered popcorn. This leaves you looking for the next glass.
Red Hen Chardonnay is a uniquely sophisticated wine with aromatic notes of ripe pears, and baked apples. You experience hints of oak and toasted spices, finished with a hint of lemon zest. Its creamy soft finish is sure to leave you wanting more.
The entrance to Laird Family Estates

View from the Laird patio

Home of the Red Hen Chardonnay
Stonestreet Estate Vineyards, located in the beautiful Alexander Valley in Sonoma. The drive to this winery alone is worth your time. Take the Lytton Springs exit off Hwy 101 to Hwy 128 to the winery. With Single vineyards and Estate wines, you are sure to find a favorite. https://www.stonestreetwines.com

2016 Estate Chardonnay Aged in new French oak this medium-bodied wine is a classic, delivering baked apples and spices aromas. The result is silky on the palate with lemon citrus, and a long spicy finish. It pairs well with a beautiful California shellfish, like crab.
2015 Cougar Ridge Chardonnay is the perfect example of cream brulee in a glass. With characteristics of toasted caramel, vanilla bean, and baked apples. It is smooth on the palate with a long delightful finish.
Santa Cruz Mountains and Central Valley
Testarossa Winery, with tasting rooms in Los Gatos and Carmel Valley, they offer guests a unique tasting experience and unparalleled Chardonnay's. https://www.testarossa.com

2017 Santa Lucia Highlands: is a medium-bodied Chardonnay with aromas of caramel custard, ripe apples, and lemon zest. Vibrant on the palate it has a dense texture that gives you a long refreshing finish.
2017 Santa Rita Hills has concentrated aromas of vanilla bean, lemon custard and tropical fruits, This beautiful Chardonnay has a light mouthfeel. While it can be vibrant in its youth, this Chardonnay is one that will age well over the next several years.