Santorini Greece was one of our favorite adventures together. Nothing can compare to a day on this magical island. It is as spectacular and mesmerizing as imagined. Santorini is crowded in the summer so plan accordingly. The village of Oia is at the top of the island but the climb up is worth it. The whitewashed village featured many small and unique shops and restaurants with breathtaking views. And, of course, the famous blue domes!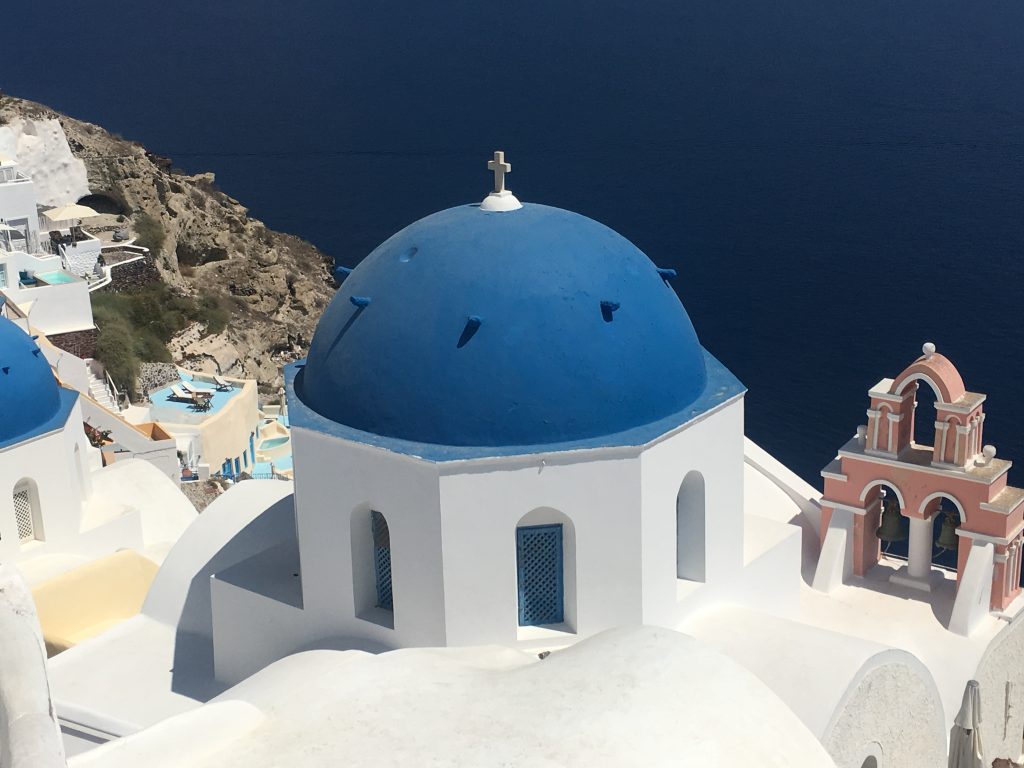 The day began in the charming City of Fira. Later we made our way out to the Boutari Winery. Here we had the opportunity to tour the vineyards and the winery. We ended with traditional Greek lunch and a tasting of their fine wines.
The "stefani" method of vine pruning:
On Santorini, the soil is a mixture of light pumice gravel, sand, and black lava stone. The vineyards are low lying and sparsely planted with a unique vine pruning method called "stefani". This method of pruning shapes the vines into a wreath or basket. This helps protect the vines from the intense Aegean winds and allows them to collect whatever moisture is available with the morning dew.
low lying vineyard

vines

stefani vine pruning
We tasted the unique white wines produced from the Assyrtiko grape and then visited the wine caves before making our way to the village of Oia.
To plan your visit to Boutari. or read more about them, click here: https://www.boutariwinerysantorini.gr/
Greek Salad and Baklava!
No day in Santorini would be complete without a traditional Greek Salad of fresh cucumbers and tomatoes. Simple and so satisfying. Enjoy a great dinner on a hot day, paired with a crisp Greek white wine, a bit of Ouzo and dessert, which, of course, must be Baklava! Santorini will win your heart.
Traditional Baklava and Ouzo

Greek Salad