Buttermilk fried chicken is a classic and should be on every picnic menu. The chicken becomes extra tender when it's been brined and then takes a bath in buttermilk before being fried.
There are as many recipes for fried chicken as there are cooks. While there are a few steps involved, each step is relatively easy. After trying a host of different preparations this one has become our favorite. Buttermilk contains lactic acid, a mild acid that gently breaks down some proteins and makes chicken more tender.
Chicken in brine

Chicken in cast iron

Crispy Fried Chicken
Jump to Recipe
Tips and tricks for perfect fried chicken:
Here are a few tips and tricks to making your Southern-style buttermilk fried chicken perfect:
Types of chicken: Everyone has their favorite pieces but in our experience thighs and legs, with skin on, work the best. You can use breasts, but make sure they are bone-in.
Brining is an extra step but worth it. Any type of brine will always have salt, liquid, and sugar in varying amounts. Brining adds moisture to the chicken.
Don't brine for more than 4 hours.
Placing the chicken in buttermilk after brining gives the chicken a chance to absorb the tangy flavor which really comes thru when finished.
Make sure the oil is hot enough when you start frying otherwise your chicken will absorb the oil and become greasy, instead of crispy.
Use an oil that can withstand high heat, such as peanut, canola, vegetable or safflower oil.
Don't overcrowd the chicken when you put it in the pan. You want it to fry, not steam.
Since you will be making the chicken in two batches, you may want to keep the first batch warm in the oven while frying the second batch.
Suggestions for Wine Pairings:
This dish will pair well with a crisp acidic Riesling or an effervescent sparkling wine or champagne. The crisp acidity in both works well with the richness of the chicken. Look for any available vintages of the following:
Your weekday wine:
Hermann Wiemer, Dry Riesling, New York
Roederer Estate Brut Sparkling Wine, California
Your weekend wine:
Fess Parker Rodney's Dry Riesling, California
Trimbach Riesling, Alsace, France
Medici Ermete Concerto Reggiano, Lambrusco, Italy
A special occasion wine:
Schaefer Willi Riesling Auslese Graacher Himmelreich, Germany
Veuve Clicquot Yellow Label Brut Champagne, France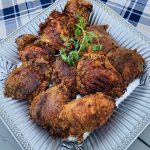 Print Recipe
Southern Style Buttermilk Fried Chicken Recipe
Southern Style Buttermilk Fried Chicken Recipe
Resting in brine and resting in buttermilk
3
hrs
Ingredients
Brine
2

quarts

water

¾

cup

Kosher salt

½

cup

Turbinado sugar

2

tsp

peppercorns,

whole

1

lemon
Buttermilk Bath
2

cups

buttermilk

1

egg

1

tbsp

Old Bay seasoning
Flour Mixture
2

cups

All-purpose flour

2

tsp

sea salt

1½

tsp

black pepper,

freshly ground

1

tsp

cayenne
Chicken
10

pieces

chicken,

legs and thighs
Instructions
Make the Brine
In a large pot squeeze the lemon juice and put both lemon halves in the pot. Add the rest of the ingredients to the pot and mix well. Heat on medium-high heat until all of the sugar and salt is dissolved.

Remove from heat and let cool to room temperature. Once cool, add the chicken pieces, cover and let brine in the refrigerator for 3-4 hours. Drain well.
The Buttermilk Bath
Mix all ingredients in a large deep bowl. Add chicken pieces, mix well to coat and let soak for 1-1½ hours in the refrigerator.
Heat cast-iron skillet or large frying pan
Add about ½" of oil and heat to medium-high, about 375F.

Have a plate ready with paper towels to drain cooked pieces.
The Flour Mixture:
Mix all ingredients in a large ziplock or paper bag.

Add chicken in 2 batches, about 5 pieces at a time. Shake excess buttermilk off before adding to bag. Shake the bag vigorously until well coated.
Frying the chicken:
Shake off excess flour and add 5 chicken pieces to hot oil. Make sure the pieces are not touching. Fry for about 10 minutes on each side, or until golden brown. If you have a thermometer look for an internal temperature of 165F.

Remove and put on paper towels to briefly drain and then cool on a wire rack. Repeat with the second batch. If needed, put the first batch in oven on low to keep warm while you make the second batch.

Serve on a large platter.