Grilled artichokes with lemon dill aioli are a great way to enjoy the abundance of plump artichokes at the farmer's markets and grocery stores. If you've never tried grilling your artichokes you will fall in love with this method, because it's so easy and the grill adds great flavor.
Jump to Recipe
Preparing the artichokes:
Grilled artichokes are easy to make but do require some cooking time to help tenderize the leaves and the heart. Cut the sharp pointed ends of the leaves, trim the stem down, cut in half, and clean the fuzzy choke. Be sure to steam, not boil the artichokes.
You will want to steam the artichokes for about 30 minutes first. Once you can easily pull off one of the outside leaves then it's time to give them a nice "bath" of garlic and olive oil and then finish them on the grill.
To finish your grilled artichokes cook them cut side down for 8-10 minutes, or until they have light grill marks. To test if they are done you can poke a knife into the stem and it should easily give in.
How to serve:
To present your grilled artichokes with lemon dill aioli, simply serve them on a shallow platter with the dipping sauce alongside. This simple presentation makes it easy for you to focus on any other cooking you need to do. The lemon dill sauce can be made one day ahead of time and stored in an airtight container in the refrigerator.
Artichokes are healthy:
Artichokes have the added benefit of low calories (just 20 calories per half) and they are high in anti-oxidants. If you need to prep your artichokes ahead of time be sure to rub the cut edges with lemon (or any other acid, like white vinegar) to keep them from browning. We are California based so we live for 'choke season and knowing they are healthy makes us even happier. To see all the benefits of artichokes click here: http://artichokes.org/recipes-and-such/health-and-nutrition
They are great straight off the grill, but we think you will love them with this sunny lemon dill aioli which you can make in just 2 minutes while the artichokes are steaming.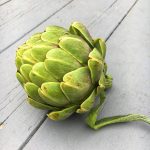 Print Recipe
Grilled Artichokes with Lemon Dill Aioli Recipe
Summer is the perfect time to grill artichokes! Add this sunny lemon dill aioli for a perfect side dish. Or add crusty french bread and make it a meal.
Equipment
Large stockpot

Steamer basket

Grill
Ingredients
Artichokes
2

large

Artichokes,

trimmed and cut in half stem to tip

1/2

cup

Olive oil

1

tbsp

Garlic,

crushed

1

tsp

Black pepper
Lemon Dill Aioli
1/2

cup

Mayonnaise

2

tbsp

Lemon juice

1 1/2

tsp

Dried Dill,

or 2 tbsp Fresh Dill
Instructions
Prepare the Artichokes:
To steam the artichokes, start a large pot, filled about 2 inches full of salted water, to boil.

Heat BBQ to medium heat

Trim artichokes by cutting off the sharp tips of the leaves, and trim the stem. Cut the artichokes in half stem to tip, and clean out the fuzzy artichoke center.

Steam, covered, in lightly salted water for about 30 minutes, cut side down, in a steamer basket.

Mix olive oil, garlic, and pepper together in a small bowl. Remove artichokes from the pot and drain.

Coat all over with olive oil mixture. Grill for about 8-10 minutes cut side down until lightly browned. If the artichokes are done you will be able to easily pierce the stem.
Lemon Dill Aioli
Combine mayonnaise, lemon juice, and dill in a small serving bowl. Add more to taste, if desired. Set aside until ready to serve.
Serving:
Remove artichokes from the grill and place on a platter or shallow serving dish, together with the lemon dill aioli and serve.

Can be served hot or at room temperature.