Crustless quiche egg bites are so easy and can help you get your morning off to a great start. This is a great recipe to make on Sunday because you will have enough left over for breakfast on Monday and Tuesday, as well! Trust us, nobody will miss the crust!
Crustless quiche egg bites are similar to traditional quiche in ingredients. Because there is no crust they are just a pure hit of protein, which we all need in the morning. I confess I love these for a quick lunch, as well, with a salad.
Ingredients basics:
While there are basic ingredients you need to get started the rest is a blank slate for you to add your favorites – or whatever is in your produce drawer that day!
Eggs and milk – these are the two must-haves for quiche. I use large eggs for this recipe so if yours are smaller or larger adjust accordingly. I use non-fat milk but any type works. If you want super creamy quiche use half & half.
Cheese – I love Gruyere because it has a nuttier flavor than swiss and it melts perfectly, but swiss is a good substitute. Add some cheddar for color and flavor. Parmesan is a perfect add on, as well.
Salt and Pepper – don't skip these two important ingredients to add to the flavor of the finished quiche.
A basic muffin tin. Nonstick works best. Here is the link to the muffin tin I use.
Basic ingredients for quiche
Add-ins are the key to flavor!
The add-in options are endless so choose any meat or vegetable. For this recipe, I recommend a quantity of 1 cup total to keep the ratio of egg to add-ins accurate.
Always cook your meat ahead of time since the cooking time here will not allow enough time to fully cook the meat. Some vegetables can be cooked with the quiche, but if you want them softer then briefly steam or saute ahead of time.
Add-in ideas:
Bacon, Proscuitto, sausage crumbles, turkey crumbles, chopped ham, chopped pancetta pieces
Red, green, yellow or orange peppers
Fresh chopped tomatoes
Softened sun-dried tomatoes
Broccoli, cut very small
Asparagus pieces, peas
Any green, wilted or fresh, but chopped. Spinach works well, but try kale, dandelion greens, chard, or parsley
Ingredients for crustless mini quiche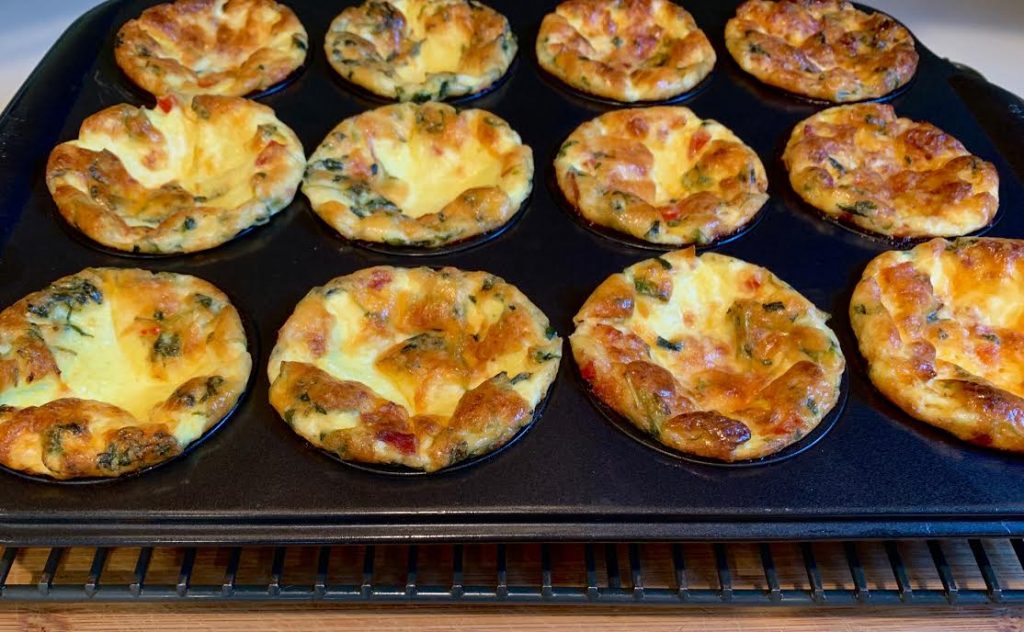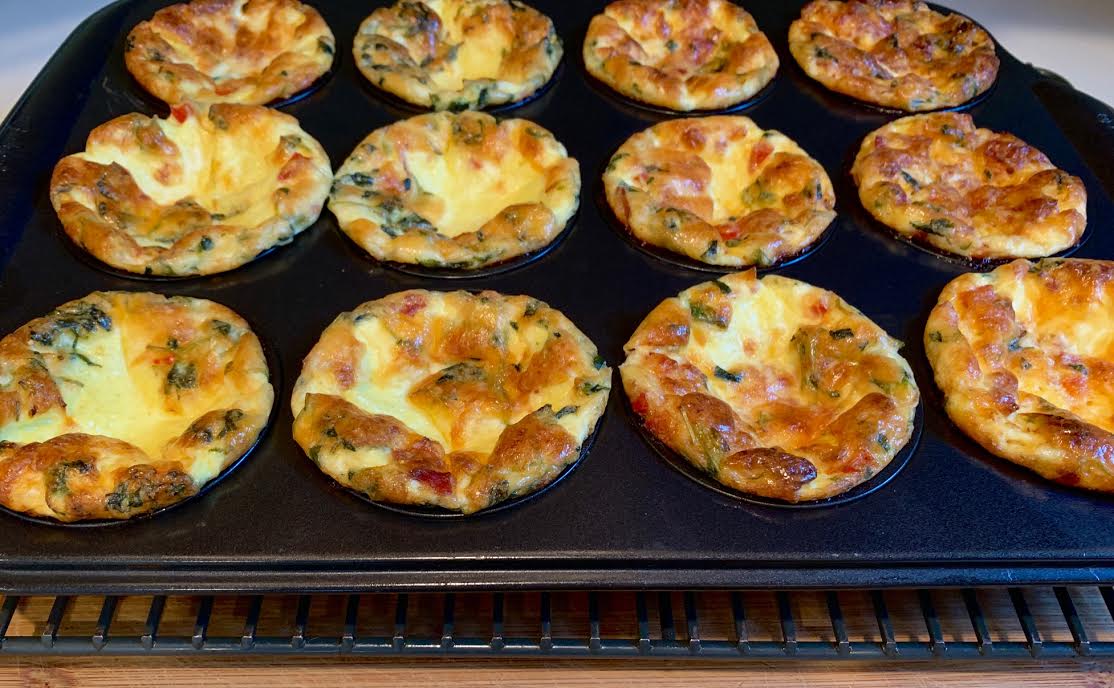 Serving Ideas:
No need to limit yourself to breakfast with these little bites. I have made them for parties because they are a great appetizer.
Add a side of fruit for a perfect breakfast
Add a side of roasted potatoes for lunch or breakfast
A lunch side salad with tangy vinaigrette makes the perfect contrast to the richness of the eggs. Try our easy lemon vinaigrette!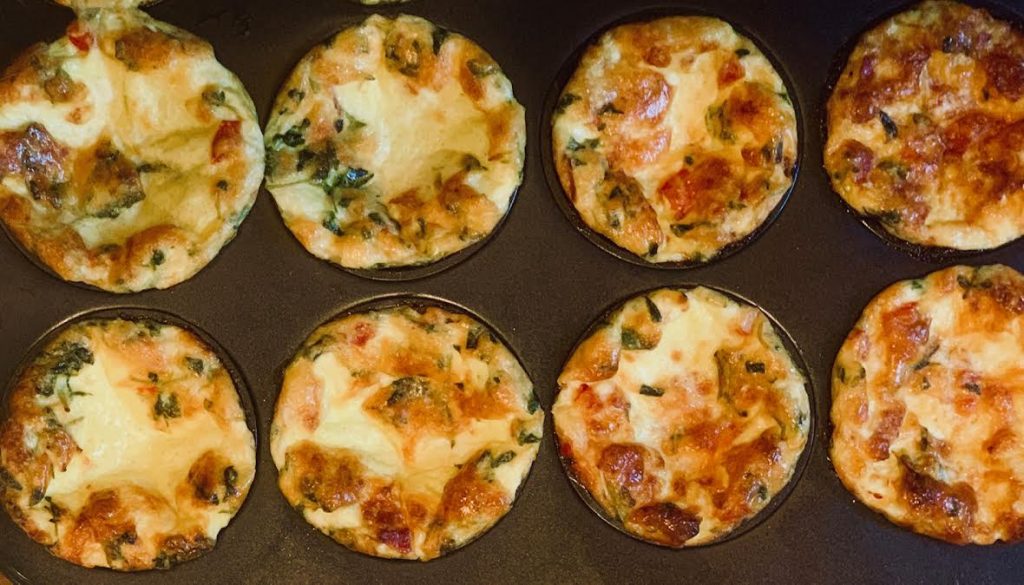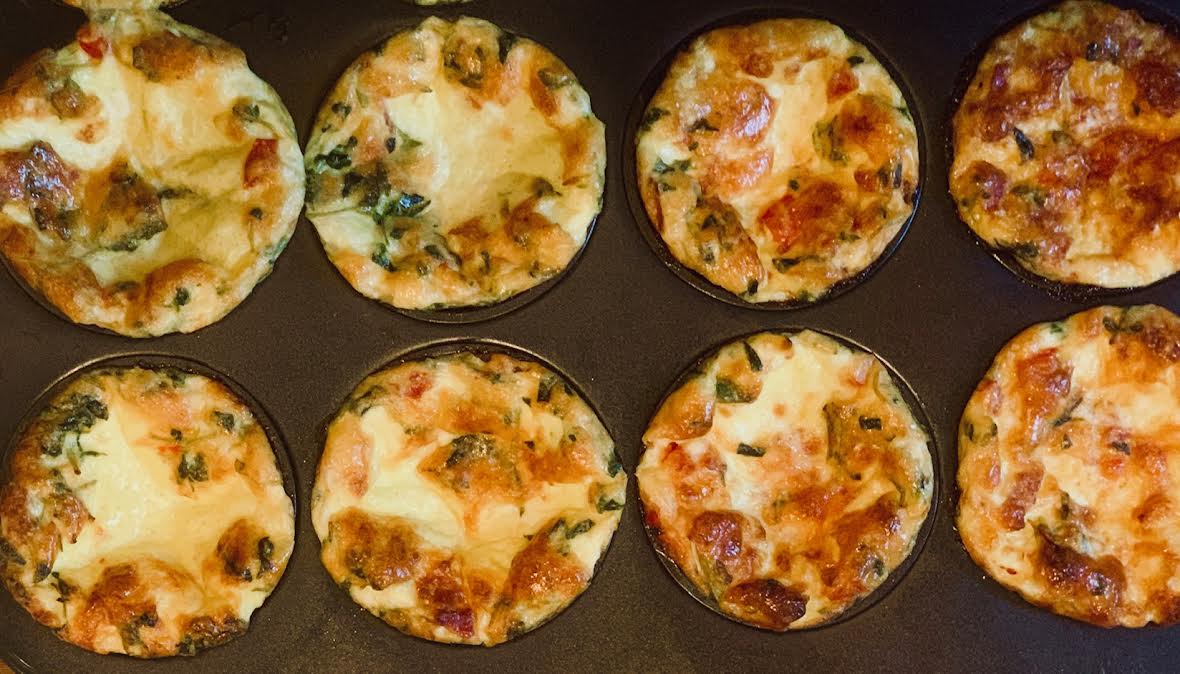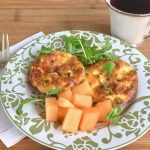 Print Recipe
Crustless Quiche Egg Bites
Crustless quiche egg bites are a pure hit of protein and make a great easy breakfast or lunch. Easy to make ahead!
Servings:
12
Individual quiche
Ingredients
7

eggs

½

cup

milk

¼

cup

tomatoes, fresh or softened

½

cup

cooked bacon pieces, chopped

¼

cup

spinach, cooked and chopped

¼

cup

cheddar cheese, shredded

½

cup

Parmesan or Gruyere cheese, shredded

½

tsp

salt

½

tsp

black pepper, freshly ground
Instructions
Preheat oven to 385°F

Grease 12 metal muffin tins

In a large bowl whisk the eggs and milk until well combined, but don't whip.

Add remaining ingredients and gently mix together.

Fill each muffin tin ¾ full

Transfer to the oven and bake 17-19 minutes or until a knife tip inserted comes out clean.

Rest for 5 minutes and remove from muffin tins. Serve.

If not eating all of the quiches right away, let cool and store the remainder in a sealed container in the refrigerator for up to 3 days.