Nothing says "Good Morning!" like a warm stack of homemade buttermilk pancakes! These fluffy pancakes are a staple in our household. Every weekend should start with these buttermilk pancakes and a rich Cappuccino!
In full disclosure, this is my husband's secret recipe and he graciously agreed to share the recipe with us. He has been refining the ingredients for over 15 years because he began making these pancakes when our boys were toddlers. Our teens like it when he adds mini chocolate chips to the batter. We make a big batch and freeze the extras so we can quickly reheat in the toaster on busy weekday mornings.
Jump to Recipe
Leftover Buttermilk?
If you find yourself with leftover buttermilk try these two recipes also:
Homemade Vanilla Recipe
We use the homemade vanilla that I make every fall and give as gifts. It's easy to make and great to have on hand.
Best practice tips for fluffy buttermilk pancakes
Combine all dry ingredients together and whisk with a fork to be sure the baking powder, baking soda, and salt are well combined.
Melt your butter and let it cool for 5-minutes before adding to the pancake batter. Beat eggs in a small bowl.
Slowly add buttermilk, then butter and vanilla – stir lightly with a rubber spatula or spoon until just combined. Then add your beaten egg and again use a light hand to blend. The batter will have some small lumps – this is what you want!
DO NOT overmix or your pancakes will not puff up as well.
Let pancake batter rest for 10-15 minutes before cooking. This allows the acid in the buttermilk to activate the baking powder, which makes your pancakes fluffy.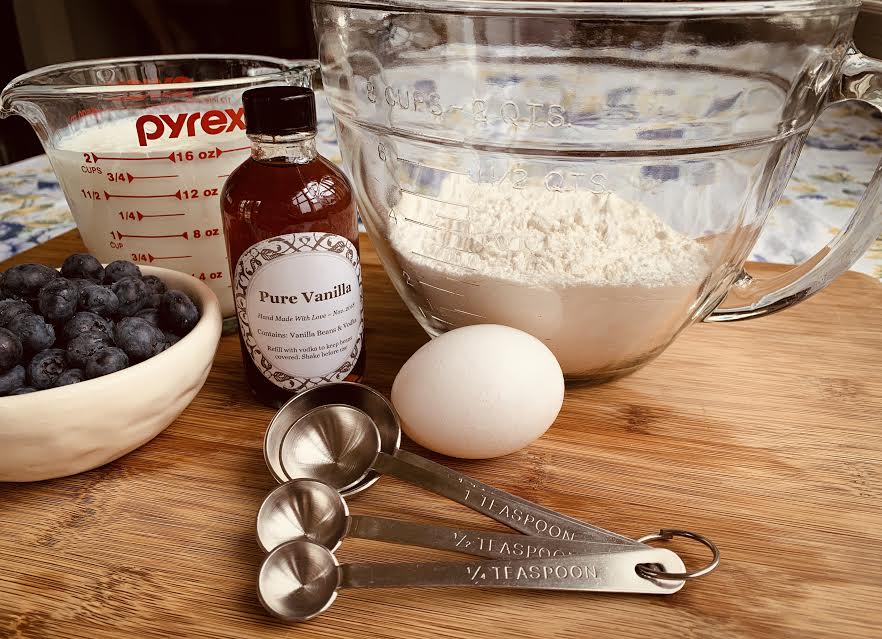 Preparing pancakes:
We have found the best size is about 5″ round. To achieve this use 1/4 cup batter for each buttermilk pancake. If you want full-size pancakes, use about 1/2 cup batter.
Your griddle should be 325F or a large pan on medium heat.
Warming your syrup in a heatproof container for 10-15 seconds in the microwave helps keep pancakes at a warm temperature when serving.
If you are planning to freeze the extras, be sure to let them cool to room temperature and then wrap, separating each with waxed paper or foil, so they aren't stuck together when you pull them out. Store in a large ziplock bag or wide freezer-proof container tightly sealed.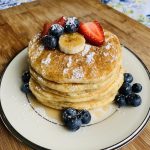 Print Recipe
Buttermilk Pancakes Recipe
Buttermilk Pancakes Recipe
Ingredients
2

cups

all-purpose flour

2

tsp

baking powder

1 1/2

tsp

baking soda

1/4

tsp

salt

2

tbsp

butter,

melted and cooled

2

eggs,

lightly beaten

2

cups

buttermilk

2-3

tsp

pure vanilla extract
Instructions
In a large bowl lightly combine flour, baking powder, baking soda, and salt. Set aside

In a small bowl melt butter and let cool for about 5-minutes. Lightly beat eggs in a small bowl.

Add buttermilk, melted butter, and vanilla to the flour mixture and use a spoon or rubber spatula to lightly combine. Add the beaten egg and mix just until combined. Batter should still have small lumps. Let batter rest for 10-15 minutes

Heat a griddle to 325F or a large non-stick pan to medium.

To make 5" pancakes add 1/4 cup batter to griddle or pan. Cook in batches and do not overcrowd pancakes. Cook until bubbles appear on the surface, about 2 minutes, and then flip and cook an additional 1 minute.