Say "Good Morning!" with a warm stack of homemade buttermilk pancakes!
These fluffy pancakes are a staple in our house. Every weekend should start with these pancakes and a warm cappuccino!
In full disclosure, this is my husband's secret recipe and he graciously agreed to share the recipe with us. He has been refining the steps and ingredients for over 15 years.
Jump to Recipe
Ingredients for the best buttermilk pancakes:
Fluffy homemade pancakes from scratch are so easy and the ingredients are pantry and refrigerator staples. Even if you are out of buttermilk you can quickly make your own (see directions below). Here's what you will need:
All-purpose flour
Baking Powder – make sure yours in fresh because this is what makes baked goods fluffy!
Baking Soda
Salt
Butter
Eggs
Buttermilk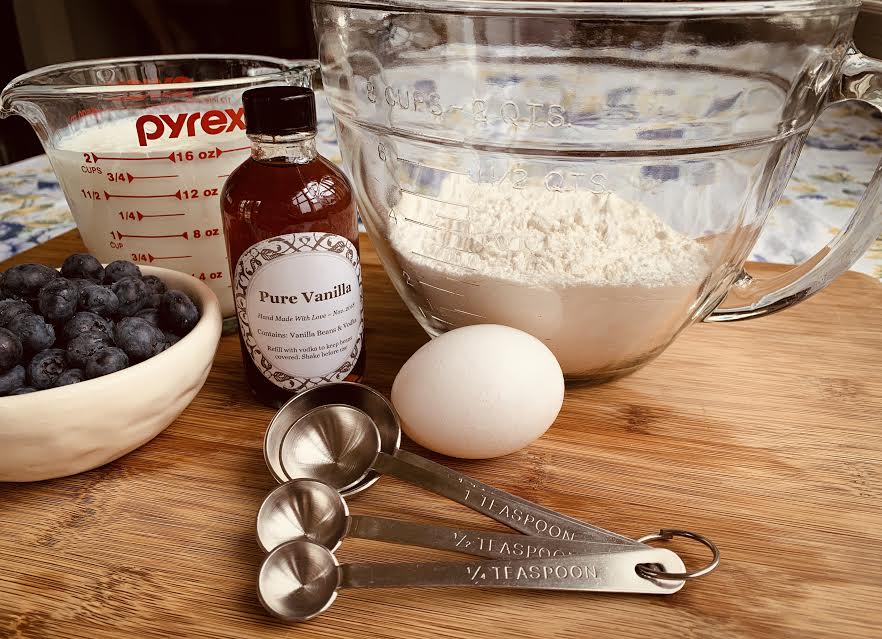 How to make homemade Buttermilk Pancakes from scratch:
Combine all dry ingredients together and whisk with a fork: the baking powder, baking soda, and salt.
Melt the butter and let it cool for 5-minutes before adding to the pancake batter.
Beat eggs in a small bowl and set aside.
Slowly add buttermilk, then cooled butter and vanilla to the flour mixture.
Stir lightly with a rubber spatula or spoon until just combined.
Add the beaten egg. Again, use a light hand to blend.
The batter will have some small lumps – this is what you want.
DO NOT OVERMIX or the pancakes will not puff up as well.
Let pancake batter rest for 10-15 minutes before cooking. This allows the acid in the buttermilk to activate the baking powder, which makes your pancakes fluffy.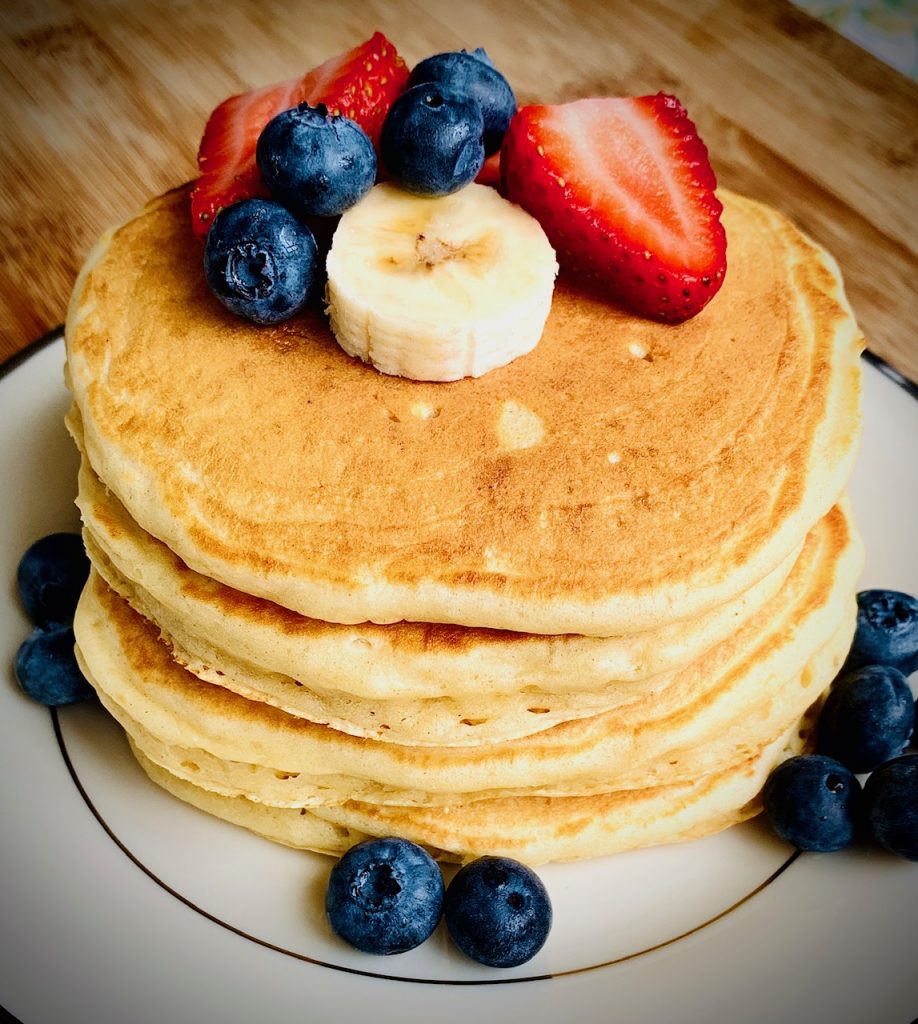 What can you do with leftover Buttermilk?
Buttermilk keeps in the refrigerator for 2 weeks. but you can freeze leftover buttermilk. Just pour it into ice cube trays and, once frozen, pop the cubes out and store in a sealed container in the freezer for up to 3 months. Let thaw in the refrigerator overnight or at room temp for 30 minutes. Whisk to recombine as some settling will naturally occur.
If you find yourself with leftover buttermilk try these fun recipes:
How to make a buttermilk substitute:
Don't have buttermilk on hand? It's easy to make a substitution:
The ratio: 1 Tablespoon of white vinegar or lemon juice to every 1 cup of regular milk
Mix together and let stand for a few minutes then stir well
Make your own Homemade Vanilla Extract: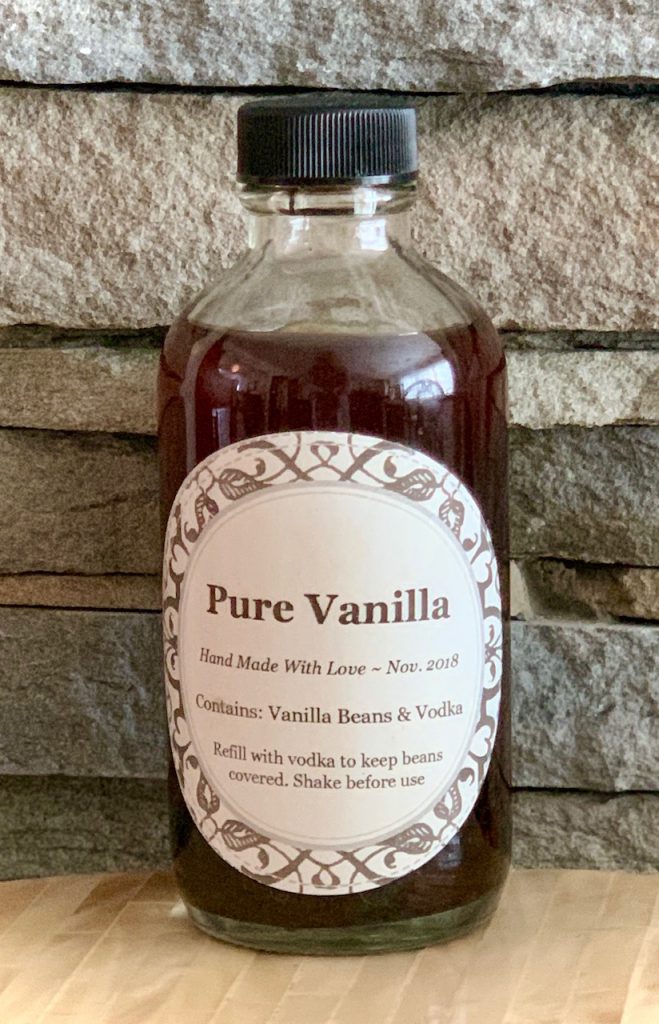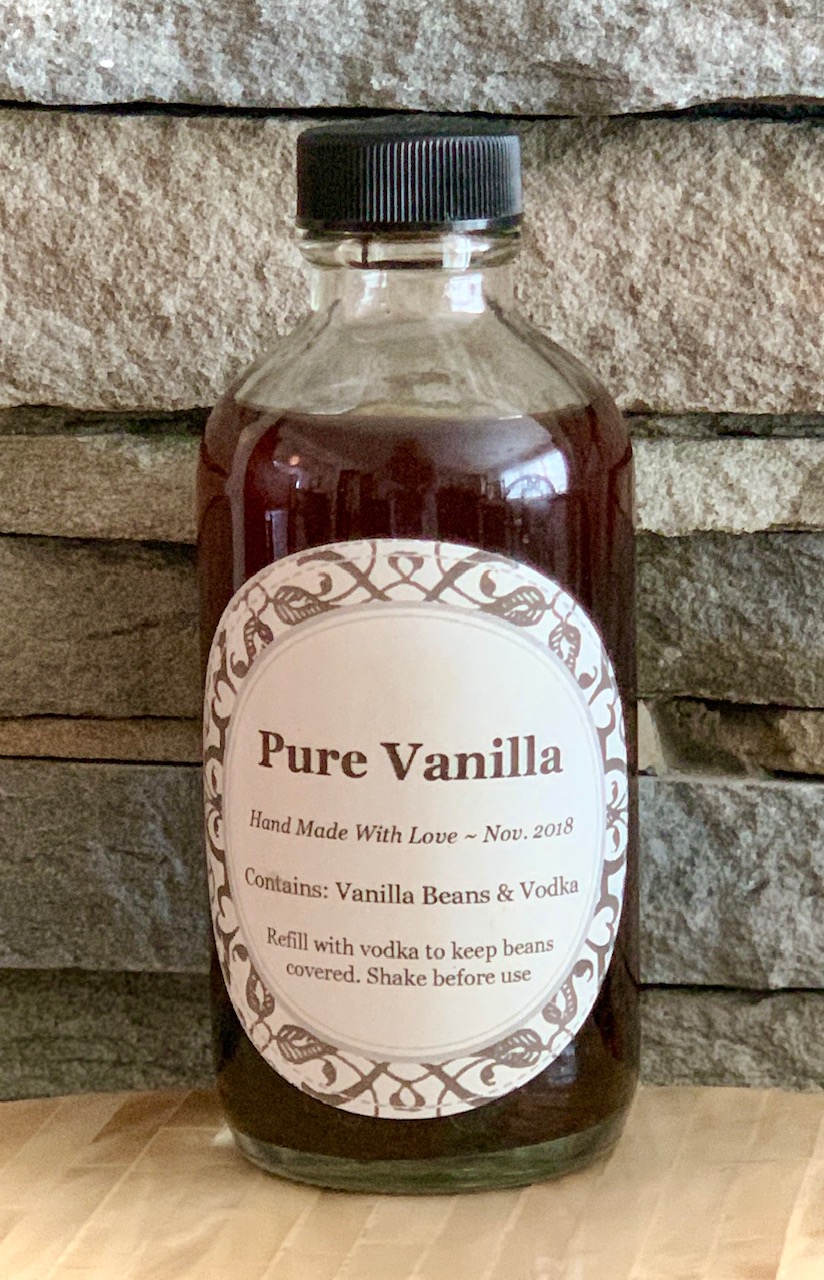 Homemade Vanilla Recipe
If you haven't started making your own 2 ingredient homemade vanilla now's the time to get started!
Click over for full directions. It's easy to make and great to have on hand.
Cooking Buttermilk Pancakes:
We have found the best size is about 5″ round. Here's the best way to achieve this:
Use 1/4 cup batter for each buttermilk pancake
If you want full-size pancakes then use about 1/2 cup batter
Set the griddle to 325°F or use a large nonstick pan on medium heat
Cook until the bottom half looks dry and then flip just once and cook on the other side until light golden brown
Warm up pure maple syrup in a heatproof container for 10-15 seconds in the microwave to help keep pancakes warm when serving
Stack on a wire rack to ensure the pancakes don't get soggy on the bottom while you are cooking the next batch
Serving ideas: Add cut fruit and dust with powdered sugar then top with warm maple syrup
Make-Ahead and Freezing Pancakes
If you are planning to freeze the extra pancakes be sure to let them cool to room temperature and then wrap, separating each with waxed paper or foil, so they don't stick together when you pull them out.
Store in a large ziplock bag or freezer-proof container, tightly sealed. Pop them in a toaster oven or regular toaster to heat them up for an easy breakfast.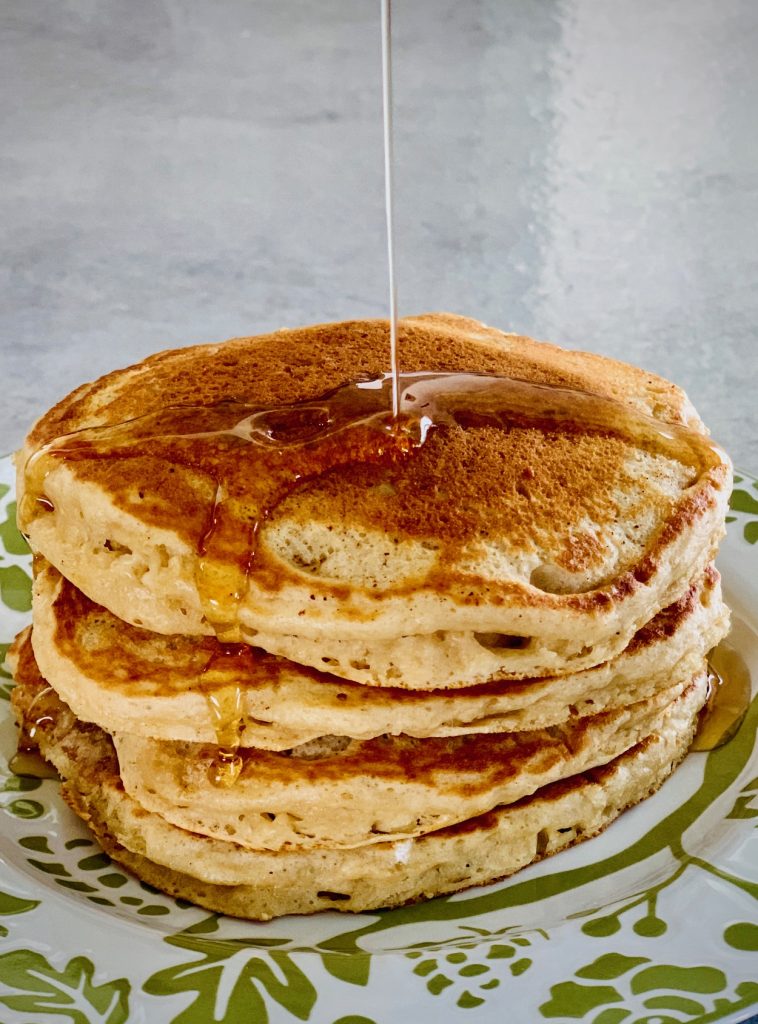 Looking for a brunch drink?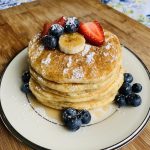 Print Recipe
Homemade Buttermilk Pancakes Recipe
Homemade Buttermilk Pancakes are fluffy, full of flavor, and simple to make for breakfast.
Ingredients
2

cups

all-purpose flour

2

tsp

baking powder

1 1/2

tsp

baking soda

1/4

tsp

salt

2

tbsp

butter,

melted and cooled

2

eggs,

lightly beaten

2

cups

buttermilk

2-3

tsp

pure vanilla extract
Instructions
In a large bowl lightly combine flour, baking powder, baking soda, and salt. Set aside

In a small bowl melt butter and let cool for about 5-minutes. Lightly beat eggs in a small bowl.

Add buttermilk, melted butter, and vanilla to the flour mixture and use a spoon or rubber spatula to lightly combine. Add the beaten egg and mix just until combined. Batter should still have small lumps. Let batter rest for 10-15 minutes

Heat a griddle to 325°F or a large non-stick pan to medium.

To make 5" pancakes add 1/4 cup batter to griddle or pan. Cook in batches and do not overcrowd pancakes. Cook until bubbles appear on the surface, about 2 minutes, and then flip and cook an additional 1 minute.
Notes
Ready to make Homemade Vanilla Extract? Here's our easy recipe:
Pure Homemade Vanilla Extract
Easy Buttermilk substitute:
The ratio: 1 Tablespoon of white vinegar or lemon juice to every 1 cup of regular milk. Mix together and let stand for a few minutes.