Classic lemon vinaigrette is a basic salad dressing that you always want in your back pocket. Making your own vinaigrettes is easy and once you start making your own salad dressing you will rarely go back to bottled dressings again.
Jump to Recipe
Use your best ingredients:
Classic lemon vinaigrette is made with ingredients that you likely already have on hand in your pantry. The key to great taste is using the highest quality ingredients because the flavor will really shine through in a vinaigrette. This is the time to use your best Extra Virgin Olive Oil! Since nothing will be heated, every ingredient flavor matters.
Make in larger batches:
I like to make a bigger batch and use it throughout the week. In my house, we tend to eat more salads if everything is quick and ready to go in the refrigerator so that we can quickly toss it together at dinner time. You can double or triple this recipe.
Lemon vinaigrette is really just a simple emulsion of acid and oil. It's important to know that, unlike store-bought salad dressing, this dressing will separate pretty quickly so you will need to shake well before each use. Separation is normal.
The ratio for a classic vinaigrette is always:
1 part acid : 3 parts oil
I like to make my salad dressing in a small food processor or in my blender to create a quick emulsion, but it's easy to whisk it in a glass bowl or large glass measuring cup. Store it in a glass jar with a tight-fitting lid. It keeps well in the refrigerator for up to 2 weeks.
When making homemade vinaigrette salad dressing follow this order:
Mix together acid (fruit juice), and all other ingredients, except the Extra Virgin Olive Oil.
Slowly drizzle in oil, little by little, and blend. This gives the acid a chance to be absorbed by the oil, creating a smooth emulsion. Continuing adding and blending.
Note: If you like the texture of the shallots then add them last for a quick blend so they don't get pureed in the blender, but make sure they are very finely chopped.
Endless possibilities:
Using fresh lemons is just the start! You can adapt this dressing to make any citrus-flavored dressing. I often substitute oranges for the lemons. If you find blood oranges they make an amazing vinaigrette. Any acidic fruit will work and it's nice to add that fruit to your salad. Limes are a common substitute when dressing a Mexican style salad.
We used this classic lemon vinaigrette with our Arugula Beet Avocado Salad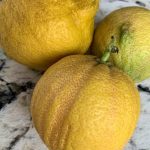 Print Recipe
Classic Lemon Vinaigrette Recipe
This is a great dressing to brighten any salad
Ingredients
1/4

cup

lemon juice,

from about 2-3 lemons

2

tsp

sugar,

or to taste

1/2

tsp

salt

1/2

tsp

black pepper,

freshly ground

3

tbsp

shallots,

finely minced

3/4

cup

Extra Virgin Olive Oil
Instructions
In a small food processor, blender or medium-sized glass bowl add lemon juice, sugar, salt, pepper, and shallot. Blend until smooth.

Slowly drizzle in olive oil and blend or whisk until completely combined.

This dressing can be kept refrigerated for up to 2 weeks. Store in a tightly sealed glass jar. Shake well before using.