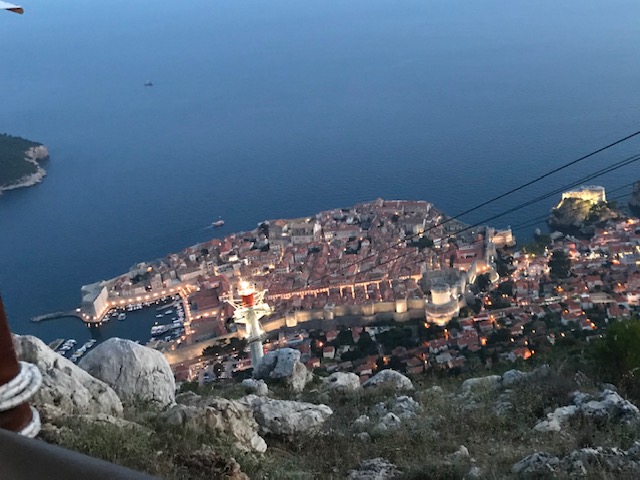 Exploring the walled city of Dubrovnik
In 2018 we had the pleasure of cruising from Venice, Italy to Athens, Greece. We joined a group of liked minded wine lovers for a wine and food cruise hosted by Laird Family Estates. One of our favorite days was spent exploring the walled city of Dubrovnik, Croatia. The city sits inside a limestone fortress constructed in the early Middle Ages and has been preserved to the present day. The TV series Game of Thrones was filmed within the city walls, and on this day the city was abuzz from recent filming.
When you enter the walled city of Dubrovnik you discover a blend of old-world history and charm, alongside the bustle of new shops and restaurants. Dubrovnik, Croatia was heavily damaged during the Croatian war, however now it has been beautifully restored. The city is alive with activity.
We took the opportunity to cool off on a hot day with an appetizer and a crisp glass of wine for lunch. We chose a spot overlooking the old marina, Restaurant Orsan https://www.restaurant-orsan-dubrovnik.com/.
This enjoyable city has great shopping. There are some incredible jewelry stores within the walled city. We visited several museums and a beautiful church's, the architecture within the city is just beautiful!
Exploring in Dubrovnik

Old marina, Dubrovnik

Architecture Dobruvnik
Dinner in Dubrovnik
We capped off the perfect day by taking a cable car up to the top of Srd Hill. At the top of this mountain side is the beautiful Panorama Restaurant and Bar. We had the chance to linger and watch the incredible sunset at a popular spot high above Dubrovnik, for drinks, dinner and dessert. This is a NOT to miss location.
It is here you will experience the best spot to view the old city of Dubrovnik and the surrounding Adriatic Sea. This breathtaking location is ideal for lunch, dinner or just a cocktail. We made reservations prior to the trip (recommended, as it fills up fast) for 5:30 pm, this allowed us to have dinner while watching the sunset and see the day slowly fading into the Adriatic Sea.
Cable Car

Dubrovnik at night

Dining above Dubrovnik
The food at The Panorama Restaurant offers recipes that are made with authentic cuisine from the Dubrovnik region. Not to mention the wine list is excellent. Our favorite dish by far was the King Prawns in a tomato caper sauce. Yum!
When you plan your trip be sure to make a reservation in advance for dinner. If not, just go for the view and enjoy a cocktail overlooking the bay and amazing sunset. https://www.nautikarestaurants.com/panorama-restaurant-bar/