Seared halibut with lemon caper sauce, topped with a dollop of crab, is a sunny healthy dish
The sauce for this halibut is a classic pan sauce, which can also be used for chicken or fish of any kind
This dish is really a showstopper and I think it's as good as anything you will order in a fine dining restaurant. Halibut is a bit of a luxury and cooks quickly, so have all of your ingredients ready to go before you start cooking.
Jump to Recipe
For this recipe we will walk you through how to:
Purchase, prep, and perfectly sear fish
Make a classic white wine pan sauce
Use both of these steps to make Halibut with Lemon Pan Sauce
Purchasing and Preparing Halibut:
You can buy your halibut in one large piece and cut it yourself into individual fillets, or if you have a good fish market, ask them to cut the halibut into fillet sizes of your choosing. Fresh halibut often comes with the skin on, and for this recipe, I recommend you remove it prior to cooking. Rinse fillets and pat dry. It's important that the fillets are dry in order to get a good sear on the fish.
Halibut is a mild white fish and it lends itself well to sauces. It cooks quickly, so searing is one of the easiest ways to prepare it. Like all fish, halibut can quickly overcook, so keep a close eye on your pan.
Because halibut is mild, be sure to salt and pepper before cooking.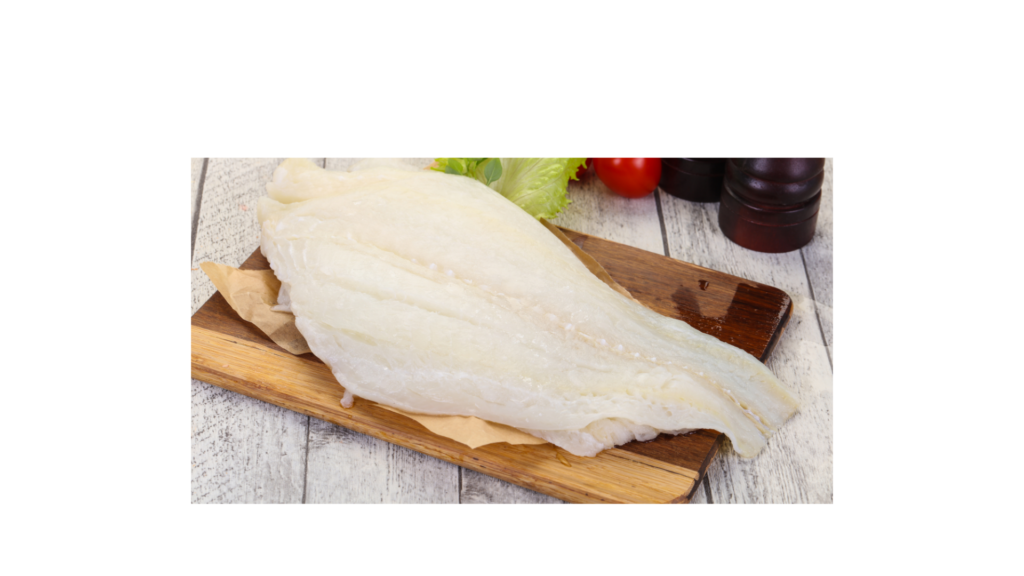 How to sear fish:
Searing fish is the best way to lock in flavor. The purpose is to quickly cook it at a high temperature until a browned crust has formed.
Just follow these easy steps for perfectly seared fish:
Heat a large sauté pan over medium-high heat
Add oil and swirl until it shimmers
Add fish that has been patted dry. If using fish with skin, always place the skin side down first
Only turn the fish once. When fish is ready to be turned it will easily lift off the pan.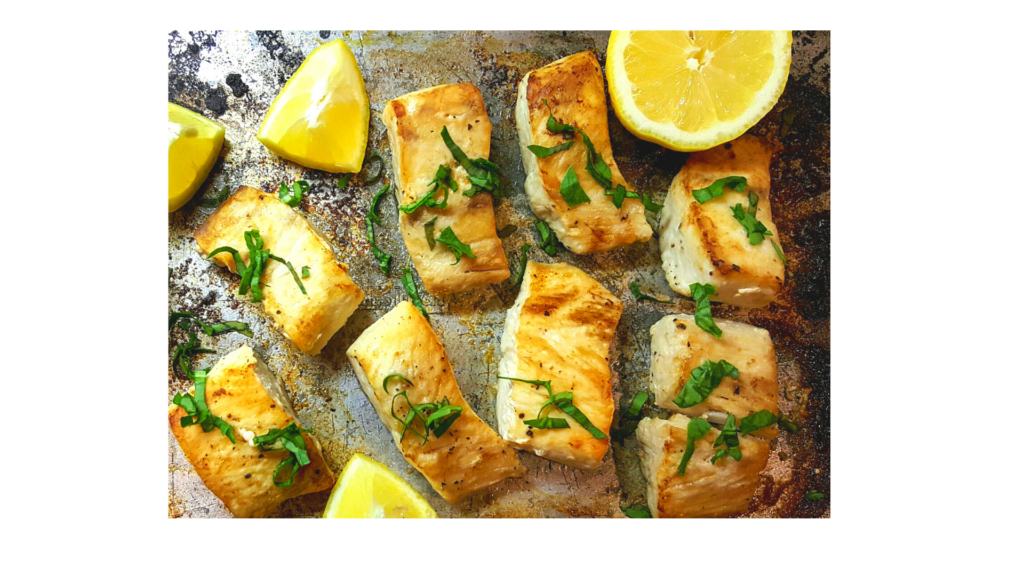 How to make a Classic Pan Sauce:
This seared halibut with lemon caper sauce, and crab on top, involves a few steps but is relatively easy. The sauce is a classic pan sauce, so you can use it with any white fish or chicken.
For this classic pan sauce:
Begin by sauteeing minced shallots in butter or olive oil over medium heat for about 2 minutes
Add garlic if desired, or if you prefer something milder just omit it, and saute for 30 seconds
When the shallots (and garlic) begin to smell fragrant add the dry white wine and reduce (cook it down) until nearly evaporated
Add drained capers and lemon juice, warm through, then turn off the heat. (Note: This particular step is for this recipe and can vary for a classic pan sauce depending on the main ingredient)
Whisk in the remaining butter bit by bit, until smooth and silky, to finish the sauce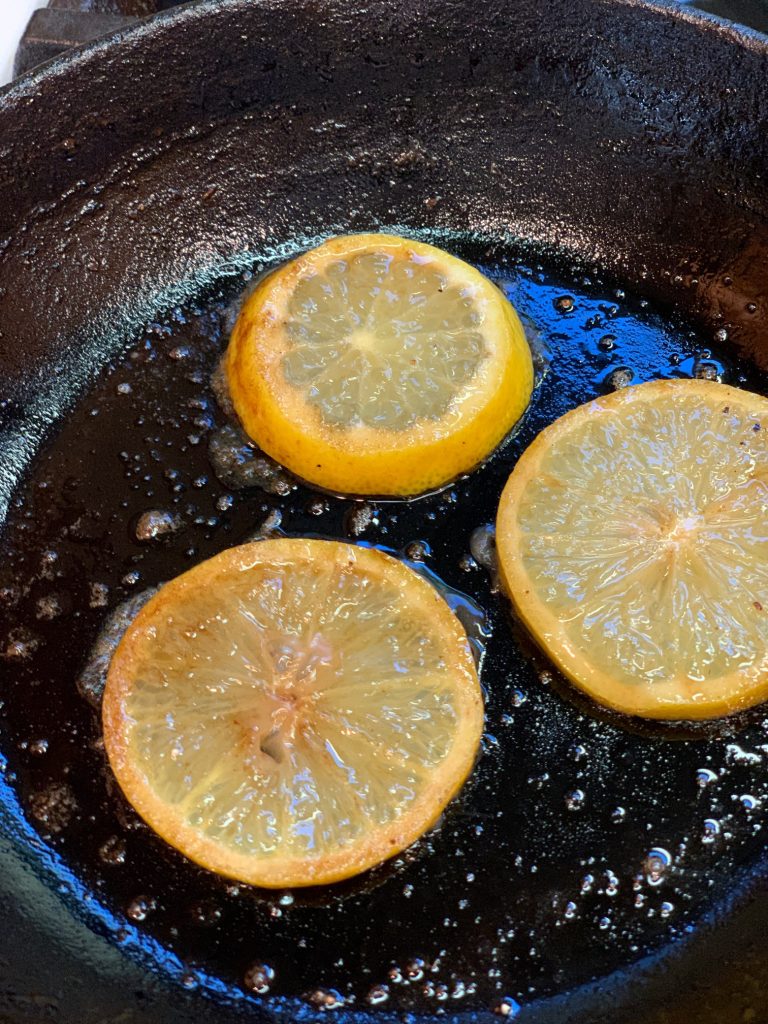 How to make seared halibut with lemon caper sauce:
Sear the halibut on both sides using the method described above
Remove fish from the pan and let rest on a plate
Add the lemon slices and sear briefly. Remove and set aside with the halibut
Make the pan sauce as directed above
Add the cooked halibut and accumulated juices back into the pan, with the sauce, and warm briefly. Spoon sauce on and around halibut
Remove halibut pieces to a platter, add lemon slices on top, along with a dollop of crab
Spoon the lemon caper sauce over the top and serve
We love to include crab meat on top of the halibut, which makes it great for a special dinner, but it's optional, of course!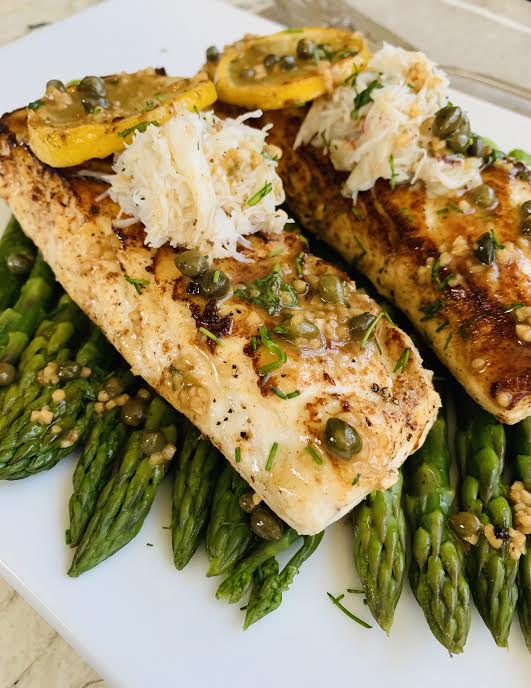 Suggestions for wine pairing:
Your weekday wines:
Palmina Pinot Grigio, Santa Barbara, California
Louis Latour Pouilly Fuisse, Maconnais France (Chardonnay grape)
Your weekend wines:
Sauvion Sancerre Sauvignon Blanc, Loire Valley, France
William Fevre Chablis, France
A special occasion wine:
Louis Jadot Chassagne Montrachet, France
Chateau Fuisse Pouilly Fuisse Le Clos, France
Some of our other favorite seafood recipes: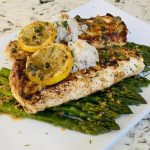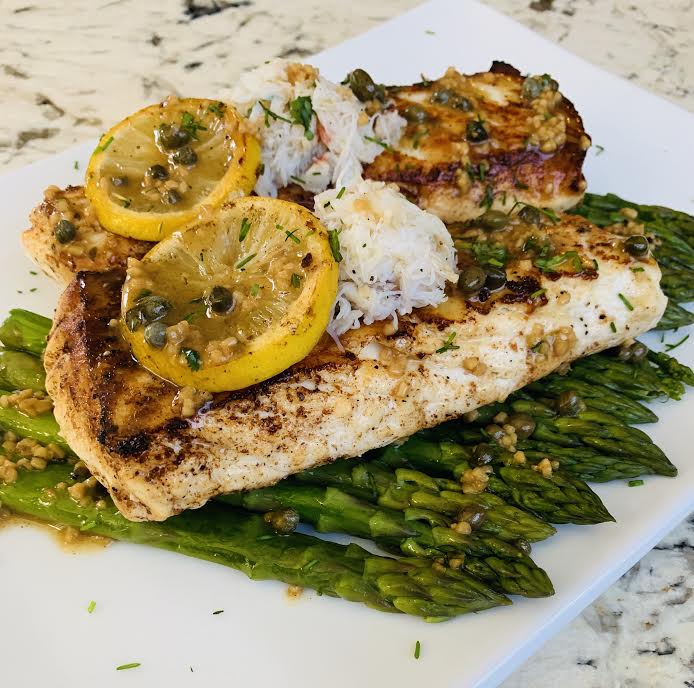 Print Recipe
Seared Halibut with Lemon Caper Sauce
Sunny Lemon Caper Sauce pairs perfectly with seared Halibut. It's topped with a dollop of crab for an elegant touch. Healthy and flavorful
Ingredients
24

ounces

Fresh halibut, skinless,

Cut into 4 equal fillets

½

teaspoon

pepper

½

teaspoon

sea salt

2

Tablespoons

Extra virgin olive oil,

divided

6

Tablespoons

butter, unsalted

divided

1

small

lemon, sliced

3

Tablespoons

garlic, minced

1

Tablespoon

shallots, minced

½

cup

dry white wine,

such as chardonnay or sauvignon blanc

2

Tablespoons

capers, drained

4

Tablespoons

lemon juice, divided

¼

cup

crab meat, shredded

1

Tablespoon

flat-leaf parsley,

finely chopped
Instructions
Pat dry and sprinkle halibut fillets with sea salt and pepper.

Heat a large saute pan over medium-high heat. Add 1 tablespoon olive oil and 2 tablespoons butter and swirl to coat pan.

When the oil is shimmering add halibut fillets and sear about 5 minutes per side. Check for doneness and remove to a plate. Add lemon slices and briefly sear until softened, then set aside with fish. Wipe out the pan.

Reduce heat to medium, add 1 tablespoon olive oil and 2 tablespoons butter. Add garlic and shallots and saute for 1 minute.

Add wine and reduce for 2-3 minutes, until nearly evaporated.

Add capers, and 3 tablespoons lemon juice. Cook for 1 minute.

Turn off the heat and swirl in remaining 2 tablespoons of butter to finish the sauce.

Put halibut fillets back into the pan, adding any juices that are on the plate. Warm for 1 minute.

In a small bowl add crab meat and 1 tablespoon lemon juice. Mix to combine

Serve halibut on a shallow plate, top with dollop of crab mixture. Spoon lemon caper sauce over top of halibut and add a sauteed lemon slice as garnish. Sprinkle with chopped parsley.
Nutrition
Calories:
424
kcal
|
Carbohydrates:
7
g
|
Protein:
35
g
|
Fat:
27
g
|
Saturated Fat:
12
g
|
Trans Fat:
1
g
|
Cholesterol:
133
mg
|
Sodium:
759
mg
|
Potassium:
883
mg
|
Fiber:
1
g
|
Sugar:
2
g
|
Vitamin A:
740
IU
|
Vitamin C:
24
mg
|
Calcium:
49
mg
|
Iron:
1
mg