The secret to perfect pan-seared scallops is cooking them quickly in a blazing hot cast iron pan and basting them with butter.
Dinner is ready in 15 minutes!
Intimidated by cooking scallops?
Once you follow the easy step by step instructions below you will become a pro in no time! The method is easy, but each step is important to follow. The best part is the whole process only takes 15 minutes.
Pre-cooking Tips for Perfect Pan Seared Scallops:
Buy large or jumbo scallops for this recipe. They are also called U-10 scallops. Bay scallops are very small and have a different taste and cooking method.
Frozen scallops are harder to sear unless you completely defrost and dry them, so best to get wet-packed or dry-packed scallops at the fish counter.
Scallops have a small muscle on the side of them that should be removed. It can easily be pulled off. The muscle will become very tough and rubbery when cooked so definitely take the time to remove it. See steps 1 and 2 photos below.
Always rinse scallops prior to use in cold water because sand can hide in the tiny cracks.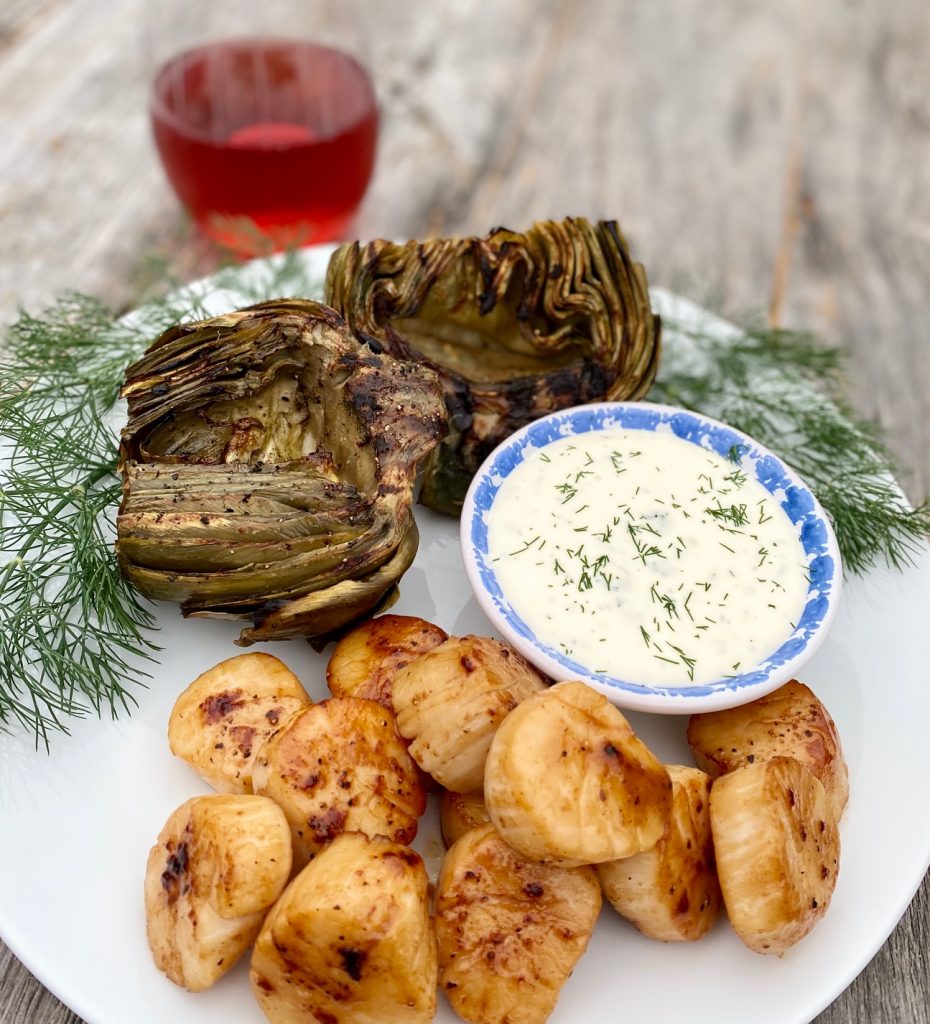 Perfectly Seared Scallops and Grilled Artichokes with Lemon Dill Aioli
Dried scallops are the key to a perfect sear
Dry the scallops completely by patting dry with paper towels for 10-15 minutes. Put them on top of paper towels and also press down on the top of the scallops with a paper towel. This is crucial to getting a great sear so don't skip this step! See step 3 in the photos below.
Once dried, season liberally with salt and freshly ground pepper. See step 4 in the photos below.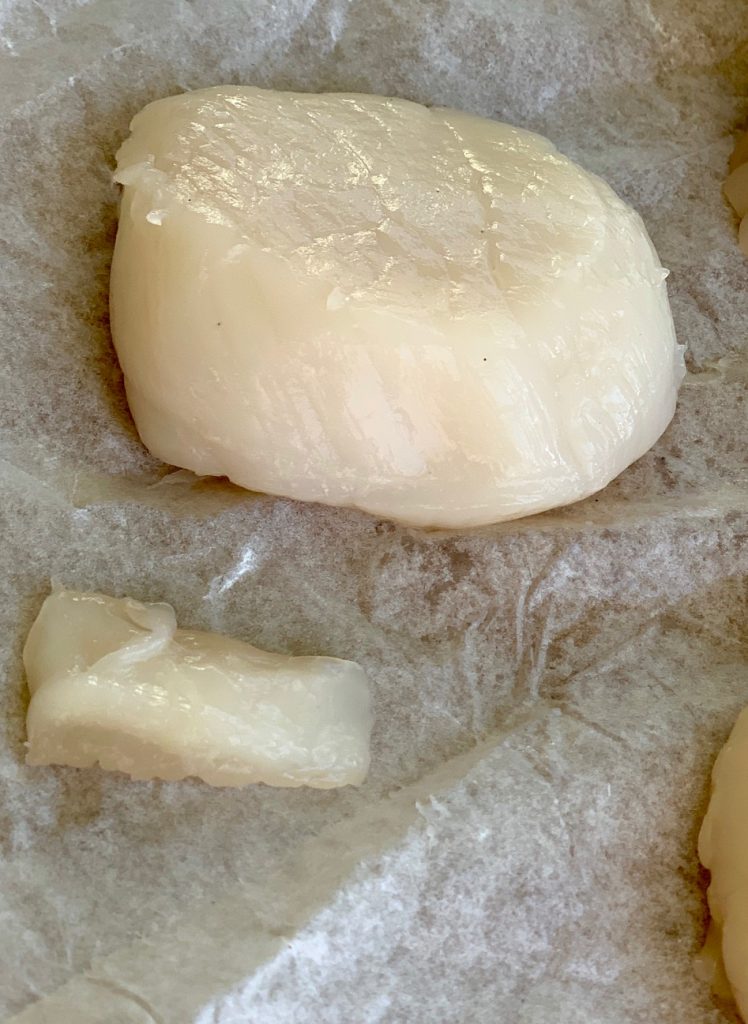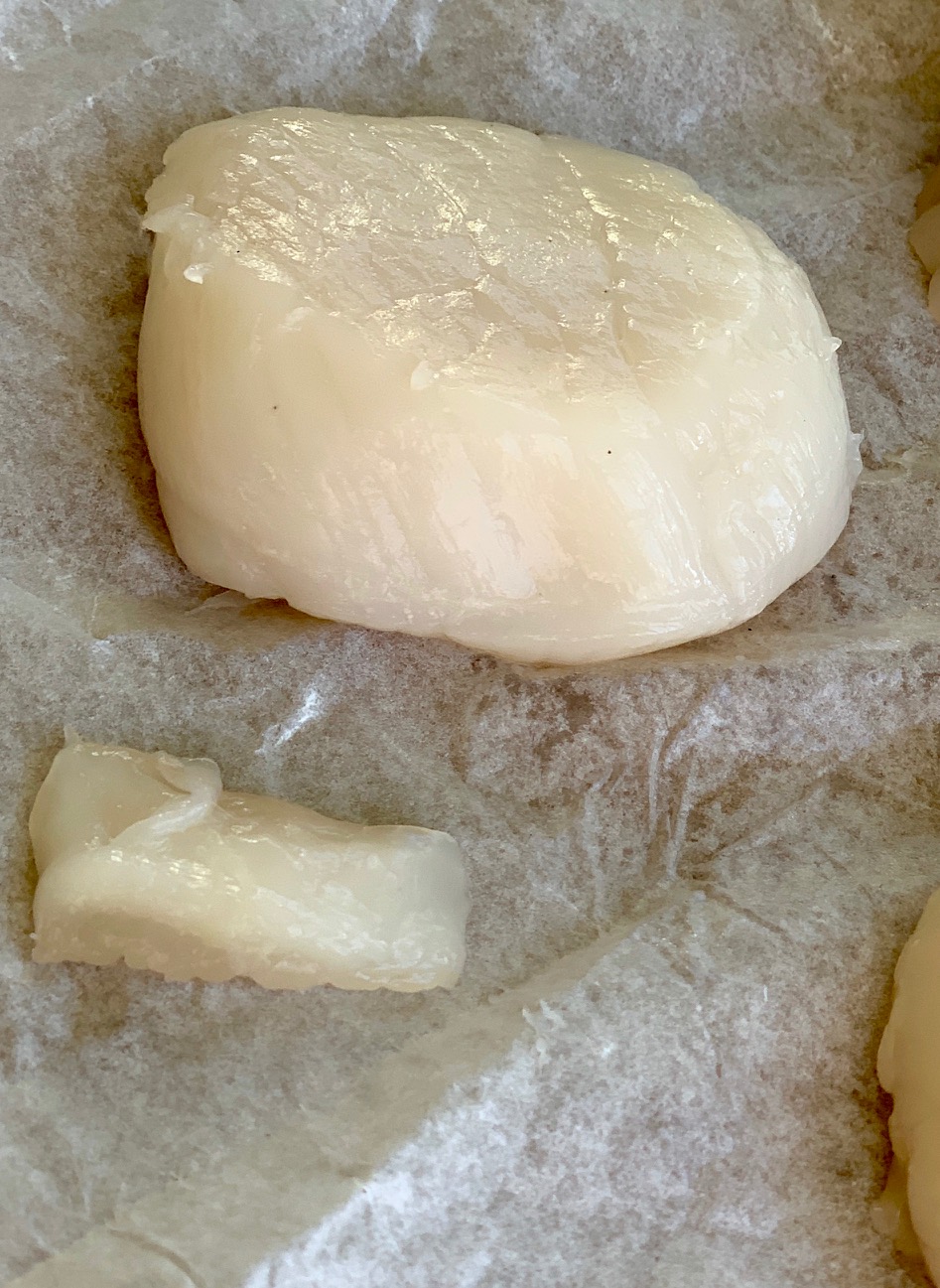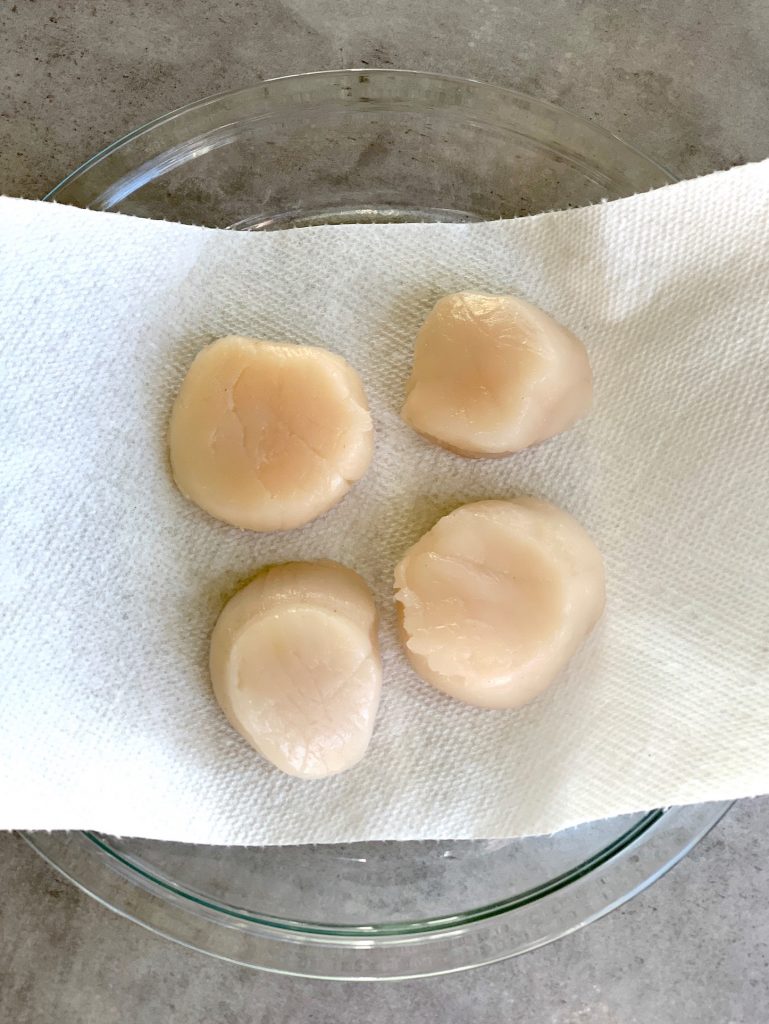 How to Cook Scallops in Cast Iron
Use a heavy-bottomed pan, preferably a cast-iron skillet.
Add the oil and make sure it is blazing hot, but not smoking.
Place scallops carefully in a hot pan in a single layer and don't crowd
How long to cook seared scallops: Sear – without touching or moving for about 1 1/2 – 2 minutes on each side. This is the most important part – do not move them – but wait until they are beautifully golden brown.
If you try to flip them and they aren't fairly easy to release then wait another 15-20 seconds. When they are ready they will release easily.
Use a metal spatula or tongs – not a rubber spatula.
Flip scallops to the other side and reduce heat to medium.
Add butter and let it melt all around scallops. Using a large spoon baste the scallops with the melted butter.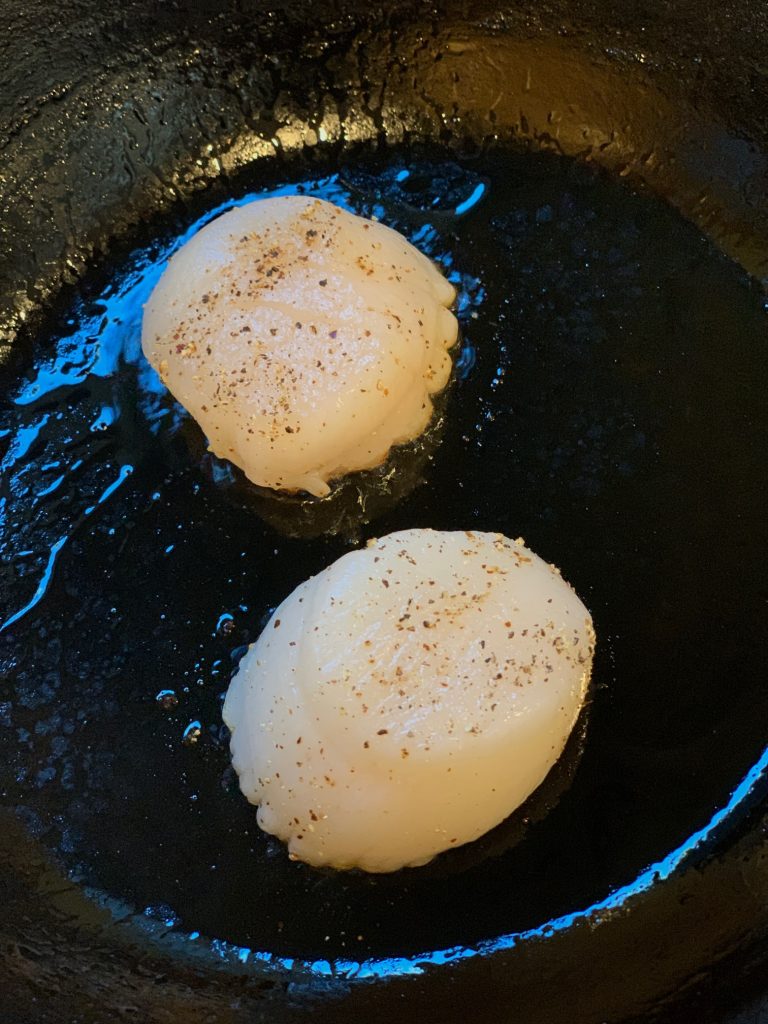 How long to sear scallops:
Cook for about 2 minutes on each side, or until the side centers of the scallops are opaque. The exact time will depend on the size of your scallops.
Remove from pan and plate the scallops.
Optional: Add lemon slices to pan and sear for about 30-45 seconds on each side. Use as a garnish
Sprinkle with chopped parsley (optional). If desired drizzle the remaining butter in the pan over the plated scallops.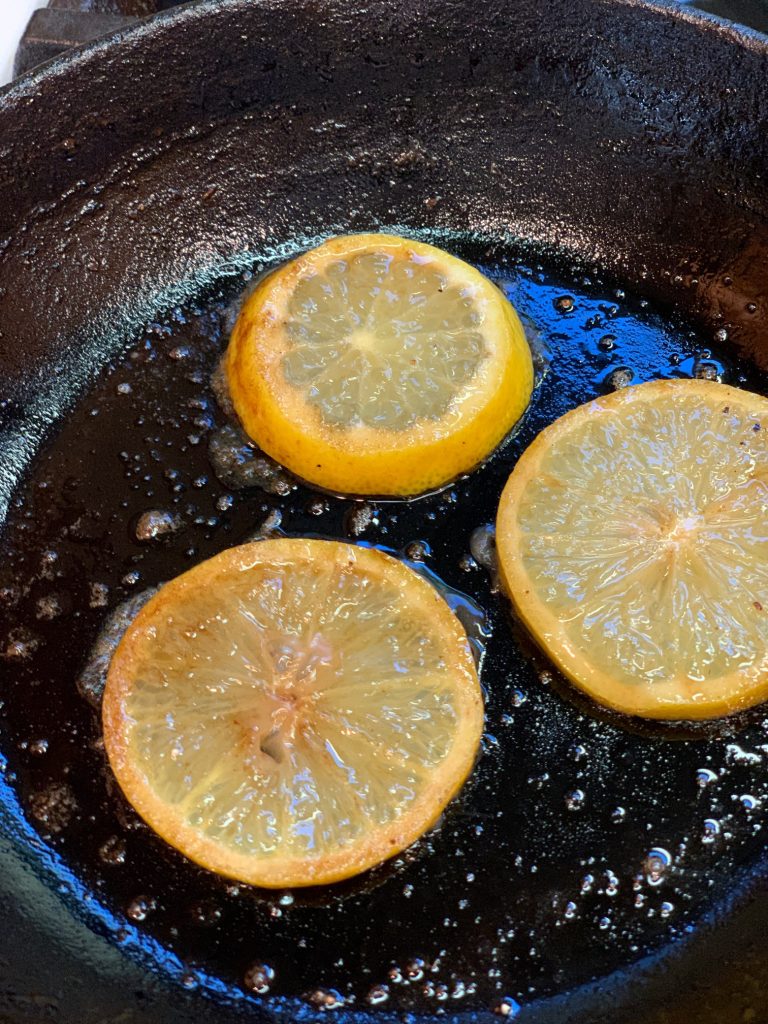 Suggested wine pairings with scallops:
A medium-bodied white wine with bright acidity will contrast well with the tangy lemons and butter alongside these briny scallops.
Your weekday wines:
Pascal Jolivet Sauvignon Blanc, France
Domaine Adele Rouze Quincy White Wine, France
Your weekend wines:
Hippolyte Reverdy Sancerre, France
Sauvion Sancerre, France
Special Occasion Wines:
Laurent Perrier Cuvee Rose, Limited Edition, Tiger Cage Champagne, France
Dom Perignon Champagne, France
What to Serve with Seared Scallops
Sea Scallops pair perfectly with nearly every side dish, including vegetables, potatoes or rice. Try one of these dishes on our site: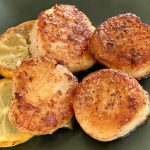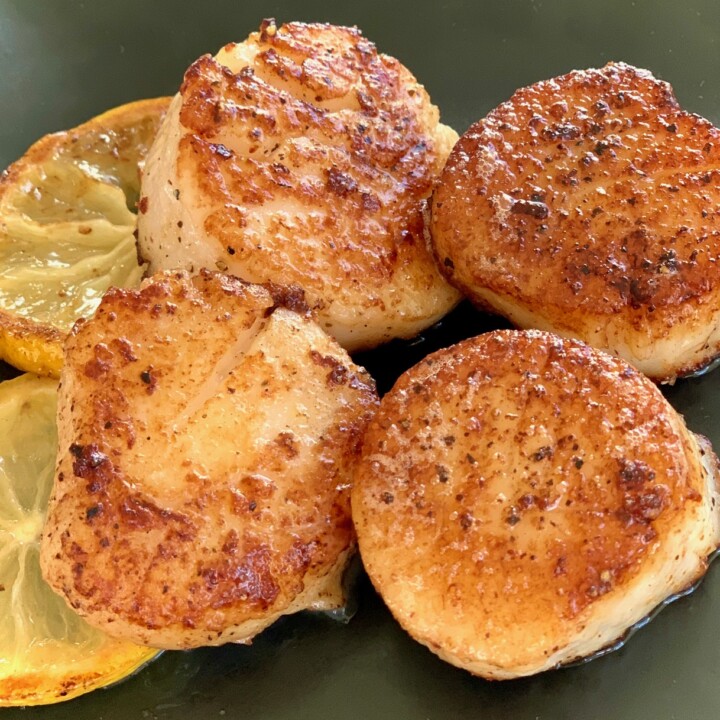 Print Recipe
Perfect Pan Seared Scallops
The secret to perfect sea scallops are quickly searing them in a blazing hot cast iron pan and basting with butter. Dinner is ready in 15 minutes!
Ingredients
1.5

lbs

jumbo scallops,

wet or dry-packed

salt and pepper, to taste

1½

tbsp

olive or vegetable oil

1½

tbsp

butter

4

slices

lemon, optional garnish

2

tsp

Italian parsley, chopped, optional garnish
Instructions
Prepare scallops by removing side muscle, rinsing and patting dry. Resting for 15 minutes on paper towels.

Once dry, sprinkle with salt and pepper.

Heat a heavy bottom pan and add olive oil.

Heat until very hot but not smoking.

Carefully add dry scallops in a single layer and do not crowd.

Sear undisturbed for 1½-2 minutes, until golden brown. Scallops should release easily from the pan. If not, let them cook a little longer.

Turn each scallop over with metal tongs or spatula. Reduce heat to medium and add butter.

Using a large spoon baste the scallops with the melted butter and cook for about 60-90 seconds further. The center side of the scallops should be opaque.

Remove scallops from the pan and set aside.

Add lemon slices and sear on each side for about 30-45 seconds.

Add lemon to plate as a garnish. If desired, drizzle the butter from the pan and top of scallops and sprinkle with chopped parsley. Serve.