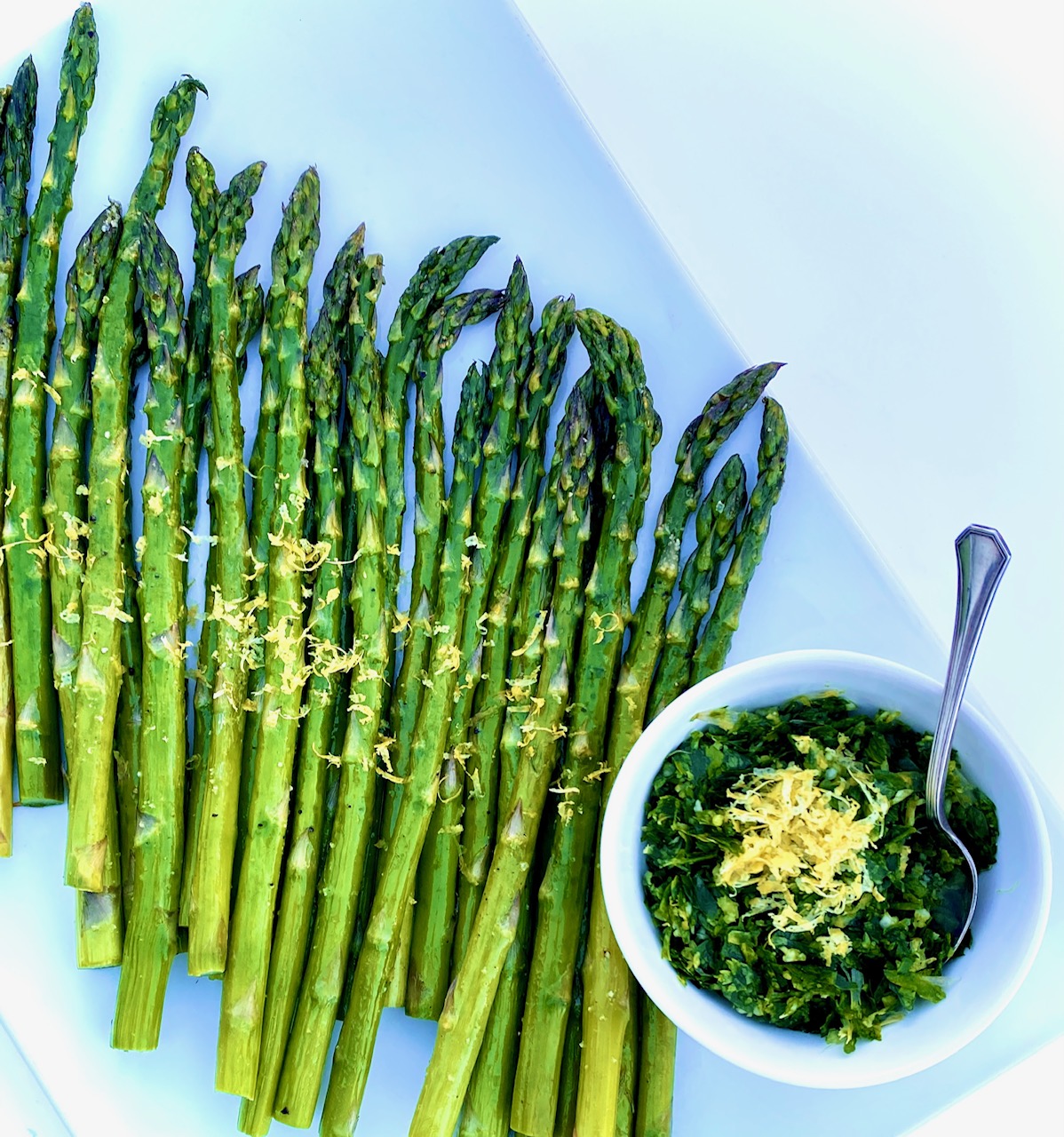 Oven Roasted Asparagus is the perfect simple side dish
Roasting vegetables brings out their best qualities while giving you a delicious caramelized flavor that just can't be beat!
This easy cooking method for asparagus allows you to focus on cooking the main dish while quickly making a spectacular side. It's our favorite pairing with our Tomahawk Steak or Seared Halibut with Lemon Caper Sauce
Jump to Recipe
This post may contain affiliate links. Please see our affiliate disclosure for more details.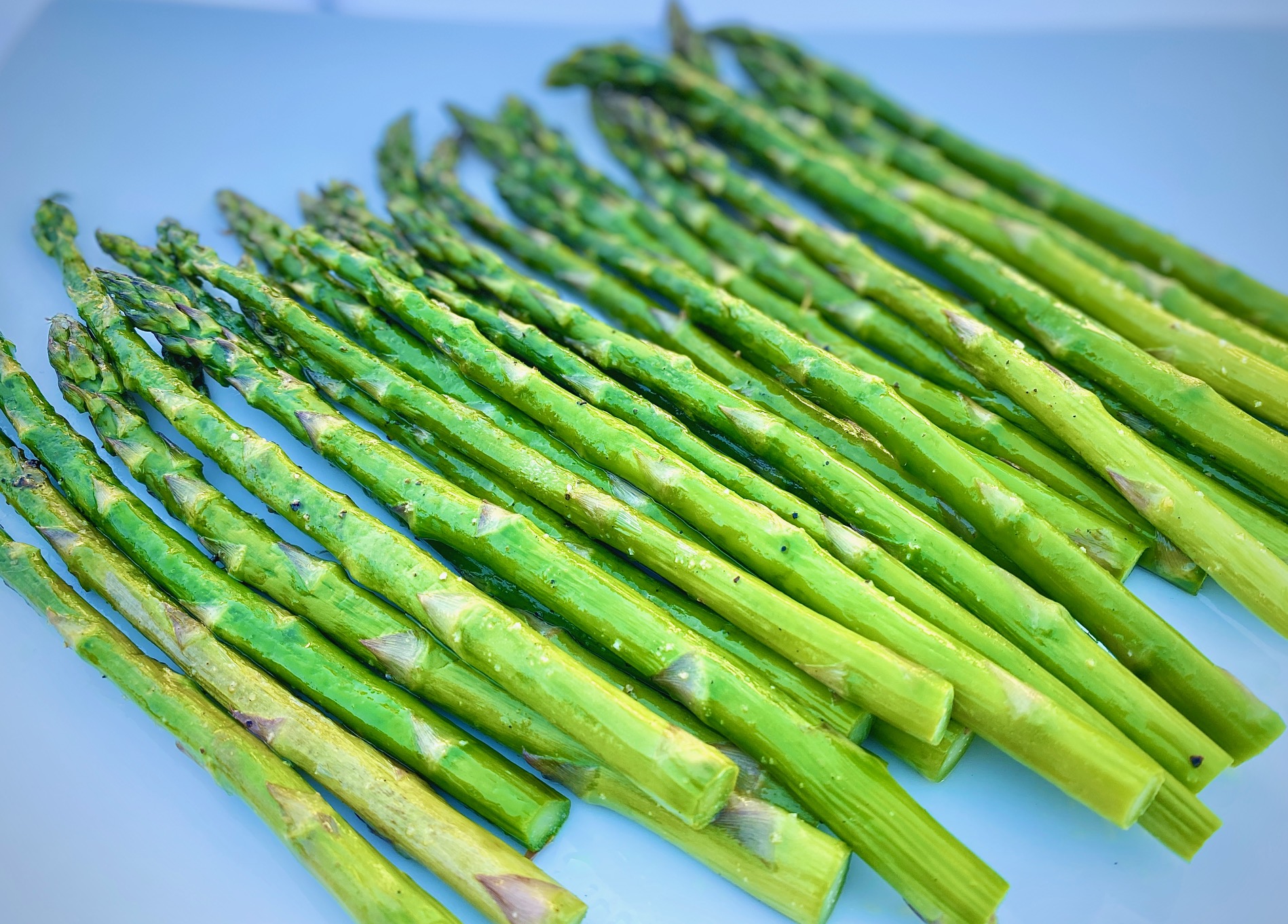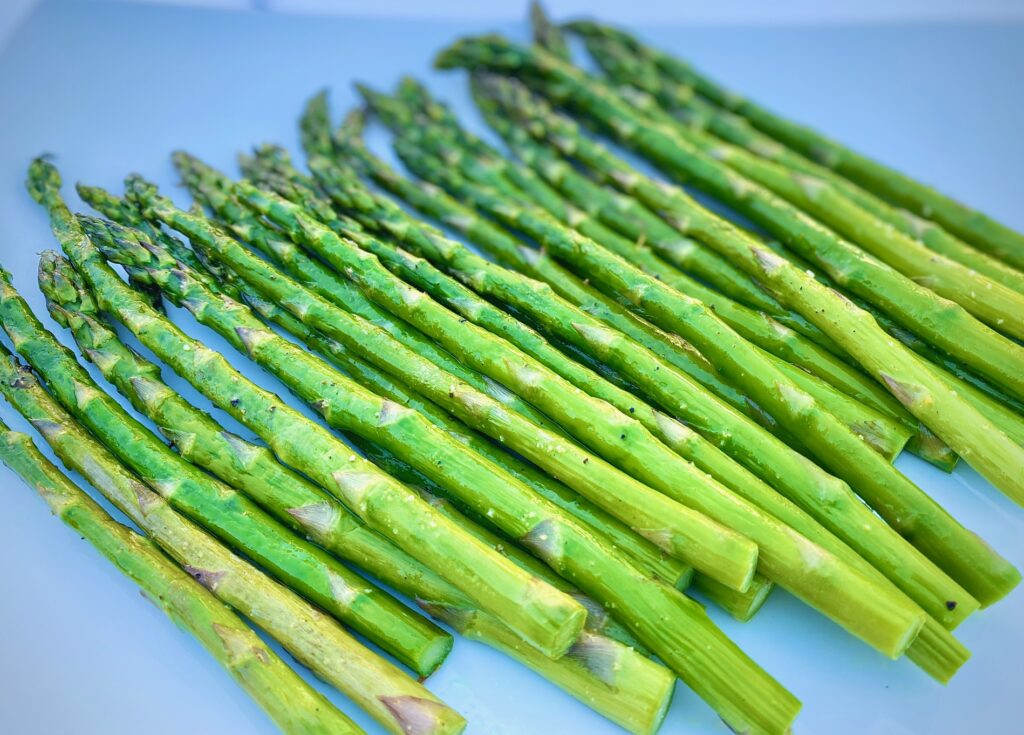 Ingredients for Oven Roasted Asparagus
Just a few ingredients are needed for the tastiest side dish!
Asparagus – Choose bright green, firm spears, with tightly closed tips. Asparagus is available any time but Spring is when it's at its finest. Any size is fine but medium size is our personal favorite
Olive Oil – oil is a must for vegetables that will be roasted in the oven. It's important that the tips of the asparagus are well coated to prevent them from burning. Choose good quality olive oil since there are just a few ingredients in this recipe
Salt and freshly ground black pepper – asparagus benefit from a good amount of seasoning
How to store asparagus
The 2 best ways to store asparagus:
Asparagus will generally last in the refrigerator up to 5 days if you wrap it in a damp paper towel and store it in the crisper drawer
Fresh asparagus will last up to 10 days if you stand the spears upright in a jar or glass, with about 2-inches of water, and cover the spears with a plastic bag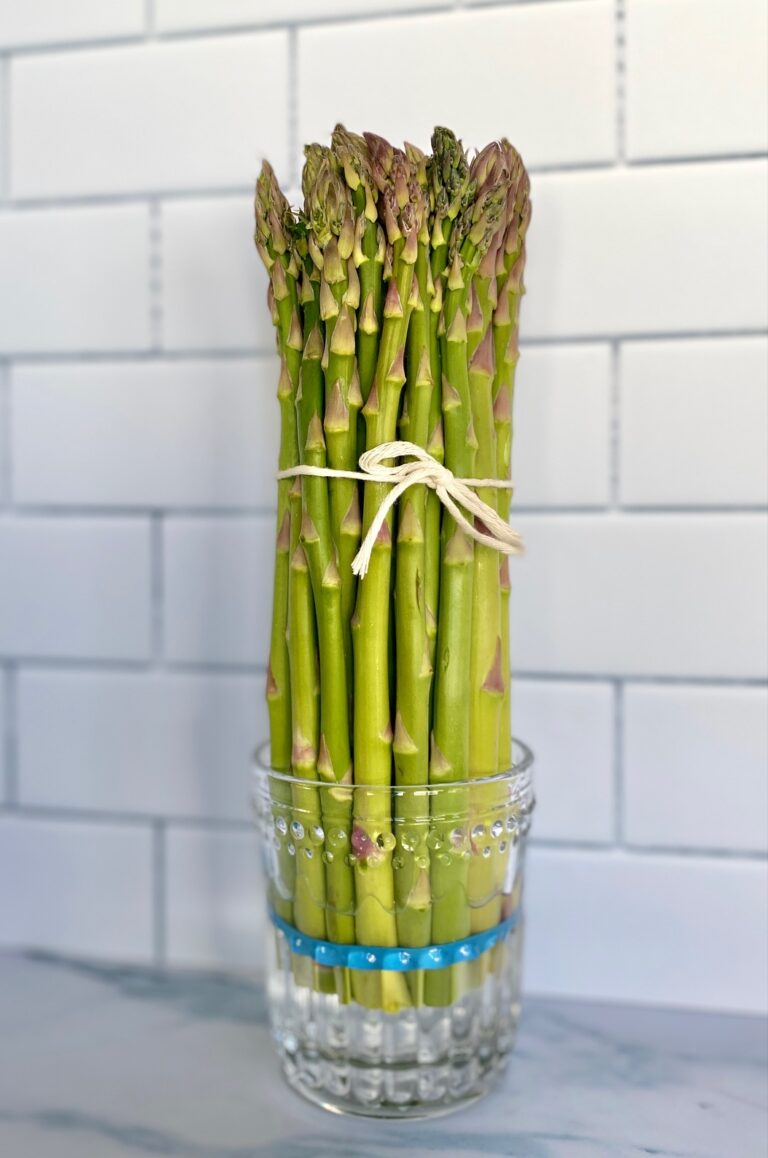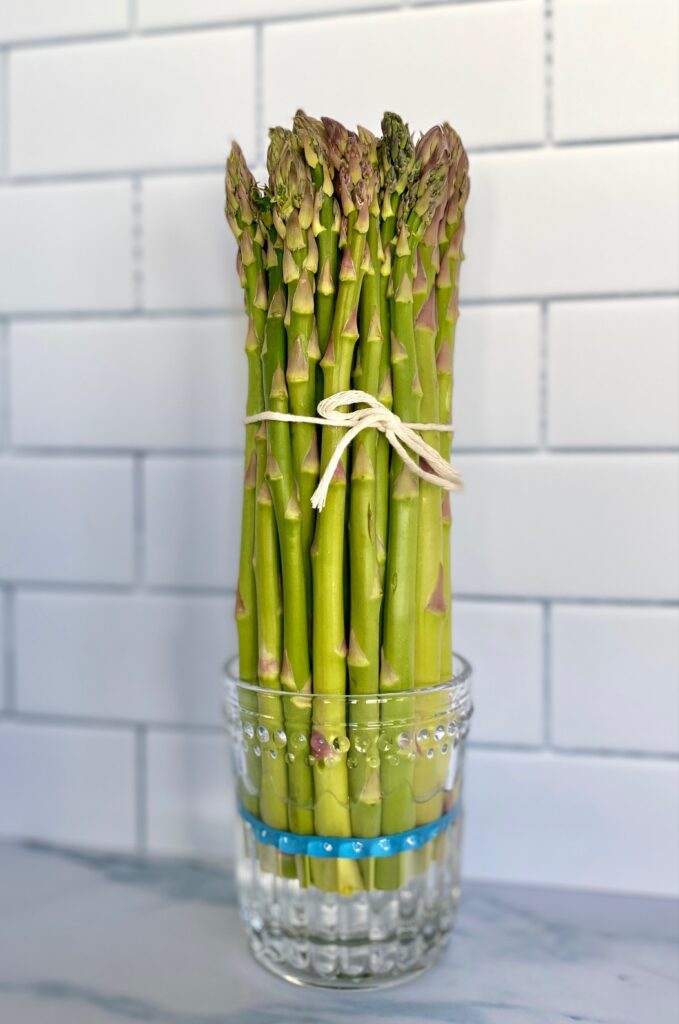 How to prep asparagus:
It's very easy to make this delicious roasted asparagus, and it will turn out perfectly every time by following these simple but important steps.
Wash the asparagus and dry thoroughly to ensure they roast and caramelize, instead of steam, in the oven. We find the easiest way to dry them is with a kitchen towel or paper towels.
Next trim the ends. The ends of asparagus are woody and will need to be trimmed before you roast them because they are not edible.
There are 2 ways to trim the ends:
The first way is to line the spears up and then just trim the woody ends with a sharp knife. Normally you will trim about 1-1/2 inches off the bottom. This is the fastest method.
The second method is the "Bend and Snap" method. To do this hold a spear near the top (just under the tip end) and at the bottom, then bend the thick end to snap the woody end off. The asparagus will break naturally in the right place. Keep in mind that every spear might have a different breaking point.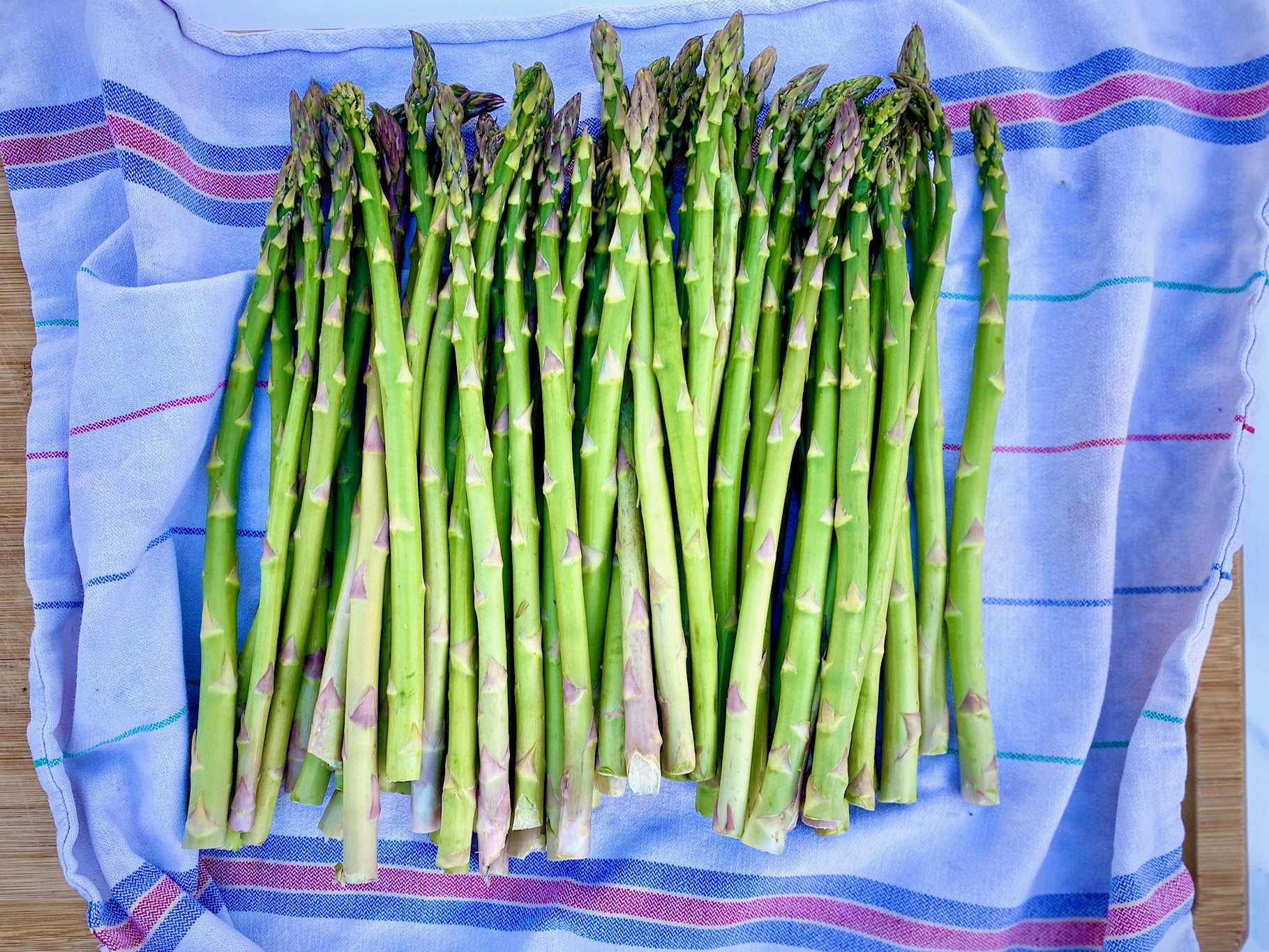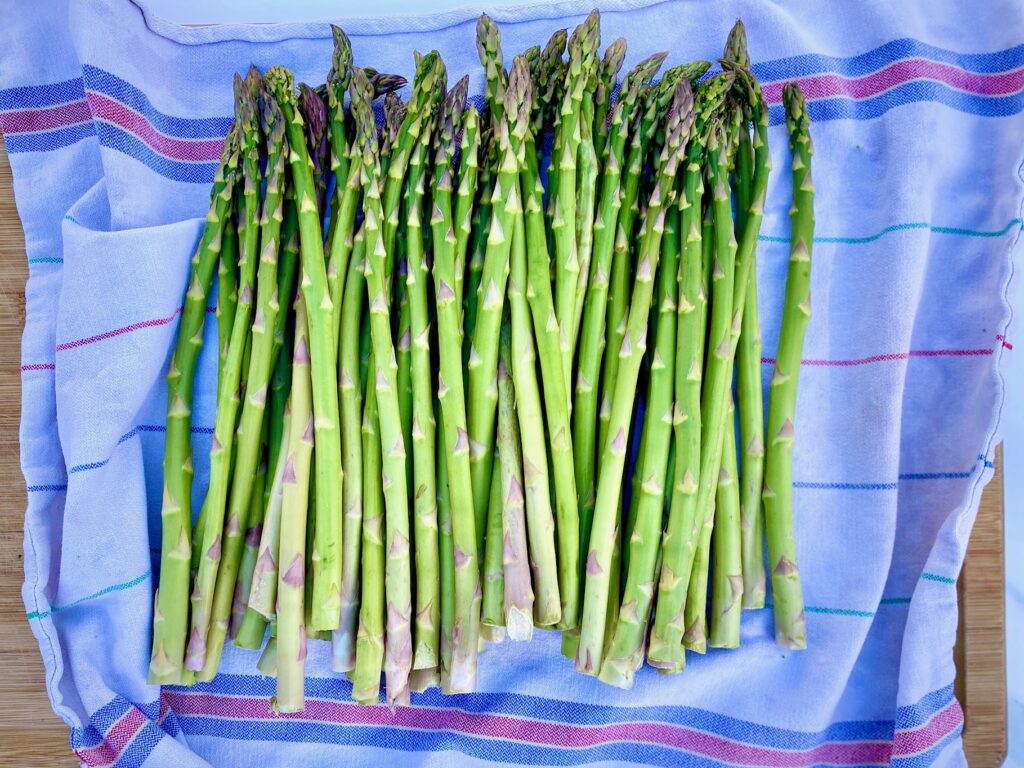 How to make Oven Roasted Asparagus:
Place the dry asparagus spears on the baking sheet
Drizzle the olive oil over the spears and sprinkle with salt and freshly ground pepper
Toss to coat thoroughly. Be sure the tips of the spears are coated to ensure they don't burn in the oven
Arrange the asparagus in a single layer on the pan. It's important that they are in a single layer to achieve delicious caramelization while cooking
Roast until you can easily pierce the base of the asparagus with a knife. The thickness of the spears will determine cooking time.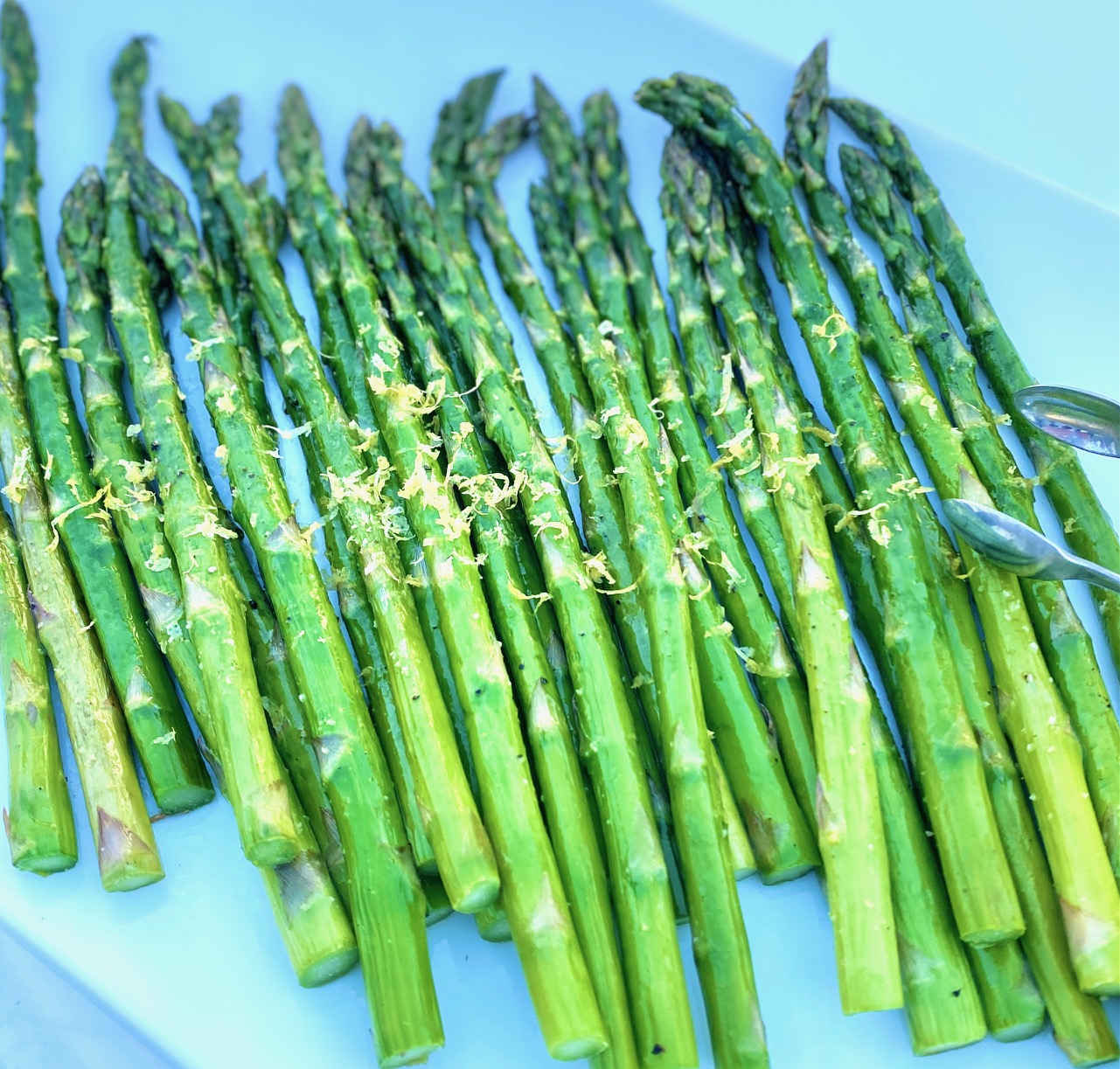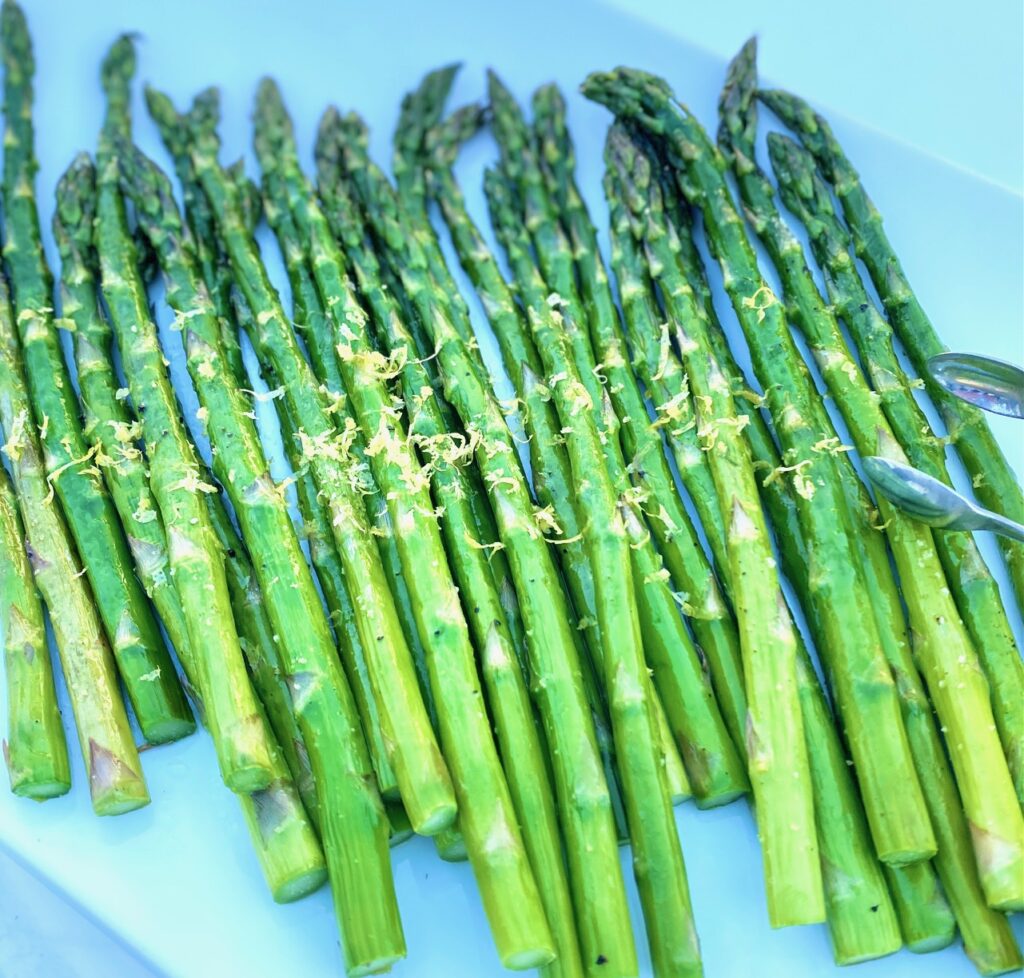 How long to roast aspargus:
The roasting time for asparagus will be determined by how thick the spears are, however here is a general guide for cooking time:
Pencil thin spears = 9-11 minutes

Medium size spears = 12-15 minutes

Large thick spears = 15-20 minutes
How to choose asparagus:
Asparagus is in peak season and at its very best in the Spring. However, it is available year-round, which makes roasting it a great choice.
When choosing the size we generally prefer medium-sized asparagus because they roast up perfectly every time. The really thin spears can overcook quickly, so if you choose those keep a close eye on them. The large asparagus can be a bit more woody, so you will definitely want to trim or snap the bottom of the stalks properly.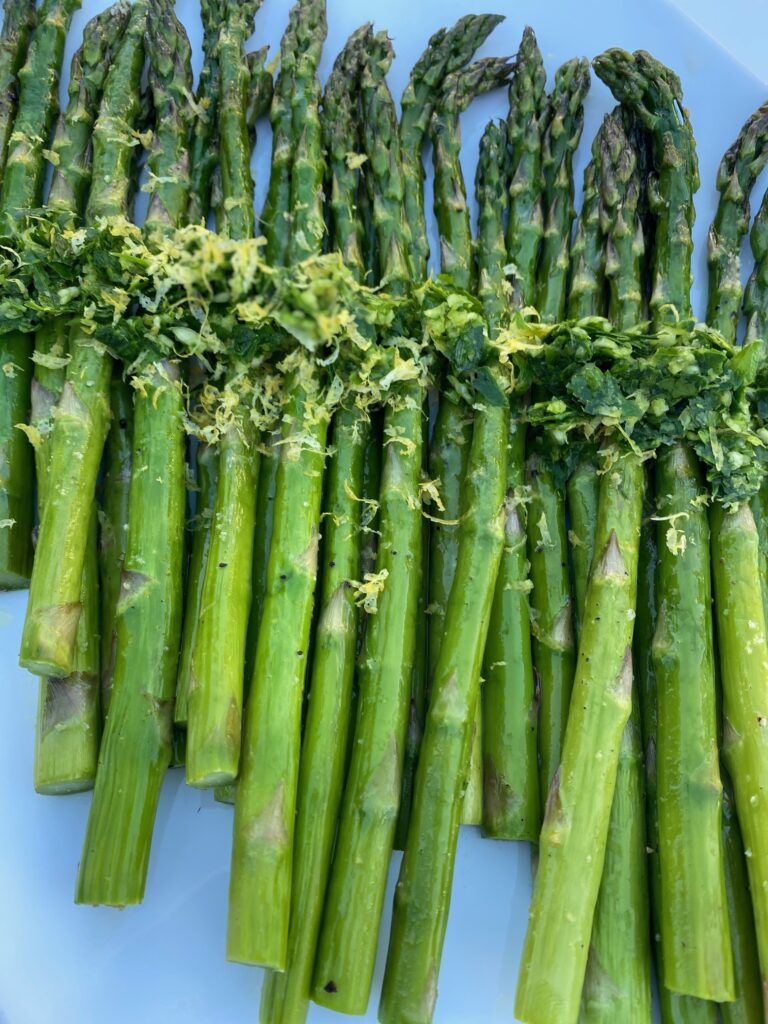 Oven Roasted Asparagus with Gremolata sprinkled on top
How to Season Asparagus
There are so many great options for seasoning or topping asparagus, but here are a few of our favorites:
Sprinkle with zingy Gremolata (with garlic, lemon zest and parsley)
Season with onion or garlic powder, or a combination of both!
Squeeze fresh lemon over the top of the cooked asparagus
Sprinkle with grated or shredded parmesan
Drizzle balsamic vinegar over roasted asparagus
Sprinkle with chopped toasted nuts such as walnuts, almonds, or pistachios
Storing leftover Asparagus
if you have left over asparagus (lucky you!) store in the refrigerator for 2-3 days. If you want to reheat just warm it up for a few minutes in a 350˚F oven. Microwaving is not recommended because it will make the spears mushy.
Looking for more easy roasted vegetable ideas?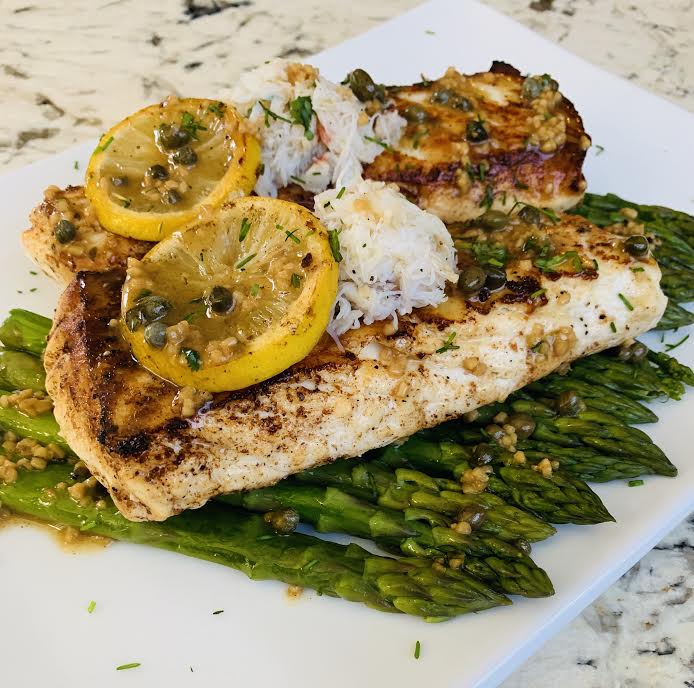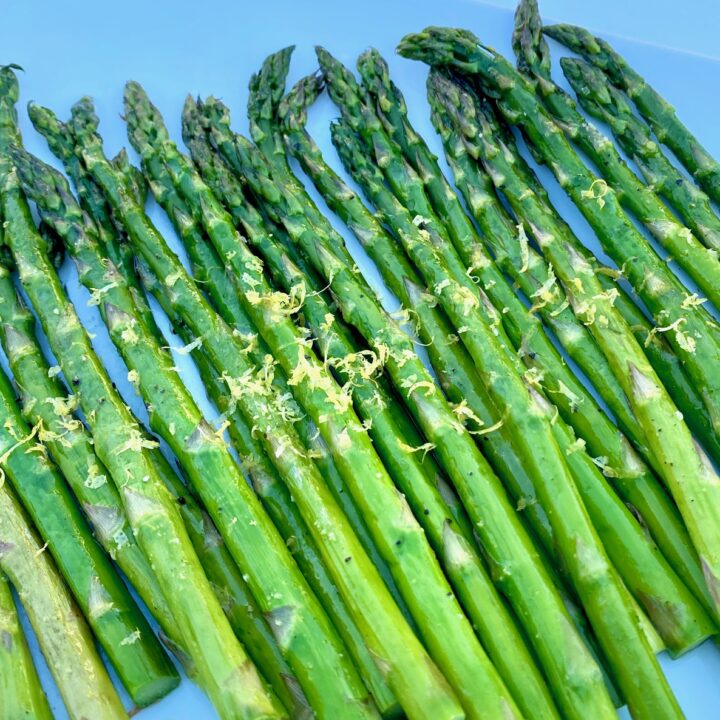 Print Recipe
Oven Roasted Asparagus
A simple recipe for perfect Oven Roasted Asparagus which is an easy side dish. Just 2 ingredients (plus salt & pepper).
Equipment
1 rimmed baking sheet pan
Ingredients
1

pound

asparagus

1

Tablespoon

olive oil

sea salt, to taste

black pepper, freshly ground, to taste
Instructions
Preheat the oven to 425˚ F.

Optional: for quick and easy cleanup, line a rimmed baking sheet with parchment paper.

Wash the asparagus and pat dry with a paper towel or kitchen towel. The drier the asparagus the better caramelized they will be when cooked.

Trim the woody ends with a sharp knife, or snap and bend (if you sharply bend the asparagus near the base of the spear it will snap off in the right place). Discard the woody ends.

Place the asparagus on the rimmed sheet pan in a single layer.

Drizzle with olive oil, and sprinkle with salt and pepper. Toss to thoroughly coat. Be sure the tender ends are coated to avoid burning them while cooking.

Make sure all of the asparagus spears are in a single layer on the sheet pan.

Roast until the base of the spears are easily pierced with a fork. The time will vary based on the size of the spears. (Below are approximate times)

– Thin spears = 9-11 minutes– Medium Spears = 12-15 minutes– Large Spears = 15-20 minutes

Remove from sheet pan and serve on a platter. If desired, sprinkle with toppings such as lemon zest, garlic powder, shredded parmesan, or gremolata.
Notes
Roasting time will always depend on the size of asparagus spears but here is a guide:
Thin spears = 9-11 minutes

Medium Spears = 12-15 minutes

Large Spears = 15-20 minutes
Topping ideas:
Gremolata
Shredded or grated Parmigiano Reggiano
Lemon or orange zest
Garlic or onion powder
Mixed herbs
Balsamic vinegar
Toasted chopped nuts (pine nuts, pepitas or walnuts)
Nutrition
Serving:
0.25
lb
|
Calories:
40
kcal
|
Carbohydrates:
4
g
|
Protein:
2
g
|
Fat:
2
g
|
Saturated Fat:
1
g
|
Polyunsaturated Fat:
1
g
|
Monounsaturated Fat:
1
g
|
Sodium:
2
mg
|
Potassium:
229
mg
|
Fiber:
2
g
|
Sugar:
2
g
|
Vitamin A:
857
IU
|
Vitamin C:
6
mg
|
Calcium:
27
mg
|
Iron:
2
mg