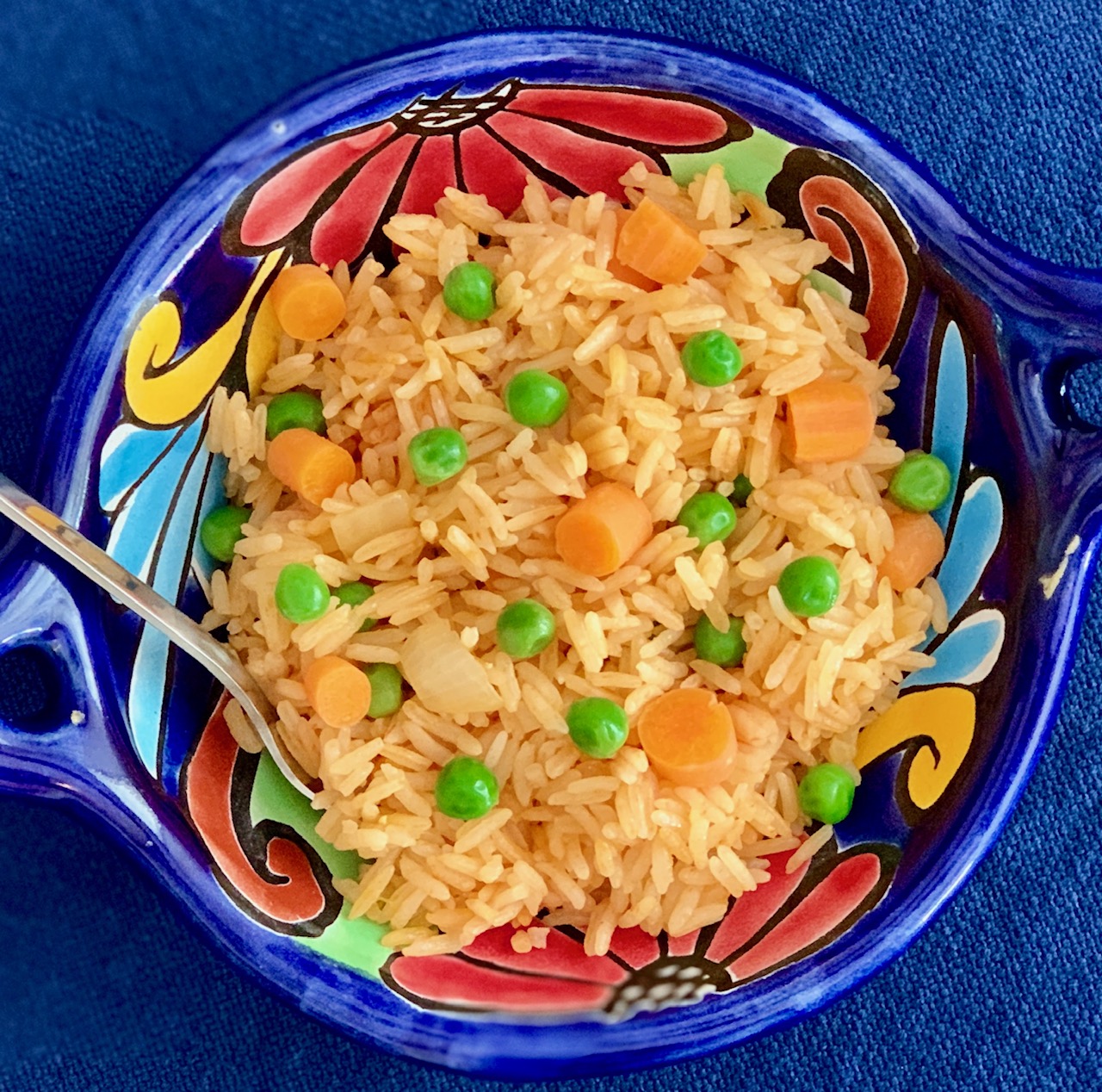 Homemade Spanish Rice is a great way to round off any type of Mexican style dinner and this one is super versatile. We love it with our amazing Authentic Carnitas.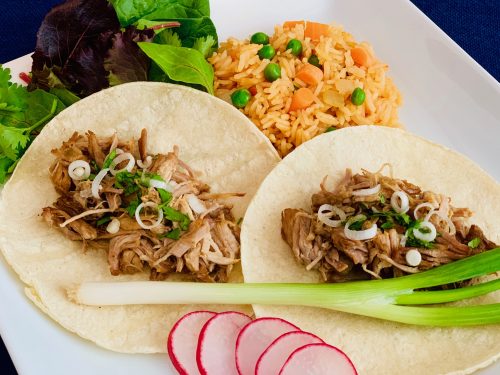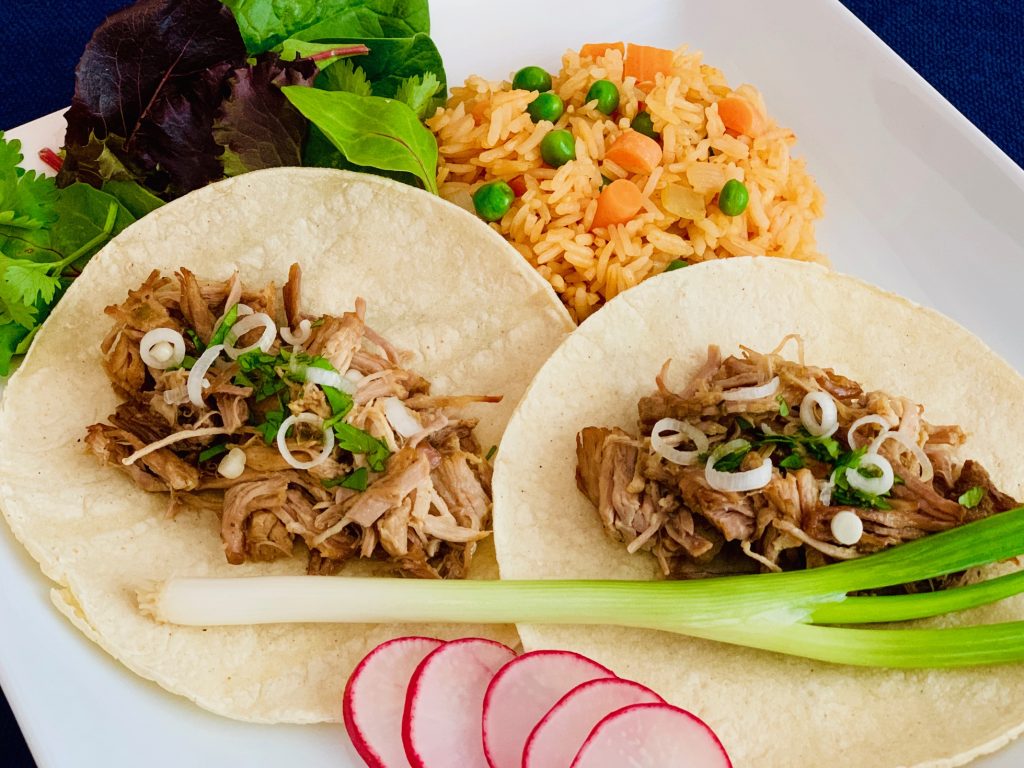 Ingredients for Easy Spanish Rice:
Spanish Rice has a few different names such as Mexican rice, red rice, or arroz rojo. Regardless of the name the cooking method is the same. Rice is sauteed in oil, then tomatoes are added along with broth. Additionally, there are always a few common ingredients:
Rice – medium or long grain
Tomatoes or Tomato Sauce
Garlic
Onions
Broth – vegetable or chicken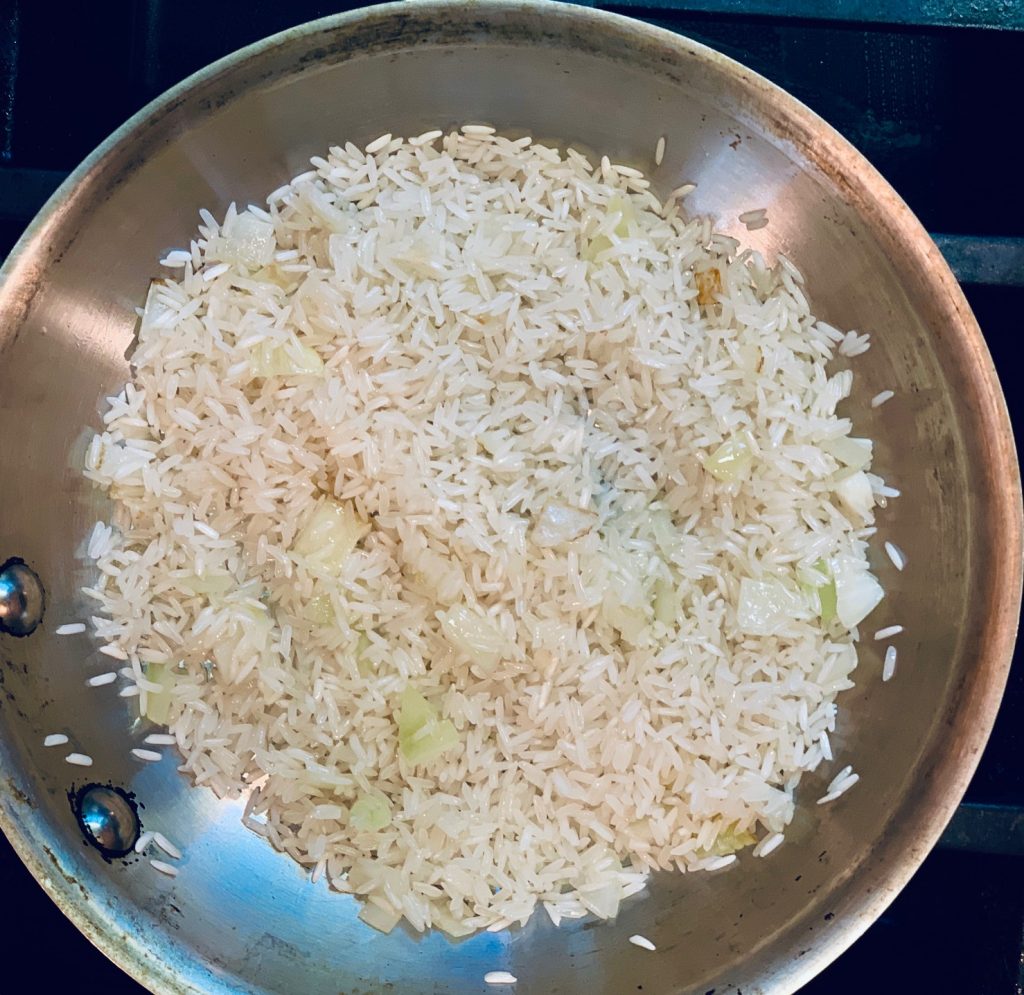 How to make Spanish Rice from scratch:
In a large skillet heat the oil on medium-high heat until shimmering
Add the diced onion and a pinch of salt. Cook for about 30-seconds
Add rice and cook until lightly toasted, then add garlic and reduce heat to medium
Stir in the tomato sauce and mix well to coat the rice
Add the broth, mix well, and make sure the rice is settled into an even layer in the pan
Bring pan of rice to a boil, reduce heat to a simmer and cover
Cook for 15-minutes
Add diced carrots and cover
Cook for 5 more minutes, or until all the liquid is absorbed
Add the peas, cover and cook an additional minute
Uncover, fluff the rice with a fork, and mix to combine
Sprinkle with cilantro, if desired
What's in a name?
Despite its name, Spanish Rice is virtually unknown in Spain or Mexico, it is really an American dish. Rice dishes in Spain are generally yellow in color because of the addition of saffron. Rice dishes in Mexican cuisine are usually red due to the inclusion of tomato sauce or paste but referred to as "red rice" or Arroz Rojo.
Key Ingredient Tips for Spanish Rice:
The Rice – long grain or medium grain works best. Long grain rice contains less starch so the cooked rice is drier and stays more separate. This is the best rice for pilafs as well.
Tomato Sauce – None on hand? You can make your own if you have tomato paste. Mix together one part tomato paste and one part water until well blended.
Traditional Mexican rice often uses chicken broth, but I normally use vegetable broth.
Add-Ins – this recipe incorporates diced carrots and peas. It gives the rice a beautiful pop of color.
Cilantro: the controversial herb
If you like cilantro, sprinkle a little on top for color and taste. I didn't use it in these pictures because it was for a group, and cilantro can be controversial.
Cilantro is an ingredient that people either love or hate. I love it! However, many really dislike it. In fact, Julia Child was one of the 14% that couldn't eat it. There are a lot of articles out there about this controversial herb, including this one by the New York Times. So, this ingredient is optional!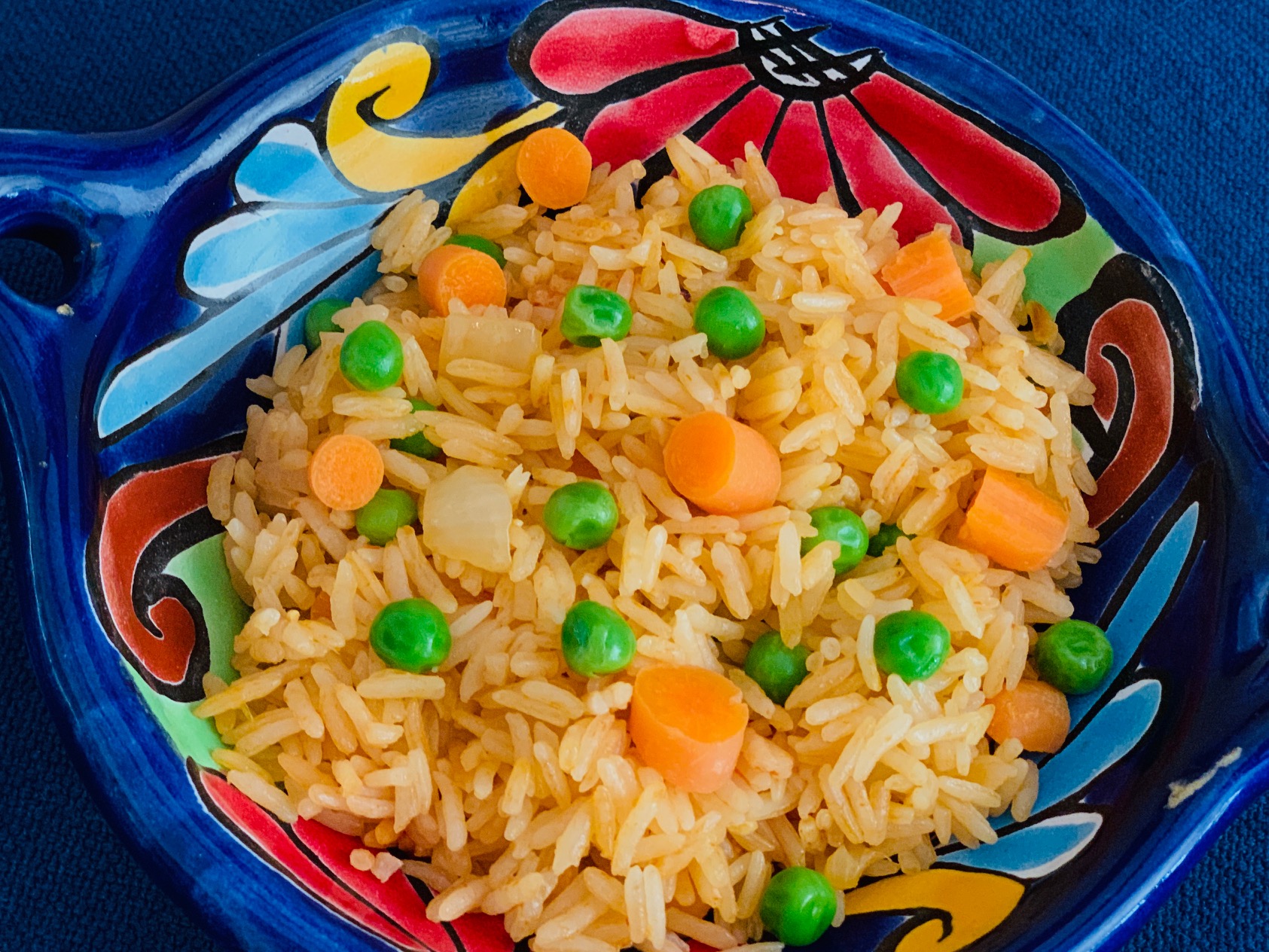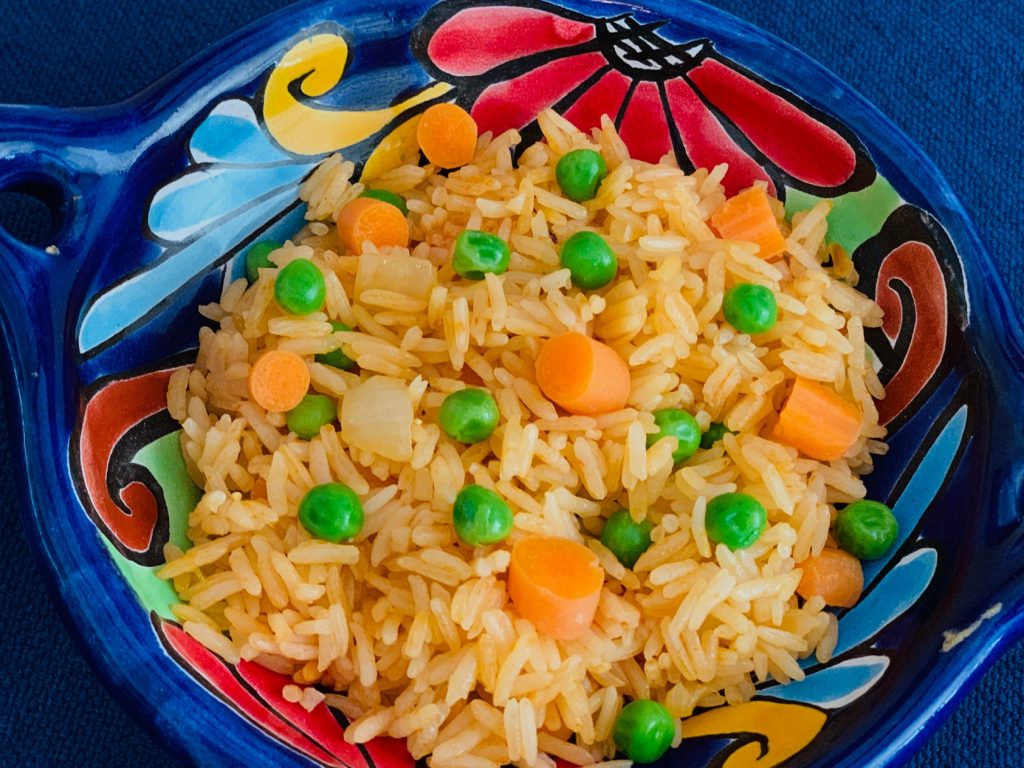 Pro tips for serving:
If serving on a buffet, or for a crowd, heat the dish you will be serving it in, add the rice and cover to keep warm until ready to eat.
This recipe can easily be doubled or tripled.
Great dishes to serve with homemade Spanish Rice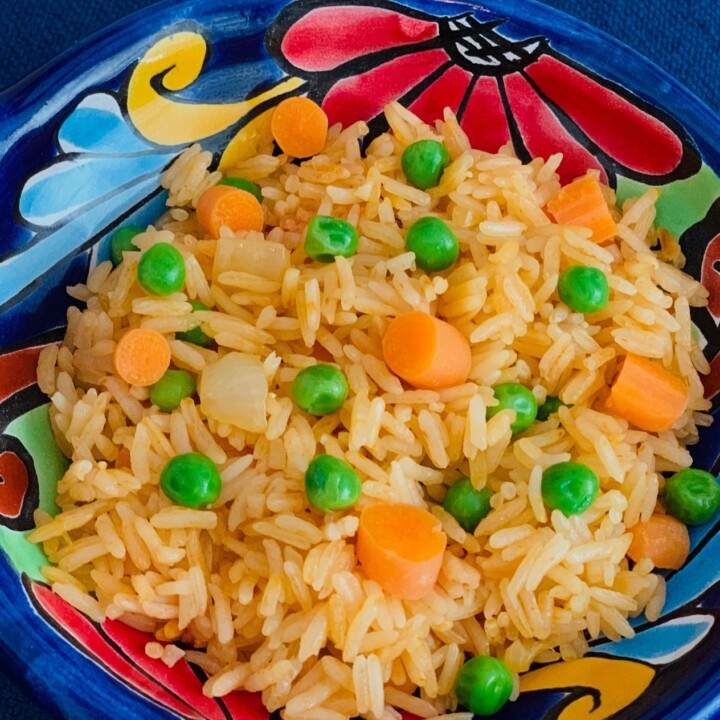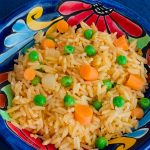 Print Recipe
Homemade Spanish Rice
Simple but flavorful Mexican style rice that you can make in 30 minutes. Great as a side for Taco Tuesday and it's vegetarian.
Ingredients
2

Tbsp

olive oil

¾

cup

onion, diced

1

pinch

salt

1½

cups

long or medium grain white rice

2

cloves

garlic, minced

⅓

cup

tomato sauce

2

cups

vegetable broth (or chicken broth)

½

cup

carrots, diced

Optional

½

cup

frozen peas

Optional

1

Tbsp

cilantro, finely chopped

Optional for garnish
Instructions
In a large skillet, heat 2 Tablespoons of olive oil until shimmering, on medium-high heat.

Add diced onion and pinch of salt, and saute for 30 seconds, then add rice. Stir constantly until rice and onions begin to lightly brown. Stir in garlic and reduce heat to medium.

Add tomato sauce and mix well to coat the rice.

Stir in broth and mix well. Make sure rice is settled into an even layer in the pan.

Bring to a boil, reduce heat to simmer and cover. Cook for 15 minutes.

Add diced carrots and cover.

Cook for about 5 more minutes, or until all liquid is absorbed. Add the peas and cover again for 1 minute to allow peas to cook.

Remove cover, fluff rice with a fork, and mix vegetables.

Sprinkle with cilantro (optional) and serve in a dish with a lid to keep warm.
Nutrition
Calories:
241
kcal
|
Carbohydrates:
44
g
|
Protein:
5
g
|
Fat:
5
g
|
Saturated Fat:
1
g
|
Polyunsaturated Fat:
1
g
|
Monounsaturated Fat:
4
g
|
Sodium:
402
mg
|
Potassium:
195
mg
|
Fiber:
2
g
|
Sugar:
3
g
|
Vitamin A:
2105
IU
|
Vitamin C:
8
mg
|
Calcium:
28
mg
|
Iron:
1
mg