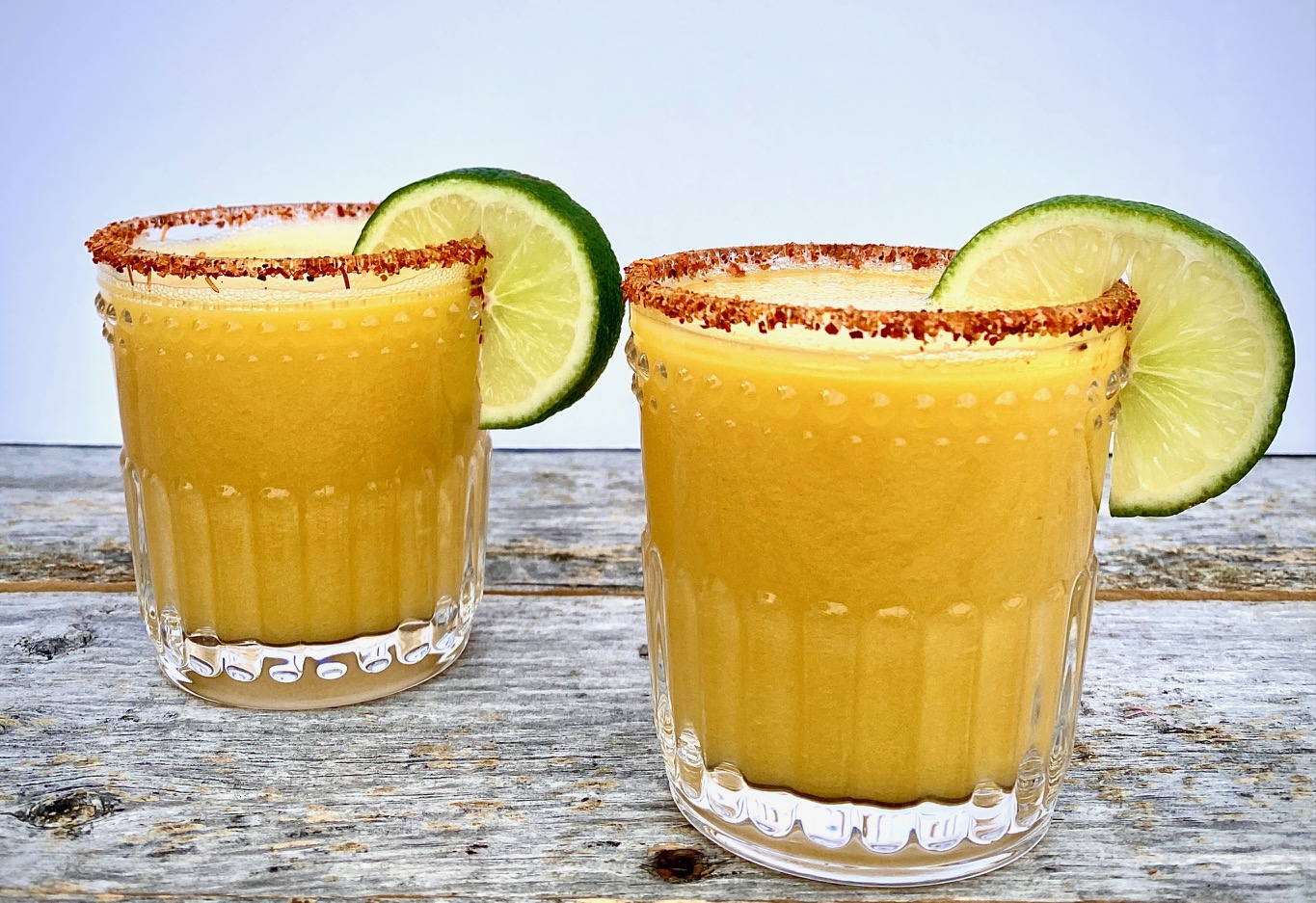 These Spicy Mango Margaritas with Chili Lime are perfectly refreshing!
Margaritas are so popular because, let's face it, they are delicious!
They are a perfect blended marriage of sweet and tangy flavors
This blender version is a favorite because it has sweet mangos and orange juice along with tart lime juice. We were inspired to rim the glass with Tajin seasoning because it's popular in Mexico (and in Southern California) to sprinkle it on cut pieces of mango or watermelon.
Depending on how sweet your oranges are you can adjust the amount of simple syrup, or if you like it tart just leave it out altogether.
Our recipe makes two chilled glasses of margaritas but these can easily be doubled or tripled to make a bigger batch for your next get-together, and they're perfect for Cinco de Mayo.
We love these for Cinco de Mayo along with our Carne Asada and Grilled Corn with Sweet Chili Sauce. Or try alongside our easy Authentic Carnitas and Spanish Rice, which is perfect with these slushy marg's!
Ingredients for Mango Margaritas:
Mango ~ we use organic frozen mango chunks to make this recipe super simple but you can use fresh mango, if you prefer
Fresh Orange Juice
Tequila ~ gold or white works best
Fresh Lime Juice
Grand Marnier ~ or any other orange liqueur such as Cointreau
Simple Syrup ~ or substitute agave nectar or maple syrup
Tajin Seasoning or any chili lime salt mix ~ for the rim of the glasses ~ if you want it less spicy just rim with salt
Fresh Lime Wedges ~ for garnish
Ice cubes ~ if you want your margarita on the rocks or super slushy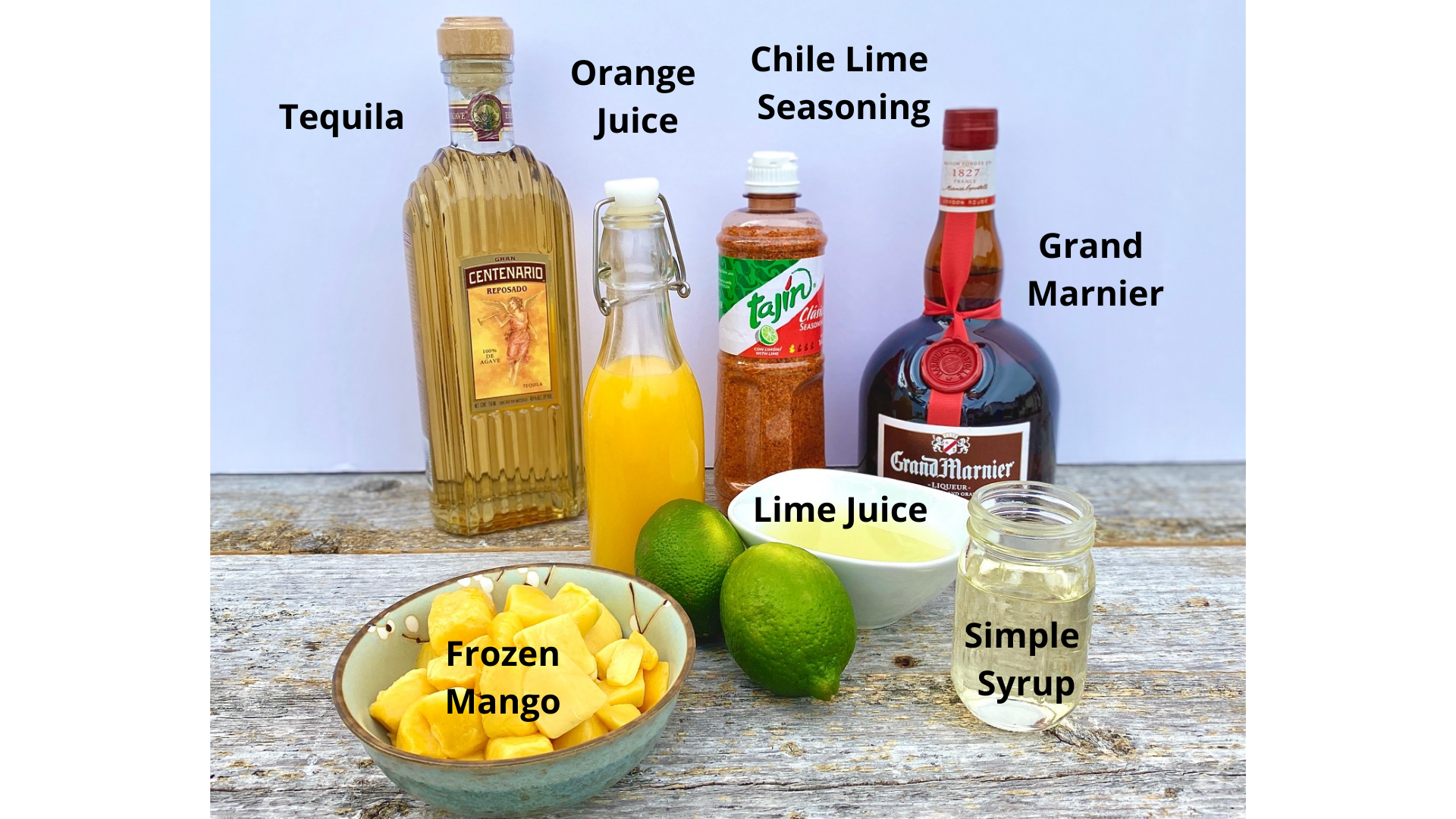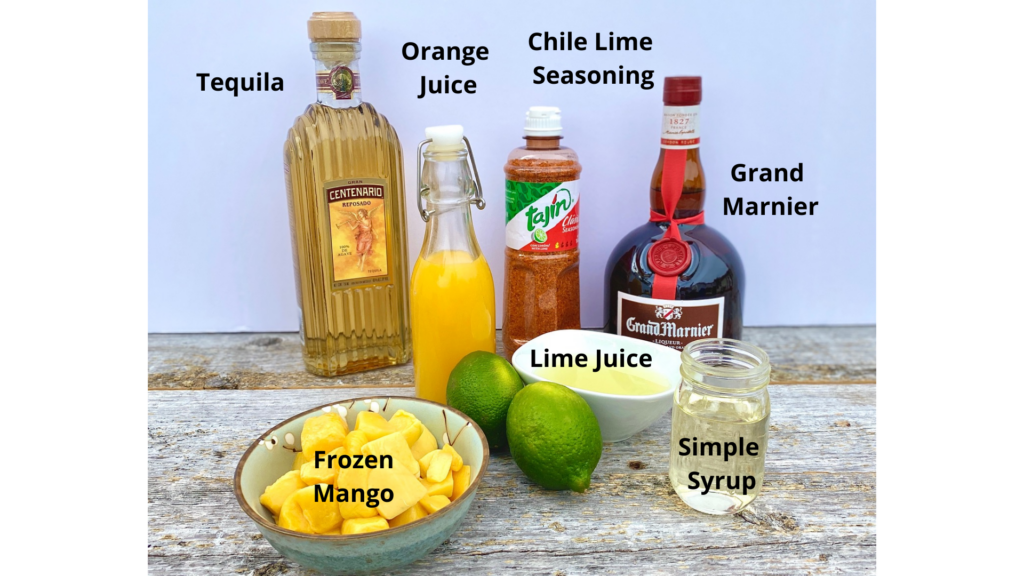 Choose the best ingredients:
TEQUILA:
Any mid to upper priced tequila will work well for margaritas. We prefer a gold or white tequila for ours, but silver tequila is also a good option.
GRAND MARNIER:
This mango margarita is sweet with orange flavor from both the fresh orange juice and the Grand Marnier, which is an orange liqueur. You can substitute any other orange liqueur, such as Cointreau or Curaçao, as well.
Adding a shot of Grand Marnier to any margarita makes it a "Cadillac Margarita".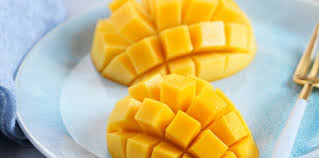 MANGOS:
Peak mango season in the U.S. is June through August when the trees are overflowing with fresh mangos. The flesh is a golden-orange color with a sweet tart flavor.
Mangos contains long seeds, which can make them a bit of a chore to cut, so we like to buy organic frozen pre-cut mango cubes. It makes this recipe so easy to blend together and ensures a cold margarita.
If you want to cut your own and freeze them before using that works well too.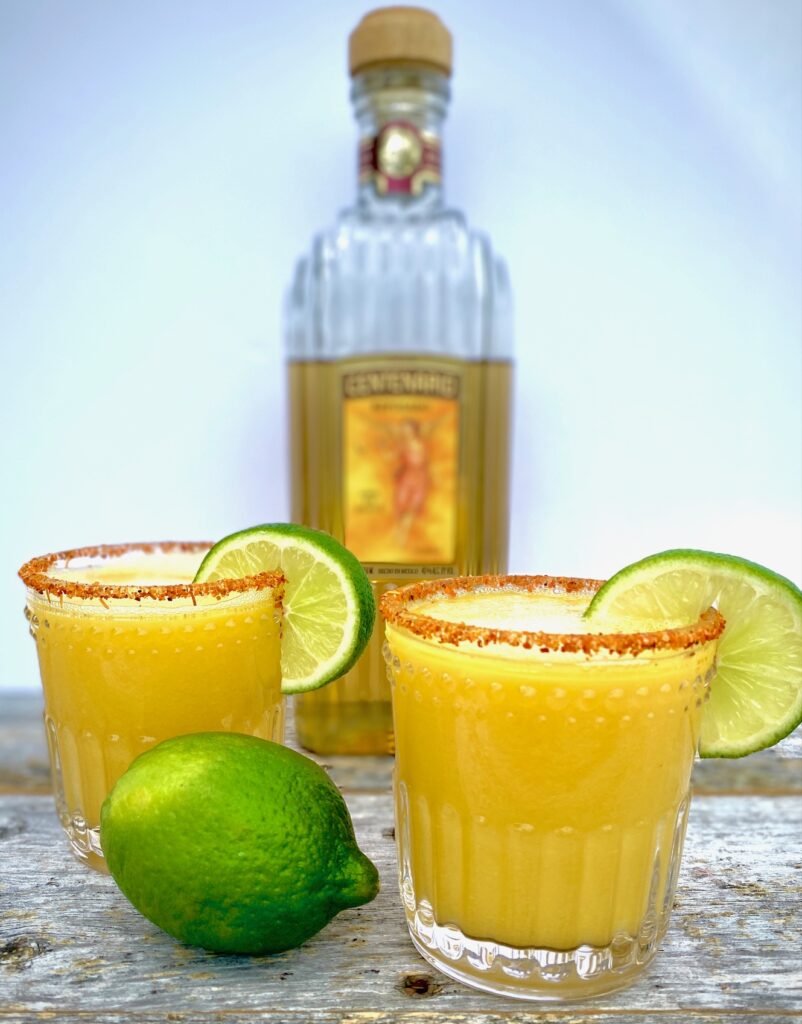 How to make Spicy Mango Margaritas
These drinks are quick to mix up and serve. Everything is added together and blended in just a few minutes.
The key to this super frosty cold Mango Margarita is to have all of the ingredients very cold before blending. So put everything (except the Tajin) in the refrigerator before blending if possible.
If the mango cubes are frozen you don't need to add ice to the ingredients.
This margarita can be served blended cold or on the rocks. If you want your cocktail over the rocks just add ice to the glass before pouring in the blended margarita.
Step One:
The first step is to prepare the rim of the glasses with a chili lime salt seasoning. We use Tajin brand.
Slice half of a lime into 2 thin rounds for garnish and cut an additional piece for rubbing on the rim of the glasses
Shake Tajin, or chili lime salt, into a shallow dish or small plate
Rub a cut lime wedge around the rim of 2 glasses
Turn the glasses upside down and place into the Tajin to coat the rim
Let dry while preparing the Mango Margaritas
Step Two:
In a blender add: mango cubes, orange juice, tequila, lime juice, Grand Marnier, and simple syrup. Blend on high until well blended.
Want an extra slushy margarita? Add 1 cup of ice to the blender, as well, before blending.
Want it on the rocks instead? Blend, add ice to the glass, and pour the margarita over the ice.
Add to prepared glasses and garnish with a slice of lime.
Enjoy!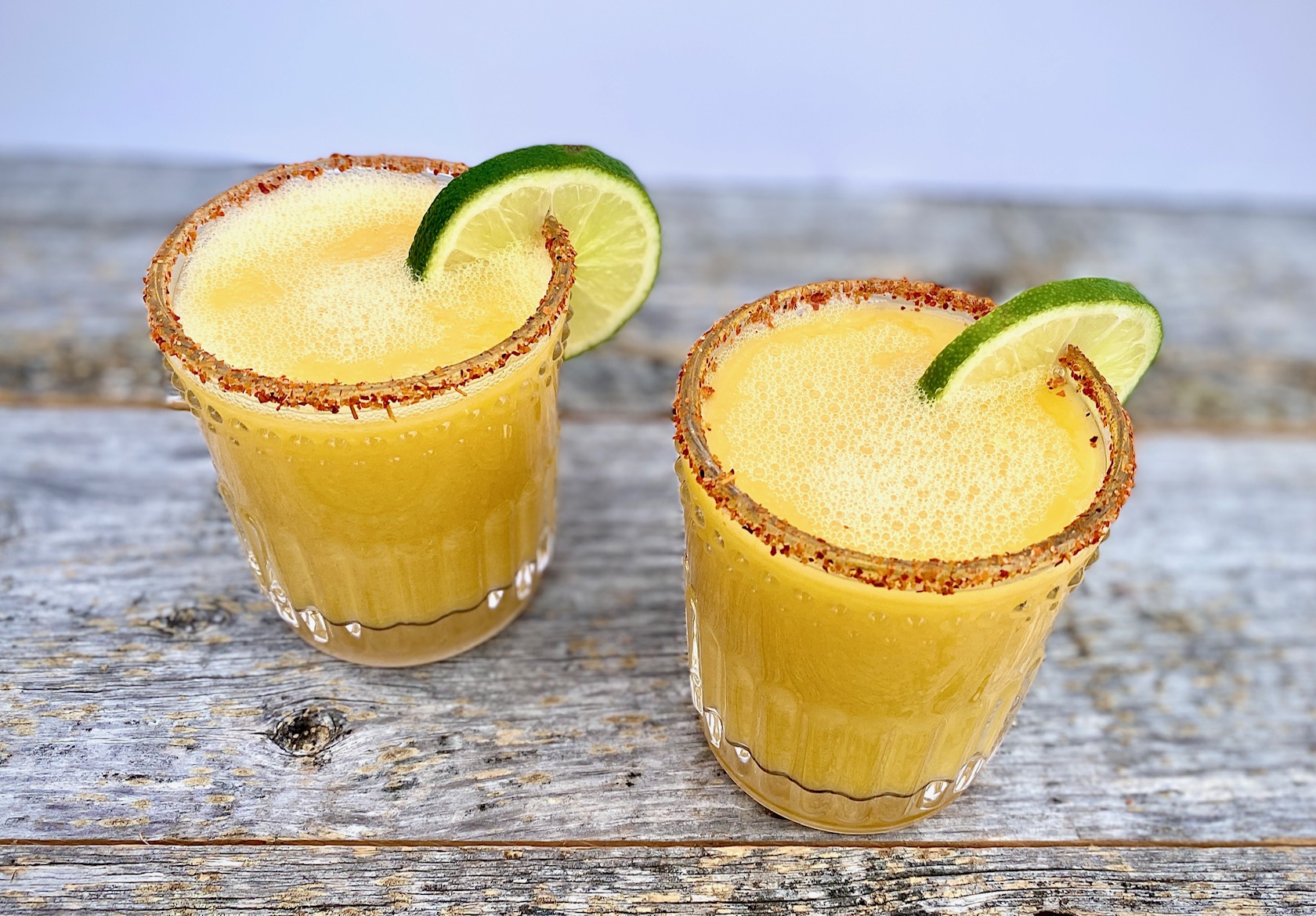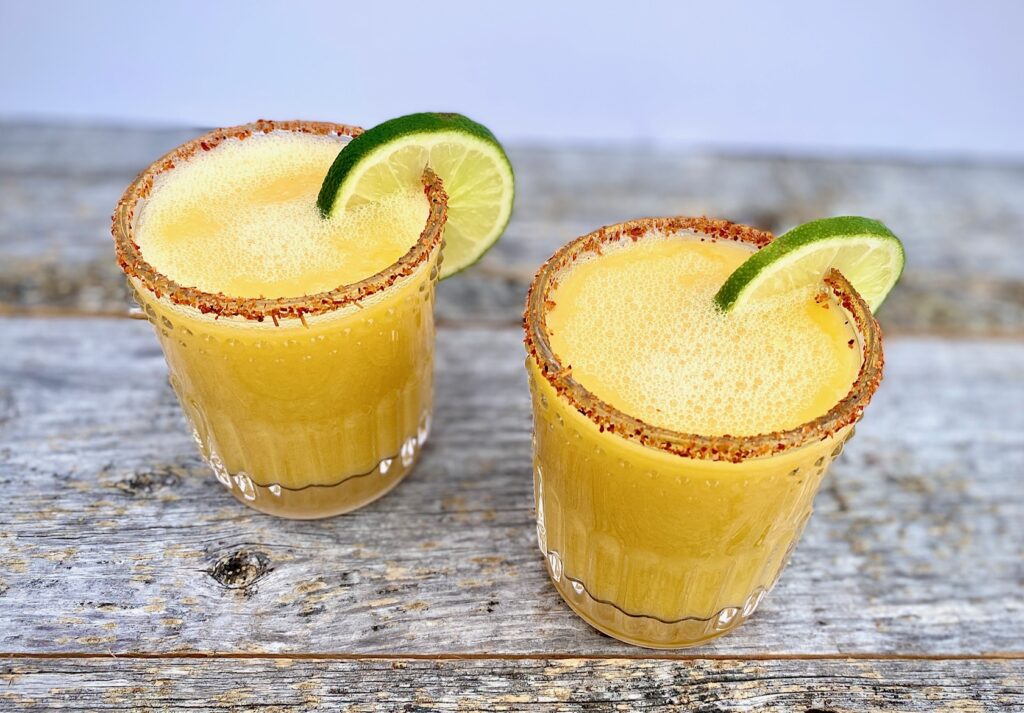 How to make Simple Syrup:
Simple syrup is easy to make with equal parts sugar and water. Here's how:
Heat 1/2 cup water in a saucepan over medium heat until hot
Stir in 1/2 cup sugar and cook until it is fully dissolved
Steep for about 15 minutes with heat off
Cool to room temperature and then chill in a glass jar
There will be extra syrup but you can store it for up to 3 months in the refrigerator to make lots of interesting cocktails such as the Lemon Drop Martini or our Cucumber Mint Cocktail
Perfect pairings for Spicy Mango Margaritas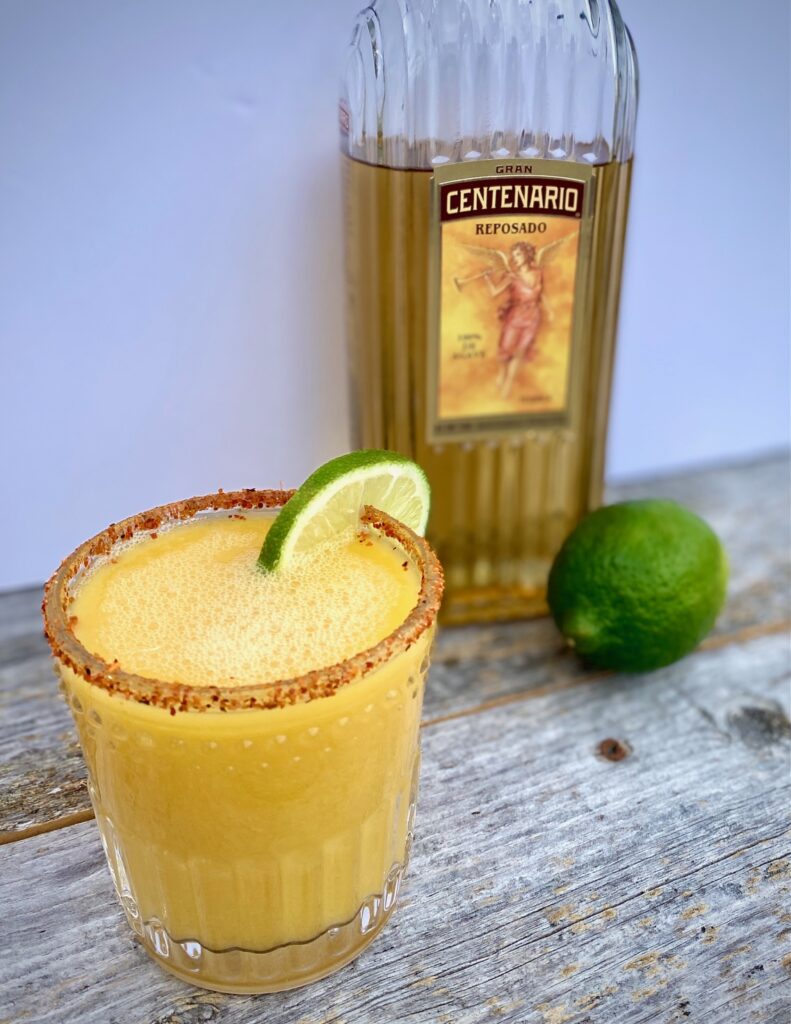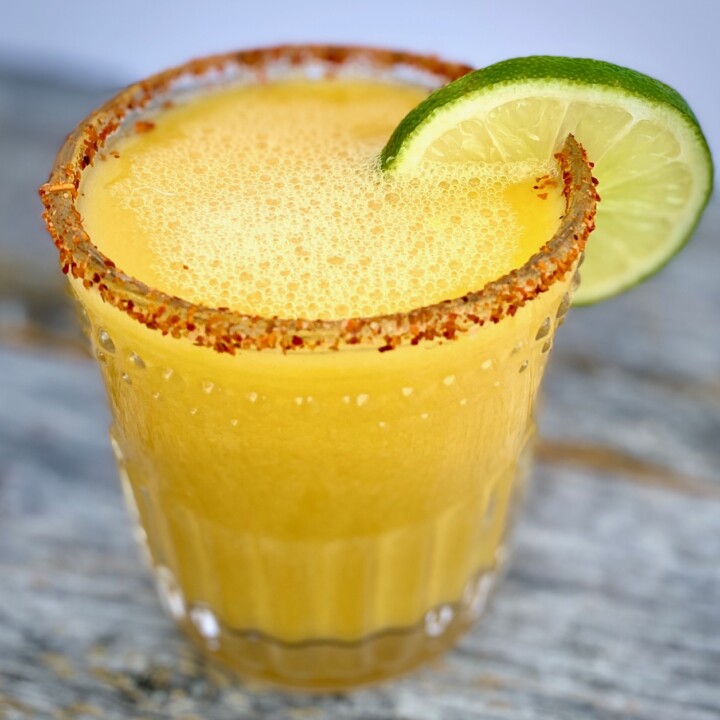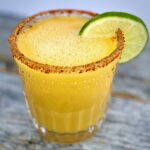 Print Recipe
Spicy Mango Margarita with Chili Lime
Fresh and Spicy Mango Margaritas, with a chili lime salty rim, are gorgeous as well as delicious. Easy to make with just a few ingredients.
Servings:
2
8-ounce drinks
Ingredients
1

teaspoon

Tajin seasoning or other chili lime salt mix,

for rim of glass

8

ounces

Mango cubes,

frozen

8

ounces

orange juice

6

ounces

gold or white tequila

2

ounces

lime juice

3

ounces

Grand Marnier or Cointreau

(or other orange liqueur)

3

Tablespoons

simple syrup,

chilled

0.5

lime,

for garnish

8

ounces

ice,

optional, for the glasses (on the rocks)
Instructions
Slice half a lime into 2 thin rounds for garnish and cut an additional piece for the rim of the glasses.

Shake Tajin, or chili lime salt, into a shallow dish or small plate. Rub a cut lime wedge around the rim of 2 glasses then turn the glasses upside down and place into the Tajin to coat the rim. Let dry while preparing mango margaritas.

Add all remaining ingredients, except ice, to a blender.

Pour into glasses and add lime wedge on the rim. If desired add the ice for margaritas on the rocks, and serve.
Notes
Want to make these Spicy Mango Margaritas ahead of time? Here's how:
Make the margarita mixture
If serving over the rocks store in a sealed airtight container in the refrigerator for up to 2 days and then just pour over ice
If serving frozen margaritas store in the freezer for up to one week, thaw slightly and re-blend before serving
Nutrition
Calories:
235
kcal
|
Carbohydrates:
37
g
|
Protein:
2
g
|
Fat:
1
g
|
Saturated Fat:
1
g
|
Sodium:
193
mg
|
Potassium:
486
mg
|
Fiber:
2
g
|
Sugar:
31
g
|
Vitamin A:
1469
IU
|
Vitamin C:
107
mg
|
Calcium:
38
mg
|
Iron:
2
mg