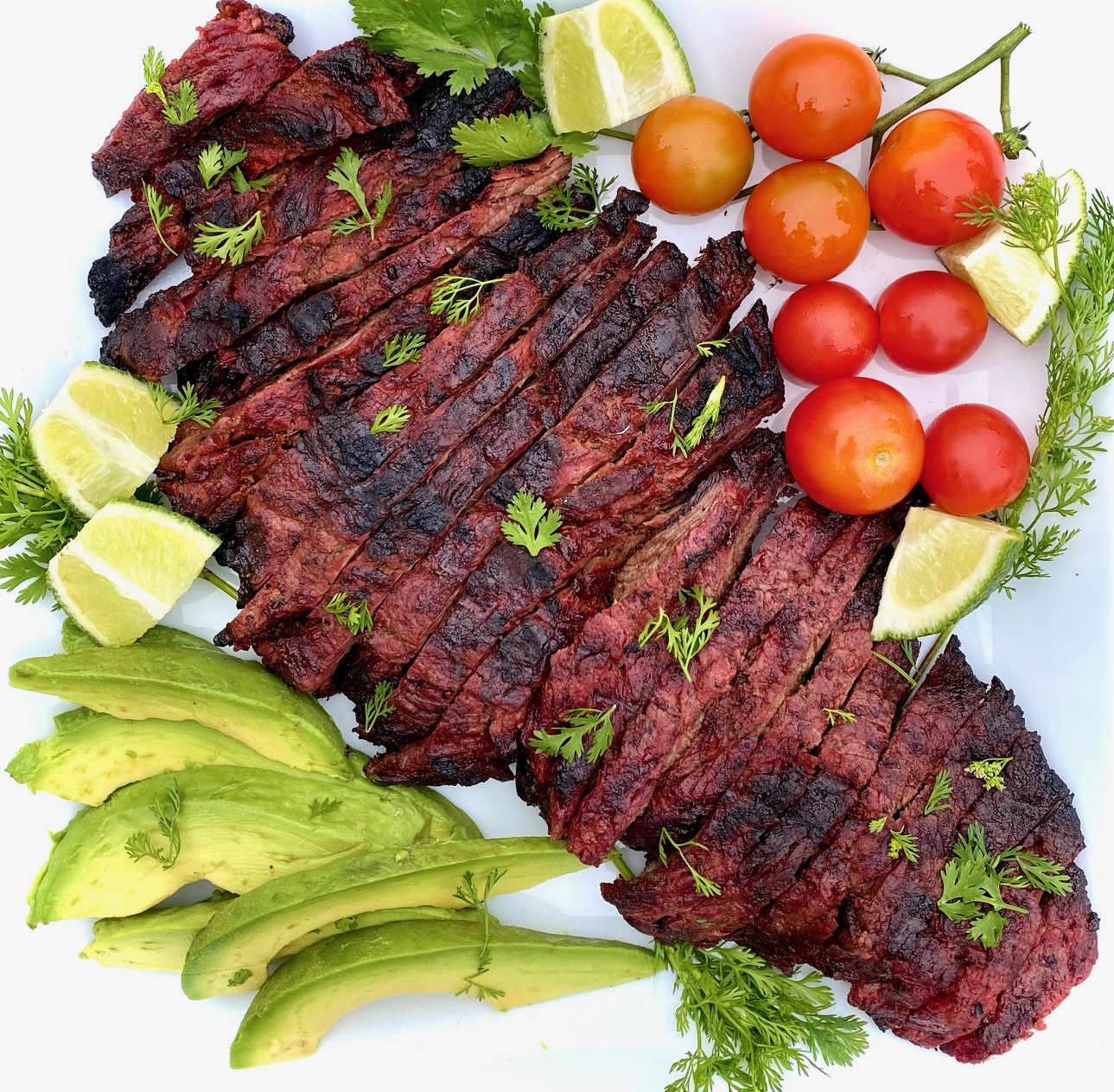 Carne Asada is tender, juicy skirt steak marinated in citrusy Mexican seasonings and grilled
Perfect for tacos, nachos and burritos, or on its own!
Grilling at home is one of the easiest ways to make this amazing restaurant classic. You can also easily cook inside with a grill pan too. Either way you will love the flavors in this easy citrus marinade!
Once marinated the steak cooks in less than 15-minutes! The result is a gorgeous zesty steak ready to use in so many ways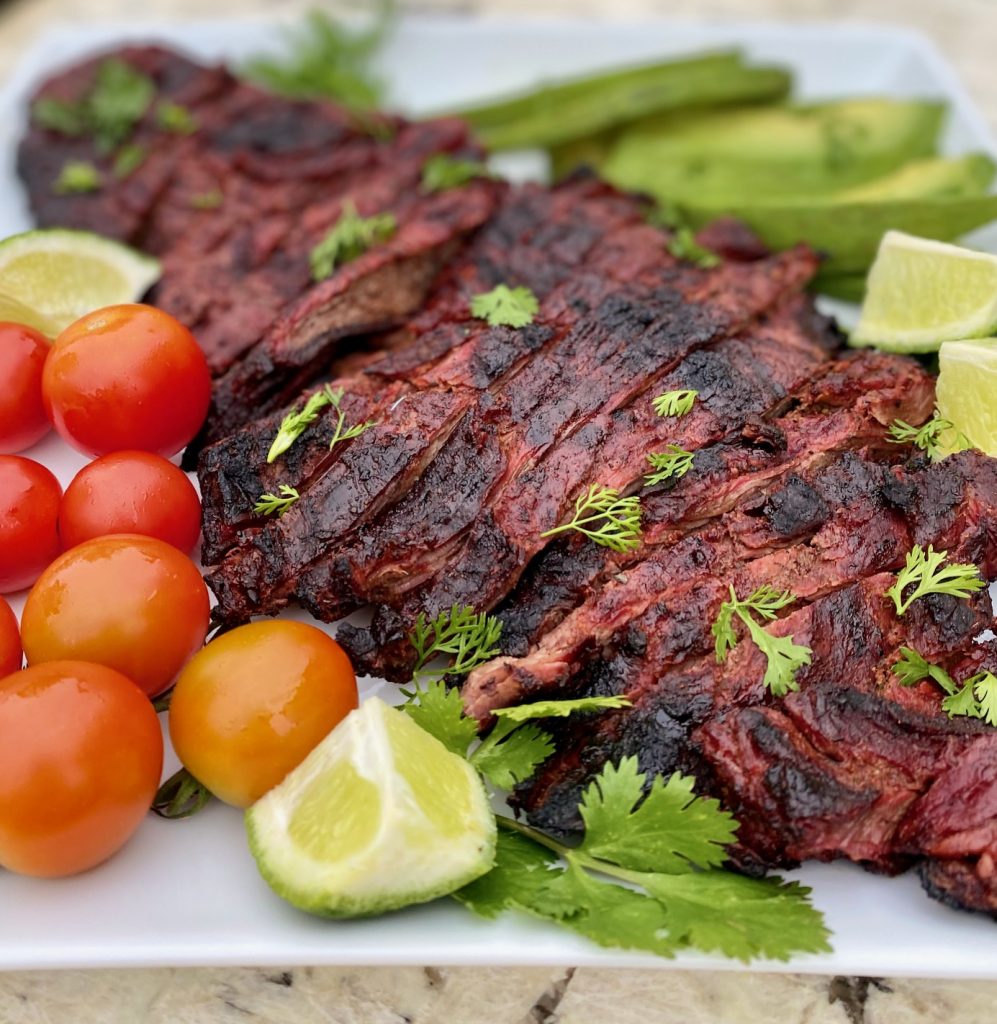 What type of meat is Carne Asada?
Carne Asada is a skirt or flank steak that has been marinated, grilled on hot heat, and thinly sliced. It's one of the easiest ways to prepare steak and the results are amazing. "Carne" translates to meat and "Asada" means grilled, so it's the perfect combo. We have made it with both skirt and flank and prefer the tenderness of skirt steak.
Ingredients in Carne Asada marinade:
One of the greatest things about this Carne Asada marinade recipe is how easy it is to make. It comes together in minutes and uses ingredients you likely have on hand.
Olive Oil or Canola Oil
Soy Sauce
Lime Juice, freshly squeezed
Orange Juice, freshly squeezed
Garlic, minced
Chili Powder, Cumin, Red Pepper Flakes, and Onion Powder
Cilantro, freshly chopped (if you're a non-cilantro lover just omit)
Salt and Pepper
The citrus juices are the key to this marinade so be sure to make it with freshly squeezed juices. We like ours with lime and orange juice. However, if you like it more tart, add some lemon juice in place of some of the lime juice, but definitely don't skip the orange juice. The orange juice helps balance the flavor.
The meat should marinate for at least 2 hours but up to 24 hours. The longer you marinate the more tender the meat when cooked.
How to make classic Carne Asada:
Chop and then blend all the marinade ingredients together in a small bowl
Place the skirt or flank steak in an oblong glass baking dish and pour the marinade on top
Turn the steak pieces to ensure they are well coated with the marinade
Cover and marinate 2 to 24 hours, turning the meat occasionally while marinating. We generally marinate between 2-10 hours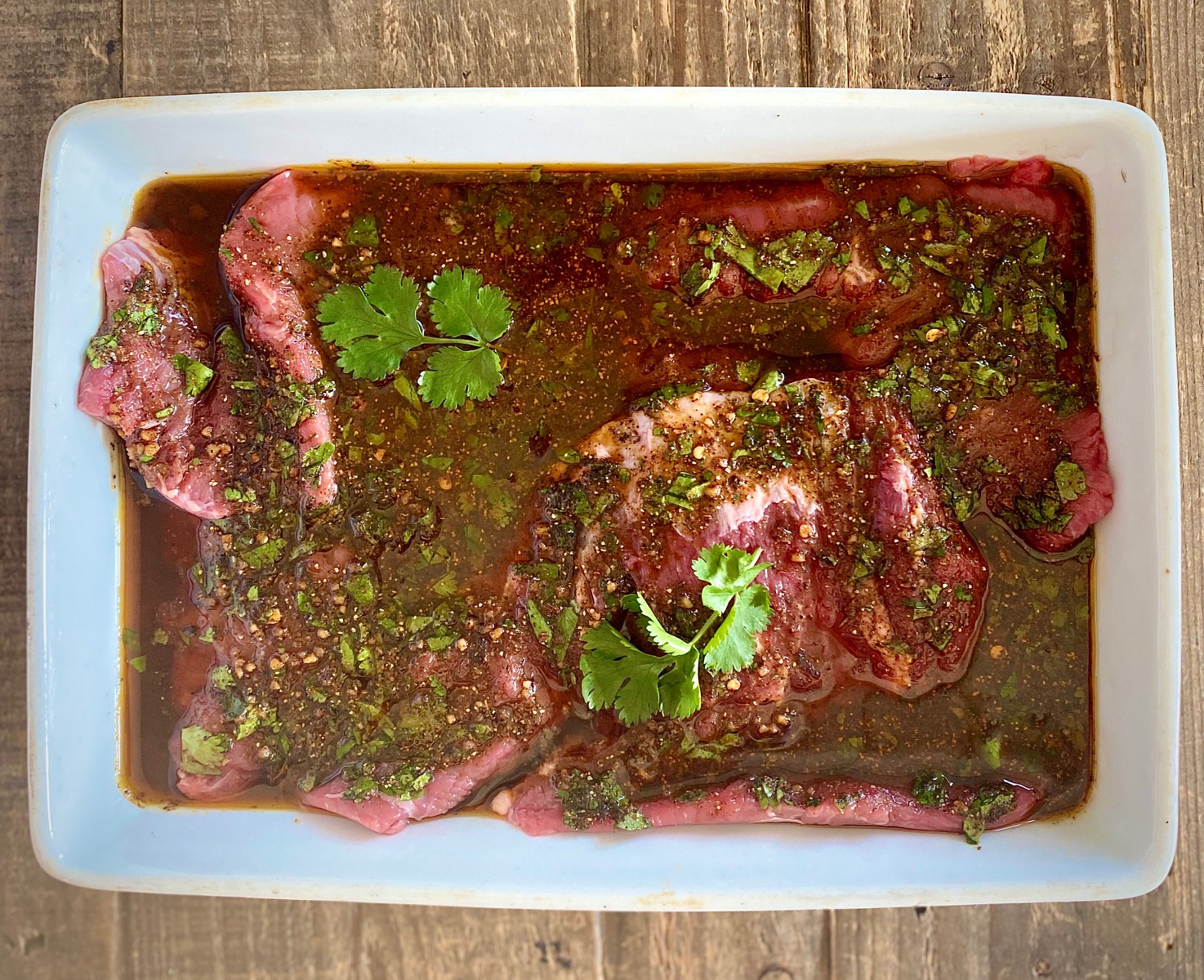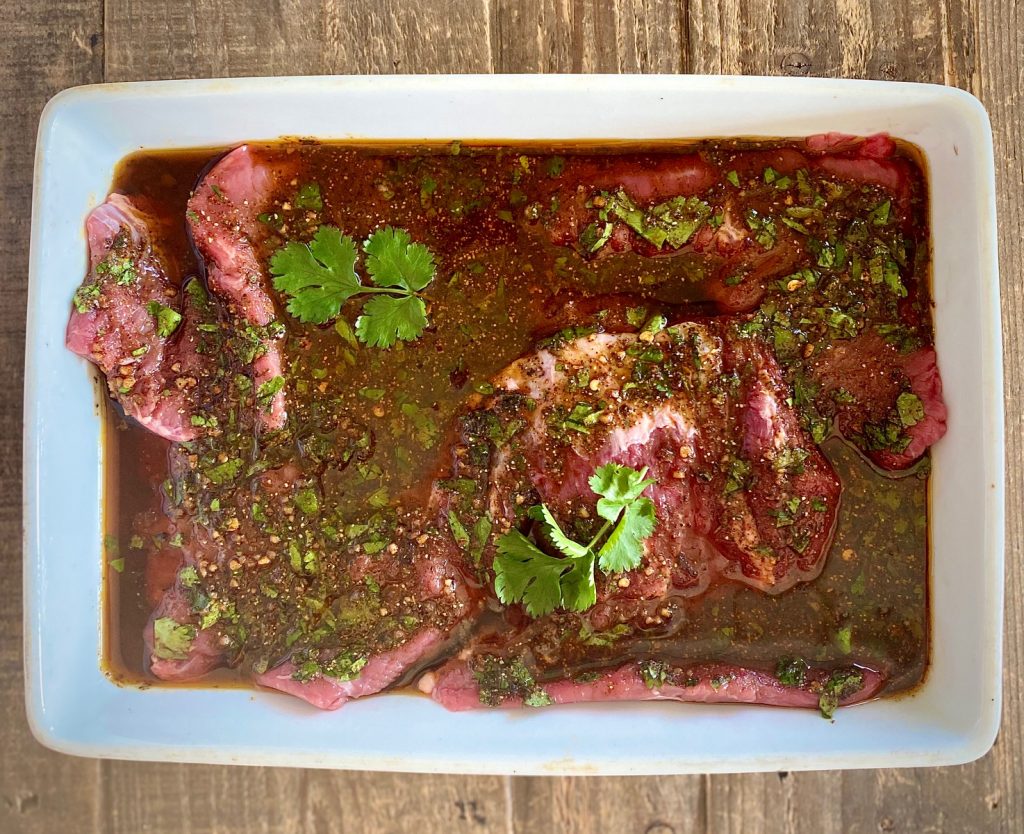 How to grill marinated Carne Asada: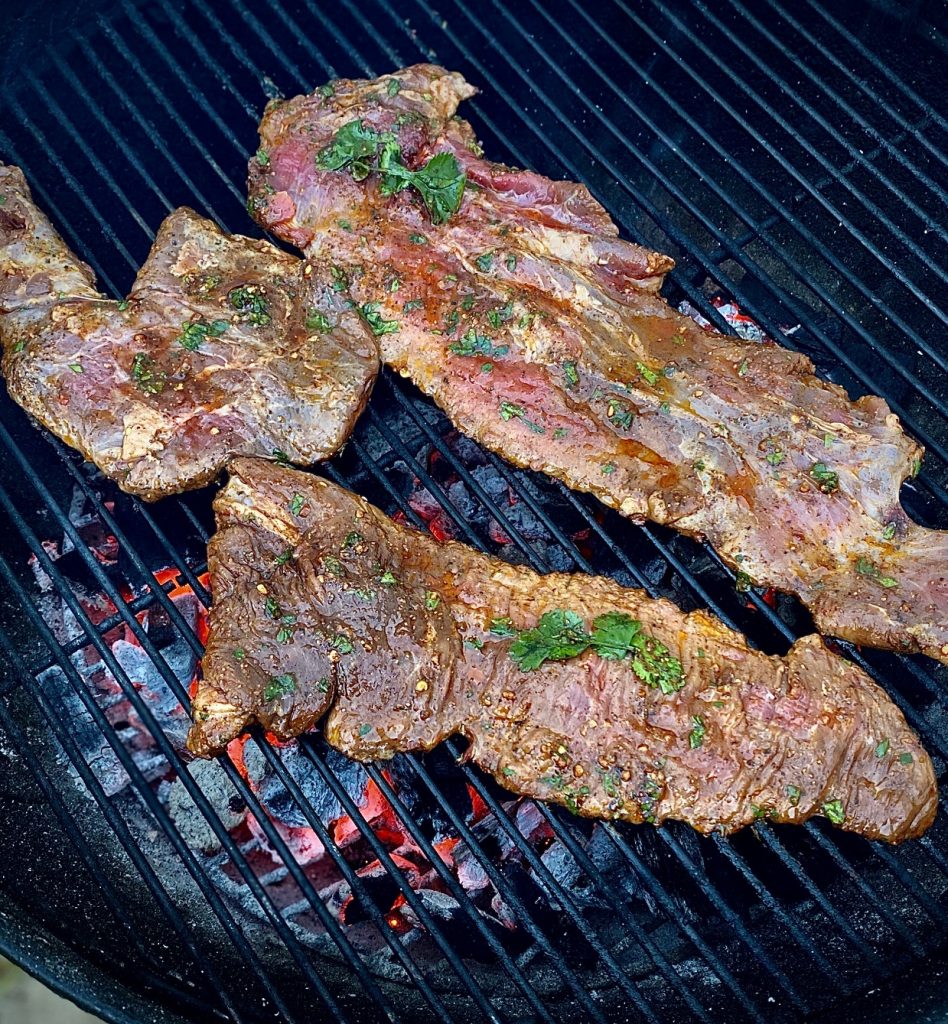 When ready to cook start pre-heating the grill on high
Remove marinated steak from the refrigerator and let it come to room temperature to ensure even cooking
Drain the marinade off of the meat and discard the marinade
Grill on high heat for about 5-7 minutes per side. Only turn the meat once to ensure a great sear on the meat. You want those beautiful grill marks!
Skirt and flank steak taste best cooked to medium-rare, which is 130˚F
Let the meat rest, covered loosely with foil, on a cutting board for about 5-10 minutes to allow those delicious juices to reabsorb back into the meat
Slice the meat thinly against the grain into thin strips (see tips for cutting against the grain below)
When prepping for tacos, burritos, or nachos slice further into smaller bite-size pieces
If you're using an indoor grill pan follow the same instructions as above. If the pieces are too long just slice in half before searing and cook in batches. You don't want to overcrowd the grill pan and risk missing a great sear on your meat.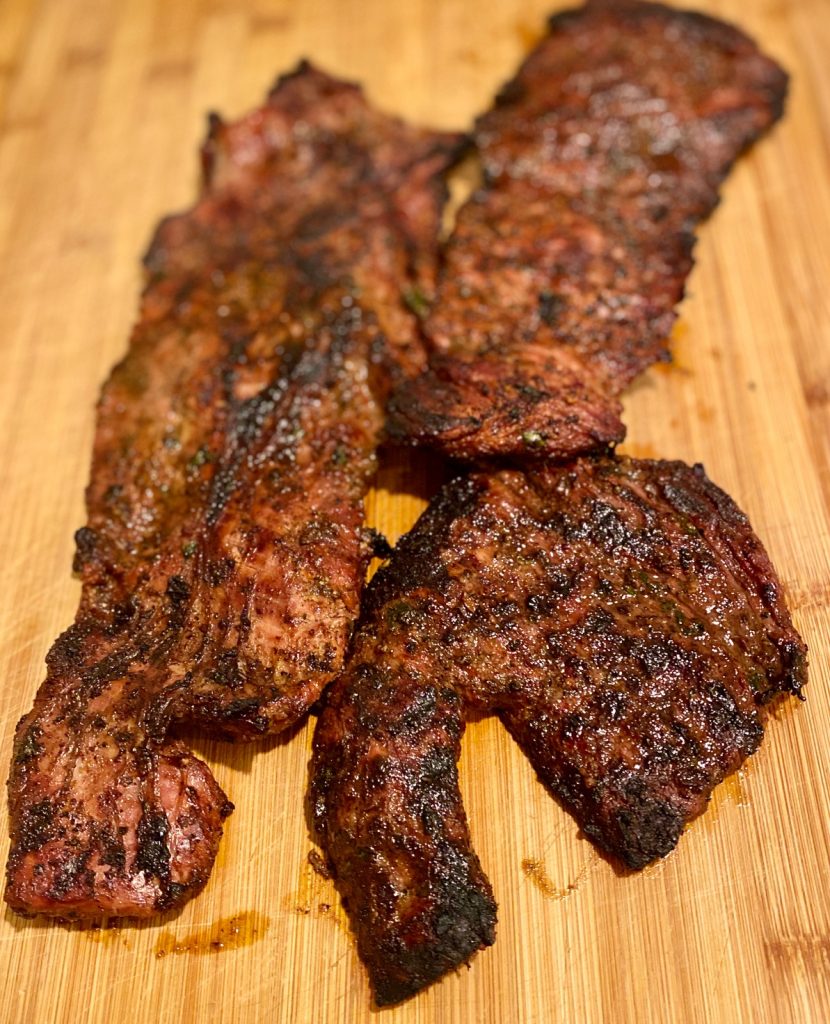 Best way to use grilled skirt steak:
Tacos – this meat makes the absolute best tacos! We like to keep it simple with chopped onions, cilantro and a few chopped tomatoes in soft corn tortillas
Burritos – be sure to dice the meat small before adding to your burritos
Nachos – add shredded cheese, black or pinto beans, salsa, and after baking, top with guacamole and sour cream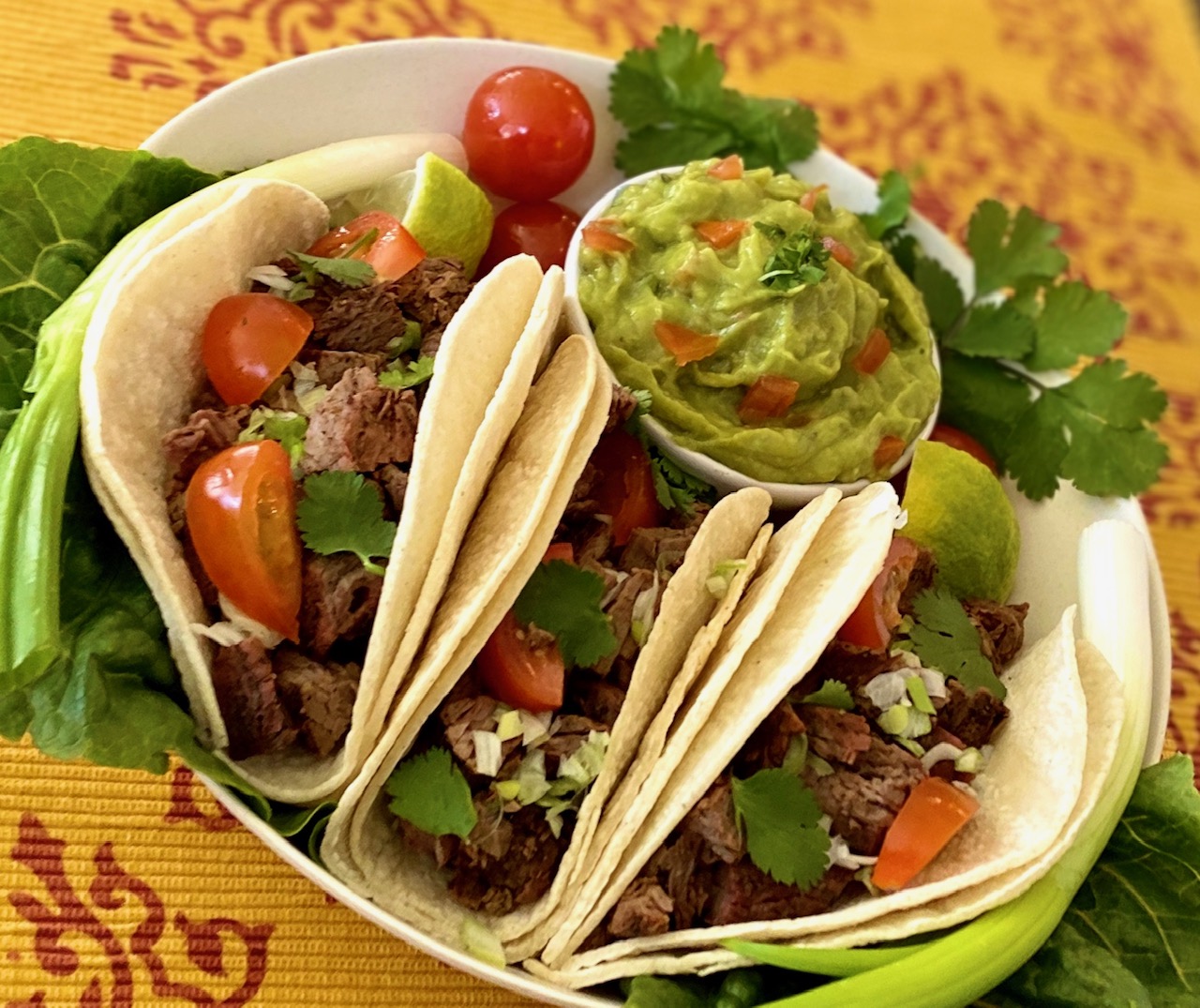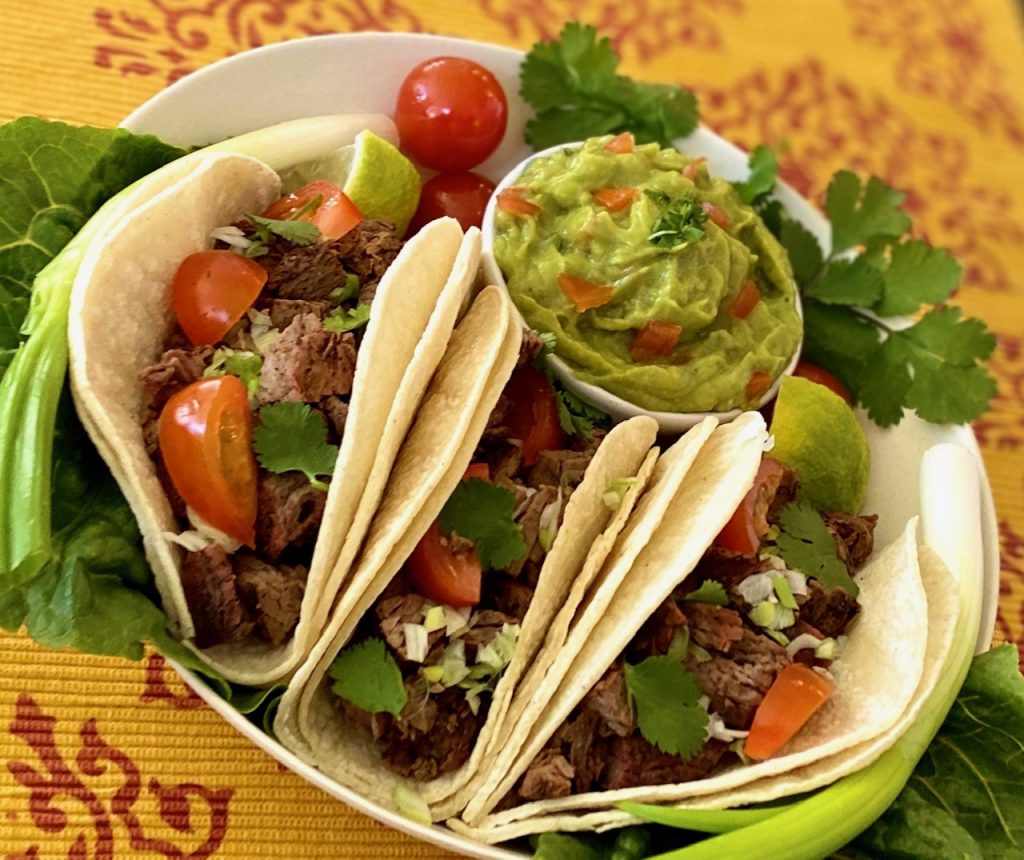 How to cut meat against the grain
Cutting meat against the grain ensures it tastes more tender when you're eating it. Luckily, it's easy to see the grain in both flank and skirt steak because it looks like lines running through the meat. Simply cut perpendicular to the lines (not parallel). The goal is to cut through the grain which make the meat easier to chew.
Other great Mexican inspired recipes:
We are kind of obsessed with food that hails from Mexico, so be sure to add a few other of our recipes for an amazing full dinner, and top it off with a Spicy Mango Margarita!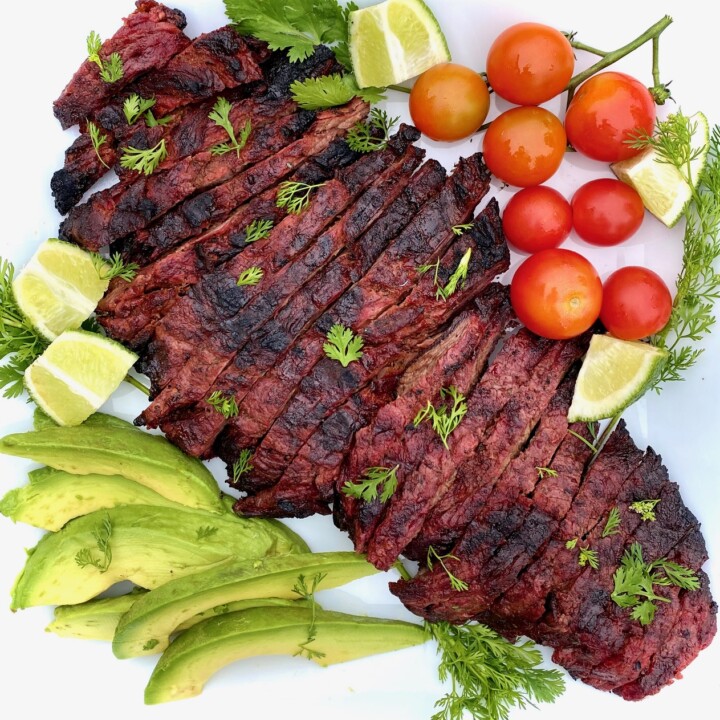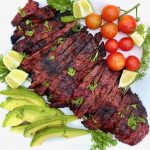 Print Recipe
Carne Asada Recipe
This Carne Asada is tender, juicy skirt steak marinated in citrusy Mexican seasonings and grilled. Perfect for tacos and burritos, or on its own.
Ingredients
2

lbs

skirt steak or flank steak
Carne Asada Marinade
⅓

cup

extra virgin olive oil

¼

cup

soy sauce

4

Tbsp

lime juice, freshly squeezed

2

Tbsp

orange juice, freshly squeezed

4

cloves

garlic, minced

2

Tbsp

cilantro, roughly chopped

1

Tbsp

chili powder

2

tsp

cumin

1

tsp

salt

1

tsp

pepper, freshly ground

1

tsp

onion powder

1

tsp

red pepper flakes
Instructions
Combine all marinade ingredients and whisk to combine

Place steak pieces in an oblong glass dish. Pour all of the marinade over the steak pieces and turn to coat.

Cover and refrigerate for 2 to 24-hours.

Remove from the refrigerator and allow the meat to come to room temperature.

Heat charcoal grill (or a gas grill to medium-high) until very hot.

Remove meat from the marinade.

Sear meat for about 6-7 minutes on each side. Only turn the meat once. Meat should be nicely charred on both sides.

Remove meat from grill and let it rest on a cutting board for 10 minutes, loosely covered with foil, to allow the juices to reabsorb into the meat.

Slice the meat against the grain into slices, or small pieces for tacos, burritos, or nachos.
Carne Asada Tacos
Heat soft corn tortillas, fill each with carne asada meat, cilantro, salsa, and diced onions.
Nutrition
Calories:
360
kcal
|
Carbohydrates:
4
g
|
Protein:
34
g
|
Fat:
24
g
|
Saturated Fat:
6
g
|
Trans Fat:
1
g
|
Cholesterol:
95
mg
|
Sodium:
1057
mg
|
Potassium:
546
mg
|
Fiber:
1
g
|
Sugar:
1
g
|
Vitamin A:
542
IU
|
Vitamin C:
7
mg
|
Calcium:
32
mg
|
Iron:
4
mg