Vine ripened Tomato Burrata Salad is the easiest side dish you will ever make!
This showstopper salad is the epitome of freshness and takes just 10-minutes to assemble. Just a few ingredients are needed for this gorgeous salad so it's perfect when you are short on time.
This salad is somewhat similar to a classic Caprese salad but uses creamy burrata cheese instead of mozzarella. If you cannot find any fresh burrata you could easily substitute regular or soft Buffalo mozzarella in this salad. However, for a true Caprese you would also add basil like we do in our Mini Caprese Skewers.
Ingredients needed for Tomato Burrata Salad:
16-ounces Cherry tomatoes – mixed colors look best
2 regular sized Tomatoes – use heirloom tomatoes if possible
One 4-ounce ball of fresh burrata cheese at room temperature
Extra virgin olive oil
Thick aged balsamic vinegar (glaze consistency)
Coarse Sea Salt and Freshly ground Pepper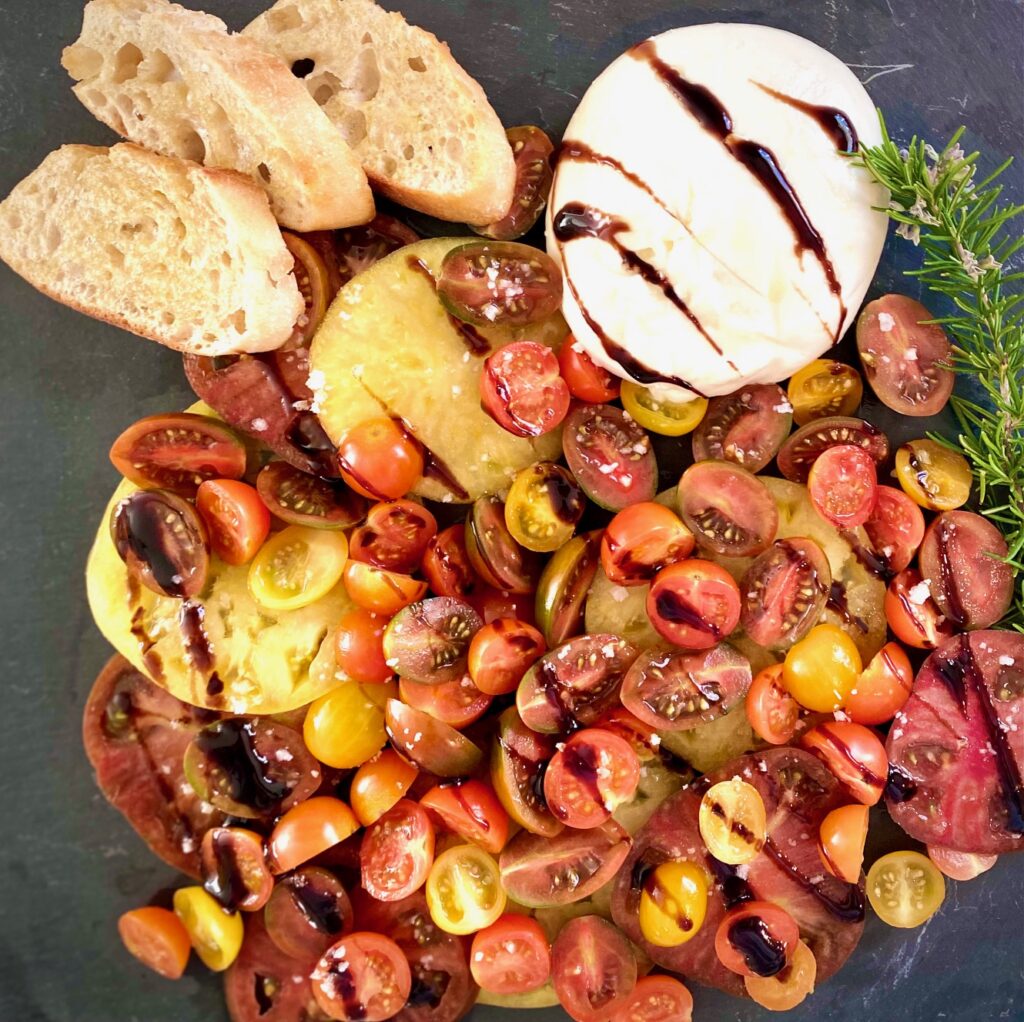 How to make Tomato Burrata Salad
Slice cherry tomatoes in half
Thinly slice the large tomatoes
Drain, pat dry and place the whole ball of Burrata on a platter
Scatter the tomatoes on the platter around the Burrata
Drizzle with extra virgin olive oil. (This is the time to use you very best extra virgin olive oil!)
Drizzle with thick aged balsamic vinegar. Thicker aged balsamic will help you achieve the pretty clean lines. (To make a thicker balsamic reduction see our instructions below)
Sprinkle with coarse sea salt and freshly ground pepper. We like to include a small dish of sea salt on the platter, as well.
Served with freshly toasted garlic bread slices, if desired, which is great for scooping up the creamy burrata!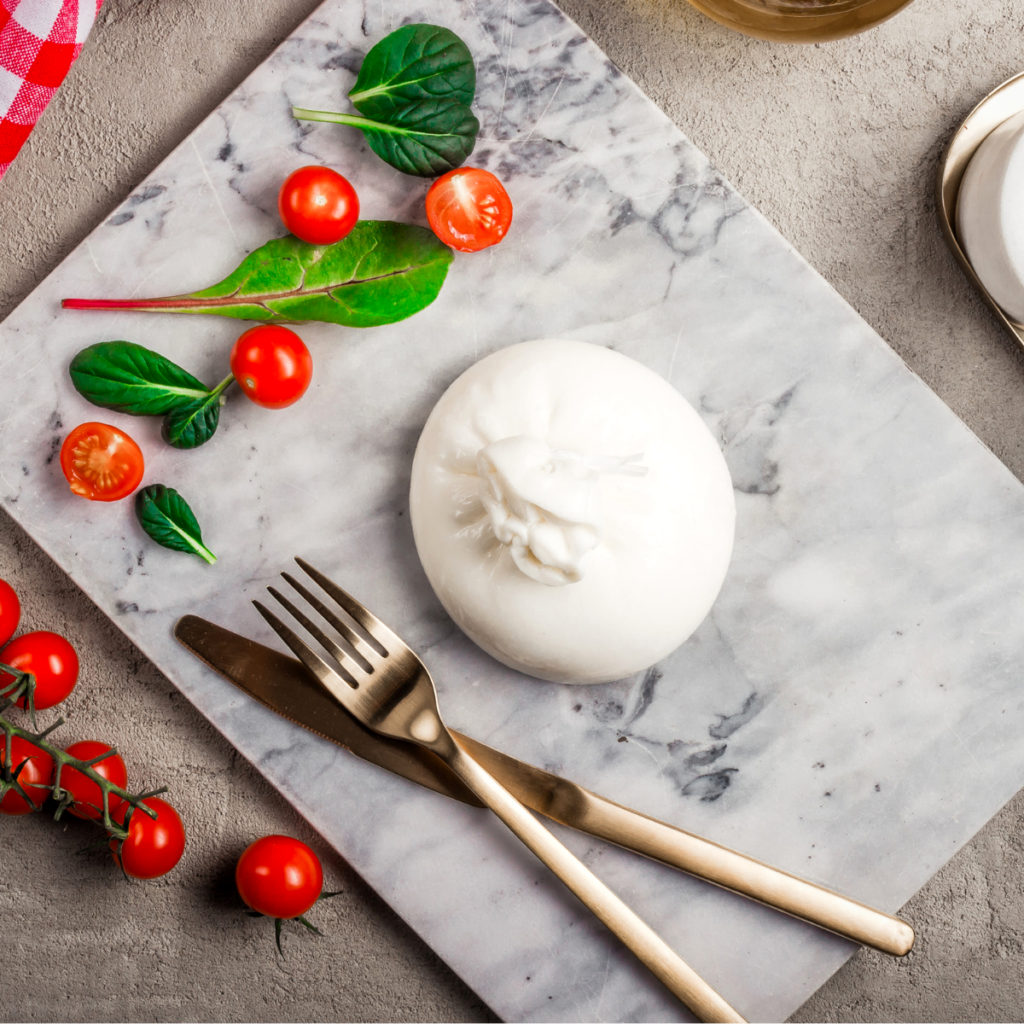 Fresh Burrata cheese is creamy and unique
What is Burrata Cheese?
Simply put, burrata is heavenly! It's a cow's milk cheese made from mozzarella and cream and originates from the Puglia region of Italy. Puglia is near the "heel of the boot" in southern Italy, and is on the Adriatic Sea.
The edible outside layer is a firmer soft shell that protects and encases the creamy inside. When you pierce the outside layer the creamy center slowly oozes out.
Woven and shaped by hand, the process of making fresh burrata involves artisans achieving the perfect texture through feel and experience. Burrata starts out much like mozzarella with rennet used to curdle the warm milk. Unlike other cheeses, however, the fresh mozzarella curds are plunged into hot whey or lightly salted water, kneaded, and pulled to develop stretchy strings then shaped.
From there the prodeucers form pouches of cheese and stuff them with fresh curds and whole cream, creating the signature creamy center. Finished burrata is traditionally tied to form a little dumpling-like topknot and packaged in a plastic bag or container in liquid.
Look for imported burrata in specialty cheese shops or well-stocked grocery stores. A true Apuligian burrata will have the Indication of Geographic Protection (IGP), with the name Burrata di Andria IGP on the label.
What are Heirloom Tomatoes?
Heirloom tomatoes are perfect for this salad, not just because they taste like sunshine, but because the colors are striking and colorful.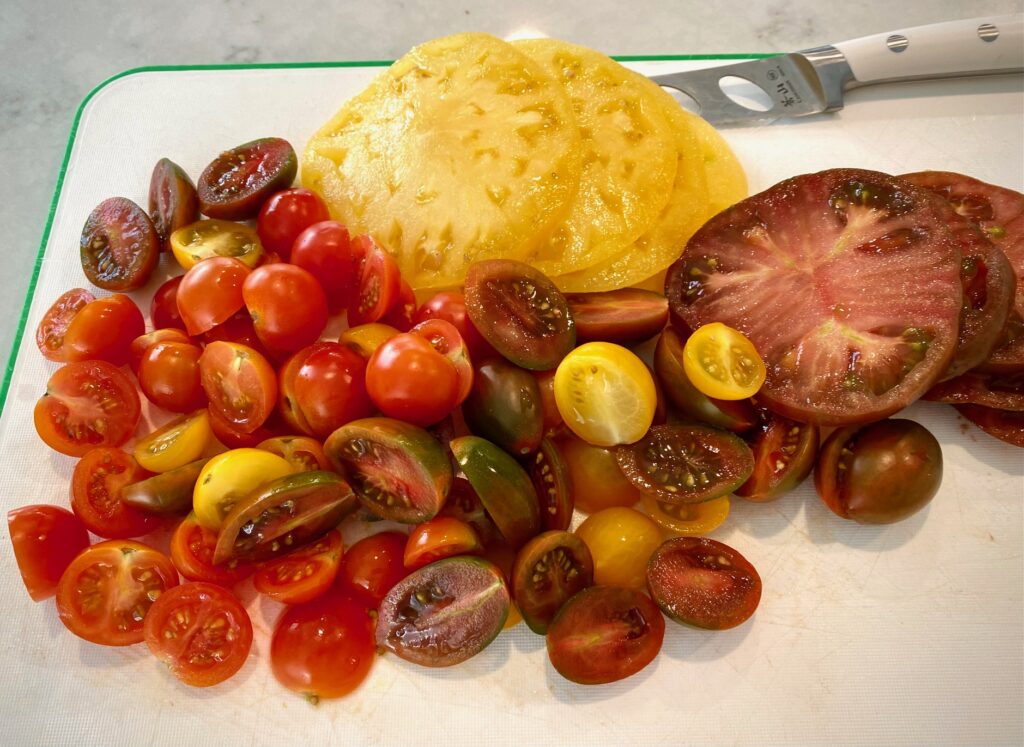 Regular tomatoes are grown for consistent appearance and size, while heirloom tomatoes are grown for flavor. Part of the charm of heirloom tomatoes is their rather irregular shape and coloring. They also have a softer skin when ripe.
The seeds are what make them so special. The varieties are grown from seeds that have had no crossbreeding for at least 40 years, and have often been passed down from generation to generation.
Heirloom tomatoes are open-pollinated, which means they are pollinated in the wide open, and exposed to bees and nature.
Here are a few of the varietals that I am growing in my garden:
Cherokee Purple – my personal favorite and pictured above
Hillbilly – the yellow tomato in our photos above
Heirloom cherry tomatoes – these are the small tomatoes in our photo
Brandywine – very flavorful and they grow in both red and yellow
Green Zebra – striped green and yellow
Gold Medal – gorgeous orange and red striped
White Wonder – perfect for white salsa!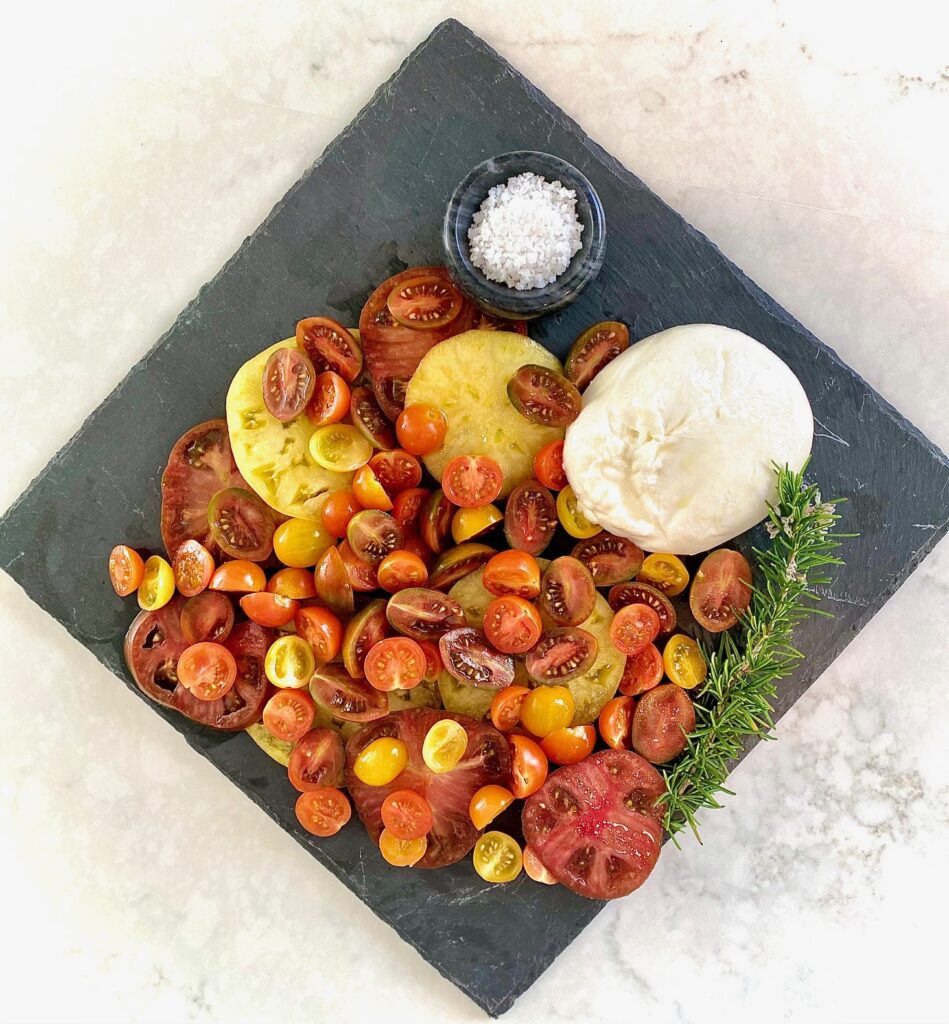 How to make a Balsamic reduction or glaze:
If you want to achieve a pretty drizzle (like the one in our photo) you need a nice thick, rich balsamic. If you don't have one on hand you can easily reduce regular balsamic vinegar to make your own.
For the best results use a good quality balsamic from Italy. Cooking it down by about half of it's volume turns it into a sweet syrup-like consistency.
We love to drizzle it on vegetables, and it's especially perfect on our Pan Roasted Brussels Sprouts.
Here's how to make 1/2 cup of glaze:
Heat 2 cups of balsamic vinegar in a small heavy saucepan, over medium heat, until it begins to boil.
Reduce heat to medium-low and simmer for about 20-25 minutes, or until it's thick enough to coat the back of a spoon. Stir occasionally.
The glaze should be glossy and pourable, like maple syrup or honey.
Remove from the heat and cool. The glaze will continue to thicken slightly as it cools, so keep that in mind, based on how thick you want your glaze.
I keep mine in a plastic squeeze bottle so that it's easy to use a little at a time, but a glass jar works well too. Store at room temperature.
Looking for other salad ideas?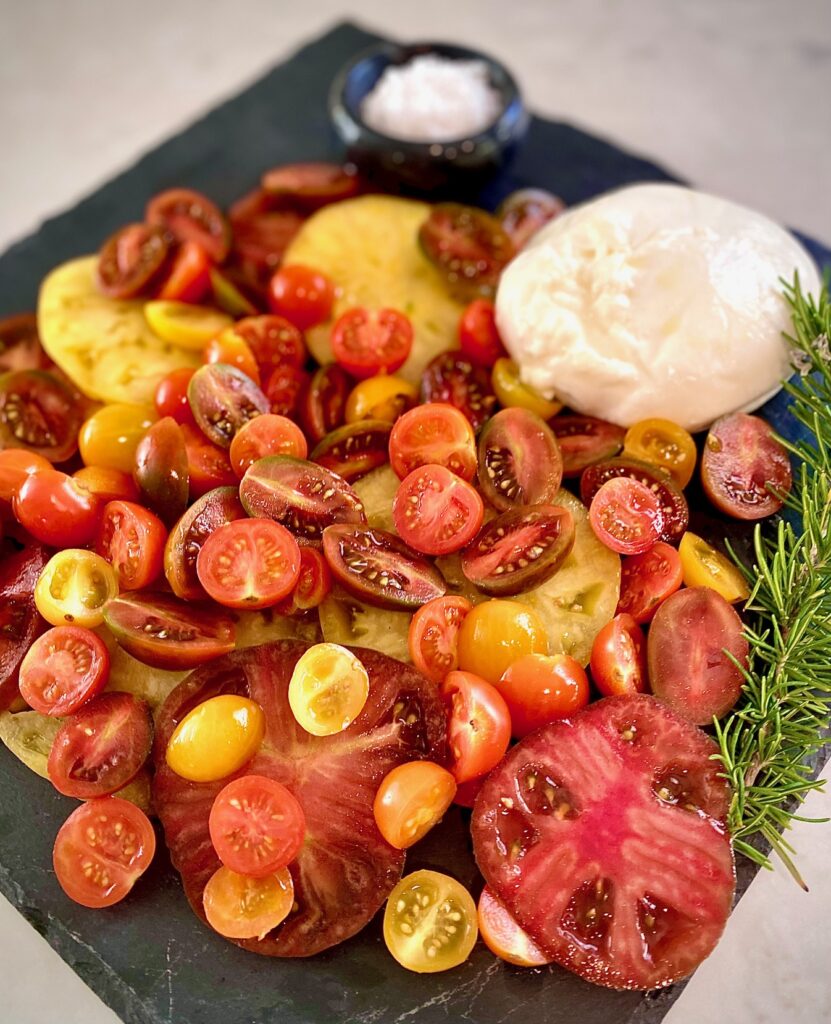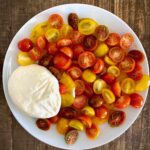 Print Recipe
Tomato Burrata Salad
Beautiful tomato burrata salad drizzled with olive oil and rich creamy balsamic is the easiest appetizer or side dish you will ever make. Just 5 ingredients needed and 10 minutes to make.
Ingredients
16

ounces

cherry tomatoes

mixed colors

2

heirloom tomatoes

1

ball

fresh burrata cheese,

packed in water

1

tablespoon

extra virgin olive oil

1

tablespoon

aged balsamic vinegar

(thick consistency – like glaze)

coarse sea salt,

to taste

black pepper, freshly ground,

to taste
Instructions
Clean, dry and slice cherry tomatoes in half

Clean, dry and slice full size tomatoes in slices

Drain, pat dry and place the whole ball of burrata cheese on a platter or plate

Scatter the tomatoes around the burrata

Drizzle tomatoes with the olive oil

Drizzle the thick balsamic vinegar over the tomatoes and burrata in zig zag lines

Sprinkle platter with coarse sea salt and freshly ground pepper

If desired, serve with freshly toasted garlic bread slices
Nutrition
Calories:
137
kcal
|
Carbohydrates:
8
g
|
Protein:
6
g
|
Fat:
11
g
|
Saturated Fat:
4
g
|
Cholesterol:
20
mg
|
Sodium:
17
mg
|
Potassium:
397
mg
|
Fiber:
2
g
|
Sugar:
5
g
|
Vitamin A:
1265
IU
|
Vitamin C:
34
mg
|
Calcium:
170
mg
|
Iron:
1
mg