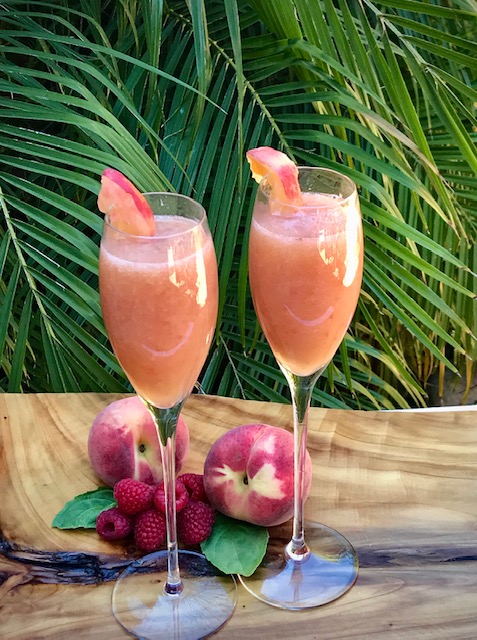 A Classic Bellini Cocktail is made with fresh fruit puree and Prosecco. They are decadently delicious and a long time tradition in Venice, Italy
The origin of the Bellini dates back to the 1940's. Around that time the founder of the famous Harry's Bar in Venice, Giuseppe Cipriani, first served the cocktail thus the classic Bellini Cipriani was born!
Sitting at Harry's Bar is where I first fell in love with this enchanting cocktail. Using fresh peach puree is key! It allows the sweetness to come directly from the fruit and is better than any sweetened nectar.
The peach puree makes this refreshing cocktail perfect for brunch or just an easy afternoon sipper!
Most great classic cocktails have a story and the Bellini is no exception. Giuseppe Cipriani named the Bellini after Venetian artist Giovanni Bellini who painted a pink shirted saint. Harry's Bar is right off the famous St. Mark's Square on the Grand Canal. Next time you find yourself in the city of canals stop by and enjoy one. We think it's a "must stop" for any trip to Venice.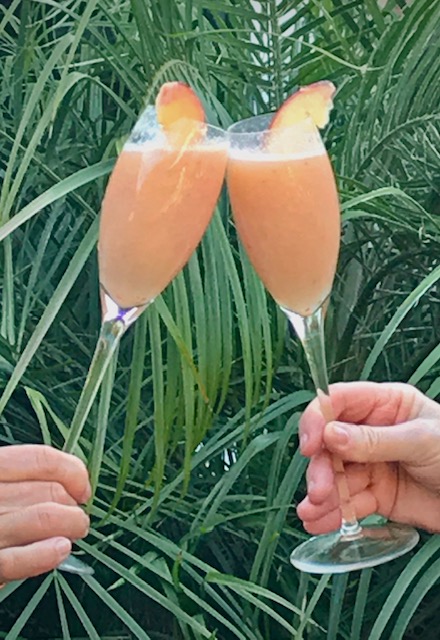 Jump to Recipe
What is a Classic Bellini Cocktail?
A classic Bellini consists of just 3 main ingredients:
White peach puree
Italian sparkling wine called Prosecco
The original Harry's Bar recipe adds a bit of raspberry or cherry to obtain that historic and famous pink glow
The Italian wine Prosecco that is used to make Bellini's is produced in the Veneto region of Northern Italy. The Veneto is also home to Shakespeare's Romeo and Juliet and is a gorgeous wine growing area.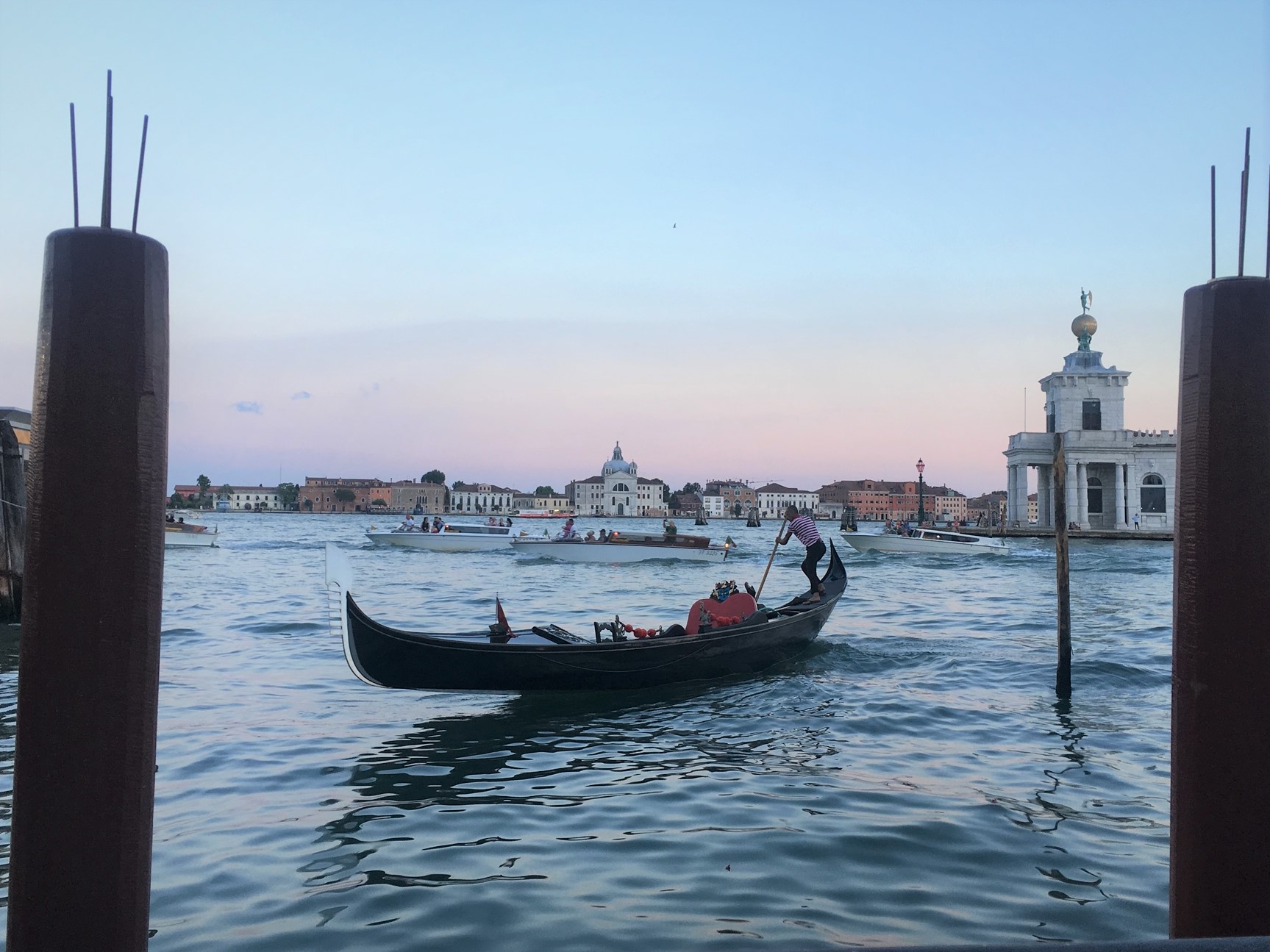 How to make a Bellini Cocktail
Making a Bellini is a simple process. With just 3 ingredients you can easily serve this cocktail at your next event. It's great for brunch!
Ingredients Needed:
4 white peaches for the puree
1/3 cup of raspberries or pitted cherries
A chilled bottle of Italian Prosecco
White peach slices for the garnish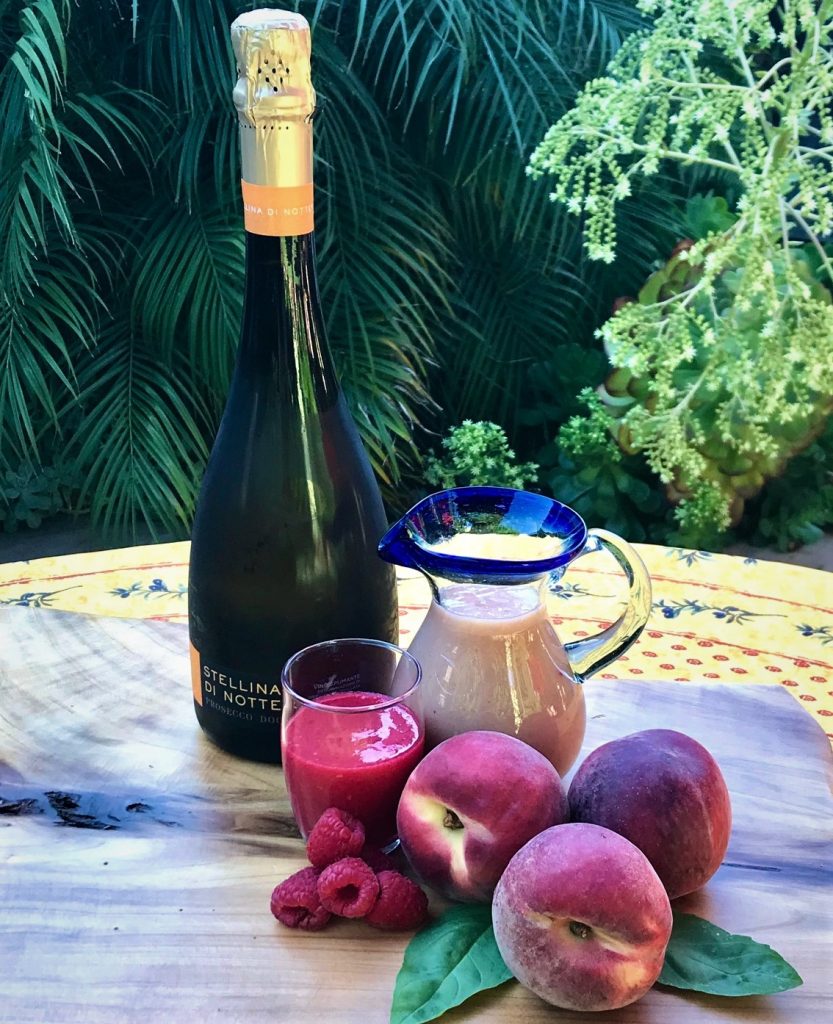 How to make peach puree for Bellini's
Peel the skin off the peaches with a paring knife, cut in pieces and remove the pit
Puree the skinned peaches in a blender until very smooth and no small chunks remain
Remove puree from blender and chill, covered, in the refrigerator until ready to use. The puree can be kept, sealed, in the refrigerator for up to 3 days but be sure to shake well before using again
Blend raspberries or cherries until completely pureed and then pour through a fine mesh strainer to remove any seeds
How to make a Classic Bellini Cocktail
In a Champagne or fluted glass add 2 ounces of prepared cold white peach puree
Then add 1 teaspoon of raspberry puree
Add 4 ounces of chilled Prosecco
Stir gently with a teaspoon to combine all of the ingredients together
Add a small slice of peach for the perfect garnish
Serve cold and enjoy!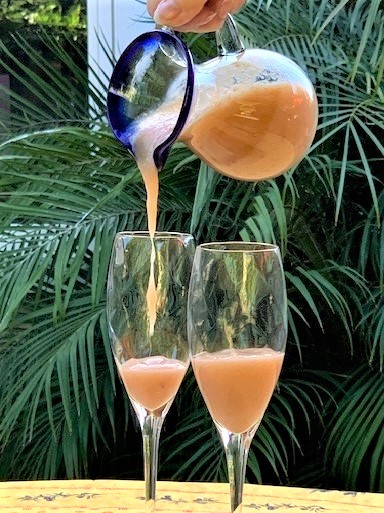 How to serve a Bellini:
When serving Bellini's use a Champagne or fluted glass. Serve them straight up with no ice. It's important that the Prosecco is very cold before making the drinks, and helpful if the puree has been refrigerated before using.
What is the difference between a Bellini and a Mimosa?
The difference is in the fruit type. A traditional Bellini is made with fresh fruit puree whereas Mimosa's are made with fruit juice. Our friends rave about this recipe and love to indulge in this recipe over a relaxing weekend brunch.
The fact that it's only 170 calories doesn't hurt either.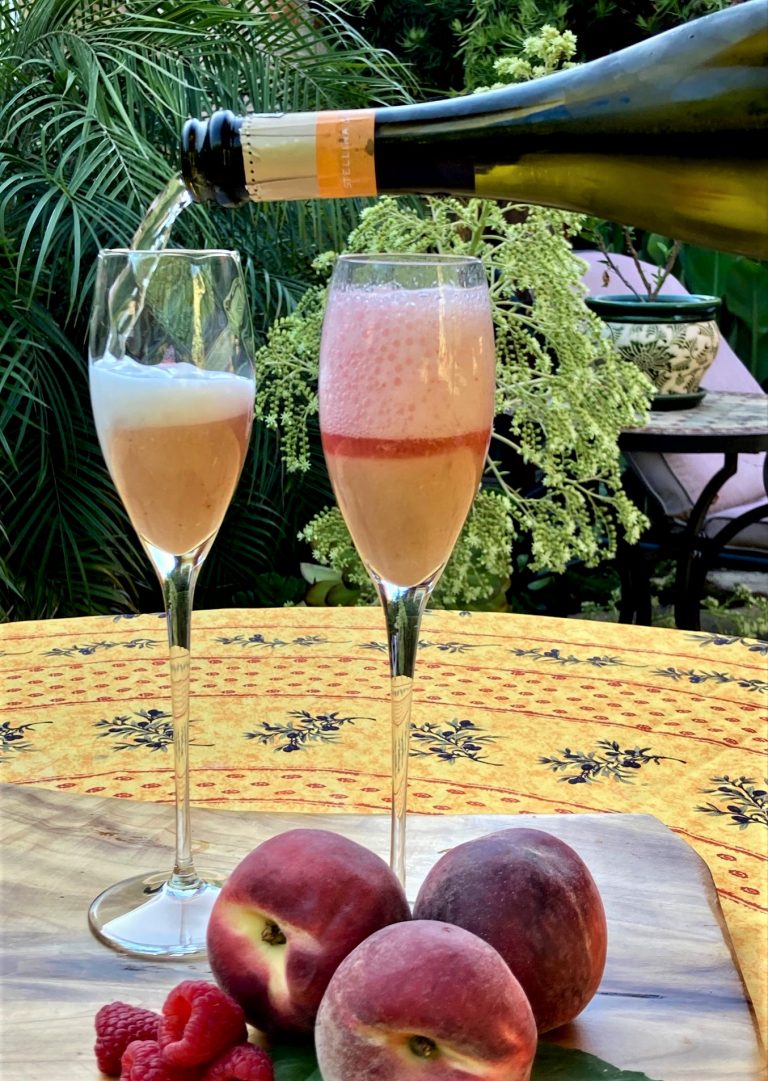 Looking for more great cocktails? Jump over to these refreshing mixes:
What to serve with a Bellini Cocktail:
Bellinis and brunch are a marriage made in heaven. Here are some of our favorite brunch ideas and recipes to compliment this amazing drink.
We would like to give a high five to friends Kathy and Linda for assisting with the photos and Bellini enjoyment for this post.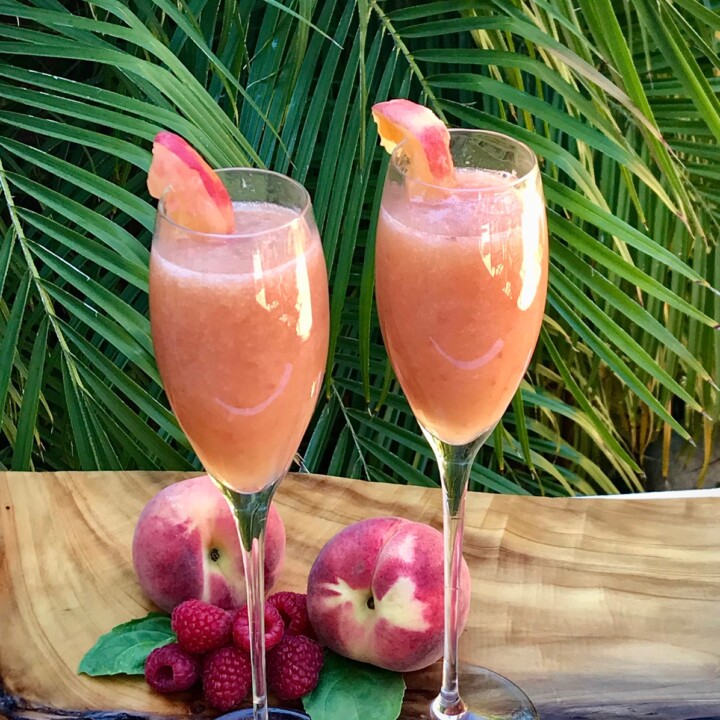 Print Recipe
Classic Bellini Cocktail
A Bellini consists of white peach puree and the Italian sparkling wine Prosecco. The original Harry's Bar recipe added a bit of raspberry or cherry to obtain that historic pink glow.
Ingredients
4

whole

White Peaches

4

tsp

Raspberry or Cherry puree

16

ounces

Prosecco

4

slices

White peach, for garnish
Instructions
Peel the skin off the peaches with a paring knife.

Puree the skinned peaches in a blender. Remove puree from the blender and chill in the refrigerator until ready to use. Puree can be kept for 3 days, tightly sealed, in the refrigerator.

Blend raspberries until pureed, then pour through a fine mesh strainer to remove the seeds.

In Champagne or fluted glasses add 2 ounces of white peach puree to each glass

Then add 1 teaspoon of raspberry or cherry puree

Add 4 ounces of Prosecco to each glass

Stir gently with a teaspoon and add a slice of peach to each glass for garnish
Nutrition
Calories:
59
kcal
|
Carbohydrates:
2
g
|
Protein:
1
g
|
Fat:
1
g
|
Sodium:
8
mg
|
Potassium:
109
mg
|
Fiber:
1
g
|
Sugar:
2
g
|
Vitamin A:
5
IU
|
Vitamin C:
1
mg
|
Calcium:
11
mg
|
Iron:
1
mg