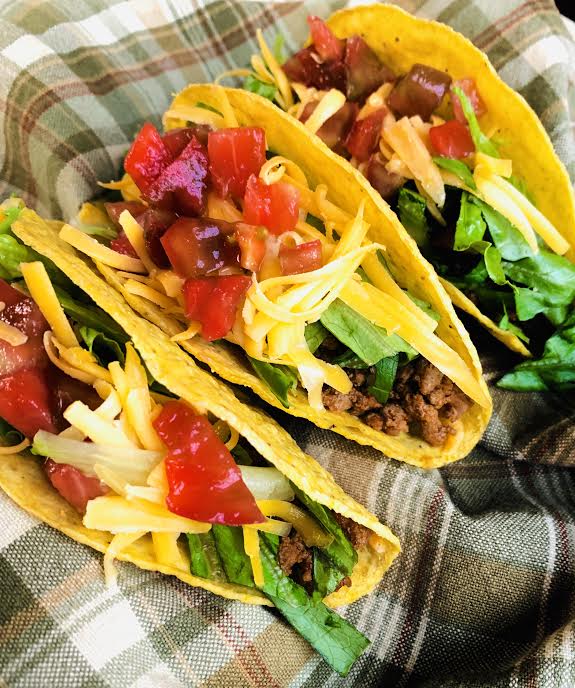 This Turkey Tacos Recipe is perfect for busy weeknights! Who doesn't love Taco Tuesday?
It might sound like a basic dinner but there are a few tricks and tips that will help you make it more than just routine
Along with our turkey tacos recipe, we have added our homemade Taco Seasoning recipe here, as well, and I think once you make your own you will be hooked.
Jump to Recipe
Ingredients for our Turkey Tacos Recipe:
Ground turkey or cooked shredded turkey
Tomatoes
Lettuce or Cabbage
Cilantro
Cheddar Cheese
Hard Shell or Soft Corn Tortilla shells
Ground turkey is healthy and easy to make:
I love to use ground turkey, even though I like beef tacos, because it tastes a bit lighter and it is definitely healthier. The key to delicious turkey is not overcooking it. Cook just until done (165°) and then add the seasonings and water to finish cooking.
If you are lucky enough to have left over shredded turkey this recipe works perfectly for that too. We like to save a little of our Oven Roasted Turkey Breast for next day tacos
Make your own Homemade Taco Seasoning:
The beauty of making your own homemade taco seasonings mix is the ability to tweak it to make it your own. I make 2 versions – one spicy and one medium spicy. If you like it hot, just add more cayenne! If you are watching your sodium just omit the salt.
Most packaged mixes have a lot of salt and stabilizers in them. If you like to eat gluten-free this is a great mix for you. It can easily be doubled or tripled and stored in a glass jar.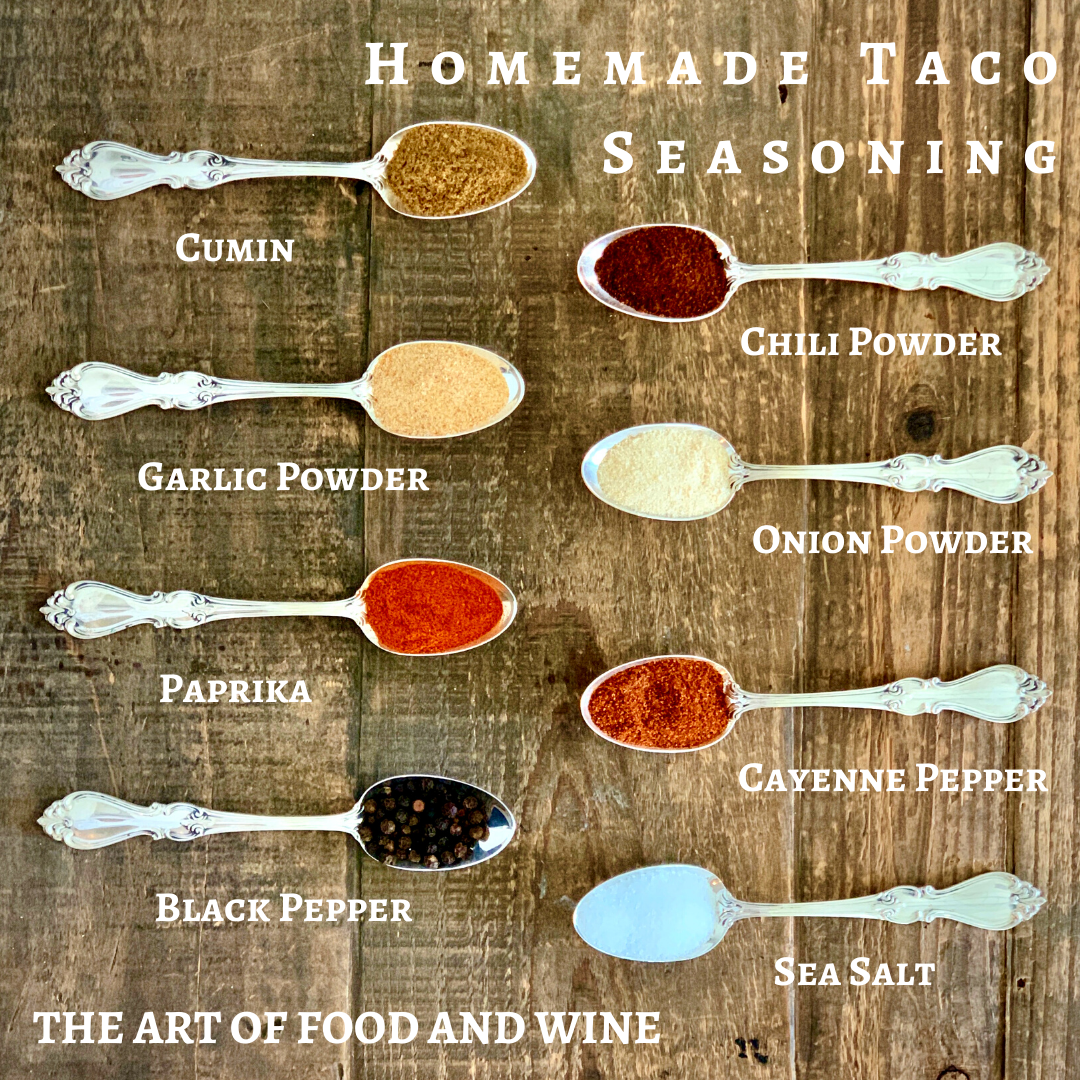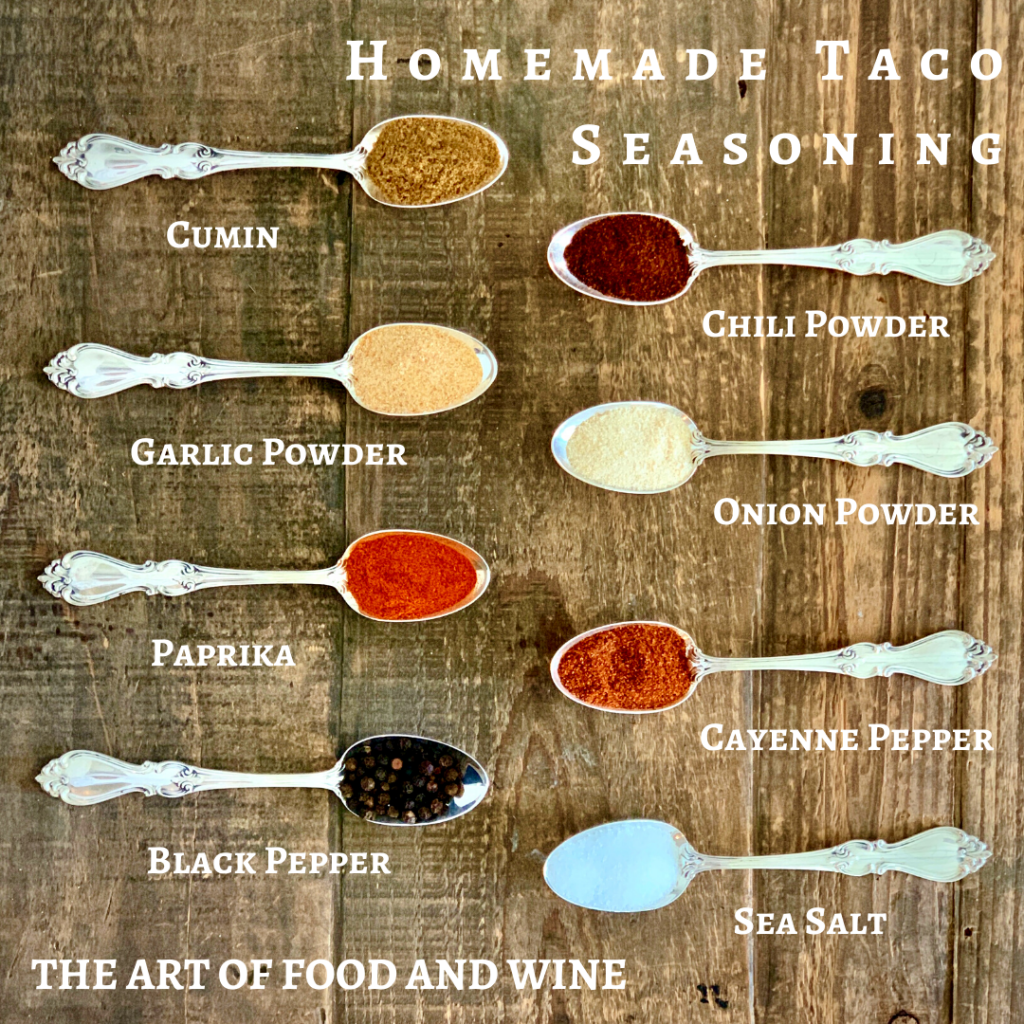 How to make Turkey Tacos:
Simple tips for making the best ground turkey tacos:
Saute the meat in a large skillet while you are chopping veggies to make it a quick meal
When using turkey, rather than beef, make sure to add water with your seasonings to give it added moisture, since turkey has very little fat
If using precooked shredded turkey just start with a touch of water in the pan to help warm it up without drying it out
Add seasonings and water to the cooked meat. Once cooked taste it to see if you want more flavor. Cook for another 5 minutes or until most of the liquid is reduced
Dice the tomatoes small
Chop the lettuce or substitute shredded cabbage, with a squeeze of lime, in place of the lettuce to give the turkey tacos an extra crunch
Fill the bottom of hard shell tacos with a sprinkling of cheese before you bake the shells for 3-4 minutes. The melted cheese at the bottom of the shell helps prevent it from breaking while you are eating
Shred the cheese
Prep any other vegetables
Don't forget about add-ins: diced avocado, sour cream, salsa, onions, and hot sauce
Bake the shells if making hard shell tacos for 3-4 minutes
If using fresh corn tortillas just warm them briefly in a pan or wrap in a damp paper towel and microwave for 20 seconds
Fill with meat and then top with all of your favorite toppings!
For a group: Put all the toppings in bowls on a large platter to let everyone serve themselves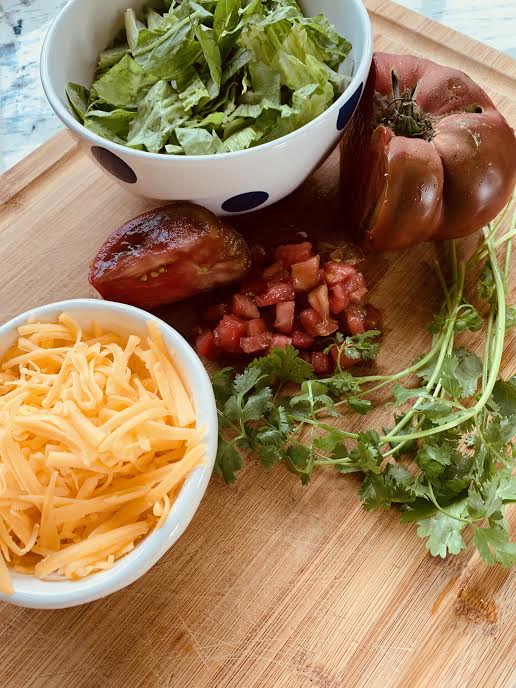 Make ground turkey ahead to save time:
Fully cooked ground turkey is a great time saver. Make and freeze or keep tightly sealed in refrigerator for 3 days. This is a great way to have dinner ready in 15 minutes!
Turkey Tacos Recipe using soft shell tortillas
Soft shell fresh tortillas have great flavor. Just warm them up in a pan or on a griddle for about 1 minute. Alternately, wrap them in a damp paper towel and heat for 15-20 seconds in the microwave. You just want to warm and soften the tortillas slightly.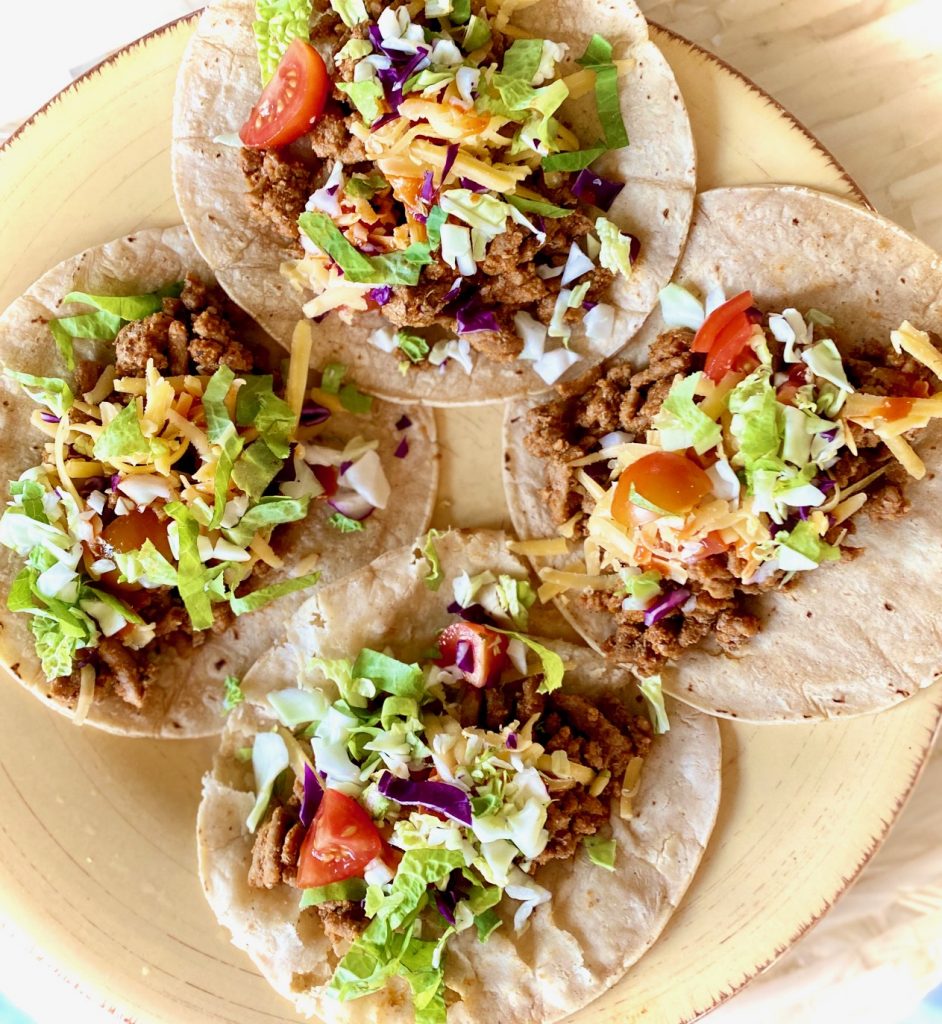 Suggested Beverage Pairings:
As avid wine lovers, we believe wine is always a good choice. However, often we come across a dish that pairs better with a different beverage. Tacos are one of those exceptions – Beer and Margaritas are a perfect match.
Your favorite Mexican Beers are always a great pairing with Tacos. Our favorites include Tecate, Pacifico, Sol, Modelo Especial, and a Corona with lime.
Your favorite Margarita! Make a great classic margarita on the rocks or throw it in the blender and make a slush. Adding different flavors to your margarita's can also be a fun way to serve them.
If you love tacos you'll love these too: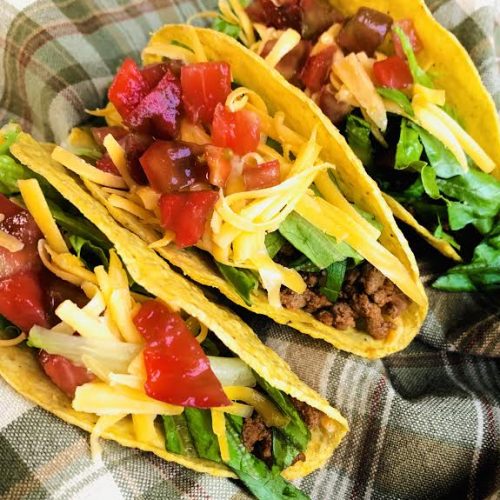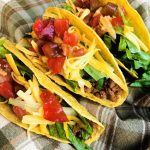 Print Recipe
Easy Turkey Tacos
Turkey Tacos are easy, healthy and a great 30-minute dinner. Also included is our homemade taco seasoning mix recipe.
Ingredients
16

oz

Ground Turkey (or ground beef),

or shredded turkey

½

cup

water

3

Tablespoons

taco seasoning mix

(more to taste)

1

medium

tomato,

diced

1

cup

sharp cheddar cheese,

shredded

2

cups

lettuce, iceberg or romaine,

chopped or shredded

2

Tablespoons

cilantro leaves,

roughly chopped

Salsa,

any brand

10

Hardshell tacos
Instructions
In a large saute pan add ground turkey and cook over medium heat until all pink coloring is gone. If there is excess oil, drain it off.

(If using cooked shredded turkey just add to the pan)

Add water and taco seasoning mix and stir well to coat.

Turn heat to medium-low and continue to cook until all water is absorbed. Remove from heat. Add more seasoning if desired.

Heat oven to 350°F, or according to directions on the box, for crisp shells.

Shred the cheese, chop the lettuce and cut the tomatoes into small dice. Set aside.

Fill each shell with a small sprinkling of cheese and put on a baking sheet. Heat in oven for about 4 minutes. Remove.

Or slightly warm soft corn tortillas for soft tacos

Fill each taco shell with about 2 Tablespoons of meat, 2 Tablespoons of lettuce, and top with shredded cheese, cilantro, and tomatoes. Add salsa as desired. Serve immediately.
Notes
This recipe can be doubled
Nutrition
Calories:
176
kcal
|
Carbohydrates:
9
g
|
Protein:
12
g
|
Fat:
10
g
|
Saturated Fat:
4
g
|
Trans Fat:
1
g
|
Cholesterol:
45
mg
|
Sodium:
194
mg
|
Potassium:
186
mg
|
Fiber:
1
g
|
Sugar:
1
g
|
Vitamin A:
399
IU
|
Vitamin C:
2
mg
|
Calcium:
107
mg
|
Iron:
1
mg