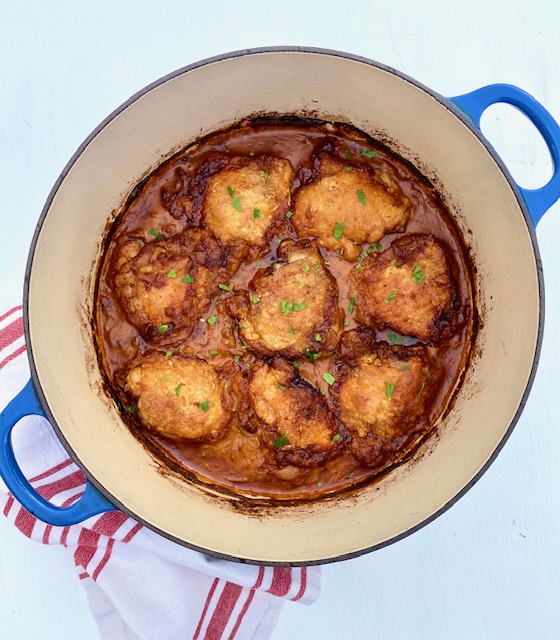 Chicken Paprikash, also called Paprika Chicken,
proves that the best things can come in one pot!
This Hungarian braised chicken is simple comfort food with a deep rich paprika flavor
What is Chicken Paprikash?
Hungarian Chicken Paprikash, or paprika chicken, is a traditional and easy Hungarian dish. It is simply braised chicken, with onions, cooked in flavorful seasonings of paprika and garlic. The sauce is super flavorful, especially with the addition of sour cream at the end. The deep red color is amazing and the flavor is rich.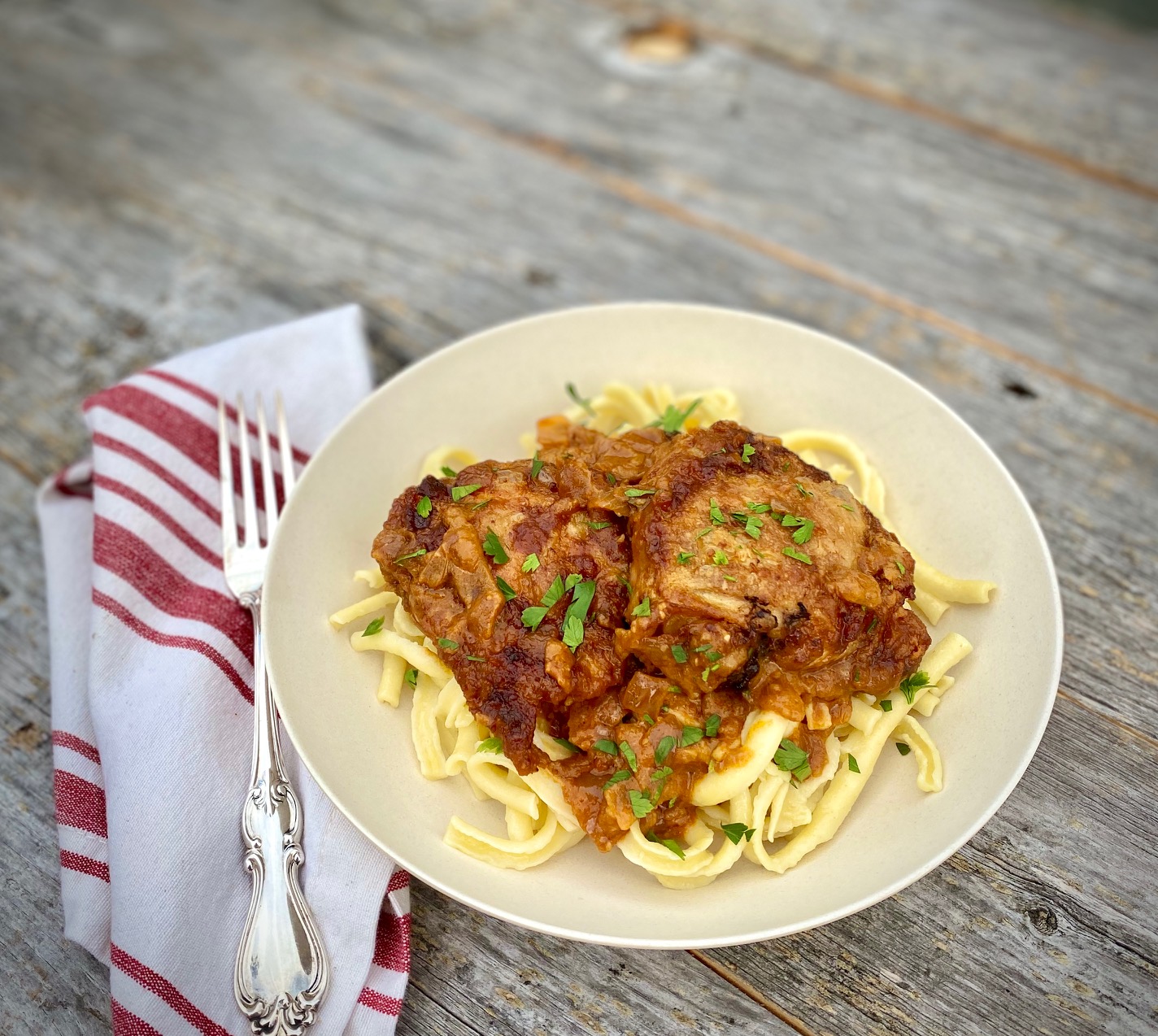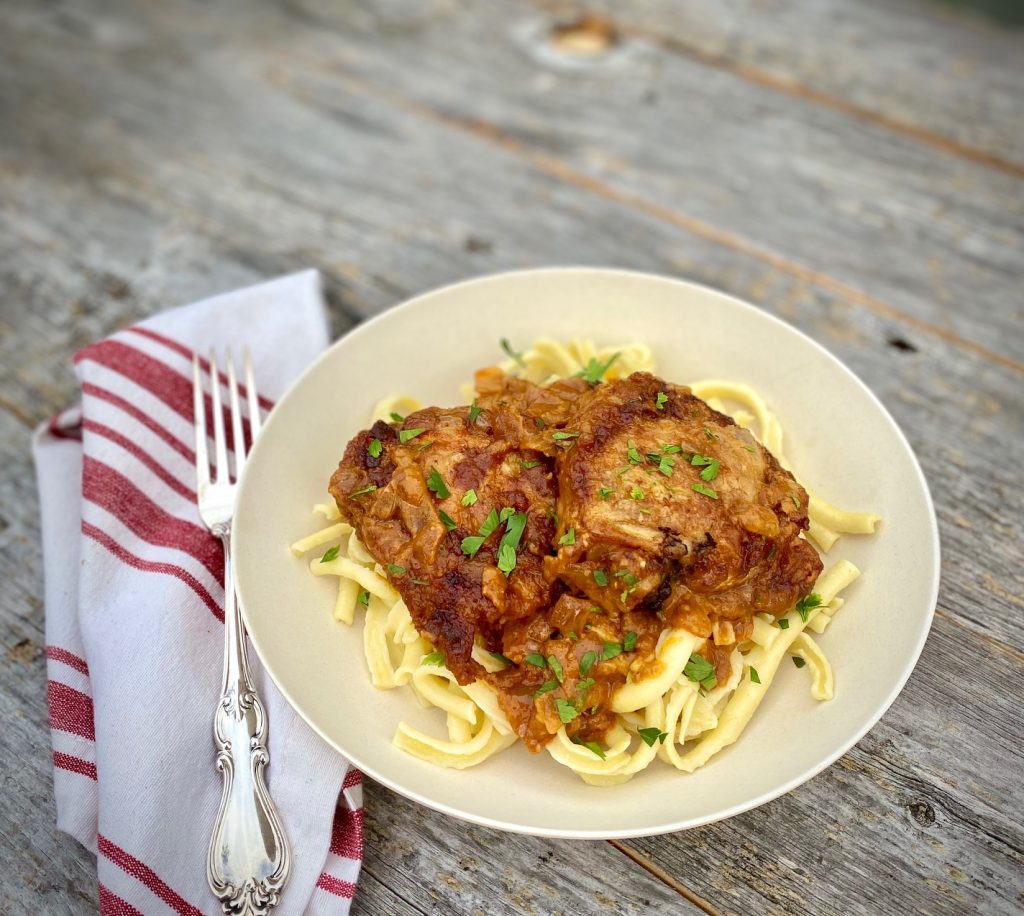 Ingredients needed:
Large, skin-on chicken thighs, or thigh/leg combo
Oil and Butter
Flour
Salt and Pepper
Yellow Onion and Garlic
Sweet Hungarian Paprika
Chicken Broth
Sour Cream
What kind of Paprika is best?
There are 3 types of paprika: Sweet, Smoked, and Hot. The best paprika comes from Hungary and it is their national spice. Sweet Hungarian Paprika is the best kind to use for this dish and you can easily find it at any major market. It's worth the small investment and a little goes a long way!
Chicken Paprikash and Hungarian Goulash (which is a similar dish, but with beef) are probably the best-known dishes from the region.
Regular paprika is made with generic red sweet peppers, whereas Sweet Hungarian Paprika is made from a specific sweet pepper with vivid red color. The Hungarian peppers are grown in cooler climates so they retain more of their sugar, therefore there is no heat in Sweet Hungarian Paprika. If you like a little heat add a dash of hot paprika or cayenne to the sauce.
How to make Hungarian Chicken Paprikash:
This Chicken Paprikash recipe is a typical braise and as a result, once you've mastered it, any braise recipe will be similar in technique.
Heat oil/butter in a Dutch oven or large ovenproof pan
Lightly dredge the chicken pieces in seasoned flour
Sear on both sides until lightly browned and the skin is crispy. You won't be cooking the chicken all the way through during the searing stage, however, it will finish later in the oven
Searing is important for crispy skin, so sear in batches if needed, and do not overcrowd the pan otherwise the chicken will steam instead of sear
Sear chicken on both sides so the skin is crispy and light golden
Once seared, remove chicken from the pan, and set aside.
Reserve about 1 Tablespoon of the oil in the pan and saute the onions until clear
Add the minced garlic and saute briefly until fragrant
Add the flour and Hungarian paprika to the pan. Be sure to stir continually (for 5 minutes) as paprika can easily burn
Whisk in the chicken broth and mix well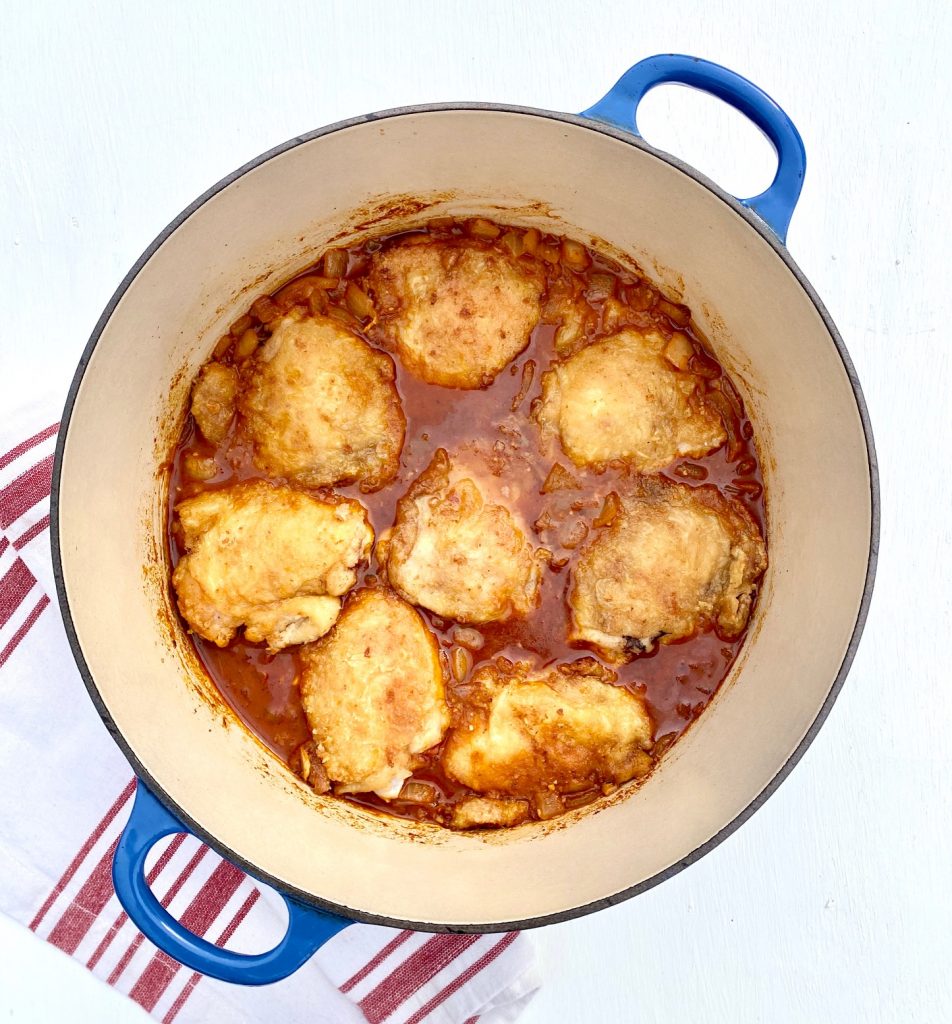 Add the seared chicken pieces back into the pot in a single layer, skin side up
Bake, uncovered, in a preheated oven for about 30-minutes or until thighs are cooked through, and sauce is thickened. The actual cooking time can vary as a result of the size of the chicken pieces
While chicken is cooking remove sour cream from the refrigerator so that it can come to room temperature
Remove pan from the oven and remove chicken pieces to a plate
Temper the sour cream: Add a spoonful of the hot sauce to the room temperature sour cream and whisk. Add another spoonful and whisk again. The goal is to bring the temperature up on the sour cream so that when you add it to the hot sauce it doesn't curdle. This step is important so DON'T skip it!
Whisk the tempered sour cream into the pot with the sauce and onions
Add chicken pieces back to the pot and return to the oven, skin side up, and cook for an additional 7-10 minutes
Remove from oven, sprinkle with parsley and serve in a shallow bowl to capture the sauce, or over noodles
Sauce with sour cream added and finished Chicken Paprikash
How to serve this Chicken Paprikash recipe:
This dish is traditionally served with rice, small new potatoes, or over noodles. The 2 best type of noodles for this chicken are medium-wide egg noodles or Spaetzle, which is a thick irregular shaped German egg noodle. Both of these noodles are perfect because they capture the thick, delicious, paprika-based sauce.
How to store leftover Chicken Paprikash:
This dish is the perfect make-ahead dish. You can store the chicken and sauce together in the refrigerator for 3-4 days.
Also, this dish stores easily in the freezer for 2-3 months. Double it up and freeze it for a quick dinner later. To serve, just rewarm, adding a bit of chicken broth if needed, boil some noodles, and dinner is served!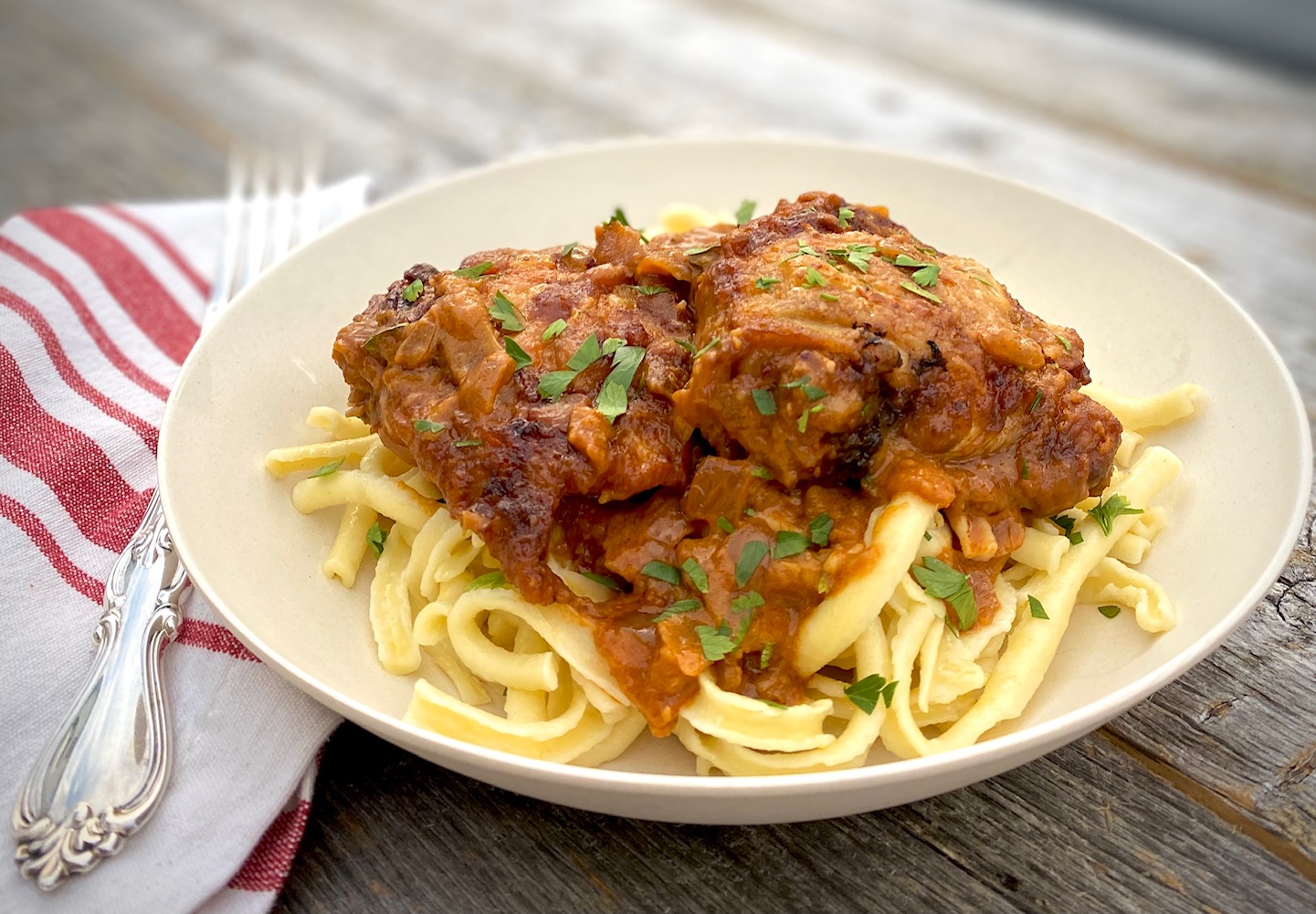 Side dishes to serve with Chicken Paprika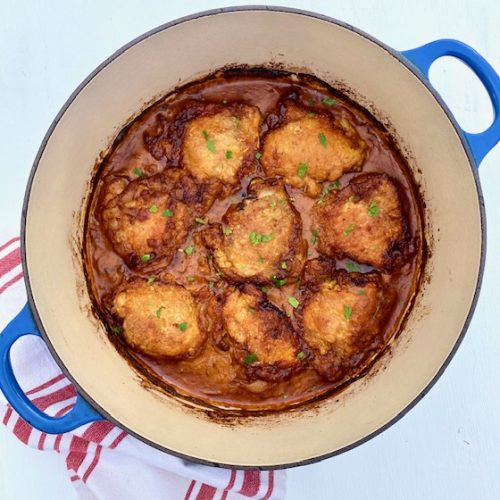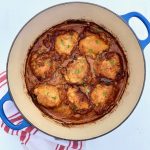 Print Recipe
Chicken Paprikash (Paprika Chicken)
Chicken Paprikash (paprika) is a one-pot dish with deep rich paprika flavor. Chicken thighs and onions are braised with Hungarian Paprika and are true comfort food.
Ingredients
8

large

chicken thighs, skin on

(or leg/thigh combo)

½

cup

all purpose flour

1

tsp

salt

½

tsp

freshly ground pepper

2

Tbsp

canola or olive oil,

or bacon fat

2

Tbsp

butter

12

ounces

yellow onion,

peeled and large diced

6

cloves

garlic,

peeled and minced

4

Tbsp

Hungarian Paprika, sweet

(or 3 Tbsp sweet and 1 Tbsp hot)

2

Tbsp

all-purpose flour

1¼

cup

chicken broth

½

cup

sour cream
Instructions
Heat 1 Tablespoon oil and 1 Tablespoon butter in a large oven-safe saute pan or Dutch Oven pan, over medium-high heat. Butter should be foamy and oil shimmering.

In a shallow bowl combine flour, salt, and pepper. Dredge the chicken thighs in the flour

Sear half of the chicken, skin side down, until the skin is crispy and golden brown, about 5-6 minutes. Flip chicken and sear the other side for 5 minutes. Remove to a plate.

Add remaining oil and butter if needed, and repeat with the other half of chicken. Remove to a plate and set aside.

Pour off all but 1 Tablespoon of the oil in the pan.

Turn heat down to medium and add the onions. Cook about 7-8 minutes or until the onions are soft and clear. Be sure to scrape the browned bits from the bottom of the pan.

Add garlic and cook for about 1-2 minutes. Add paprika and 2 Tablespoons of flour. Stirring constantly for about 5 minutes. Paprika can burn so be sure to keep stirring.

Add the broth and blend well.

Nestle the chicken back in the pot, skin side up.

Cook in preheated oven and cook for about 30 minutes or until chicken thighs are cooked through, and the sauce has thickened slightly. (Cooking time will vary depending on the size of chicken pieces)

Put sour cream in a bowl and leave out to come to room temperature while the chicken is cooking.

If making noodles to accompany prepare them while chicken is cooking.

Remove pan from the oven and remove the cooked chicken.

Add a spoonful of the sauce to the sour cream bowl and whisk to "temper" the sour cream. Then add another spoonful and repeat.

Don't skip this step. If you add sour cream to the hot sauce it could curdle, so it's important to temper it first.

Whisk tempered sour cream into the pan to combine thoroughly.

Place chicken pieces back into sauce, skin side up, and return to oven for 7-10 minutes to reheat.

If desired, serve over noodles with sauce and 2 pieces of chicken on top.
Nutrition
Calories:
890
kcal
|
Carbohydrates:
30
g
|
Protein:
52
g
|
Fat:
62
g
|
Saturated Fat:
18
g
|
Trans Fat:
1
g
|
Cholesterol:
299
mg
|
Sodium:
1113
mg
|
Potassium:
1028
mg
|
Fiber:
5
g
|
Sugar:
6
g
|
Vitamin A:
3870
IU
|
Vitamin C:
13
mg
|
Calcium:
116
mg
|
Iron:
5
mg