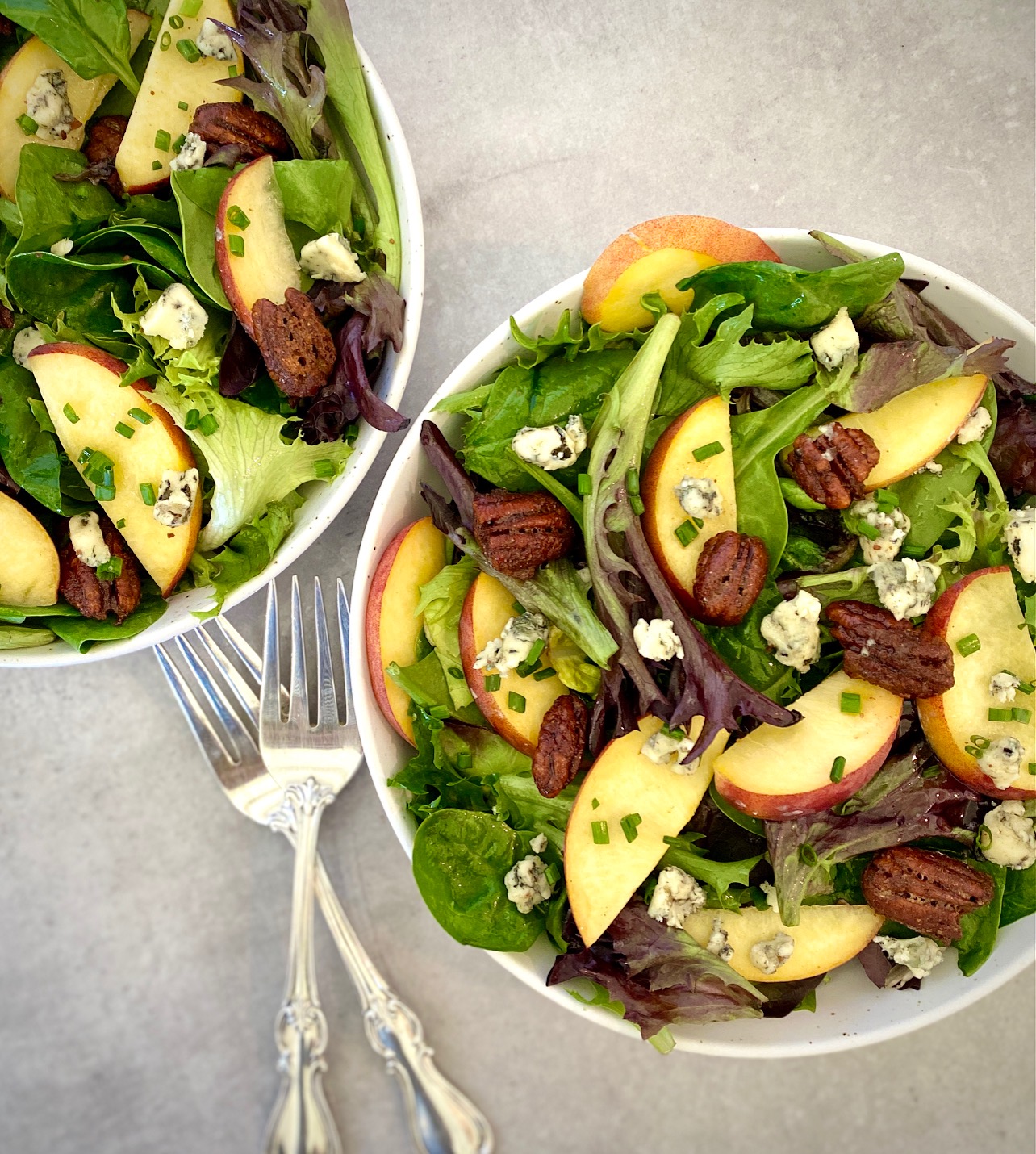 Juicy fresh peach salad with port wine vinaigrette is topped with crunchy candied pecans and tangy blue cheese
Fresh summer peaches are perfect for salads. They add a sweet touch and are especially delicious when combined with tangy blue cheese and a port wine cumin vinaigrette. This salad has just a few ingredients but all of them are so flavorful!
There are a few steps to making this delicious salad, such as blending the vinaigrette and preparing the candied pecans, and all can be done ahead of time. We will walk you through all the steps below, including how to make port wine syrup for the dressing.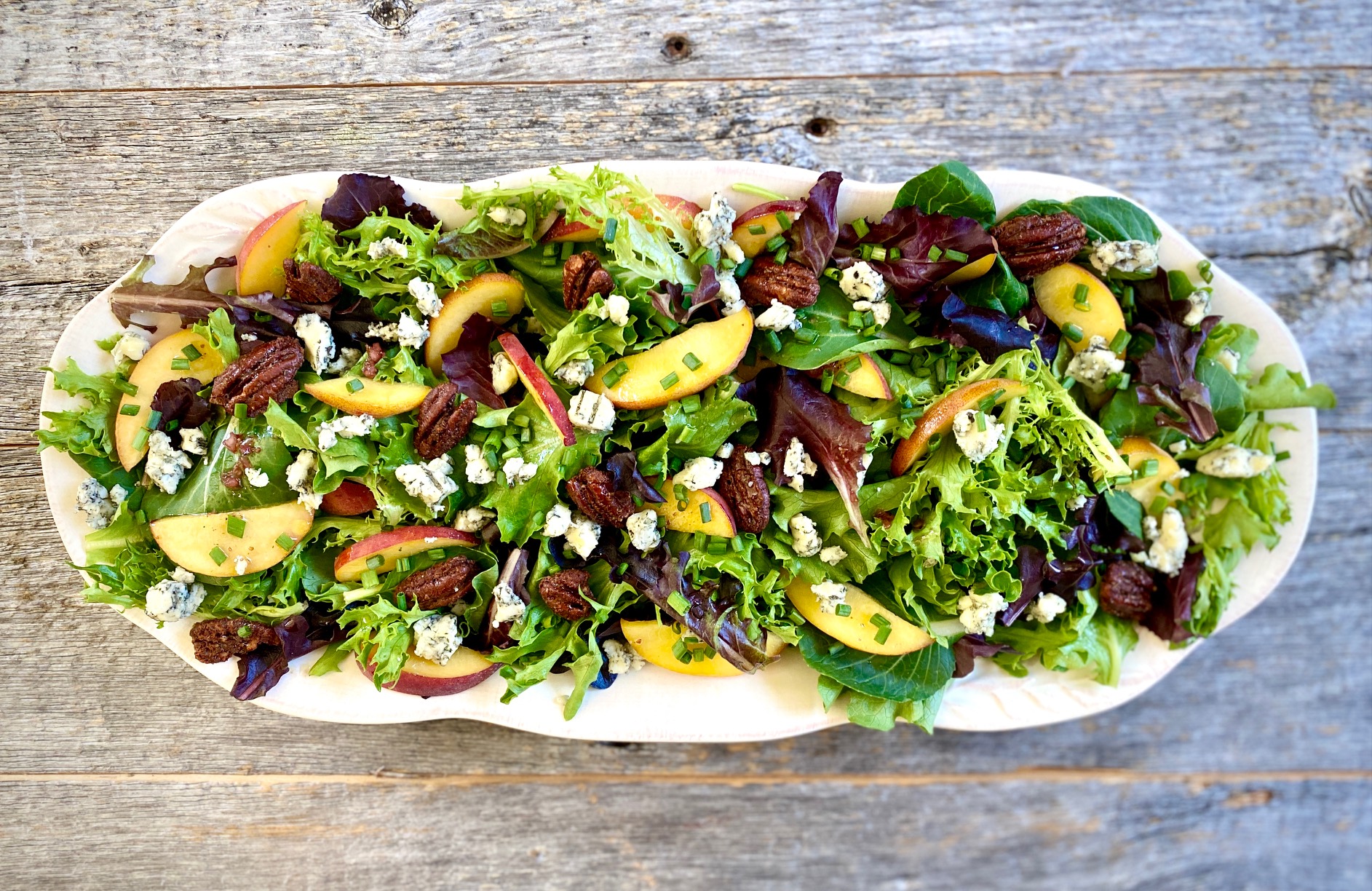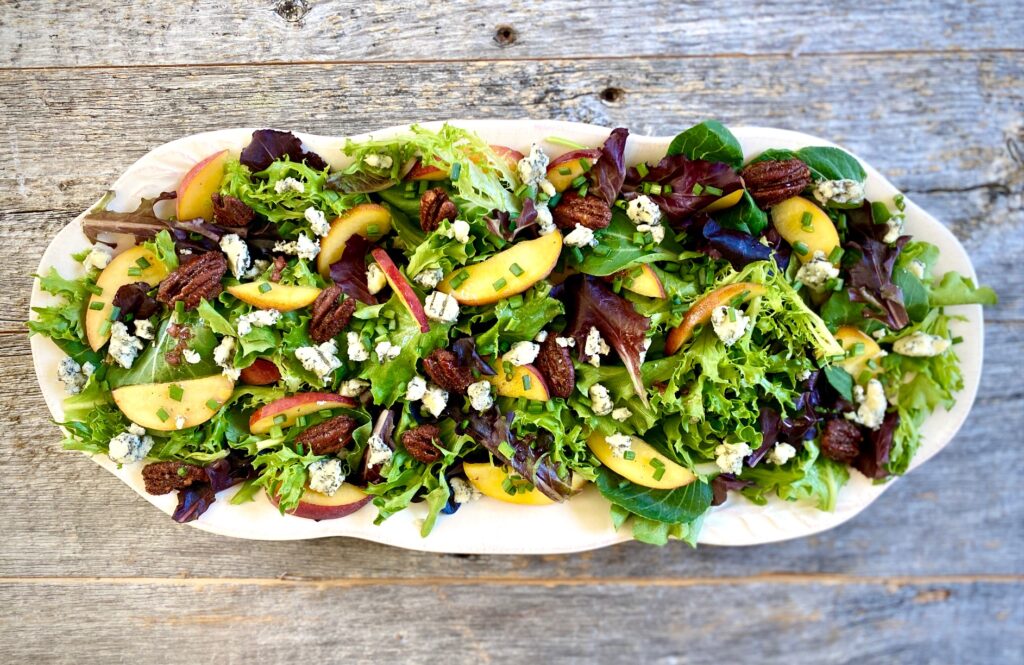 How to make Port Wine Syrup
The first step to making the base of the port wine cumin vinaigrette is making a port wine reduction syrup. It's simple to make with just 2 ingredients.
Combine sugar and port wine in a pan, heat to a boil, and reduce to a simmer. Stir occasionally until thickened, about 15 minutes. Cool the syrup before using it.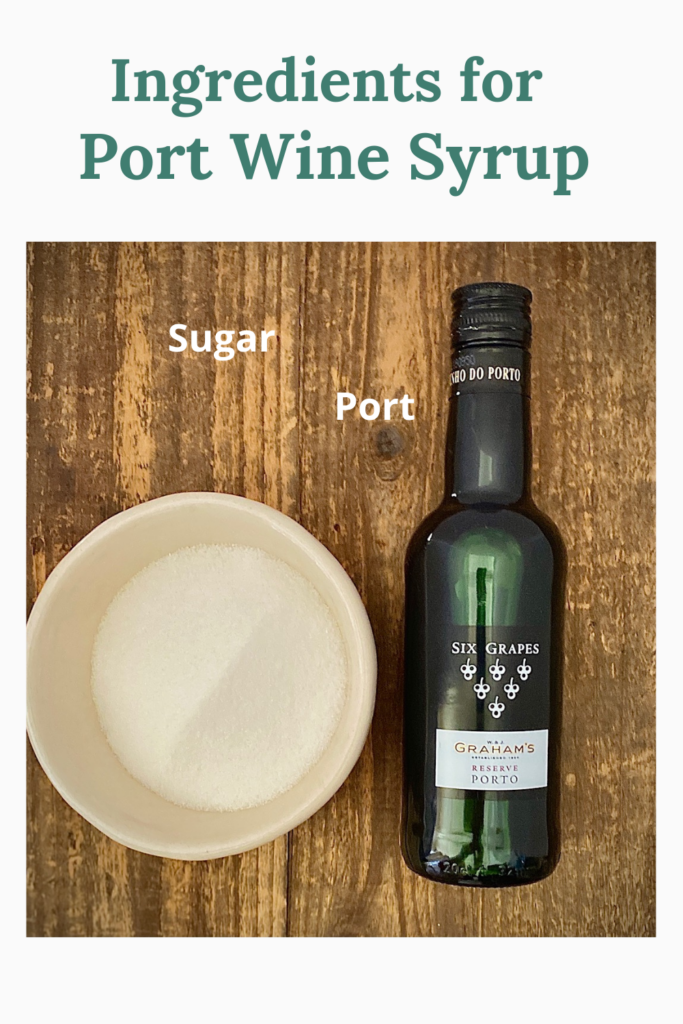 Ingredients for Port Wine Cumin Vinaigrette
Port Wine Syrup – be sure it's cooled before using it
Rice Wine Vinegar – Compared to white vinegar, rice vinegar is less acidic with a delicate, mild, and slightly sweet flavor.
Red Wine Vinegar – this vinegar is tangy and is a staple for vinaigrettes
Champagne Vinegar – a mild, floral vinegar typically made from Chardonnay and Pinot Noir grapes. If you don't have any on hand you can use white wine vinegar
Minced Shallots – we like the milder taste of shallots (vs. onions) for most vinaigrettes
Toasted Cumin – to toast cumin just cook in a dry skillet over medium heat for a few minutes to bring out the warm flavors
Black Pepper – freshly ground
Extra Virgin Olive Oil – use your best olive oil since this is the base of this vinaigrette
This vinaigrette comes together in just a few minutes. Either hand whisk it in a bowl or quickly blend it in a mini food processor.
To Prepare: blend everything together, except olive oil, and then slowly drizzle in the oil until well combined.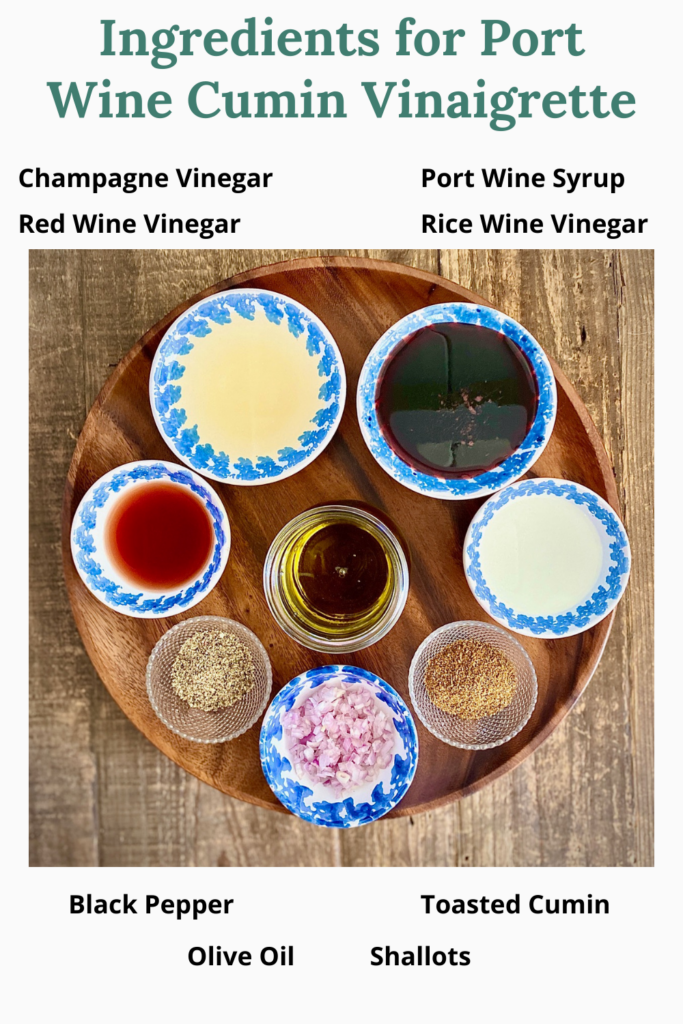 Ingredients for Fresh Peach Salad
Mixed Greens – we use a mixture of lettuces such as red leaf lettuce, green leaf lettuce, frisee, arugula, spinach, and baby romaine
Fresh Ripe Peaches – yellow and white peaches are our favorites for this salad. Try using a combination of both for extra visual appeal. Peaches are at their best June through August and as a result, are at their peak during this time.
Crumbled Blue Cheese – we used Maytag blue for our salad but you can use any variety of blue cheese, or gorgonzola. If you aren't a fan of blue cheese you could substitute in some tangy goat cheese or feta.
Candied Pecans – these sweet pecans really add a nice crunchy touch and you can easily swap in walnuts if you prefer. Candied pecans are easy to make so be sure to jump over to our recipe to see how to make your own. (Be warned: these are addicting so you might want to make extra!)
Chives – adding chopped chives for garnish gives the salad a little bite. Chives are a mellow cousin of the onion and should be added last.
Port Wine Cumin Vinaigrette – this zesty dressing ties it all together! It has a deep flavor due to the port wine syrup. We are huge fans of cumin so add more if you are too.
In a time crunch? This salad works perfectly with our Classic Balsamic Vinaigrette, as well.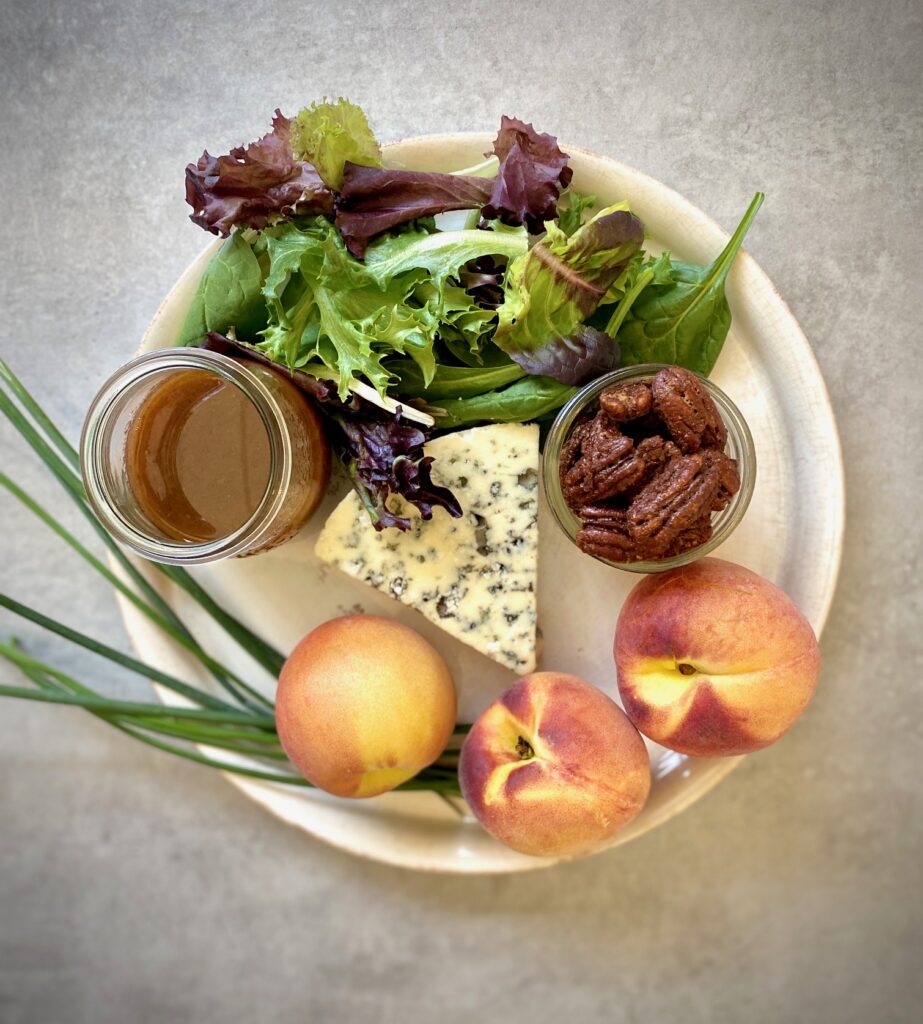 Assembling Peach Salad:
Once you have the vinaigrette made, and the candied pecans ready, this salad comes together quickly. The salad looks great on either a large platter or in shallow bowls.
Prepare vinaigrette and pecans
Thinly slice the peaches with the skin on
Crumble the blue cheese and chop the chives
Layer the greens on a platter or in shallow bowls
Add the peaches, pecans, and blue cheese
Toss with the vinaigrette and then sprinkle with the chives
Serve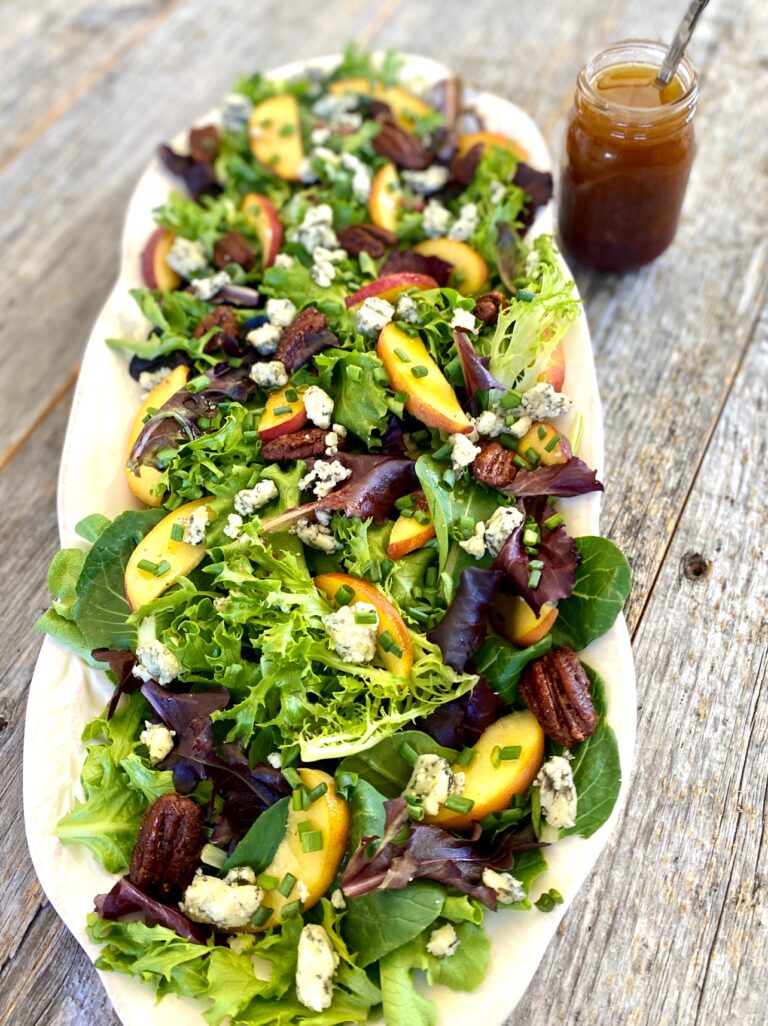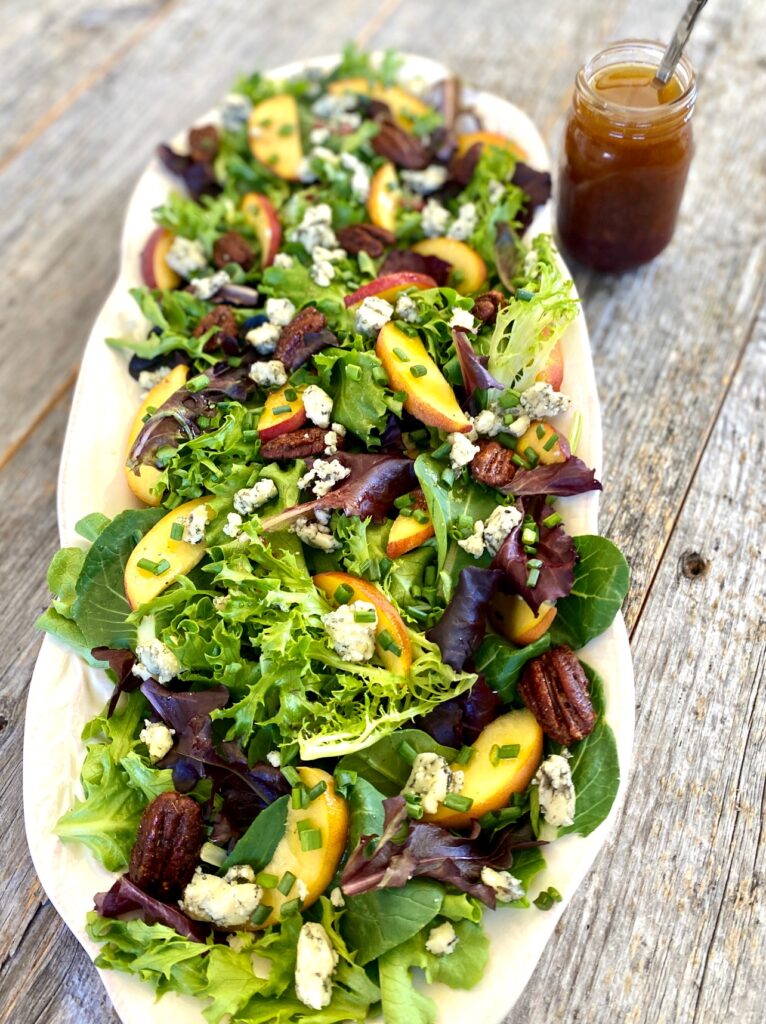 The great part about making your own sugared nuts is you can adjust the seasonings. This recipe works well with pecans, walnuts, and almonds.
If you want them spicier add more cayenne or chili powder.
If you want them sweeter just add a bit less spice and more sugar and cinnamon.
Grab this amazing recipe, get creative, and share with us what you made!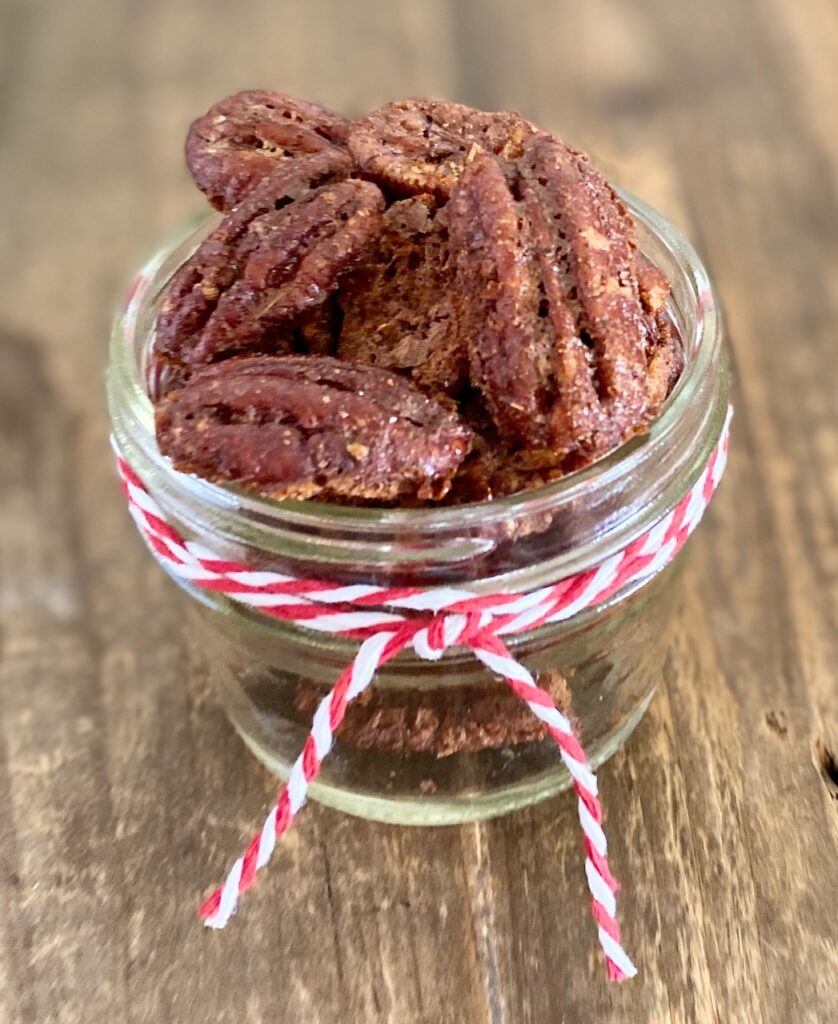 What to serve with Fresh Peach Salad:
This salad has a sweet touch so works well with main dishes that have a bit of spice. Here are some great matches:
Your Sommelier Wine Pairings:
When pairing wine with salads be mindful of the dressing you will be using. This one component will be your guide to selecting the right wine pairing. Match the weight of your dressing with the weight of the wine.
When looking for a great wine pairing for our amazing Peach Salad your dressing component is the Cumin Port Wine Vinaigrette. This dressing is a combination of tart, sweet, and fruity flavors and white acidic wines hold up well to most vinaigrettes. 
A Sauvignon Blanc or Pinot Grigio will make an ideal pairing for this peach salad.
Here are our "go-to" wine pairings:
Sauvignon Blanc – a pick from the Loire Valley of France or Sonoma is a perfect match
Pinot Grigio – Italy has fine Pinot Grigio from the Friuli and Alto Adige region. Our California favorite comes from Laird Family Estates in the Napa Valley
Rosé – you can't go wrong with a Rosé  from Provence, France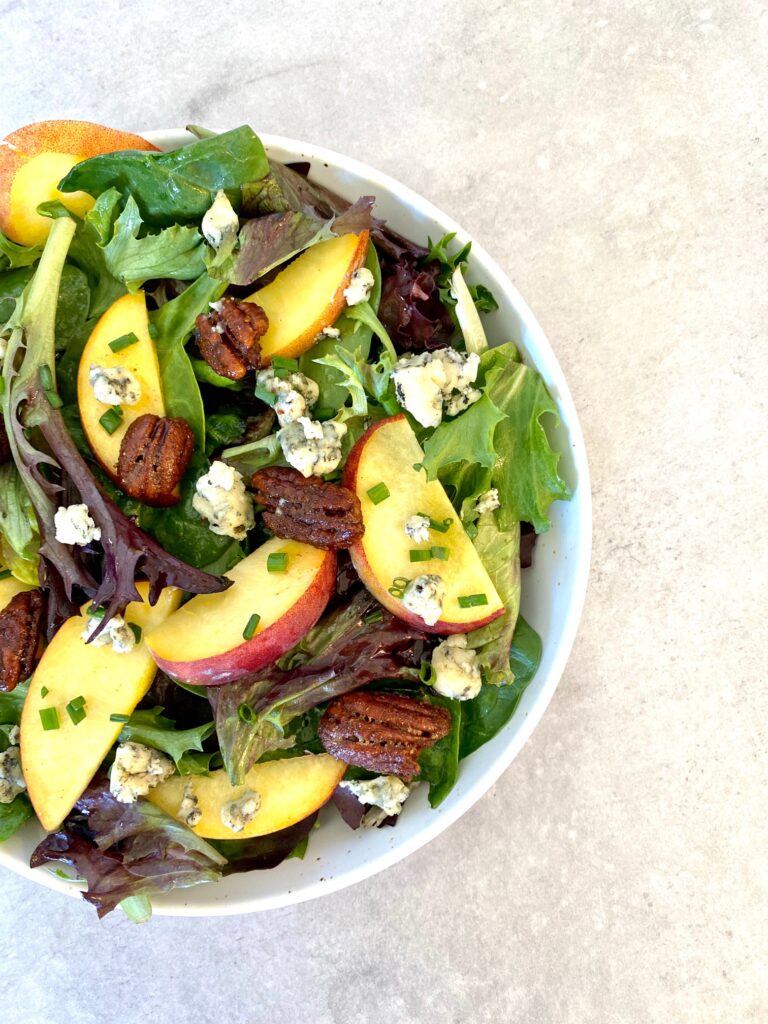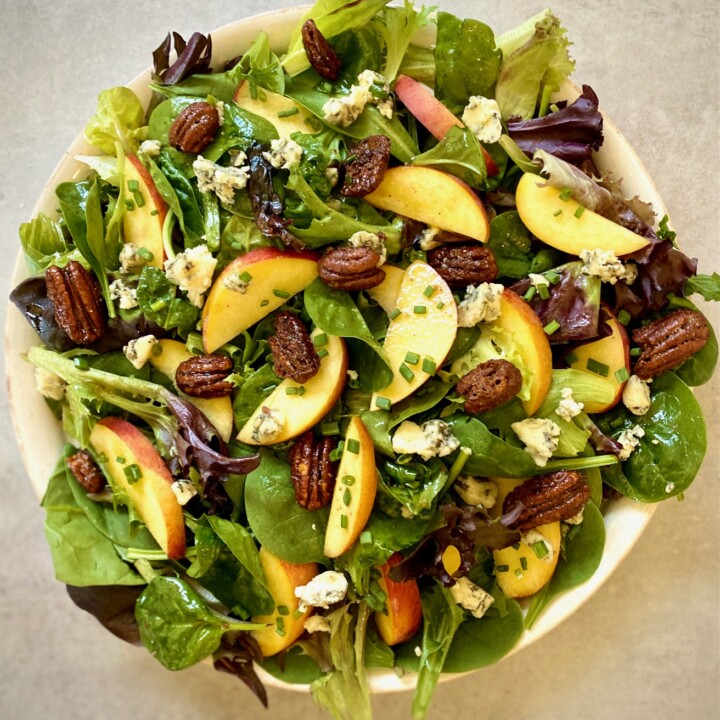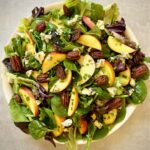 Print Recipe
Fresh Peach Salad with Port Wine Vinaigrette
Flavorful fresh peaches, crunchy candied pecans, and tangy blue cheese, on top of a bed of mixed greens with a port cumin vinaigrette.
Ingredients
For Salad:
12

cups

Organic Mixed Greens

½

cup

Blue Cheese

crumbled

2

Fresh Ripe Peaches

skin on, thinly sliced

½

cup

Candied pecans (or walnuts)

(see link to recipe in notes)

2

Tablespoons

Chives

chopped

¼

cup

Port Wine Vinaigrette with Cumin

More to taste, (See ingredients and directions below)
Port Wine Vinaigrette with Cumin:
6

Tablespoons

Port Syrup

See directions below

4

Tablespoons

Rice Wine Vinegar

2

Tablespoons

Red Vinegar

2

Tablespoons

Champagne Vinegar

2

Tablespoons

shallots

minced

1

Tablespoon

Toasted Cumin

1

Tablespoon

black pepper, freshly ground

1

cup

extra virgin olive oil
Port Wine Syrup:
½

cup

Port wine

6

Tablespoons

sugar
Instructions
How to make Port Wine Syrup:
In a small heavy bottomed pan combine sugar and port wine.

Heat to a quick boil, stir, then reduce heat to medium and simmer. Cook until reduced to a lightly thick syrup, about 15-18 minutes, stirring occasionally. Pour into a glass jar and let cool.
How to make Port Wine Vinaigrette with Cumin:
In a bowl, whisk all vinaigrette ingredients except olive oil. Slowly drizzle in the olive oil while whisking to emulsify.

Store in a sealed container and refrigerate if not using right away.
How to make Peach Salad with Port Wine Vinaigrette:
Prepare the candied pecans and let cool. Prepare vinaigrette and set aside.

Slice fresh peaches into thin slices. Crumble the blue cheese, and chop the chives.

On a large platter, or in shallow bowls, layer the mixed greens.

Scatter sliced peaches, blue cheese, and pecans over the lettuce.

Drizzle on the vinaigrette and toss everything together. Sprinkle with chives and serve.
Nutrition
Calories:
161
kcal
|
Carbohydrates:
13
g
|
Protein:
4
g
|
Fat:
11
g
|
Saturated Fat:
3
g
|
Polyunsaturated Fat:
1
g
|
Monounsaturated Fat:
3
g
|
Cholesterol:
8
mg
|
Sodium:
303
mg
|
Potassium:
278
mg
|
Fiber:
1
g
|
Sugar:
8
g
|
Vitamin A:
1207
IU
|
Vitamin C:
22
mg
|
Calcium:
86
mg
|
Iron:
1
mg