Cioppino Seafood Stew was made famous in San Francisco and has humble origins. This amazing Italian tomato stew is rich and warm. It's also loaded with fresh seafood. The best garnish is crusty garlic bread!
Cioppino's origins
The story that is most widely accepted comes from the mid-1800's, when an Italian fisherman from Genoa opened the first waterfront seafood restaurant, in what is now the San Francisco Financial District. The term Chiappa in Genoa means "fish market", and in Genovese, the word cioppin means "fish stew". Thus, cioppino seafood stew was born in San Francisco.
Cioppino Seafood Stew is a weekend recipe!
Once you have tried this amazing Cioppino recipe you will understand why it is still so popular today! The recipe has 2 parts but both are relatively simple.
This is a weekend recipe for me because there is a bit of prep and the sauce needs to simmer for about 3 hours. The good news is that the sauce can be doubled and freezes very well. If you double it, then you just need to add sauteed seafood for a weekday meal.
Types of fish for Cioppino Seafood Stew:
Clams and Mussels
Scallops
Prawns
Crabmeat and optional crab legs
Firm white fish, such as halibut, swordfish, seabass, cut into cubes
If you have a quality seafood market near you ask the fishmonger for fish pieces or trimmings – this will make it truly authentic.
Easy Step by Step instructions:
Step 1 – Making the amazing sauce!
Because the sauce needs to simmer for about 3 hours this will be your first step. Don't skimp on the simmer time because it's essential for great flavor. The prep is easy and straightforward for this sauce and can be put together in about 15-minutes, then left to simmer.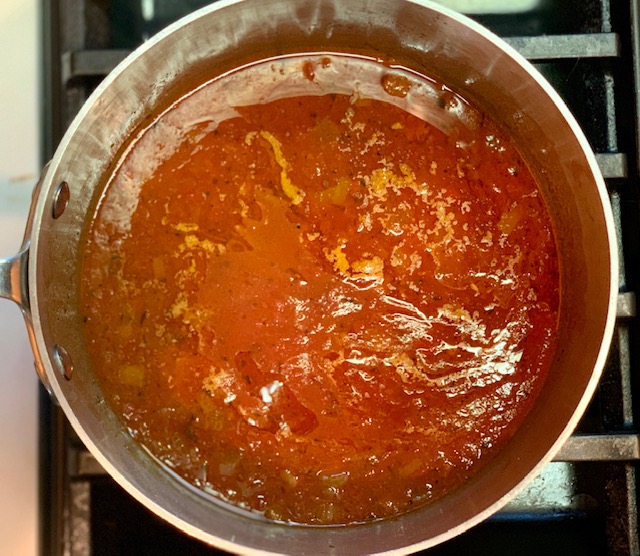 Step 2 – Preparing the clams and mussels:
Be sure to clean and scrub the clams and mussels before you start to steam them to remove any sand and grit.
Steam with water, wine, and garlic. It's important to discard any unopened clams or mussels. Set aside the steamed fish, and do not discard the steamed water because you will be using it later.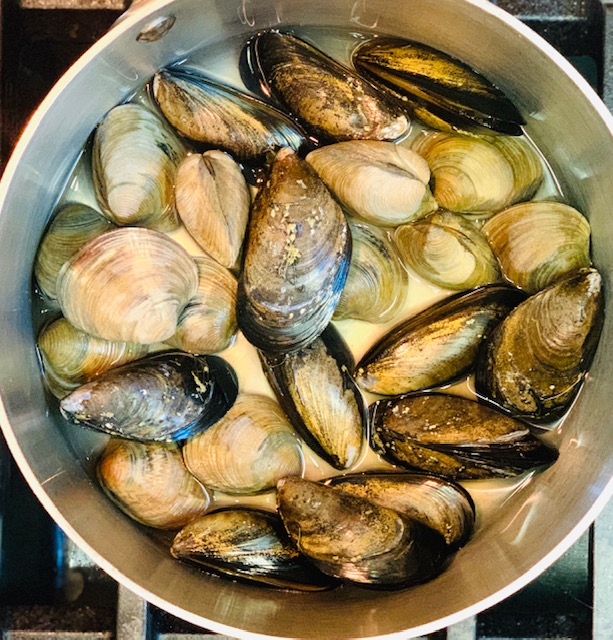 Step 3 – Preparing and Sauteeing the fish:
Pat dry the scallops, prawns, fish pieces, and place them in a shallow bowl. Lightly dust the fish with flour and shake off the excess.
Using a large 6 quart saute pan heat the butter, olive oil and garlic. Add fish in this order: fish cubes, shrimp, crab legs and scallops. Sauteeing for one minute after each addition. Remove all the fish from saute pan and set aside.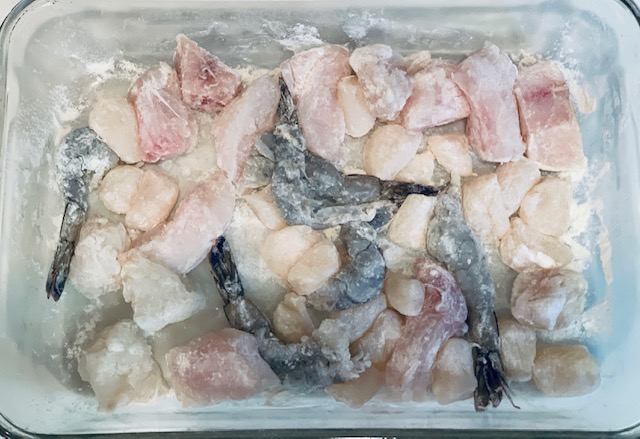 Step 4 – Finishing the cioppino:
After the fish is removed from the pan add the white wine to deglaze the pan. Be sure to scrape the bottom of the pan to loosen all the golden bits.
The final step is to combine everything into the pan, including the sauce, sauteed seafood, clams and mussels with their cooking liquid, and crab meat. Cover and simmer for 5 minutes.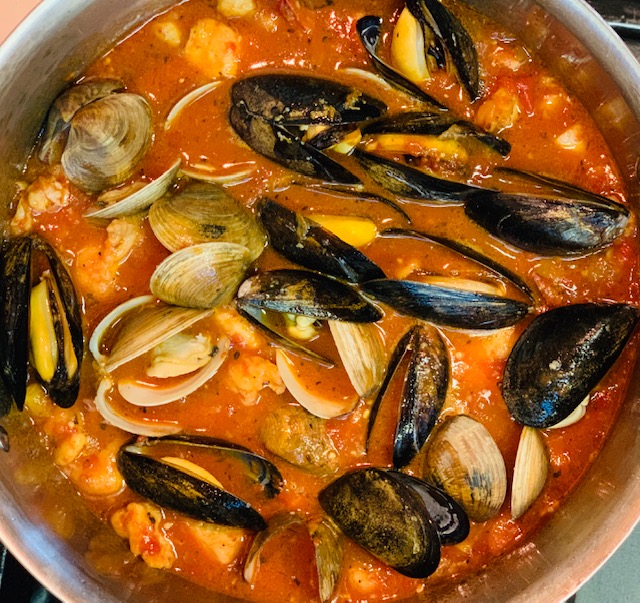 Cioppino is best served with crusty garlic bread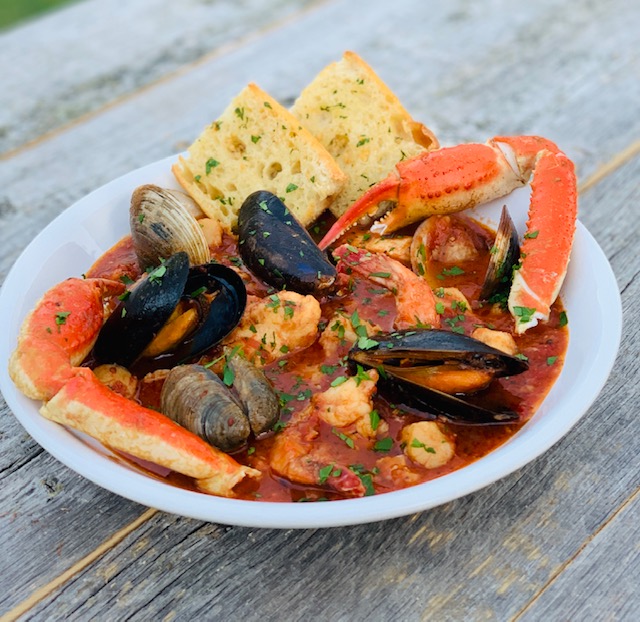 Pairing with wine:
I like to use the same dry white wine that is used in the recipe, such as a crisp Sauvignon Blanc. If red wine is preferred a Pinot Noir pairs nicely with this stew.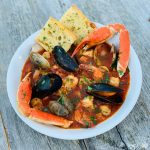 Print Recipe
Cioppino Seafood Stew
Cioppino is a rich and savory seafood stew, traditionally served with crusty garlic bread
Ingredients
SAUCE:
¼

cup

olive oil

¼

cup

butter

1

cup

yellow onion, medium dice

½

cup

celery, diced

½

cup

carrot, chopped

½

cup

green or red bell pepper, diced,

or a combo of both, OPTIONAL

½

cup

fennel, diced,

OPTIONAL

1

leek, diced

28

oz

can crushed tomatoes,

do not drain, such as San Marzano

1

Tbsp

tomato paste

2

cups

water

1

Tbsp

salt

1

tsp

black pepper

½

tsp

dried oregano

½

tsp

dried basil

½

tsp

dried thyme

3

bay leaves

¼

tsp

cayenne pepper
Seafood:
8

clams

8

mussels

1

cup

dry white wine, divided,

such as Sauvignon Blanc

8

large

scallops, muscle removed

8

large

prawns

1

lb

firm fish, cut into 1" chunks,

recommended: halibut, swordfish, seabass, salmon, *see note

2

large

crab legs,

optional

4

oz

crabmeat

1-2

Tbsp

flour

¼

cup

butter

¼

cup

olive oil

4

tsp

minced garlic, freshly chopped, divided

2

Tbsp

fresh parsley, roughly chopped
Instructions
Prepare Sauce:
In a heavy saucepan over medium heat, add olive oil and butter. Once sizzling, add onions and celery and saute for 1 minute until softened but not browned.

Add carrots, leeks, bell pepper and fennel and continue sauteeing for about 5 minutes, stirring often.

Add tomatoes, tomato paste, water and all remaining herbs (salt through cayenne). Stir to combine.

Simmer on low, stirring occasionally for about 3 hours, until thickened and reduced.
Prepare Seafood:
Once the sauce is almost ready, prepare the seafood.

Scrub the mussels and clams.

Place in a large saucepan and add ½ cup of water, ½ cup of white wine, and 1 teaspoon chopped garlic. Steam on medium-high heat, uncovered, for about 5 minutes until the shells open.

Discard any shells that do not open. Set aside the steamed shells. Do not discard the water.

Pat dry scallops, prawns, fish pieces, and crab legs and place in a shallow bowl. Dust with flour (you may not need entire 2 tablespoons), and shake off excess.

In a large saute pan (6-quart) over high heat, add olive oil and butter. When sizzling add the remaining 3 teaspoons of garlic and saute for 10-20 seconds, stirring constantly, until aromatic.

Add the fish pieces and saute for one minute. Add shrimp and saute for one minute. Add scallops and crab legs and saute for an additional 3 minutes, or until golden brown. Saute in 2 batches if needed. Remove the fish and set aside in a shallow bowl.

Add the remaining ½ cup of wine to the pan and cook for 2 minutes.

Add the sauce, fish, crab legs, clams, mussels, and their cooking liquid, and crab meat to the pan.

Stir to combine, and cover. Cook over low heat for about 5 minutes until heated through.

Uncover and pour into serving shallow serving bowls. Add clams, mussels, and crab legs on top. Sprinkle with parsley.

Serve with crusty garlic bread on the side.
Notes
This sauce is easily doubled and freezes well, but do not add the fish before freezing. 
Be sure to use firm fish that will not fall apart when cooking.