This post may contain affiliate links. Read our disclosure policy.
Whenever I am missing a day at the beach I love to saute up some Steamed Clams with Garlic Butter and Wine. Make sure you serve them with a fresh baguette or a side of garlic bread for dipping in the yummy sauce. I like to pair this dish with a chilled medium-bodied Chardonnay. You can almost hear the waves crashing on the beach!
What are the best clams for steaming?
Steamers, Cherrystones, and Littlenecks are the best clams for steaming and can easily be found at your local grocery store.
What are the differences between these types of clams?
Steamers – Have an elongated shape to their hinged shell-like mussels. A steamer, sometimes called "soft-shelled clams", has a pair of thin white shells, they also have a siphon that juts out of their shell. Each pound will have about 10-12 clams.
Cherrystones – Are a hard shell clam that is round in shape. They are about 2 to 3 inches in diameter and you will get an average of 3 to 5 clams per pound.
Littlenecks – These are the smallest of the hard shell clams and known for having the sweetest flavor. They measure about 1 to 2 inches in diameter and you will get an average of 10 to 12 clams per pound. These are the type we use, and what is in the pictures.
How to make steamed clams:
Steaming clams is a quick and easy process. They are easy to prepare and cook, and they are wonderful to serve for a crowd!
To prepare the clams for cooking soak the clams for 20 minutes in fresh water. The fresh water will filter the clams, pushing out the saltwater and sand from their shells.
In a large pot add 2 to 3 inches of water and bring to a boil. Add clams and let the clams cook in the steam from the boiling water for about 5 to 10 minutes until clam shells open wide. Remove from heat. Discard any clams that do not open.
My favorite way to prepare and serve Steamed Clams is with our recipe below.
Begin with garlic, butter, lemon, and wine
Heat a large heavy saute pan on medium heat
Melt half of the butter (3 tablespoons)
Add in the fresh minced garlic and let cook about 30-40 seconds, until the garlic smells fragrant.
Add the Chardonnay and fresh-squeezed lemon juice. Bring to a boil.
I prefer to use a buttery Chardonnay wine because it makes a richer sauce.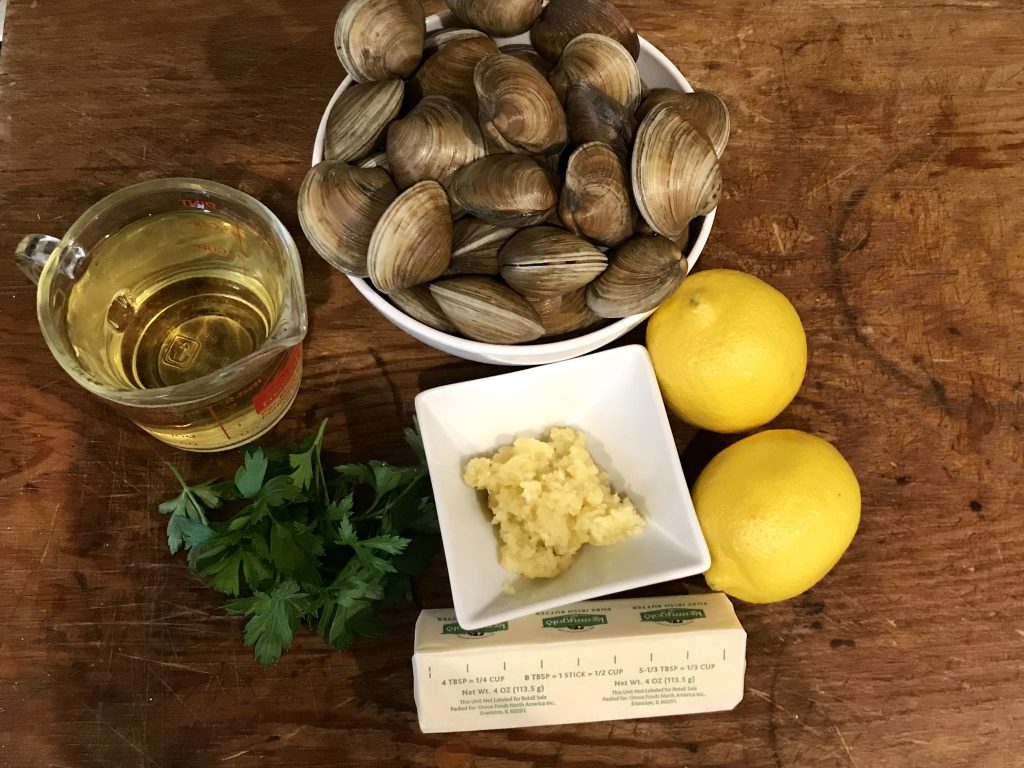 Once you bring the sauce to a boil add the clams and remaining butter, cover with a lid, and cook for about 8 minutes.
While clams are cooking finely chop the fresh Italian parsley. Set aside to add as a garnish later.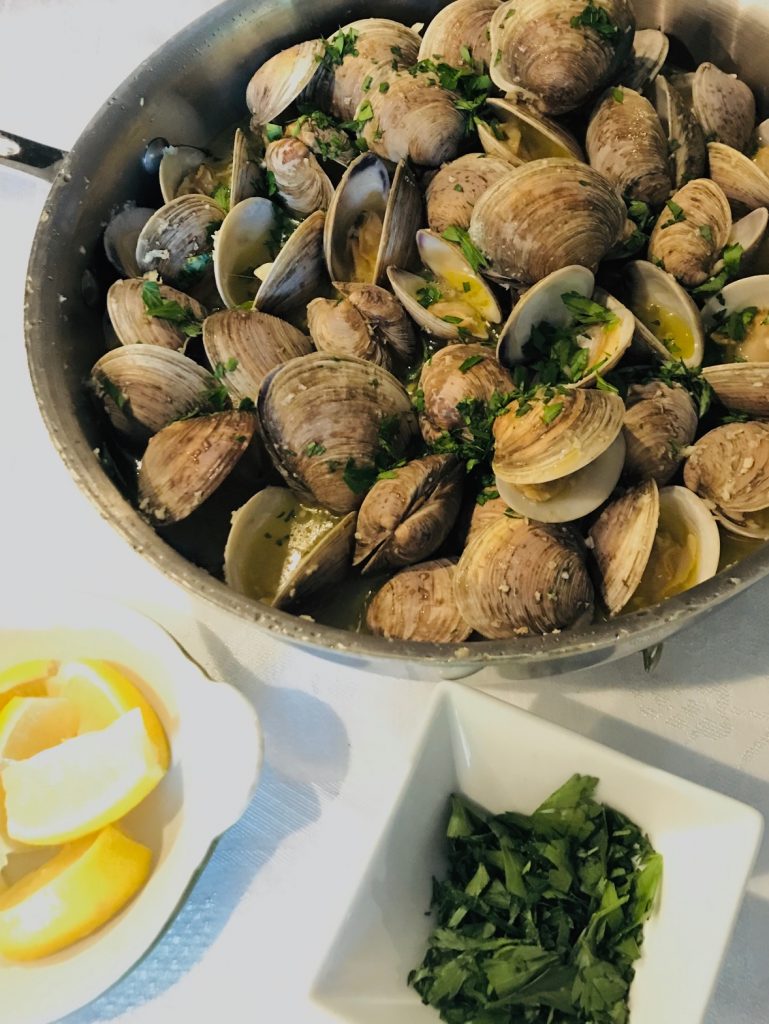 Prior to serving your Steamed Clams, discard any clams that have not opened, then sprinkle with the chopped Italian parsley. Transfer clams and sauce to a large wide serving bowl, or serve directly from the saute pan. Don't forget the side of french bread or garlic bread to dip in the sauce! I also like to serve these clams on top of linguine.
I made these amazing clams during our fun weekend at Capitola Art and Wine Festival. Read all about it here.
Suggestions for Wine Pairings:
When wine is included in the recipe you can never go wrong pairing the wine you used for the dish. Chardonnay is my go-to favorite. Beyond that look for a medium-bodied white wine. Because Champagne is "always a good choice" you could go with a sparkling Blanc de Blanc.
Your weekday wines: A simple buttery Chardonnay that can be found in the grocery store.
Select a nice medium-bodied Chardonnay like Acacia or La Crema
Your weekend wines:
Lloyd Chardonnay, Carneros
Nickel and Nickel, Carneros
A Special Occasion Wines:
Kistler Chardonnay
Peter Michael Chardonnay
Dom Perignon Champagne
More great seafood recipes to try:
Looking for the perfect pan for clams? This is the pan I used to make mine. I highly recommend it for so many uses: All-Clad Saute Pan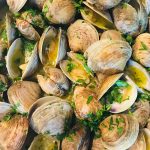 Print Recipe
Steamed Clams with Garlic Butter and Wine
Quick and easy steamed clams with garlic butter and wine recipe is a fantastic 20 minute dinner.
Equipment
Large heavy-duty saute pan
Ingredients
3

pounds

Littleneck clams

6

Tablespoons

salted butter, divided

1

Tablespoons

garlic, finely minced

1

cup

Chardonnay,

Choose a buttery Chardonnay for rich sauce

2

Tablespoons

lemon juice, freshly squeezed

2

Tablespoons

Italian parsley,

finely chopped

1

lemon, cut into wedges,

for garnish
Instructions
In a large heavy saute pan melt 3 tablespoons of the butter

Add garlic and saute for 30-40 seconds until the garlic smells fragrant

Add wine and lemon juice and bring to a boil

Add clams and the remaining butter. Cover with lid

Steam for about 8 minutes. Check to make sure your clams have opened.

Remove from heat and remove any unopened clams

Sprinkle with 1 tablespoon of parsley

Transfer to a large bowl or serve in the saute pan

Serve with lemon wedges and extra 1 tablespoon of parsley on the side
Nutrition
Calories:
257
kcal
|
Carbohydrates:
7
g
|
Protein:
8
g
|
Fat:
18
g
|
Saturated Fat:
11
g
|
Polyunsaturated Fat:
1
g
|
Monounsaturated Fat:
4
g
|
Trans Fat:
1
g
|
Cholesterol:
60
mg
|
Sodium:
462
mg
|
Potassium:
134
mg
|
Fiber:
1
g
|
Sugar:
1
g
|
Vitamin A:
853
IU
|
Vitamin C:
20
mg
|
Calcium:
44
mg
|
Iron:
1
mg