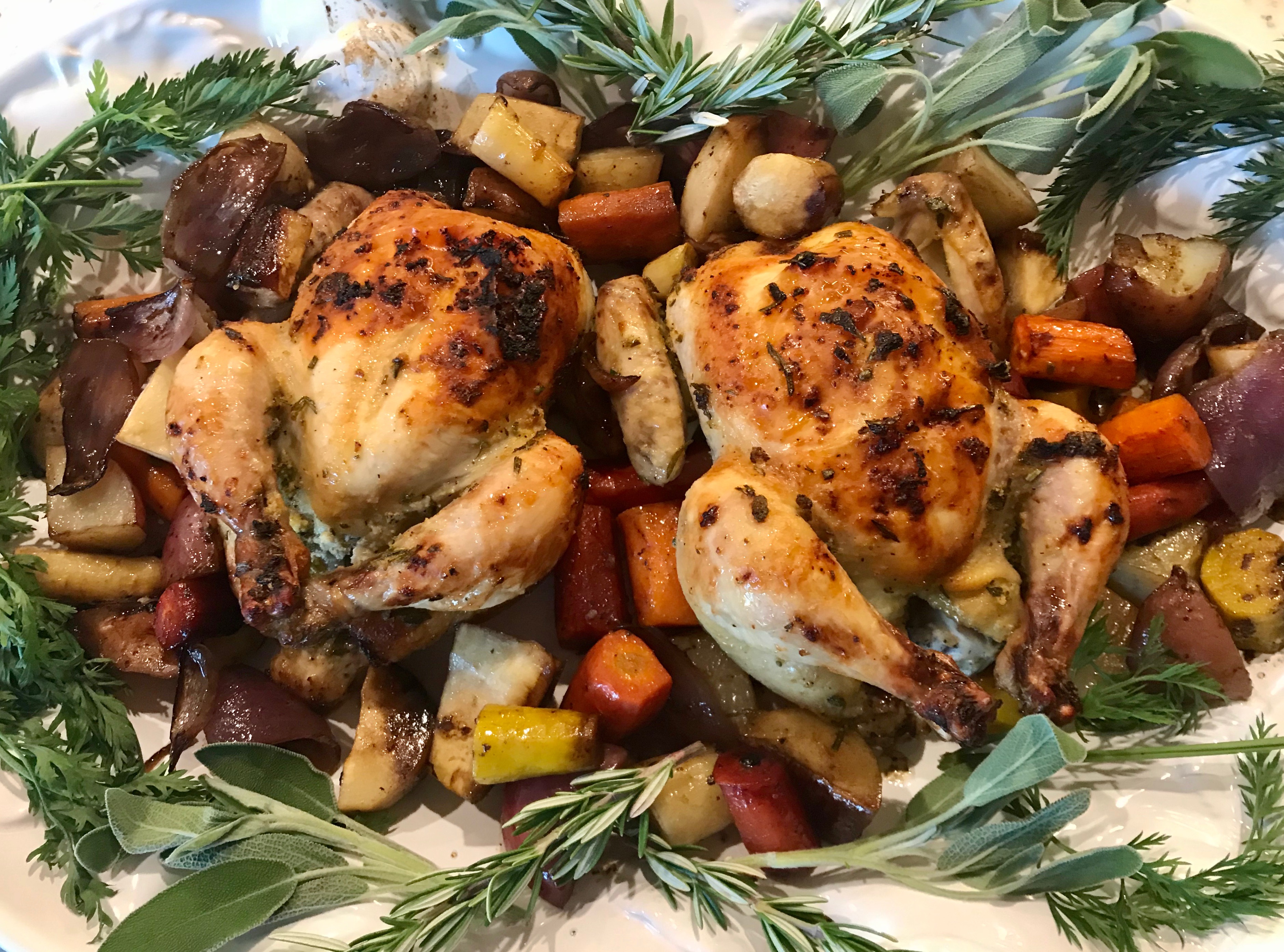 This scrumptious Cornish Game Hen Recipe is packed with delicious herb flavor
Tender, juicy, and roasted to perfection. This recipe is easy to prepare and makes a great special occasion meal.
Jump to Recipe
This post may contain affiliate links. Please see our affiliate disclosure for more details. We only recommend products we love and use.
Ingredients for Cornish Game Hen Recipe
2 Cornish Game Hens
Minced Garlic
Fresh Chopped Rosemary
Fresh Chopped Sage
Olive Oil
Salt
Black Pepper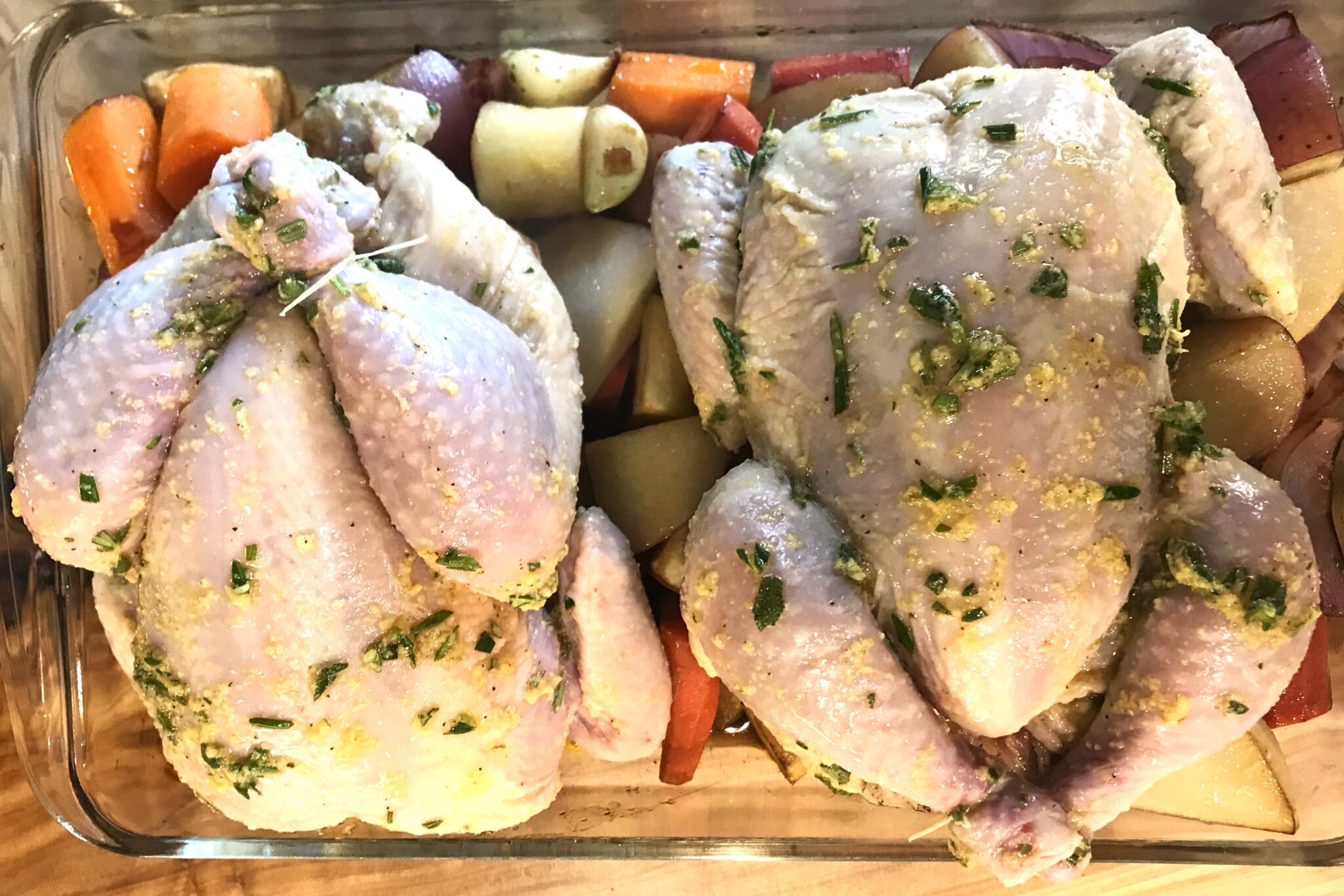 To make the Root Vegetables
Rainbow Carrots
Red Potatoes
Parsnips
Turnips
Onion
Whole Garlic Cloves
Olive Oil
Balsamic Vinegar
Salt
Black Pepper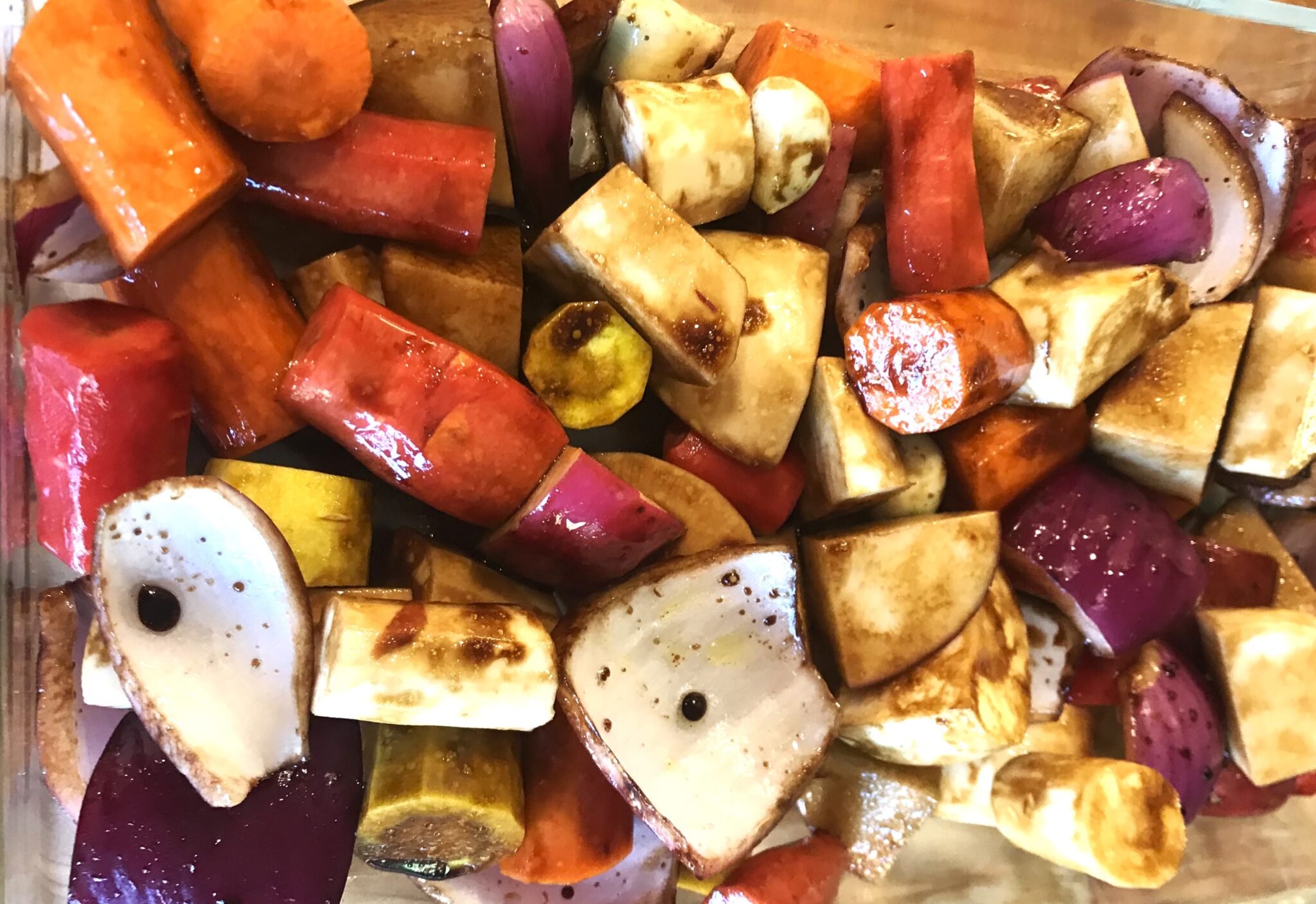 How to Prepare and Cook Cornish Game Hen Recipe
First Step: Preparing the Root Vegetables
Preheat oven to 400˚F degrees.
Rinse, pat dry, and set aside the Cornish Game Hens.
Chop the root vegetables into large chunks, about 2 inches by 2 inches.
In a large bowl add the potatoes, carrots, parsnips, turnips, onion, and 3 whole garlic cloves.
Add 1 Tablespoon olive oil and 2 teaspoons of balsamic vinegar.
Toss everything together to coat the vegetables and spread evenly into a 9″ x 13″x 2″ baking dish.
Cover with a lid or with aluminum foil.
Roast covered vegetables for 45 minutes.
Second Step: Preparing the Cornish Game Hens
In a medium-sized bowl mix 3 cloves of minced garlic, 2 teaspoons of finely chopped sage leaves, and 2 teaspoons of finely chopped rosemary.
Add 1 teaspoon each of salt and pepper.
Add 2 Tablespoons of olive oil and mix together until well blended.
Coat the exterior of the Cornish game hens with the olive oil and herb mixture.
Tie the drumsticks together with 100% cotton string.
Third Step: Cooking the Cornish Game Hen Recipe
Reduce the oven temperature to 375˚F.
Uncover root vegetables and place game hens directly on top of the root vegetables. Add a sprig of rosemary to the top of each Cornish game hen.
Return the baking pan with the added hens to the oven. Roast uncovered for 1 to 1-1/4 hours or until vegetables are tender.
Cornish game hen should register 180˚F on an instant read thermometer, and the juices should run clear. The best place to test temperature is on the inner thigh of the hen.
Remove string on the drumsticks. Cover the pan with foil and let rest for 10 minutes. This is very important because it allows all the juices to resettle into the meat.
Place Cornish Game Hens onto a cutting board. Use a large heavy knife to cut game hens in half lengthwise.
Serve alongside the roasted root vegetables.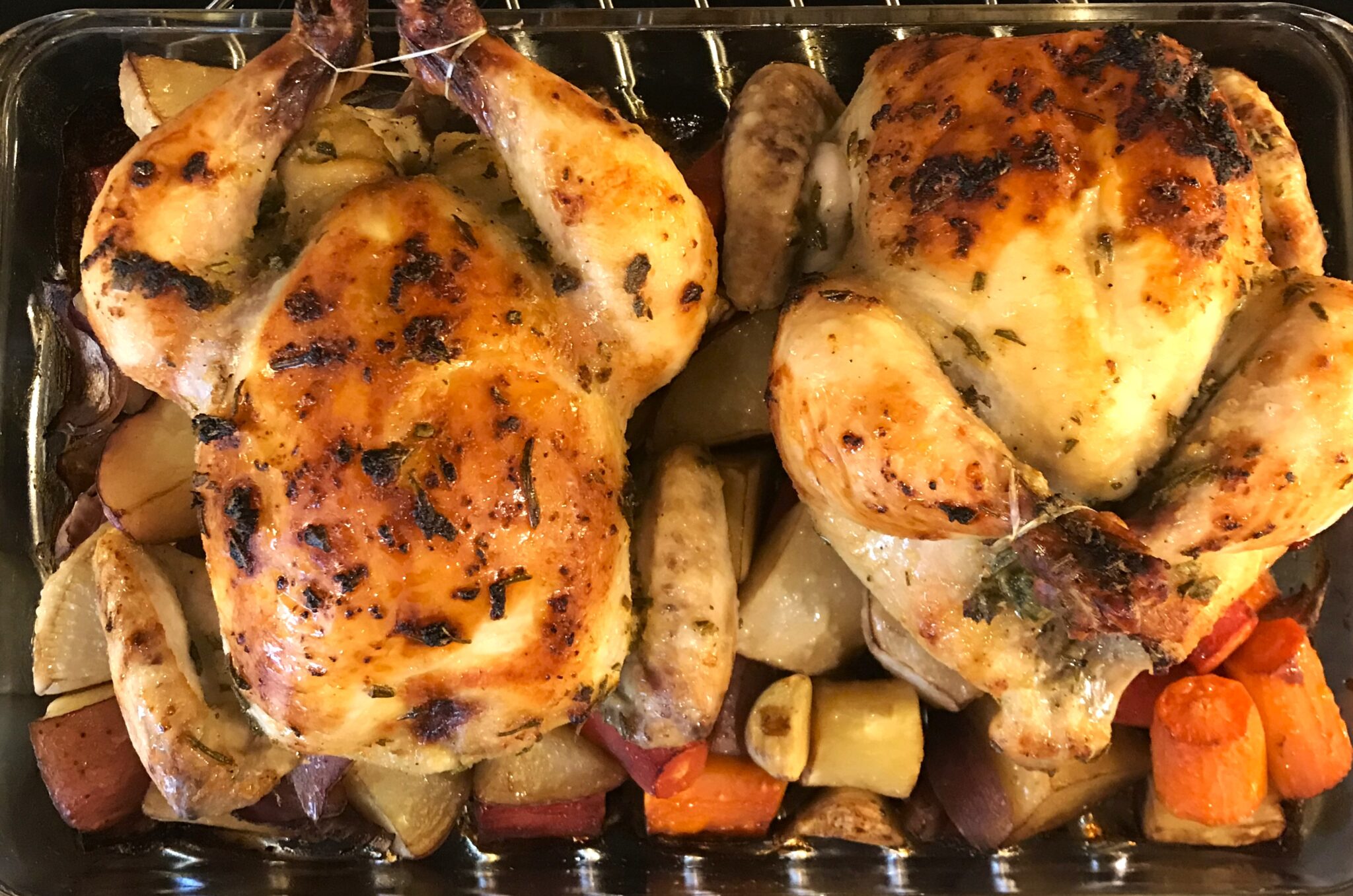 What is a Cornish Game Hen?
A Cornish Game hen is a cross between the Cornish and White Plymouth rock chicken breeds. On average they weigh between 1.5 – 2 pounds. With less assertive flavors than chicken they pair well with most vegetables and their meat is tender when cooked.
A single hen will make one hearty serving or can be cut in half for two regular servings. We always slice ours in half after cooking and before serving. However, serving them whole is a showstopper and looks fantastic on the table!
Tips for cooking Cornish Game Hens:
Cornish Game Hens can be roasted with or without the root vegetables we've included here.
When cooking them separately we suggest stuffing them with slices of lemon and onions, to add extra flavor, as well as seasoning the skin with herbs. Before serving remove lemons and onions before slicing and serving.
Place game hens in a roasting pan, cover, and cook for one hour or to an internal temperature of 180˚F.
Most Cornish Game Hens are sold frozen so be sure to thaw them out in your refrigerator 24-48 hours ahead of time to ensure even cooking.
Makes 2 large servings or 4 moderate servings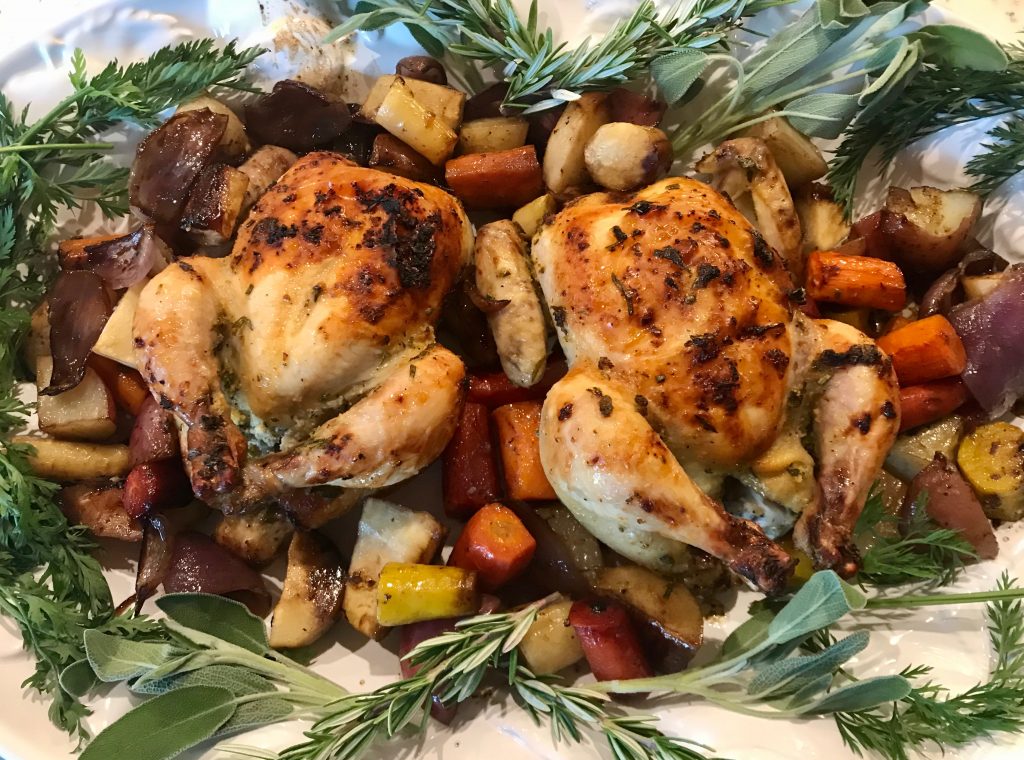 Suggestions for wine pairings:
We love to pair this dish with a creamy Pinot Noir from California or Oregon with the flavors of raspberry, cherry, black truffles, and mushrooms
Your weekday wines:
J Vineyards California Pinot Noir, Sonoma County
Landmark Vineyard Overlook Pinot Noir, Sonoma County
Your weekend wines:
WillaKenzie Estate Pierre Leon Pinot Noir, Oregon
Williamette Valley Estate Pinot Noir, Oregon
Special Occasion wines:
Kosta Browe Pinot Noir, Sonoma Coast
Beaux Freres, The Vineyards Pinot Noir
These side dishes pair well with our hens: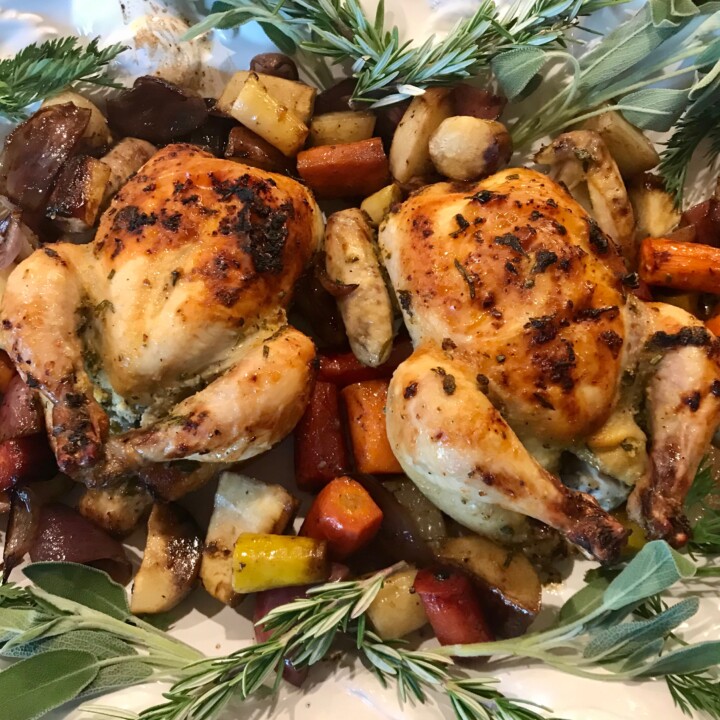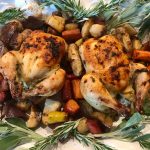 Print Recipe
Cornish Game Hens with Root Vegetables
This one-dish Cornish Game Hens with Root Vegetables recipe is easy to follow and long on warm flavors.
Ingredients
1

cup

rainbow carrots, cut into 2" thick rounds

1

cups

potatoes, cut into 2" pieces

1

medium

parsnip, peeled, cut into 2" pieces

1

medium

turnip peeled, cut into 2" pieces

(about 2 cups)

1

medium

red onion, cut into 2" pieces

3

Tbsp

olive oil, divided

1

Tbsp

balsamic vinegar

5

cloves

garlic, divided

3 whole, 2 minced

2

stems

fresh rosemary

1

tsp

sea salt, divided

1

tsp

freshly ground pepper, divided

2

Cornish Game Hens

(about 1.5-2 pounds each)

1

Tbsp

fresh rosemary needles,

removed from stem finely chopped

1

Tbsp

sage leaves

finely chopped
Instructions
Prepare Vegetables:
In a large bowl, mix 1 Tablespoon of the olive oil and 2 teaspoons of balsamic vinegar together.

Add carrots, potatoes, parsnips, turnips, onion, 3 whole cloves garlic. Mix well to coat with the olive oil balsamic mixture. Salt and pepper lightly with 1 tsp salt and 1 tsp pepper.

Spread vegetables in one layer into a 9 x 13 x 2 baking dish.

Roast for 45 minutes.
Prepare Game Hens:
Combine 2 Tablespoons olive oil, 2 cloves minced garlic, chopped rosemary, chopped sage remaining salt and pepper in a medium bowl.

Coat the whole exterior of the game hens. Add one sprig of rosemary on top of game hens.

Tuck wings under birds. Tie drumstick together with 100% cotton string.

Reduce oven heat to 375° F

Add game hens on top of the vegetables.

Cook uncovered for 1 hour.

Continue cooking about 15 more minutes, or until hens are cooked to an internal temperature of 180°F when a thermometer is inserted into the thigh, and skin is well browned, and juices run clear.

Let rest 10 minutes, cut each hen in half lengthwise, and serve next to roasted vegetables.
Nutrition
Calories:
664
kcal
|
Carbohydrates:
28
g
|
Protein:
42
g
|
Fat:
43
g
|
Saturated Fat:
10
g
|
Polyunsaturated Fat:
7
g
|
Monounsaturated Fat:
22
g
|
Cholesterol:
227
mg
|
Sodium:
772
mg
|
Potassium:
1166
mg
|
Fiber:
6
g
|
Sugar:
7
g
|
Vitamin A:
5623
IU
|
Vitamin C:
31
mg
|
Calcium:
95
mg
|
Iron:
3
mg