Baking Powder Biscuits are flakey, fluffy, light and ready in 30-minutes. It's impossible to resist a mile-high warm biscuit! These biscuits can be cut out or you can make a drop biscuit if you are in a rush. You just need 6 ingredients to have delicious biscuits on the table for dinner.
How to make tender flaky biscuits
Making tender flakey biscuits are easy but there are a few quick important tips to keep in mind:
It is important to have a light gentle touch with your ingredients. Biscuits, as well as quick breads, benefit from minimal mixing.
The other key to successful biscuits is to make sure all ingredients are SUPER cold. I like to whisk my dry ingredients together, chop the butter into small pieces, add to the bowl and then pop the bowl in the freezer for 10-minutes before proceeding.
The importance of lightly mixing the butter:
Cutting the butter into small pieces before adding to the flour mixture helps avoid overmixing. You will add salt to the flour so I prefer using unsalted butter for my biscuits. The easiest way to cut in the butter without overmixing is to use a pastry blender or two table knives. The heat from your hands can start melting the butter, so avoid mixing with your hands.
The goal is to keep the butter very cold up until the time the biscuits hit the oven. The ice-cold pieces of butter incorporate into the flour more evenly, improving the dough's flavor and texture. Butter creates steam as it melts in the oven and the melting butter expands between the layers of dough. This creates pockets of air, yielding a fluffy, flaky biscuit.
Biscuit dough mixed

Biscuit dough ready to cut
Make sure your baking powder is fresh!
Most breads, biscuits, quick breads, cakes, and many cookies rely on chemical leavening such as baking powder or baking soda which is essential for the baking "rise". Nearly all baking powders are 'double-acting' meaning they react twice: once by producing carbon dioxide bubbles in the batter when liquid is added and again in the heat of the oven. Make sure yours is still fresh for the tallest biscuits! Baking powder is magic!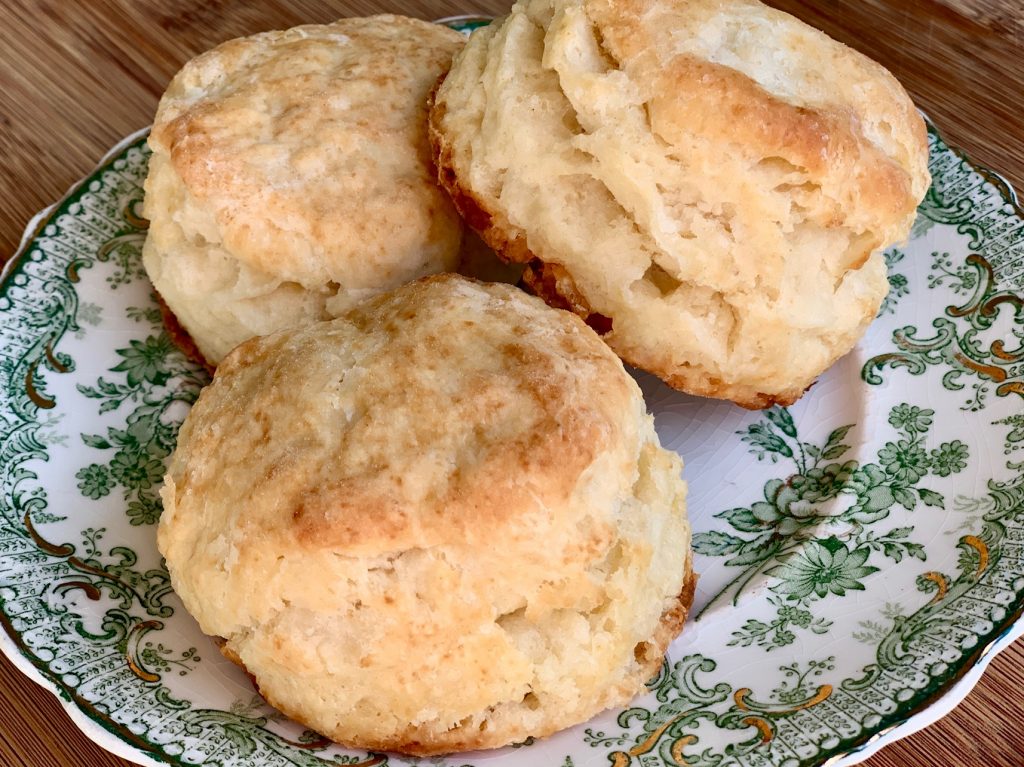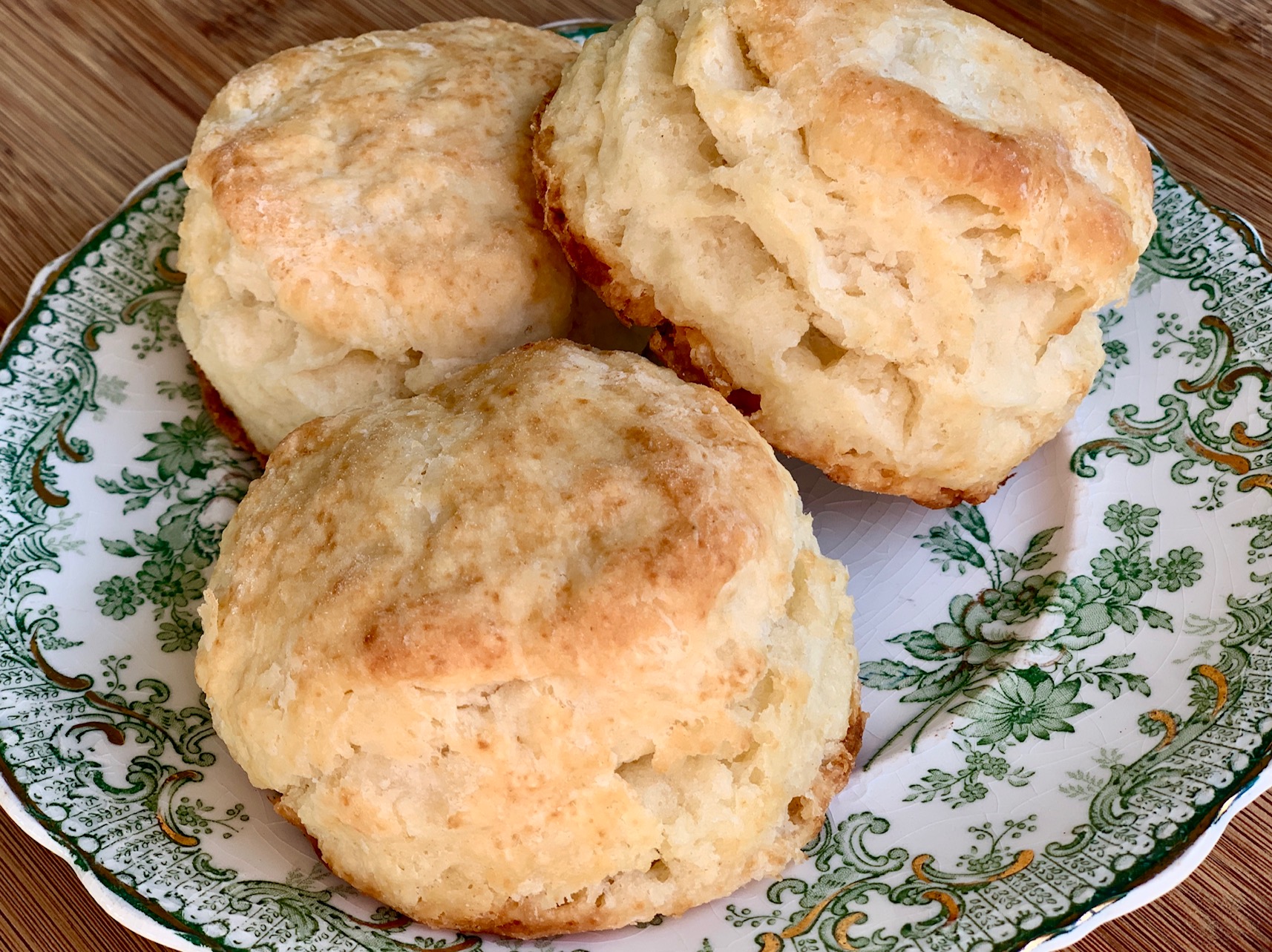 More tips for fluffy biscuits:
Gently mix everything!
On a floured board pat the biscuit dough into a round that is 3/4″ thick. Cut with a floured round 3″ biscuit cutter for best results.
If you don't have a cutter pat dough into a square and cut into squares or triangles with a sharp knife.
Press straight down with the cutter and DON'T twist. Twisting the cutter seals the dough on the sides and inhibits the rise.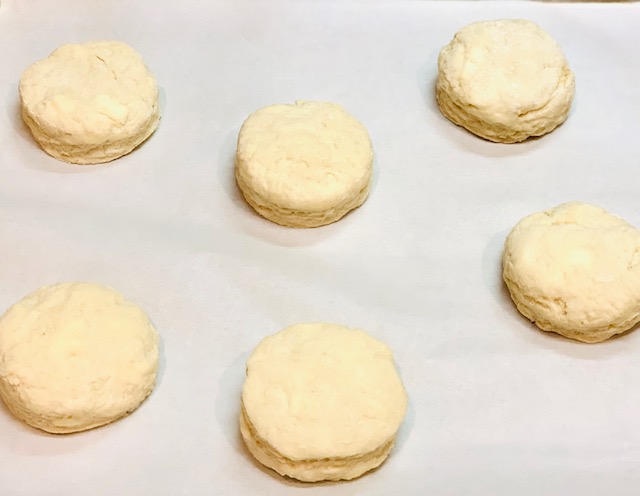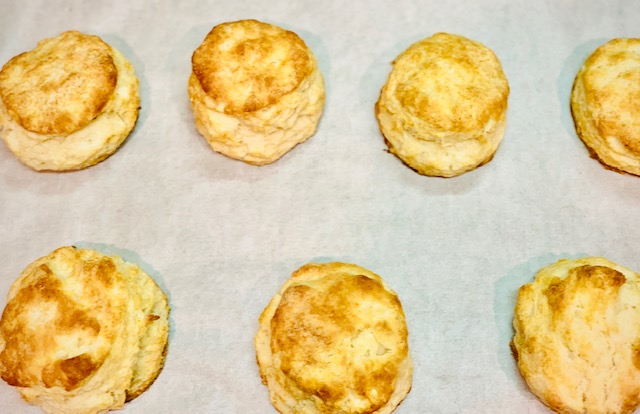 Serving Baking Powder Biscuits
The traditional way to serve biscuits is with a good salted butter but I would also suggest a nice compound butter, such as our Orange Honey Butter.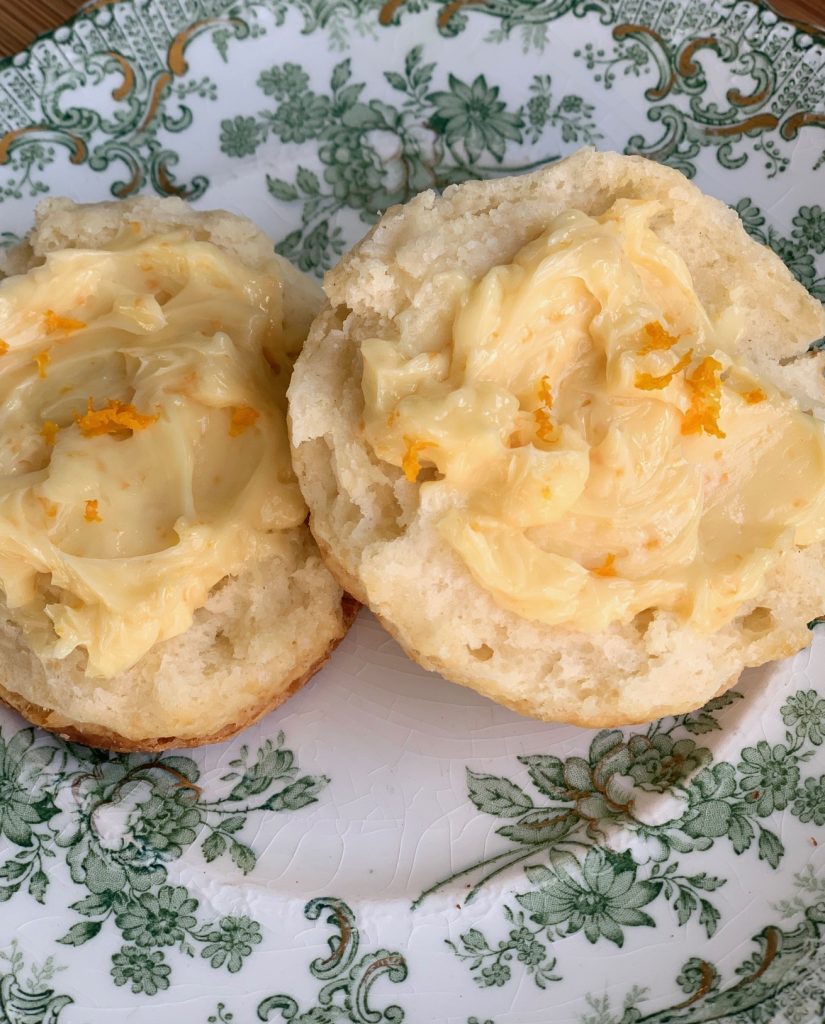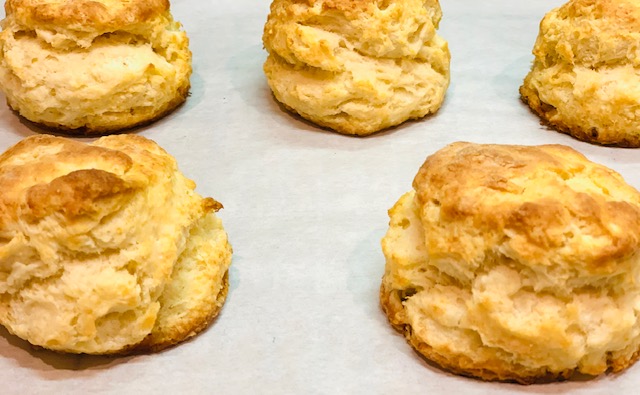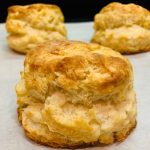 Print Recipe
Baking Powder Biscuits
Baking Powder Biscuits are flakey, fluffy, light and ready in 30-minutes. These biscuits can be cut out or you can make a drop biscuit.
Ingredients
4

cups

flour

2

Tbsp

baking powder

3

Tbsp

sugar

1

tsp

salt

12

Tbsp

butter, very cold,

cut into small pieces

1 ½

cups

whole milk, very cold
Instructions
Position a rack in the middle of the oven, and preheat to 425° F. Line a sheet pan with parchment paper or butter lightly.

In a large bowl whisk together flour, baking powder, sugar, and salt.

Add in the butter pieces. Cut into flour mixture using two knives or a pastry blender just until the mixture forms large, coarse crumbs the size of small peas. Do not overmix!

Pour in the milk and mix with a fork just until the dry ingredients are moistened.

Turn the dough onto a lightly floured work surface and knead gently a few times until dough clings together. Pat the dough into a round that is about ¾" thick.

Cut biscuits using a round cutter (3" recommended).

Be sure to cut the biscuits by pressing straight down and lifting up. Do not twist the cutter.

Place biscuits on the prepared baking sheet, spacing about 1" apart.

Gather the scraps and gently pat into a ¾" thick round, and cut out remaining dough.

Bake biscuits until lightly browned, about 15-17 minutes.

Let cool on a wire rack if not serving immediately.

Store in an airtight container at room temperature for up to 2 days.
Notes
If using for Shortcakes:
Add 1 teaspoon vanilla to the milk before adding to flour mixture. Brush tops of biscuits with a mixture of 1 teaspoon sugar dissolved in a 1 teaspoon milk before baking to add sweetness to the top crust.