Slow cooker bacon jam is salty and sweetened with caramelized onions
It becomes the most wonderful appetizer but is also perfect in many other dishes. This jam makes a great gift when packaged in a glass jar.
If you want to make entertaining easy be sure you have a few appetizers that take just 5-minutes to prepare. This ensures parties and gatherings are much less stressful.
This jam is perfect because you prepare it ahead of time. Simply saute the bacon and onions and you can finish the rest, hands-off, in the slow cooker.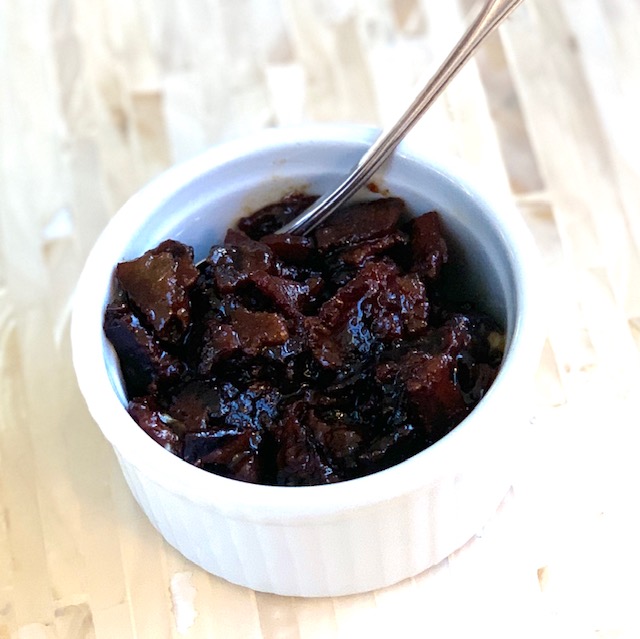 Easy Slow Cooker Bacon Jam quick prep
This recipe is super simple to make, but here are a few quick tips:
Be sure to cut the bacon in 1/2″ pieces. The bacon will shrink as it cooks but you want to keep the pieces small.
Slice the onions thinly to ensure even cooking. I recommend sweet yellow onions for this recipe. The sweet onions help balance out to the salty flavor of the bacon.
If possible, use apple cider vinegar. Not only does it have a great taste, but it's also really good for you.
Be sure to use real maple syrup!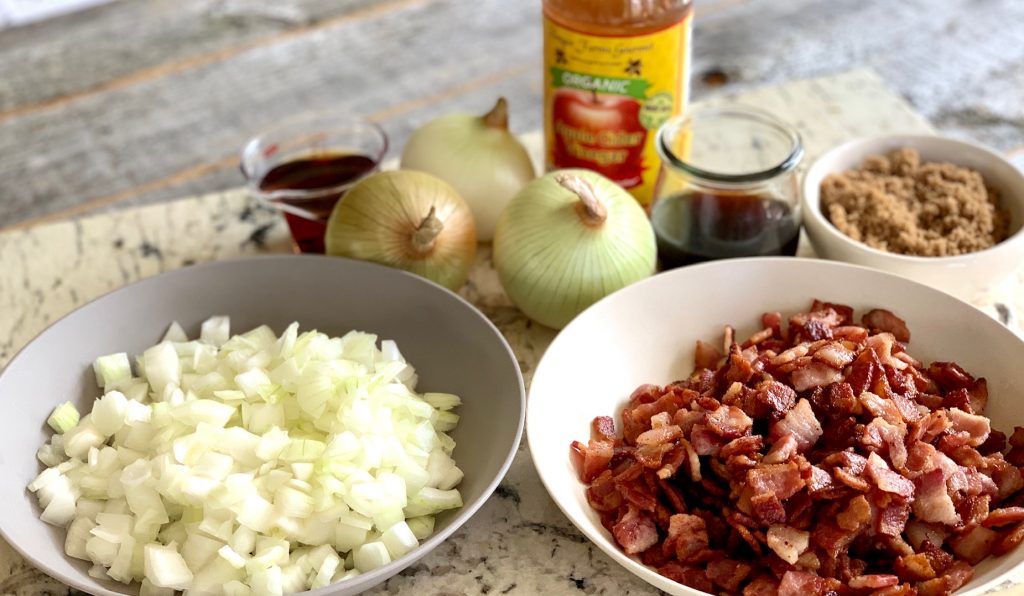 How to store:
The best way to store easy slow cooker bacon jam is in glass jars. The jam is rich so using smaller 4-ounce jars is a good idea since a little goes a long way.
I love the wider mouth jars, which are available on Amazon. Click here for the link to the jars I use. This is the perfect gifting size! Attach a note with ideas for use and you've got an ideal gift. Everyone loves bacon!
Ideas for using:
There are so many great ways to enjoy this easy jam so try a few of these!
Crostini topped with goat cheese/blue cheese and topped with jam
Slather on a warm baking powder biscuit.
On top of waffles
On top of Buttermilk Pancakes.
Perfect on a BLT sandwich
Great on a juicy burger
Smother on top of herbed chicken breasts
On top of a glazed pork roast
Wrap prosciutto around asparagus spears, brush with bacon jam and broil
Top your toast with jam and avocado
Make a bacon jam pizza
Perfect as an added layer to a grilled cheese sandwich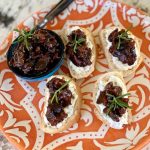 Print Recipe
Easy Slow Cooker Bacon Jam
Bacon Jam is sweet and salty, and absolutely delicious on so many things. A jar of this jam makes a great gift!
Ingredients
2

lbs

Bacon, thick-cut, cut into ½" pieces

2

cups

sweet onions, thinly sliced

1

Tbsp

garlic, crushed

½

cup

light brown sugar

¼

cup

water

½

cup

strong brewed coffee

¼

cup

vinegar, white or apple cider

2

Tbsp

pure maple syrup
Instructions
Heat a large frying pan over medium-high heat. Add bacon pieces and cook until lightly browned but not crispy.

With a slotted spoon transfer bacon from pan and drain on a paper towel. Pour off all but one tablespoon of drippings from the pan.

Add the onions and garlic, and cook over medium heat about 5 minutes.

Add brown sugar and cook for one minute until sugar is melted.

Add water, coffee, vinegar, and maple syrup. Mix to combine. Bring to a boil and cook for about 1 minute, scraping browned bits from the bottom of the pan.

Add bacon and stir to combine. Transfer mixture into the slow cooker.

Set the slow cooker temperature to high.

Cook uncovered on high for about 4 hours until the mixture is thickened to the consistency of jam and syrupy.

Serve or use immediately, or let cool and pack into glass jars and store in the refrigerator for up to 1 month.

This jam tastes best at room temperature or slightly warm.
Notes
If a smoother texture is desired transfer the cooked mixture to a food processor and pulse about 20 times.