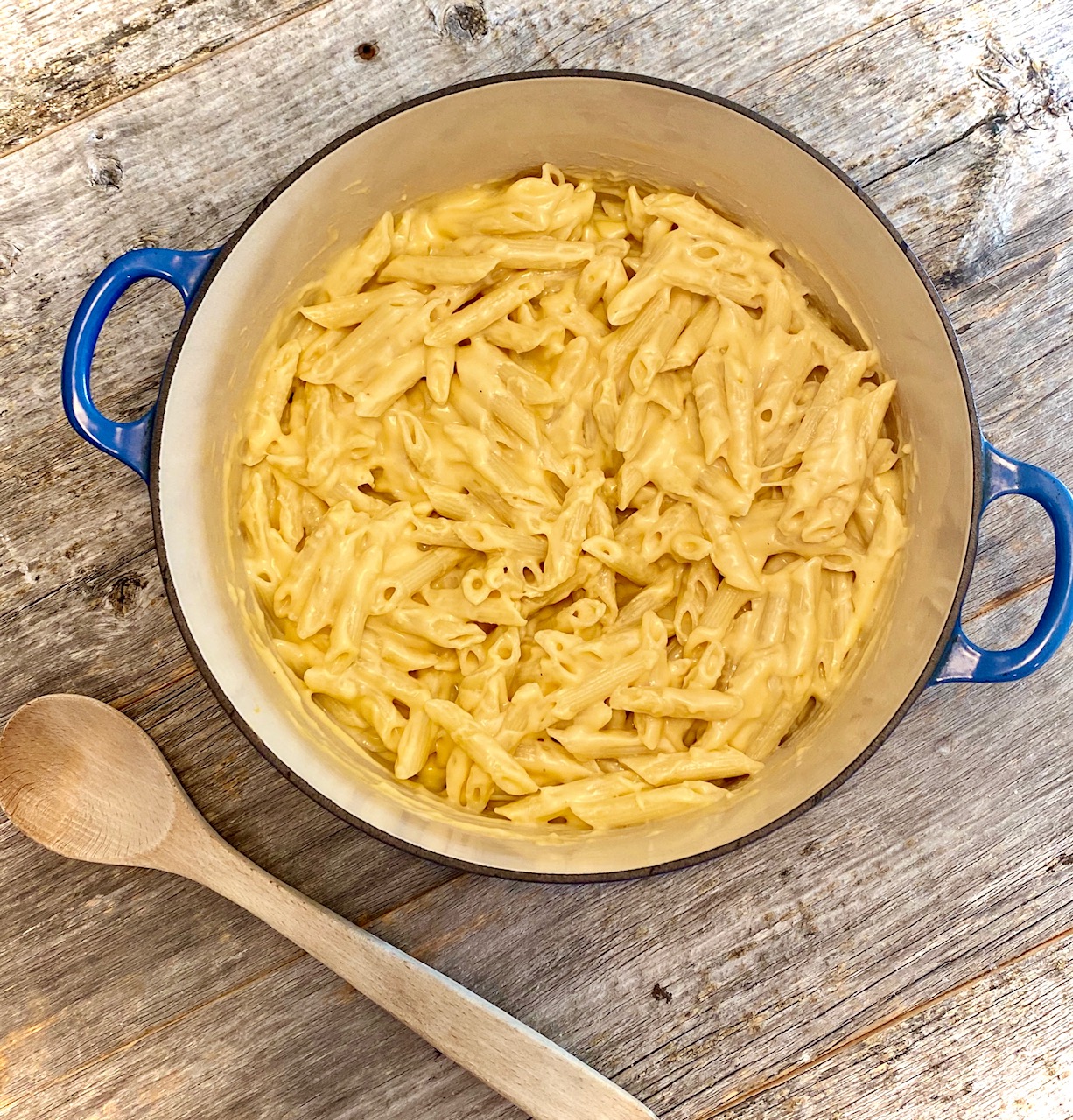 This Homemade Mac and Cheese Recipe is super creamy and delicious!
We use three kinds of cheese to give it extra flavor
Mac and cheese is perfect anytime but it is especially perfect when you realize you didn't thaw anything out for dinner! It's ideal for meatless Mondays too. Pantry staples make this an easy go-to anytime.
Our recipe can be cooked and served straight from the stovetop or baked in the oven with a crunchy breadcrumb topping. Either way, you need just a few simple ingredients.
We'll share a few tips to ensuring a super creamy and cheesy mac every time. The key is the sauce and the types of cheese you choose.
How to make Mac and Cheese from scratch:
The Pasta:
Choose your pasta – There are so many choices! I like to use Penne, Elbow, Shells, or Orecchiette. Any type that helps capture the sauce is best for mac and cheese.
Cook the pasta just shy of al dente for baked mac and cheese. The pasta is going to cook in the oven so it will finish cooking with the sauce. For stovetop mac cook just to al dente. Boil in plenty of salted water and drain well.
Making the Sauce:
The best sauce starts with a "roux". Roux is simply a French word for equal parts fat (usually butter) and flour cooked together for a few minutes. Its purpose is to create a thickener for sauces.
Melt butter and whisk in the flour and the paprika. Cook about 1 minute.
Whisk in the milk and cook until slightly thickened – about 4-5 minutes. (This white sauce is called a Béchamel Sauce)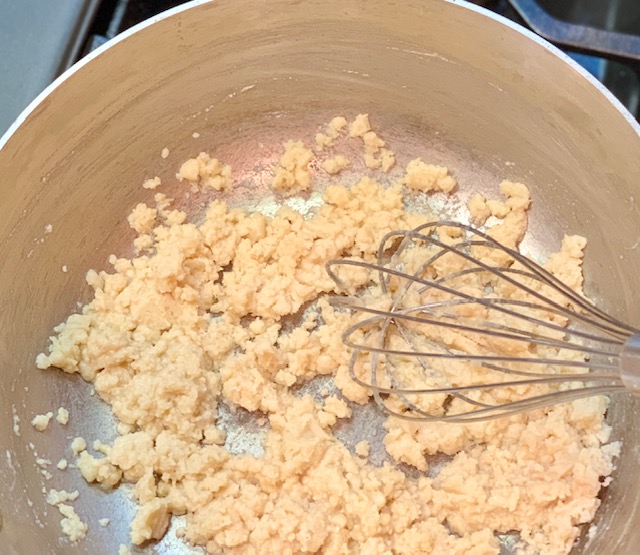 Add the Cheese (slowly!):
4. Stir in the Dijon mustard and mix until well blended.
5. Turn off the heat and start adding the cheeses. Blend until completely melted and smooth.
Make sure the sauce is not bubbling or boiling when you add your cheese. You want to slowly add the cheese so it doesn't breakdown too quickly and become grainy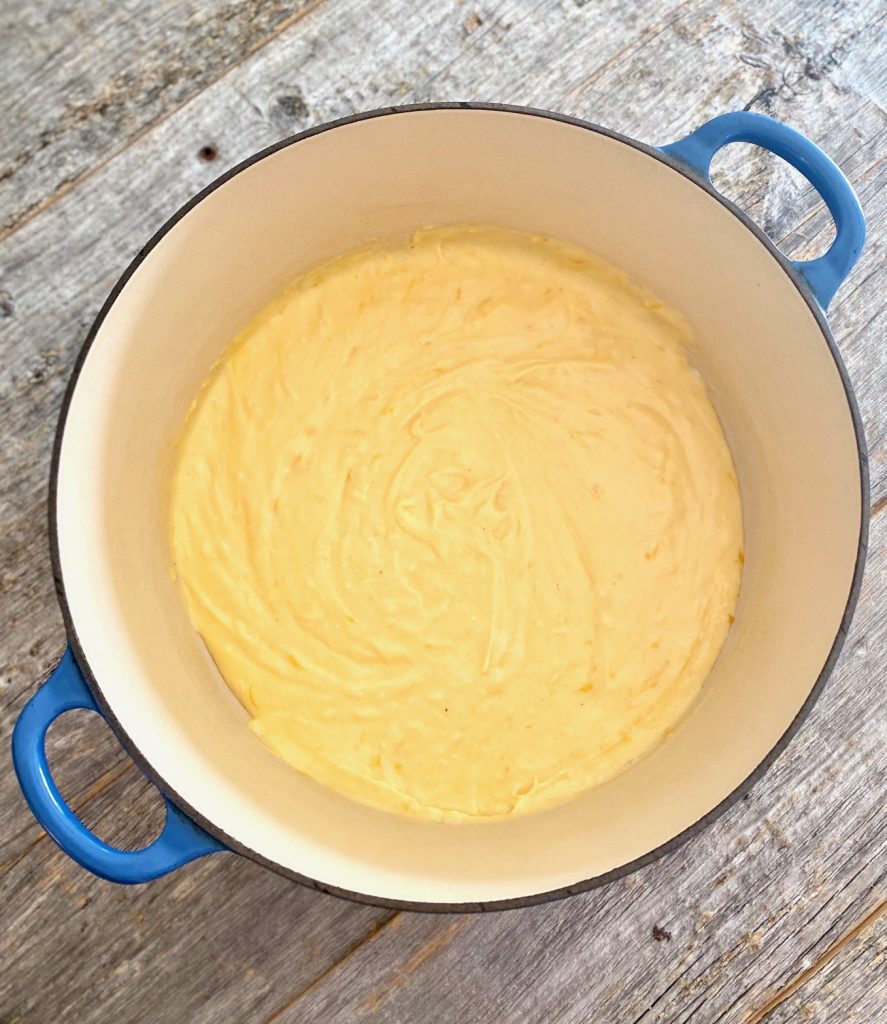 6. Add the pasta and stir until well coated. If serving stove top mac and cheese you are ready to eat!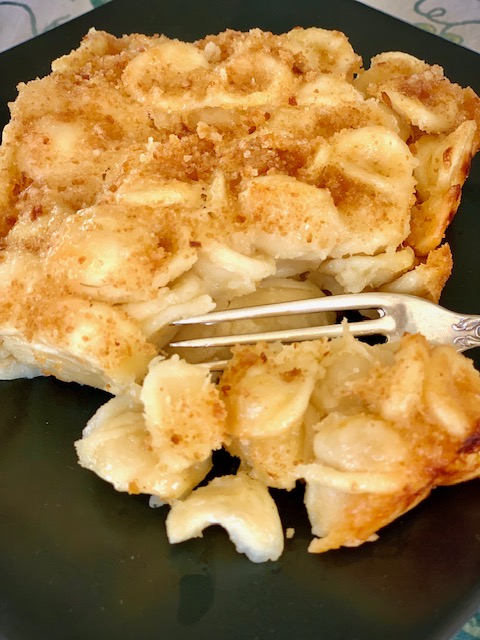 Homemade Baked Macaroni and Cheese
Making Baked Mac and Cheese
To bake macaroni and cheese add the prepared mixture to a buttered baking dish. Top with remaining 1/4 cup cheddar and sprinkle with breadcrumbs or panko.
Bake about 25 minutes or until bread crumbs look toasted. Be careful not to over bake. All of the ingredients are already cooked and over baking will result in dry mac and cheese. Let the mac and cheese casserole rest for about 10 minutes before serving.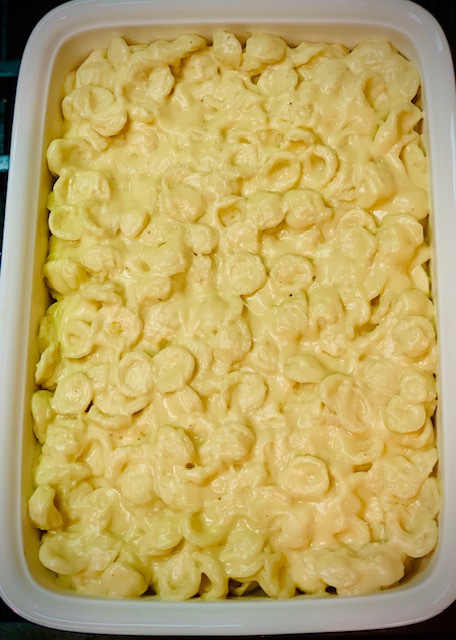 Best Cheeses for Homemade Mac and Cheese:
There are many combinations you can try, but below are our favorites.
Most important is that you need to shred your own cheese. We know it takes a little more time but pre-shredded cheese has a layer of starch on it to keep it from sticking together, but that also prevents it from melting well too.
Sharp Cheddar – sharp gives the mac and cheese a richer flavor than mild or medium cheddar but any cheddar will work
Gruyère cheese – this cheese is smooth melting like swiss but has a richer, nuttier flavor. If you can't find Gruyère substitute with Fontina, Havarti, or Jarlsberg Swiss (or Pepper Jack if you want a spicy kick)
Parmesan cheese – we like the flavor it adds but you could also sub in Pecorino, Romano, Gouda, or smoked Gouda for your third cheese
Troubleshooting:
Why is my mac and cheese sauce grainy?
Cheese sauce gets grainy when the white sauce is too hot.The proteins in cheese will start to clump together. So, be sure your white sauce is off the heat and not bubbling or boiling when you add the cheese. Add the cheese slowly and let it melt after each cheese addition.
Why is my macaroni and cheese dry?
Mac and cheese should be cheesy! Now is not the time to skimp on the cheese because it is the star of the show.
It can be helpful to use 2% milk instead of non-fat
Don't over bake the casserole. You are just warming it up.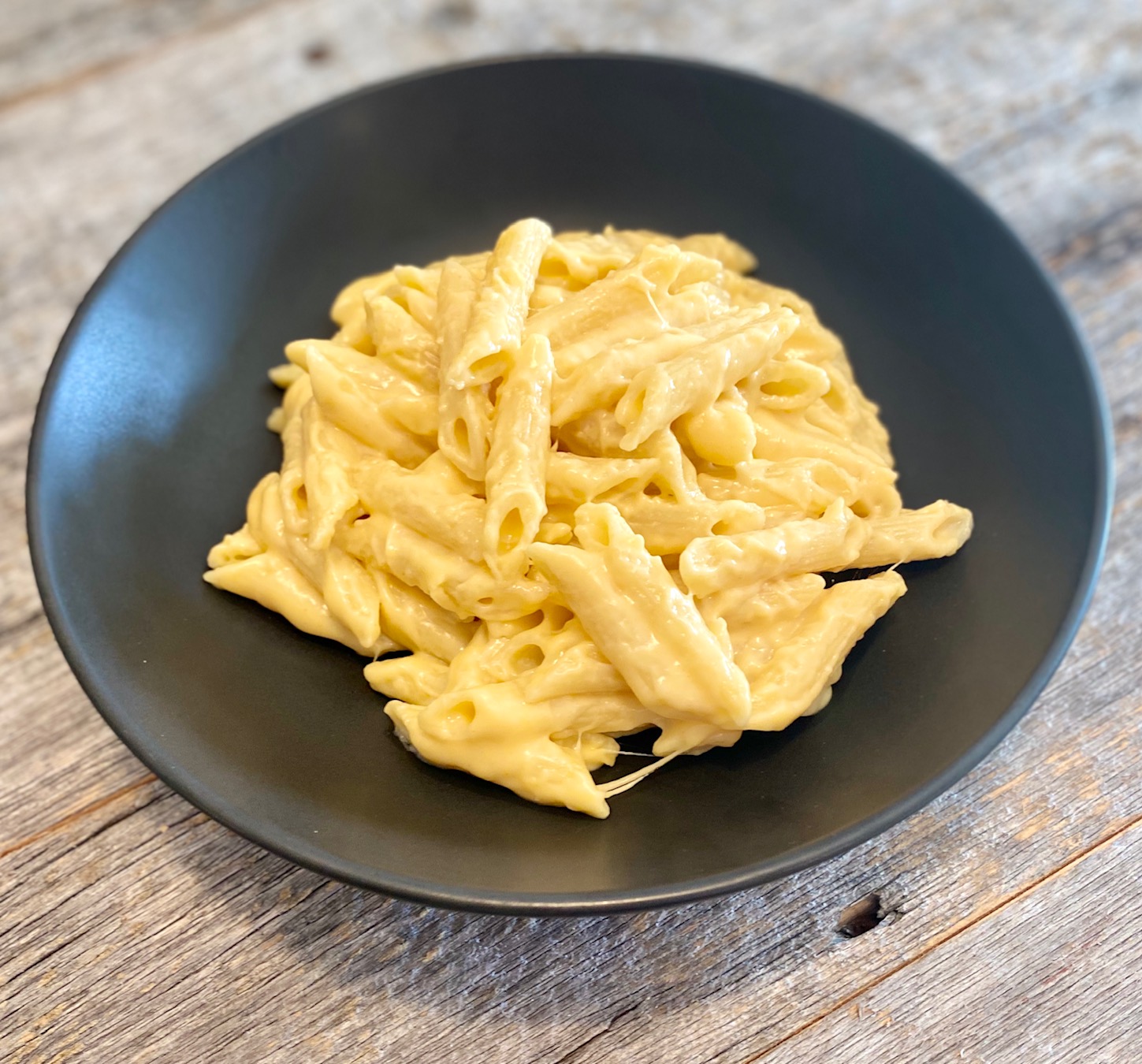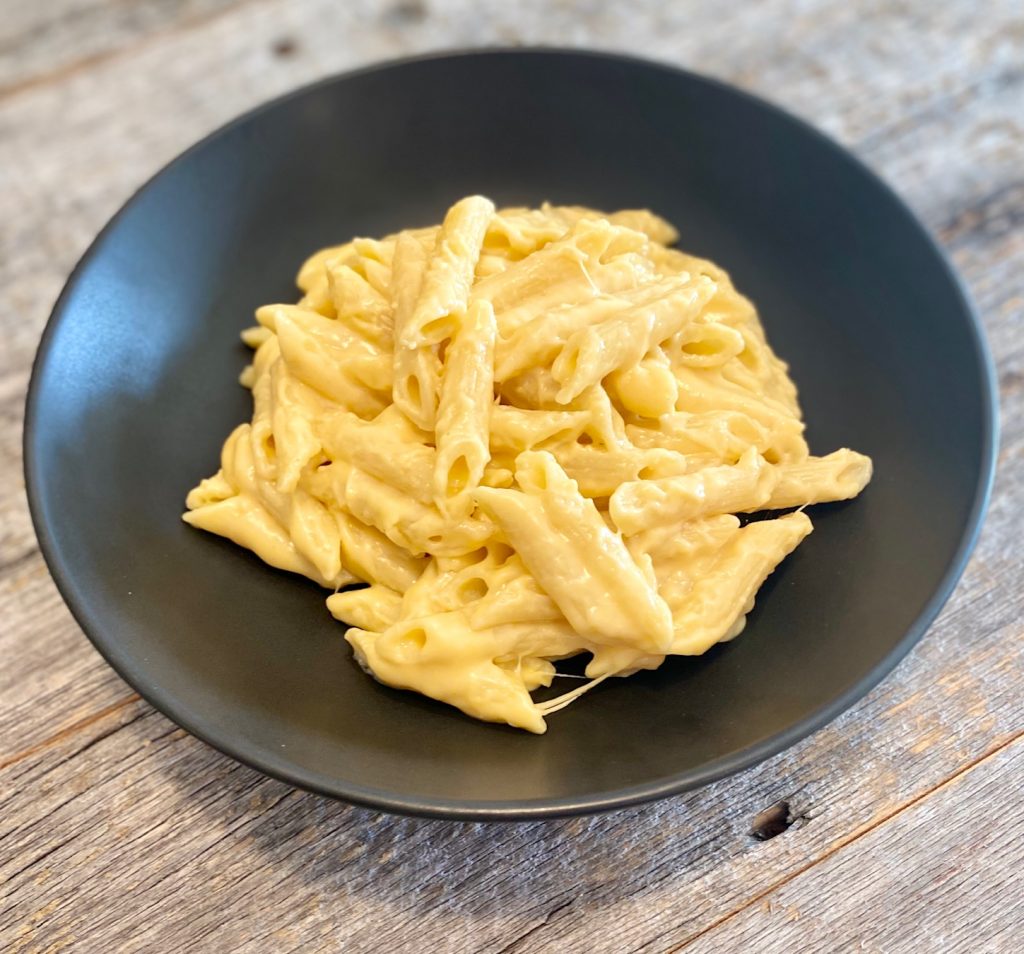 Reheating and Storing Homemade Mac and Cheese:
Mac and Cheese will keep in the refrigerator for 3-days and in the freezer for 3-months. When you reheat it add about 1 Tablespoon milk per cup of cooked mac and cheese to keep it creamy.
Great Main dishes to serve with Mac:
Mac and Cheese is perfect as a side dish too! Here are some pairings: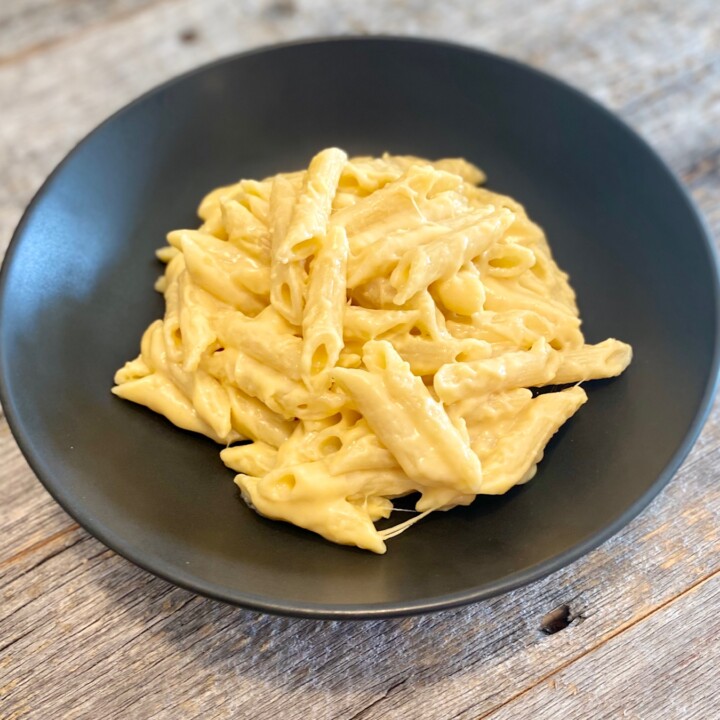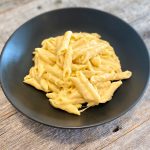 Print Recipe
Homemade Macaroni and Cheese Recipe
This Homemade Macaroni and Cheese Recipe is super creamy with 3 kinds of cheese. Easy to make on the stove or bake. And, you can freeze the leftovers!
Ingredients
1

lb

pasta,

cooked slightly less than al dente, and drained

½

cup

butter

½

cup

flour

2

tsp

paprika

16

oz.

milk

1

Tbsp

dijon mustard

10

ounces

shredded cheddar cheese

(about 2 cups), divided

½

cup

fresh grated Parmesan Cheese

½

cup

Gruyere cheese, shredded

Salt and freshly ground black pepper

to taste
Optional Topping for Baked Macaroni and Cheese:
½

cup

breadcrumbs or panko,

1

Tbsp

butter, melted
Instructions
Preheat oven to 350°F.

If baking lightly butter a rectangular 8" x 12" baking dish.

Cook pasta, per box instruction, to slightly less than al dente for baked mac and cheese, or al dente for stove top version.

Drain and hold.

Melt butter in a large pan over medium-high heat. Whisk in flour and paprika, and stir constantly until slightly thickened, about 1 minute.

Gradually whisk in milk and cook until thickened, about 4-5 minutes, stirring continuously. Mixture should be thick and smooth.

Blend in the Dijon mustard.

Stir in 1 ¾ cup cheddar cheese, Parmesan, and Gruyere. Mix until melted and smooth.

Stir in cooked pasta, mix to coat and season with salt and pepper, to taste.

If baking spread mixture into a prepared baking dish.

If serving as stovetop mac and cheese simply serve, as is.

If baking, combine breadcrumbs or panko with 1 tablespoon of melted butter. Sprinkle mac and cheese with remaining cheddar cheese and prepared bread crumbs or panko.

Cook for about 25 minutes, or until bubbly, and bread crumbs look toasted. If bread crumbs start to get too dark, cover the pan with foil.

Let rest for about 10 minutes before serving.
Nutrition
Calories:
595
kcal
|
Carbohydrates:
55
g
|
Protein:
24
g
|
Fat:
31
g
|
Saturated Fat:
19
g
|
Trans Fat:
1
g
|
Cholesterol:
88
mg
|
Sodium:
439
mg
|
Potassium:
283
mg
|
Fiber:
2
g
|
Sugar:
5
g
|
Vitamin A:
1031
IU
|
Vitamin C:
2
mg
|
Calcium:
509
mg
|
Iron:
2
mg