Grilling on a cedar plank says "Summer is here!" Especially when you pair it with a crisp chilled French Rose! Our favorite fish to grill on a cedar plank is salmon. Our favorite type of salmon is King Salmon, but other types of salmon will work, as well.
We decided to up our game by adding small lobster tails to the plank. It's summer – why not?! Top your fish with a compound garlic herb butter for amazing results.
Cooking salmon on a cedar plank is one of the easiest ways to infuse a soft smoky flavor. The salmon stays tender on the inside because you are cooking it over indirect heat, but has a lovely roasted flavor on the outside. You can substitute the salmon or lobster with jumbo scallops, jumbo shrimp, cod, or halibut. Don't hesitate to try it with pork, chicken, or large cuts of vegetable such as zucchini or tomatoes.
Jump to Recipe
Preparing your cedar plank:
We normally soak the cedar plank in a combination of water and a little white wine, cider or sake to give it a little extra dash of flavor. You will need to plan slightly ahead and soak the plank for 30-minutes to 2 hours.
Cedar planks are available online, at hardware stores, or at some grocery stores. We get ours on Amazon: https://amzn.to/32KgalR
Compound butter is one of the easiest ways to upgrade any recipe. You can make a big batch of compound butter and freeze it, so you will always have some on hand. For today we made just enough for this recipe. Make sure your butter is softened ahead of time. This recipe also uses a Potlatch seasoning that really amps up the flavor. Sprinkle this on any type of chicken or fish for a zesty flavor. Click here for the full Potlatch recipe: https://theartoffoodandwine.com/potlatch-seasoning/
The amount of time your salmon is on the grill depends on the size and thickness of your fillet. We have had the best results with a larger piece, that you cut later, but if you only have smaller fillets on hand just cook for a shorter amount of time.
Suggested Wine Pairings
This dish pairs well with a full-bodied white wine like a Chardonnay, or a crisp fruity Rose, and a lively fruity Pinot Noir. Look for any available vintages of the following:
Your weekday wine:
Chateau de Fabregues Costieres de Nimes Rose, France
Your weekend wine:
Testarossa Santa Lucia Highlands Chardonnay, California
A special occasion wine:
Cristom Louise Pinot Noir, Oregon
Cakebread Reserve Chardonnay, Napa Valley
Potlatch Seasoning on Salmon

Garlic Lemon Compound Butter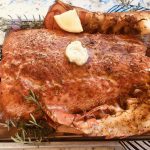 Print Recipe
Grilling on a Cedar Plank Recipe
Grilled salmon is an easy summertime recipe and an easy way to infuse a soft smoky flavor to any type of fish. We added a few small lobster tails but these are optional, of course, and a garlic compound butter to finish. The Potlatch seasoning pairs well with the salmon.
Includes 2 hours of soaking for cedar plank
15
mins
Ingredients
16-20

ounces

Salmon fillet,

Skin on

1

tbsp

Olive Oil

2

tbsp

Potlatch Seasoning,

or herb of your choice

1

tsp

Lemon Zest,

freshly grated

2

cups

water, white wine, sake or cider,

for soaking the plank

1

tsp

sea salt

1

tbsp

black pepper,

freshly ground

2

small

Lobster tails,

Optional
Compound Butter
1/2

cup

Butter,

softened

1

tbsp

Garlic,

crushed

1

tsp

Fresh rosemary or other herbs,

finely chopped

1

medium

Lemon,

cut into wedges for the tables
Instructions
Soak the cedar plank for 2 hours by completely submerging plank in water, wine or cider. You can use a combination of water and wine/cider. Pat dry before using.

Heat a charcoal or gas grill to about 350 F, or medium-high. While the grill is heating up make the compound butter by combining the softened butter with the garlic and herbs. Set aside.

Lightly coat the salmon with a thin layer of olive oil on each side. Place salmon skin-side down on the plank. Rub Potlatch seasoning or herbs, lemon zest, salt, and pepper into salmon to coat. Add the lobster tails to the plank and brush lightly with remaining olive oil.

Place plank on grill and cover. Start checking for doneness after 12 minutes. Salmon is cooked through when it is uniformly pink in the center. Remove the plank and allow to cool slightly on a cutting board.

Cut the salmon into four equal pieces. Remove lobsters from tails and cut into bite-size pieces. Drizzle with compound butter and a squeeze of lemon over the top. Serve with remaining lemon wedges.