Honey garlic shrimp is a great 30-minute meal that tastes like a million bucks! The honey and soy sauce gives it a deep flavor, while the garlic and hot sauce provide the heat.
Cooking shrimp is always a quick process. This recipe calls for a 20-minute marinating time in the refrigerator. During this time prepare the rest of your dinner and you will have dinner on the table in 30-40 minutes!
Jump to Recipe
Make your honey garlic shrimp marinade:
This marinade comes together in a flash. You could make the marinade ahead of time and reserve in the refrigerator. You will need 2 large lemons to get 4 tablespoons of lemon juice. Adjust the hot sauce to suit your tastes but we think it gives it the extra bit of heat needed.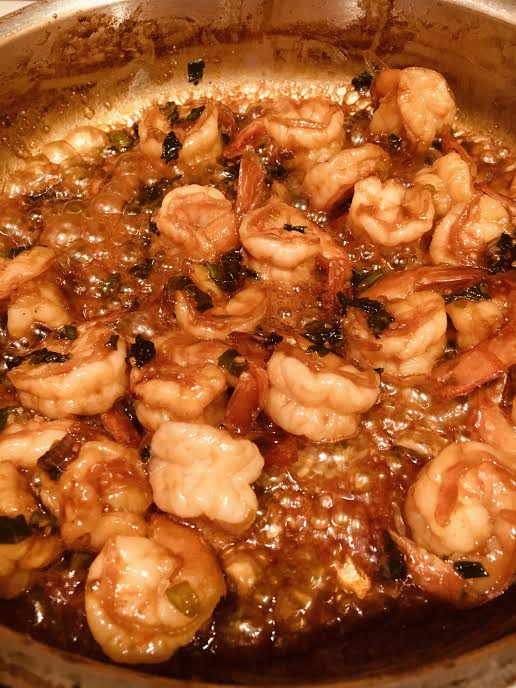 Honey hints to make the best honey garlic shrimp:
Honey is sticky to measure but here is a quick tip: spray your measuring cup or spoon with non-stick cooking spray beforehand and the honey will slide right out!
A bit about shrimp:
Shrimp is versatile so it's a good idea to have frozen shrimp in your freezer for a quick dinner. Look for larger shrimp because they have more flavor and are less likely to overcook. When buying frozen shrimp make sure the package says IQF, which means Individually Quick Frozen. I buy mine deveined to make the prep quicker.
Thaw shrimp in the refrigerator and then rinse and pat dry before using in a recipe. Shrimp can overcook in a minute so keep a close eye on them. Once they turn pink they are ready. Do not wait until the shrimp start to curl, as that means they are already overcooked.
Butterflying shrimp:
Butterfly your shrimp if you want to have more surface area for flavor. (Note: I didn't for this photo). Butterflying along the back is the easiest way. Using a paring knife, hold the shelled shrimp between your thumb and forefinger, set the paring knife right at the tip of the head and then drag it lightly down along the backside of the shrimp, from the head to the tail.
Good Side Pairings:
Add side dishes: steamed rice, roasted broccoli with sesame seeds
Suggestions for Wine Pairings:
This dish pairs well with crisp white or rose wines. Garlic always loves a Sauvignon Blanc and it is a good place to start. Look for any available vintages of the following:
Your weekday wine:
Chateau de Fabregues Costieres de Nimes Rose, France
Blanchet Pouilly Fume Sauvignon Blanc, Loire Valley, France
Your weekend wine:
Rombauer Sauvignon Blanc, Napa Valley
Duckhorn Sauvignon Blanc, Napa Valley
A special occasion wine:
Joseph Phelps Sauvignon Blanc, Napa Valley
Taittinger Brut Champagne, France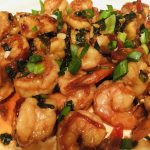 Print Recipe
Honey Garlic Shrimp
Quick dinner: Honey Garlic Shrimp
Ingredients
3

tbsp

soy sauce

⅓

cup

honey

¼

tsp

Hot sauce,

such as Tabasco or Tapatio

4

tbsp

lemon juice

1

tbsp

garlic,

crushed

1½

lbs

Large shrimp,

peeled and deveined

2

tbsp

butter

4

scallions,

sliced on the bias
Instructions
Marinade:
In a large bowl combine soy sauce, honey, hot sauce, lemon juice, and garlic

Add shrimp, mix to coat, and marinate in the refrigerator for about 20-30-minutes. Do not over marinate the shrimp or it will become tough.
Cooking Method:
Heat a non-stick pan to medium-high heat. Add butter and heat until foamy. Pour in half of the marinade and cook about 2 minutes until the marinade starts to thicken.

Add the shrimp and remaining half of marinade. Cook for about 4 minutes, stirring frequently.

Add half scallions and stir just to coat, about 1 minute.

Remove from pan, scatter with the remaining scallions and serve.