Our Coconut Shrimp Recipe is a sweet spicy favorite that will make you feel like you are on a tropical vacation
The truth is, making Coconut Shrimp at home is so easy! They make a delicious appetizer or entrée. You will want to make these crispy, crunchy, succulent shrimp all the time and dip them in our Sweet Chili Sauce Recipe for a pop of extra spicy flavor.
How to butterfly fresh shrimp
Why should you butterfly shrimp? The simple easy answer is it allows the shrimp to grill or sauté evenly. It also allows for more area of the shrimp to be covered by seasoning. More seasoning means more crispy, crunchy, coconut flavors. The added bonus for your guests is it provides a unique and lovely presentation.
Here are the simple steps to butterfly shrimp:
First – Clean, remove the shell, and remove the vein. I prefer to purchase shrimp that have the shells removed and have been deveined because it makes for an easier, quicker overall process and saves so much time.
Second – There are 2 ways to butterfly a shrimp: from the front or the back. I like the presentation when it's butterflied from the front. Begin by making a lengthwise incision in the shrimp starting at the tail and proceeding evenly through the shrimp. Take care to not cut through the shrimp but allow the end result to resemble a beautiful butterfly with outstretched wings.
Third – Rest butterflied shrimp in an ice bath while you prepare the rest of the shrimp. Once this process is finished you are ready to season and dredge shrimp. The process of butterflying will allow for a more evenly cooked shrimp.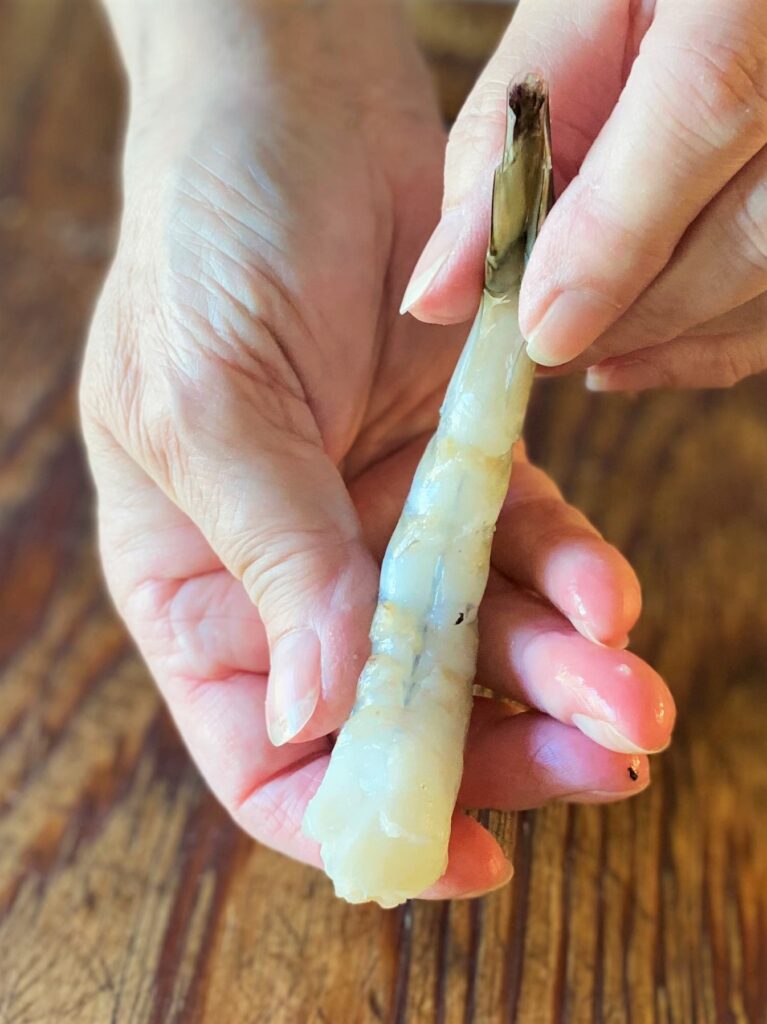 Best shrimp to use for Coconut Shrimp?
We actually use large prawns for our recipe because they come in a larger size. However, you can also use large shrimp, but be sure to purchase the shrimp labeled 16/20 (jumbo) or 10/15 (Colossal). If you use smaller shrimp or prawns they will quickly over cook, so we don't recommend it.
Ingredients for Coconut Shrimp Recipes
Large shrimp or prawns – (16/20 or 10/15's)
All purpose flour
Salt
Pepper
Garlic powder
Eggs
Panko bread crumbs
Sweetened shredded coconut
Coconut oil
Chopped chives and lemon wedges for garnish
What is the difference between Panko and Breadcrumbs?
We only use Panko for our Coconut Shrimp. Panko is a lighter, crunchier, flakier type of breadcrumb.
It absorbs much less oil than regular breadcrumbs because it is made from crustless white bread that is dried and processed into fine slivers. The result is a lighter and airier texture than most regular bread crumbs which helps it quickly crisp as it cooks.
Panko is ideal for frying but also great as a light topping for cooked casseroles such as our Macaroni and Cheese.
It's a great binder for foods like meatballs and veggie burgers, and we use it in our Crab Cakes, which keeps them light and flavorful without feeling heavy.
Breadcrumbs and panko can be used interchangeably in most recipes, but keep in mind, most panko is sold unseasoned so you can season it yourself.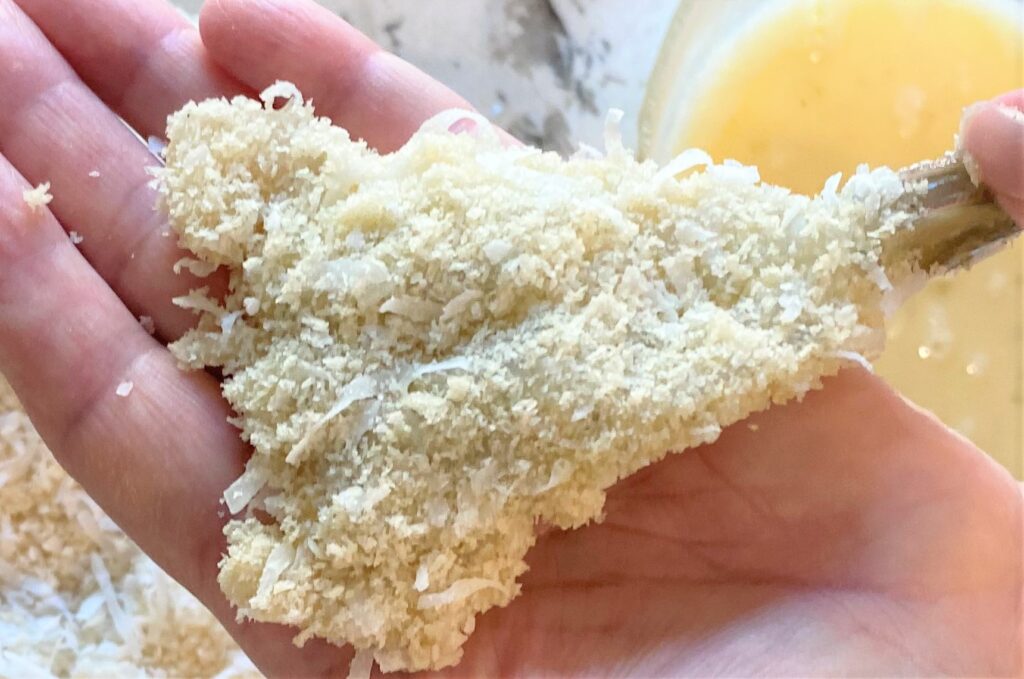 How do you make Coconut Shrimp Recipe from scratch?
Our Coconut Shrimp recipe uses a 3-step seasoning process.
Set up three shallow bowls for dredging the shrimp before cooking.
First Bowl – whisk together flour, salt, pepper and garlic, and mix well
Second bowl – beat 2 eggs until well combined
Third bowl – combine panko crumbs and shredded sweetened coconut, and mix well
Seasoning Shrimp
Below is the process for preparing the shrimp and the photos with more details
First Bowl – Hold the butterflied shrimp by the tail and dredge in the flour mixture. Make sure to pat both sides to insure it is fully covered. Shake off excess flour.
Second Bowl – Next, dredge shrimp in the egg mixture along front and back taking care to make sure you have full coverage.
Third Bowl – Coat the shrimp in the panko and coconut mixture. This step is important and you want to make sure the shrimp is fully covered with mixture. More mixture means more crispy, crunchy and yummy coconut flavor!
Cook immediately for best results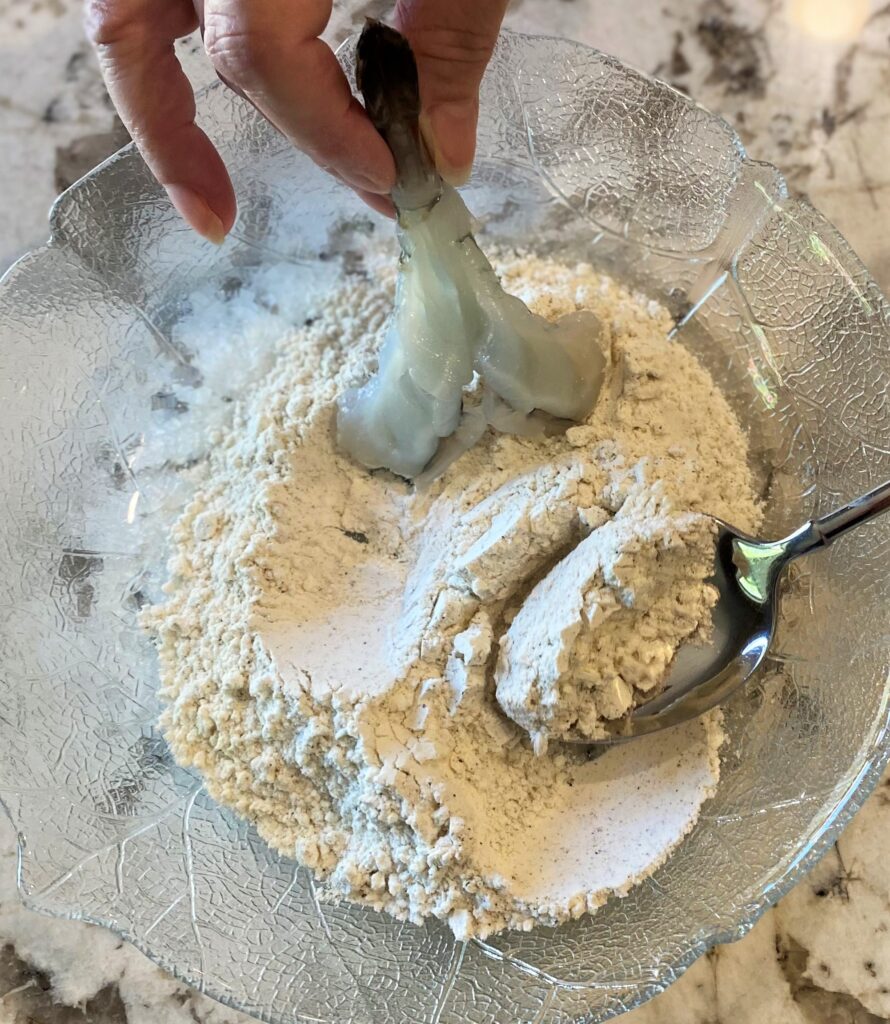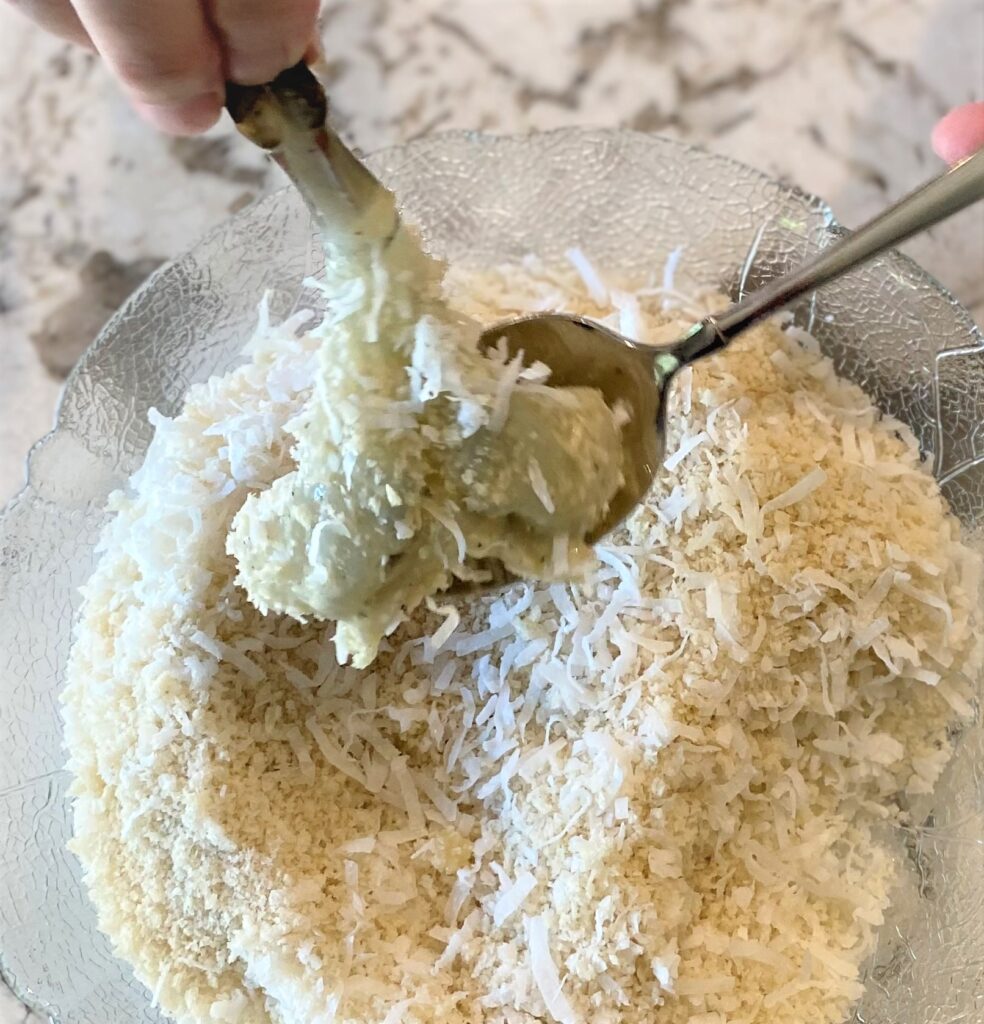 Cooking Coconut Shrimp
In a large fry pan fill the bottom of the pan with coconut oil. You can you use other oils, however coconut oil will give the shrimp a light, crisp non-oily finish. Once you go coconut oil you will never go back!
Heat oil on medium high and begin cooking shrimp in batches.
Working in batches place about 6 to 7 seasoned shrimp into the heated oil.
Cook for 2 to 3 minutes to give the desired browning. Turn and cook for additional 2 to 3 minutes.
Cooking for 2 minutes results in a lighter browning. 3 minutes of cooking will allow for a darker browning.
Remove from the oil and drain on a paper towel while you cook the remaining batches.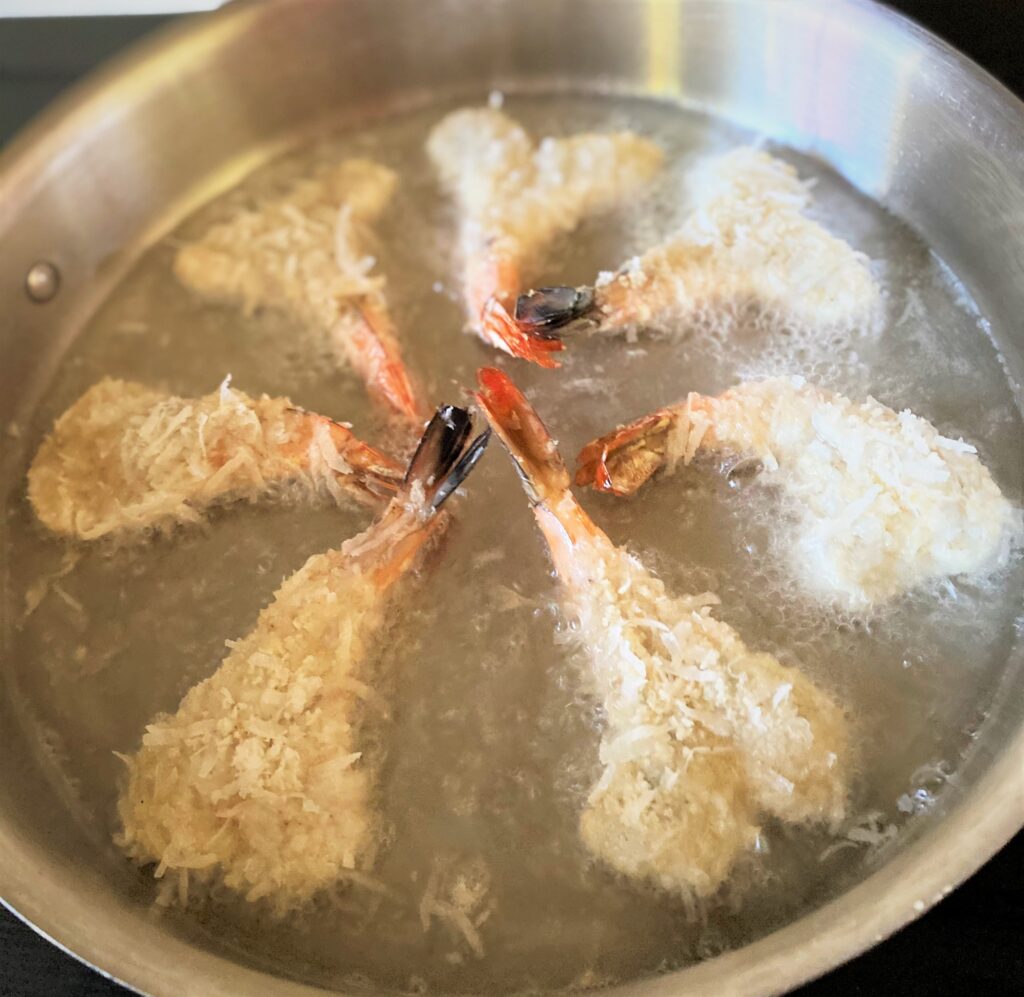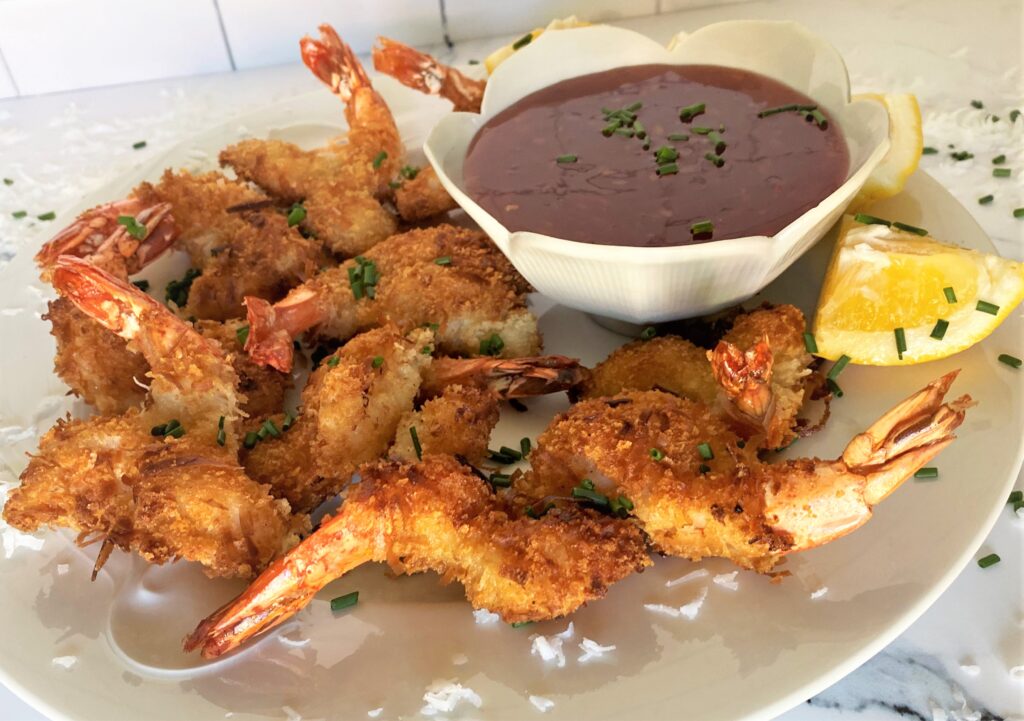 What should I serve with Coconut Shrimp?
Coconut Shrimp is versatile and pairs well with so many dishes! I enjoy them as an entrée with a crisp fresh summer salad.
The perfect dipping sauce for these shrimp is our Sweet Chili Sauce Recipe, but our Pineapple Salsa Recipe is a great complement too. Both the sauce and the salsa recipes are easy to make and take this shrimp to the next level!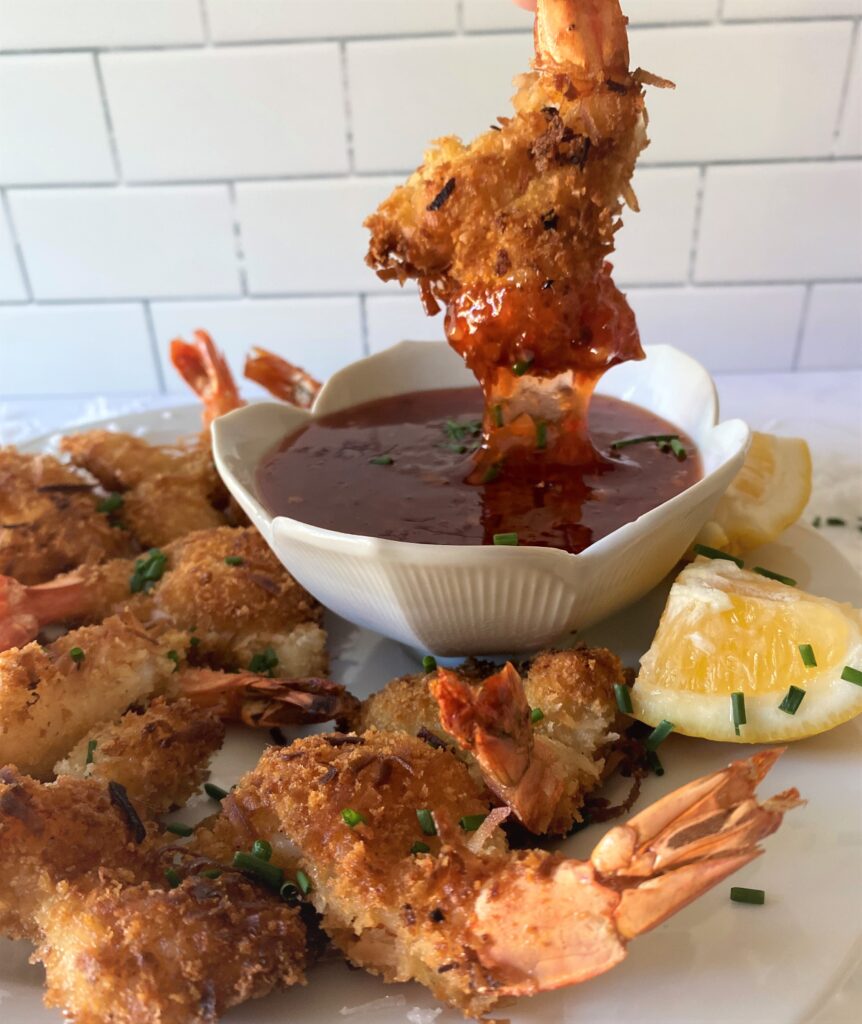 Serve these great salads alongside Coconut Shrimp
Looking for a cocktail to complement these mouthwatering prawns?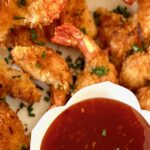 Print Recipe
Coconut Shrimp Recipe
Our Coconut Shrimp Recipe is a sweet spicy favorite that will make you feel like you are on a tropical vacation. The truth is making Coconut Shrimp at home is easy.
Ingredients
½

cup

all purpose flour

1

cup

panko bread crumbs

1

cup

sweet shredded coconut

2

eggs, beaten

½

tsp

salt

½

tsp

pepper

½

tsp

garlic powder

coconut oil, to fill the bottom of the fry pan with oil

16

ounces

Large shrimp or prawns, shelled, deveined and butterflied

size 16/20 or 10/15
Instructions
Start by butterflying the shrimp. Start by making a lengthwise incision in the shrimp. Start at the tail proceeding evenly through the shrimp. End result will resemble a butterfly with out stretched wings.

Place shrimp in ice water while you finish butterflying shrimp.

Set up three shallow bowls for dredging the shrimp in seasonings.

Bowl 1 – combine flour, salt, pepper and garlic, and mix well

Bowl 2 – beat 2 eggs well

Bowl 3 – combine panko crumbs and shredded sweetened coconut, mix well

Holding butterflied shrimp by the tail dredge with flour mixture. Making sure to pat both sides to made sure it is fully covered. Shake off excess.

Next, dredge with egg mixture front and back taking care to make sure you have full coverage.

Dredge shrimp with the panko, coconut mixture. This step is important and you want to make sure the shrimp is fully covered with mixture. The more mixture the more crispy, crunchy and yummy coconut flavor.

In a large fry pan, fill the bottom of the pan with coconut oil. Heat oil on medium high and cook shrimp in batches.

Working in batches place about 6 to 7 seasoned shrimp into oil. Cook for 2 to 3 minutes to give the desired browning. Turn and cook for additional 2 to 3 minutes until desired browning.

Cooking for 2 minutes gives a lighter browning. 3 minutes will allow for a darker browning.

Remove from oil and drain on a paper towel while you cook the remaining batches.

Garnish with Chopped Chives and serve with lemon wedges
Nutrition
Calories:
376
kcal
|
Carbohydrates:
34
g
|
Protein:
30
g
|
Fat:
13
g
|
Saturated Fat:
8
g
|
Polyunsaturated Fat:
2
g
|
Monounsaturated Fat:
1
g
|
Trans Fat:
1
g
|
Cholesterol:
368
mg
|
Sodium:
1372
mg
|
Potassium:
251
mg
|
Fiber:
2
g
|
Sugar:
11
g
|
Vitamin A:
120
IU
|
Vitamin C:
5
mg
|
Calcium:
212
mg
|
Iron:
5
mg