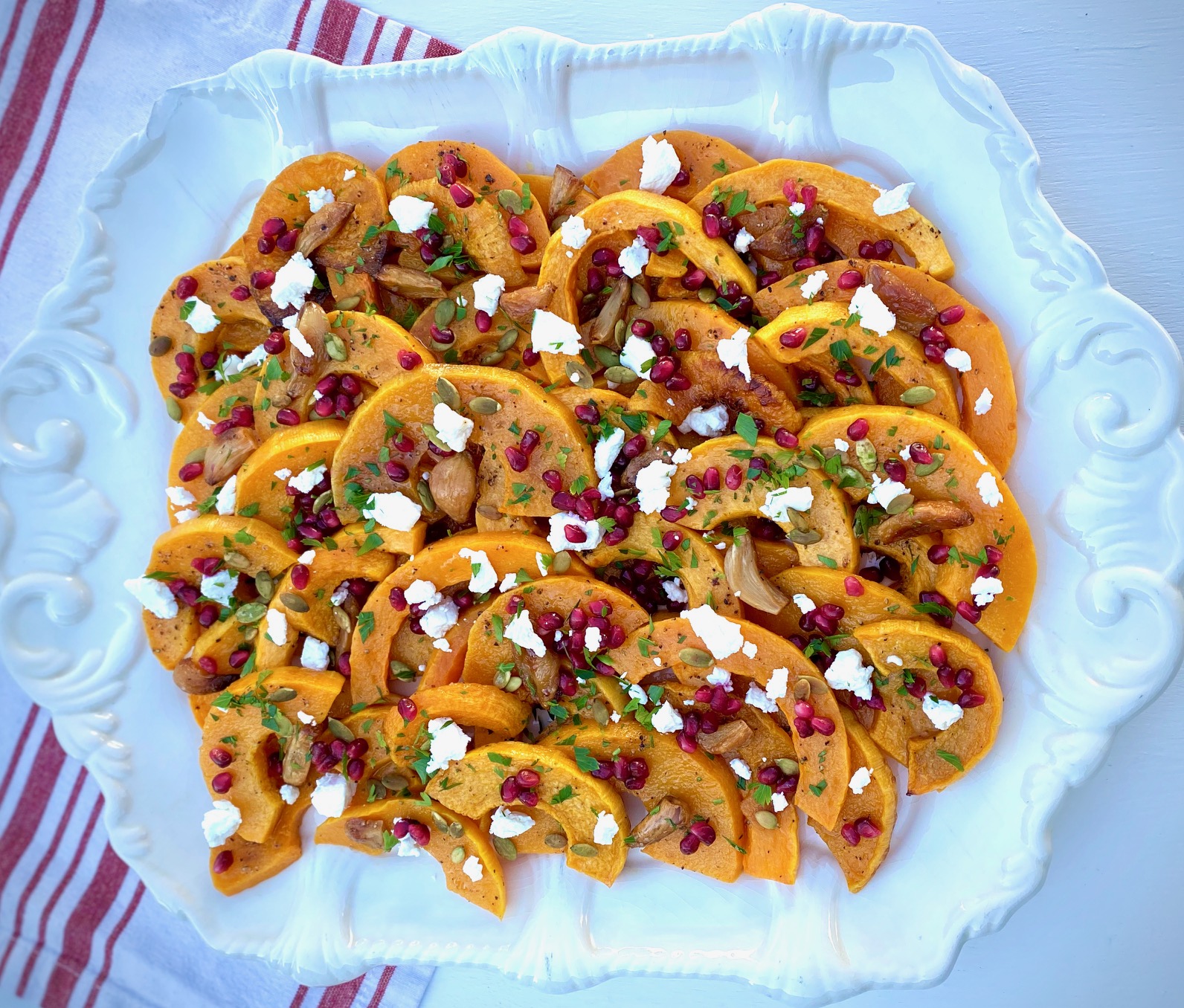 Roasted Butternut Squash with Pomegranate, Goat Cheese and Pumpkin Seeds is like a taste of Fall
This will be the star of your holiday dinner
Just 7 simple ingredients are all you need to create a showstopping side dish that also tastes fantastic and is packed with vitamins and nutrients.
This post may contain affiliate links. Read our disclosure policy.
Fall is Butternut Squash season and there are so many ways to create new dishes. This squash has a sweet nutty flavor with a hint of butterscotch to it. It pairs well with both sweet and savory spices and garnishes, and roasting brings out the caramel flavor. This recipe is a little sweet and a little savory!
Ingredients for Roasted Butternut Squash with Pomegranate and Goat Cheese: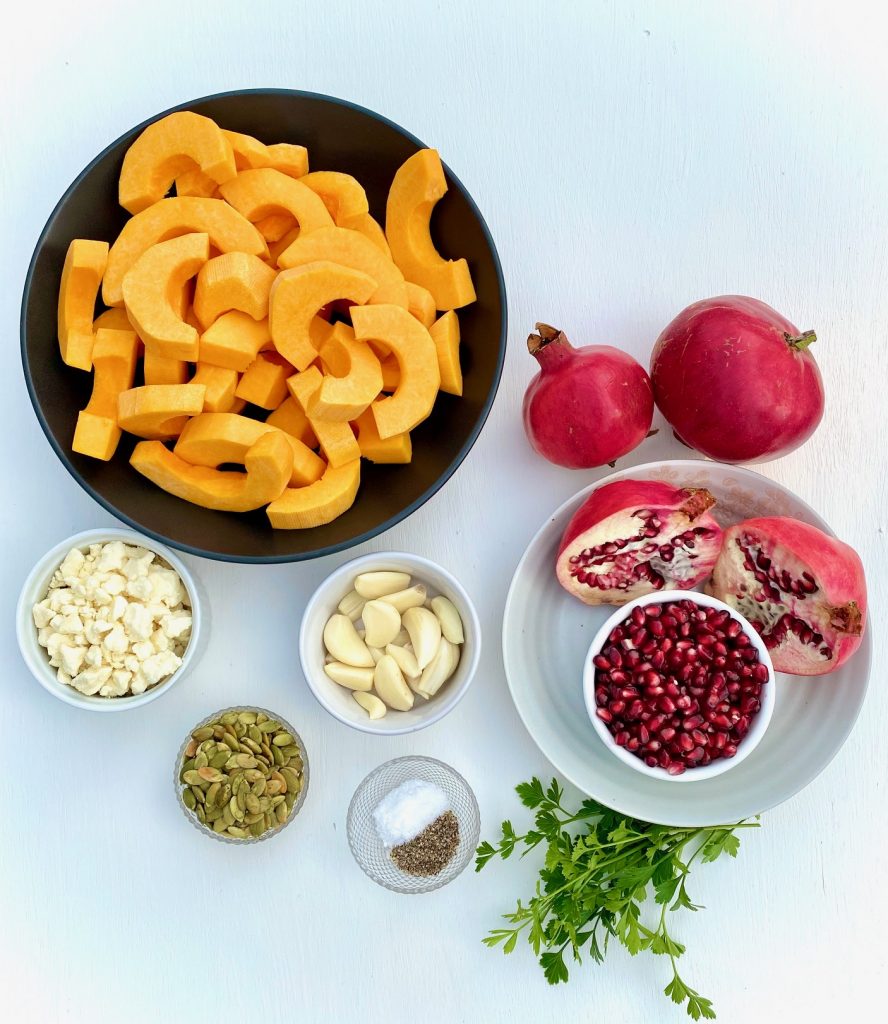 Butternut Squash – peeled, seeded, and sliced
Pomegranate Seeds, also called arils
Goat Cheese or Feta Cheese, crumbled
Pumpkin Seeds, lightly toasted
Garlic Cloves
Italian Parsley
Olive Oil or Coconut oil
Salt and Pepper
How to Peel, Cut and Seed a Butternut Squash:
Butternut squash has a thick skin so you will need to peel it before roasting. We have easy instructions to guide you. In this link, our guide will make sure you can safely cut the squash.
Because the shape is odd you will cut the stems off on both ends to begin. Then you will cut in two equal pieces. By starting this way you can lay the squash flat on each end to safely cut and peel.
Once you have peeled the squash you will need to slice in half again the length of the squash.
Scoop out the seeds and discard them.
Lay squash quarter flat side down and cut into slices.
How to Peel, Cut and Seed a Butternut Squash
How to Seed a Fresh Pomegranate:
Pomegranate seeds are also referred to as "arils". These tart and sweet seeds are the perfect contrast to butternut squash and goat cheese. The seeds are sold chilled in most produce sections in small cups, but it is easy to de-seed a fresh pomegranate in your own kitchen.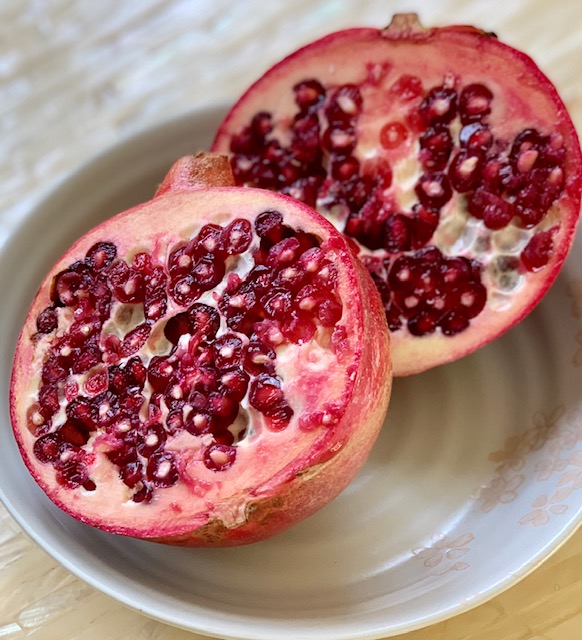 Here are the 3 steps to de-seed a fresh pomegranate:
Cut off the crown and then cut into 2 sections
Place the sections in a bowl of water and gently loosen the seeds with your fingers
Discard everything but the seeds and strain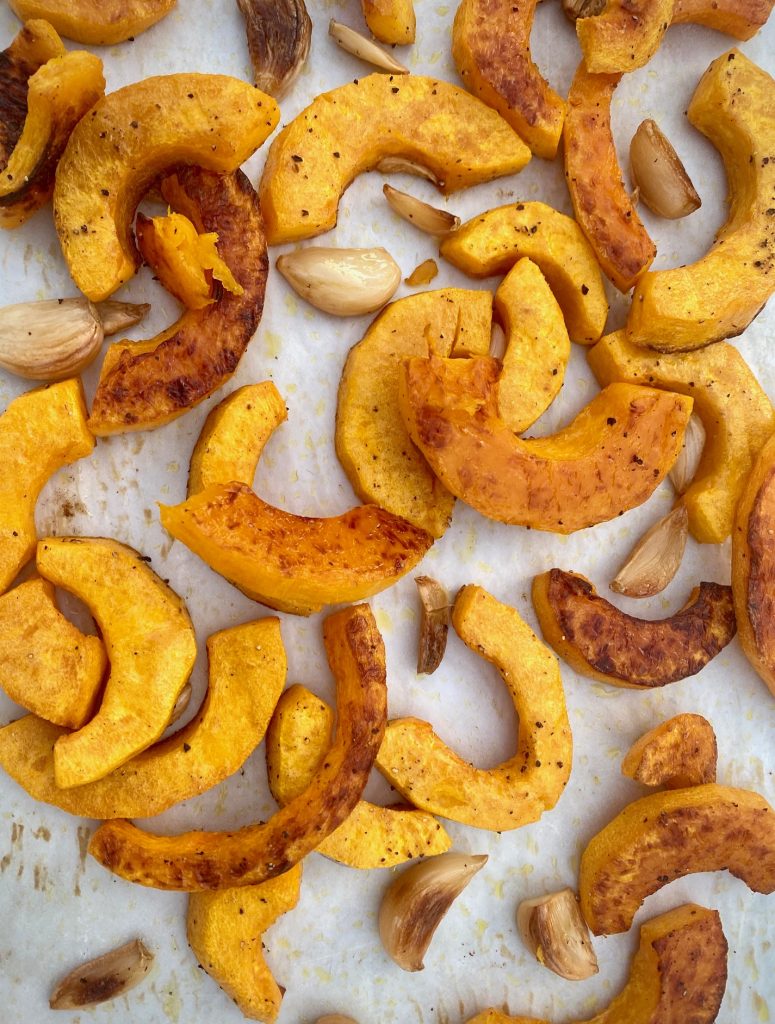 Baked Butternut Squash with Garlic
How to Roast Butternut Squash:
Prep 2 baking sheets by lining them with parchment paper, Silpat mats, or foil and preheat oven to 375°F
Peel and prep the butternut squash
Separate and peel a whole clove of garlic. Be sure to remove all of the papery skin
Combine the butternut squash, peeled garlic cloves, salt, and pepper in a large bowl and gently coat with the olive oil
Arrange the slices in a single layer on the lined baking sheets
Roast for 35-40 minutes or until the squash and garlic are softened and golden brown. The squash should be lightly caramelized.
While the squash is baking, crumble the goat or feta cheese, and roughly chop the parsley. Set aside.
Clean and rinse the pomegranate seeds
Toast the pumpkin seeds in a dry skillet. Pumpkin seeds can burn quickly so shake the pan frequently. It should only take about 3-4 minutes.
Once squash and garlic are cooked, move to a large platter. Sprinkle with pomegranate seeds, cheese, pumpkin seeds, and parsley.
Serve warm
What flavors go well with roasted butternut squash?
Butternut squash is actually a fruit but is treated culinary-wise like a vegetable. A variety of Fall spices work with most squash, such as:
Cinnamon, Nutmeg, Cayenne, Sage, Cumin, and Garlic
If you love it sweet add brown sugar or maple syrup
Common substitution ideas:
You can easily swap out Delicata or Acorn squash for the butternut squash, and you don't have to peel the skin on either of those choices.
If you are crunched for time buy pre-cut cubed squash, pre-packaged pomegranate seeds, and pre-peeled garlic cloves
Other Butternut Squash recipe ideas:
Our easy vegetarian Butternut Squash Soup
Use baked pureed squash in muffins, bread, and pie
Saute squash pieces with sweet or savory spices
Love pomegranate seeds and goat cheese? Check out these delicious recipes: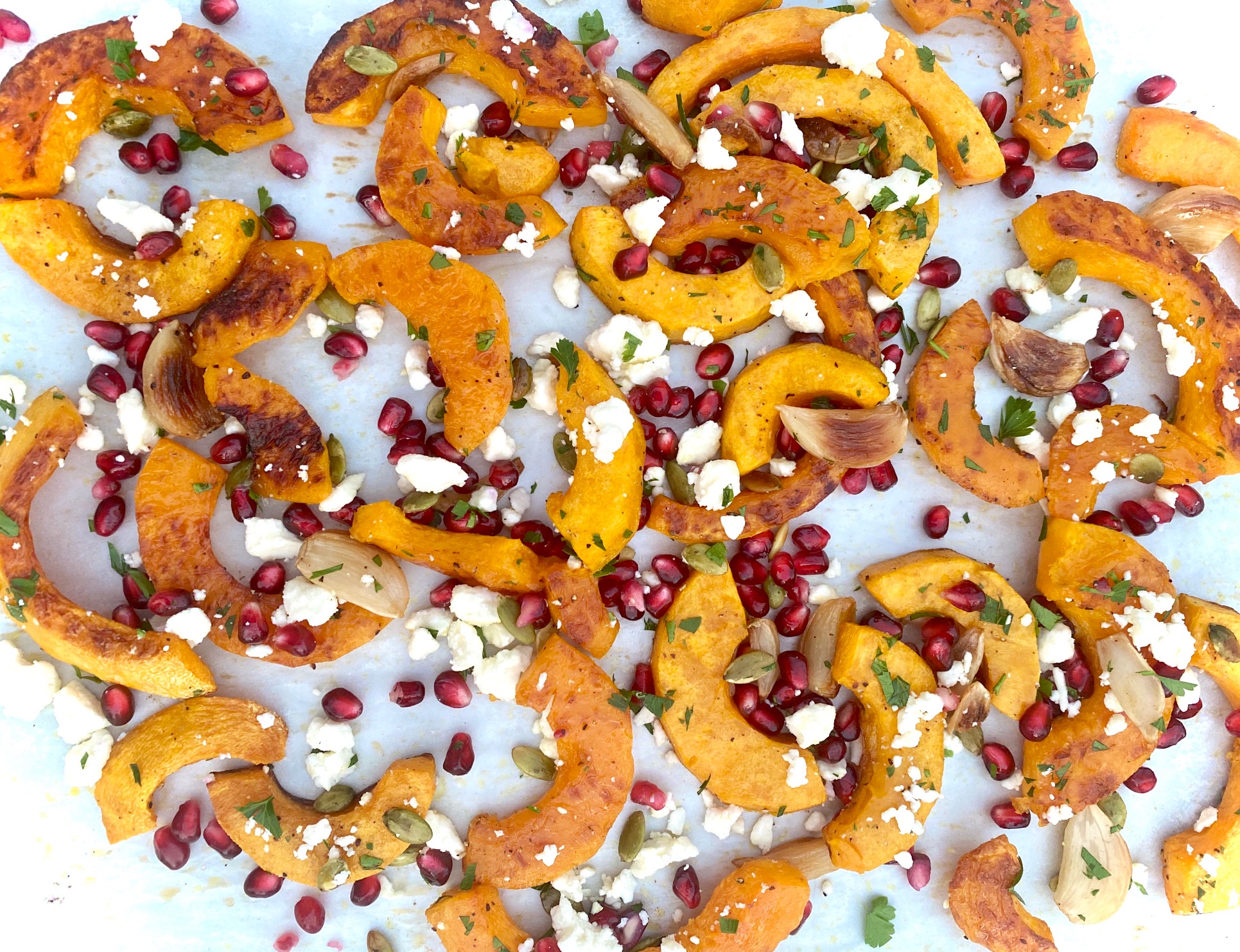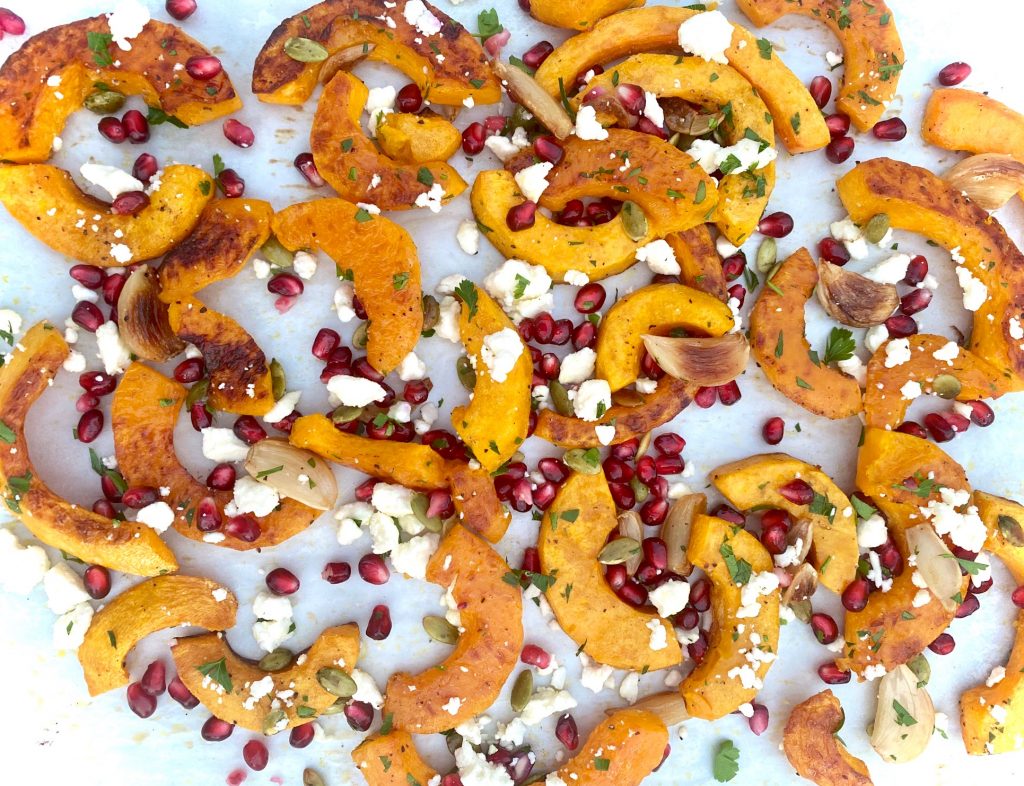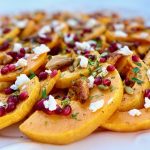 Print Recipe
Roasted Butternut Squash with Pomegranates and Goat Cheese
Roasted Butternut Squash with Pomegranate Seeds, Pumpkin Seeds, and Goat (or Feta) cheese make a delicious and easy side dish. Vegetarian and delicious!
Ingredients
2

medium

Butternut Squash, peeled, seeded, and cut into half moon slices

3

Tablespoons

Olive oil, or melted coconut oil

1

bulb

garlic, peeled and separated into cloves

2

teaspoons

sea salt

1

teaspoons

black pepper

3

tablespoons

roasted pumpkin seeds (pepitas)

½

cup

goat or feta cheese, crumbled

½

cup

pomegranate seeds (arils)

2

tablespoons

Italian parsley, roughly chopped
Instructions
Preheat oven to 375°F and line 2 baking sheets with parchment paper, Silpat or foil

Peel the butternut squash, cut in half lengthwise, and remove seeds. Link to complete instructions in notes below.

Slice into half-moon "C" shaped slices, about ½ inch thick.

Peel garlic bulb, separate into cloves and remove papery skin from each clove

Combine peeled butternut squash slices, garlic cloves, olive oil, salt, and pepper in a large bowl and gently combine to coat. Arrange slices on baking trays in a single layer.

Roast in the oven for about 35-40 minutes. Squash and garlic should be caramelized and lightly brown and softened.

Toast pumpkin seeds in a dry skillet, over medium-low heat, until they begin to smell fragrant, about 3-minutes. Shake pan frequently to prevent burning. Remove from pan immediately and let cool on a paper towel or plate.

Crumble goat or feta cheese. Roughly chop Italian parsley. Set aside.

Clean seeds (arils) from a fresh pomegranate and rinse clean. Set aside.

When squash and garlic are cooked, remove to a large platter. Sprinkle with pomegranate arils, pumpkin seeds, crumbled goat or feta cheese and chopped parsley. Sprinkle with additional salt and pepper to taste.
Nutrition
Calories:
228
kcal
|
Carbohydrates:
33
g
|
Protein:
6
g
|
Fat:
10
g
|
Saturated Fat:
2
g
|
Trans Fat:
1
g
|
Cholesterol:
7
mg
|
Sodium:
905
mg
|
Potassium:
945
mg
|
Fiber:
6
g
|
Sugar:
8
g
|
Vitamin A:
26689
IU
|
Vitamin C:
56
mg
|
Calcium:
127
mg
|
Iron:
2
mg