Shaved Brussel Sprout pomegranate salad with crisp apples is dressed with a tangy Champagne vinaigrette
Easy and colorful Brussel Sprout salads make a light lunch or a side dish for dinner
Shaved Brussel Sprouts make a great salad because they have so much texture combined with a gorgeous green color.
Buying and preparing shaved Brussel Sprouts
Fresh Brussel Sprouts are sold loose or in bags, and are normally already cleaned, but be sure to give them a quick rinse. You can buy them pre-shredded but it is easy to shred them at home, and they taste fresher.
It's important to clean and then trim the stems of the Brussel Sprouts, and also remove any of the discolored leaves.
Shaving raw Brussel Sprouts is easy with a food processor, but you can always use a mandolin or slice with a sharp knife.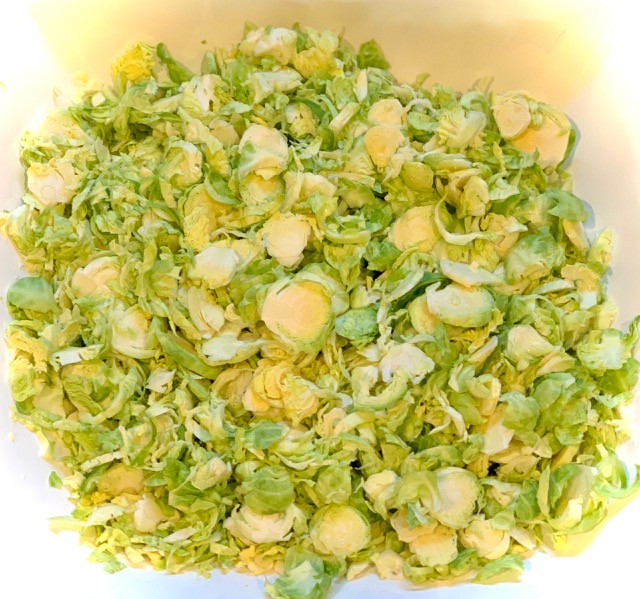 Brussel Sprouts can begin to discolor pretty quickly after trimming so use right away, or plunge into a bowl of cool water and then dry when ready to use. I like to use my salad spinner to get a quick dry. Alternately, store in a sealed bowl or bag in the refrigerator for up to 5 days.
Pomegranates: How to de-seed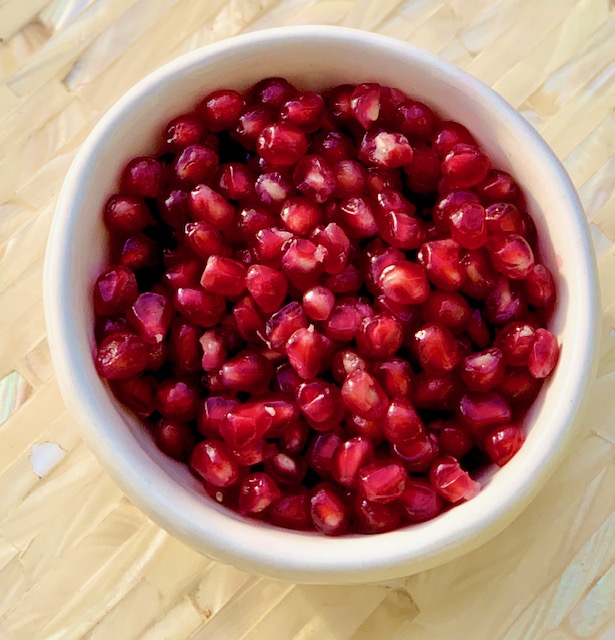 A Pomegranate seed is also referred to as arils. They are available in most produce sections in small cups, but it is super easy to de-seed a pomegranate in your own kitchen. Here are the 3 steps:
Cut off the crown and then cut into 2-4 sections
Place the sections in a bowl of water and gently loosen the seeds with your fingers
Discard everything but the seeds and strain
Which type of apples to use?
Honeycrisp apples are perfect for this Shaved Brussel Sprout Pomegranate Salad because they are super crisp, have beautiful reddish skin, and a sweet taste. Any crisp apple will work for this salad though.
Finishing with a Champagne Vinaigrette
Our classic Champagne Vinaigrette is the ideal dressing for this salad because it has a tart flavor that marries well with the pomegranate seeds. However, you can use any vinaigrette.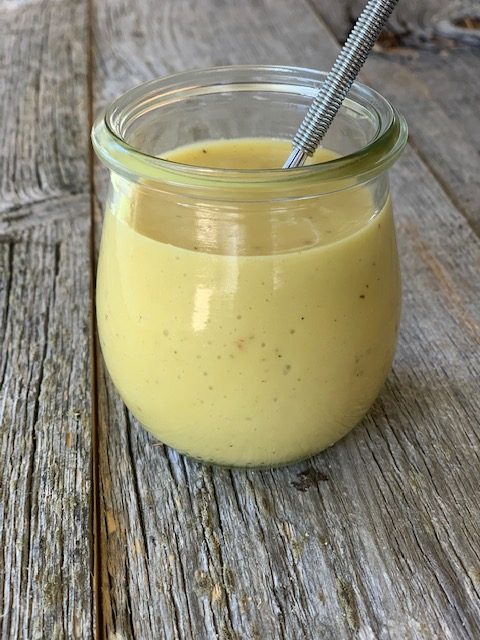 Ideas for add-ins:
This salad makes a great light lunch, but adding protein will make it a complete meal. Our Salmon with Dill or some shredded chicken both pair very well.
Other additions could include nuts such as walnuts, pine nuts or pecans, and a sharp crumbly cheese like feta or gorgonzola.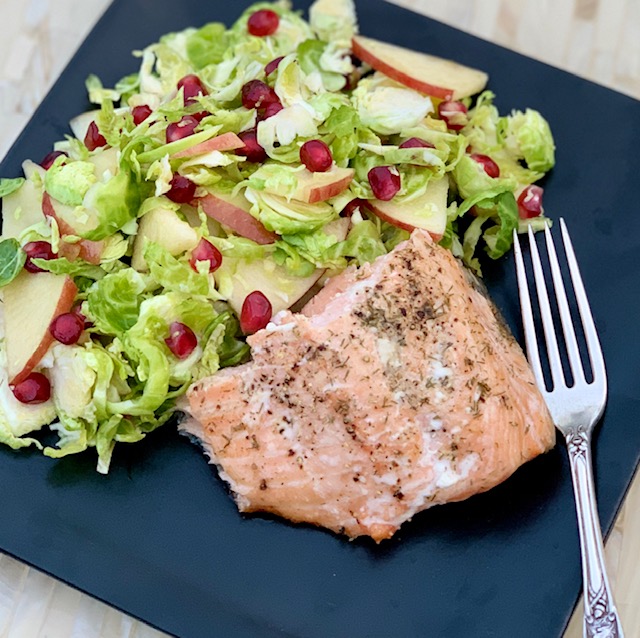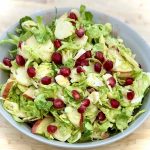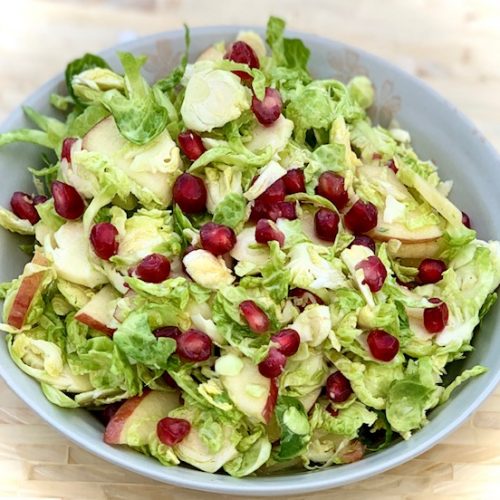 Print Recipe
Shaved Brussel Sprout Pomegranate Salad
Shaved Brussel Sprout Salad with pomegranate seeds and tart apples is dressed with a tangy Champagne vinaigrette for a light and colorful salad
Ingredients
16

oz

fresh Brussel Sprouts, shaved

½

cup

pomegranate seeds

1

large

apple, thinly sliced

Honeycrisp or other crisp variety

6-8

oz

Champagne Vinaigrette Dressing,

Link to recipe in Notes below
Instructions
Clean Brussel Sprouts and trim ends. Remove any discolored leaves.

Shave Brussel Sprouts in a food processor, with a mandolin, or slice thinly with a sharp knife. If not using immediately, plunge in cold water and dry thoroughly before using.

In a large bowl, gently toss shaved Brussel Sprouts, pomegranate seeds, and sliced apples with the Champagne vinaigrette.