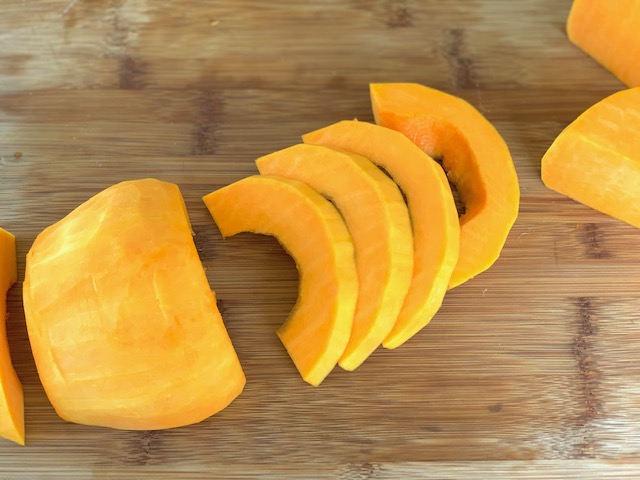 Ready to learn how to cut a butternut squash?
Butternut squash is super versatile and can be used in many different ways. You can buy it pre-cut in the store but it will be fresher if you cut it yourself.
It's more economical to prepare it yourself. Plus, it's easy!
Ready to get started? Just click the "jump to recipe" button or keep reading for more tips and ideas. This post may contain affiliate links. Please see our affiliate disclosure for more details. We only recommend products we love and use.
Butternut squash is almost as popular as pumpkin during the Fall and Winter. It takes about 3 minutes to prep it and you are ready to go!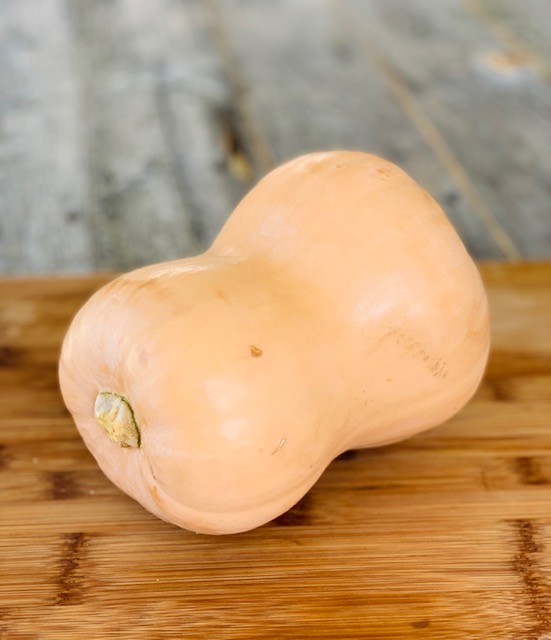 Equipment needed
Large cutting board
Large, heavy sharp knife
A good peeler. I prefer a swivel peeler, but a good Y peeler works equally well.
How to cut a butternut squash
This guide will make sure you safely cut the squash. Here are steps:
1 and 2: Because the shape is odd, cut the stems off on both ends to begin
3 – Cut in two equal pieces and lay the squash flat on each end to safely cut and peel
4 and 5- Once the squash is peeled (step 4) you will slice it in half again (see step 5)
6 – Scoop out the seeds and discard them
7 – Lay the squash quarter flat side down and cut into slices
8 – Cut the slices into cubes, if desired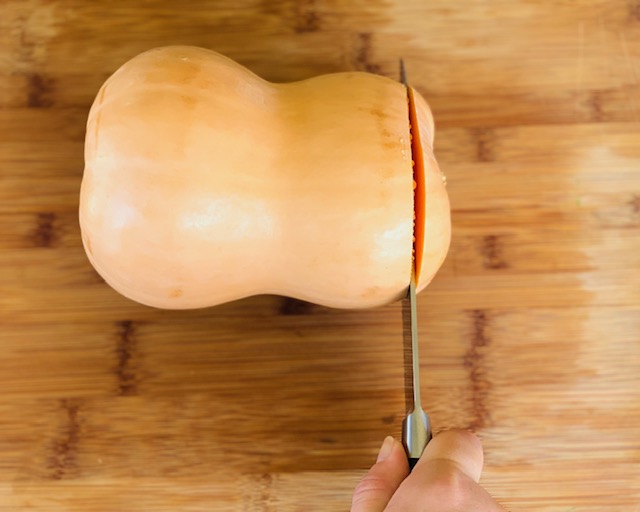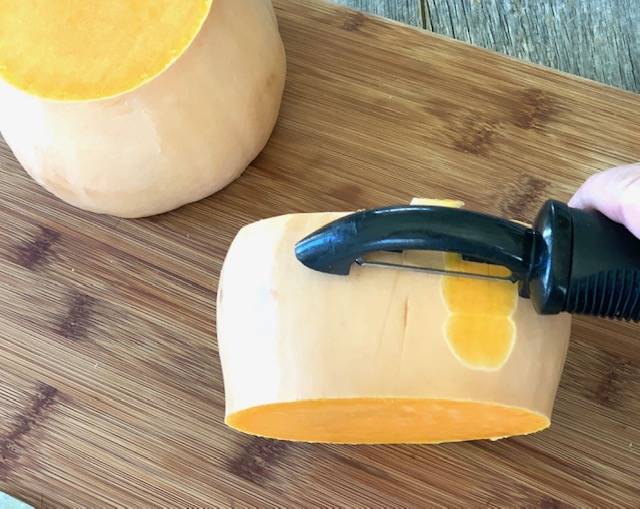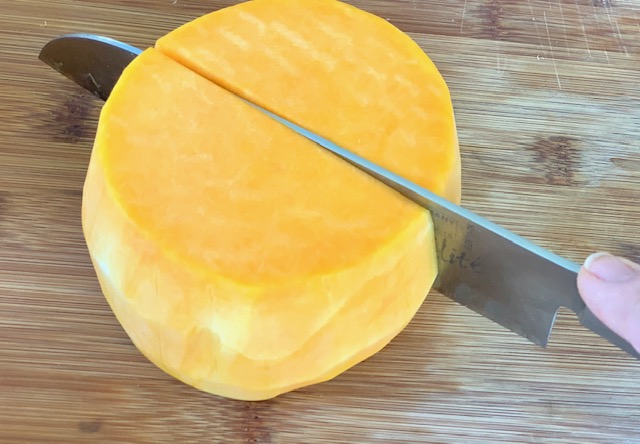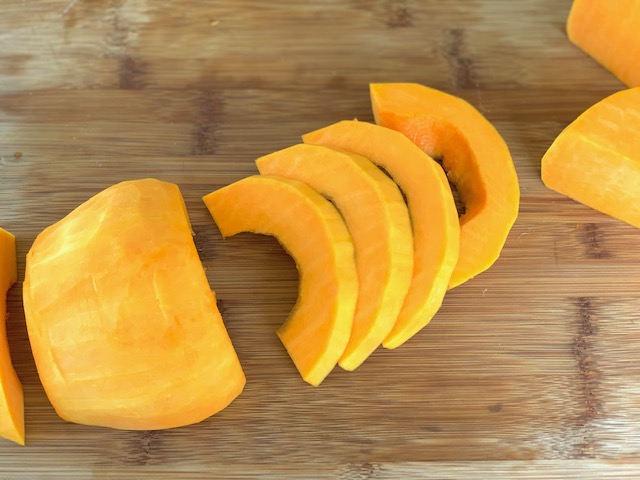 Does butternut squash have to be peeled before roasting?
The skin on butternut squash is very tough so it should be peeled before you can eat the squash. There are some who like to eat the skin once it is roasted but most prefer the squash peeled.
Can you prep and peel the squash ahead of time?
Yes! You can peel, prep, and cut the squash up to 3 days in advance. Once prepped just store in an airtight bag or container in the refrigerator.
Ideas for using butternut squash
There are so many fun recipes you can make once you have it peeled and cut. Use this method to prepare the squash for everything from soups to simple roasting. Adding to salads is an easy way to turn a simple side salad into a meal.
One of the most popular ways to use cubed squash is in Butternut Squash Soup. Ours is garnished with pumpkin seeds and dried cranberries and makes the perfect starter, light lunch, or dinner.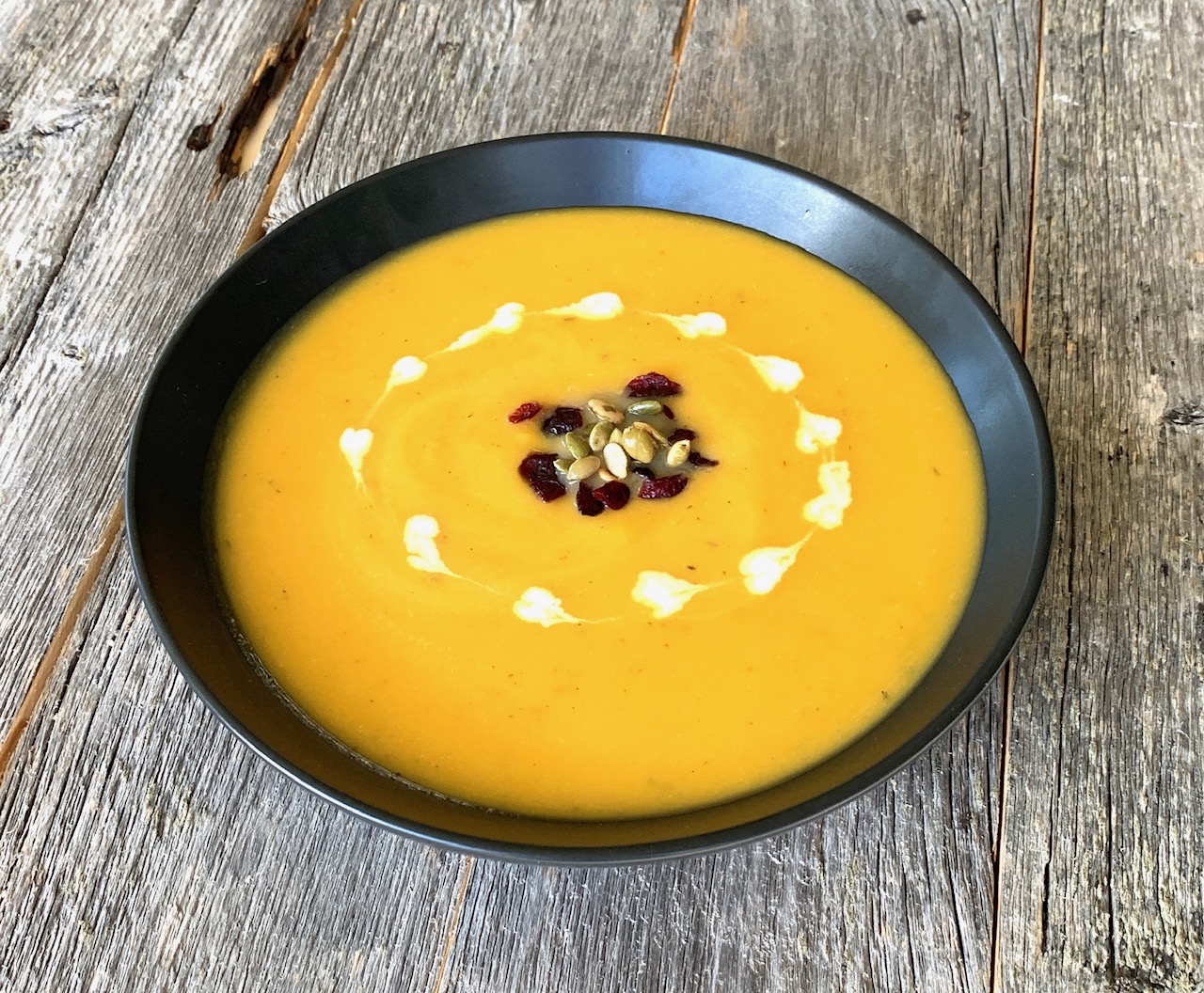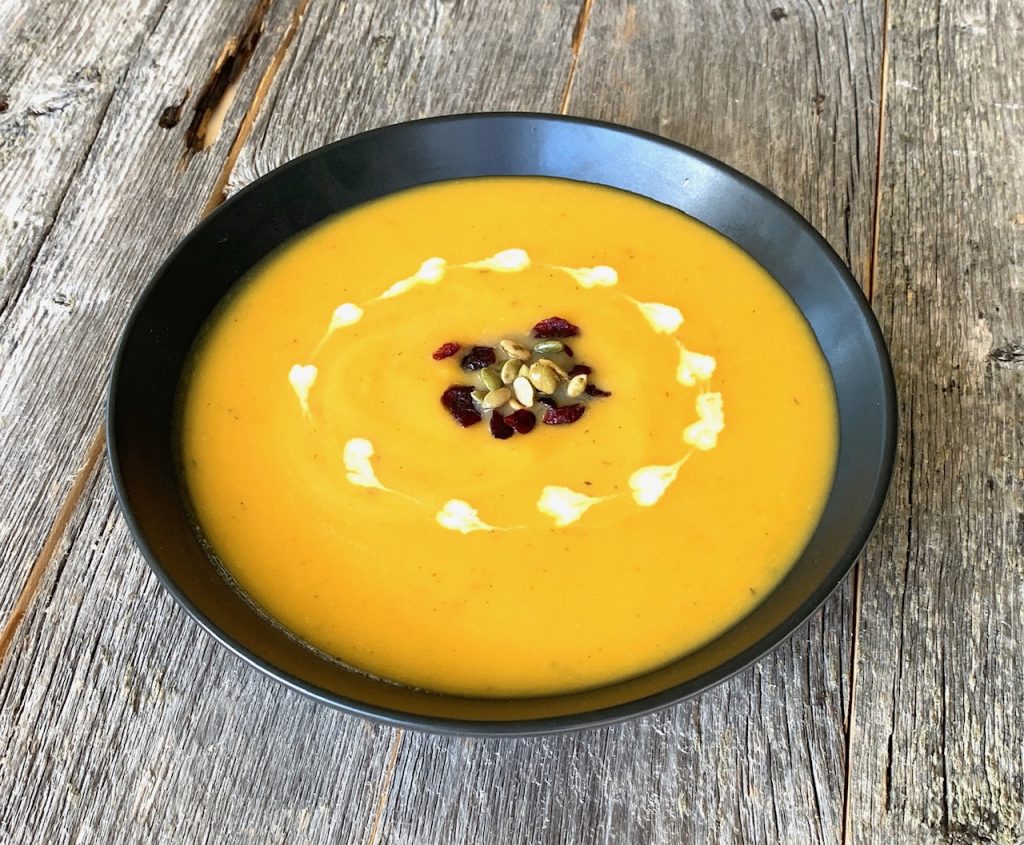 One of our favorite recipes for sliced squash is Roasted Butternut Squash with Pomegranate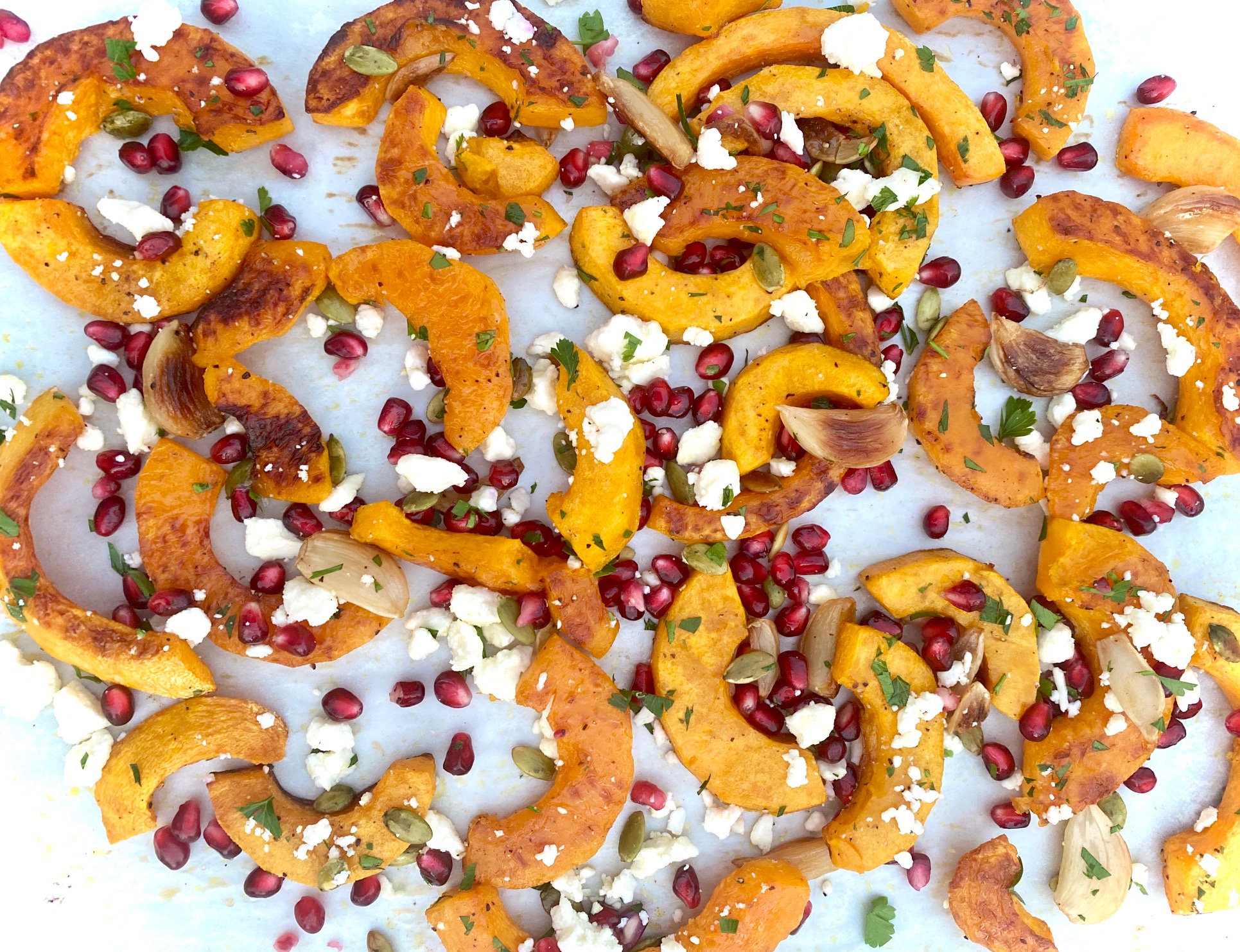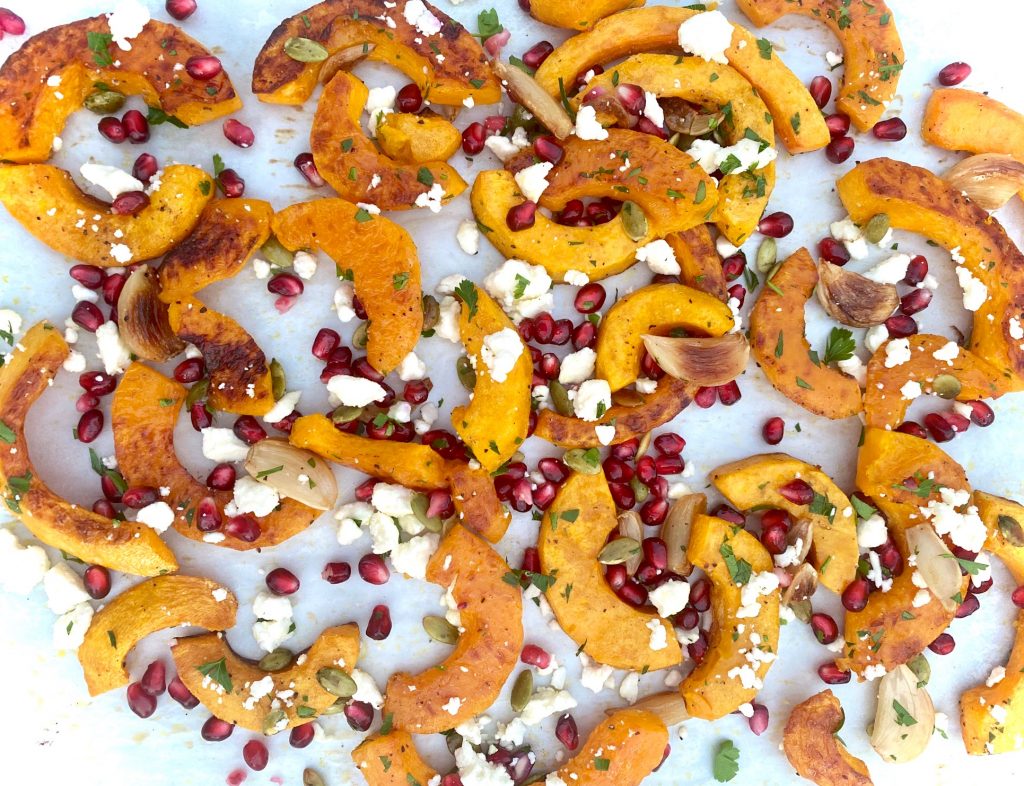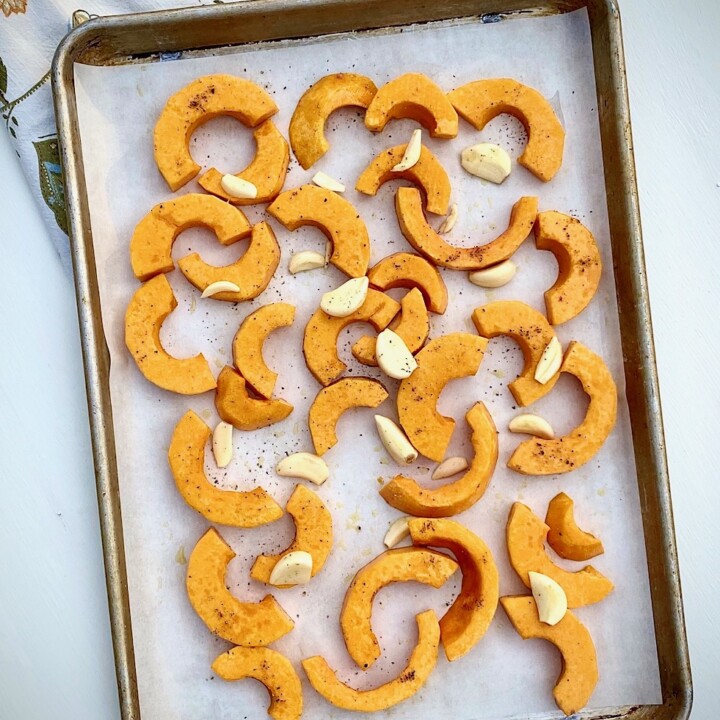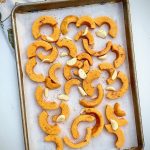 Print Recipe
How to Cut a Butternut Squash
A step to step guide on how to cut a Butternut Squash, including photos. It only takes 3 minutes to cut or slice for recipes and roasting
Instructions
Cut stem off butternut squash on both ends

Cut in half & peel entire butternut squash

Cut butternut squash in half again

Remove seeds by scooping them out with a spoon. Discard seeds

Lay the squash quarters flat side down and cut into slices

If desired, then cut into cubes
Nutrition
Calories:
56
kcal
|
Carbohydrates:
15
g
|
Protein:
1
g
|
Fat:
1
g
|
Saturated Fat:
1
g
|
Sodium:
5
mg
|
Potassium:
440
mg
|
Fiber:
3
g
|
Sugar:
3
g
|
Vitamin A:
13288
IU
|
Vitamin C:
26
mg
|
Calcium:
60
mg
|
Iron:
1
mg