Ready to learn how to peel, cut and prep butternut squash?
Below are step by step photos and instructions to help. It's easy!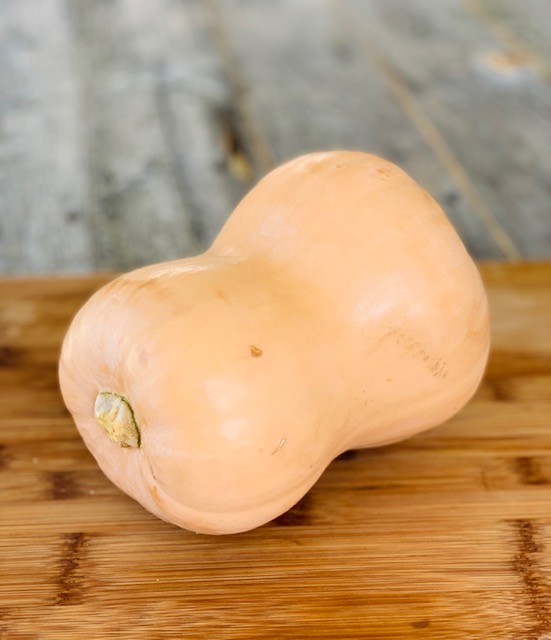 Butternut squash is almost as popular as pumpkin during the Fall and Winter. You can purchase it cubed at most grocery stores, but it is actually quite simple to cut your own. It takes about 3 minutes and you are ready to go! There are a lot of fun recipes you can make once you have it peeled and cut.
This guide will make sure you can safely cut the squash. Because the shape is odd you will cut the stems off on both ends to begin (see steps 1 and 2). Then you will cut in two equal pieces. By starting this way you can lay the squash flat on each end to safely cut and peel (see step 3).
Once you have peeled the squash (see step 4) you will need to slice in half again (see step 5).
Scoop out the seeds and discard (see step 6).
Lay squash quarter flat side down and cut into slices (see step 7). If you want slices instead of cubes then skip step 8, which is cutting the slices into cubes.
Step by step photo guide to peel, cut and prep butternut squash:
Equipment needed:
Start with a large cutting board and a large sharp knife. I suggest a heavy chef's knife for the best results. You will also need a good peeler. I prefer a swivel peeler but a Y peeler works equally well.
1. Cut stem off butternut squash

2. Butternut squash – both stems cut off
3. Cut in half & peel butternut squash

4. Butternut squash peeled and cut in half
5. Cut butternut squash in half again

6. Remove butternut squash seeds
7. Butternut squash sliced

8. Cubed butternut squash
Click HERE for our favorite Butternut Squash Soup garnished with pumpkin seeds and dried cranberries.