Roasted Chickpeas (Garbanzo Beans) are the perfect crunchy snack, but also make a great garnish. You can add almost any spice to them or use them as a substitute for croutons. This method is oven-baked instead of fried so they feel healthier.
The difference between Garbanzo Beans and Chickpeas
There is no difference! The only reason they are referred to by different names is that chickpeas is the English name while garbanzo is the Spanish name.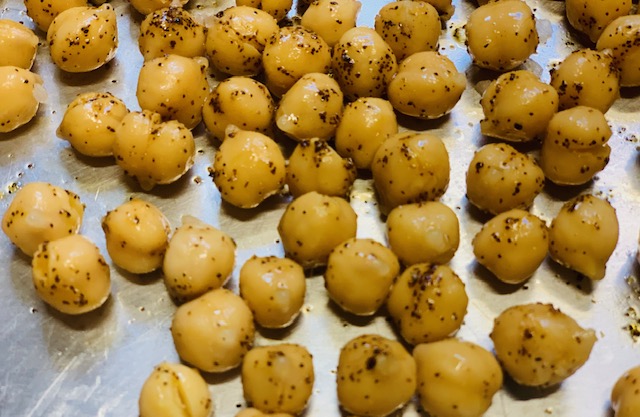 How to make sure your chickpeas are crunchy!
The secret to making beautifully crunchy oven-roasted chickpeas is that you have to make sure they are SUPER dry before roasting. Here are the basics:
Drain the chickpeas, rinse them well and allow to drain for about 5 minutes in a colander.
Lay them in a single layer on a double layer of paper towels and then gently rub the chickpeas with another layer of paper towels. Check them to make sure they are super dry.
Prepping the chickpeas for roasting:
There are so many types of spices that work well for garbanzo beans. The simplest way is to coat them in a bit of oil, such as olive oil, lemon-infused olive oil, grapeseed oil or even sesame oil. Toss in sea salt and pepper until well coated, then add the extra seasonings.
The hardest part is deciding which spices you want to add! For a 15.5 ounce can you will need about 1 teaspoon of seasoning total in any variety.
Try any of these spices, or a combo of a few, for chickpeas:
Chile powder
Garlic powder
Curry powder
Dried Italian herbs
Paprika
Cajun seasoning
Cumin
Cinnamon and sugar (omit salt and pepper)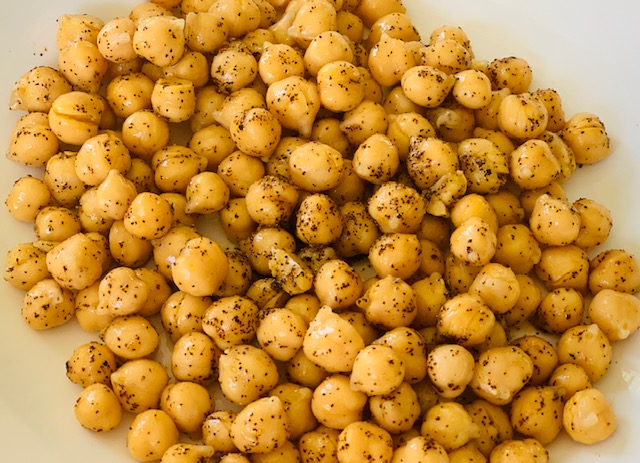 Roasting chickpeas in the oven:
I find the best way to roast chickpeas is on a rimmed baking sheet in a single layer. They will need to roast for about 40-45 minutes while making sure to shake the baking sheet every 15 minutes.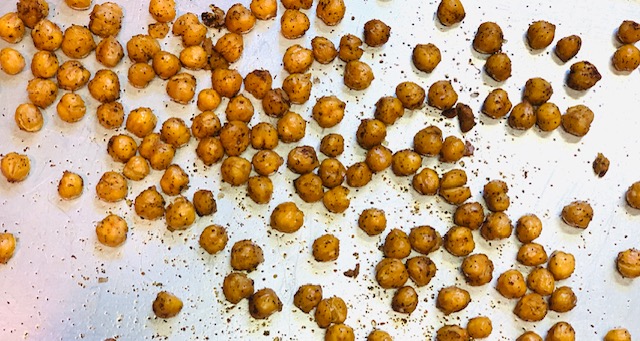 Allow to cool for about 5 minutes and then store in a jar or small bowl.
Try these yummy snacks for your next party, use as a garnish on a salad or on top of our Butternut Squash Soup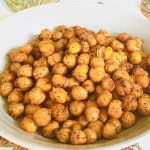 Print Recipe
Roasted Chickpeas (Garbanzo Beans)
Crispy roasted chickpeas are a great crunchy snack and perfect to use on salads, on top of soups, or alongside your favorite roasted vegetables.
Ingredients
15.5

ounce

can of chickpeas (garbanzo beans)

1

Tbsp

extra virgin olive oil

½

tsp

kosher salt

¼

tsp

black pepper, freshly ground

½

tsp

garlic powder, or to taste

½

tsp

chili powder
Instructions
Drain and rinse a 15.5 ounce can of chickpeas (garbanzo beans). Pat very dry with a paper towel and allow to air dry for 10-minutes. Residual moisture will cause the chickpeas to steam rather than roast and get crisp.

Toss chickpeas with olive oil, salt, pepper, garlic powder, and chili powder.

Place spiced chickpeas in a single layer on a rimmed baking sheet in the oven.

Roast for 15 minutes, shake the pan every 15 minutes and continue roasting until crispy, about 40-45 minutes total.

Remove from sheet pan and allow to cool for 5 minutes.
Notes
These chickpeas are best used same day.