Roasted Tomato Soup is the perfect Fall and Winter warm up for lunch or dinner!
This Roasted Tomato Soup recipe was inspired by the last of the garden tomatoes. The air was already quite cold and crisp this early November day and a warm tomato soup sounded just right.
This soup can also become a base for any hearty soup mixtures by adding additional cooked vegetables, diced or shredded chicken, cooked white beans or any leftovers you have on hand, like rice or potatoes.
Tomatoes: Fresh or Canned?
Fresh tomatoes make this soup extra special, but if you are out of tomato season just substitute a high quality canned whole San Marzano style tomato for best flavor.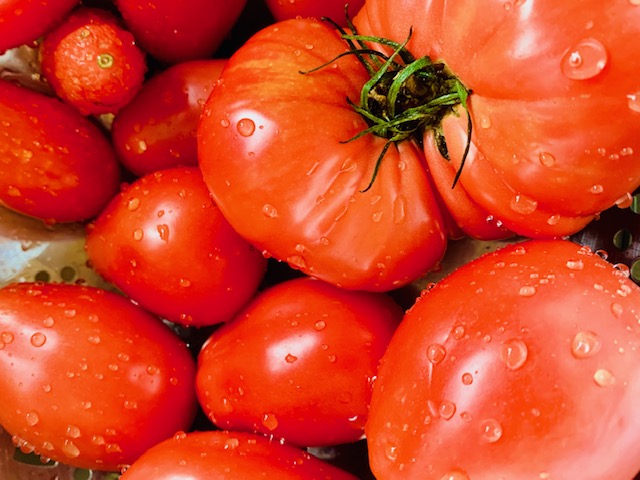 Caramelize the tomatoes and onions for deep flavor
This soup has a beautifully deep flavor because the onions, tomatoes, and garlic are roasted in the oven until lightly caramelized. When you caramelize vegetables they take on a rich flavor, and the roasting removes some of the sharp flavors.
Cut tomato pieces and onion pieces about the same size to ensure even roasting. Look for light browning and a soft char. The onions and tomatoes should be soft after about 20 minutes under a low broiler. The garlic cloves should be added unpeeled and then peeled after roasting. This helps keep the cloves soft.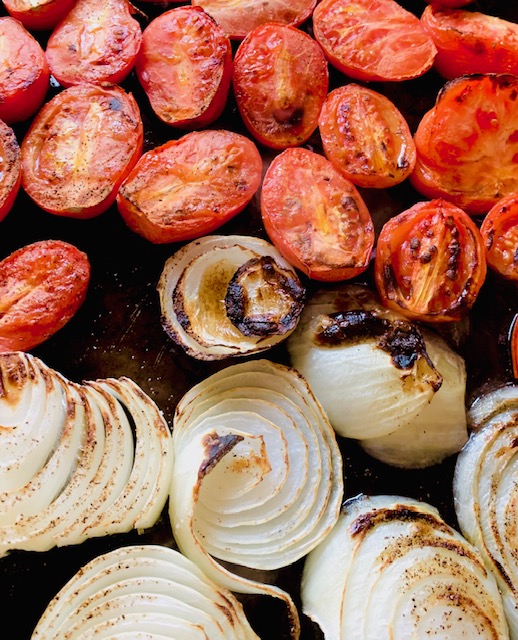 Finishing the soup:
This delicious Roasted Tomato Soup recipe was written by my sister who is gluten and dairy-free and as a result, she is a master at getting all the flavor from her veggies! When you add the roasted vegetables to the pot be sure to scrape the baking sheet because there is a lot of flavor in the olive oil and seasonings on the pan.
All the vegetables will go into a large pot along with the vegetable stock and Italian seasonings. Cook at a low gentle boil for about 20 minutes.
Note: This soup is vegetarian and dairy-free but if you want to use chicken stock in place of the vegetable stock or add some cream at the end, feel free.
Blending technique:
Once your soup is cooked blend everything in the pot with an immersion blender. I LOVE my immersion blender, also called a stick blender, because it makes blending safe and quick in the same pot. HERE is the link to the one I use.
You can also blend in your blender. Be careful and blend in batches. Hot liquids rise up in the blender, so I always recommend placing a kitchen towel over the lid of the blender, holding the lid in place, when blending hot liquids, just to be safe.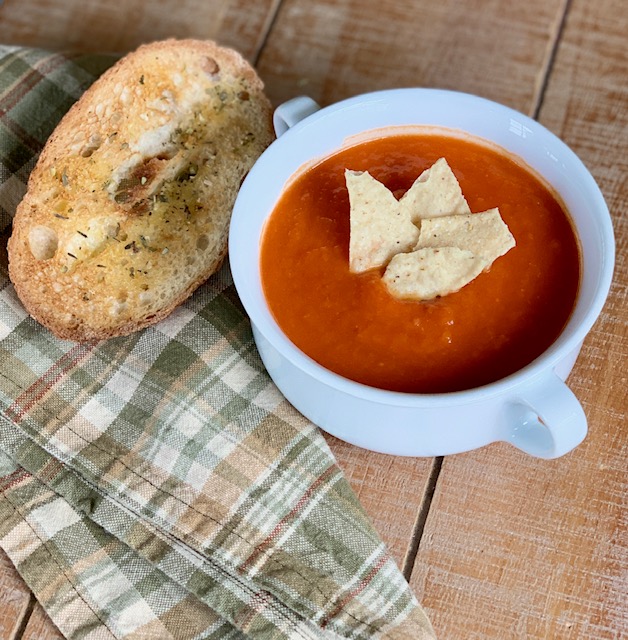 Garnishes for your soup:
It's always nice to add a little color and crunch to the top of any soup! Here are our favorites:
Tortilla strips or pieces
Croutons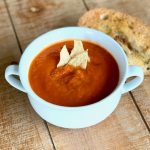 Print Recipe
Roasted Tomato Soup
Roasted Tomato Soup bursting with deep flavor. This soup makes the perfect vegetarian lunch or dinner.
Ingredients
10

Roma tomatoes with stems removed, quartered,

or 46-ounces canned unsalted tomatoes

1

large

yellow onion, peeled, cut into thick slices

2

cloves

garlic, UNPEELED

1

tsp

salt

½

tsp

black pepper, freshly ground

3

Tbsp

olive oil

2

cups

vegetable broth

1

tsp

Italian herbs, dried

½

cup

Half and Half, or coconut cream,

Optional

1

cup

croutons, tortilla strips, or toasted garbanzo beans,

Optional garnish
Instructions
Heat oven broiler on low.

On a large rimmed baking sheet add the thickly sliced tomatoes, onions, and unpeeled garlic cloves.

*See NOTE below if using canned whole tomatoes

Drizzle with the olive oil and sprinkle with the salt and pepper. Gently mix to coat.

Broil for 15-20 minutes, on the second-highest rack of the oven, until the tomatoes start to have a slight char and are becoming soft. Remove softened garlic and peel.

In a large stockpot add the vegetable broth and Italian herbs. Bring to a simmer.

Add tomato mixture, including garlic, scraping baking sheet to include seasonings and olive oil.

Bring the pot to a medium boil and continue to gently boil for 20 minutes, until tomatoes start to foam and break apart.


Using an immersion blender begin blending on low and continue until smooth.

Alternately, if you do not have an immersion blender, ladle soup into a blender, in small batches, and blend until smooth. Use caution and do not fill blender past the halfway point as the very hot liquid will rise up when blended.

Swirl in half and half, or coconut cream, if desired.

Serve and garnish with tortilla strips, croutons or toasted garbanzo beans
Notes
Try our roasted garbanzo beans as a topping. Click here for the recipe.
*NOTE: If using canned whole tomatoes, drain well and add to roasting pan of onions for last 5- minutes of roasting.