This Korean Scallion Pancake recipe is perfectly crisp on the outside
and soft and flavorful on the inside. Great as a snack or starter!
What are Scallion Pancakes or Pajeon?
Every culture has its own version of pancakes and the Korean style is my favorite! The Korean savory pancake, also called pajeon or pa jun, is a crispy flour-based pancake made with lots of scallions, and often has seafood. We make ours with shrimp. In Korean "pa" means scallion and "jeon" means pan-fried battered food.
Scallion pancakes are the perfect appetizer or snack, especially paired with an easy soy dipping sauce. We like to make them as 4″ pancakes, but you could make bigger pancakes. These pancakes are so easy to make at home that you'll never need to order take out again!
Ingredients for Korean Scallion Pancakes with Shrimp:
Our recipe has 2 parts: The Pancakes and the Dipping Sauce
This recipe makes 8 pancakes that are about 4″ in diameter and about 1/3 cup of dipping sauce.
Pancake Ingredients:
Flour
Cornstarch
Sugar
Salt
Sparkling Water or Club Soda
Soy Sauce
Sesame Oil
Scallions, green and white part
Chives
Shimp
Vegetable Oil
Ginger Soy Dipping Sauce:
Soy Sauce
Fresh Ginger
Rice Vinegar
Sriracha, Sambal Oelek, Gochujang Paste or Chili Oil
Sugar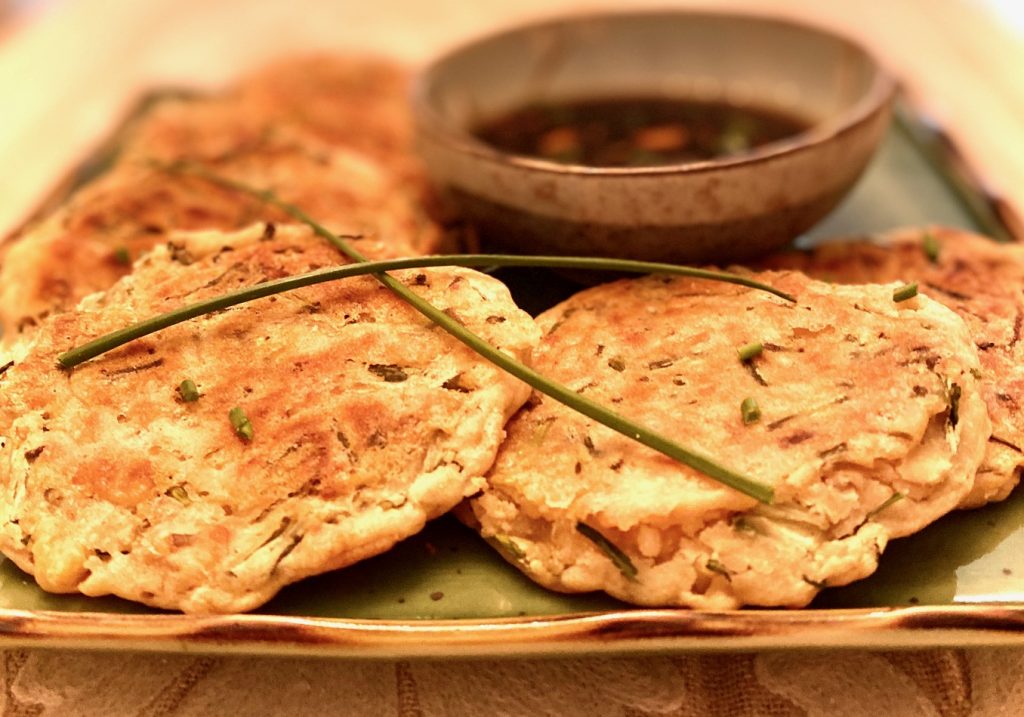 How to make our Scallion Pancake Recipe:
These pancakes can be cooked in a large non-stick skillet, but we find it easier to cook them on a non-stick griddle.
Each pancake takes about 1/4 cup of batter, and you will want to make sure they have room in the pan and are not touching each other.
Before starting the pancakes whisk all of the dipping sauce ingredients together in a small serving bowl and set aside.
In a large bowl mix all of the dry ingredients together
In a medium bowl whisk the wet ingredients and then add to the dry ingredients.
Gently mix together wet and dry ingredients, but do not over mix. It's OK to have a few small lumps.
Fold in the chopped scallions, chopped chives, and cooked chopped shrimp, and very lightly combine.
Let batter rest for 5-10 minutes while the pan is heating.
Heat the griddle or pan to medium, add and heat the oil.
Check batter consistency. It should be runnier than an American pancake, so if needed add a little water to get that consistency.
Pour 1/4 cup batter for each pancake onto hot griddle/pan
Cook about 2 minutes or until the pancakes are set and golden, flip to the other side, and repeat.
Scallions can easily burn so flip a few times to avoid burning them.
Press down on pancakes occasionally to ensure even cooking.
Remove from pan and cool on a wire rack for a few minutes
Cut into wedges and serve with the spicy Ginger Soy Dipping Sauce
Variations and Additions to try:
Like most recipes you can tweak this one to make it your own. This recipe was originally just scallions, but we added chives and chopped shrimp.
Other additions to try:
Zucchini, carrots and mushrooms are popular add-ins
Any chopped seafood will work – such as scallops, mussels or calamari
Kimchi or sliced red chile peppers are great for more heat
I like to sprinkle a few additional pieces of chopped scallions on top of the dipping sauce before serving
Can you freeze leftover Scallion Pancakes?
Yes, they freeze beautifully! Be sure to let them cool completely, then layer each one with a piece of parchment, plastic wrap, or foil between each pancake. Store in an airtight bag or container for up to 3 months in the freezer. Reheat in a lightly oiled skillet until they are thawed and crispy again.
You can also refrigerate using the same method for 1 day if they have seafood, and 3 days if they do not.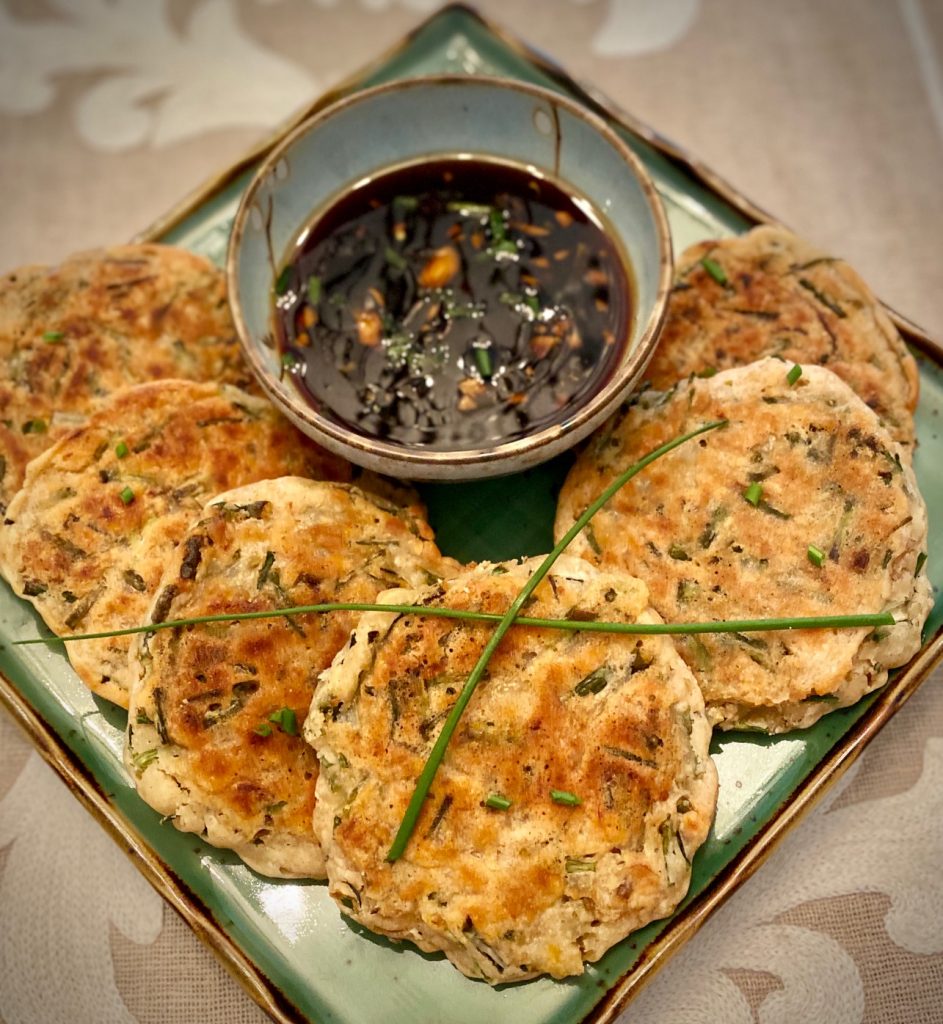 What to serve with this Korean Scallion Pancake recipe:
These pancakes make an amazing starter to any Asian style dinner. Try them with:
A great light dinner paired with our

Ahi Tuna Poke

Bowl
Korean style Beef Bulgogi is the perfect main dish to accompany these scallion pancakes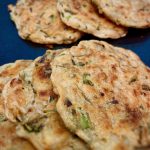 Print Recipe
Scallion Pancakes with Ginger Soy Dipping Sauce
Korean Scallion Pancakes are perfectly crisp on the outside and soft and flavorful on the inside. Can be made with shrimp or vegetarian. Paired with a Ginger Soy dipping sauce
Ingredients
Korean Pancakes
1

cup

all-purpose flour

4

TBSP

cornstarch

2

tsp

salt

1

tsp

sugar

1

cup

chilled sparkling soda water or club soda

1

Tbsp

soy sauce

1

tsp

sesame oil

1 ½

cup

scallions (green onions), roughly chopped about ¾" long

¼

cup

chives, roughly chopped

½

cup

Cooked shrimp, chopped, medium dice

1-3

Tbsp

vegetable oil, or more as needed
Ginger Soy Dipping Sauce
3

Tbsp

soy sauce

⅓"

piece

ginger, peeled and thinly sliced or grated

3

Tbsp

rice wine vinegar

2

tsp

sugar

1

tsp

Sriracha, sambal oelek, gochujang paste, or chili oil
Instructions
In a small bowl, whisk all sauce ingredients together, and set aside.

In a large bowl, whisk together dry ingredients: flour, cornstarch, salt, and sugar.

In a medium bowl, whisk together wet ingredients: sparkling water, soy sauce, and sesame oil.

Add wet ingredients to dry ingredients and whisk lightly just to combine (do not overmix!).

Gently stir in scallions, chives, and cooked chopped shrimp until just combined.

Let the batter rest for 5-10 minutes while warming the pan

Prepare a large non-stick skillet or non-stick griddle by heating 1 tablespoon of oil over medium heat. Oil should be shimmering.

Make pancakes by pouring about 1/4 cup of batter into the pan or onto the griddle, per pancake. Do not crowd, and the pancakes should not be touching. Make in batches if needed.

Cook for about 2-3 minutes, or until pancake is lightly golden and set. Flip and cook on the other side for additional 2 minutes until set. Flip a few times to make sure scallions don't burn. The pancakes will cook for about 7-8 minutes total. Occasionally, press down on the pancakes to ensure even cooking.

Repeat with additional oil and batter if using a skillet.

Transfer cooked pancakes to a plate or wire rack to cool slightly.

Cut into wedges and serve with the Ginger Soy Dipping Sauce
Nutrition
Calories:
119
kcal
|
Carbohydrates:
19
g
|
Protein:
5
g
|
Fat:
3
g
|
Saturated Fat:
2
g
|
Cholesterol:
20
mg
|
Sodium:
1170
mg
|
Potassium:
101
mg
|
Fiber:
1
g
|
Sugar:
2
g
|
Vitamin A:
242
IU
|
Vitamin C:
5
mg
|
Calcium:
33
mg
|
Iron:
1
mg