Steak and Sauce is a classic pairing and this Pan Seared Skirt Steak with Mustard Sauce is a prime example. It never fails to impress and comes together in about 30 minutes. That's my idea of a great dinner!
Jump to Recipe
Ingredients needed for Skirt Steak with Mustard Sauce:
This recipe uses basic ingredients but delivers big flavor
Skirt Steak – about 1.5 pounds
Olive Oil
Shallots and Garlic
Dry White Wine – such as Chardonnay or Sauvignon Blanc
Soy Sauce
Dijon Mustard
Sugar
Cilantro
Cream or Half & Half
Salt and Pepper
The best pan for searing Skirt Steak
Skirt steak cooks best on quick high heat in order to retain its tender texture. I recommend searing in a large heavy bottomed stainless steel pan. If needed, cut your pieces smaller so there is no overlap in the pan. Be sure to add the pieces only when your pan is very hot. This will ensure an even crust.
What is Skirt Steak?
Skirt steak is versatile and budget-friendly, which makes it perfect for a weeknight meal or a big barbeque. All you need is a good pan, the correct cut of meat and a handful of basic ingredients.
Skirt steak is a thin, quick-cooking cut of meat that delivers BIG flavor. The cut is a long thin piece, but it's a prime cut between the brisket and the flank on the belly of a cow. Skirts normally come in pieces weighing 3/4 to 1-1/2 pounds, and you should look for thicker pieces.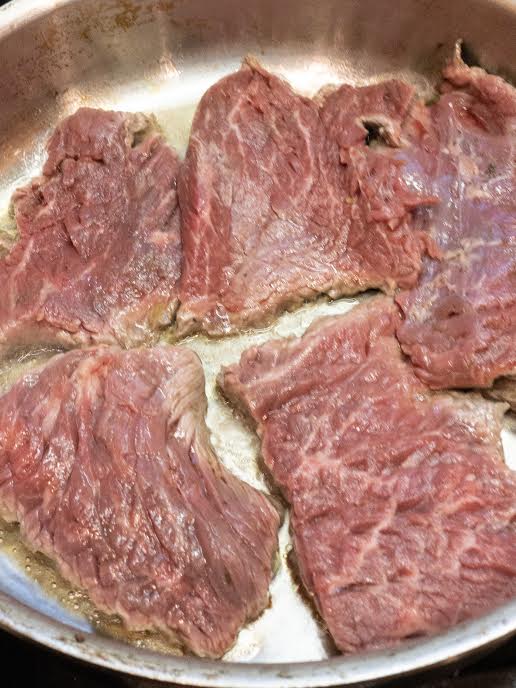 How to Pan-Sear Skirt Steak and make a Classic Pan Sauce
Skirt steak is perfect for the 1-2-3 cooking method:
STEP#1: Searing the Meat
Sear the steak in a very hot pan until it is browned on both sides, but still pink in the middle. Only turn once. You will know its time to turn your steak when the edges start to brown and it is easy to lift a corner with a pair of tongs, about 3 minutes.
Flip and sear the other side for about 2 minutes. Remove steak from the pan and transfer to a cutting board, cover with foil, and allow to rest. Do not skip the resting stage because that is when the juices are settling back into the steak.
STEP #2: Making a Pan Sauce
Make a pan sauce while the steak rests. Use the same pan you cooked the steak in to make a quick pan sauce.
This soy mustard sauce is a version of a Classic Pan Sauce. With the fat that is left in the pan add your aromatics, in this case, we use garlic and shallots and saute until golden.
Deglaze the pan with wine and scrape up all the delicious browned bits on the bottom of the pan. Add the flavorings – soy sauce, sugar, and Dijon – and whisk until a little bubbly. Remove from heat and whisk in cilantro and half & half.
STEP #3: Finishing and Serving
Slice the rested steak thinly, against the grain
Serve with sauce and garnish
How to cut a steak against the grain:
It's a familiar term but what does it mean? In simple terms, it just means it's the direction of the muscle fibers in meat. So carve across those fibers, rather than parallel with the fibers. This will result in a more tender slice of meat.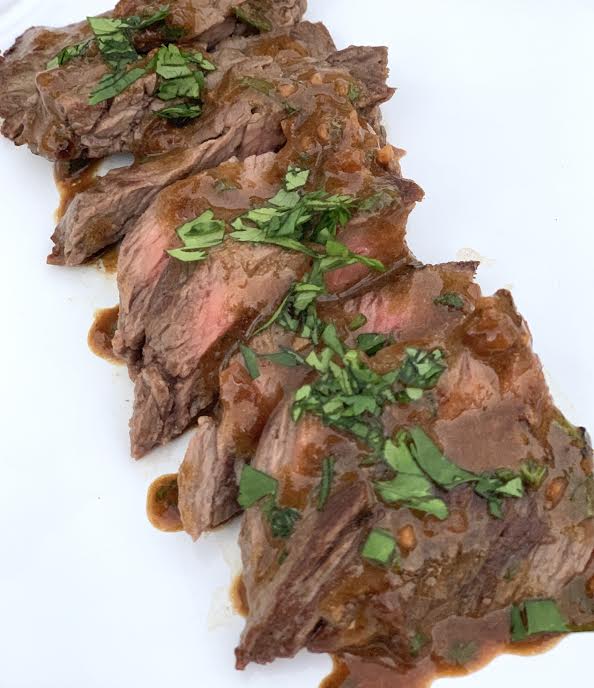 Suggestions for wine pairings:
The light flavors in this mustard sauce, alongside the skirt steak, make for a wonderful pairing with the Pinot Noir's from Oregon, Merlot's from France, and the beautiful red blends of Rhone, France.
Your weekday wines:
Joel Gott Pinot Noir, California
Chateau La Bastienne Montagne, St. Emilion France (Merlot grape)
Your weekend wines:
Ponzi Pinot Noir, Willamette Valley Oregon
Guigal Crozes Hermitage Syrah, Rhone France
A special occasion wine:
Beaux Freves Pinot Noir, "Beaux Freves vineyards" Willamette Valley Oregon
Chateau de Vaudieu Val de Dieu, Chateauneuf du Pape, Rhone Valley France
Other dinner ideas you might like: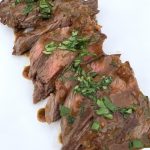 Print Recipe
Pan Seared Skirt Steak with Mustard Soy Sauce
Pan-Seared Skirt Steak with a Mustard Soy Sauce is a great weeknight meal. Ready in just 30-minutes with simple ingredients you probably have on hand.
Ingredients
1.5

lbs

skirt steak, trimmed,

or Flank Steak

3

Tbsp

Extra virgin olive oil, divided

½

tsp

salt

½

tsp

freshly ground black pepper

2

tsp

fresh shallots, diced

1

tsp

fresh garlic, minced

¼

cup

dry white wine,

such as chardonnay or Sauvignon Blanc

2

Tbsp

soy sauce

2

Tbsp

Dijon mustard

1

tsp

sugar

3

Tbsp

fresh cilantro, roughly chopped, divided

3

Tbsp

Half & Half or heavy cream
Instructions
Marinate the Skirt Steak:
Cut skirt steak into pieces about 4" long and place in a resealable container. Add 1 tablespoon of the olive oil, plus the salt and pepper. Coat steak all over and let marinate in the refrigerator 30 minutes or up to 8 hours.
Preparing Steak:
Remove steak from the refrigerator and bring to room temperature (about 15-20 minutes).

Heat a large saute pan (or a grill pan) over high heat for about 1 minute. Add remaining 2 tablespoons olive oil, heat and swirl to coat.

Add steak pieces carefully to the pan and cook for about 3-4 minutes without moving the pieces.

When the steak is easy to turn you know it is time to flip and cook the other side, about 3 more minutes for medium-rare and 4 minutes for medium.

Remove steak from the pan and keep warm on a plate covered with foil.
Making the Pan Sauce:
Lower heat to medium. Add shallots and garlic to the pan and saute for about 30 seconds or until fragrant. Be careful not to burn the garlic.

Add wine to deglaze the pan, scraping up any bits of steak on the bottom of pan and cooking until wine is about 2/3rds evaporated.

Add soy sauce, sugar and mustard to the pan and whisk until smooth and lightly bubbling, about 1 minute.

Remove pan from the heat. Whisk in any juices that have accumulated on the plate with the steak.

Whisk in 2 tablespoons of the cilantro and the half & half until smooth.

Cut steak diagonally across the grain into thin individual pieces. Place on a platter.

Spoon sauce over steak and scatter with remaining cilantro for a garnish
Nutrition