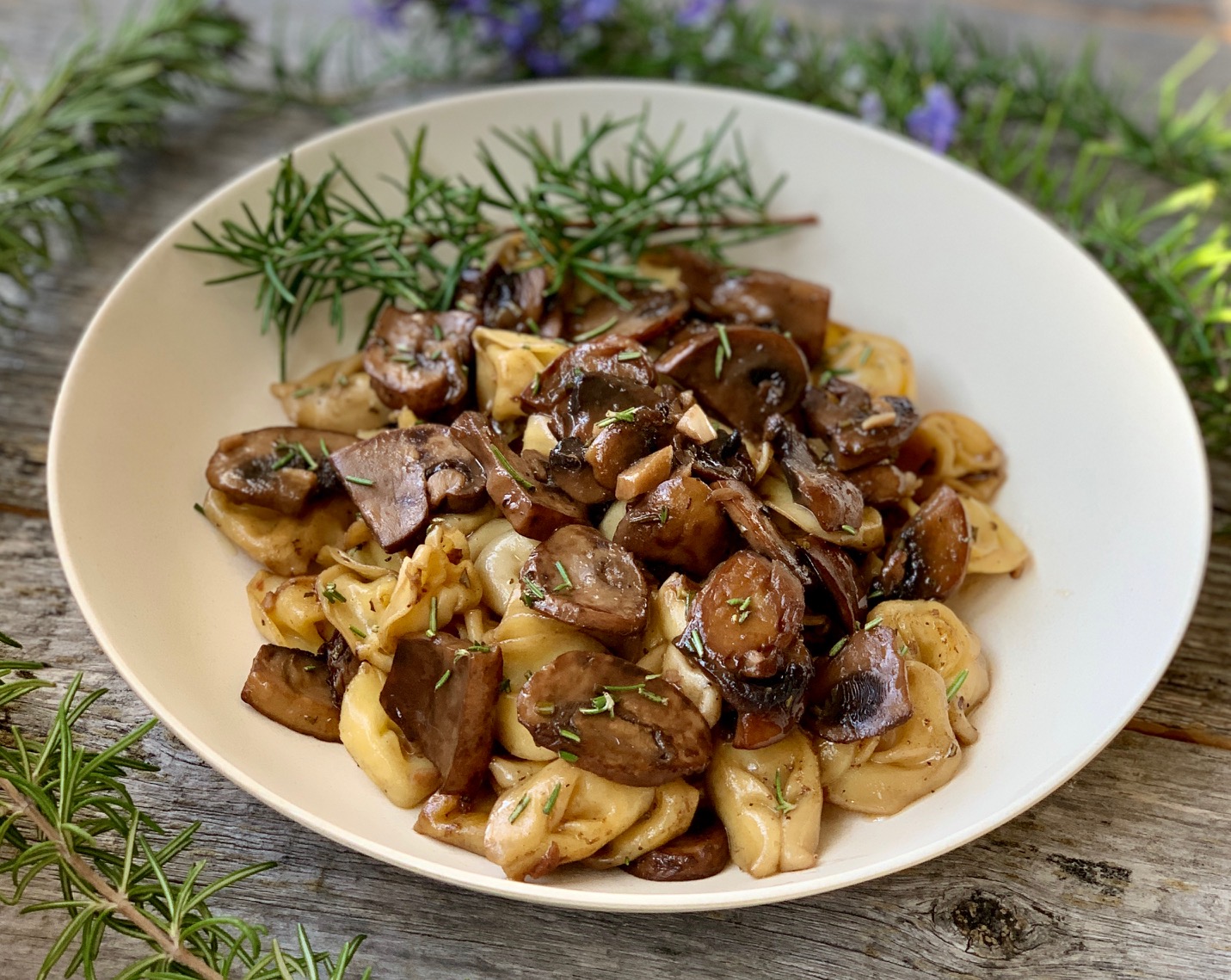 Garlic Mushrooms with Pasta is so warm and satisfying! If you love sauteed mushrooms this recipe is versatile and can be made as a side dish on its own.
Sauteeing garlic mushrooms is easy and this method is perfect for making mushrooms to add to the top of a freshly grilled steak. The same idea is used to make a hearty pasta sauce with just a few additions.
How to make perfect caramelized mushrooms
Making sauteed mushrooms is super simple and a great way to indulge on "Meatless Monday" by adding pasta. Add garlic, and any herbs that you like, for instance in this recipe we use rosemary, and you will not miss the meat.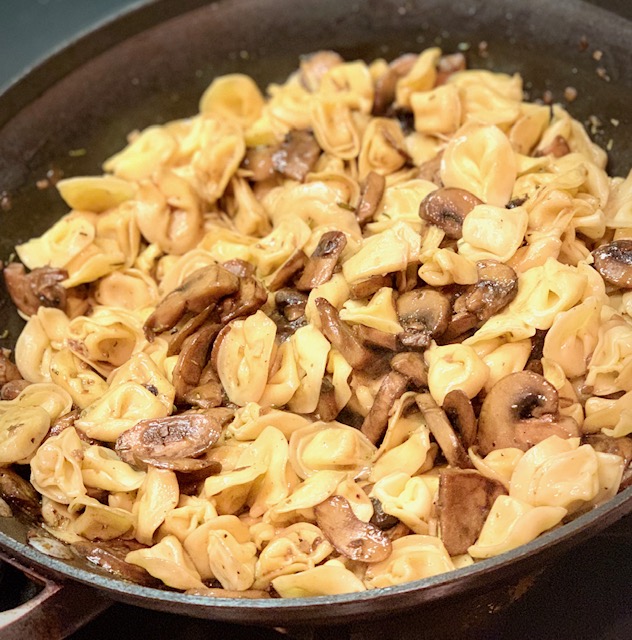 There are a few important tips for the best tasting caramelized mushrooms. Caramelizing anything means you have to resist the urge to stir! This is true for meat, seafood, and vegetables.
Use a heavy-bottomed pan for even cooking
Searing with high heat ensures nice browning and develops the caramelization flavor and color needed
A little fat (butter, olive oil, coconut oil, etc) is necessary to get the sear just right for mushrooms
Choosing the best mushrooms:
Any combination of mushrooms will work for this saute. In this recipe, I chose simple button mushrooms. While you can use whole mushrooms I recommend cutting them in thick slices because they are easier to eat and you have more surface area for adding flavor and color. Portabello mushrooms are also ideal for this method. I love a mixed medley so feel free to mix it up!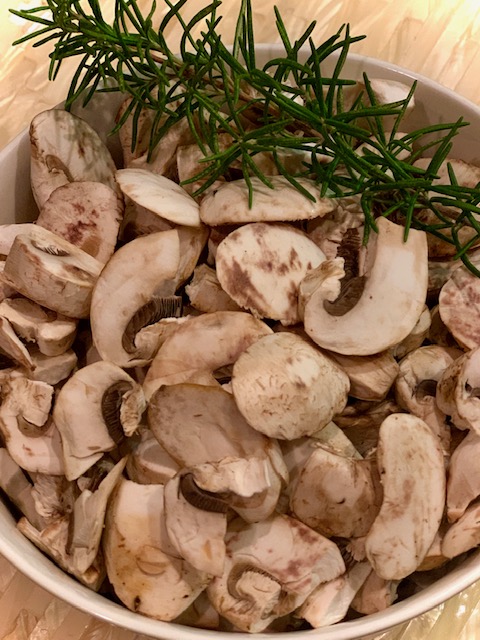 How to Clean mushrooms:
Mushrooms naturally have some sand and dirt on them. The best way to clean them is to gently brush them clean, or use a damp paper towel to wipe them clean. Mushrooms are like little sponges so never soak or submerge them or you will end up with very watery mushrooms!
When you begin sauteeing mushrooms they will release their liquid, so it's important that you cook them long enough to "dry" them out a bit.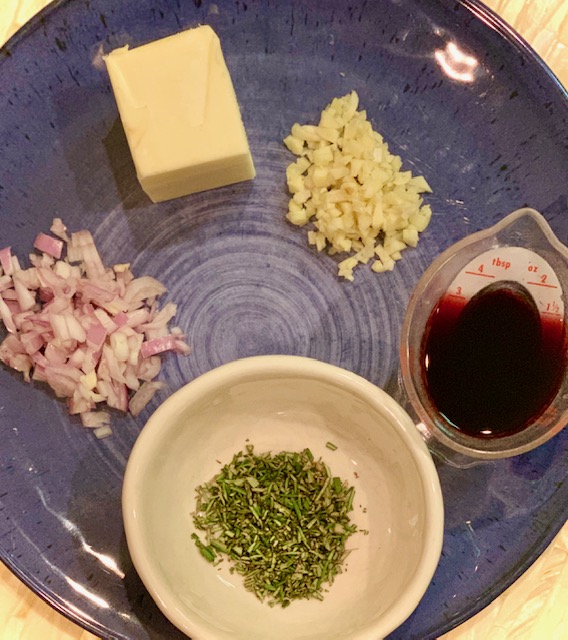 Step by Step for Garlic Mushrooms with Pasta
Choose your favorite pasta. This recipe works great with fresh tortellini, ravioli or fettuccine.
Prepare the pasta as directed and when finished reserve about 3/4 cup of the pasta water.
Drain the pasta and reserve.
Heat the olive oil in a heavy-bottomed pan and saute the shallots until fragrant.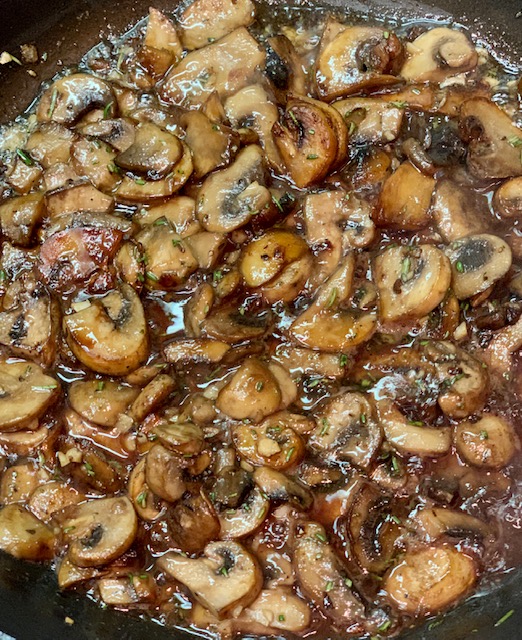 Add mushrooms and give them a good stir or shake the pan to coat.
Leave the mushroom UNDISTURBED for 4-5 minutes. Resist the urge to stir or shake them! They will start to release their juices and begin to carmelize.
Stir and continue to cook for 3-4 minutes more.
Reduce the heat and add garlic, butter, and herbs. I love to use rosemary, but thyme, basil, or oregano work well. Continue to cook for a few minutes.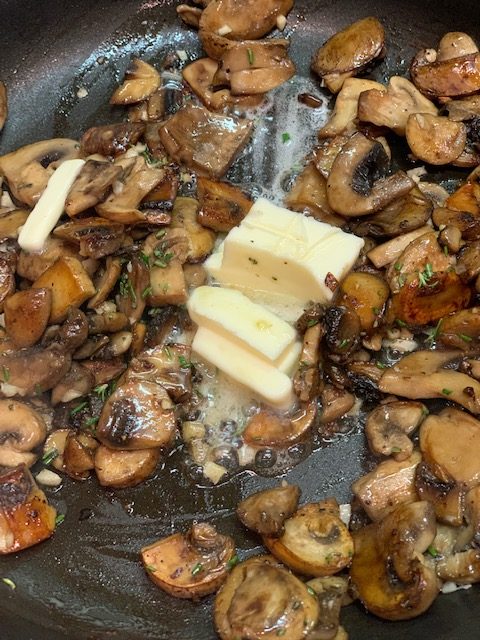 Add red wine and 1/4 cup of pasta water, allowing the liquid to reduce and absorb into the mushrooms.
Continue to add pasta water based on how loose you like your sauce.
Add pasta to the pan. Stir to combine, warming and coating the pasta with the sauce
Serve and garnish with Parmesan and more rosemary, if desired.
If using the mushrooms without pasta, such as topping a steak, just skip adding the pasta water.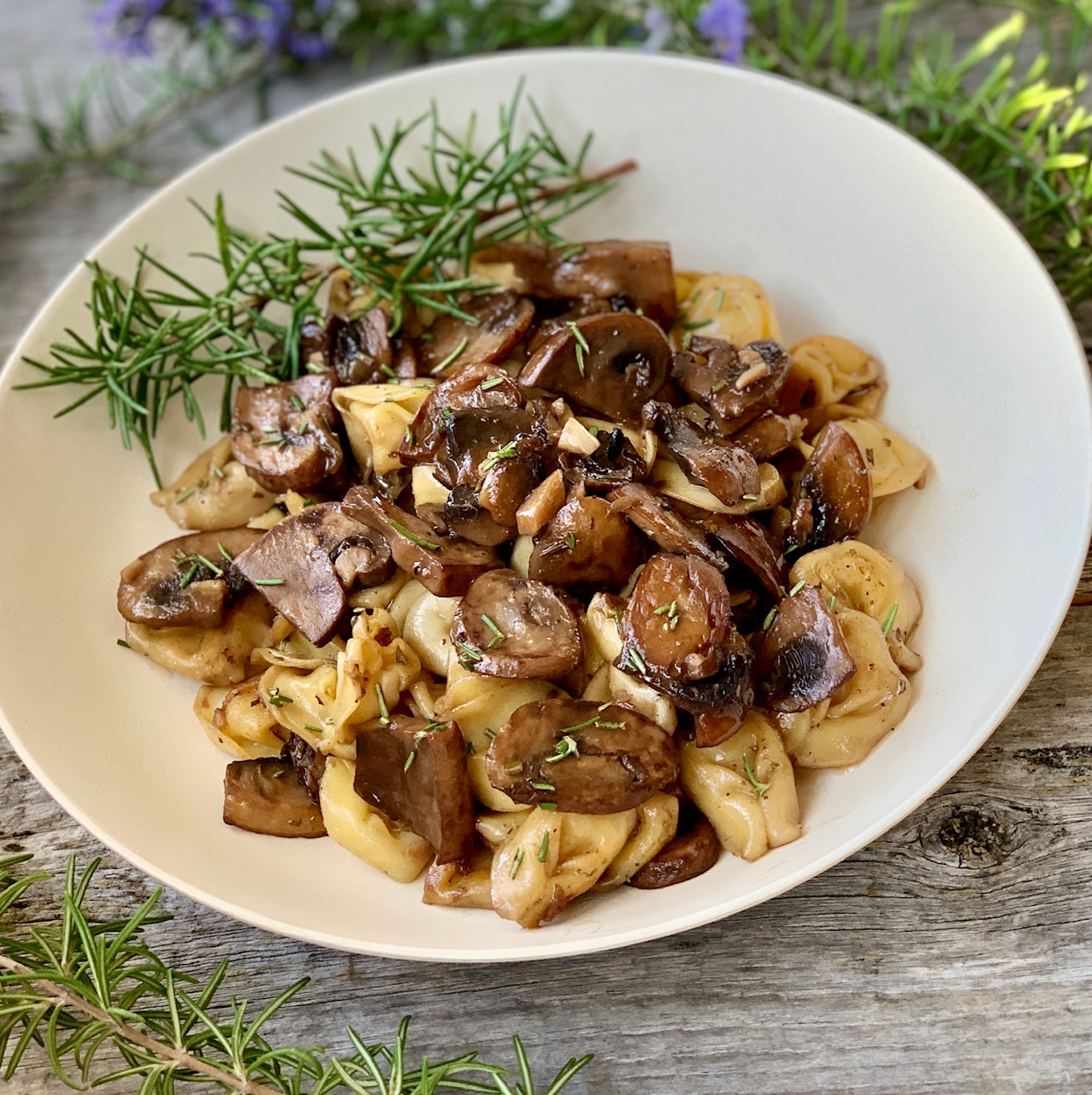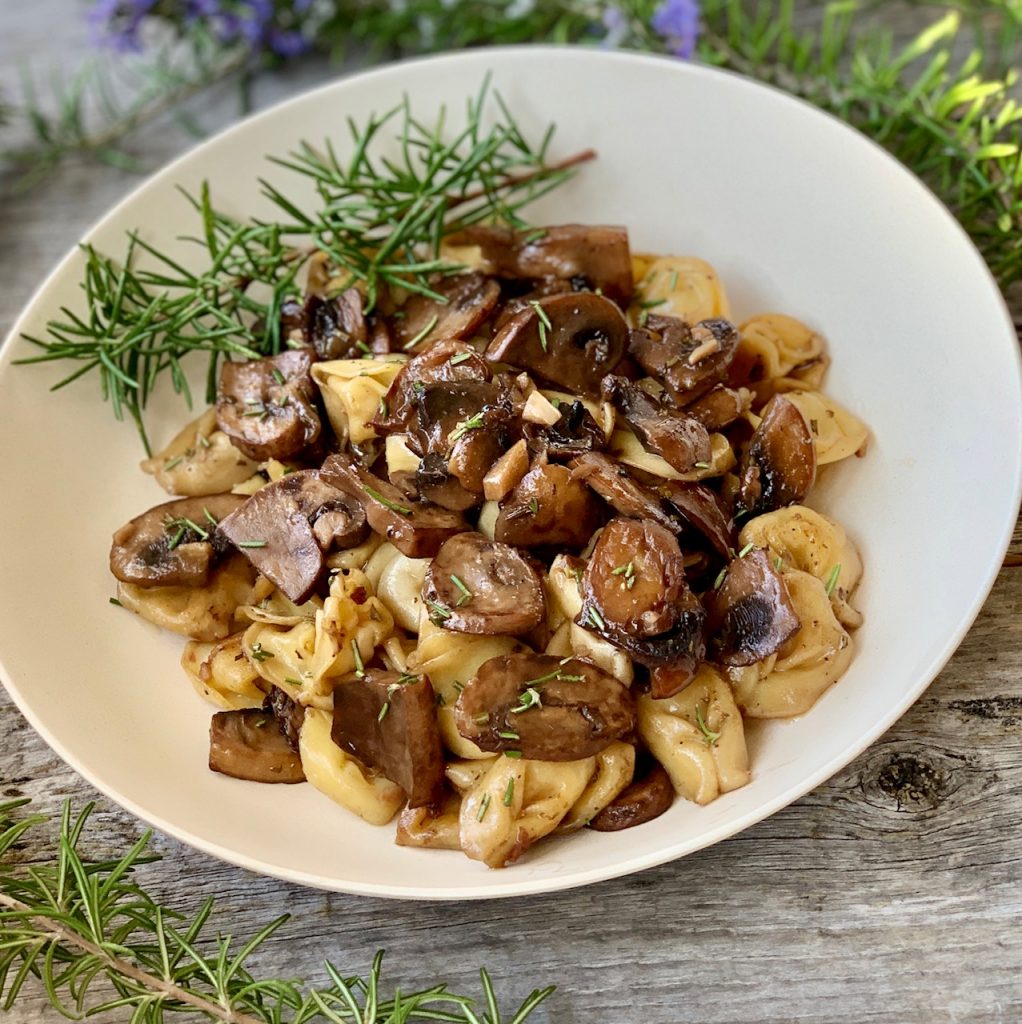 Garlic Butter Mushrooms pair perfectly with a grilled steak
See our easy to follow Steak Grilling Guide to help you get started. These also work well for a garlic mushroom chicken dish. The garlic mushroom sauce is so flavorful.
Suggested wine pairings for Garlic Mushrooms with Pasta:
When a dish has wine included in the recipe you can safely use those wines for your pairings. Here are a few ideas:
Your weekday wines:
Josh Cabernet Sauvignon Northern Coast California
Freemark Abbey Merlot Napa Valley
Your weekend wines:
Cakebread Cellars Merlot Napa Valley
Duckhorn Cabernet Sauvignon Northern California Coast
Special Occasion Wines:
Caymus Cabernet Sauvignon Napa Valley
Duckhorn Three Palms Vineyard Merlot Napa Valley
Ready to try some other new main dishes?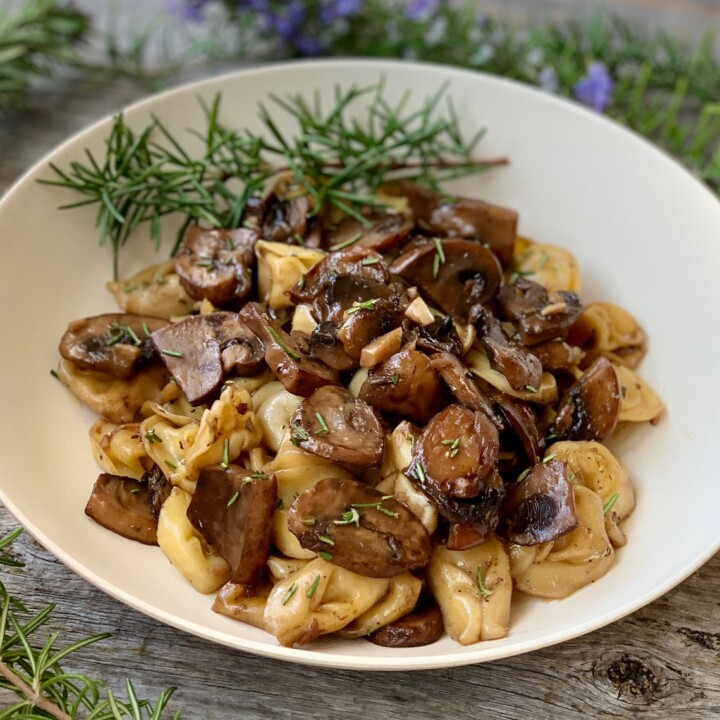 Print Recipe
Garlic Mushrooms with Pasta
Sauteed Garlic Mushrooms with Pasta and herbs is so warm and satisfying! This mushroom recipe also works as a topping for your favorite grilled steak or chicken.
Ingredients
2

Tbsp

Extra Virgin Olive Oil

2

Tbsp

Shallots, diced

1

lb

mushrooms, sliced

½

tsp

salt

¼

tsp

black pepper, freshly ground

2

Tbsp

garlic, diced

2

Tbsp

fresh rosemary, finely chopped,

or other herb of choice

4

Tbsp

butter

3

Tbsp

dark red wine,

such as Cabernet Sauvignon or Merlot

1

lb

pasta, such as tortellini, ravioli, or fettucine

¼

cup

shredded Parmesan cheese,

Optional
Instructions
Pasta:
Bring a large pot of salted water to a rapid boil. Cook the pasta, according to the directions on the package, until al dente.

Reserve about ¾ cup of the pasta cooking water and then drain the pasta. Set aside
Mushrooms:
In a large skillet, set over medium-high heat, add olive oil. Once the oil is hot and shimmering add shallots and cook about 2 minutes, stirring occasionally so the shallots don't burn.

Add the mushrooms, salt, and pepper. Shake the pan once and then cook without stirring for 4 minutes. The mushrooms will begin to carmelize. Stir the mushrooms and continue to cook for another 3-4 minutes.

Reduce heat to medium and add the garlic, rosemary and butter. Stir to combine and cook for about 3-4 minutes.

Add the red wine and about ¼ cup of the pasta water. Cook about 2-minutes. Add an additional ¼ cup of pasta water and cook for 2 more minutes. If looser sauce is desired add the additional pasta water.

Add cooked pasta to the mushroom mixture and toss to combine.

Divide into individual bowls. Garnish with Parmesan cheese and a sprinkling of chopped rosemary, if desired.
Notes
If using the mushrooms without pasta, such as topping a steak, just skip adding the pasta water
Calorie count excludes pasta
Nutrition
Calories:
208
kcal
|
Carbohydrates:
6
g
|
Protein:
4
g
|
Fat:
19
g
|
Saturated Fat:
8
g
|
Polyunsaturated Fat:
1
g
|
Monounsaturated Fat:
8
g
|
Trans Fat:
1
g
|
Cholesterol:
30
mg
|
Sodium:
300
mg
|
Potassium:
419
mg
|
Fiber:
2
g
|
Sugar:
3
g
|
Vitamin A:
381
IU
|
Vitamin C:
4
mg
|
Calcium:
21
mg
|
Iron:
1
mg