Spicy crispy Szechaun Air Fryer Wings are everything you want in chicken wings!
This post may contain affiliate links. Read our disclosure policy.
These wings are so addictive and easy to make that you'll want to have them every day!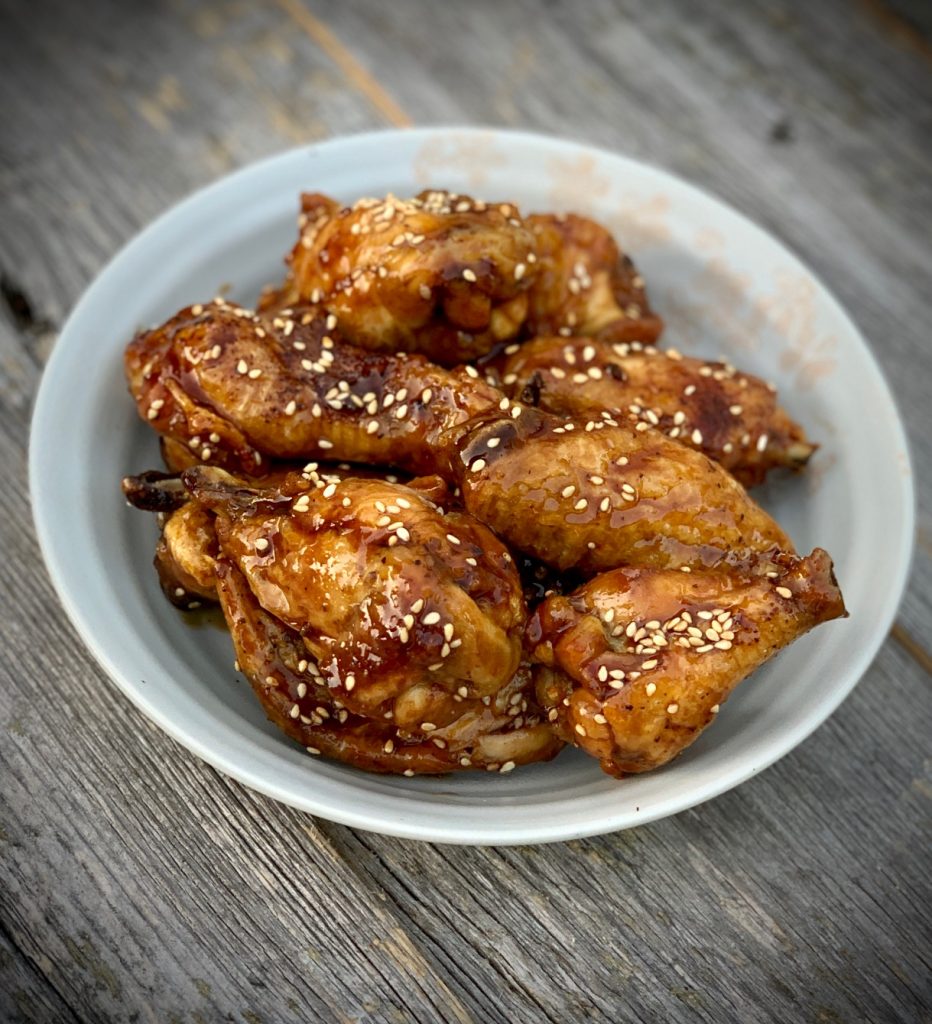 Szechuan Air Fryer Wings
If you just started using an air fryer, Szechuan Air Fryer Wings are one of the easiest ways to get started. They are basically fail-proof and only take about 30-minutes total! All the flavor and no oil needed.
Simple Ingredients for Szechuan Air Fryer Wings:
One of the great things about the air fryer is that you need very little prep to get started.
Wings
Szechuan Sauce
Sesame Seeds
1. Chicken Wings:
When shopping, look for the wings labeled "Party Pack" to save yourself the time of having to trim the wings.
If you cannot find them packaged like this you will need to trim the wing into 3 pieces: the drummette, the flat piece, and the wingtip. Always discard the wingtip (or save for another use if you make your own chicken stock). Cut right at the joint to separate.
2. Szechuan Sauce:
We use our own homemade Szechaun Sauce, which we feature in our Spicy Szechuan Green Bean recipe for these delicious wings.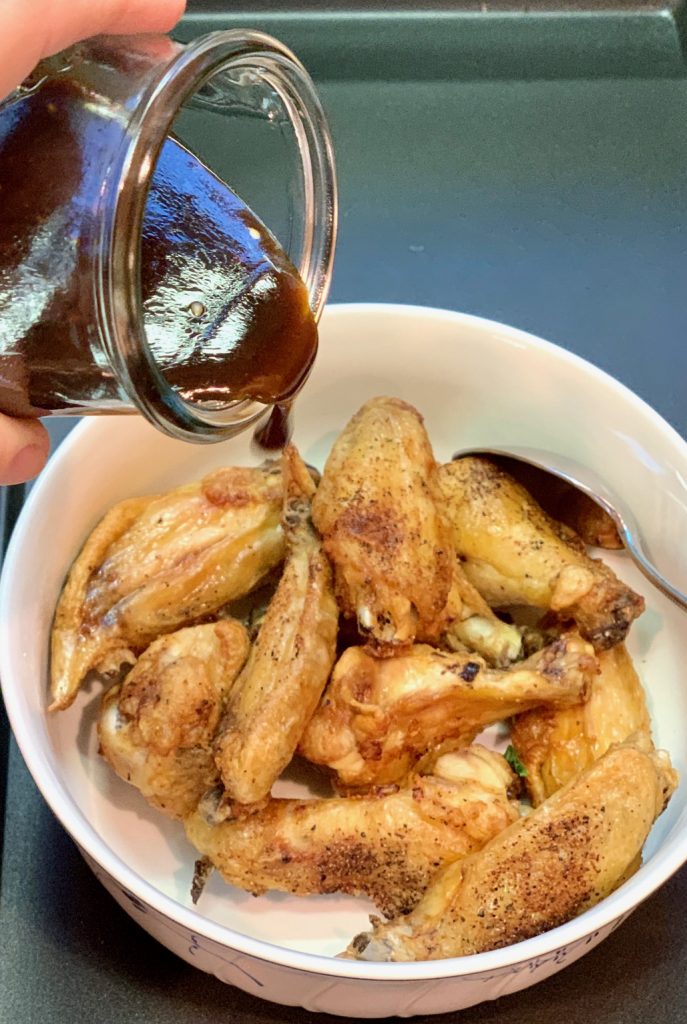 This all-purpose Szechuan Sauce is one of our favorites. I like to make a big batch to keep in the refrigerator (in a glass jar). It's great if I am short on time for a dinner idea – just add it to chicken and you've got a delicious meal.
The sauce can be made quickly while the wings are air frying. Basic Asian ingredients, such as soy sauce, Hoison sauce, oyster sauce, and sesame oil are blended for a magical taste.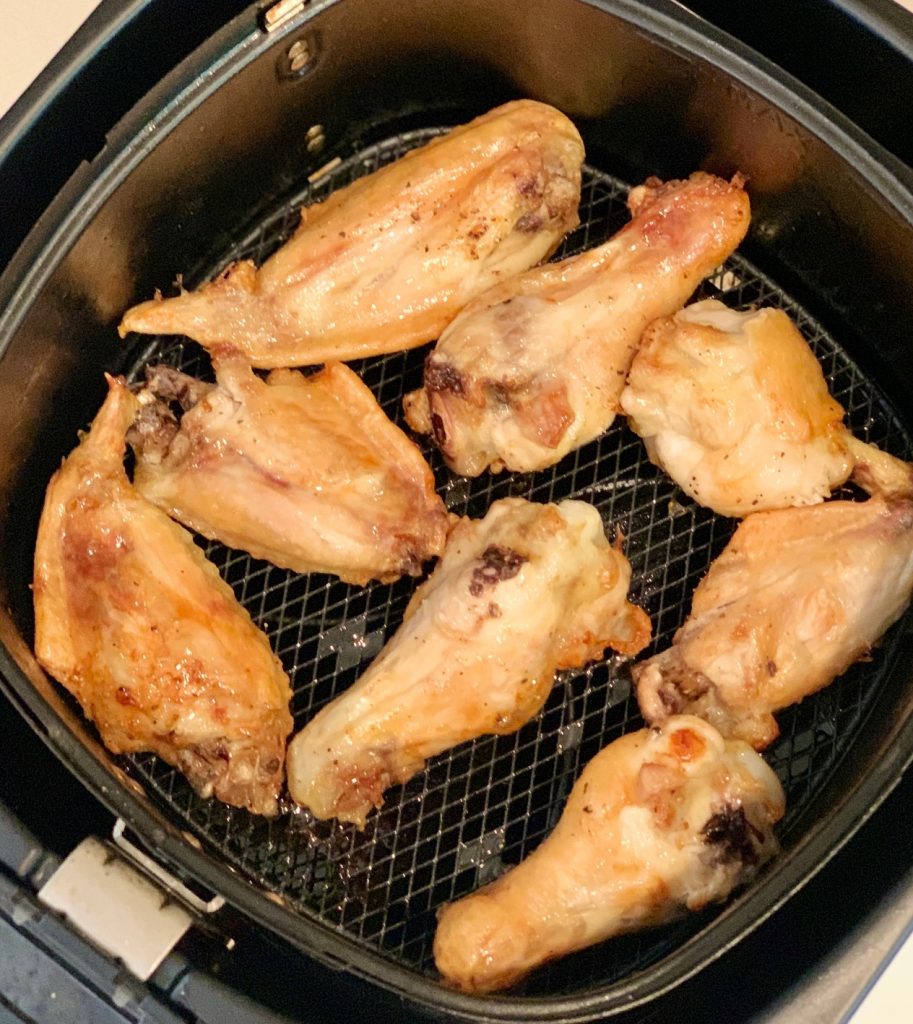 How to make Chicken Wings in an air fryer
Preheat the air fryer to a temperature of 375°F
Make sure your chicken wings are super dry because this will help create a crisp skin
Salt and pepper the wings
Place in a single layer in the air fryer basket and start air frying
Cook for 25 minutes, shaking once at about the 15-minute mark
Prepare Szechuan Sauce
Remove wings and increase the temperature to 400°F
In a large bowl, toss wings in the Szechuan Sauce, coating well
Place wings back in the air fryer basket and cook for an additional 5 minutes
Return wings to the large bowl and toss with sesame seeds
Serve and enjoy!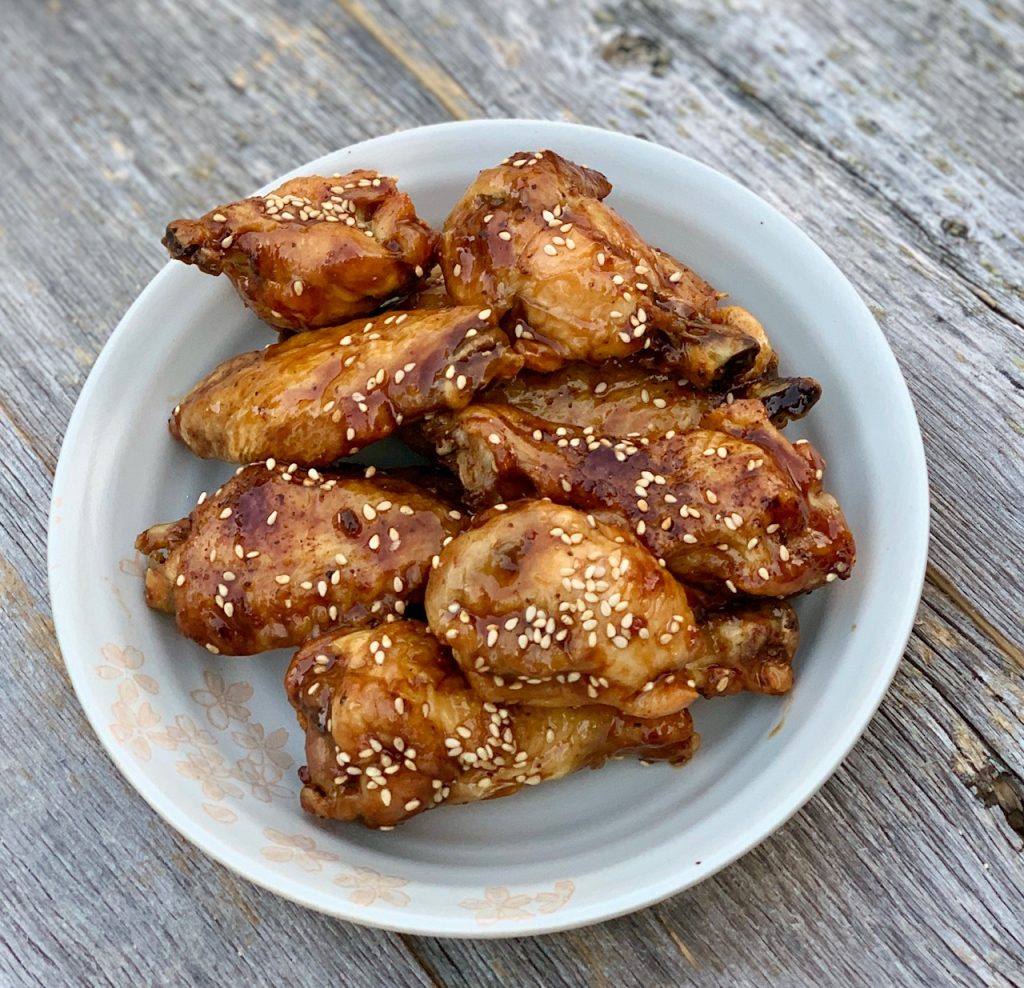 Love these Szechuan Air Fryer Wings? Try our other wing recipes too!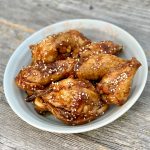 Print Recipe
Szechuan Air Fryer Wings
Szechaun Air Fryer Wings are super flavorful and crispy. Make zesty wings in about 30-minutes in the air fryer and finish with an easy Szechuan sauce.
Ingredients
WINGS:
2

lbs

chicken wings, tip removed

½

tsp

kosher salt

¼

tsp

black pepper, freshly ground
SZECHUAN SAUCE:
2

Tbsp

sugar

¼

cup

low sodium soy sauce

2

Tbsp

garlic, minced

2

Tbsp

Hoison sauce

2

Tbsp

oyster sauce

1

Tbsp

sesame oil

¼

tsp

salt

¼

tsp

black pepper, freshly ground
GARNISH:
1

Tbsp

Toasted sesame seeds
Instructions
Wings:
Preheat air fryer to 375°F

Trim, rinse, and pat wings very dry, Sprinkly with salt and pepper

Place wings in the fryer basket in a single layer.

Air fry for 25 minutes, shaking at the 15-minute mark.

Remove wings to a large bowl and increase heat to 400°F

Add Szechuan sauce to the wings and shake to coat well.

Return to the fryer basket and cook for an additional 5 minutes.

Return to a large bowl and sprinkle with sesame seeds

Serve and enjoy
Szechuan Sauce Instructions:
Combine all ingredients together in a large glass jar and whisk well to combine