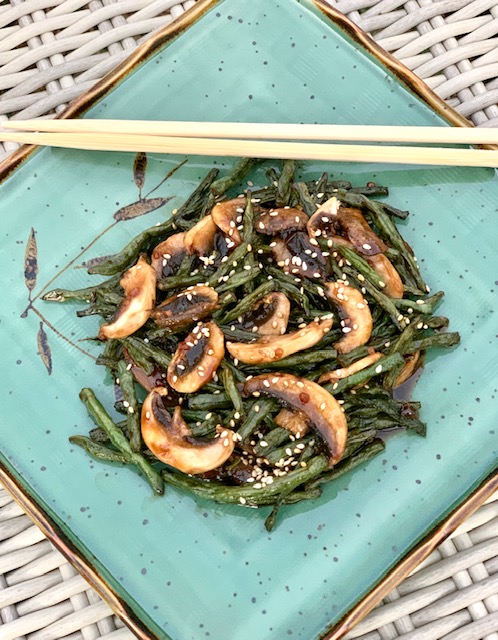 Spicy Szechuan Green Beans are perfect if you are looking for a quick side dish with a little kick.
I love any side dish that comes together in 15-minutes!
Green beans are so versatile and they quickly take on the flavors you choose. This recipe has a little kick, but you can tone it down to suit your taste. The nice thing about this Szechuan Sauce is that you can use it for nearly any green vegetable.
What are Chinese Long Beans?
I LOVE Chinese Long Beans because they really hold their shape and it's hard to overcook them. They are perfect for this spicy Szechuan green bean recipe. However, I've made this with regular green beans many times, and those work great too.
Chinese Long Beans are sold in bundles, like the photo below. They are usually 12-18″ long. They grow up, not in the ground, just like all other green beans, so clean them by gently rubbing under cold running water. You can cut them to any length you prefer. I normally cut them about 4″ long.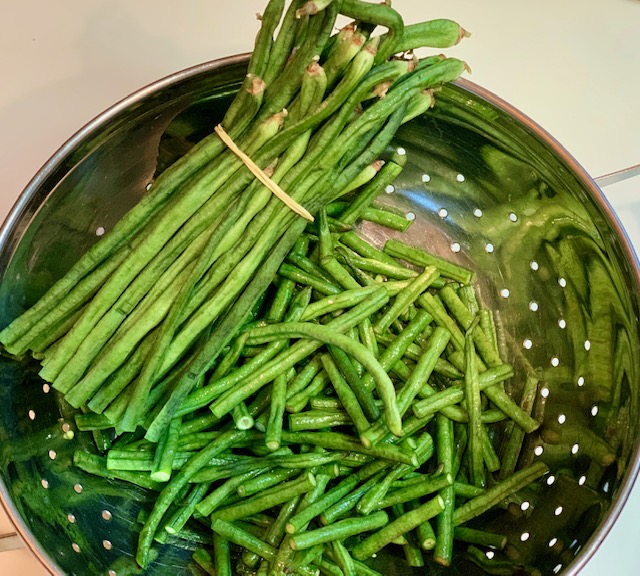 How to make Spicy Szechuan Sauce
This sauce is a classic Szechuan Sauce so consider doubling it, and storing the remainder in the refrigerator, for your next side dish. I always make a big batch and keep it on hand because it can transform a boring dinner into magic!
You will need a few basic Chinese ingredients for this sauce:
Hoison Sauce – This is a staple of Chinese cooking, but what exactly is Hoison sauce? Hoisin sauce is made from soybean paste, garlic, chilies, and various spices, and can contain sugar and vinegar. It is a wonderful brown sauce that is salty, spicy and sweet.
Oyster Sauce – Another staple of Chinese cooking. Oyster sauce is a dark brown condiment made from oyster extracts, sugar, salt and water thickened with corn starch.
Sesame Oil – This is my favorite cooking oil (other than olive oil) because it lends a subtle nutty flavor to any dish or sauce. Sesame oil has a very high smoke point (410F degrees), so it's perfect for stir-frying. Because it is a nut oil it's best to keep it stored in the refrigerator.
Soy Sauce – I like to use the low sodium version because you can control the salty flavor.
How to make Spicy Szechuan Green Beans
This recipe comes together in a flash so be sure to make the sauce ahead of time.
Like most stir fry recipes, you will cook with high heat. Preheat your wok and add the oil. I use a stovetop wok but any large heavy non-stick pan is perfect.
Heat oil until very hot and shimmering, but not smoking
Add green beans, shaking or stirring the pan frequently
Cook until lightly browned
Add mushrooms or any other vegetable (or any cooked meat) and stir fry for 1 more minute
Add Spicy Szechuan Sauce, toss to coat, and cook for another 3 minutes until sauce is lightly caramelized
Remove to a serving dish and sprinkle with sesame seeds
Adding extra vegetables or meat:
Add any extra quick-cooking vegetables to the stir fry. I like mushrooms, but onions or shallots are wonderful too. If you want to add longer cooking vegetables, such as carrots, you may want to steam them a bit ahead of time, since the cooking time in the wok is only 5 minutes.
Add any pieces of cooked meat, such as steak, shrimp or chicken, for a full dinner.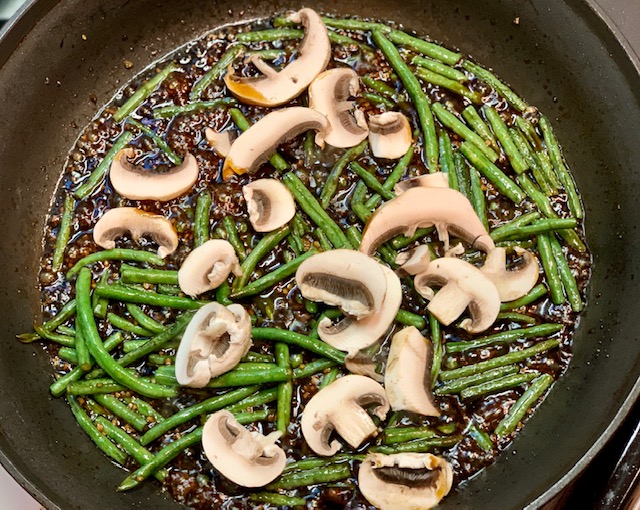 Other spicy dishes you might like: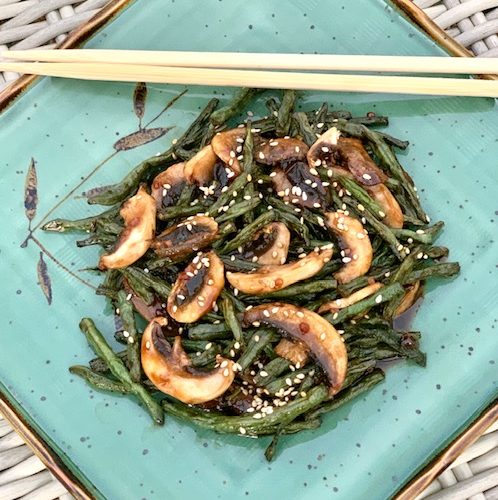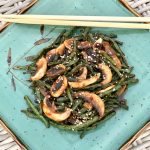 Print Recipe
Spicy Szechuan Green Beans
Spicy Szechuan green beans are perfect if you are looking for a quick side dish with a little kick.
Ingredients
Green Beans:
2

tsp

sesame oil

1

lb

Green Beans, trimmed

(we use Chinese Long Beans)

½

lb

mushrooms, sliced,

optional
Szechuan Sauce:
2

Tbsp

sugar

¼

cup

low sodium soy sauce

2

Tbsp

garlic, minced

2

Tbsp

Hoisin sauce

2

Tbsp

oyster sauce

1

Tbsp

sesame oil

¼

tsp

salt

¼

tsp

black pepper, freshly ground
Garnish:
1

Tbsp

toasted sesame seeds
Instructions
Prepare Szechuan sauce before beginning to cook by combining all the ingredients in a bowl.

In a large nonstick pan or wok, over high heat, add 2 teaspoons sesame oil and heat until very hot but not smoking.

Add green beans and saute about 3 minutes, tossing until slightly brown.

If adding mushrooms, add after 1 minute.

Add Szechuan sauce and toss or stir to coat. Reduce heat to low.

Simmer for about 2-3 more minutes, or until beans are tender and sauce is caramelized.

Remove to a serving dish and garnish with toasted sesame seeds.
Nutrition
Serving:
5
ounces
|
Calories:
187
kcal
|
Carbohydrates:
25
g
|
Protein:
8
g
|
Fat:
7
g
|
Saturated Fat:
1
g
|
Cholesterol:
1
mg
|
Sodium:
1056
mg
|
Potassium:
251
mg
|
Fiber:
1
g
|
Sugar:
10
g
|
Vitamin A:
2
IU
|
Vitamin C:
18
mg
|
Calcium:
119
mg
|
Iron:
4
mg