Easy baked crispy BBQ Chicken Wings are the perfect party food and easy enough to make every day.
Baked BBQ Chicken Wings are so easy to make you'll want to make them for every party. Baking the wings is so much easier and healthier than frying, and they come out of the oven crispy and perfect every time.
These wings take about 5 minutes to prep and then it's hands-off while they bake for 40-minutes. This recipe couldn't be easier!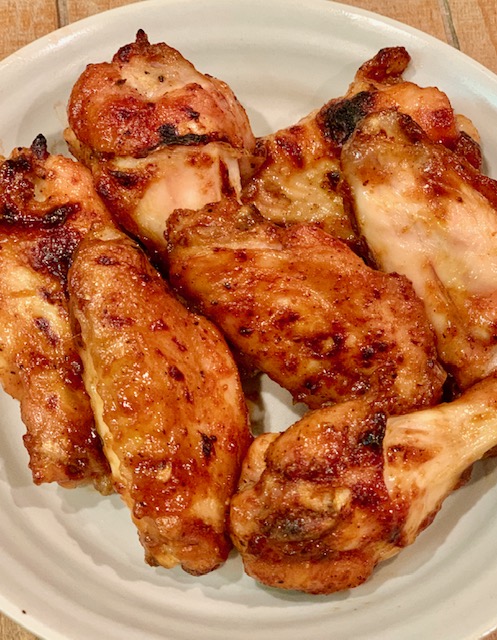 The Basic Ingredients of Baked Chicken Wings
Just a few quality ingredients are needed for the best ever baked chicken wings.
Chicken Wings:
If possible, buy the chicken wings labeled party wings because they are already split into two parts, and the wingtip is trimmed off.
If you can't find a precut party pack then you will need to hand trim the whole chicken wing. Be sure to cut the wing tip off first and discard it. Then cut to separate the flat piece from the drummette.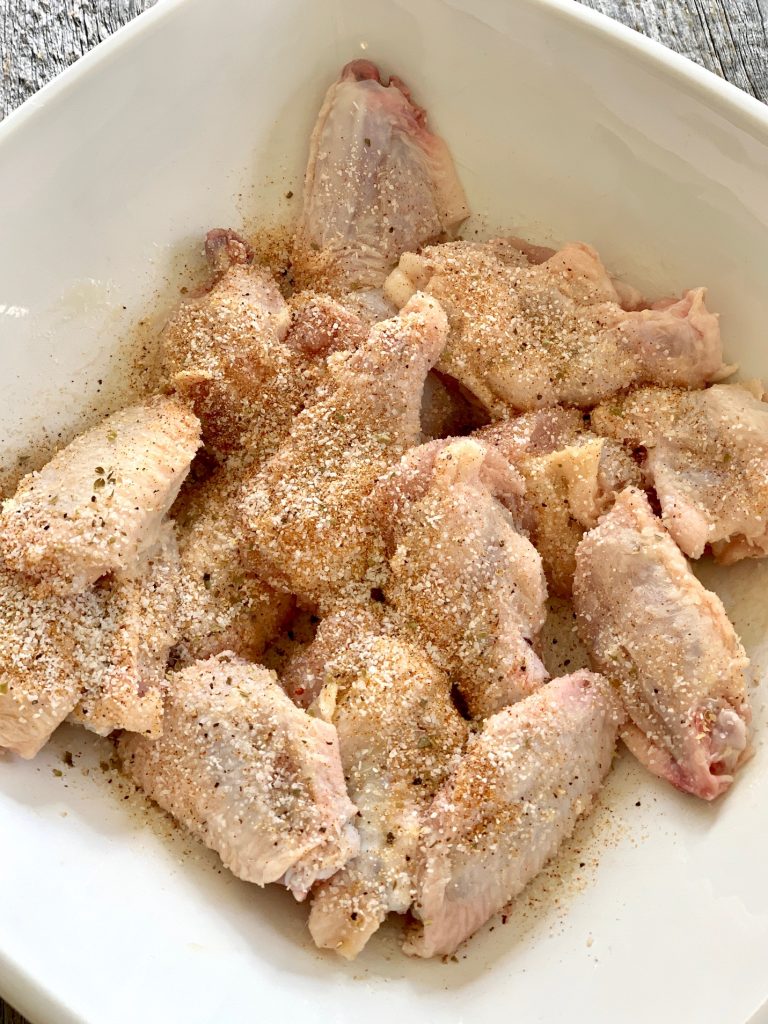 Seasonings:
The seasonings for these baked wings are versatile and are items you likely have in your pantry already. We add BBQ sauce to the wings at the end of the cooking but you can absolutely eat these without the BBQ sauce!
These seasonings are our favorites but feel free to change and add any extra seasonings to your liking:
Salt – use kosher salt if possible
Freshly ground black pepper
Garlic Powder
Dried Oregano
Chile powder or paprika
Other ideas: crushed rosemary, onion powder, ancho chile powder
Butter or Coconut Oil:
Melted butter helps add flavor to the wings, but if you prefer to go dairy-free, melted coconut oil works just as well.
Cooking Method for Baked Wings:
Toss all of the ingredients, except for the BBQ sauce, into a large bowl, and make sure the wings are well coated.
Prepare a rimmed baking sheet by lining with foil and then topping with a baking rack. Place the wings on the rack, making sure they aren't touching each other.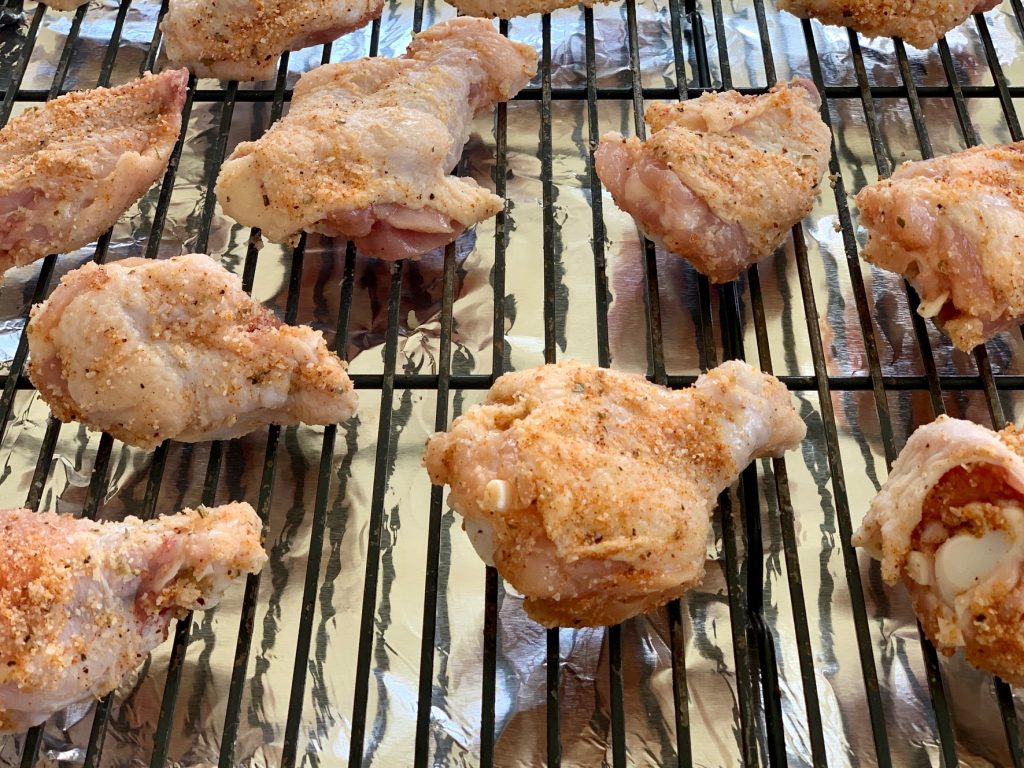 Bake in a 400F oven for 40 minutes. At this point, you can actually serve as Seasoned Chicken Wings (without BBQ sauce) like the photo below. I like to serve these with a side of ranch dressing.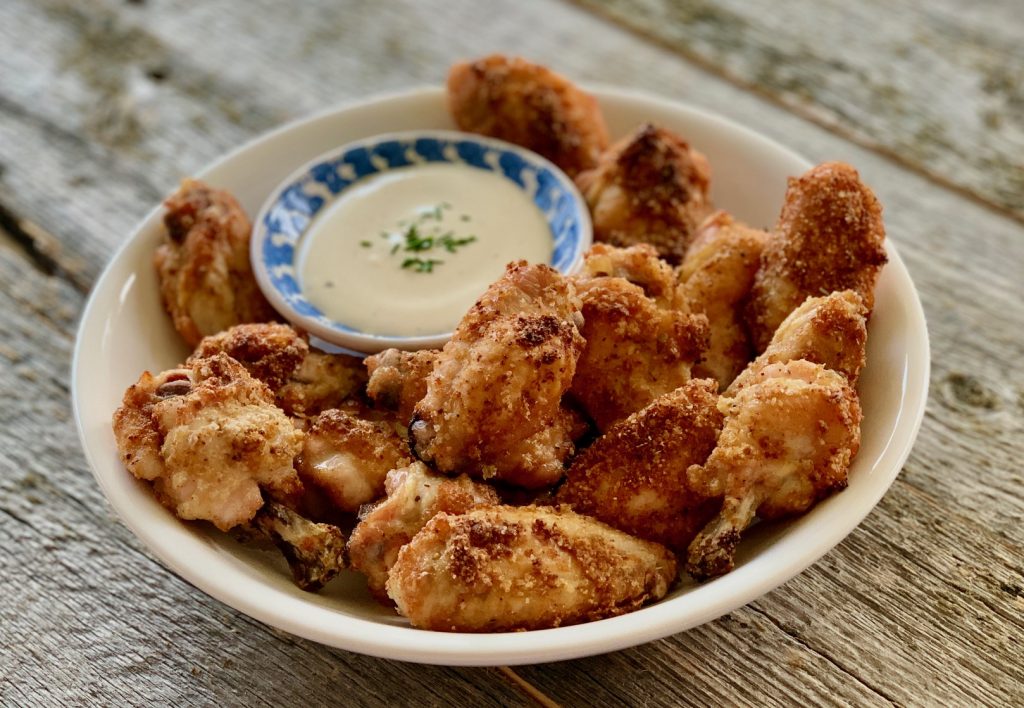 Adding the BBQ sauce to finish:
Remove wings from the oven and brush with the BBQ sauce. Cook another 5-7 minutes, until the BBQ sauce is sticky and bubbly.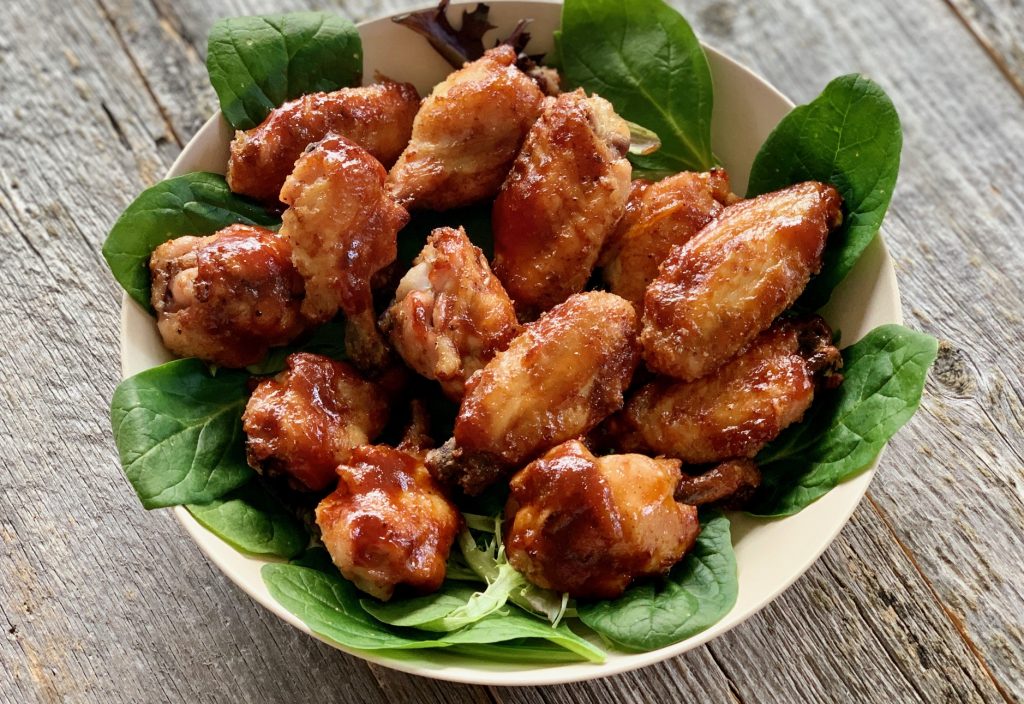 Serve with plenty of napkins and enjoy!
Looking for other party and snack ideas? Check out these recipes on our site: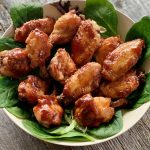 Print Recipe
Baked BBQ Chicken Wings
Easy baked crispy BBQ Chicken Wings are the perfect party food and easy enough for every day. Baking makes them healthier than frying!
Ingredients
2

lbs

Chicken wings, separated, tips removed,

look for "party pack"

4

tsp

butter, melted or coconut oil

1

tsp

kosher salt

1

tsp

garlic powder

½

tsp

ground black pepper

½

tsp

chile powder or paprika

½

tsp

crushed oregano

1

cup

BBQ sauce
Instructions
Line a rimmed baking sheet with foil and then place a baking rack on top.

If the wings are still whole be sure to cut off the tip and discard. Then separate the wing and the flat piece.

In a large bowl toss wings with melted butter, salt, garlic powder, pepper, paprika and oregano.

Place on the baking rack, and make sure the wings are not touching.

Bake for about 35-40 minutes. Wings should be dark golden brown in color and skin should be crispy.

Remove from the oven. Brush with BBQ Sauce and put back in the oven for additional 5-7 minutes or until BBQ sauce is hot and bubbly.

If you want super crispy wings reduce the oven heat to 180°F and cook for another 15 minutes.

To serve: remove from baking rack and serve on a large platter or bowl. If desired, serve with ranch dressing on the side.
Nutrition