Get ready to wake up your taste buds with Roasted Shrimp with Chipotle Sauce! This recipe can be ready in less than 30-minutes so it makes a perfect weeknight dinner but is impressive enough to serve at a dinner party.
One of the many things I love about this recipe is the contrast between spicy and sweet. The other thing I love is that you likely have everything you need in your pantry or refrigerator for the sauce. Just pick up a pound of shrimp and dinner is made easy.
Tips for roasted shrimp with chipotle sauce:
Roasting shrimp is actually easier than sauteeing shrimp because the temperature in your oven is consistent and even, whereas the flame on your stovetop varies. You can control the cooking and it's a bit more difficult to overcook the shrimp in the oven.
Shrimp in the oven cooks best with high heat. In this recipe, we will cook at 425 degrees F for around 10 minutes. Once the shrimp are firm to the touch and the tails start to curl you're done.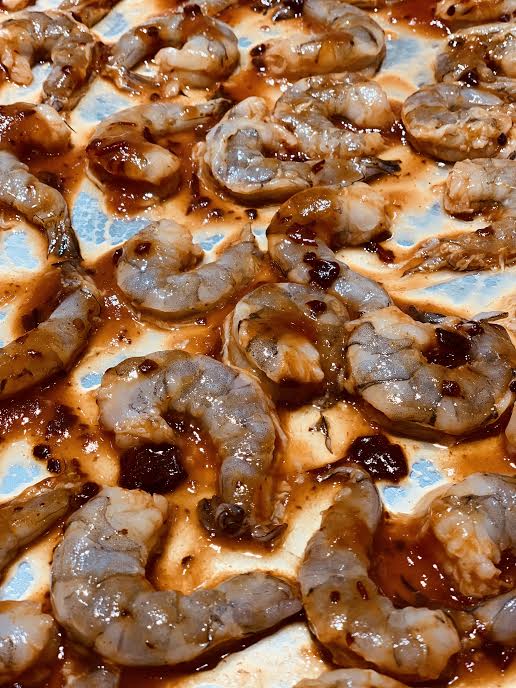 Prepare your chipotle sauce in 10 minutes:
Everything, except the shrimp and the scallion garnish, is part of the sauce. Combine all in a small saucepan, bring to a boil and then immediately reduce the heat to a simmer. Cook another 5 minutes or until your sauce is thickened. Half of the sauce will be reserved for serving.
About Chipotle in Adobo Sauce:
Chipotle peppers in adobo sauce are easily found in every grocery store in the same area as Hispanic or Mexican food. It comes in a can or a jar. You will just use 2 tablespoons for this recipe, but the remainder saves in the refrigerator. I always buy the jar version because you can store it right in the refrigerator afterward. Rarely would you use the whole can or jar.
Here are the brands I would recommend using: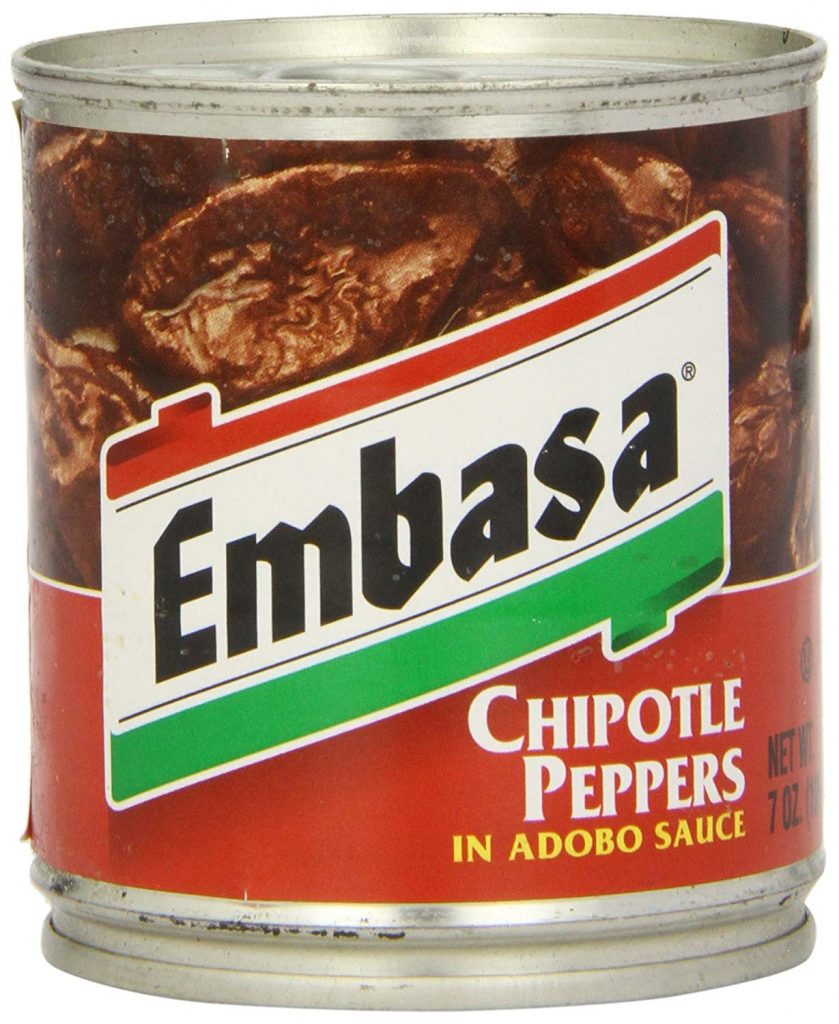 Prepping the shrimp for roasting
Toss all of the shrimp in a medium bowl with half of the reserved sauce. Make sure all of the shrimp is well coated. Spread the shrimp in a single layer on a baking sheet and transfer to the oven.
Roast for about 5-6 minutes, then turn the shrimp and cook for another 3-4 minutes or until done.
In the seafood industry, shrimp are sold by their quantity per pound. We use Jumbo Shrimp for this recipe, which is 21-25 pieces per pound, but you could use larger. I don't recommend anything smaller.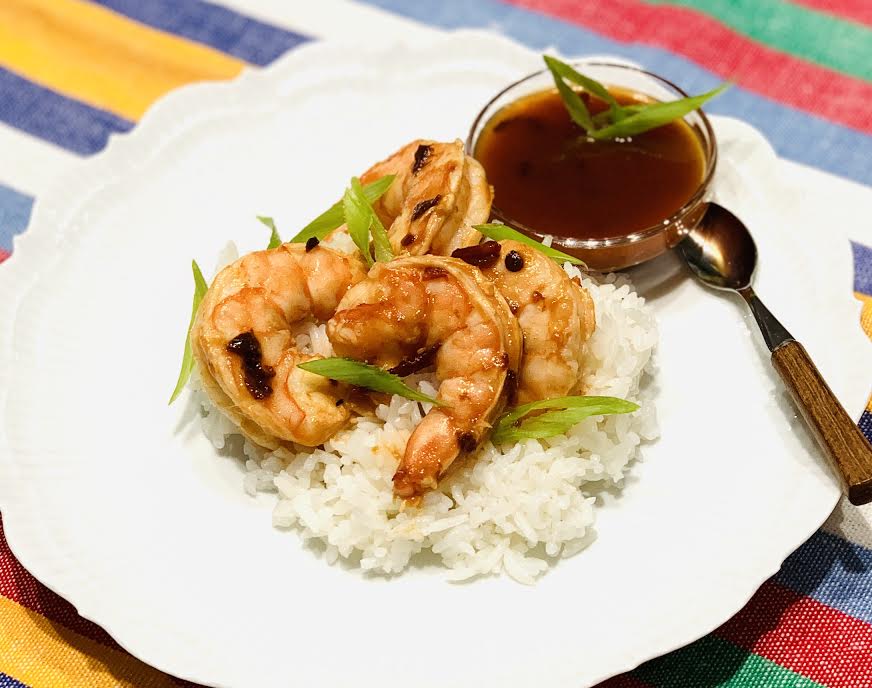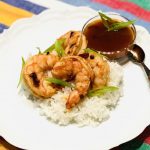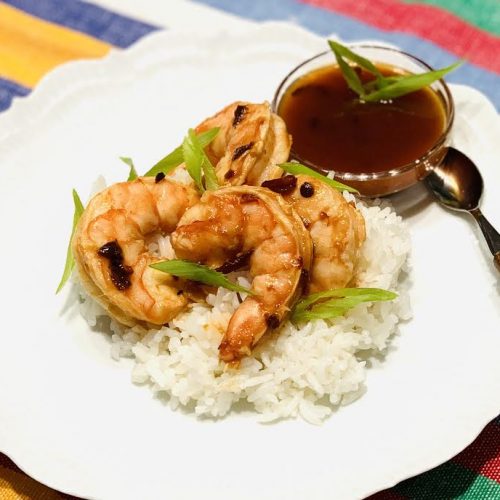 Print Recipe
Roasted Shrimp with Chipotle Sauce
Sweet and spicy shrimp marinated and oven-roasted with a spicy kick of chipotle adobo sauce
Ingredients
6

ounces

orange juice

½

cup

ketchup

2

Tbsp

chipotle pepper in adobe sauce,

minced

1

tsp

sea salt

2

tsp

Worcestershire sauce

3

Tbsp

lemon juice,

freshly squeezed

1

lb

jumbo shrimp

peeled and deveined

3

scallions,

sliced on the bias, for garnish
Instructions
Preheat the oven to 425°F
Sauce:
In a medium saucepan, over medium heat, whisk together orange juice, ketchup, chipotle pepper, salt, Worcestershire Sauce, and lemon juice.

Bring to a boil, reduce heat to a simmer and cook about 5-7 minutes until sauce is reduced. Stir occasionally.

Reserve about 1/2 of the sauce for serving, in a small bowl or pitcher.

Clean shrimp and place in medium-size bowl. Add remaining half of the chipotle sauce and stir to coat well.

Place on a baking sheet in a single layer

Roast in the oven for 4-5 minutes, turn shrimp and roast another 3-4 minutes, or until shrimp is pink and the tails start to curl.

Serve over rice or cous cous, if desired, with extra sauce on the side. Garnish with scallions