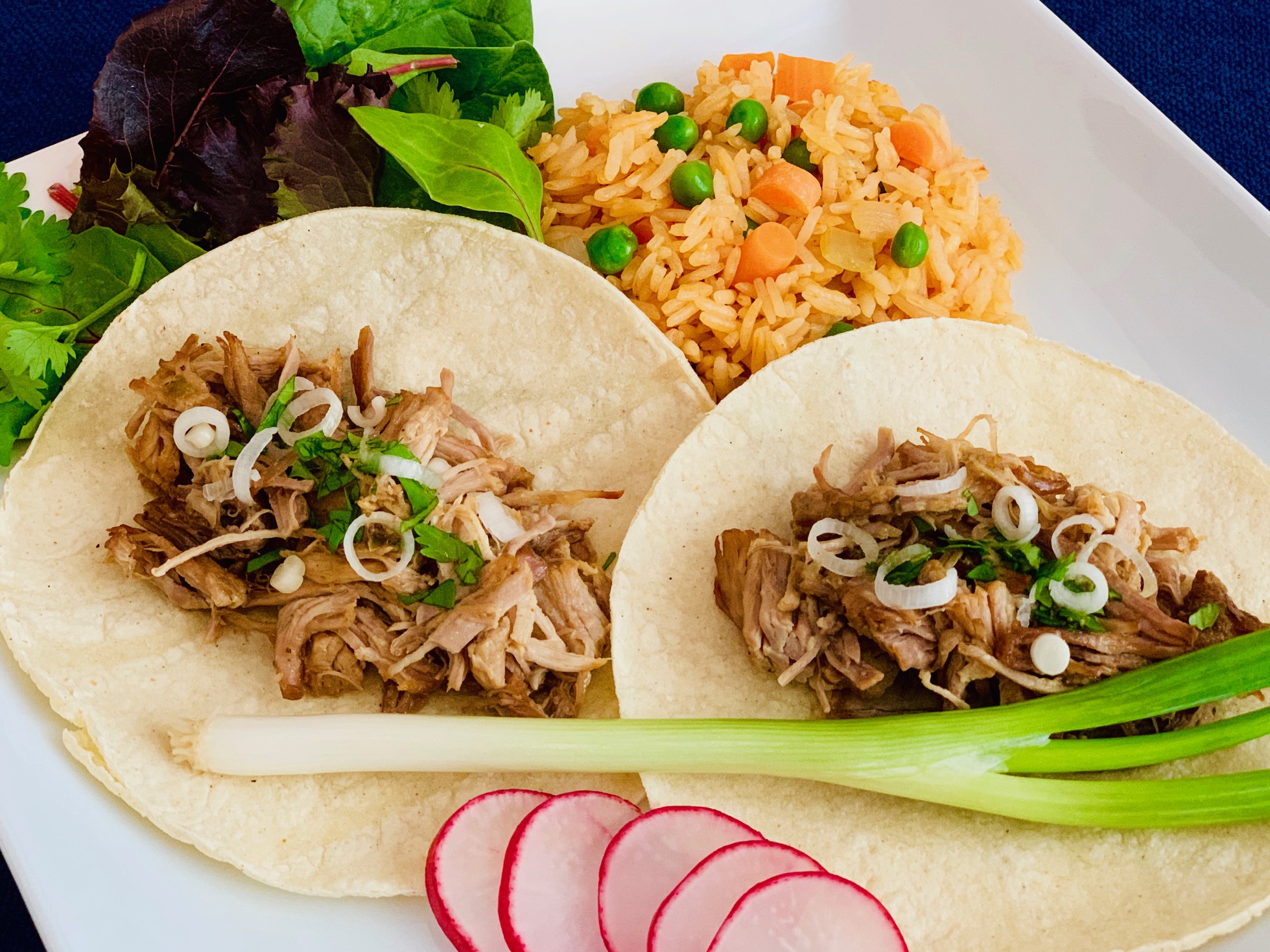 This Pork Carnitas Recipe is made quickly in the Instant Pot and gives you dinner on the table in about an hour
This recipe is also adaptable for the slow cooker or in the oven, and perfect in every way!
The results are authentic carnitas cooked in a juicy citrus sauce. Carnitas are one of my top 10 favorite foods so I am always looking for a way to make it quicker. This version is my favorite recipe because of the amazing citrus sauce!
What is Carnitas?
Carnitas means "little meats" and is part of Mexican cuisine, originating from the state of Michoacán. Carnitas are made by braising or simmering pieces of pork until tender and then shredding with a fork.
Generally, carnitas are eaten by themselves, or with sides such as beans and our Spanish Rice , or used as a filling for tacos and burritos.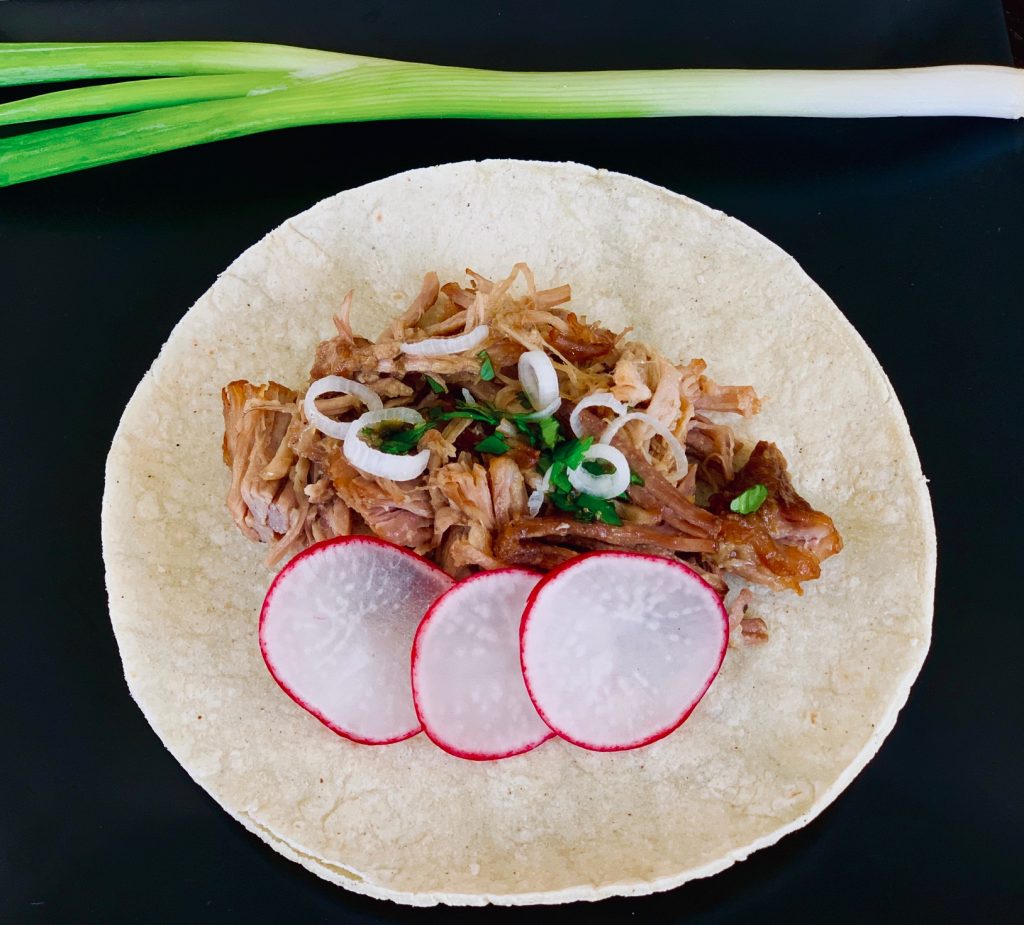 Choosing the right type of pork for easy Carnitas
The great thing about carnitas is that the best versions are made with a big cut of pork that is relatively inexpensive.
Choose a 5-6 pound pork picnic, pork butt, or pork shoulder. The slow cooker, or pressurized cooking in the Instant Pot, will break down the meat until it is "melt in your mouth" tender. I was impressed by how quickly the Instant Pot worked on my traditional oven cooked recipe!
The secret to Carnitas is in the sauce!
My love for this sauce knows no boundaries! Don't skip the sauce because it makes the recipe!
The citrus in the sauce helps break down the meat so that it becomes super tender, This sauce also adds a brightness to the flavor of the meat. I like to use orange juice and lime juice. You could sub in lemon luice for the lime juice or a combo of both. I use beer in my sauce, but you can substitute that with chicken stock.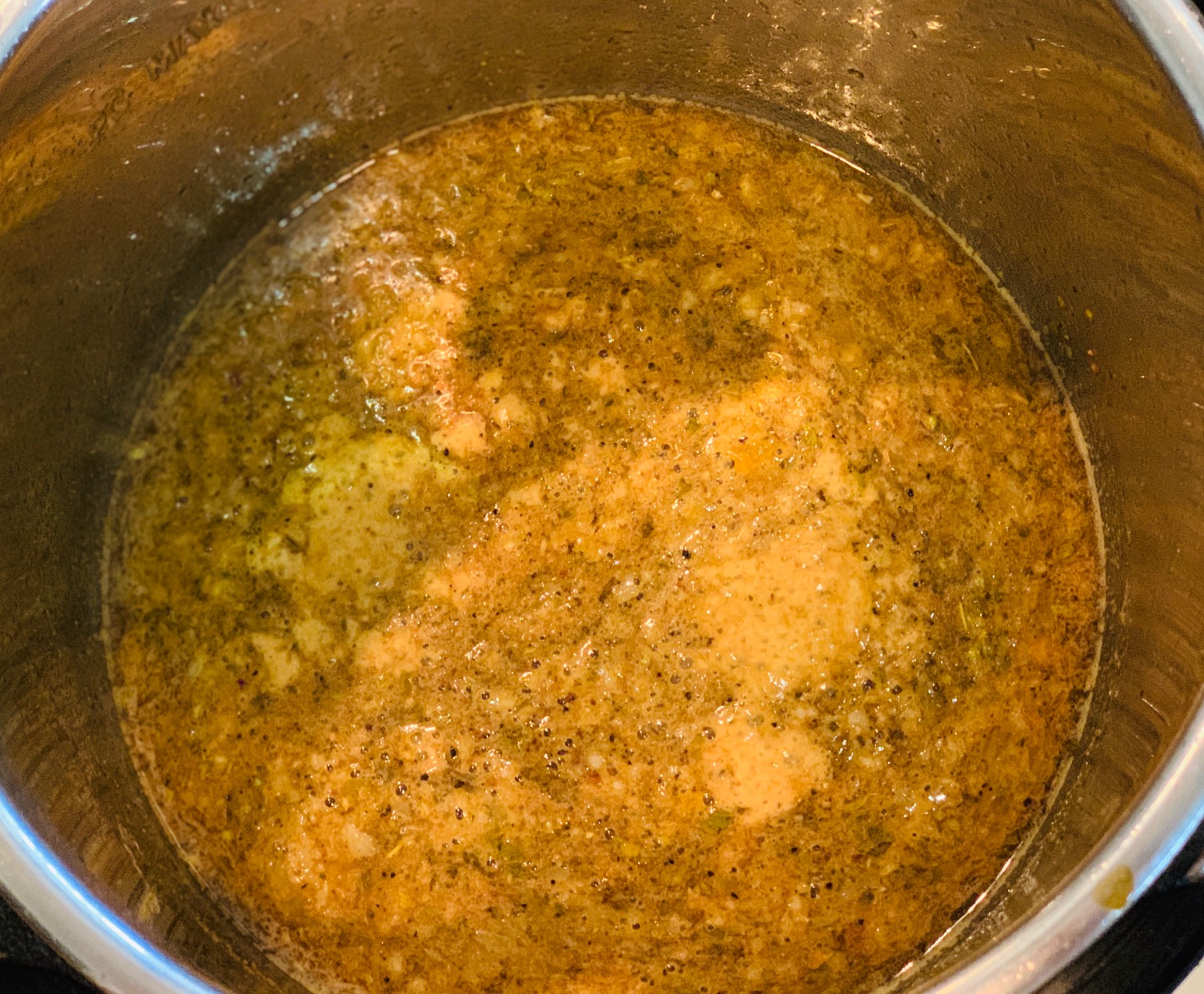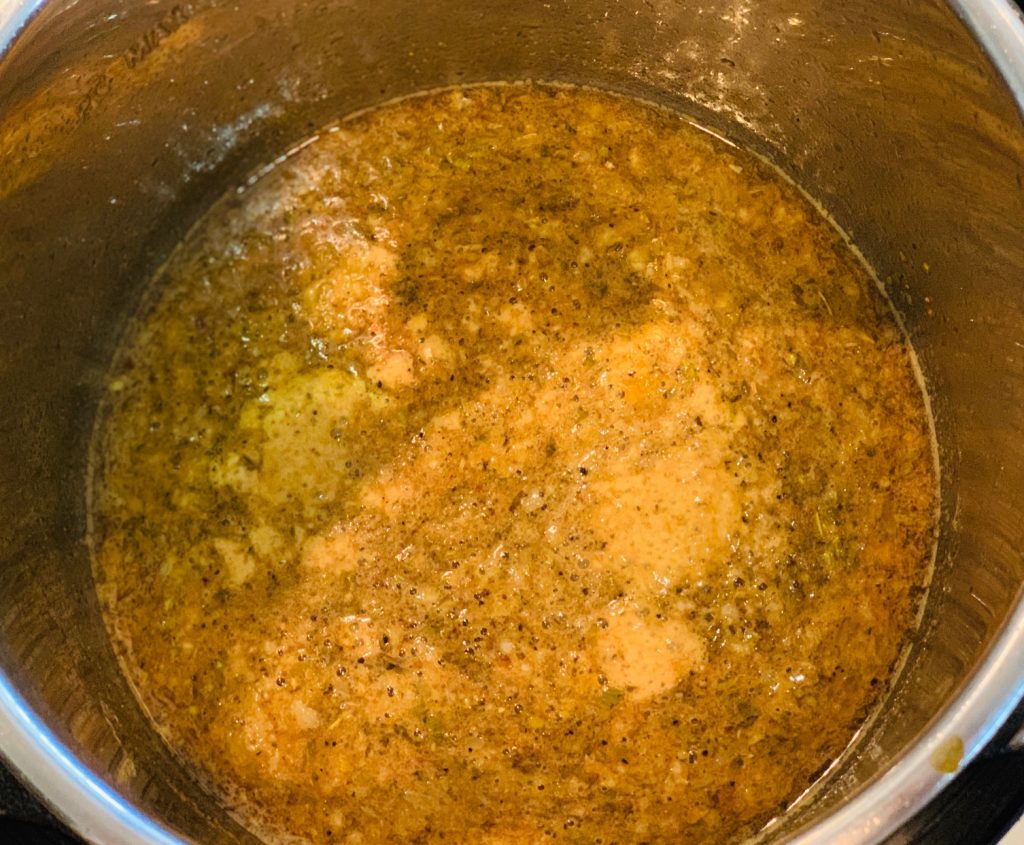 Dried Herbs vs. Fresh Herbs:
Oregano is a common spice in Mexican food. I used dried in mine, but if you have fresh oregano you can substitute. I use LOTS of cumin because I love the flavor, and a bit of chili powder.
Remember dried herbs are more potent and concentrated than fresh herbs so you'll use less. Typically the ratio is 3:1 or three times the amount of fresh herbs as dry. For example, this recipe calls for 1 teaspoon of dried oregano, so you will need 3 teaspoons of fresh, chopped oregano.
How to make Carnitas
The initial steps for preparing carnitas in an Instant Pot are the same for a slow cooker or in the oven.
Cut pork into 2″ pieces, season well with salt and pepper and saute in olive oil until browned on all sides.
Saute in batches if necessary and do not crowd in the pan or it will steam, not brown.
In the IP use the SAUTE button.
If preparing in a slow cooker or in the oven start with a deep, heavy bottom, ovenproof pot, such as a Dutch oven. I use this fantastic

Le Creuset

pot that I have had for 20 years. I highly recommend it!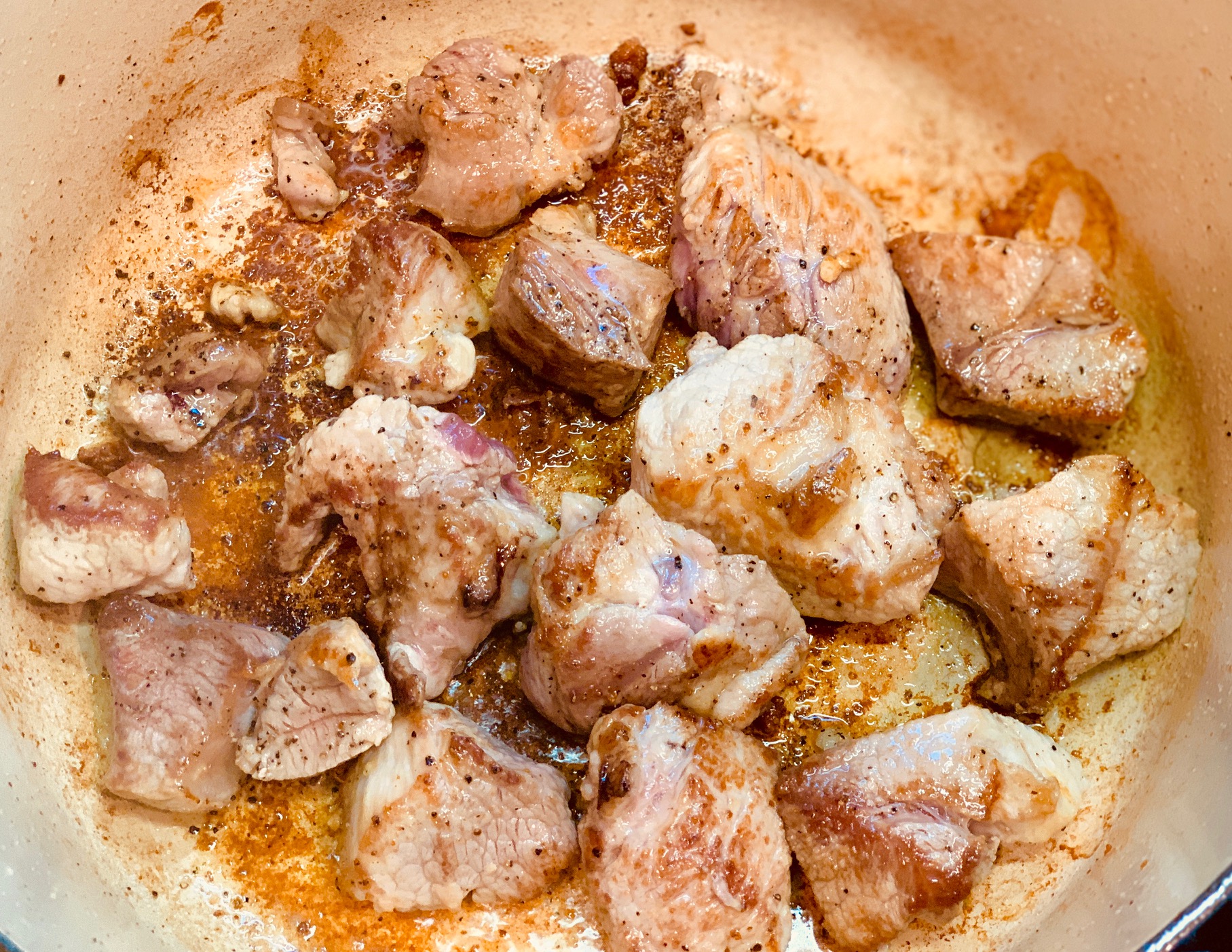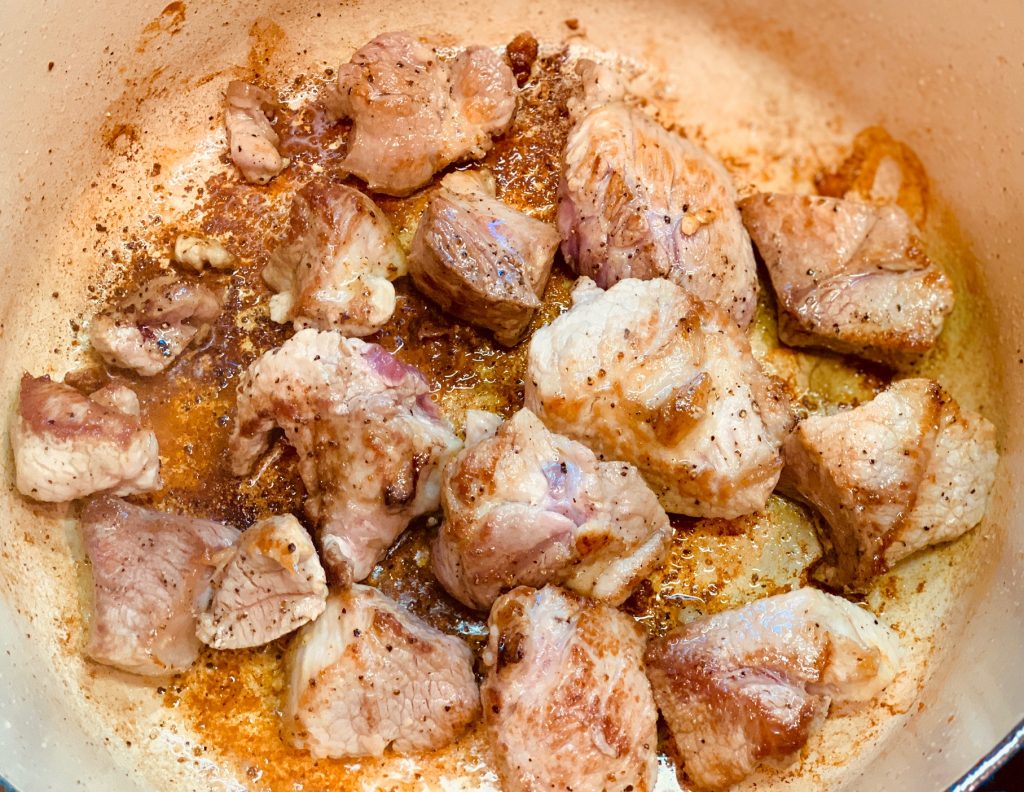 Drain any excess oil and then add the citrus sauce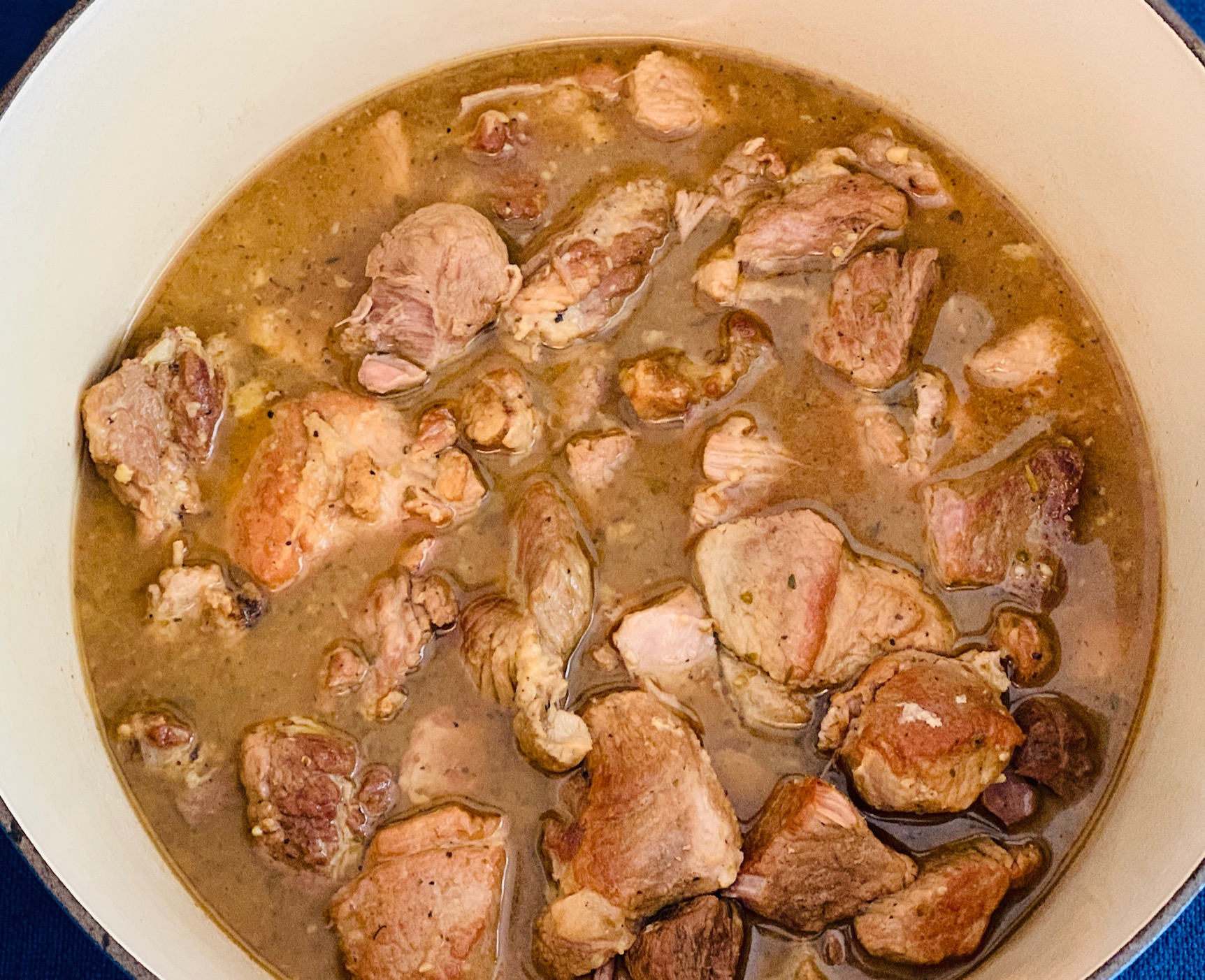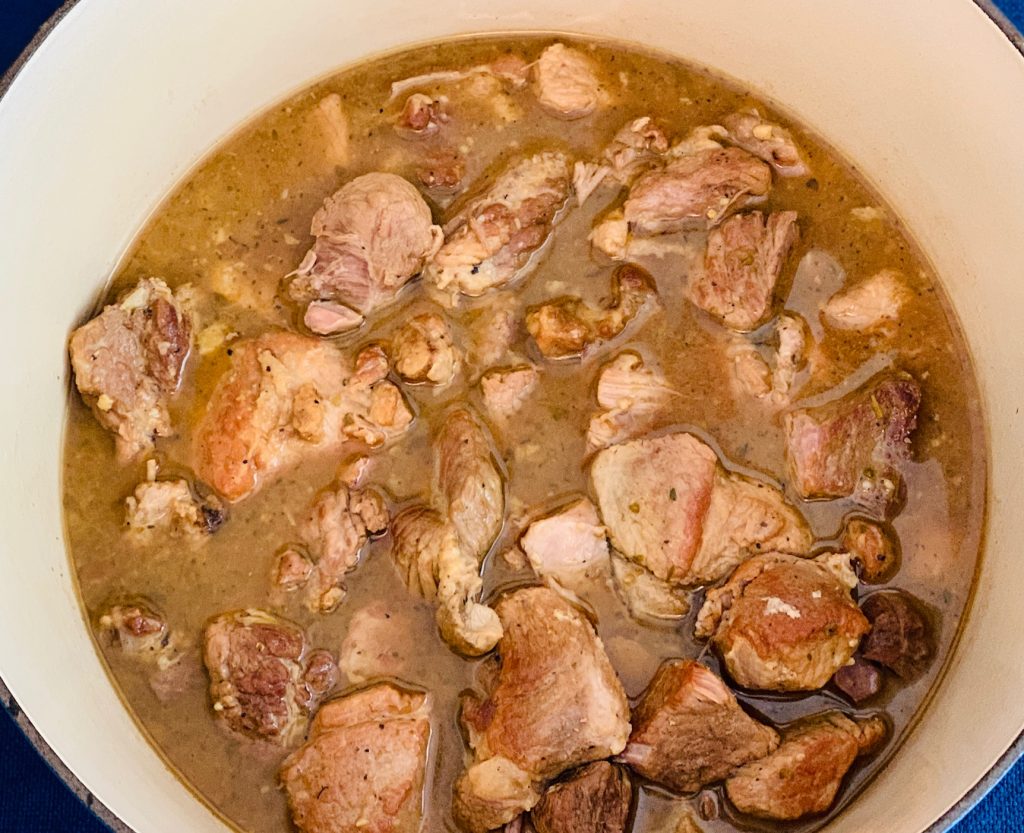 If using an IP close lid securely and set vent to "sealing". Cook on HIGH pressure for 30-minutes, and then use the natural release for about 15-minutes.
Remove lid, and transfer meat to a large bowl. Reserve the juice.
Shred with two forks and put on a large baking sheet or ovenproof dish.
Spoon about 1/3 of the sauce over the top and broil on high in the oven for about 5 minutes, or until the edges of the pork start crisping.
Remove from oven and add about 1 cup additional juice and mix to combine. If needed, add more juice.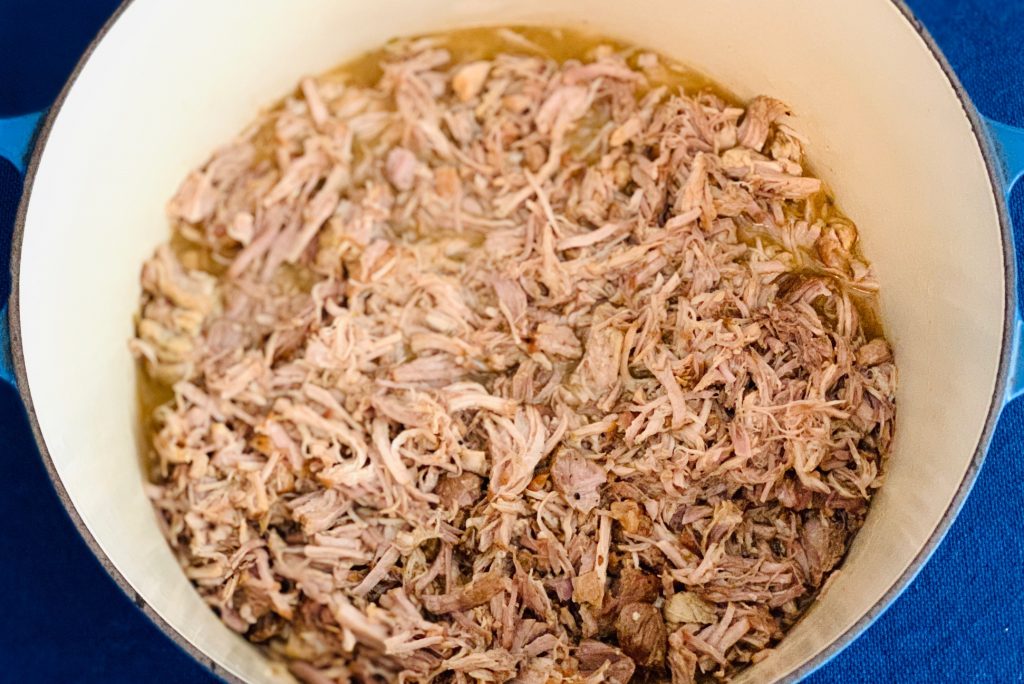 No Instant Pot? No problem!
If cooking in a dutch oven or a slow cooker cover with a lid after adding juice mixture.
Cook in a slow cooker on low for up to 8 hours, or on high for about 5 hours. You will know the meat is ready when you can easily shred with a fork.
If cooking in the oven, cook for about 3 hours at 275°F. Low and slow is best.
Once cooked, broil as you would in the above IP steps.
Serving Ideas for Authentic Pork Carnitas:
There are so many ways to serve these amazing carnitas. The recipe makes a lot, so if you aren't cooking for a crowd you can freeze the extra. Put servings in a freezer bag or container with some of the juice until ready to use.
Some ideas for serving your carnitas:
As a filling for tacos, burritos and tostadas with cilantro, lime wedges, diced onion, and sliced radishes
Nacho topping
Enchilada filling
As an entree with beans and our savory

Spanish Rice
Looking for more Mexican dinner ideas?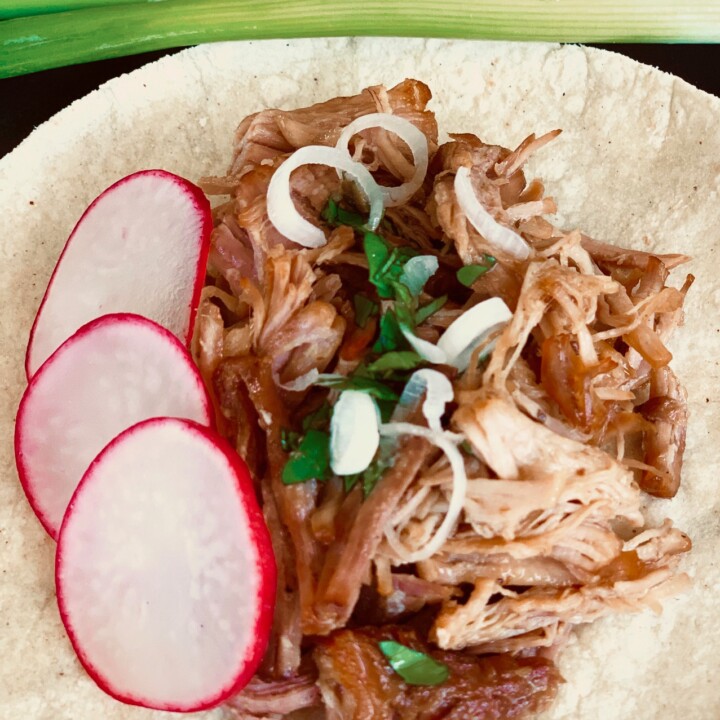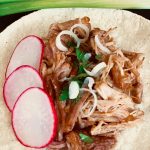 Print Recipe
Authentic Carnitas Recipe
Authentic Carnitas Recipe made with a zesty citrus sauce can be made in Instant Pot, in the oven, or slow cooker and becomes "melt in your mouth" tender pork. Great for tacos too!
Equipment
Instant Pot, Slow Cooker or Dutch Oven
Ingredients
Carnitas Ingredients
5

lbs

pork shoulder, pork picnic or pork butt,

excess fat removed, cut into 2" pieces

1

Tbsp

Salt

1

Tbsp

Pepper

2

Tbsp

Olive Oil, more if needed
Citrus Sauce Ingredients
10

cloves

garlic, peeled and roughly chopped

6

oz

beer, medium bodied,

or chicken stock

⅓

cup

freshly squeezed orange juice

¼

cup

freshly squeezed lime juice

2

Tbsp

ground cumin

1

Tbsp

chile powder

1

Tbsp

dried oregano

1

tsp

black pepper, freshly ground

1

tsp

salt
Optional Garnishes
¼

cup

roughly chopped cilantro

2

scallions, sliced on the bias

3

med

radishes, thinly sliced

⅓

cup

salsa

24

small

corn tortillas,

serves 8 people
Instructions
Make the citrus sauce:
In a medium size bowl mix together all sauce ingredients. Set aside.
Sauteing the Meat:
Set Instant Pot to SAUTE, or a deep heavy pot to medium-high heat, add 1 tablespoon of the olive oil for each batch of meat.

Season the pork pieces with salt and pepper on all sides.

Once the oil is shimmering add enough pieces to cover bottom of pot in one layer. Do not overcrowd or the meat will steam instead of saute.

Sear meat briefly until browned on all sides, remove to a plate, and repeat with the remaining meat. When done turn off heat, drain excess fat, and add all the meat and accumulated juices back to the pot.

Note: If using slow cooker, sear meat in heavy pan on stove and then transfer to slow cooker

Pour in the reserved citrus juice sauce and mix to combine with the pork.
Cooking the Carnitas:
If using an Instant Pot, secure the lid and set the vent to "sealing" mode. Cook on HIGH pressure for 30 minutes and follow with a natural release for 15 minutes, until float sinks.

Carefully remove lid. Remove Carnitas to a large bowl, reserving sauce. Shred with 2 forks, add about 1 cup of the juice and toss to combine.

If using slow cooker, secure the lid and cook on low for about 9 hours, or on high for 5-6 hours.

If cooking in oven, secure lid on pot and put in a 275°F oven for about 3 hours.

Meat is done if it easily shreds with 2 forks. Remove Carnitas to a large bowl, reserving sauce. Shred with 2 forks, add about 1 cup of the juice and toss to combine

Turn oven broiler on HIGH.

Place shredded carnitas on a baking sheet and broil for about 5 minutes or until the edges begin to brown and get crispy.

Remove from oven and add another 1 cup of reserved juice and mix to combine. Add more juice as needed. Carnitas should be moist but not soupy.
Serving Carnitas
Warm tortillas and serve with garnishes, and sides of rice, beans or anything that sounds good to you.

If not using immediately, save remaining sauce in seperate container and refrigerate meat up to 3 days.

If freezing, put in individaul serving containers, add some sauce, seal and freeze up to 3 months. Thaw in refrigerator for best results.
Nutrition
Calories:
495
kcal
|
Carbohydrates:
42
g
|
Protein:
40
g
|
Fat:
19
g
|
Saturated Fat:
5
g
|
Polyunsaturated Fat:
3
g
|
Monounsaturated Fat:
9
g
|
Cholesterol:
116
mg
|
Sodium:
1428
mg
|
Potassium:
899
mg
|
Fiber:
6
g
|
Sugar:
2
g
|
Vitamin A:
484
IU
|
Vitamin C:
11
mg
|
Calcium:
136
mg
|
Iron:
5
mg
Try these carnitas with our amazing Spanish Rice recipe