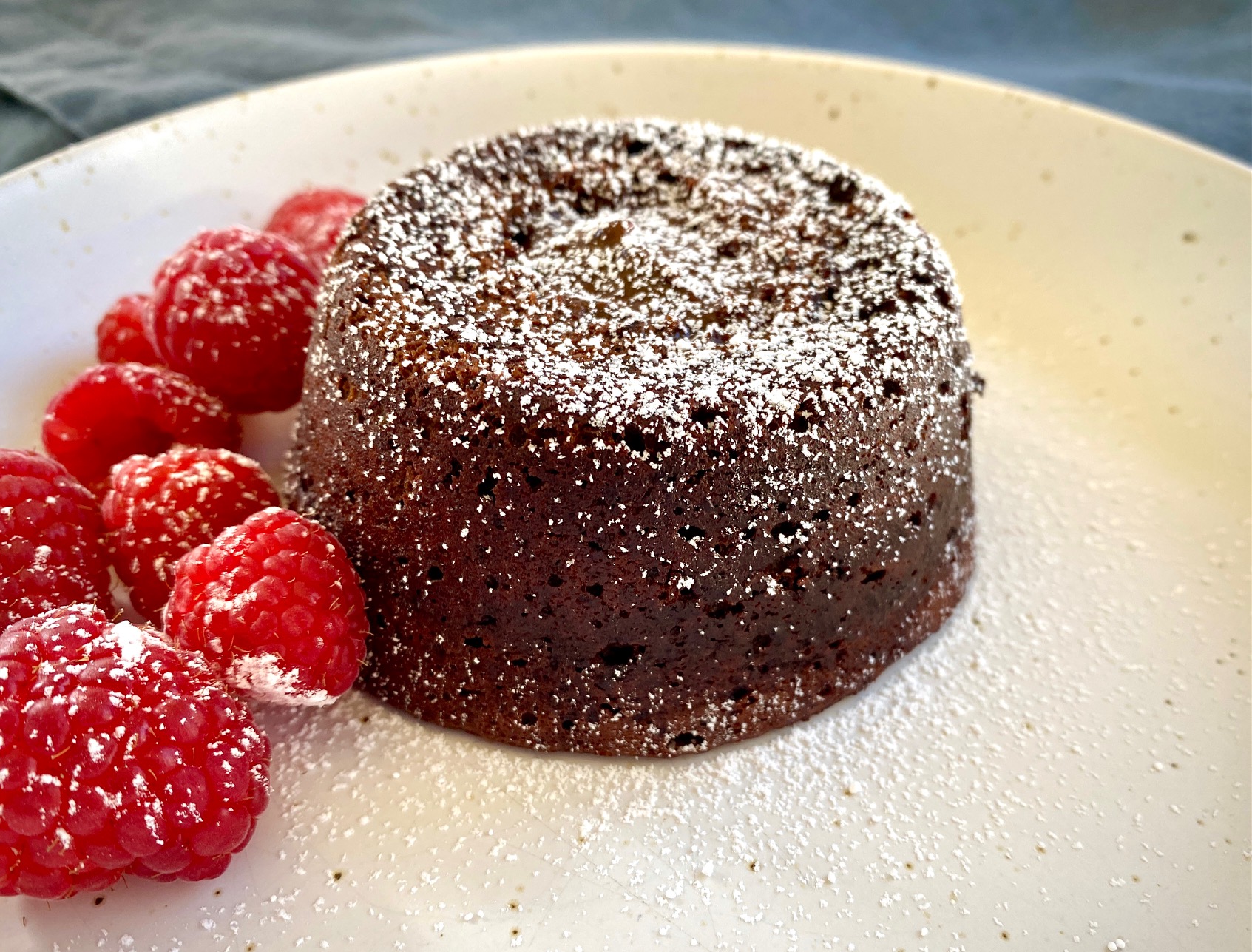 Rich delicious Molten Chocolate Lava Cake is a chocolate lovers dream come true!
Easy to make and ready in about 30 minutes
If chocolate is what you dream of this decadent dessert will become your new favorite for every special occasion (or even Monday!). We love it for birthdays, anniversaries and Valentines Day.
Just 7 simple ingredients are needed for this melt-in-your-mouth cake, and you probably have most of them on hand in your pantry and refrigerator.
Classic Chocolate Lava Cake is also called Molten Chocolate Cake. The outside is soft and cake-like while the inside is silky and molten when you cut into it.
These cakes are surprisingly easy to make so let's get cookin'…
Jump to Recipe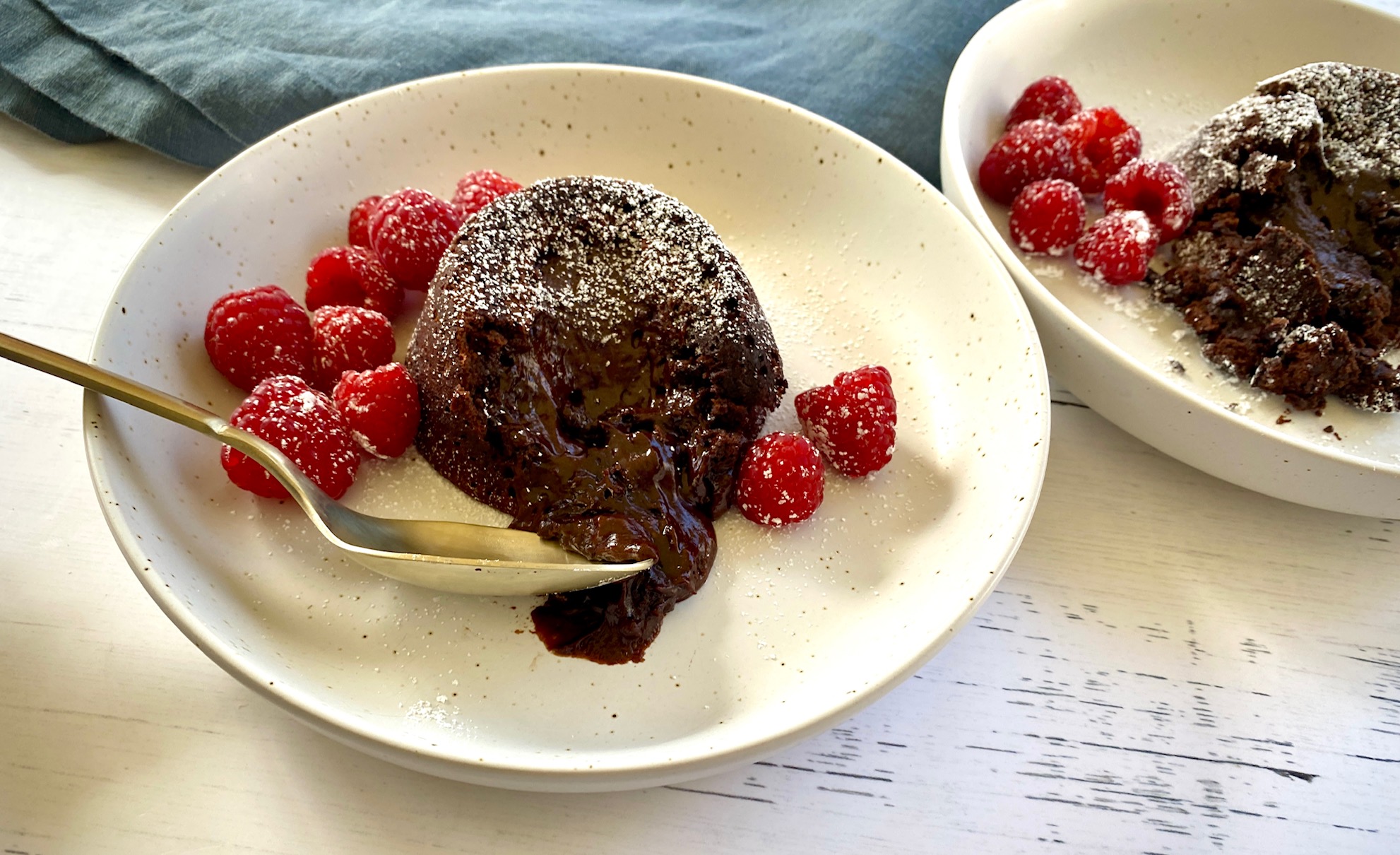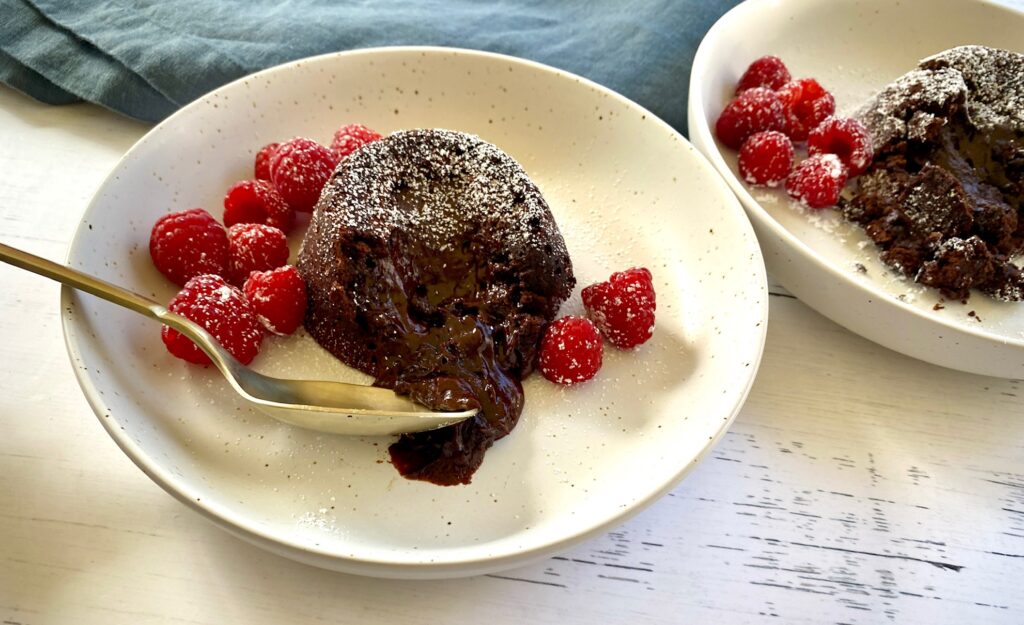 This post may contain affiliate links. Please see our affiliate disclosure for more details.
Ingredients for Chocolate Lava Cake:
Since there are only 7 ingredients make sure you choose the best quality for the most luxurious cakes!
Dark Chocolate – we use semi-sweet or bittersweet dark chocolate (unsweetened is not recommended). Since chocolate is the most important ingredient in this recipe we highly recommend a high quality brand such as Scharffen Berger Dark Chocolate, Ghiradelli Chocolate, or Guittard's All Natural Baking Chocolate. The chocolate should be at least 60% to give the cakes a nice deep rich flavor
Butter – preferably unsalted, for the cakes, and a little extra for coating the ramekins
Vanilla Extract – we make our own pure vanilla and it's easy with just two ingredients, so give it a try!
Sugar – just regular sugar works perfectly
Eggs – you will need 2 whole eggs and 2 egg yolks (save the whites for your next omelette or meringue)
All-Purpose Flour – cake flour will also work, as will 1:1 gluten free flour
Cocoa Powder – for both the cakes and to dust the ramekins or molds
Optional: Powdered Sugar – for garnish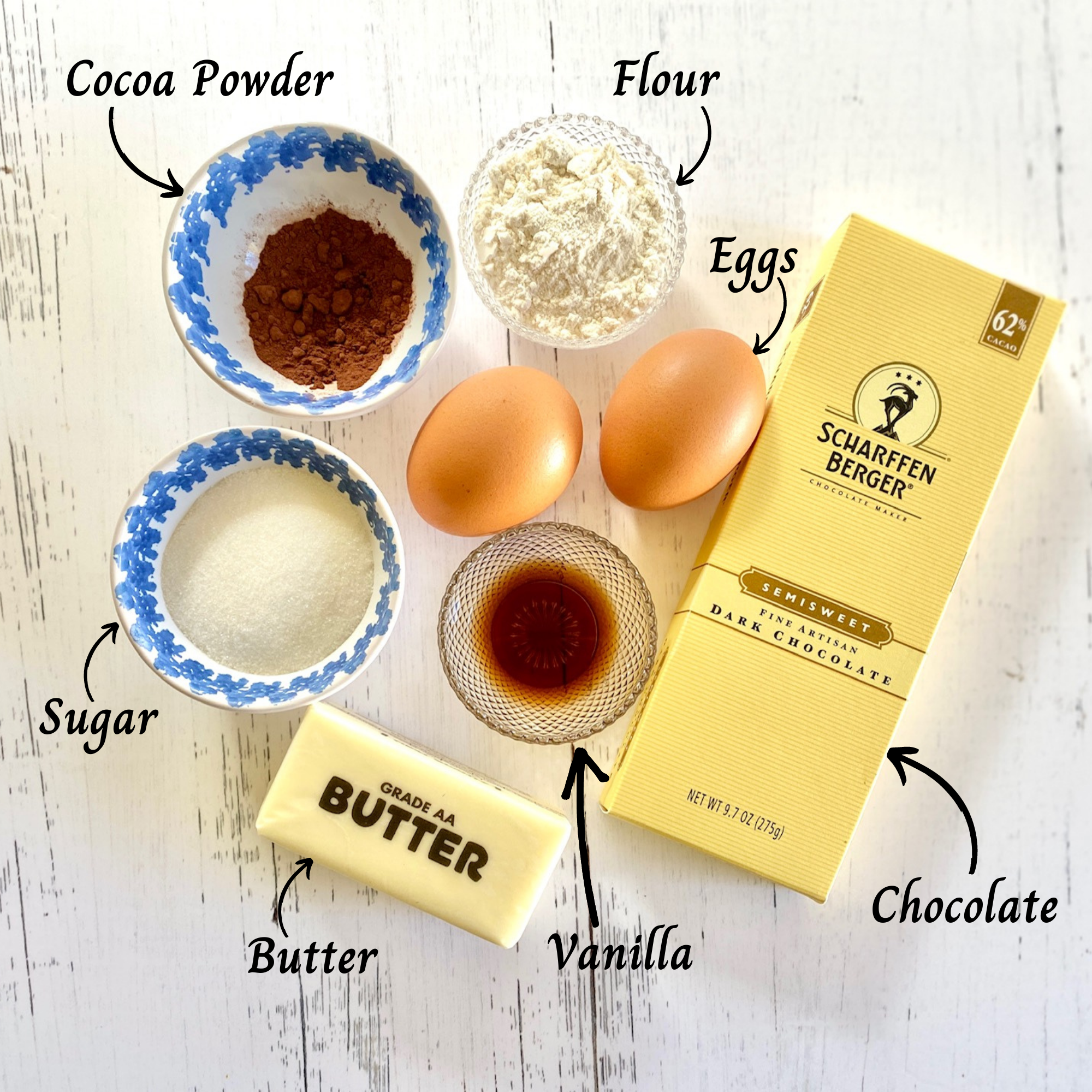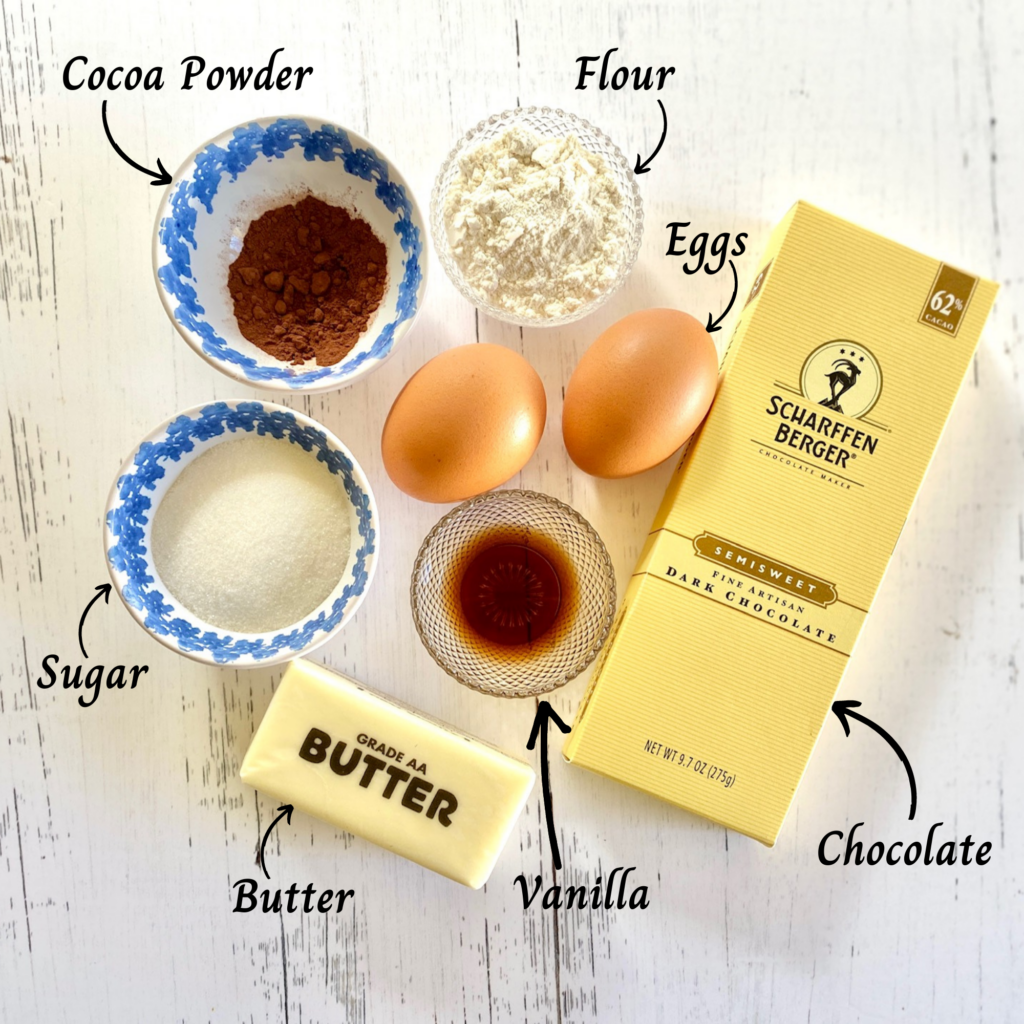 How to make Chocolate Lava Cake:
Molten Chocolate Cakes come together pretty quickly so be sure to preheat the oven while prepping the cakes
Preheat the oven to 400˚F and make sure oven rack is in the center position
Generously coat the ramekins with butter and then dust them with a little cocoa powder. (You can also use flour to dust, but cocoa has so much more flavor!)
Roughly chop the chocolate and butter into pieces
Melt over a double boiler, or in a glass bowl in the microwave in 30-second increments. Be sure to stir in between increments. Mix until completely melted and blended. (photo #1 below)
Let cool while making the rest of the cakes and then mix in the vanilla extract
Beat whole eggs, egg yolks, and sugar until the mixture is pale and thick. The batter should fall in ribbons when you lift the beater blade or whisk (photo #2)
Slowly whisk in the melted and cooled chocolate and mix until blended (photo #3)
Add in flour and cocoa powder and blend until combined and no streaks remain (photo #4)
Divide the batter equally into the prepared ramekins (photo #5)
Bake for about 11 minutes. The edges should be firm and the center should still be wobbly and a little shiny
Remove from the oven and let cool for 2 minutes (photo #6)
Un-mold the cakes by inverting onto a plate or shallow bowl. The molds will still be very hot so the easiest way to hold onto the ramekins is with a kitchen towel
If the cakes don't fall out immediately, lightly tap the ramekins to encourage the cakes to un-mold, or gently run a knife around the edges of the ramekins until they release
Serve warm, dusted with powdered sugar, if desired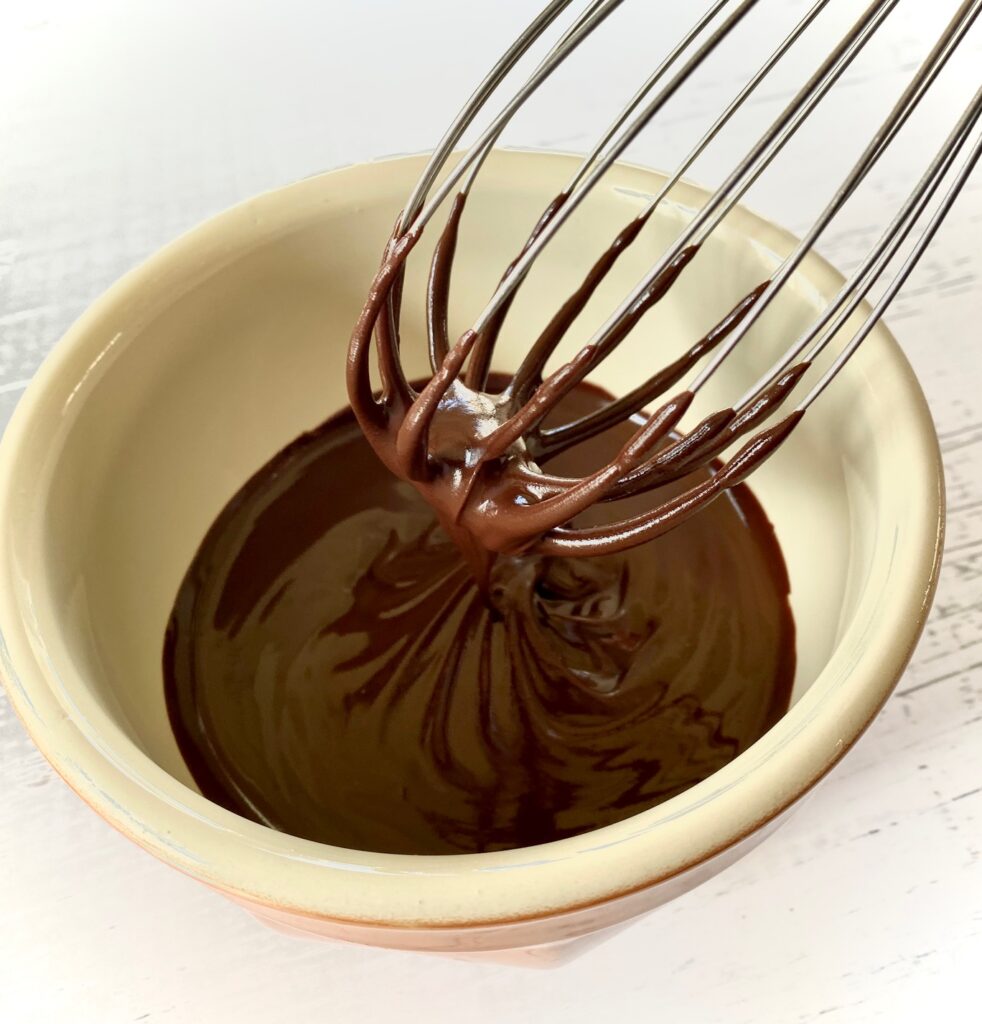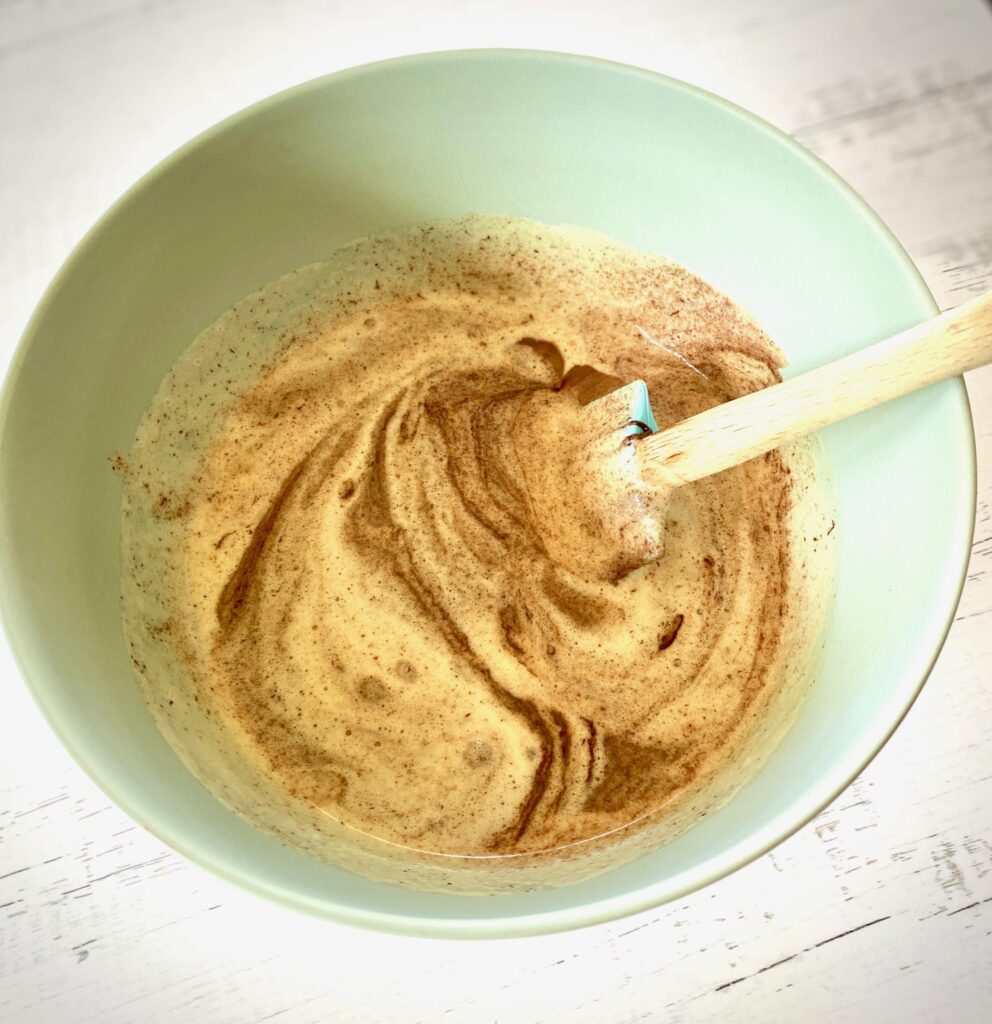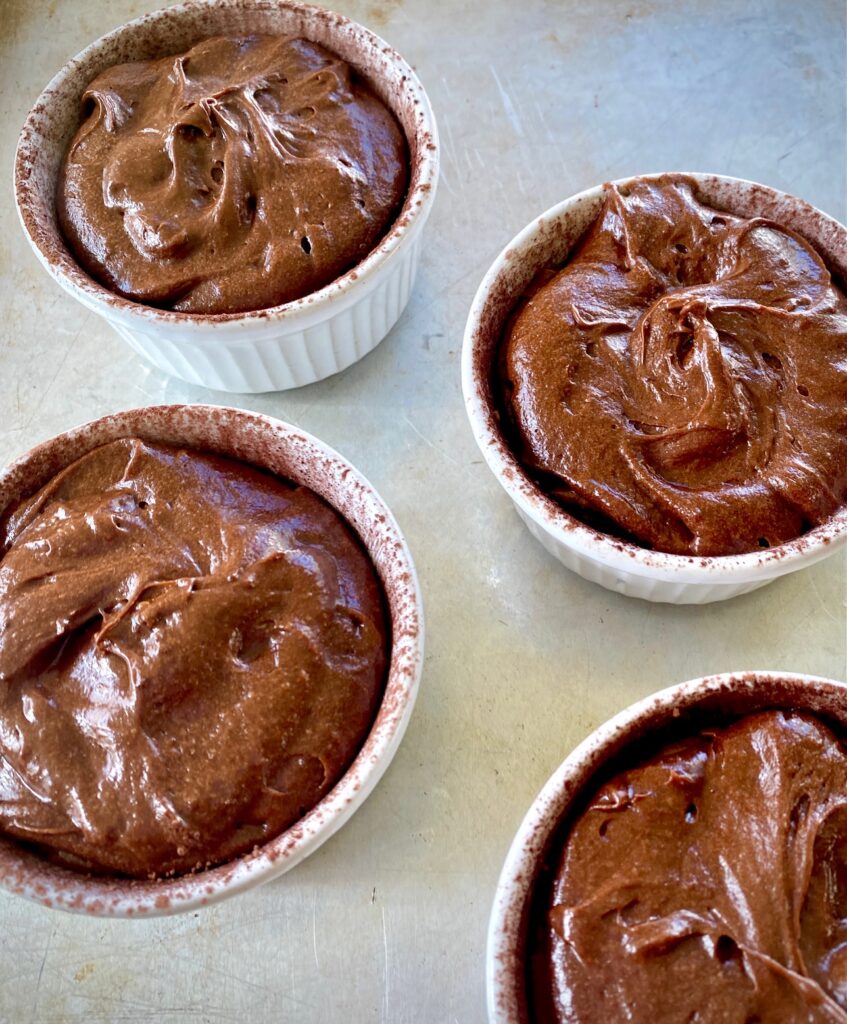 Best types of molds for Molten Cakes
We like to use four 4-ounce ceramic ramekins with straight sides because they are the perfect size for individual cakes and help them hold their shape during baking.
However, any similar type of ramekins or molds will work, as long as they are more tall than wide, to support the sides of the cakes while baking. A jumbo muffin tin will also work, but be sure to use a paper liner in the wells. Unmolding from a muffin tin can be a little tricky and requires a platter.
If you use smaller molds cut down on the cooking time and if you use bigger sized molds add a little more cooking time.
This recipe can be cut in half to make 2 cakes, as well.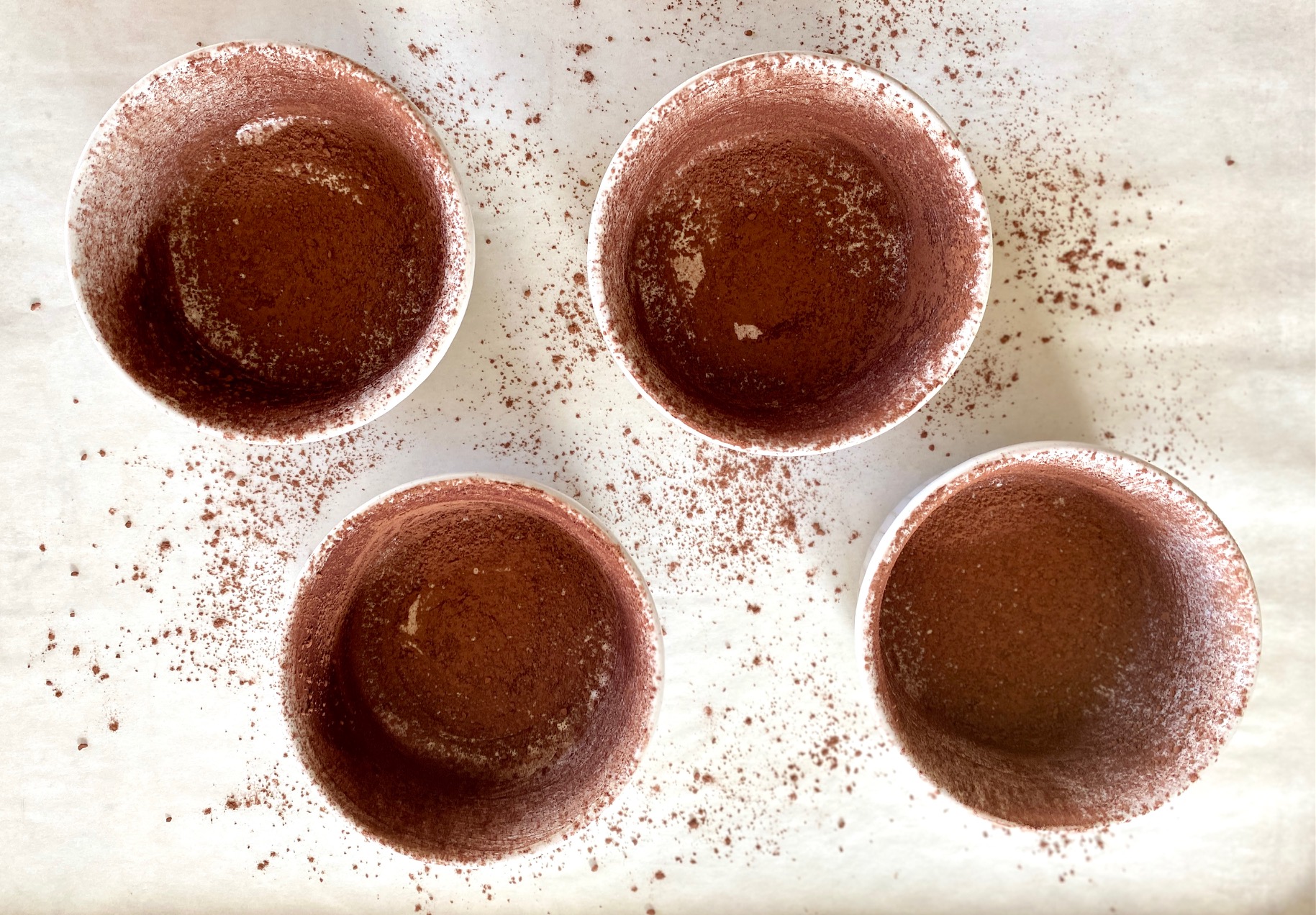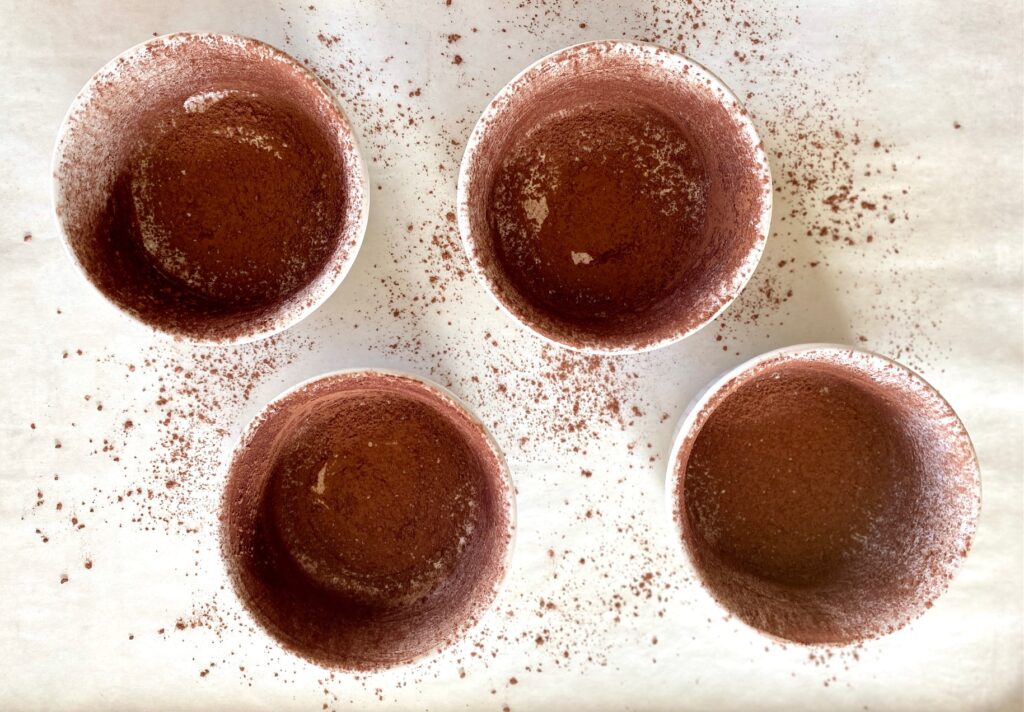 Frequently Asked Questions:
Can Lava Cakes be made ahead of time?
Yes, they can!
REFRIGERATE: If you are baking them the same day you can just prepare them all the way through, cover them, and refrigerate until ready to bake. Be sure to pull them out of the refrigerator and bring to room temperature first though before baking. This dessert is perfect for making ahead and can be made up to 48-hours ahead.
FREEZE: You can also prepare completely in the ramekins, seal well, and freeze for up to 3 months. Once ready to bake thaw out for about an hour and bake according. The previously frozen cakes might need a few extra minutes of baking time.
Can I use chocolate chips for lava cakes?
Yes, technically you can use chocolate chips for molten cakes but the lava will not be nearly as gooey. Chocolate chips are designed to hold their shape during baking and as a result will not be as liquid as baking chocolate once cooked. They will work in a pinch but baking bars are recommended for the best "lava" flow.
Why didn't my lava cake have enough lava in the center?
If lava cakes are overcooked – even by a minute or two – the inside of the cake will begin to firm up and solidify. Make sure to keep a close eye on the cakes beginning at the 10-minute mark. The outside of the lava cake should be firm but the middle should still be a little shiny and have a wobble to it.
Don't let the cakes rest longer than about 2 minutes as they will continue to cook from the residual heat of the ramekin, and they will also be harder to un-mold.
The good news is If they are overcooked you still have a delicious chocolatey brownie type cake to eat! Top with some ice cream and dig in!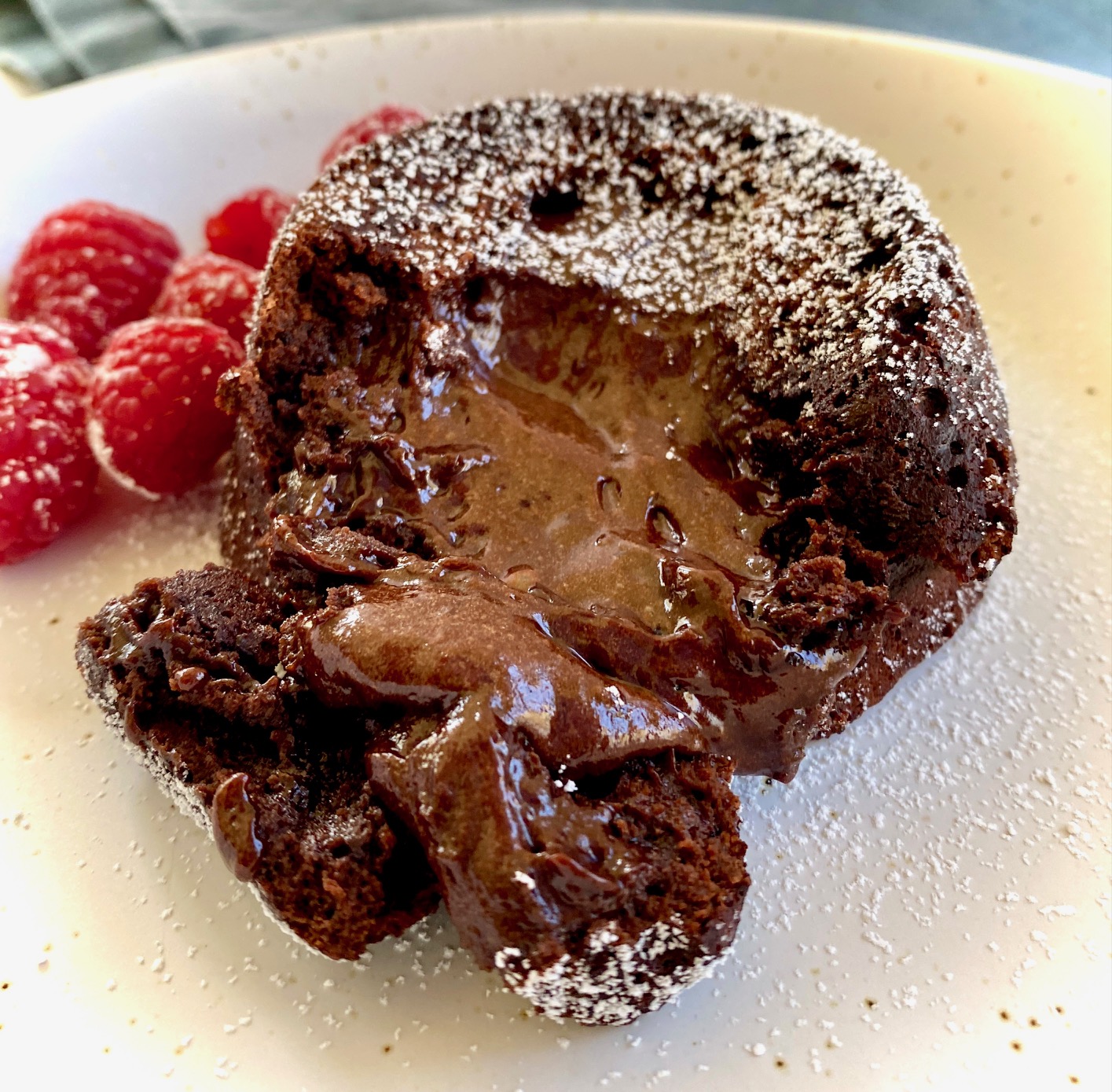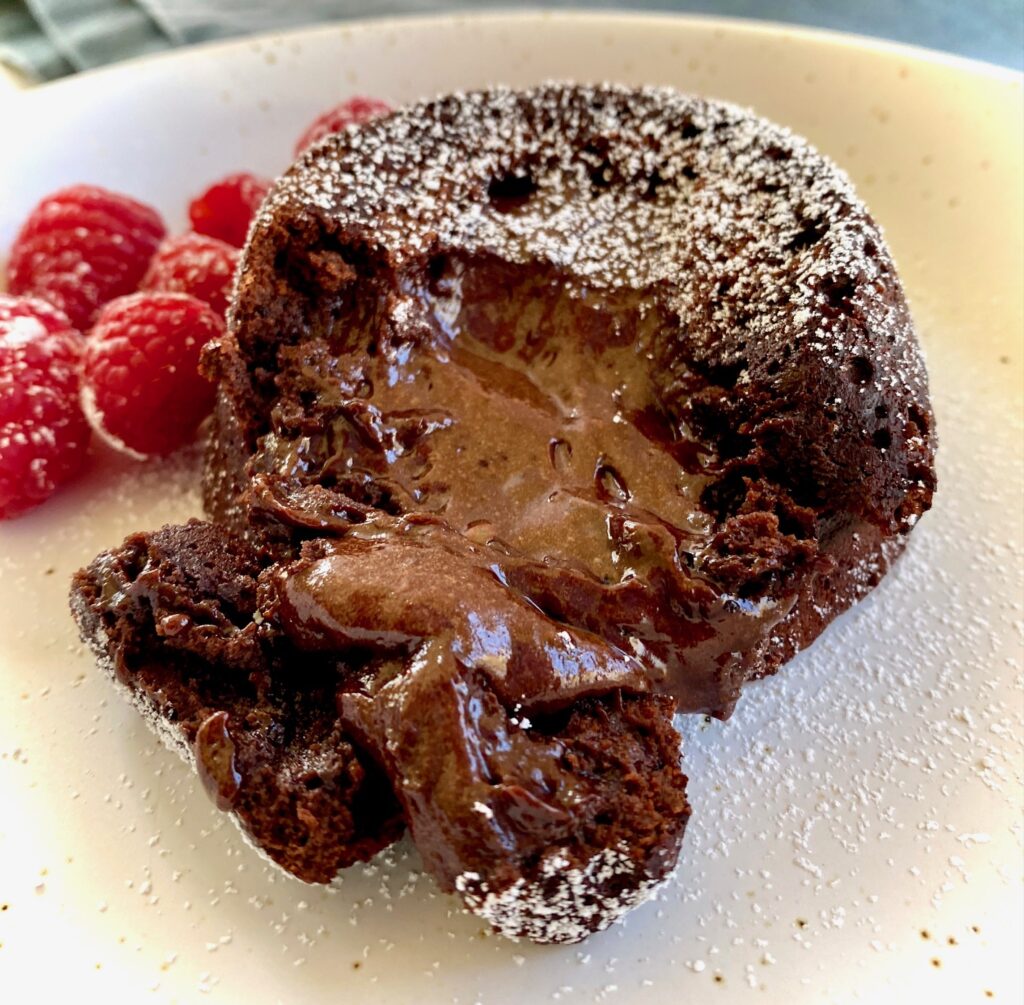 Additional flavors to add and topping ideas:
Adding extra flavor is easy. Here are some ideas:
Add espresso powder or instant coffee powder – this really deepens the cocoa flavor
Mix in a bit of

Homemade Irish Cream

or Grand Marnier to the chocolate (omit the vanilla)
In addition to sifting powdered sugar over the top and adding some berries on the side try topping with some vanilla or coffee flavored ice cream
Drizzle with our

Easy Salted Caramel Sauce

or quick to make

Hot Fudge Sauce

Sweetened whipped cream is the perfect easy topper
For more dessert ideas check out all of our

Sweets and Treats

in our recipe index!
Your Sommelier Suggestions
These rich, beautiful cakes deserve an elegant after dinner drink. A lovely pairing would be a light and fruity Sparkling Rose Wine. Two other favorite matches would be a rich Tawny Port wine or a Madeira from Portugal.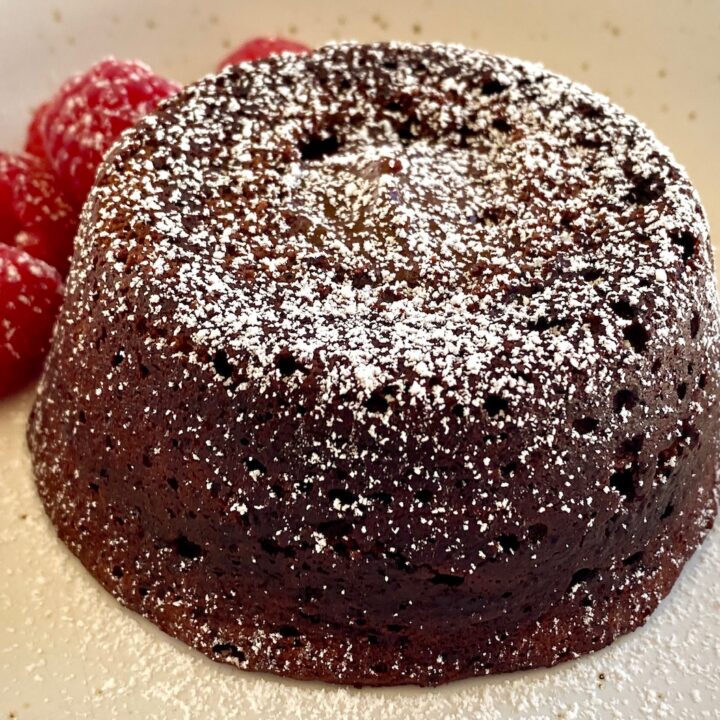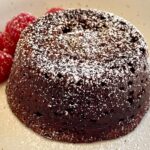 Print Recipe
Chocolate Lava Cake
Rich delicious molten chocolate lava cakes are a chocolate lovers dream. Easy to make and ready in about 30 minutes for a special treat!
Ingredients
8

ounces

chocolate semi sweet or dark

(at least 60%)

4

ounces

butter,

(plus 1 teaspoon for buttering ramekins)

2

teaspoon

vanilla extract

5

Tablespoons

sugar

2

large

eggs

2

large

egg yolk

4

Tablespoons

all-purpose flour

2

teaspoon

cocoa powder, unsweetened

(plus 1 teaspoon for dusting ramekins)

1

teaspoon

powdered sugar, optional

for garnish
Instructions
Generously butter and then dust with cocoa four 4-ounce ramekins. Place prepared ramekins on a baking sheet.

Chop the chocolate and butter into pieces and then melt over a double boiler, or microwave in a glass bowl in 30 second increments (stirring between increments) until melted. Stir to combine and let cool slightly then stir in vanilla extract.

Beat eggs, egg yolks, and sugar until the mixture is pale and thick, about 3 minutes. Batter should fall from the beater blades or whisk in ribbons when thick enough.

Slowly whisk the cooled chocolate and butter mixture into the egg batter and mix until combined and no streaks remain.

Add in flour and cocoa powder and blend well until combined.

Divide the batter evenly into the ramekins.

Bake in preheated oven for 11-12 minutes until firm and set on the edges but still wobbly in the center.

Let the cakes cool in the ramekins for 2 minutes and then invert onto a small serving plate or shallow bowl.

If desired, dust with a sprinkling of powdered sugar and serve warm.
Notes
The batter can be made ahead and refrigerated for up to 48 hours until ready to bake. Bring to room temperature before baking.
Freeze for up to 3 months, bring to room temperature and bake as directed
Top with ice cream, whipped cream, fruit sauce/syrup or cut fresh fruit if desired
Match a gorgeous Tawny Port or a Sparkling Rose with these cakes for the perfect dessert
Nutrition
Serving:
4
ounces
|
Calories:
657
kcal
|
Carbohydrates:
49
g
|
Protein:
9
g
|
Fat:
52
g
|
Saturated Fat:
31
g
|
Polyunsaturated Fat:
2
g
|
Monounsaturated Fat:
16
g
|
Trans Fat:
1
g
|
Cholesterol:
246
mg
|
Sodium:
46
mg
|
Potassium:
62
mg
|
Fiber:
6
g
|
Sugar:
34
g
|
Vitamin A:
966
IU
|
Calcium:
33
mg
|
Iron:
1
mg