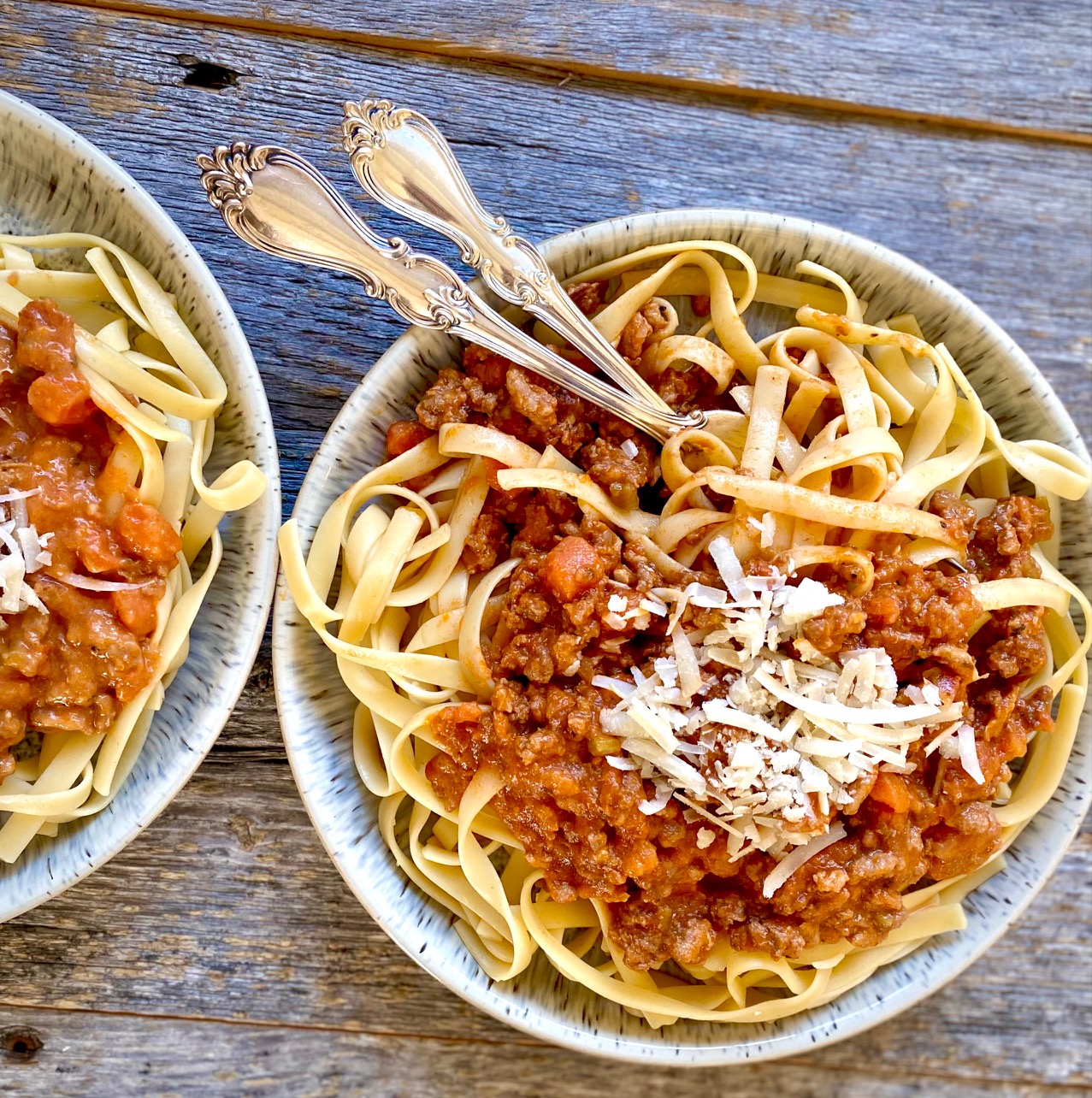 This rich meaty Bolognese Sauce prepared in an Instant Pot, slow cooker or stove top is quite simply delicious!
Making Bolognese in the Instant Pot is quicker than making Bolognese the traditional way, but this recipe can also be made in your slow cooker or a dutch oven. This classic Italian meat sauce is great for dinner and perfect for feeding a crowd.
Bolognese Sauce is also called ragù. In Italy, ragù is a term used to describe a type of meat sauce that has been cooked for many hours over low heat. This Bolognese Sauce recipe is perfect for the Instant Pot because it dramatically shortens the cooking time with the same deep rich flavor.
This post may contain affiliate links. Please see our affiliate disclosure for more details.
Jump to Recipe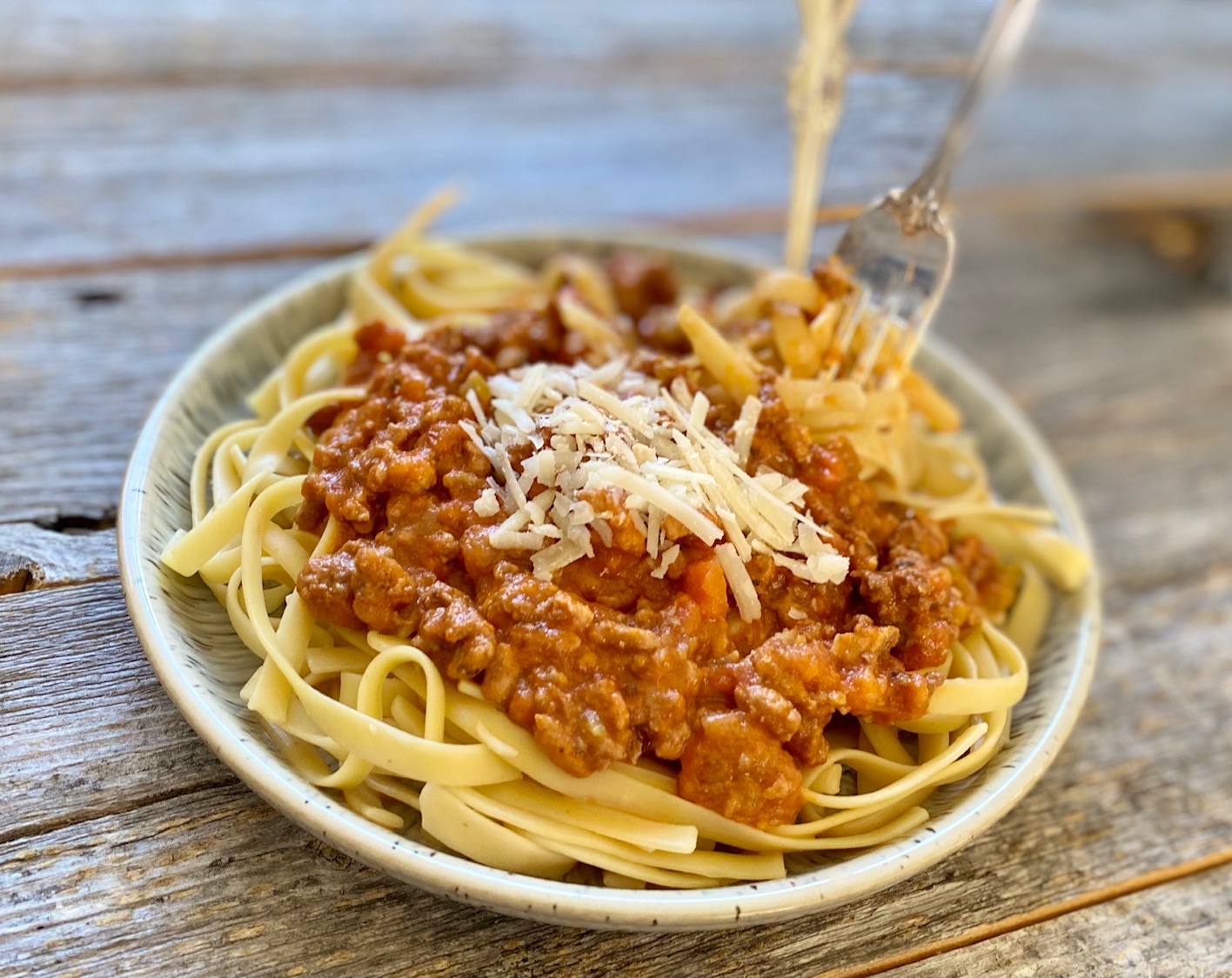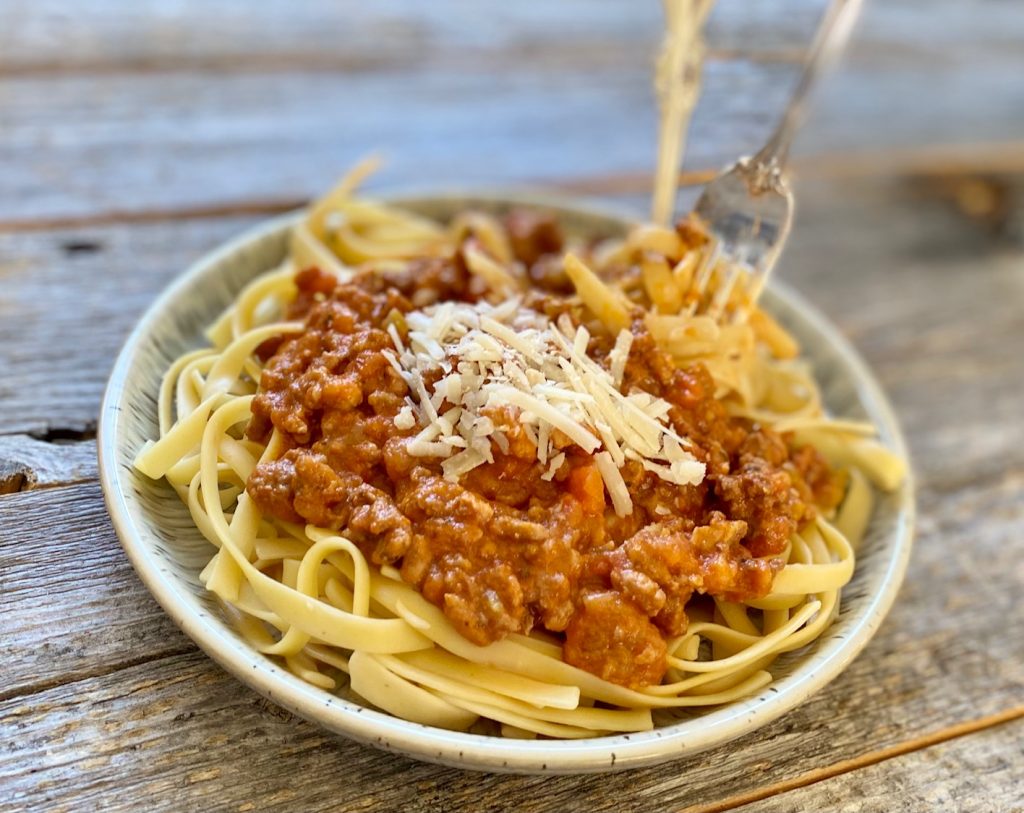 Ingredients needed for Bolognese Sauce:
Olive oil
White onion, carrots, and celery – (also known as Italian soffritto)
Pancetta
Ground beef and ground pork
Garlic
Tomato Paste
Red wine – dry variety such as Cabernet, Pinot Noir, Merlot or Sangiovese
Crushed (or whole tomatoes, peeled, seeded and finely chopped). We prefer San Marizano variety
Italian parsley
Cream or half & half
Parmesan cheese
Pasta for serving – fettucine, tagliatelle, pappardelle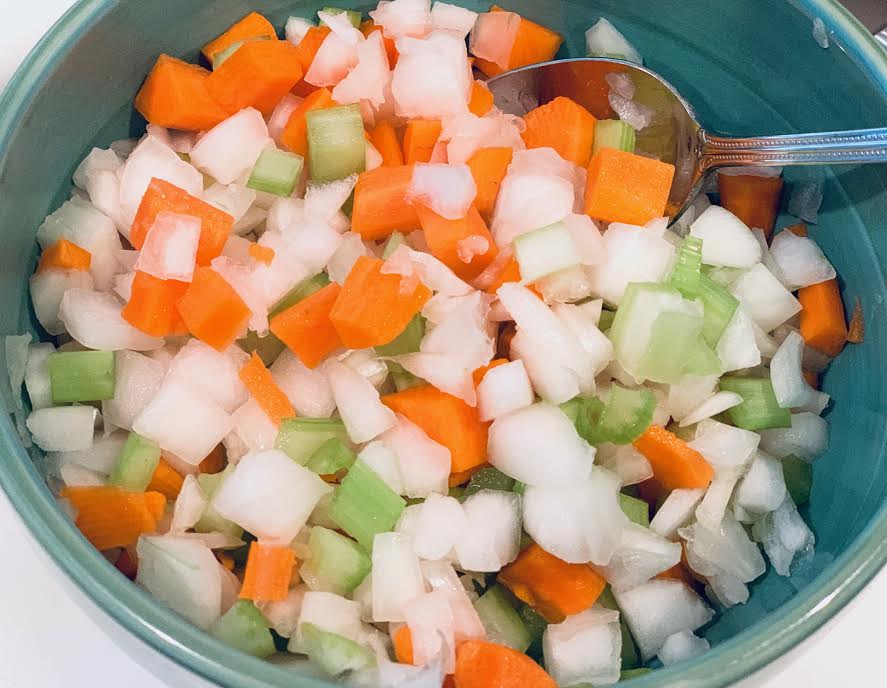 How to make authentic Bolognese Sauce recipe in an Instant Pot:
It takes a little time to make this sauce but every step is really easy and worth it for this rich meaty sauce! Just follow the step-by-step below and you cannot fail.
Traditional Bolognese Sauce is better when you build the sauce in this order:
Make a "Soffritto" which is a mixture of carrots, celery, and onions that are uniformly chopped
Sauté with soffritto with olive oil until soft and translucent. Soffritto is an important building block in Italian cooking.
One of the nice things about the Instant Pot is that you can sauté everything right in the pot, much like a dutch oven on the stovetop. Sautéing starts to build the flavors.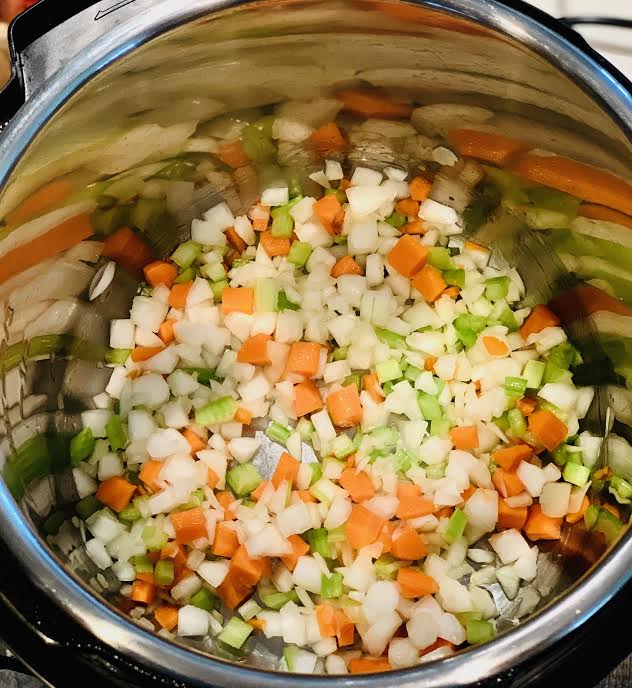 Add the diced pancetta and lightly brown. This will really deepen the flavor of the sauce.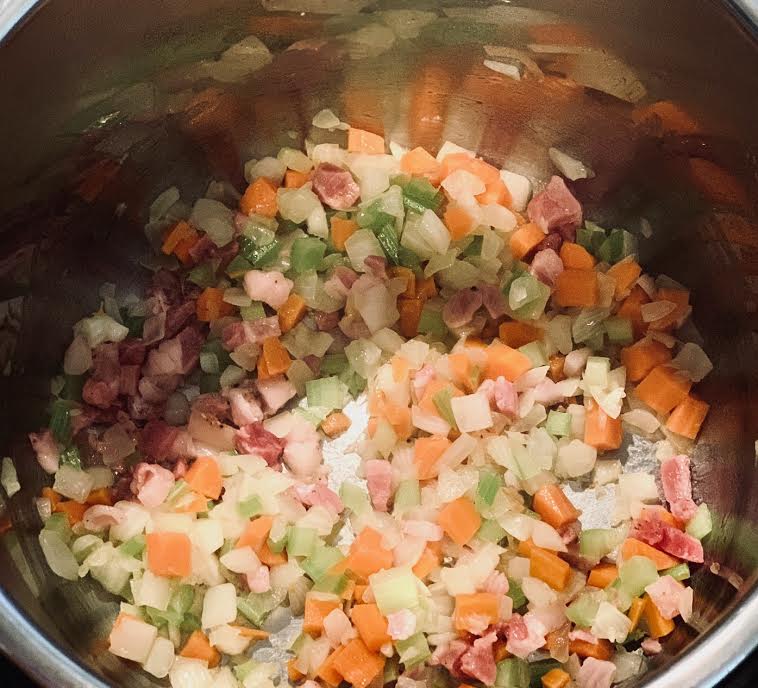 Add the ground pork and ground beef. Once you've add the ground meats season well with salt and pepper and cook until most of the juices have evaporated and the meat is lightly browned.
Add the tomato paste and garlic and allow the flavors to blend for a few minutes.
Pour in the red wine. Be sure to deglaze with the wine by scraping up any of the brown bits on the bottom of the pan. Don't skip this step because those brown bits are full of flavor! Simmer until the wine is mostly evaporated.
Before you pressurize in the Instant Pot you will need to add the liquids – crushed tomatoes, water, and parsley.
Cooking Times:
Since the meat is already cooked, the Instant Pot will just need to pressurize for 20 minutes to deepen all the flavors.
If you are cooking in a slow cooker double the water (to 1-1/2 cups) and cook for about 6-7 hours.
If cooking on the stovetop double the water (to 1-1/2 cups) and cook over low heat for about 3 hours.
How to cook Bolognese in a slow cooker or on the stovetop:
The recipe is the same as cooking in a pressure cooker, except for the cooking time, and the addition of more water (noted above and in the recipe card below).
In a slow cooker begin cooking on high for 2 hours and then cook on low for an additional 5 hours or until thickened.
On the stovetop cook on medium for about 30 minutes, and then turn to low, and simmer for another 2.5 hours or until thickened.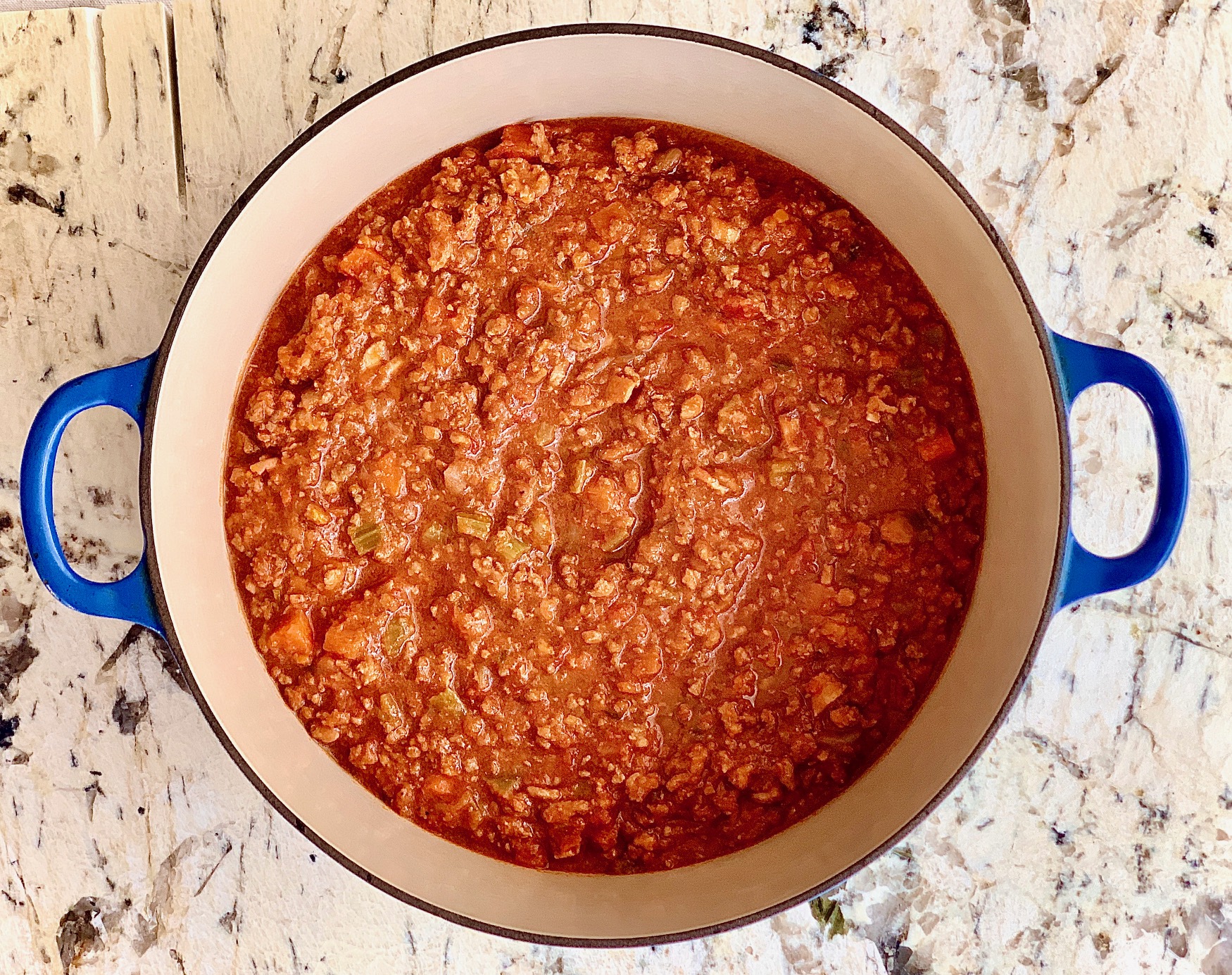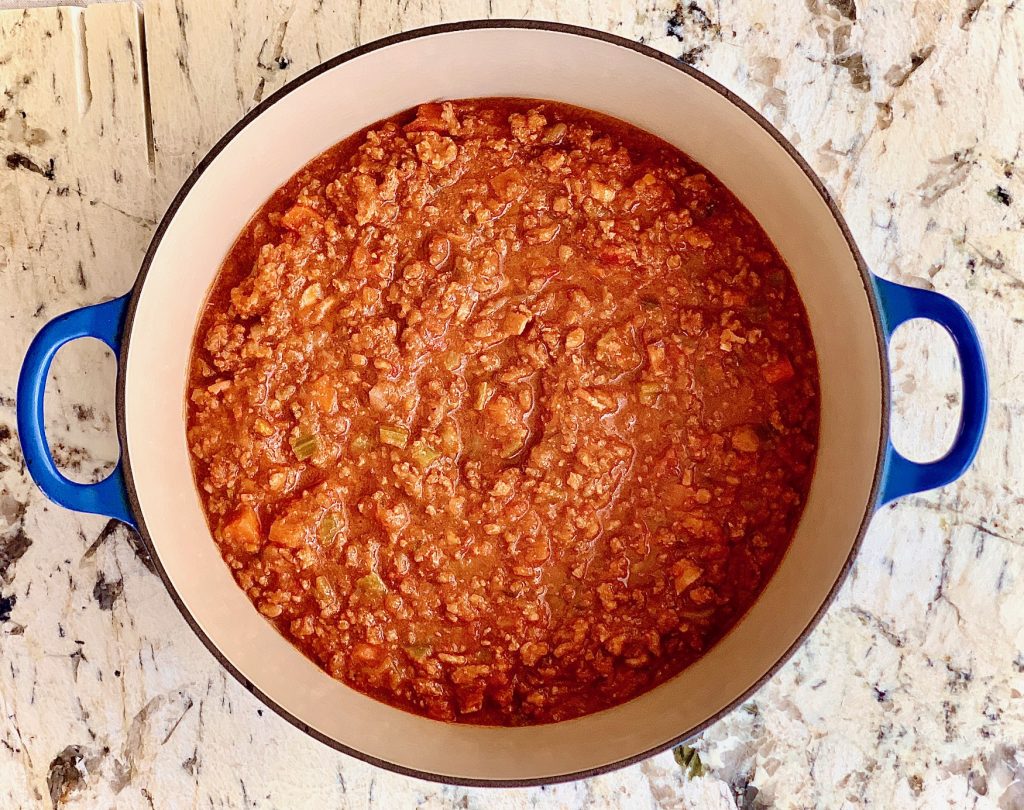 Finishing Classic Bolognese Sauce
Finishing classic Bolognese Sauce in an Instant Pot is the same as in a slow cooker and a dutch oven. Once you have the thick consistency you want, add a small amount of cream and parsley, blend and serve.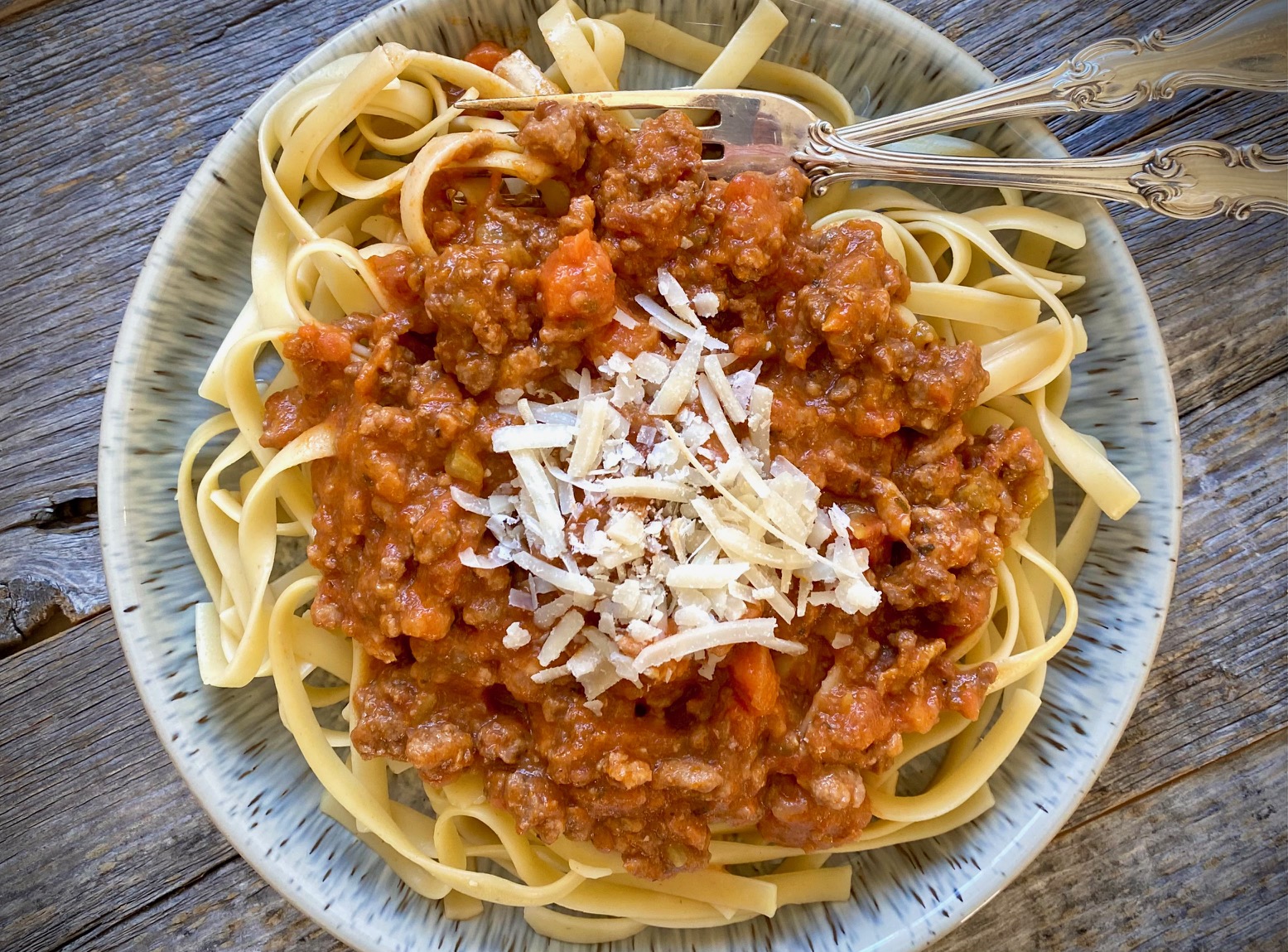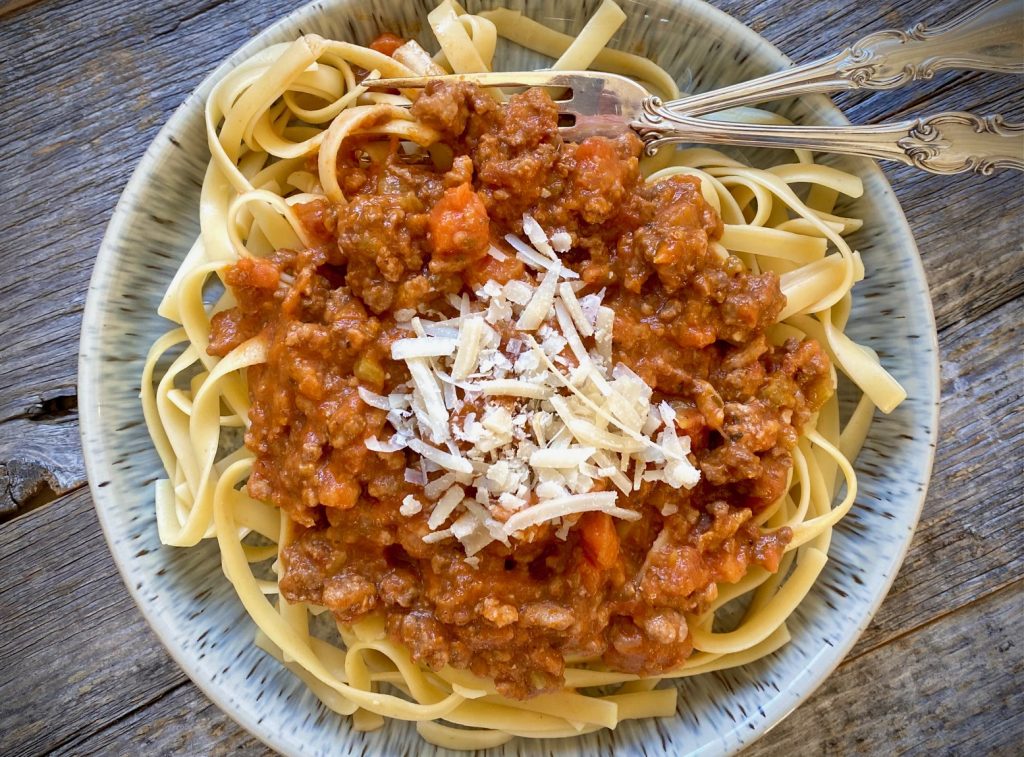 Best type of pasta to use for serving:
Bolognese Sauce is traditionally served over a wide noodle, such as Tagliatelle, Pappardelle, or Fettucine. These sturdy cuts of pasta will stand up to the weight of the sauce. Top with a sprinkling of shredded Parmesan cheese.
Freezing and refrigerating Bolognese Sauce:
This sauce freezes beautifully. Allow the sauce to cool completely before preparing to freeze.
I like to freeze it in a variety of glass jars (based on the amount you know you'll want to reheat later). It's easy to thaw out a glass jar by simply placing it in a bowl of warm water, or leaving it in the refrigerator overnight.
You can also store prepared Bolognese in the refrigerator safely for about 3 days.
Looking for an Instant Pot?
If you are still looking for an Instant Pot we recommend the Instant Pot DUO Plus 6 quart. It's the ideal size for this recipe and is easy to use.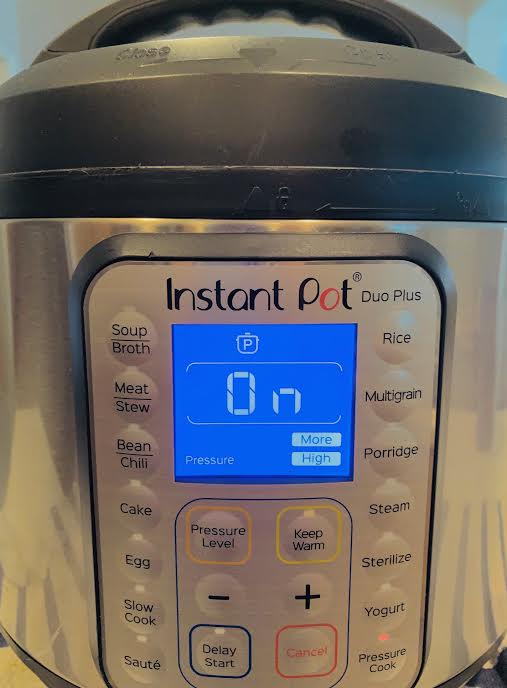 Suggested Wine Pairings:
The history of Bolognese sauce dates back to the late 18th century in Bologna, Italy. When thinking of wine pairings for this classic dish look no further than Italy itself. Sangiovese is one of the great indigenous grapes from Italy making this medium-bodied wine a perfect pairing for our classic Bolognese Sauce.
Your weekday wines:
Gabbiano Chianti Classico Riserva, Italy
Tenuta La Badiola 642 II Canapone Red Wine, Italy
Your weekend wines:
Castello Banfi Sangiovese Rosso di Montalcino, Italy
Antinori Guado al tasso II Bruciatto, Bolgheri
A special occasion wine:
Castello Banfi Sangiovese Brunello Di Montalcino, Italy
Bibi Graetz Testamatta Sangiovese, Italy
Other dinner ideas: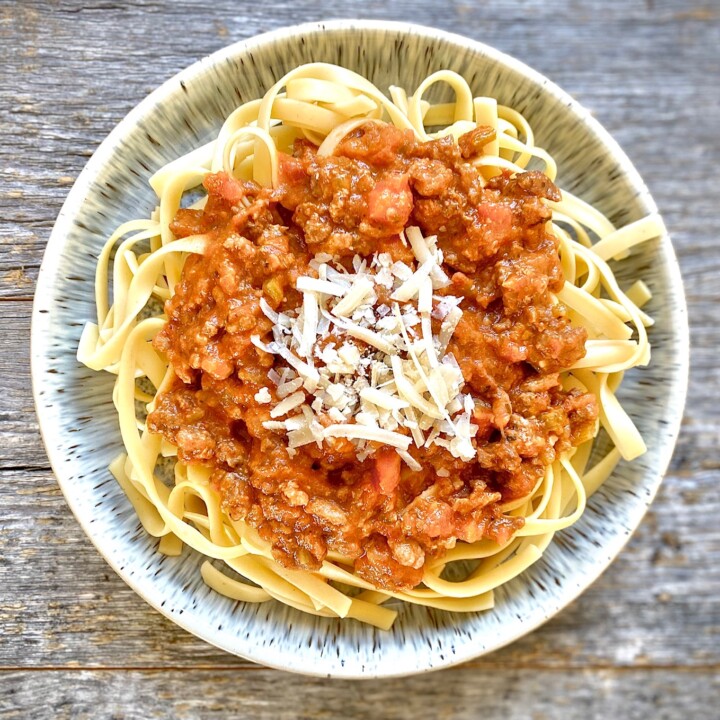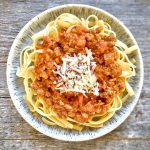 Print Recipe
Bolognese Sauce Recipe
This classic rich meaty Bolognese Sauce is made quicker in an Instant Pot, but can also be made in your slow cooker or on the stovetop.
Equipment
6 Quart Instant Pot, Large Slow Cooker, or Large Dutch Oven
Ingredients
2

Tbsp

Extra Virgin Olive Oil

1½

cups

onion, diced

½

cup

carrots, dice

¾

cup

celery, diced

4

oz

pancetta, diced

1

lb

ground beef chuck

1

lb

ground pork

1

Tbsp

kosher salt

1

tsp

black pepper, freshly ground

4

cloves

garlic, minced

3

Tbsp

tomato paste

½

cup

dry red wine,

such as Cabernet Sauvignon, Pinot Noir or Merlot

28

oz

tomatoes, crushed

¾

cup

water*,

see notes below for slow cooker and stovetop

½

cup

Flat-leaf parsley, divided

⅓

cup

heavy cream or half & half

1

lb

wide noodle cooked pasta,

tagliatelle, pappardelle, fettucine

½

cup

Parmesan, freshly grated,

optional
Instructions
Heat Instant Pot to highest Saute setting. Add olive oil and heat until shimmering.

Add onions, carrots, and celery and cook until softened and golden, about 8 minutes.

Add pancetta and saute 1 minute. Add ground chuck, ground pork, salt, and pepper and continue to saute until meat is brown and most of the juices have evaporated. If you have excess fat, carefully remove insert, drain and return to Instant Pot.

Add garlic and tomato paste and mix well, cooking about 2 minutes. Add red wine and simmer for about 3-4 minutes, or until the wine has evaporated.

Add water (see note below for additional water need for slow cooker and stovetop), crushed tomatoes (including their juices), and ¼ cup parsley. Mix well and bring to a low boil. Place lid on Instant Pot, seal and set to high pressure for 22 minutes.

Quick release the pressure – be careful as very hot steam will quickly escape. Once the float drops on the release, about 12-13 minutes, carefully remove the lid.

Change Instant Pot setting to the low saute setting and bring to a low bubble. Continue to cook about 10 minutes, stirring to make sure all is well combined, and cook to the consistency you desire.

In a slow cooker begin to cook on high for 2 hours and then cook on low for 4-5 hours.

If cooking on the stovetop, cook on medium for 30-minutes, then reduce to low and simmer for another 2½ hours.

Stir in remaining parsley and heavy cream. Check seasonings and add more salt and pepper if needed.

Prepare a wide noodle pasta, serve with Bolognese Sauce, and sprinkle with freshly grated Parmesan.
Notes
In slow cooker or stovetop increase water to 1.5 cups
Nutrition
Calories:
704
kcal
|
Carbohydrates:
57
g
|
Protein:
34
g
|
Fat:
37
g
|
Saturated Fat:
13
g
|
Polyunsaturated Fat:
3
g
|
Monounsaturated Fat:
16
g
|
Trans Fat:
1
g
|
Cholesterol:
100
mg
|
Sodium:
1335
mg
|
Potassium:
967
mg
|
Fiber:
5
g
|
Sugar:
9
g
|
Vitamin A:
2101
IU
|
Vitamin C:
19
mg
|
Calcium:
170
mg
|
Iron:
4
mg