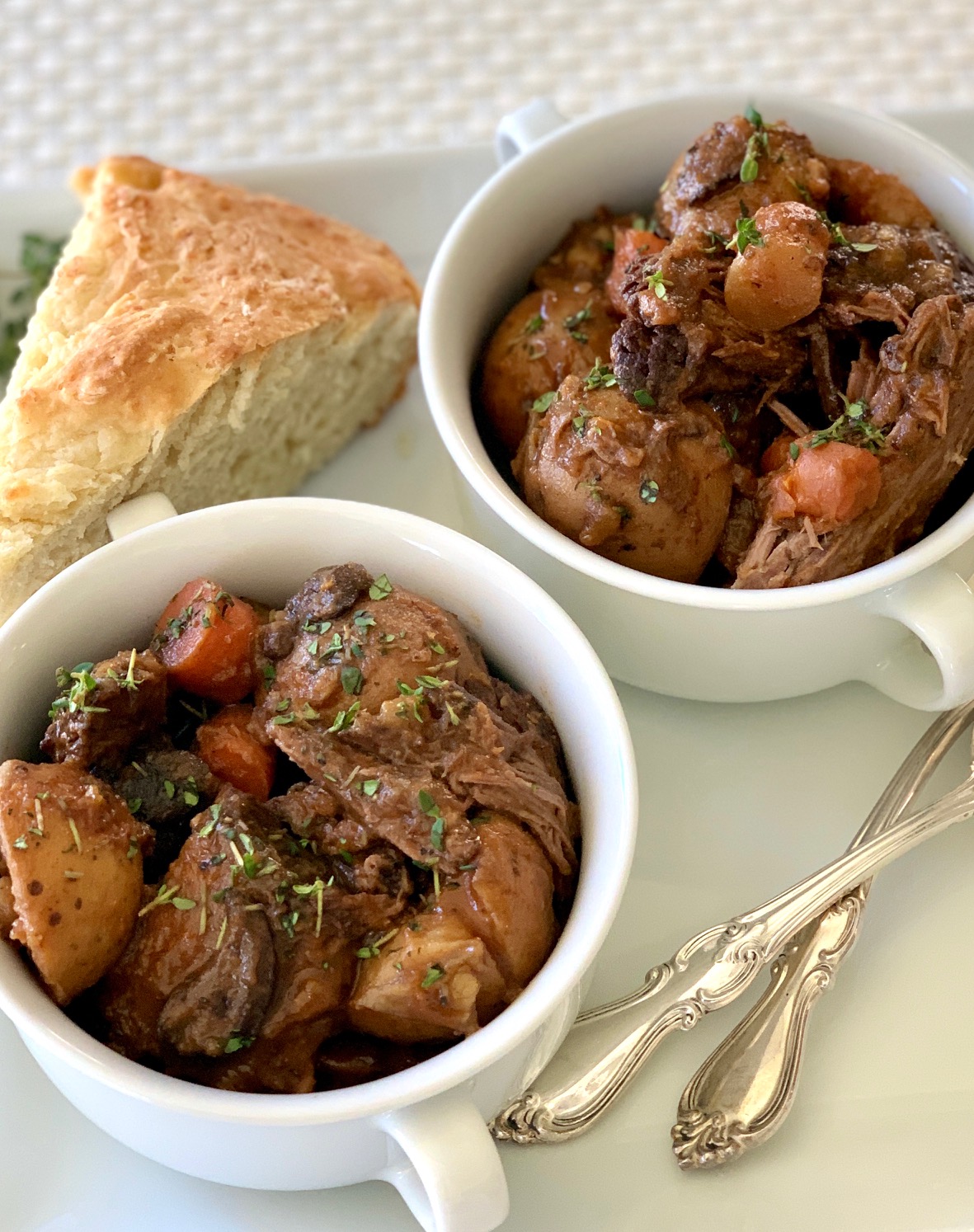 Slow Cooker Irish Pot Roast with Guinness Beer is tender comfort food at it's best!
After hours in the crockpot, this roast will be falling apart tender with a rich Guinness gravy and savory vegetables. Preparing this roast in a slow cooker makes it easy to make a great dinner any night of the week. Just a few easy steps will ensure maximum flavor.
Bake up a quick loaf of our no yeast, no rise, Irish Soda Bread to soak up all of the delicious sauce!
Jump to Recipe
Ingredient list for Irish Pot Roast
The great thing about pot roast is that all of the ingredients are very common, easy to find, and relatively inexpensive. You probably have most of these ingredients in your pantry or refrigerator.
Boneless Chuck Roast (3-5 pounds)
Mushrooms
Potatoes
Onion
Carrots
Tomato Paste
Beef Broth or Stock
Salt, pepper, garlic
Olive oil
Worcestershire sauce
Fresh Thyme
Irish Stout Beer, such as Guinness Extra Stout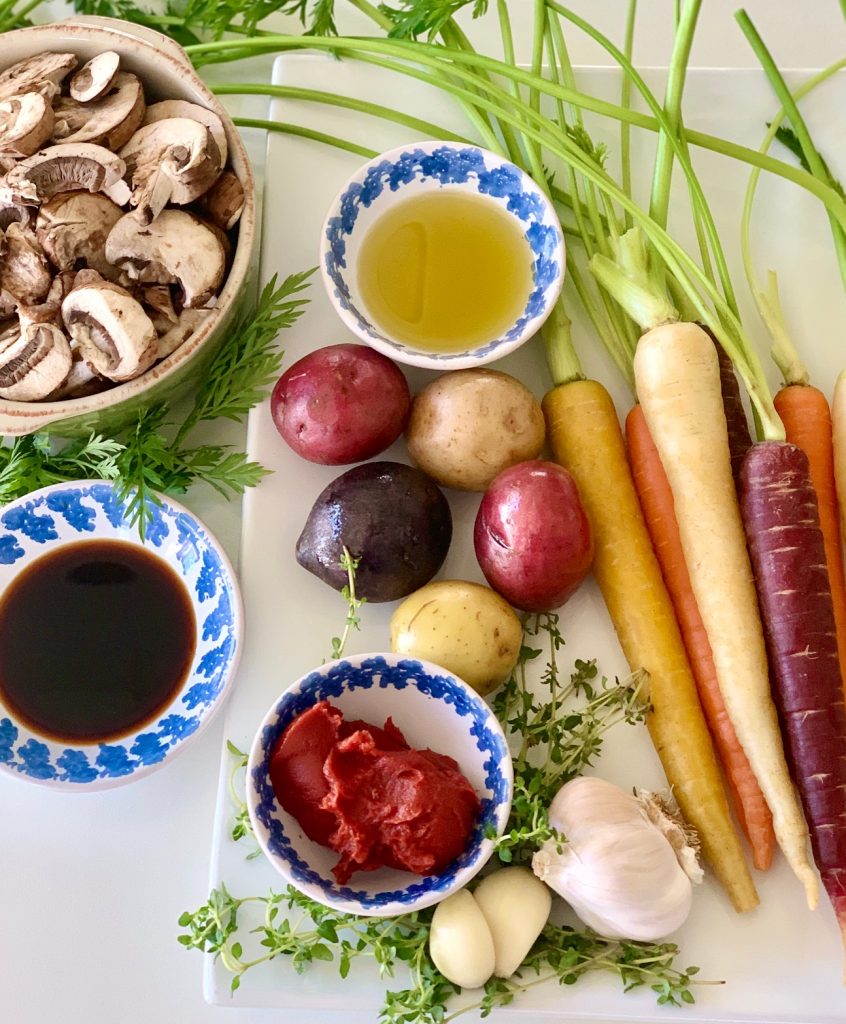 4 Easy steps for making Slow Cooker Pot Roast:
1. Brown the pot roast before slow cooking
Browning meat before cooking is an important first step. This is true of any slow cooker recipe. Searing your chuck roast first gives it a nice crusty, brown, caramelized surface and ensures a more complex flavor overall.
Pot Roast is traditionally made with boneless chuck roast which requires a long slow cooking time to become tender. Unlike making a stew, you will cook the meat whole. You will know it's ready when you can easily pull it apart with a fork.
When you cook in a slow cooker you can lose the amazing flavor that develops when you braise meat slowly in a hot oven. Searing the meat before slow cooking helps to recreate that braising flavor so don't skip this important step.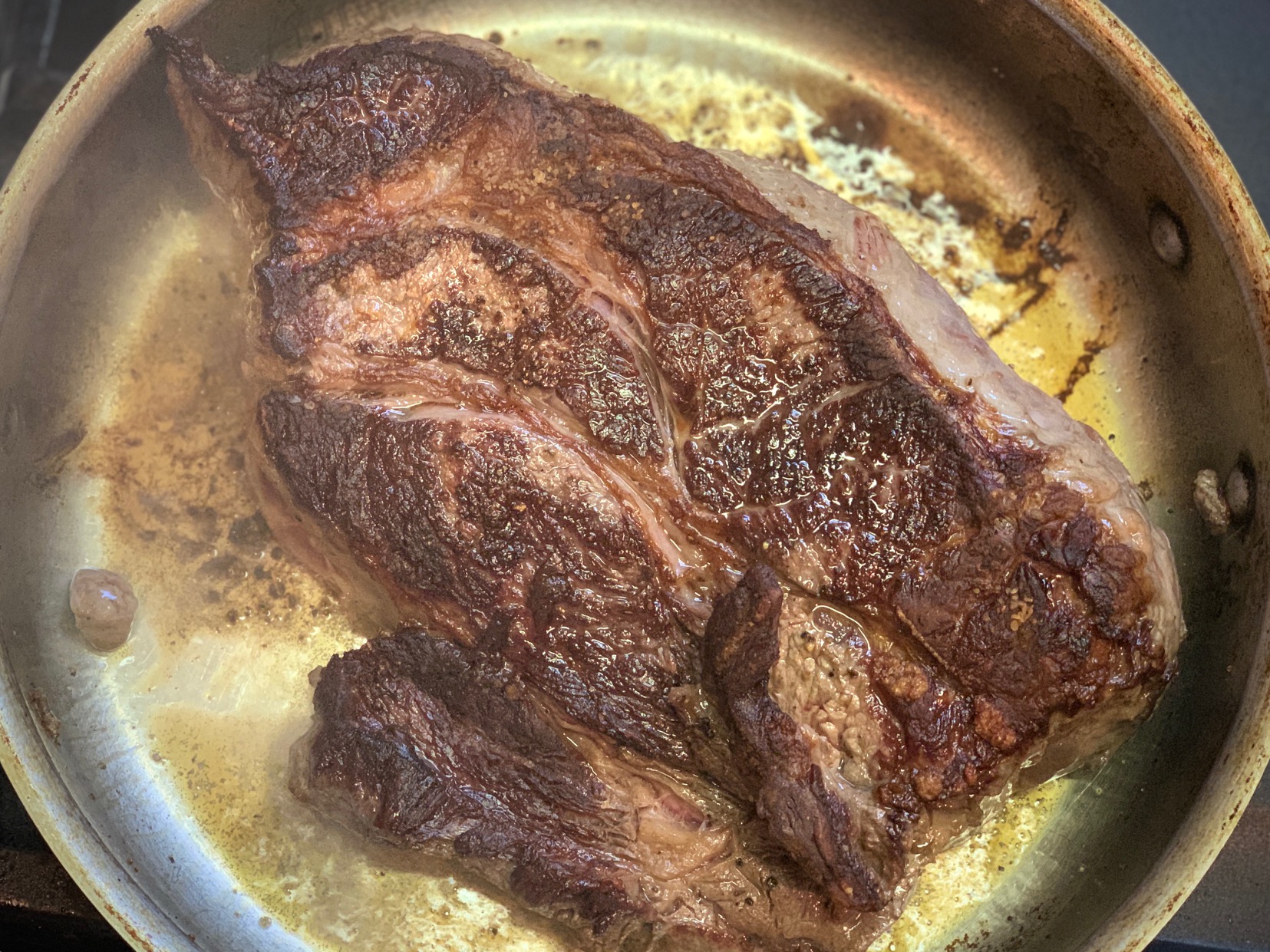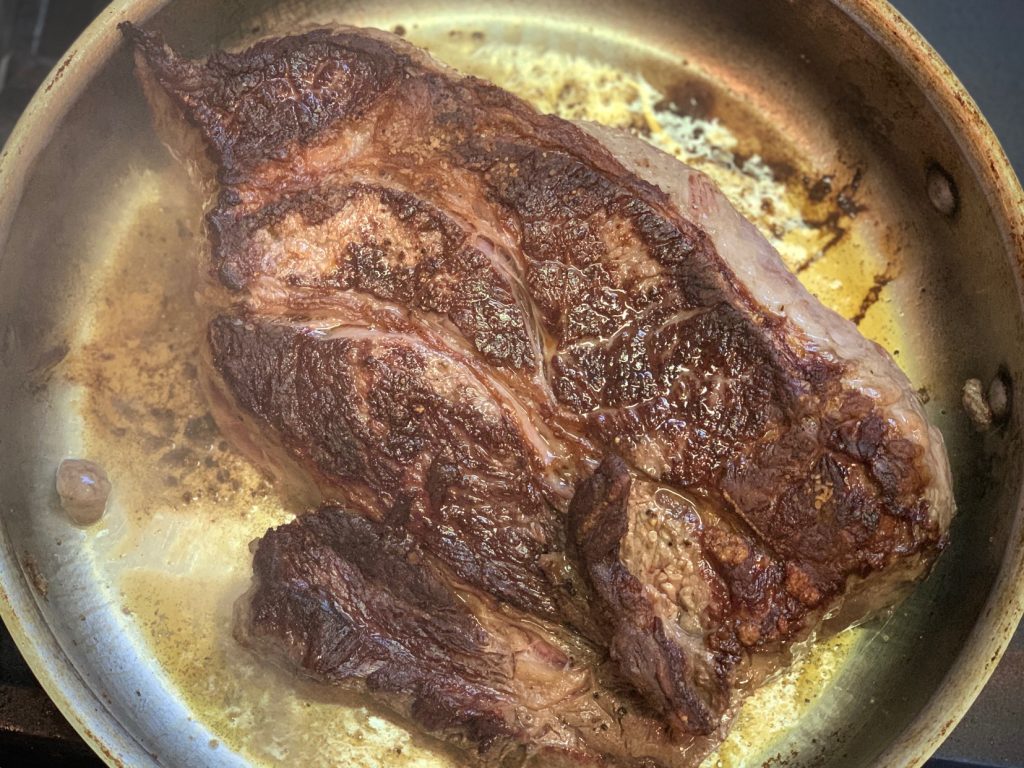 2. Vegetables for traditional pot roast
This is where everything becomes easy. The great thing about the slow cooker method is we "set it and forget it".
While your cuts don't need to be perfect you should try to make sure most of the vegetables are cut into the same size pieces to guarantee even cooking. From there, we just toss them in the slow cooker!
Root vegetables and mushrooms are traditional for Guinness Irish Pot Roast but if you substitute a hearty red wine for the Irish beer this could also be called a Yankee Pot Roast.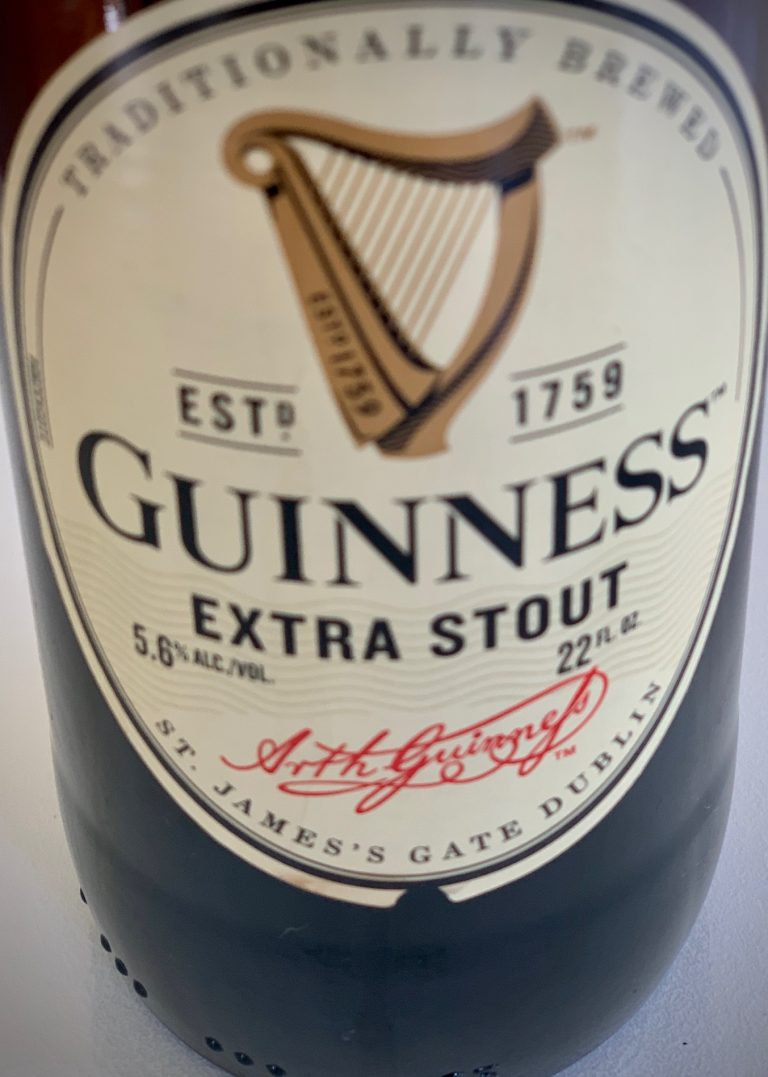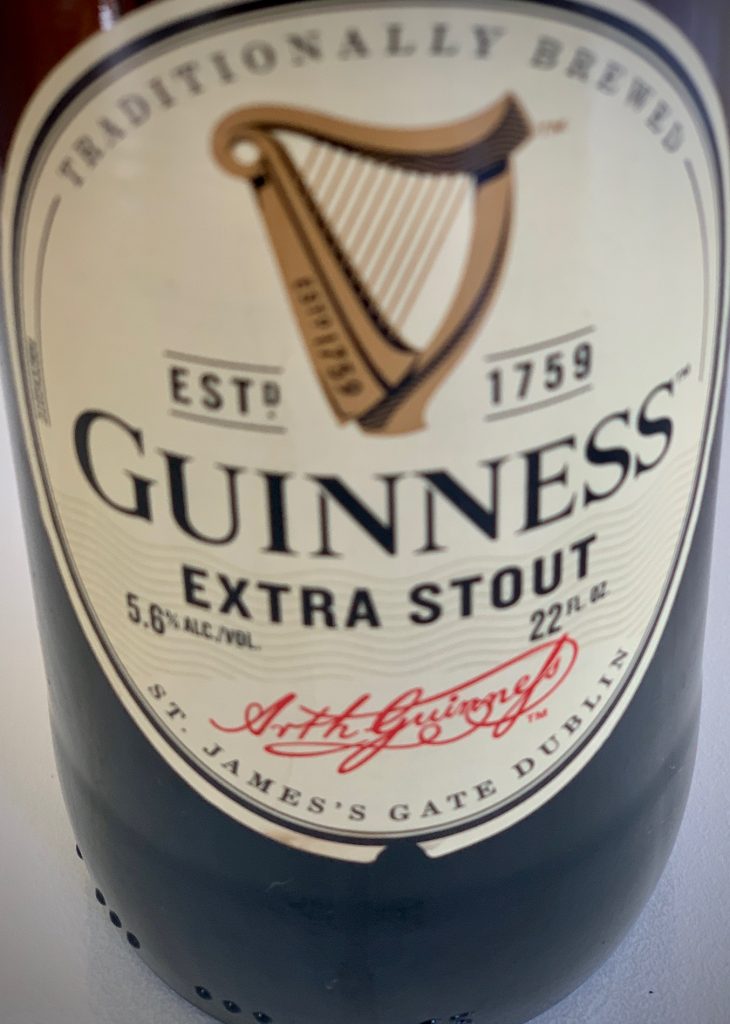 3. Using Guinness Beer for flavoring:
Every good pot roast needs flavorful liquids to make the delicious brown gravy that helps cook the meat. Generally, you will use at least 1 cup of liquid for every two pounds of meat when slow cooking. Want more gravy? Use a bit more liquid. This recipe calls for tomato paste, Worcestershire sauce, beef stock, and of course Guinness Irish Beer.
Guinness beer is a stout beer that is roasted and takes on a deep coffee-like flavor when used for braising and cooking. While it has a very distinct flavor you can sub in any hearty stout beer. I usually buy it by the bottle, in a big beverage store, because that is all I need.
4. Set it and forget it in the slow cooker:
This pot roast is so easy because once you've seared the meat you simply add the vegetables to the crockpot, add the liquids and gently combine with the herbs.
Then add the roast on top and lightly submerge. Cover and cook!
Slow cookers take time to work their magic. Cook on low (170°f) for 6-7 hours and on high (280°f) for 3-4 hours.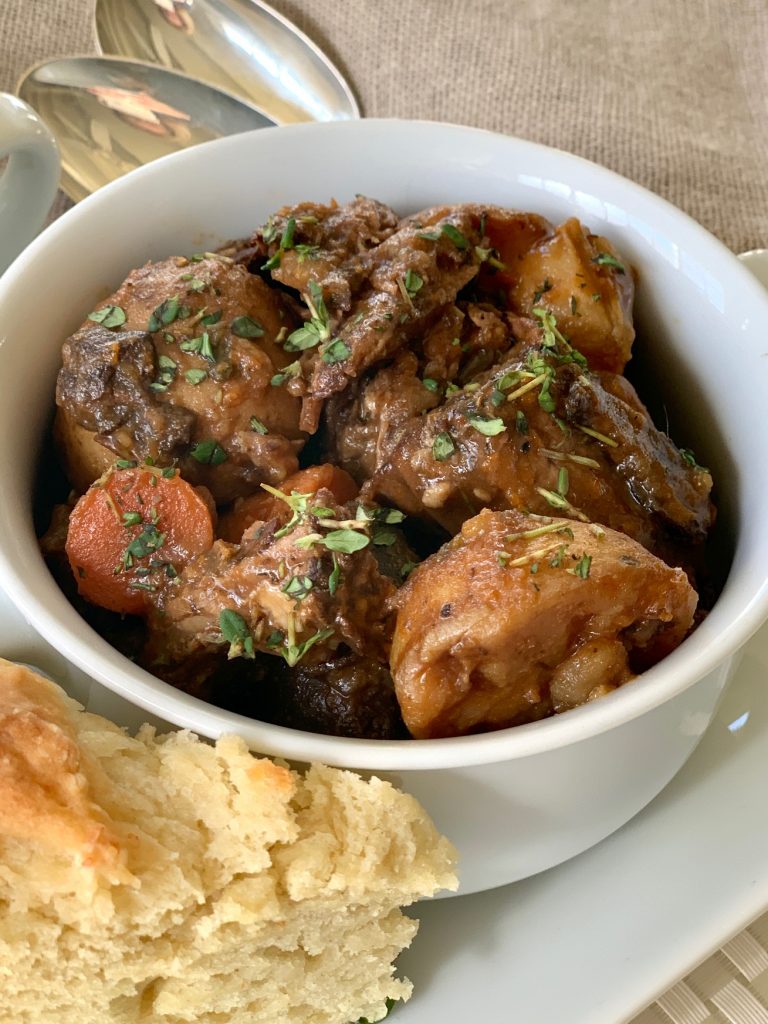 How to know when your pot roast is ready?
The meat is done if it's tender and able to be easily shredded with two forks. If the meat is undercooked it will be tough and chewy, and will just need more time in the slow cooker.
Serving the perfect Irish Pot Roast:
Remove the roast to a cutting board and loosely break apart pieces with two forks. Serve in large bowls and ladle vegetables and gravy over the top. Sprinkle with additional herbs, if desired.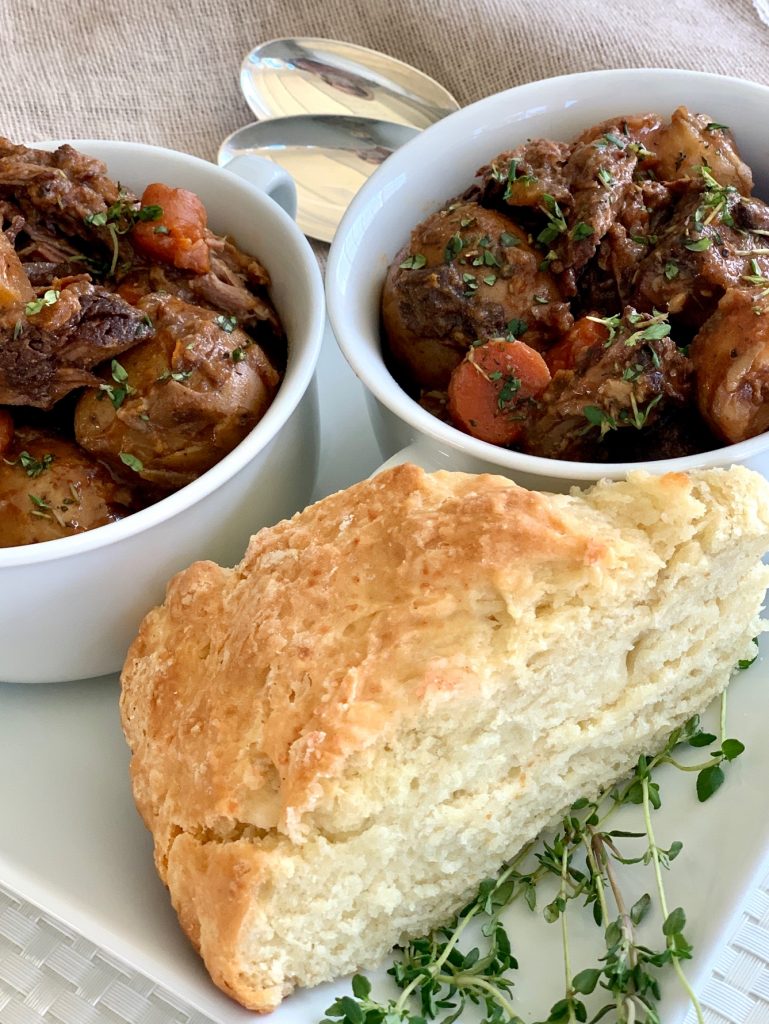 This pot roast is rich, so warm Irish Soda Bread, and a refreshing salad are the ideal side dishes. Here are some of our favorites:
Suggested Drink Pairings for Slow Cooker Pot Roast:
A glass of Guinness beer, naturally!
A nice glass of hearty red wine such as Cabernet Sauvignon or Merlot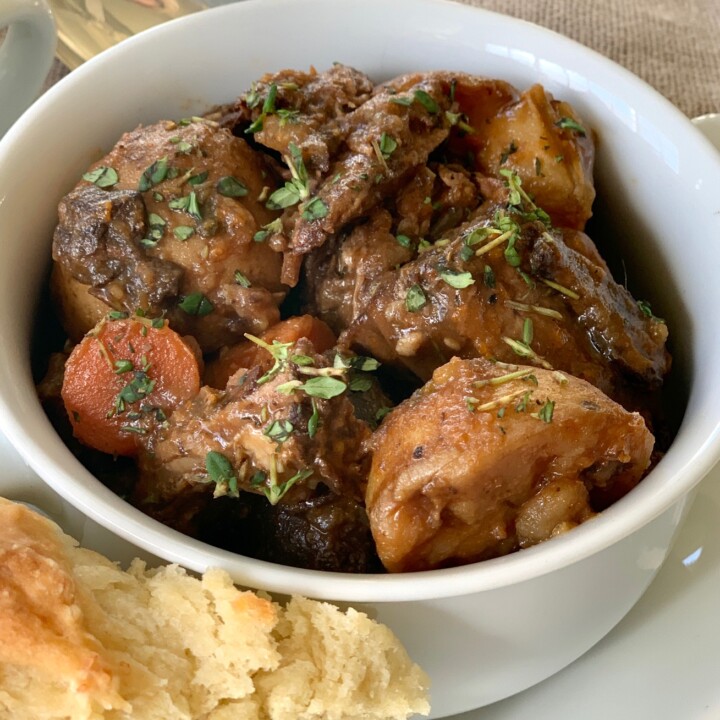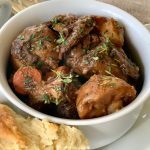 Print Recipe
Slow Cooker Irish Pot Roast Recipe
Irish Pot Roast that melts in your mouth after slow cooking with stout Guinness Irish beer. A variety of fresh vegetables and herbs are cooked alongside for a complete meal.
Servings:
8
2 cup servings
Ingredients
1

Tbsp

olive oil

1

3-4 lb

boneless chuck roast

4

tsp

salt, divided

3

tsp

freshly ground black pepper, divided

2

cups

mushrooms, thickly sliced

2

cups

potatoes, cut into large chunks

1

cup

onion, roughly chopped

1

cup

carrots, sliced into thick rounds

3

Tbsp

garlic, roughly chopped in large pieces

3

Tbsp

Tomato paste

4

tsp

Worcestershire sauce

2

cups

Guinness Extra Stout beer

2

cups

beef stock

2

Tbsp

fresh thyme leaves

2-3

sprigs

fresh thyme

fresh thyme leaves, optional garnish
Instructions
Searing the chuck roast:
Season chuck roast with 2 teaspoons salt and 1 tsp ground pepper on both sides.

In a large saute pan, heat oil over medium high heat unitl hot but not smoking.

Sear the beef on all sides until dark golden brown and started to get crispy.
Preparing ingredients in a slow cooker:
In a large slow cooker add all of the vegetables, remaining salt and pepper, tomato paste and Worcestershire sauce. Mix to coat.

Pour in Irish beer, beef stock, 2 tablespoons chopped thyme leaves, and thyme sprigs. Stir well to combine.

Place seared chuck roast on top of vegetables and submerge slightly.

Cover and cook on high for 3 hours or low for 7 hours.

Pot roast is ready when it is easy to shred.

Remove roast from slow cooker and loosely cut into pieces. Serve in bowls and ladle vegetables and sauce over the top. Garnish with fresh chopped thyme if desired.
Notes
This Irish Pot Roast freezes beautifully for up to 3 months.
Make our Irish Soda Bread along with this pot roast.
Nutrition
Calories:
127
kcal
|
Carbohydrates:
21
g
|
Protein:
4
g
|
Fat:
2
g
|
Saturated Fat:
1
g
|
Trans Fat:
1
g
|
Cholesterol:
1
mg
|
Sodium:
1376
mg
|
Potassium:
648
mg
|
Fiber:
3
g
|
Sugar:
4
g
|
Vitamin A:
2960
IU
|
Vitamin C:
24
mg
|
Calcium:
53
mg
|
Iron:
2
mg