Crab Cakes with Cocktail Sauce are one of my culinary obsessions! I experimented with many versions until I created the one that was perfect. I like them to have as little filler as possible so you can really taste the sweet crab flavor.
Make your own at home, so there isn't a lot of filler in these patties, just the delicious taste of crab! The same idea goes into our homemade cocktail sauce with just 5 basic ingredients.
In my many years of catering, as well as hosting parties, these mini crab cakes are the first things to go at any party! Making your own cocktail sauce is easy and comes together in a flash. The taste is superior to the bottled version and you probably have the ingredients on hand.
Jump to Recipe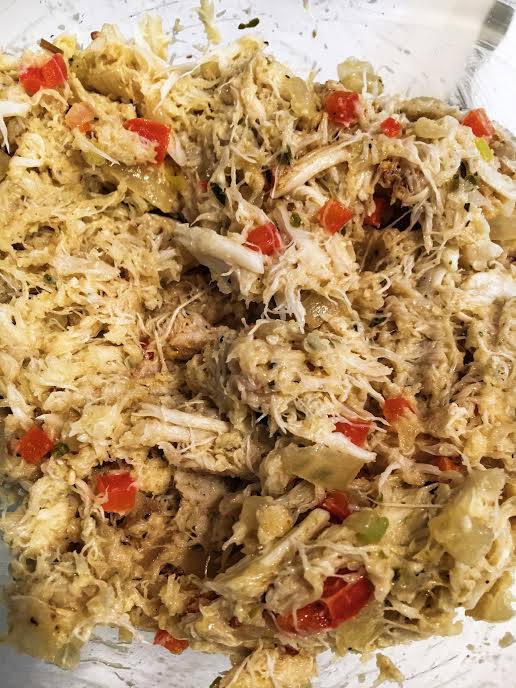 How to make Crab Cakes:
Crab cakes are super simple but there are a few basic tips and tricks to achieve the best results.
Buy the best crab you can because that is the flavor that counts in this recipe!
Pick through your crab to make sure there are no small pieces of shell hiding in there.
When combining the mixture use a gentle hand. You want to preserve the lumps to give your crab cakes texture
Onions/Shallots and red bell pepper are optional but give it a nice flavor and color.
Mix everything together in a large bowl before adding the crab and panko so that you don't over mix.
Add the crab and panko to the mixture and gently combine
Make small patties, about 2 Tablespoons for minis and 1/4 cup for large crab cakes
Dredge lightly in the extra panko
When you make your patties they should hold together without falling apart too easily. Eggs vary in size so that can affect the outcome. If they are too dry add a touch more mayo, or if too loose add more panko.
Sear lightly on each side and then transfer to a baking pan to finish in the oven.
This recipe can make 10-12 full-size patties instead of minis, which makes a fantastic lunch or dinner with a green salad.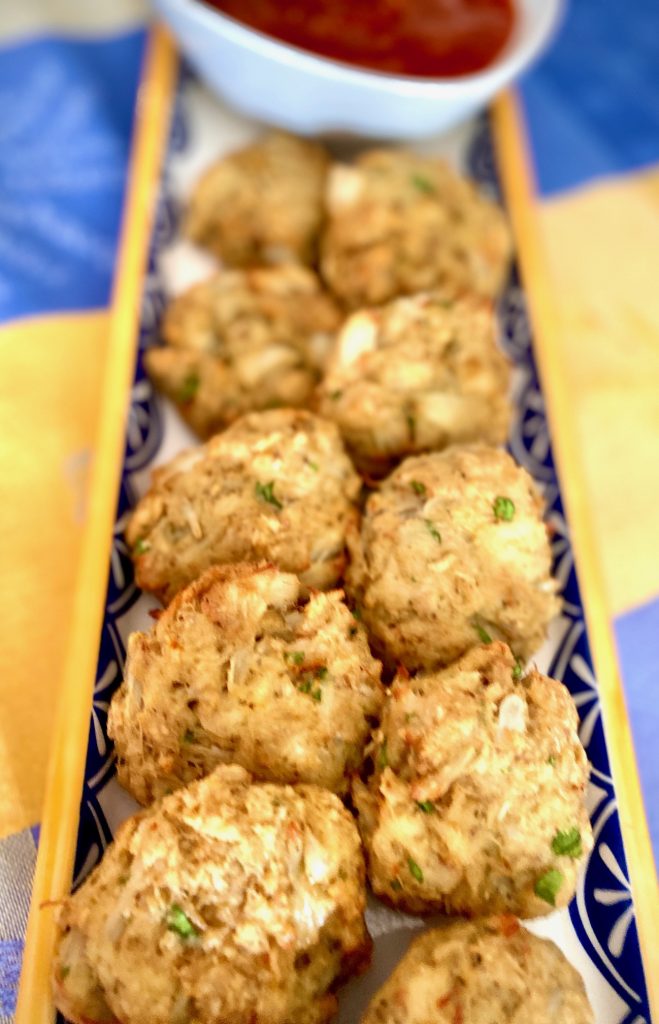 Make Crab Cakes ahead and Freeze:
The crab cakes can made ahead, cooled and frozen, tightly sealed for up to 3 months. Make the sauce fresh or up to 2 days ahead of time.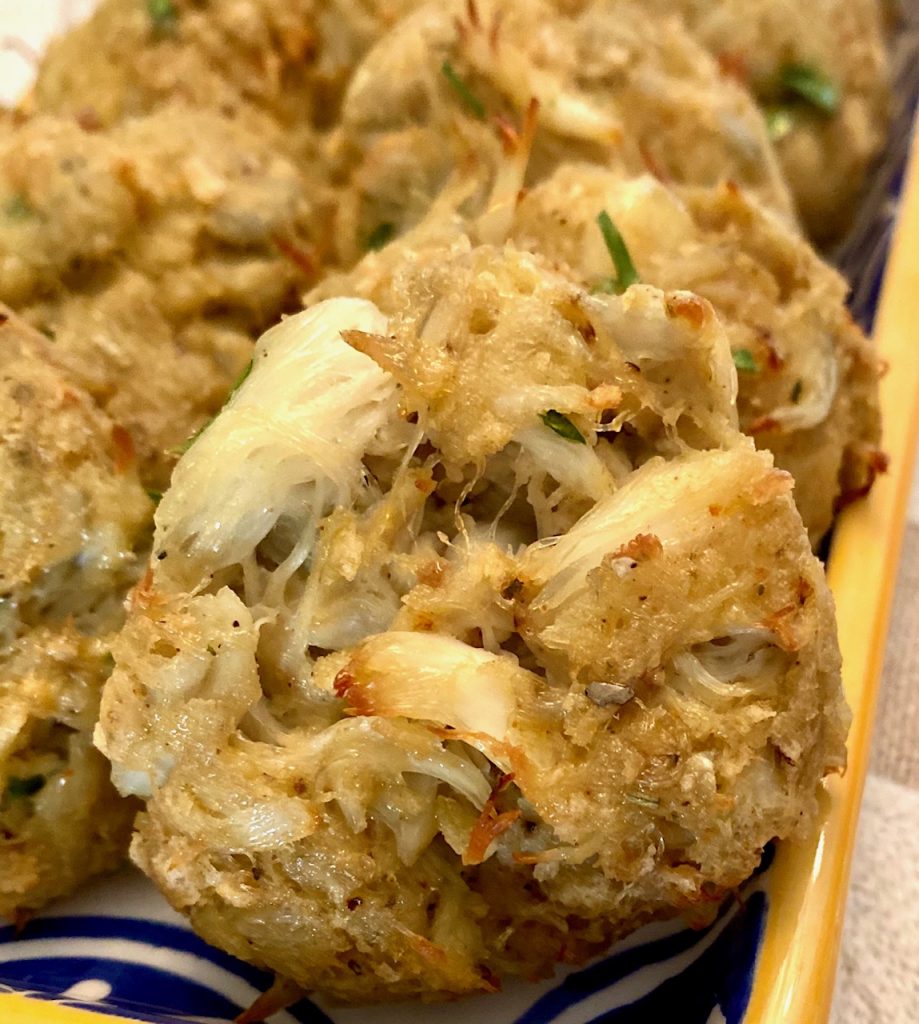 Suggested Wine Pairings
This dish pairs well with medium-bodied white wines such as Sauvignon Blanc or Pinot Blanc. Sparkling wines are always a fan favorite with fried foods. Look for any available vintages of the following:
Your weekday wine:
New Zealand Malborough Estate Reserve Sauvignon Blanc
Your weekend wine:
Joseph Phelps Sauvignon Blanc, Napa Valley
Domaine Weinbach Reserve Pinot Blanc, France
Special occasion wine:
Veuve Clicquot Yellow Label Brut Champagne, France
Taittinger Brut Champagne, France
Some of our favorite Appetizers: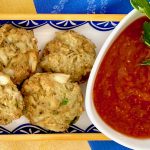 Print Recipe
Crab Cakes with Cocktail Sauce
Crab cakes with zesty homemade cocktail sauce are the perfect appetizer. Great on top of a salad or as a light meal.
Servings:
24
mini crab cakes or 12 full size
Ingredients
1

cup

red bell pepper

finely diced

½

cup

onion or shallots

finely diced

4

Tbsp

extra virgin olive oil,

divided

1

tsp

garlic

minced

1

large

egg

2

Tbsp

Worcestershire sauce

2

Tbsp

Italian parsley, fresh

finely chopped

3

Tbsp

Dijon mustard

2

Tbsp

Seafood seasoning,

such as Old Bay

1

tsp

salt

1

tsp

freshly ground black pepper

1

lb

lump crabmeat

2-3

Tbsp

mayonnaise

1

cup

Panko, divided

or breadcrumbs, more as needed
Cocktail Sauce
1

cup

ketchup

1

Tbsp

Worcestershire sauce

3

Tbsp

lemon juice

3

Tbsp

prepared horseradish,

or to taste

1

dash

hot sauce, such as Tobasco,

or to taste
Instructions
For the Crab Cakes:
Line a baking sheet with parchment or spray with nonstick cooking spray. Heat oven to 350°F.

In a large sauté pan, over medium heat, add 2 tablespoons olive oil. Add red pepper and onion/shallot and cook until softened. Add garlic and cook for about 1 more minute. Set aside to cool.

In large bowl combine bell pepper onion mixture, egg, Worcestershire sauce, parsley, mustard, and seasonings. Blend well and add crab and ½ cup panko. Blend gently, but do not over mix as you want crabmeat to retain small chunks.

Test to see if the crab cakes will hold together in a small patty. If too dry, add a small amount of extra mayonnaise. If too loose, add a bit more panko.

In a shallow bowl add remaining ½ cup of panko or breadcrumbs.

Wipe sauté pan clean and remaining 2 tablespoons of olive oil to coat pan. Heat to medium.

Scoop about 2 tablespoons of mixture for mini's and about ¼ cup for large crab cakes into a thick patty. Roll lightly in remaining panko to coat.

Sauté on medium heat until lightly browned, about 5 minutes per side.

Transfer crab cakes to the prepared baking sheet. Bake crab cakes in the oven for about 15 minutes. They should be lightly browned and firm on the outside.

Let cool slightly, remove to a serving platter and serve with cocktail sauce.
Cocktail Sauce:
Mix all ingredients in a bowl, adjust seasoning to your taste.

Cocktail sauce can be made ahead, up to 2 days, refrigerated