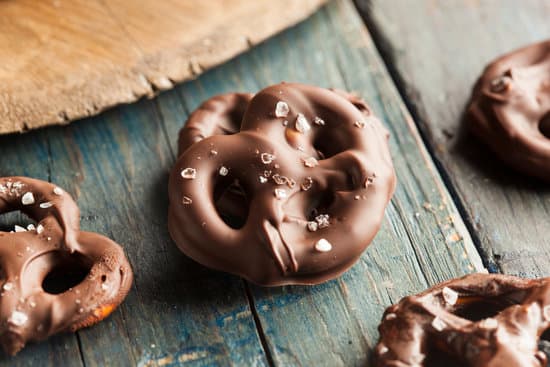 Easy Chocolate Dipped Pretzels only need 3 ingredients and take just 15-minutes to make
Perfect for a quick treat or a packaged gift for the holidays
These pretzels are super easy to put together and you only need 3 ingredients plus decorations. I love to use the bigger pretzels, but you can also use minis or regular size.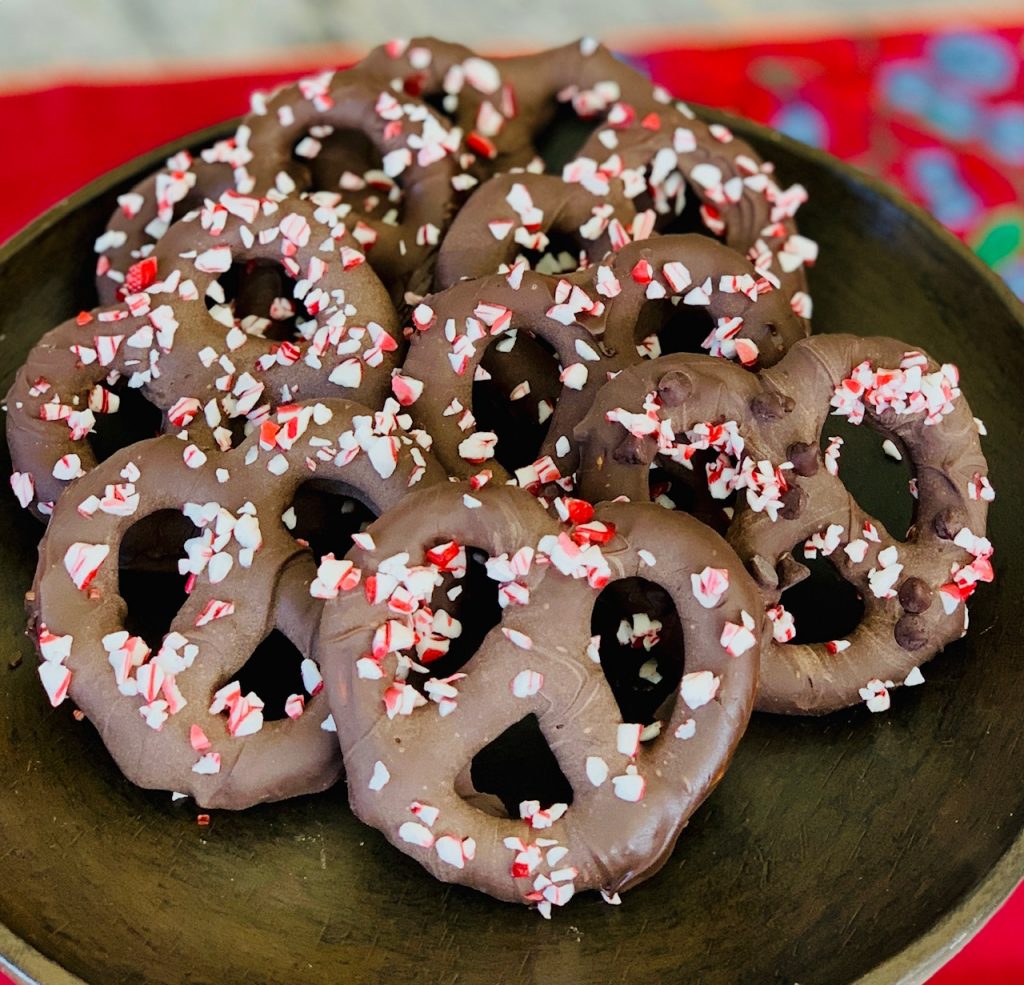 Types of Chocolate to use for Easy Chocolate Dipped Pretzels:
Dark Chocolate
White Chocolate
Milk Chocolate
Semi-Sweet Chocolate
The possibilities are endless because Chocolate Dipped Pretzels can be dipped in white, milk, semi-sweet, or dark chocolate. I prefer the taste of dark, but I love the look of the white pretzels!
Be sure to use the best quality chocolate available to you, because chocolate is the shining star of this treat. If you use couverture chocolate your pretzels will have a beautiful shine and snap.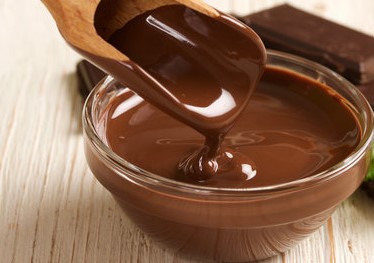 How to make Chocolate Dipped Pretzels:
While these pretzels are a snap to make there are a few quick tips to ensure success:
Melt bars or chunks of chocolate, but do not use chocolate chips. Chocolate chips have stabilizers in them and you won't get the nice glossy look you want. Also, the chocolate won't harden as well.
Once the chocolate is melted add a small amount of shortening or coconut oil to smooth out the chocolate and create a high gloss.
Prep everything ahead of time because once you start dipping the pretzels you will want to keep moving.
Line baking trays with parchment paper, a Silpat liner, or foil. Lining the trays will prevent the pretzels from sticking to the tray after they are dry.
Submerge one pretzel at a time.
As you lift out each pretzel to dry let the excess chocolate drip back into the bowl. I use a Wilton slotted candy spoon, but you can use a fork as well.
Add any sprinkles, chopped candies, mini chocolate chips, or chopped nuts to the pretzel tops.
Dry the pretzels for about one hour after they are dipped.
Store in a sealed container or bag.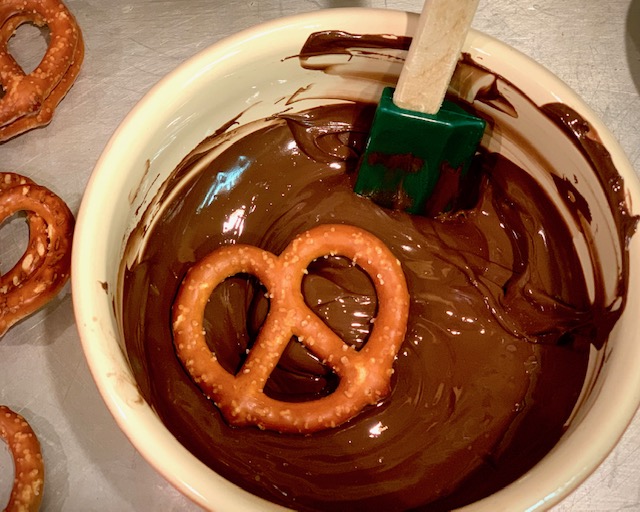 How far in advance can I make chocolate dipped pretzels?
These delicious treats keep well for up to 3 weeks. Be sure the pretzels are completely dry and stored in a sealed container or a sealed plastic bag.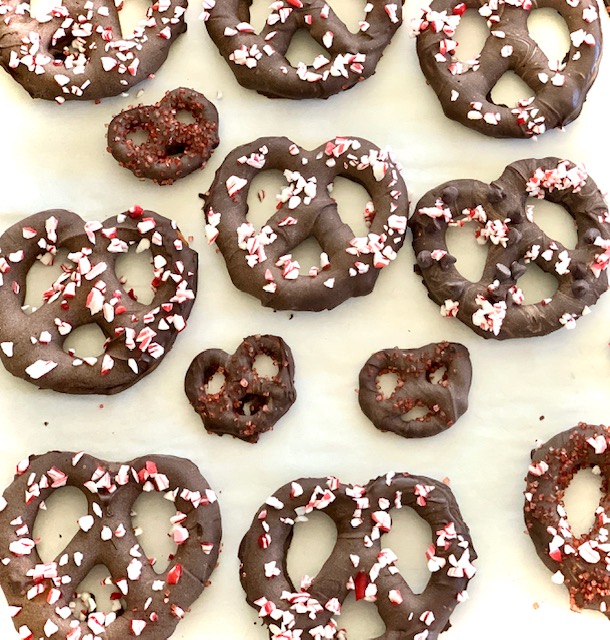 Have fun decorating with sprinkles!
The best part of making Easy Chocolate Dipped Pretzels is decorating them. So, get out a variety of your favorite sprinkles, chopped nuts, chopped candies, and mini chocolate chips. If you want to make them extra fancy drizzle the opposite color chocolate over the top of the pretzels in a zig-zag fashion.
It's important to decorate the pretzels right after you dip them, and while they are still wet so that the toppings stick. Let sit for at least one hour afterward to ensure they are completely dry.
Package in a beautiful cello bag or a gift can for a fun and delicious gift.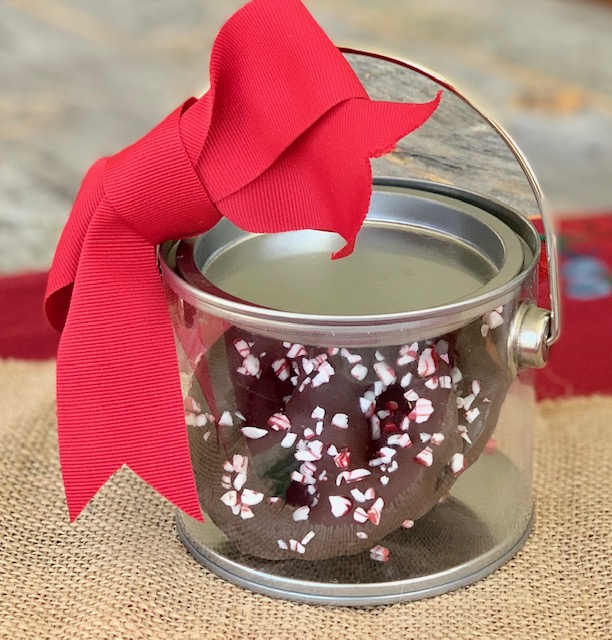 Looking for more sweet treats?
We have a lot of ideas for delicious sweet snacks!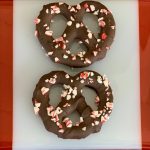 Print Recipe
Easy Chocolate Dipped Pretzels
Easy Chocolate Dipped Pretzels are so festive and take just 15-minutes to make! Perfect for a quick treat or a little packaged gift.
Servings:
24
Large Pretzels
Ingredients
8

oz

dark, milk or white chocolate,

roughly chopped

1

tsp

coconut oil or shortening

24

large

pretzels

½

cup

Sprinkles, chocolate chips, and nuts,

Optional
Instructions
Line 2 sheet pans with parchment paper, foil, or a Silpat non-stick mat

Place the chopped chocolate into a medium heat-proof bowl. Melt in the microwave on high for 30 seconds, remove, and stir.

Continue melting in 15-second increments, stirring after each heating, until chocolate is completely smooth. Add coconut oil or shortening and stir to combine until smooth.

Alternatively, put the chocolate in a small saucepan and melt over low heat, stirring constantly, until smooth.

With a large fork, or candy dipping tool, dip each pretzel into the chocolate until completely covered. Lift and let excess chocolate drip off into the bowl.

Transfer dipped pretzel to lined baking sheets and cover with sprinkles or nuts, if using.

Allow to dry for about 1 hour.

Store in air tight container for about 2 weeks, or package in cello bags as gifts.
Notes
Do not use chocolate chips for this recipe. Chocolate chips have other ingredients in them and you will not get a shine, nor will the chocolate firm up, as well. 
Nutrition