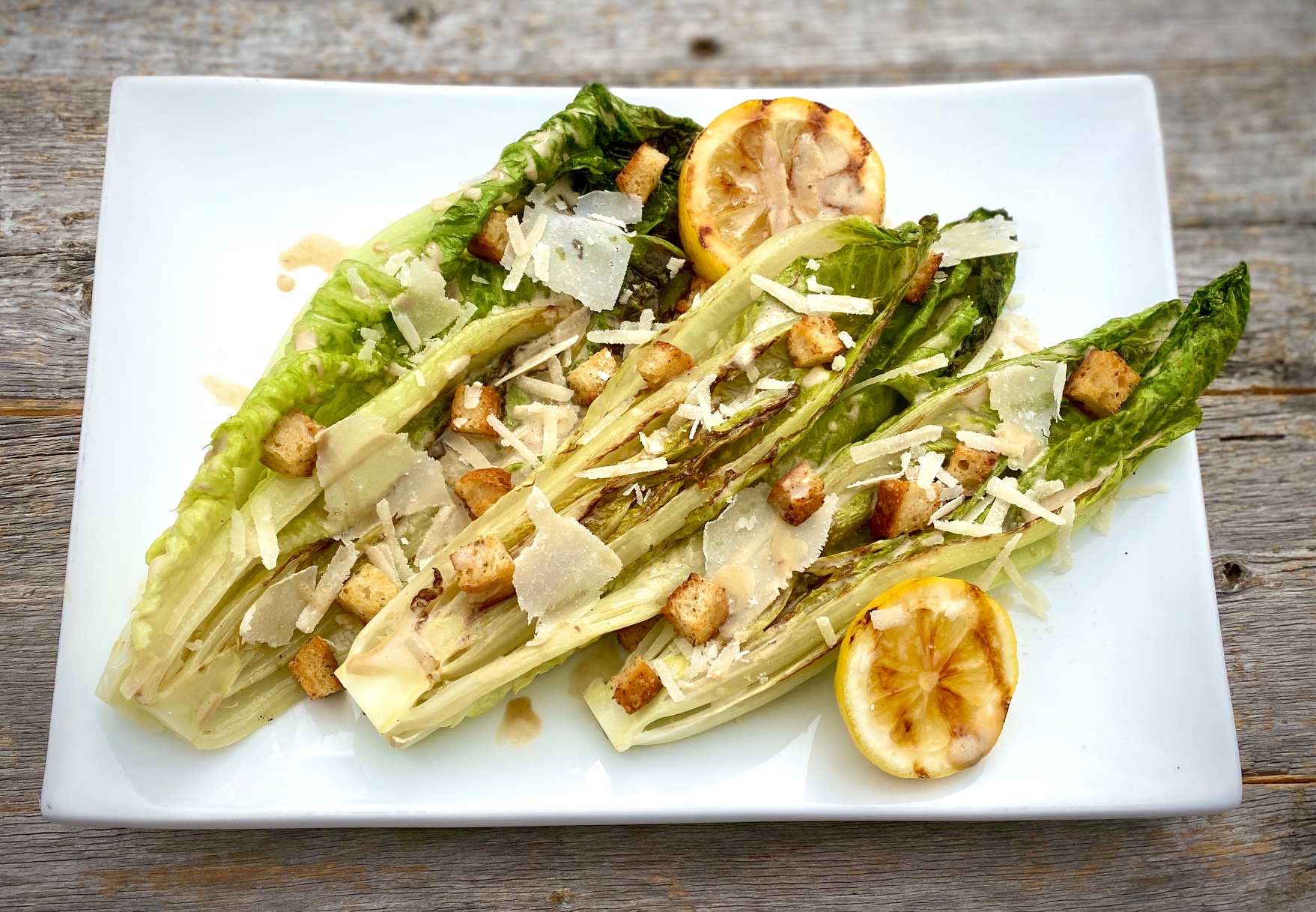 Grilled Caesar Salad is an easy flavorful twist on the traditional recipe with a light caramelized flavor
Charred romaine wedges are topped with a zesty dairy-free Caesar dressing, homemade garlic croutons, and grated Parmigiano-Reggiano cheese
To prepare this grilled Caesar Salad there are three quick steps:
Prep the lettuce and grill it
Mix together the Caesar dressing and grate the cheese
Make the homemade croutons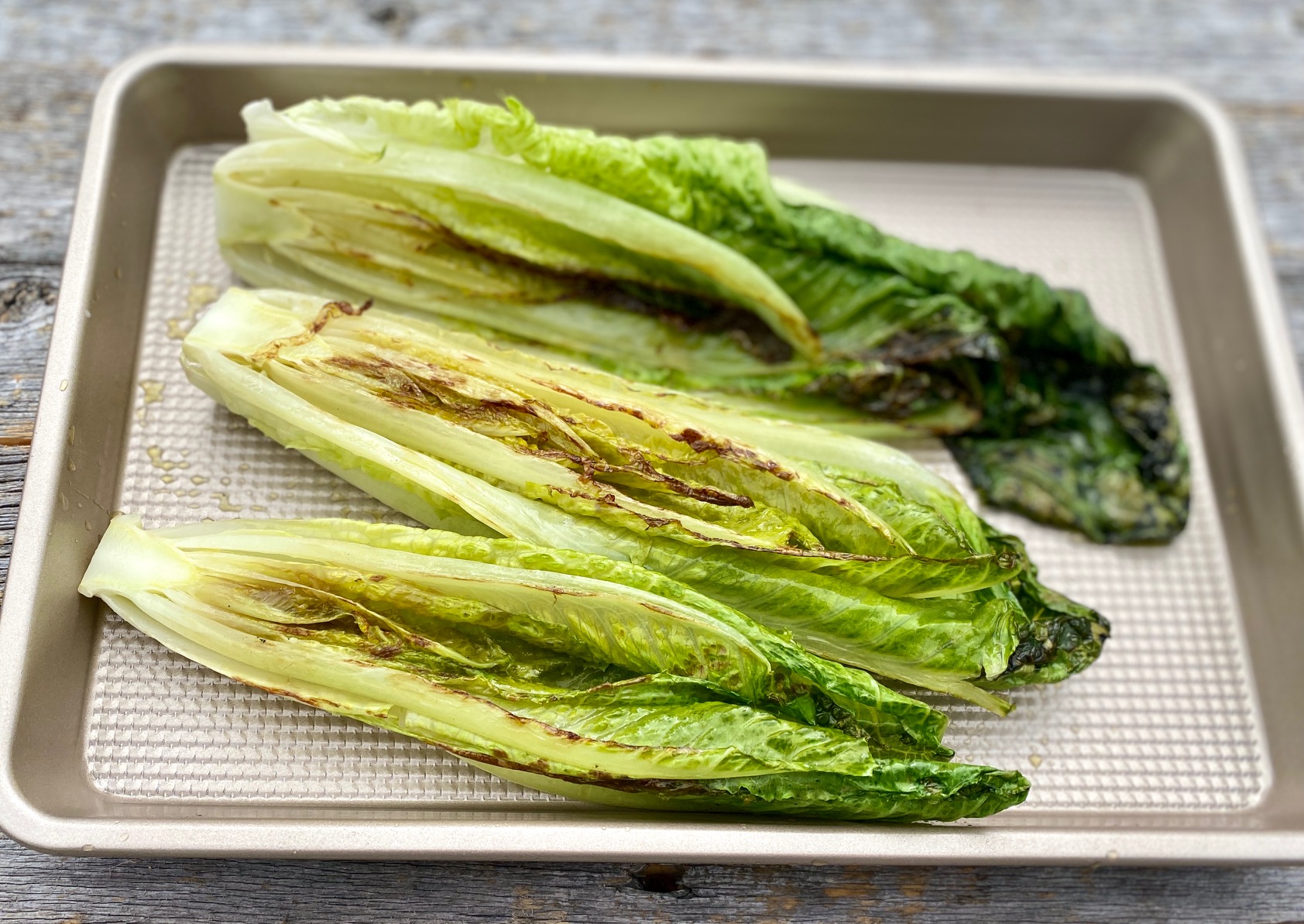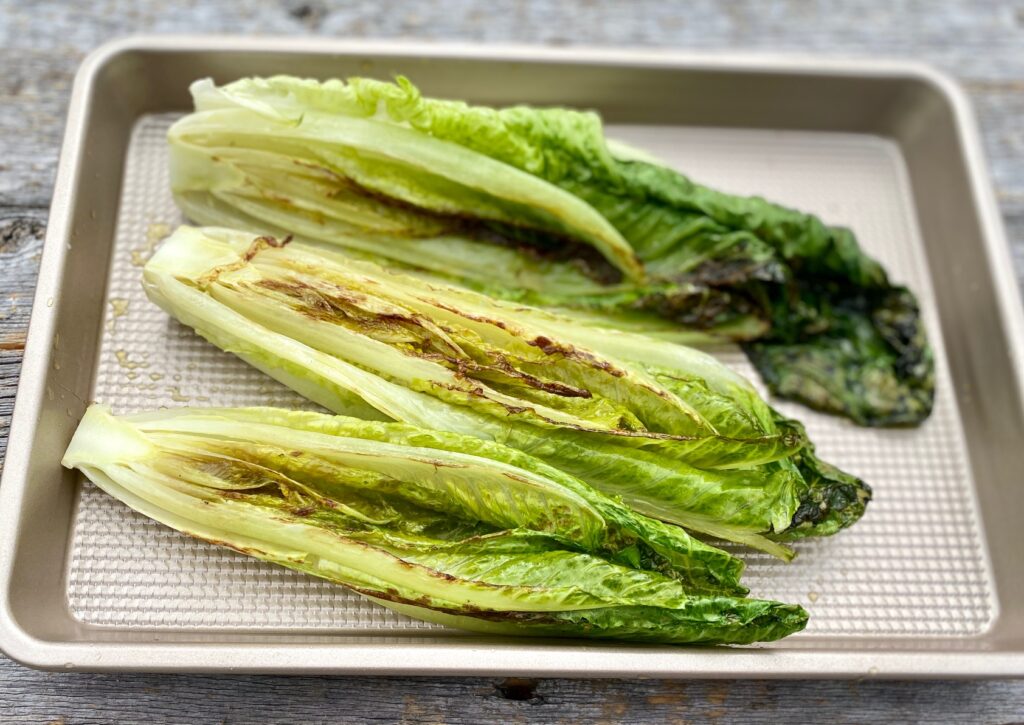 How to prep and grill lettuce:
If you've never grilled lettuce before you're in for a treat! The lettuce becomes wonderfully caramelized when grilled.
It's popular on restaurant menus but quite easy to make at home. A quick visit to the grill gives any lettuce added flavor and color, and romaine is sturdy enough to hold its shape.
To prepare the lettuce:
Trim the bottom core, if needed, just enough to remove the unclean end, and remove any broken or loose outer leaves
Slice the head lengthwise, starting at the core, and cutting through to the top of the leaves. If the heads are extra big you can cut them into lengthwise quarters
Wash and dry
Brush with olive oil, coating the head all over, and sprinkle with salt and pepper. This helps keep the lettuce from sticking to the grill
Set aside while prepping the dressing and croutons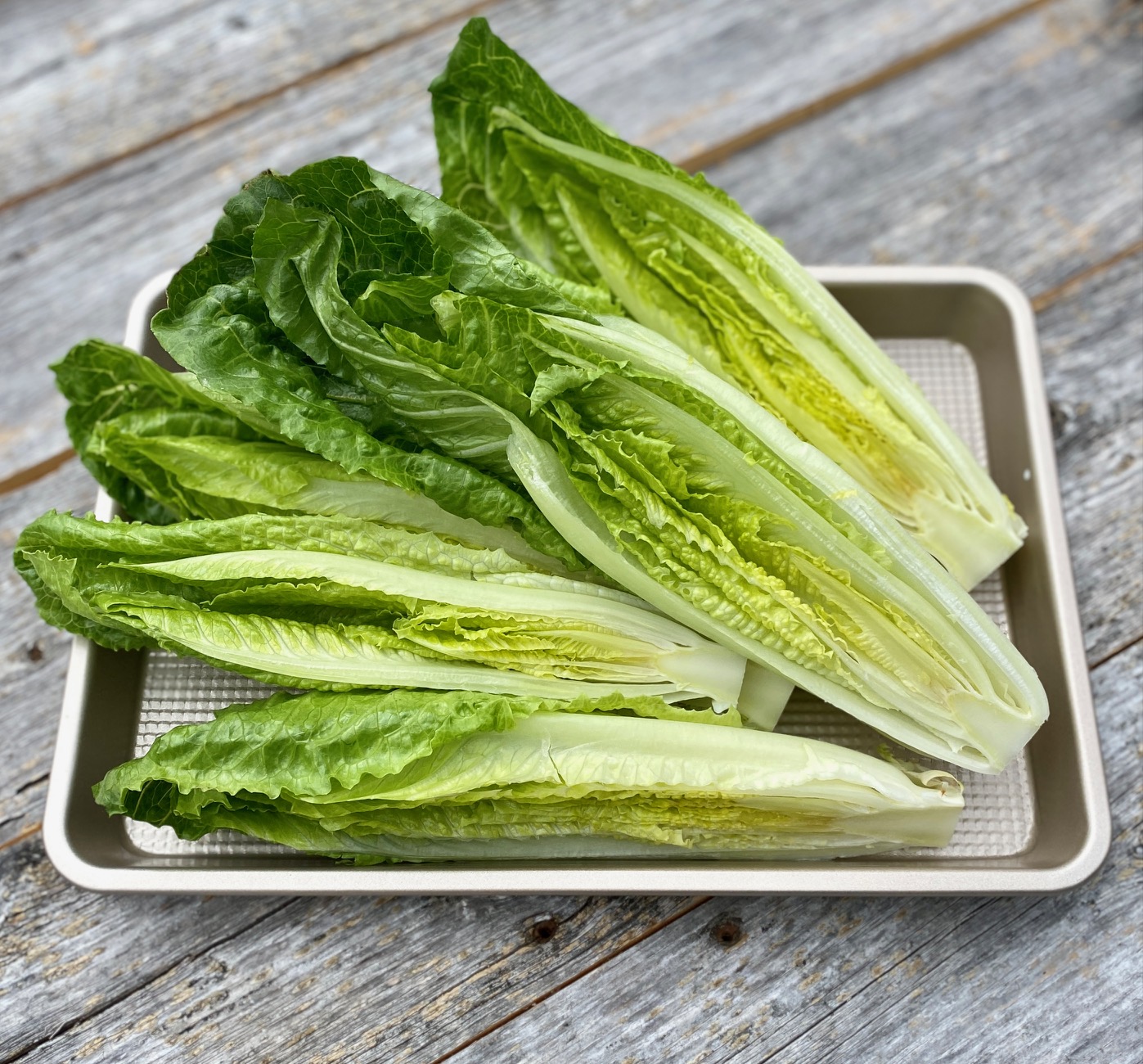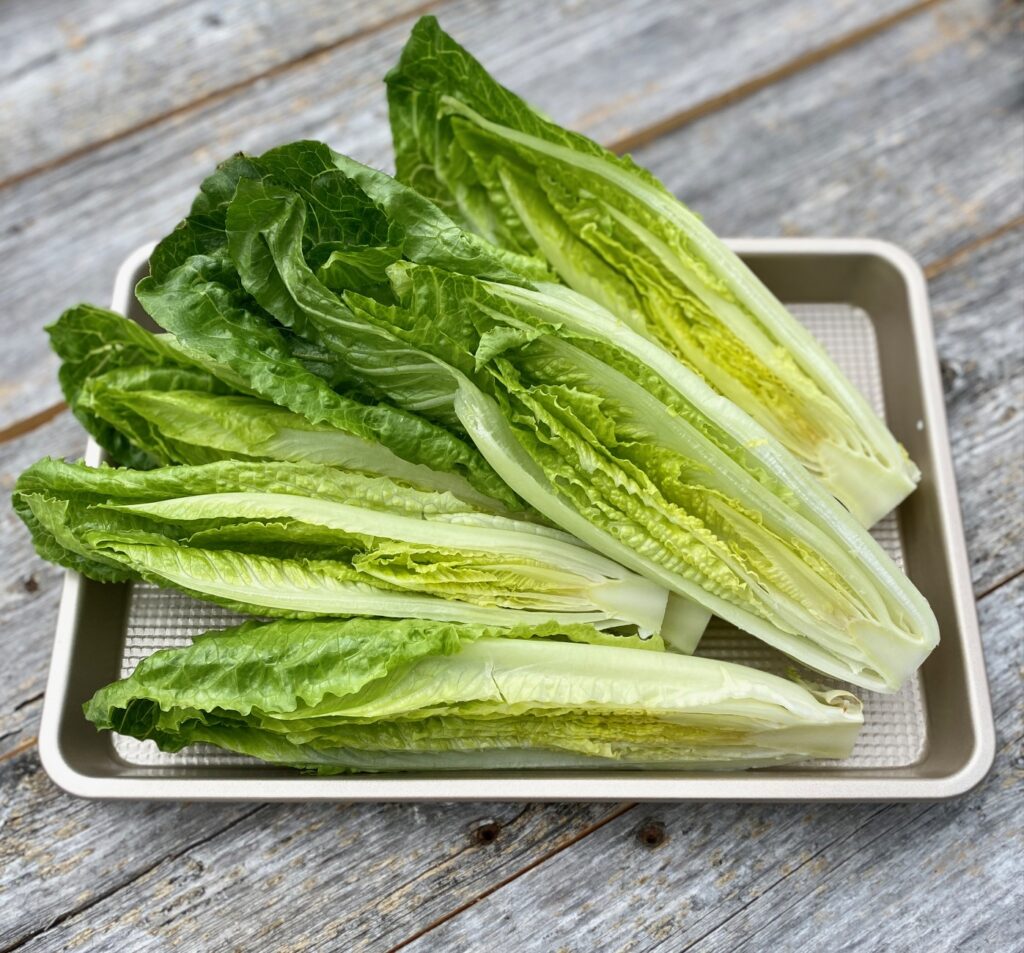 Ingredients for classic Caesar Salad Dressing
If you love Caesar salad as much as we do then you will love this traditional Caesar dressing, which also happens to be dairy-free (no mayonnaise) and gluten-free too. We use this dressing for both cold and grilled Caesar.
There are a million versions of Caesar dressing but this one is very traditional. We use anchovies (trust us, you need them!) and plenty of garlic. This recipe makes about 1 cup of dressing.
Caesar dressing is rich so a little goes a long way on this salad. You will likely use less dressing than on a cold Caesar because there is already so much flavor from the smoky caramelized lettuce
Olive oil – we prefer this over vegetable oil for a creamy finish
Anchovies – these are a must for Caesar so don't skip them as they add that classic briny umami flavor to a real Caesar dressing
Garlic – we usually add extra but start with 3 cloves and adjust to suit your taste
Egg – If you are uncomfortable using raw egg use pasteurized whole eggs. You can also substitute in mayonnaise but it will change the flavor slightly
Worcestershire sauce – great for giving the dressing a deeper umami flavor
Lemon juice – make sure it's freshly squeezed
Dijon mustard – use Grey Poupon brand if you're keeping it gluten-free
Tabasco – just a dash!
White wine vinegar – gives the salad a pop of tang
Salt and pepper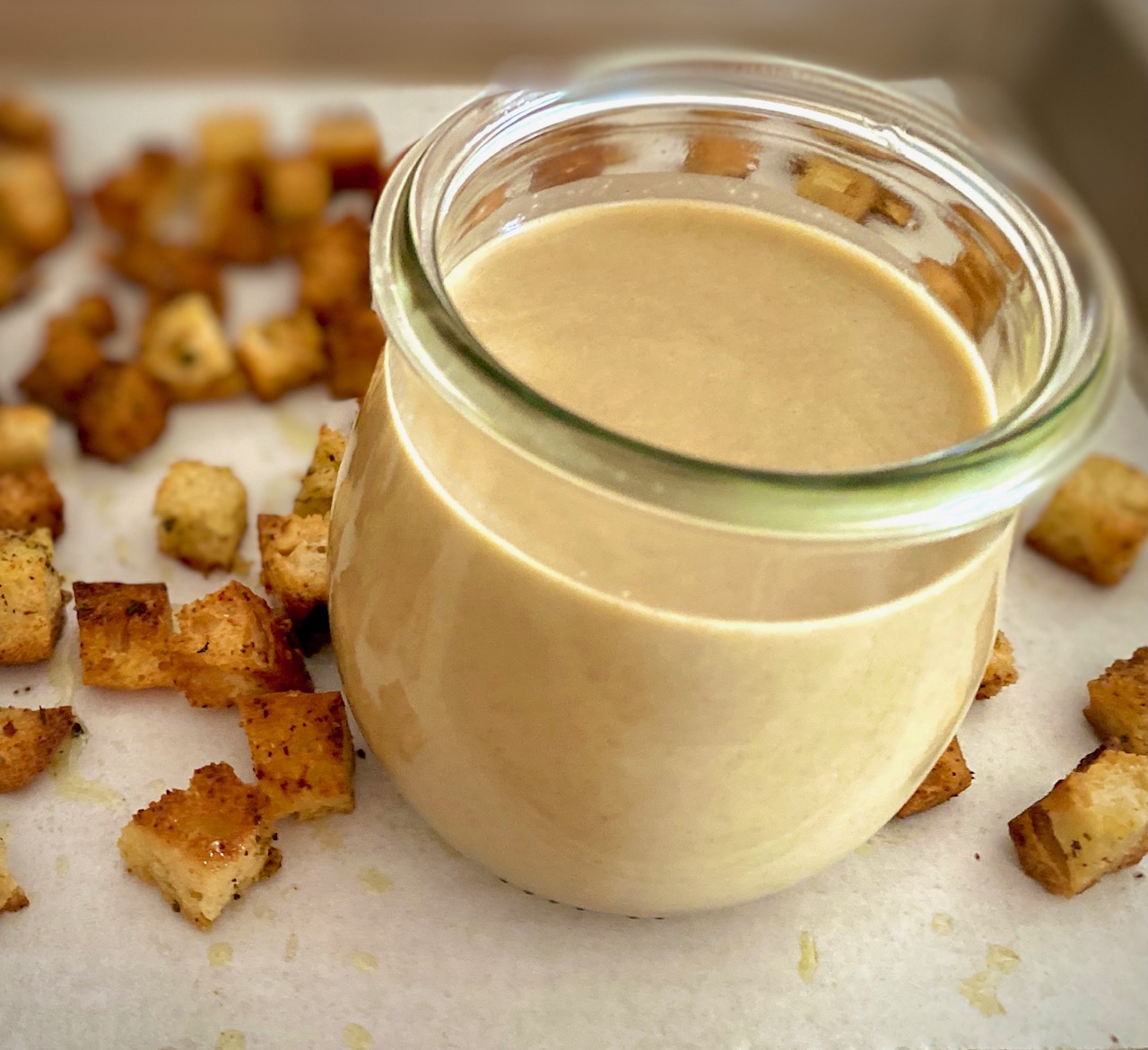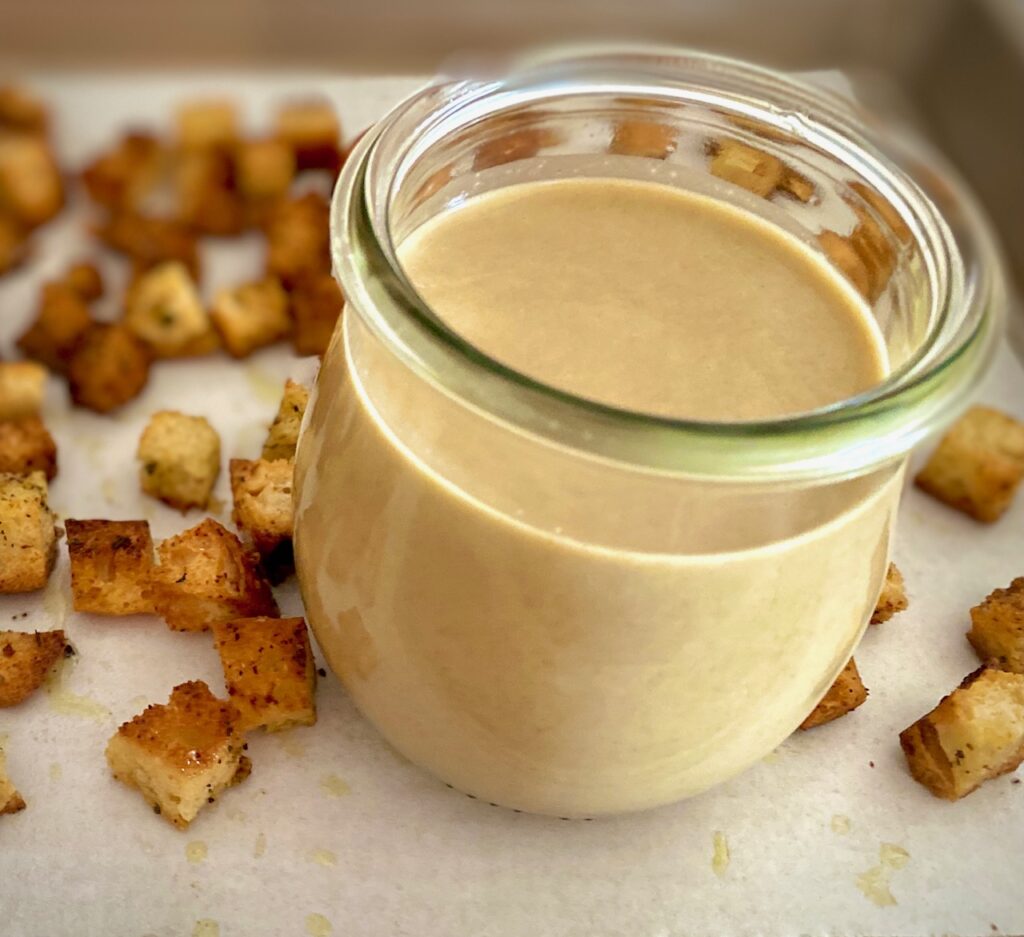 How to make the Caesar dressing:
You can prepare this dressing super fast by using a small food processor, or it's easy to make by hand, as well.
Pulverize the anchovies and garlic to make a paste (if mixing by hand just mash with a fork)
Add the egg, Worcestershire sauce, fresh lemon juice, Dijon mustard, Tabasco and white wine vinegar. Puree until smooth
Slowly drizzle in the olive oil. Did you know that most mini food processors have small drip holes in the lid for this exact purpose? Just drizzle slowly into the reservoir while blending
Blend for about 1 more minute to help thicken the dressing
Taste and adjust the seasonings then add salt and pepper to taste
Store any leftover dressing in the refrigerator for about 3 days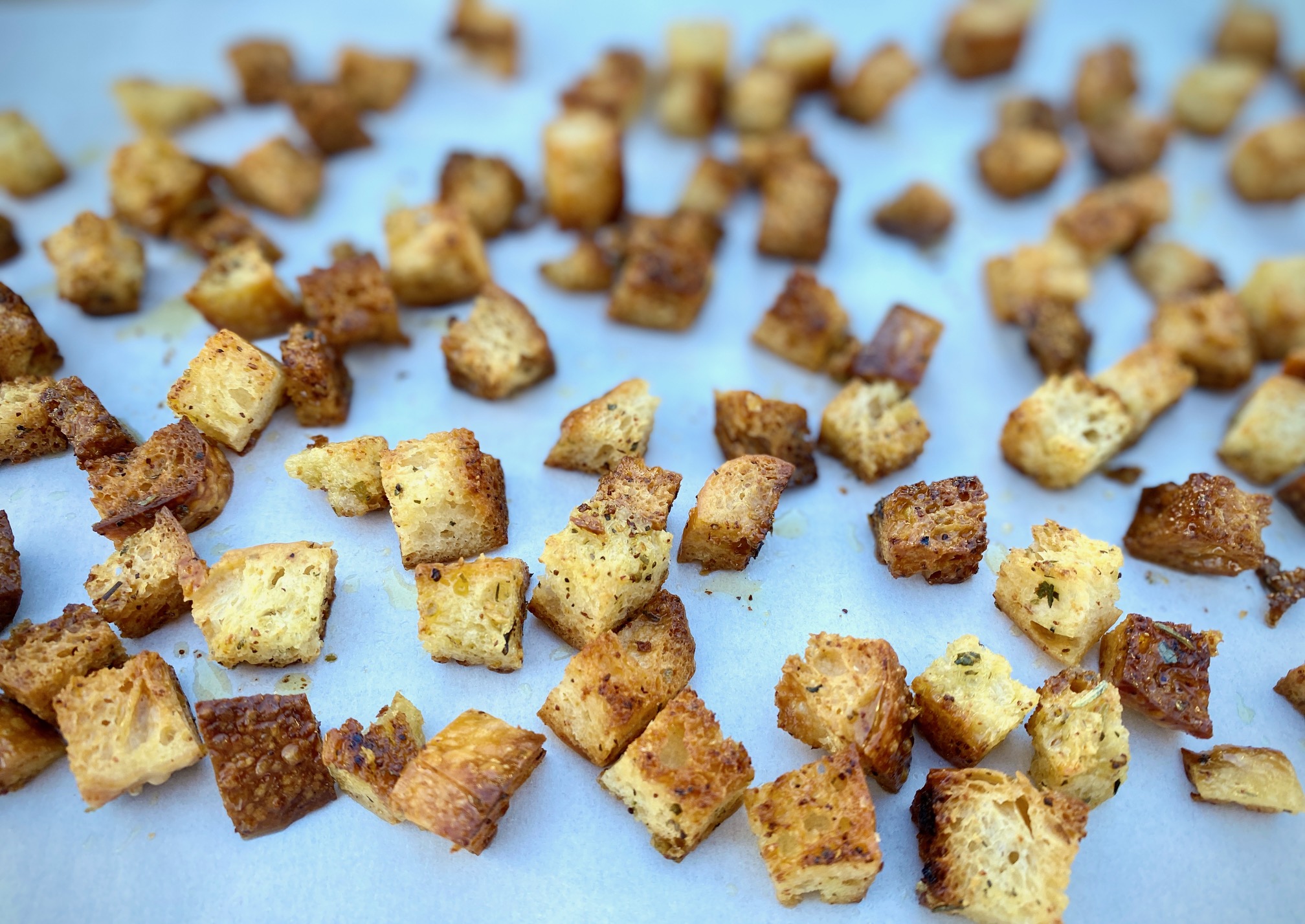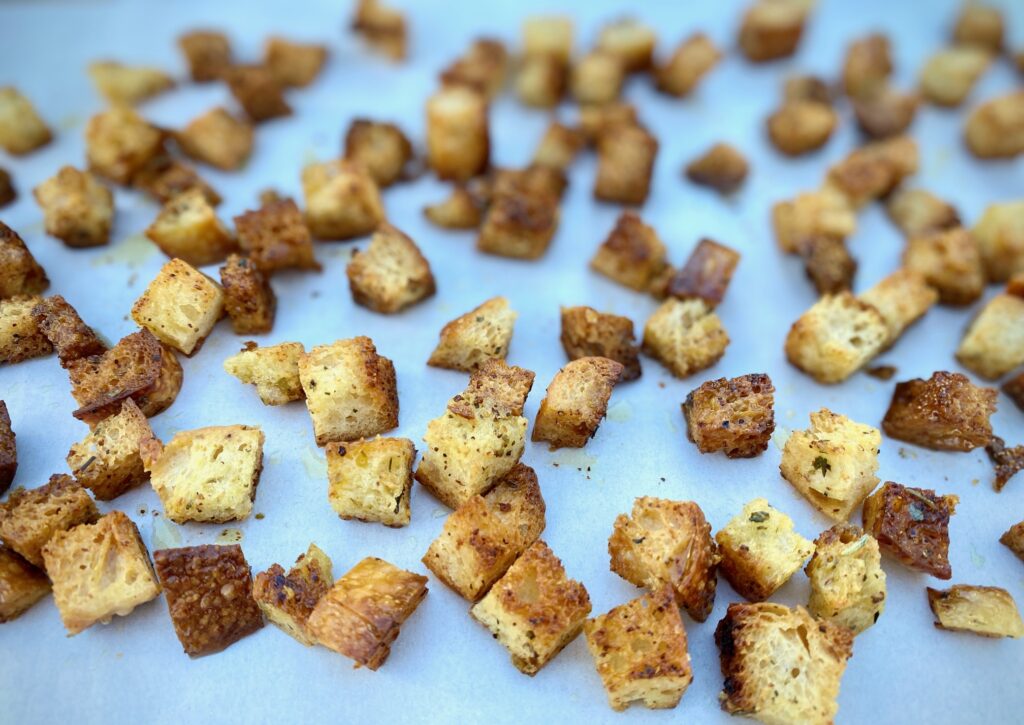 How to make Homemade Garlic Croutons
Homemade croutons are so tasty compared to the hard crunchy boxed croutons available at the grocer. And, they take just minutes to make.
Preheat oven to 350˚F
Cut sourdough or french bread into small cubes and place in a large bowl. You will only need about 1/4 of a regular loaf, or one small loaf, for this salad. Save the rest for another use
Melt butter and olive oil in a small pan, add minced garlic and a pinch of salt. Blend well to combine
Pour melted garlic butter over the cut bread and toss until all of the bread is well coated
Spread out in a single layer on a baking sheet
Bake until lightly crunchy and browned – about 10-12 minutes but check after 7-8 minutes because timing depends on the size of your croutons
Remove and let cool on a plate or paper towel
How to grill Romaine lettuce
Once the dressing and croutons are ready it's time to grill the lettuce!
Heat an outdoor grill, or stove top grill pan, to medium-high
Place the lettuce wedges cut side down on the grill just until lightly charred. This takes about 2 minutes on an outdoor grill and a little longer on a stove top grill
Gently flip the lettuce over and grill the other side for just about 30-seconds to warm and add grill marks
Remove from the grill and place on a platter
We like to quickly grill a few lemons, cut in half, at the same time as the lettuce, for garnish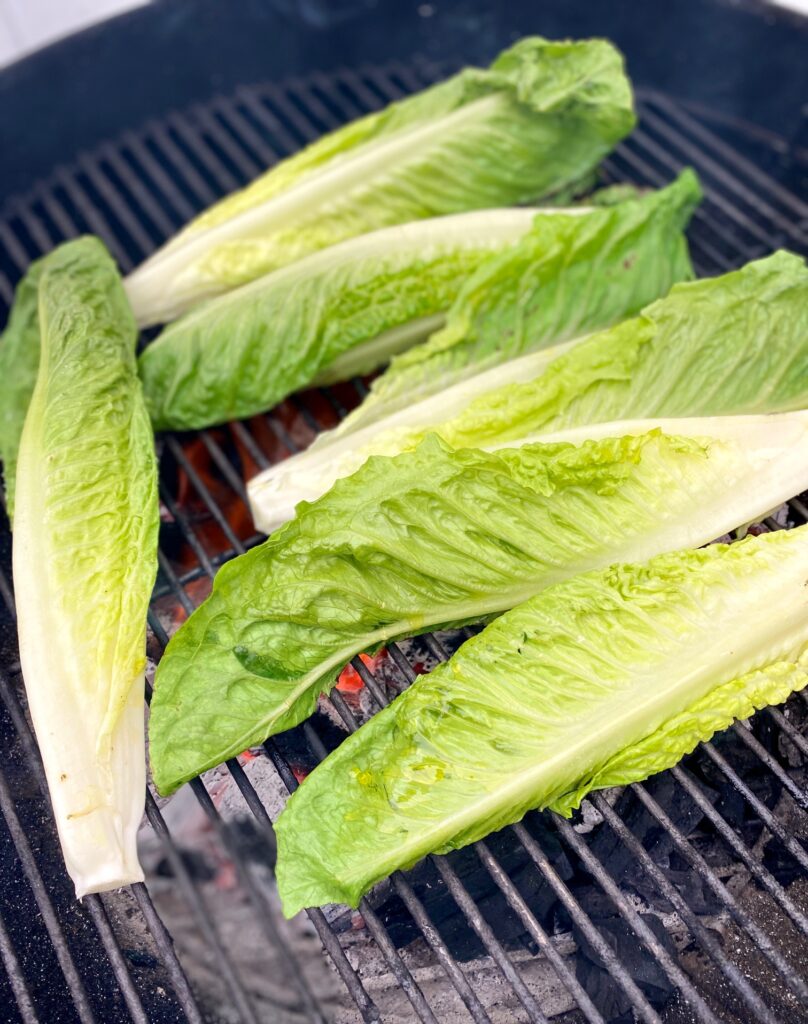 How to serve Grilled Caesar Salad
Once the lettuce is grilled this salad comes together quickly and is meant to be served warm.
Be sure to grate or shred the Parmigiano-Reggiano ahead of time.
Place grilled lettuce on a platter
Drizzle with prepared Caesar dressing
Sprinkle with grated Parmigiano-Reggiano cheese. We also like to cut thin strips of the cheese for a pretty presentation
Add baked croutons. Nestle in lemon wedges, if desired, and then add a little cracked black pepper.
Serve any remaining dressing on the side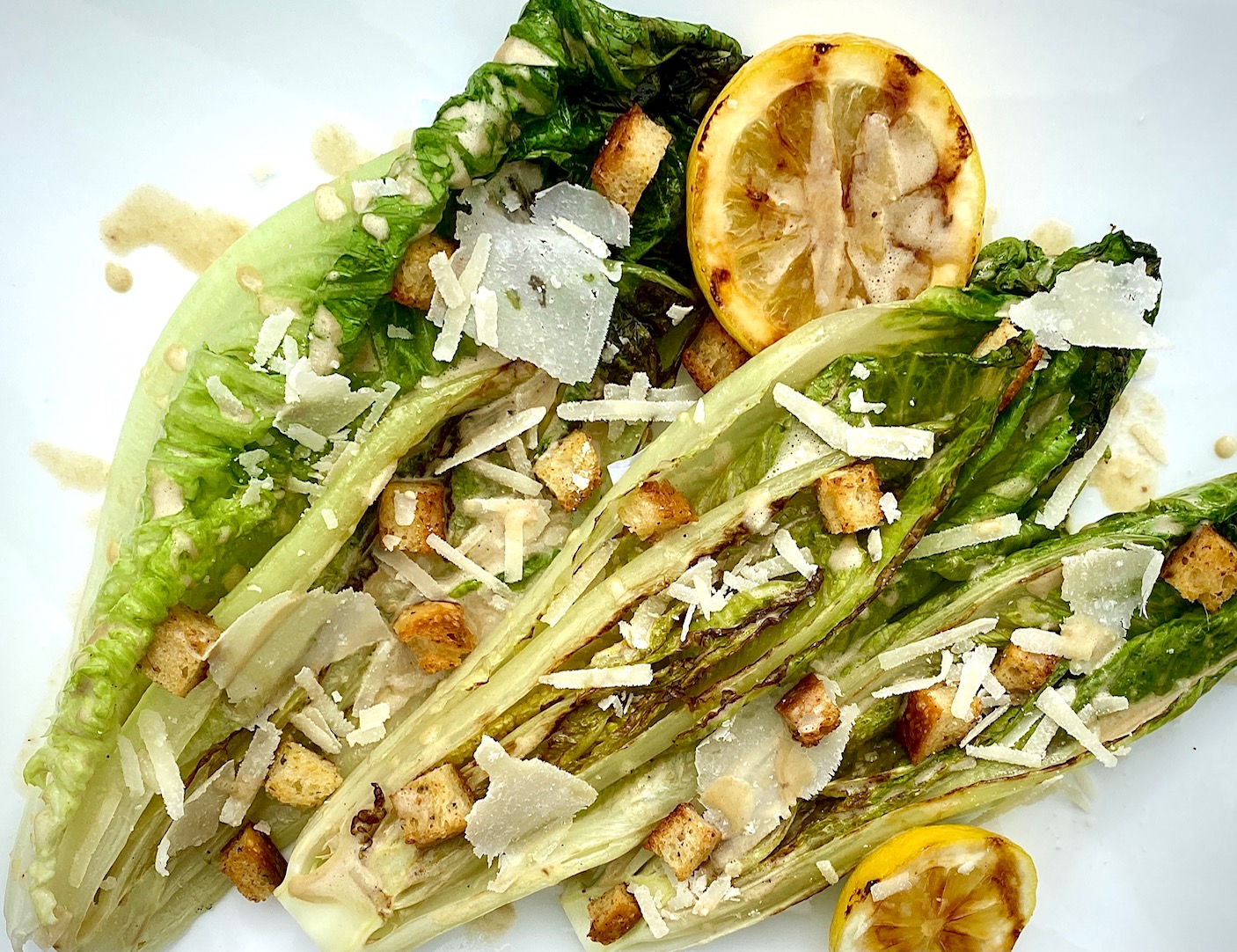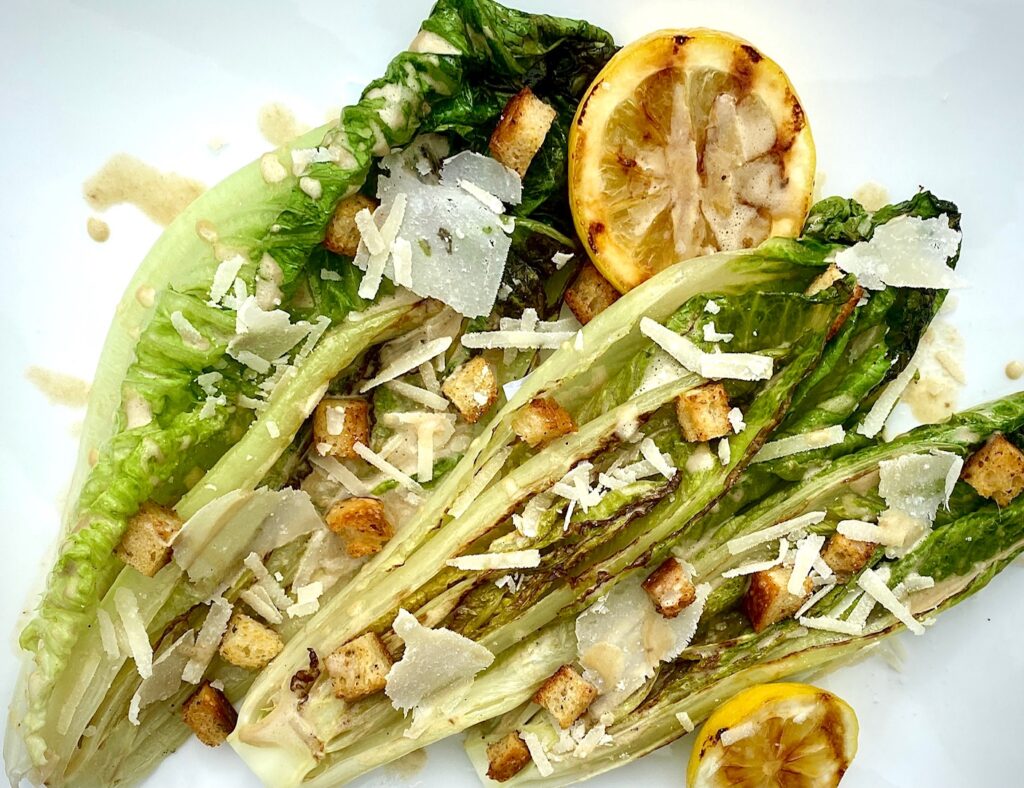 Substitution suggestions:
If you are unable to eat fish (anchovies) you can leave them out all together
Uncomfortable with the raw egg? Use pasteurized eggs or swap in mayo
Tight on time? Use a store bought dressing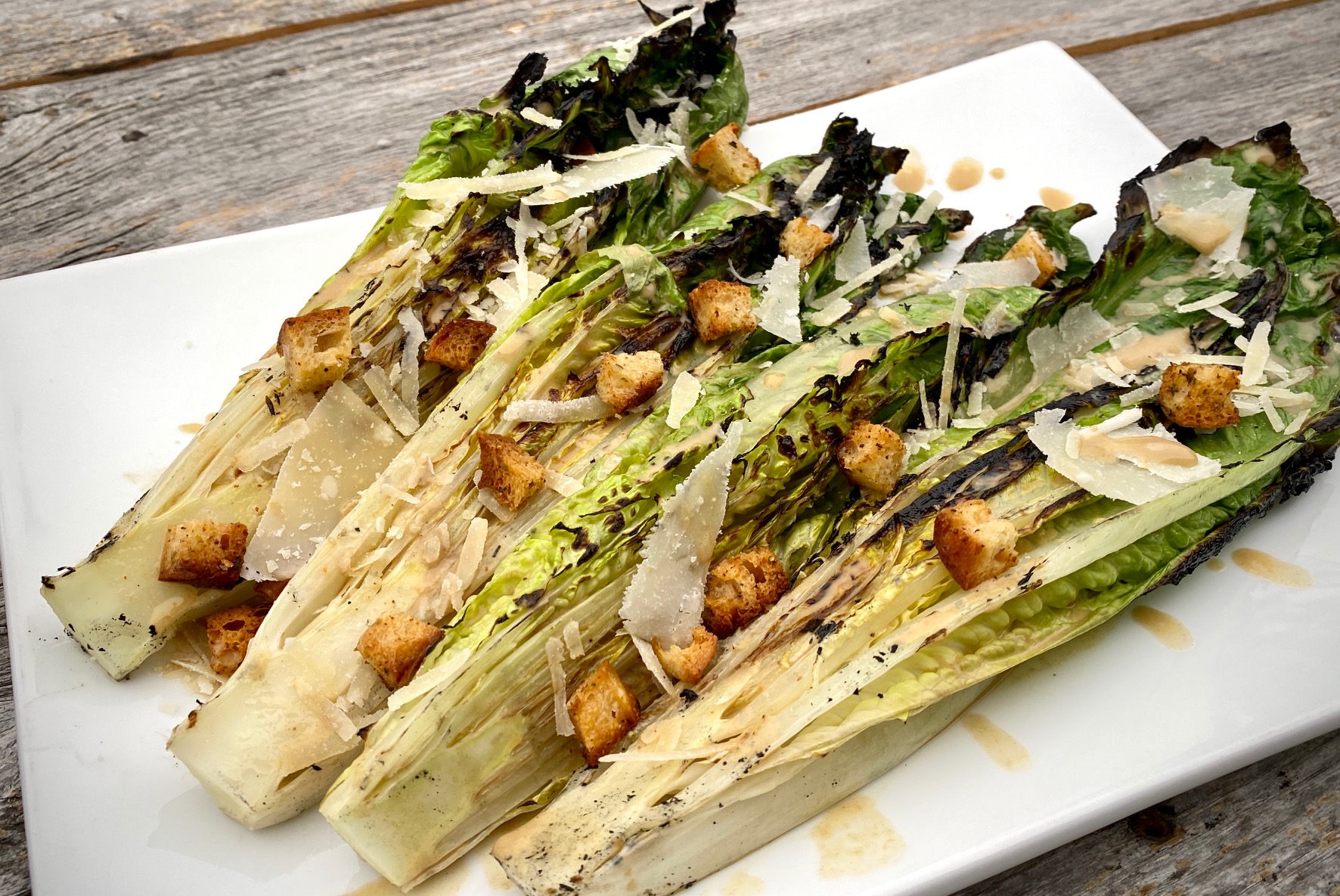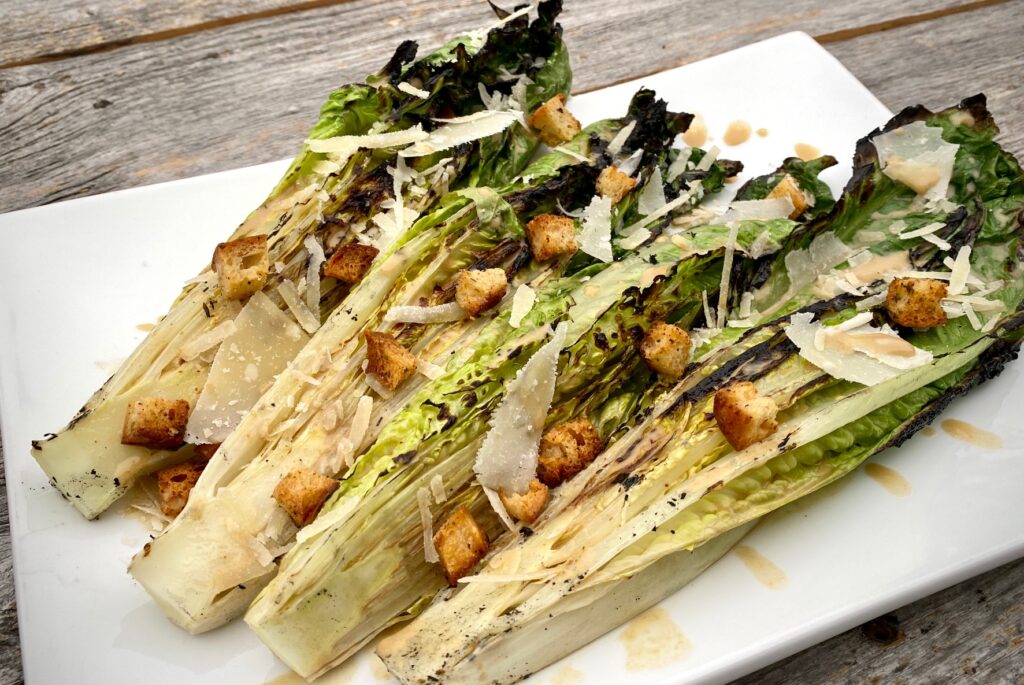 Other great grilling ideas:
This grilled Caesar can stand on it's own but is excellent along with grilled meats since you've already got the grill going!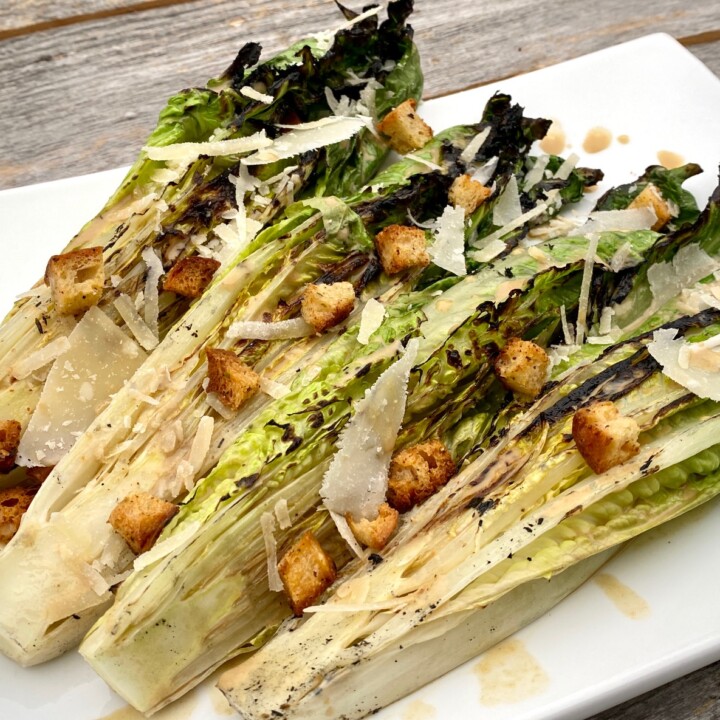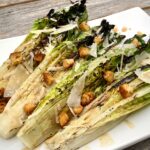 Print Recipe
Grilled Caesar Salad
Easy Grilled Caesar Salad, and traditional Caesar dressing, with homemade croutons and Parmesan, is a delicious smoky twist on the usual method.
Ingredients
Dressing Ingredients:
1/4

cup

extra virgin olive oil + 2 Tablespoon for lettuce

3

anchovies, packed in oil

3

cloves

garlic

1

egg

4

Tablespoons

Worcestershire sauce

1

Tablespoon

lemon juice, freshly squeezed

2

Tablespoons

Dijon mustard

1

dash

Tabasco

1/4

cup

white wine vinegar

salt

black pepper, freshly ground
Crouton Ingredients:
1

small

sourdough or french bread baguette

4

Tablespoons

butter

2

Tablespoons

extra virgin olive oil

1

Tablespoon

garlic, crushed

1

pinch

salt
For Top of Salad:
1/2

cup

Parmigiano-Reggiano (or Parmesan cheese),

shredded

Black pepper, to taste
Instructions
Clean romaine heads, trim stem a little if needed and cut in half lengthwise. Pat dry, then lightly brush all over with 2 Tablespoons olive oil. Sprinkle lightly with salt and pepper.

Set aside while making the dressing and croutons
Instructions for making dressing:
In a small food processor pulverize the anchovies and garlic to make a paste.

If not using a processor: In a bowl crush garlic, add anchovies, and mash with a fork until you have a paste.

Add the egg, Worcestershire sauce, lemon juice, Dijon mustard, Tabasco, and white wine vinegar. Puree until smooth

Slowly drizzle in olive oil in bursts, until completely blended. Blend for an additional minute to thicken the dressing.

Taste and adjust any seasonings, then add salt and pepper to taste.
Instructions for croutons:
Cut sourdough into small cubes and place in a large bowl.

In a small sauce pan, over low heat, melt butter with 2 Tablespoons olive oil, 1 Tablespoon of minced garlic, and a pinch of salt. Stir until well blended.

Pour butter mixture over the bread cubes and toss well to coat.

Spread out in a single layer on a baking sheet and cook until lightly crunchy, about 10-12 minutes.

Remove from oven and cool on a plate, or paper towel.
Instructions for grilling the romaine lettuce:
Heat the grill to medium-high, or a stove top grill pan to medium high.

Place lettuce halves cut side down and grill just until lightly charred which should be about 2-minutes. Flip and grill other side for about 30-seconds. Remove from the grill and put on a platter
To finish salad:
Drizzle the caesar dressing over the grilled romaine lettuce heads.

Sprinkle with Parmigiano-Reggiano, croutons, and cracked fresh black pepper.
Nutrition
Calories:
432
kcal
|
Carbohydrates:
16
g
|
Protein:
11
g
|
Fat:
38
g
|
Saturated Fat:
13
g
|
Polyunsaturated Fat:
3
g
|
Monounsaturated Fat:
20
g
|
Trans Fat:
1
g
|
Cholesterol:
81
mg
|
Sodium:
511
mg
|
Potassium:
988
mg
|
Fiber:
7
g
|
Sugar:
6
g
|
Vitamin A:
27790
IU
|
Vitamin C:
18
mg
|
Calcium:
297
mg
|
Iron:
5
mg