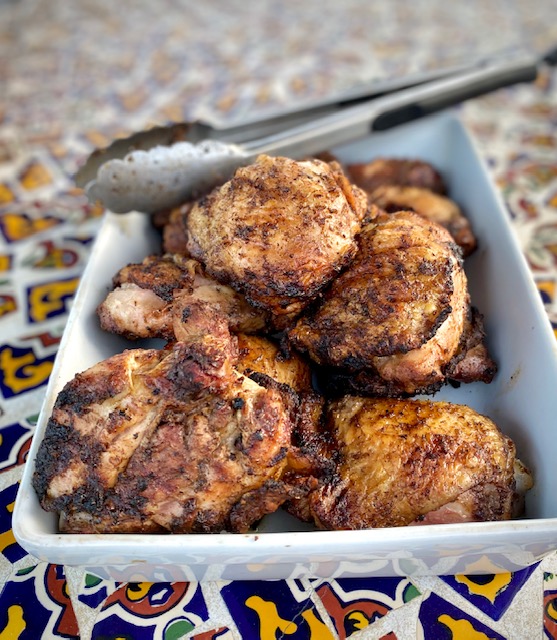 This classic Jerk chicken recipe is sweet, tangy, spicy, and hot!
Make a big batch of this homemade jerk seasoning mix so you have it on hand, then marinate your chicken with it, and grill or bake for an easy dinner.
This is also a perfect recipe for a big group because the quick prep happens ahead of time. Pair it with White Sangria cocktails for the perfect Summer dinner.
Jump to Recipe
What is Jerk Chicken?
Jerk refers to a style of cooking in which the main ingredient is coated in a spice mix or paste, marinated, and slowly cooked over a fire.
The method comes from Jamaica, and must include allspice (also called pimento). If you go to Jamaica you will see jerk grillers all over the place and the taste is unforgettable. The result is a nice smoky tender flavor.
This Homemade Jerk Seasoning is easy with the added benefit of knowing there are no artificial flavors or additives.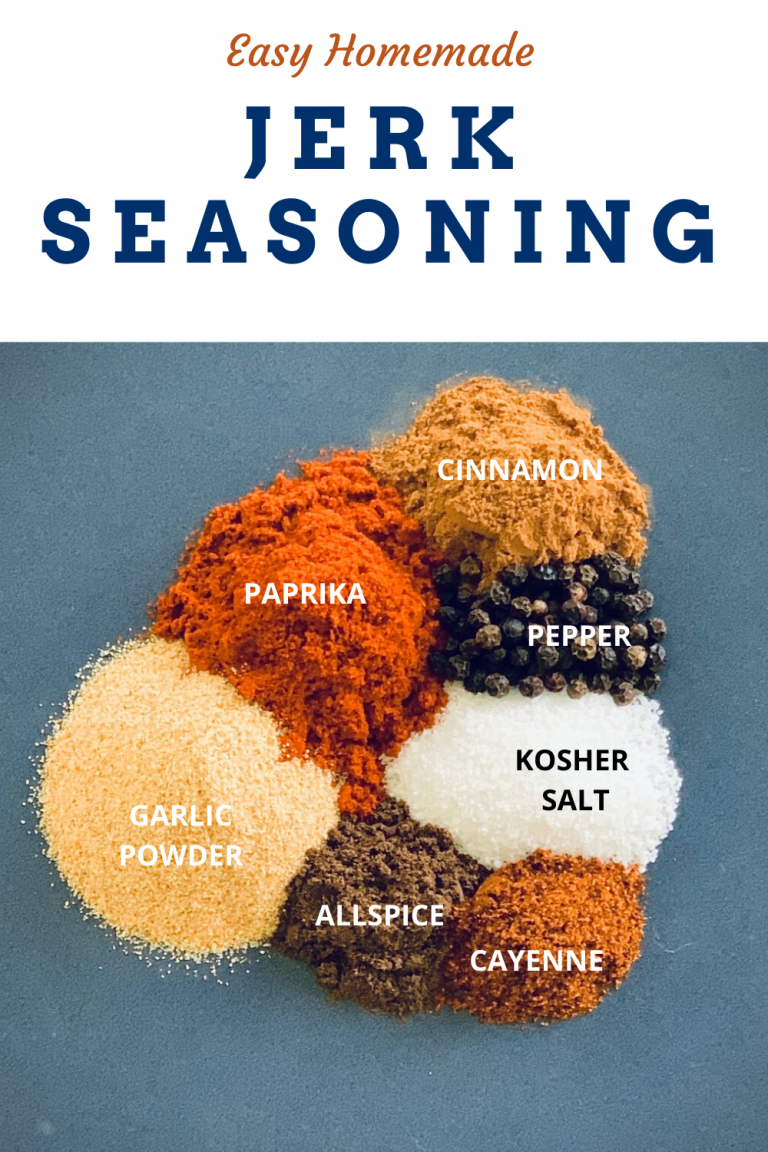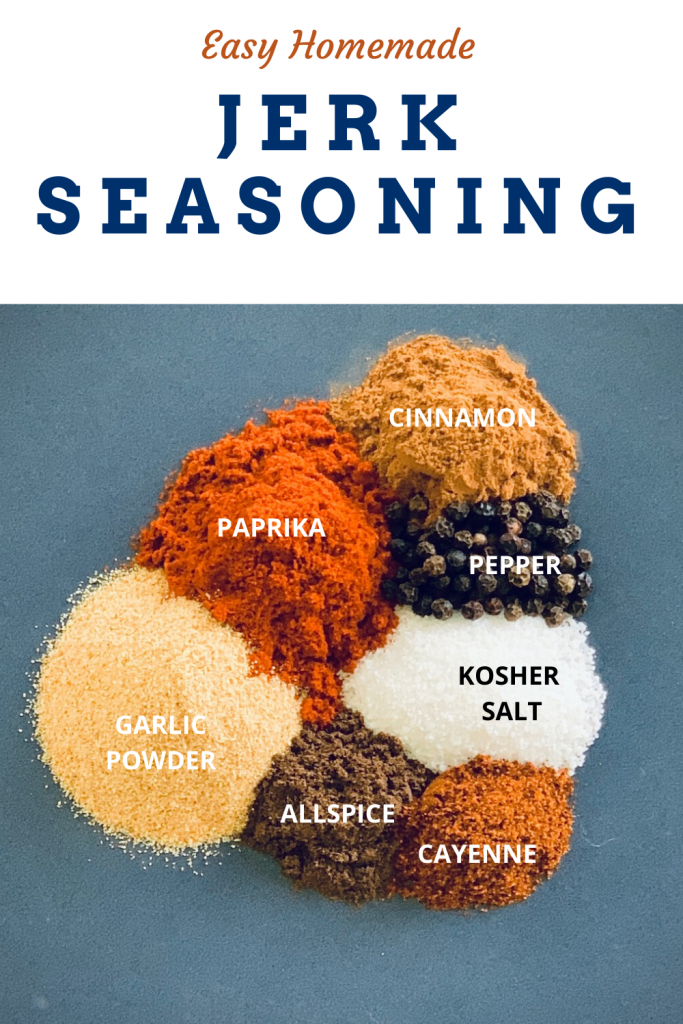 How to make Jerk Seasoning:
Jerk seasoning is simple to make and you can use it on all kinds of foods. Chicken is the most traditional, but try it on beef, pork, fish, or vegetables. We love it on chicken wings too!
Most of the ingredients in this Jerk Seasoning Mix are pantry staples. I measure the spices into a jar (or mortar and pestle), seal the jar, shake to mix it up, and it's ready to use. It keeps well for about 6-months, and like all spices, store in a cool, dark, dry place.
Ingredient list:
Paprika (use mild or hot – I use hot!)
Garlic Powder
Allspice (or pimento)
Kosher salt and freshly ground pepper
Cayenne
Cinnamon or nutmeg (or both!)
Habanero powder (optional)
Traditional Jamaican Jerk mix includes Scotch Bonnet Peppers but they are extremely hard to find outside of the Caribbean. You can substitute habanero powder, but you can also leave it out altogether since it can be hard to locate, as well. I make Jerk chicken without it most of the time. Feel free to increase or decrease the heat level to suit your personal taste by increasing the cayenne, paprika, or habanero.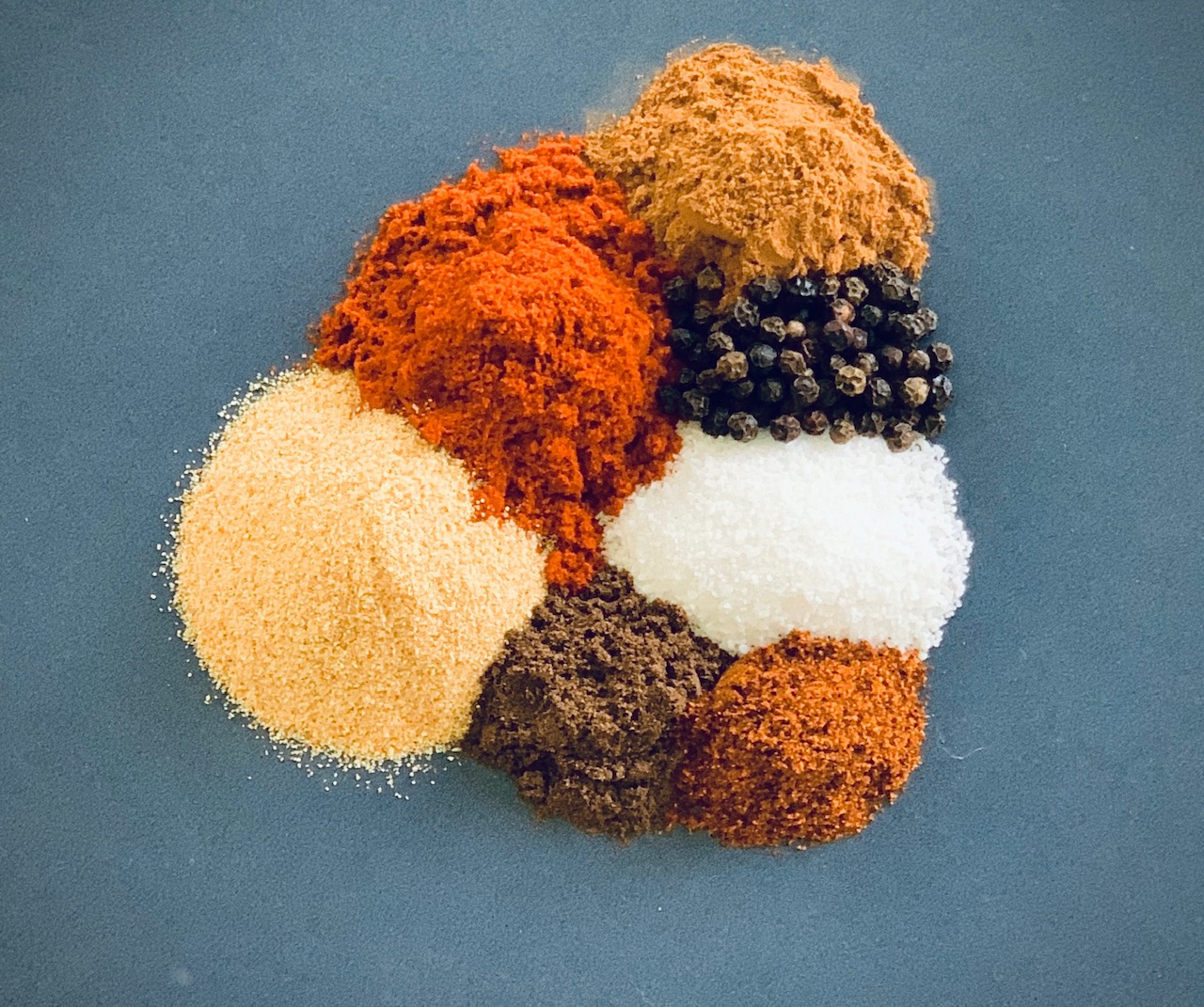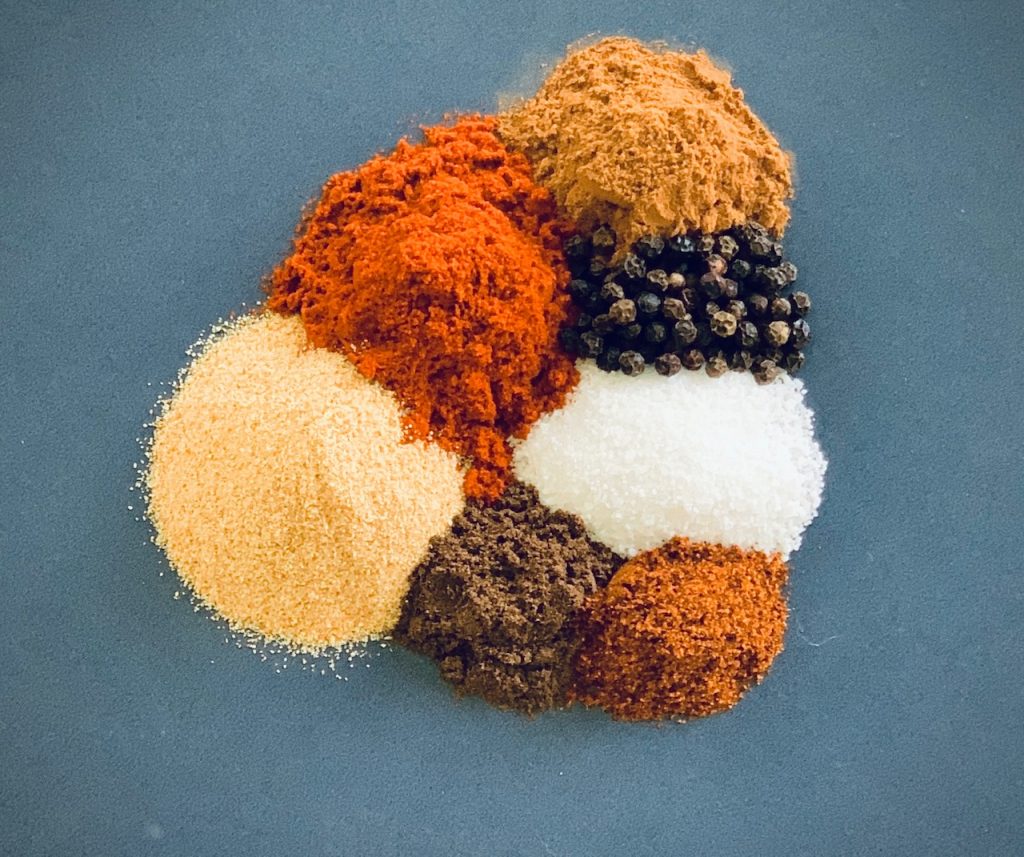 How to make Jamaican Jerk Chicken:
Once you make your homemade jerk seasoning mix you are ready for your 5-minute prep for Carribean Jerk Chicken. It's best to use bone-in, skin on, chicken thighs and legs for this recipe.
Making the Jamaican Jerk Marinade is simple:
Whisk together the olive oil, lime juice, and jerk seasoning until well combined. It should look like a loose paste. FYI: The seasoning gets stronger as it marinates, and as it cooks.
Add chicken, massage into the chicken, and marinate (see below for timing)
Cook on the grill or make baked jerk chicken in the oven – (see specific directions for each below) and enjoy!
Marinate the chicken for the best flavor:
If you have the time we recommend marinating the chicken because it really enhances the flavor of the finished product.
Add chicken to a large bowl, baking dish, or airtight freezer bag
Add Jerk marinade, and be sure to massage the marinade into the chicken
Refrigerate for 2 hours (and up to 24 hours)
Remove chicken from the refrigerator before cooking, to remove the chill, while the grill or oven is preheating
How to cook Jerk Chicken on the grill: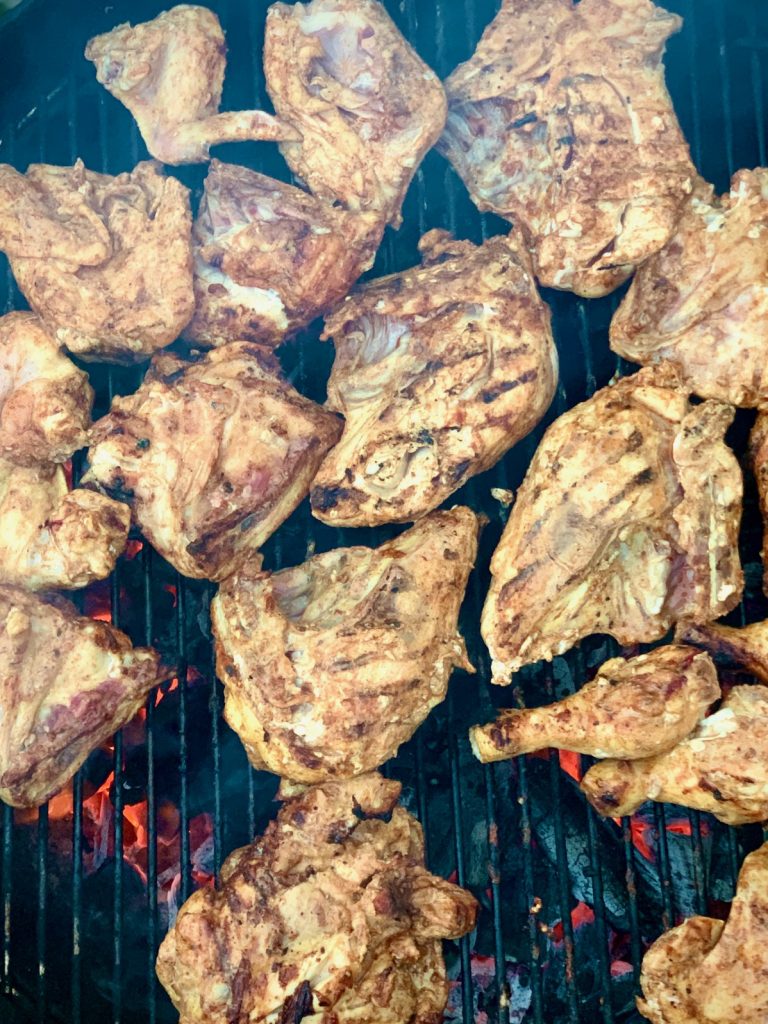 This Jerk Chicken recipe tastes amazing on a charcoal grill, to replicate the true Caribbean jerk flavor, but it is delicious on a gas grill, or in the oven, if easier.
On a Charcoal Grill – heat coals to medium-hot, and use the "two-zone cooking" method, which means the charcoal is not directly beneath the chicken, but off to one side. Cook skin side down, for about 20 minutes, and then flip the chicken to the other side and cook an additional 20-minutes.
On a Gas Grill – heat the grill to medium – about 350°F. Start cooking skin side down, the same as with the charcoal method, and then flip halfway through.
Baked Jerk Chicken in the Oven – heat the oven to 375°F. Line a baking sheet with foil and place a rack on the top of the baking sheet. Arrange chicken in a single layer on the baking rack and bake for about 45 minutes total. No need to flip the chicken over.
Remove from the grill or oven, and serve.
We love to serve a combo of jerk chicken, rice, and Roasted Asparagus.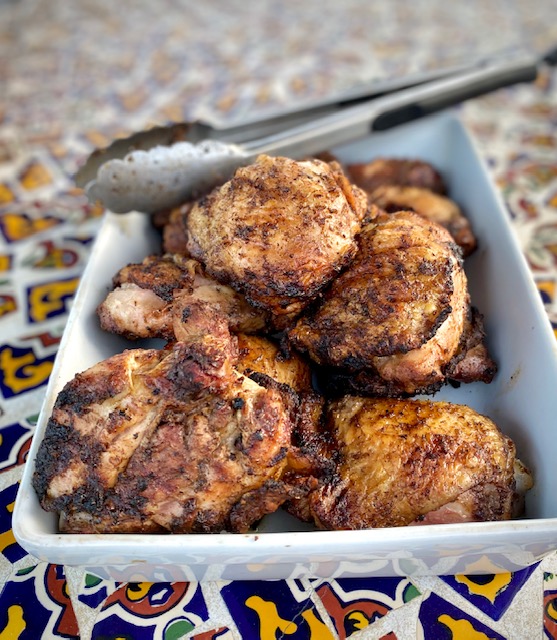 Can I use boneless chicken?
Yes, you can! But make sure you marinate the chicken for 6 hours or less. The grill and baking time should be adjusted since boneless chicken cooks faster.
If in doubt, always cook the chicken to an internal temperature of 165° F.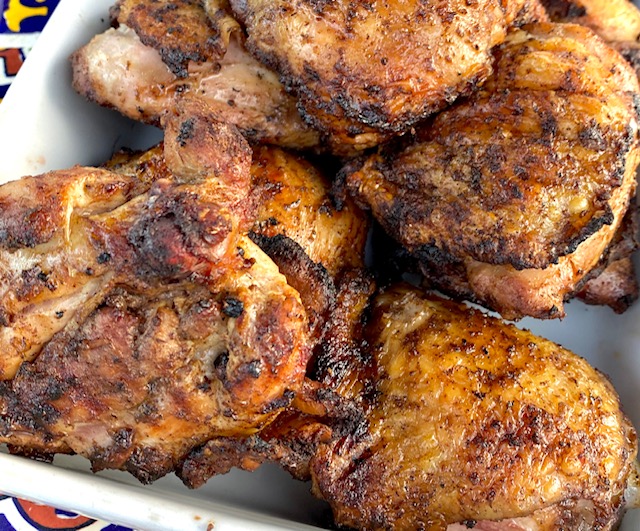 Try these fun side dishes with this Jerk chicken recipe: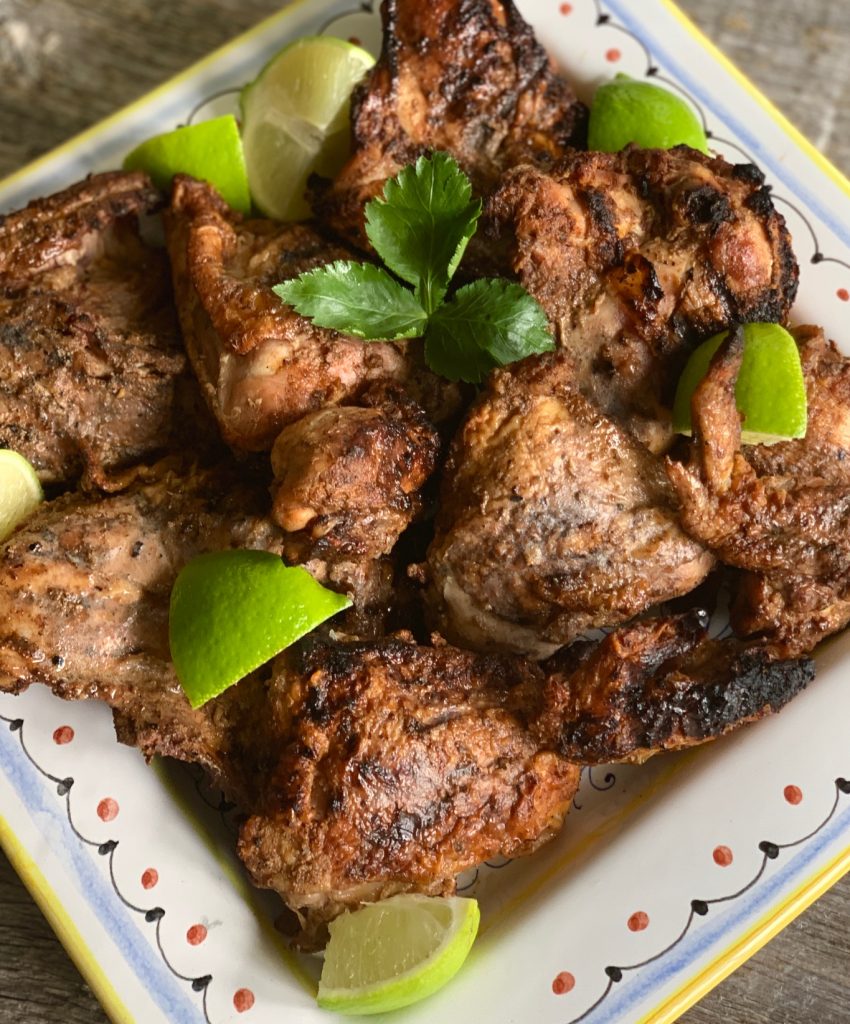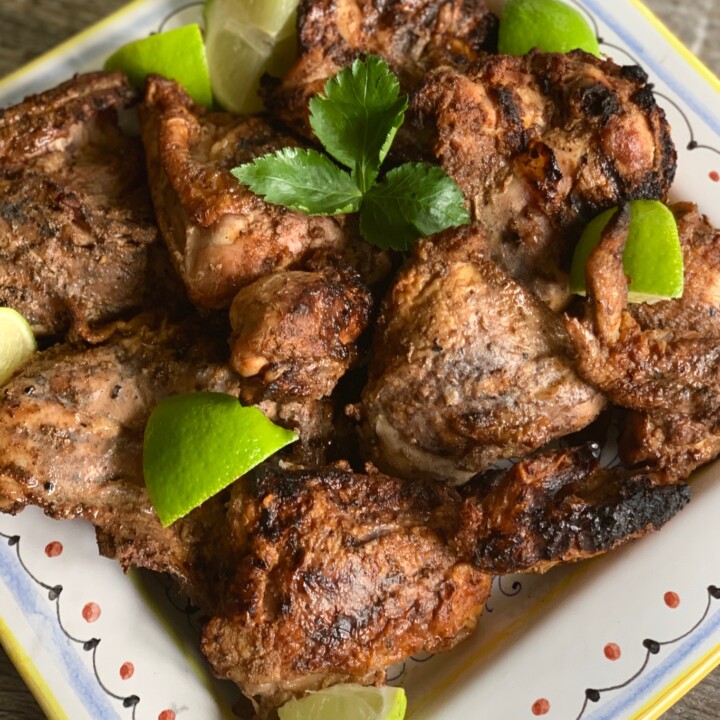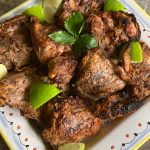 Print Recipe
Jerk Chicken Seasoning Recipe
Easy Jerk Seasoning recipe and instructions to grill spicy, tangy Jerk Chicken.
Ingredients
JERK SEASONING MIX:
3

Tbsp

Paprika

3

Tbsp

Garlic Powder

1

Tbsp

Allspice

1

Tbsp

Kosher Salt

1

tsp

cinnamon

1

tsp

cayenne

1

tsp

black pepper, freshly ground

½

tsp

habanero powder, optional
Jerk Marinade
2

Tbsp

olive oil

1

Tbsp

lime juice

4

Tbsp

Jerk Seasoning Mix,

more to taste
Chicken:
5

Bone-in chicken thighs,

with skin

5

Bone-in chicken legs,

with skin
Instructions
Jerk Seasoning Mix:
Combine all ingredients in a jar. Close and shake well. Store in an airtight container for up to 3-months
Jerk Seasoning Marinade
Add all ingredients to a bowl and whisk until well combined. Add more jerk seasoning to taste depending on how spicy you like it.
Making Jerk Chicken:
Wash chicken pieces and place in a large baking dish or bowl (or an airtight freezer bag). Pour marinade over the chicken and then massage into the skin. Make sure all pieces are well coated. Cover.

Refrigerate for 2-24 hours.

Remove chicken from refrigerator about 30-minutes before grilling. Preheat grill or oven

For a Gas Grill: Heat to medium-high (about 350°F)

For a Charcoal Grill: Heat coals to medium-hot. The coals should be off to one side for indirect "two-zone cooking". The chicken will cook on the other side, so not directly over the coals.

For an Oven: Heat to 375°F

Place chicken on preheated grill and cook for about 20 minutes per side. Only turn once if possible to get the best sear on the skin.

If cooking in the oven: line a baking sheet with foil and place a rack on the top. Arrange chicken in a single layer and bake for about 45 minutes total. No need to flip the chicken over.
Nutrition
Calories:
467
kcal
|
Carbohydrates:
10
g
|
Protein:
60
g
|
Fat:
20
g
|
Saturated Fat:
4
g
|
Trans Fat:
1
g
|
Cholesterol:
281
mg
|
Sodium:
2031
mg
|
Potassium:
884
mg
|
Fiber:
2
g
|
Sugar:
1
g
|
Vitamin A:
637
IU
|
Vitamin C:
12
mg
|
Calcium:
94
mg
|
Iron:
4
mg